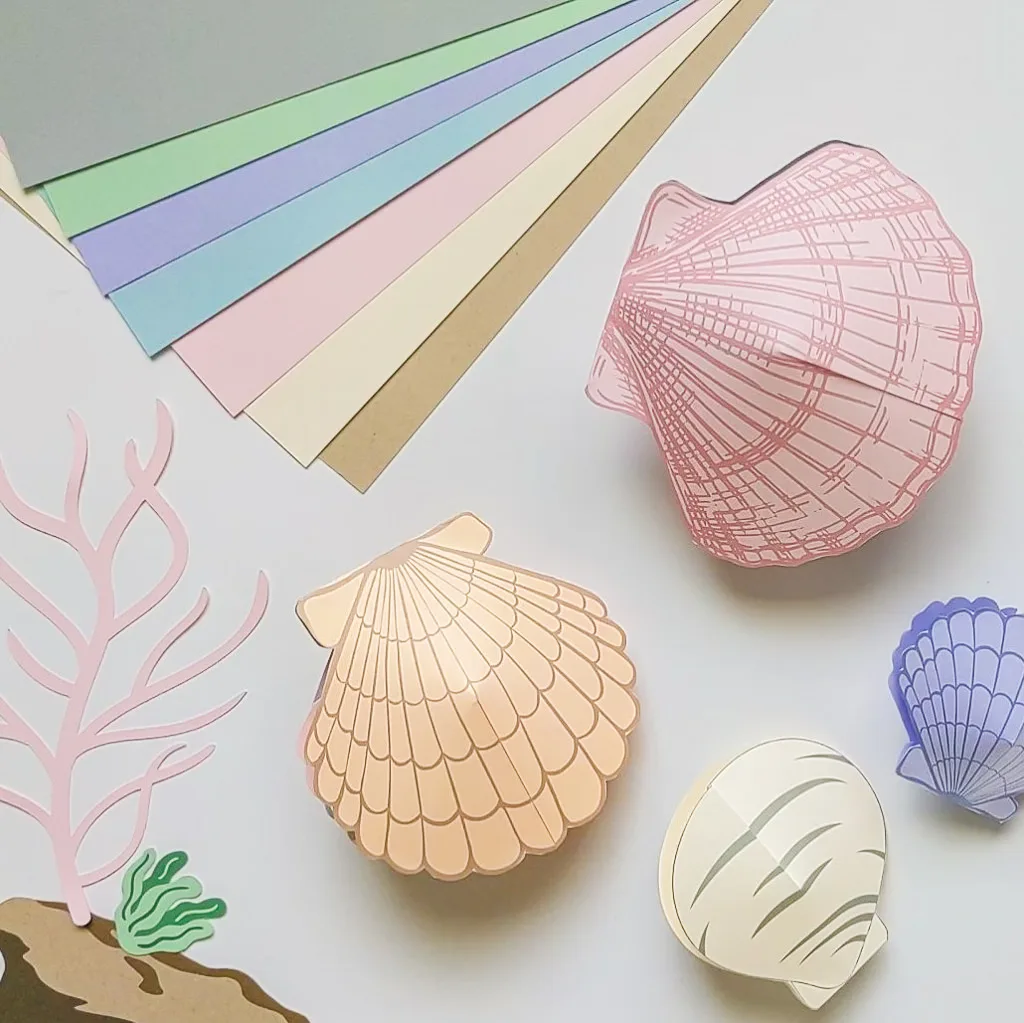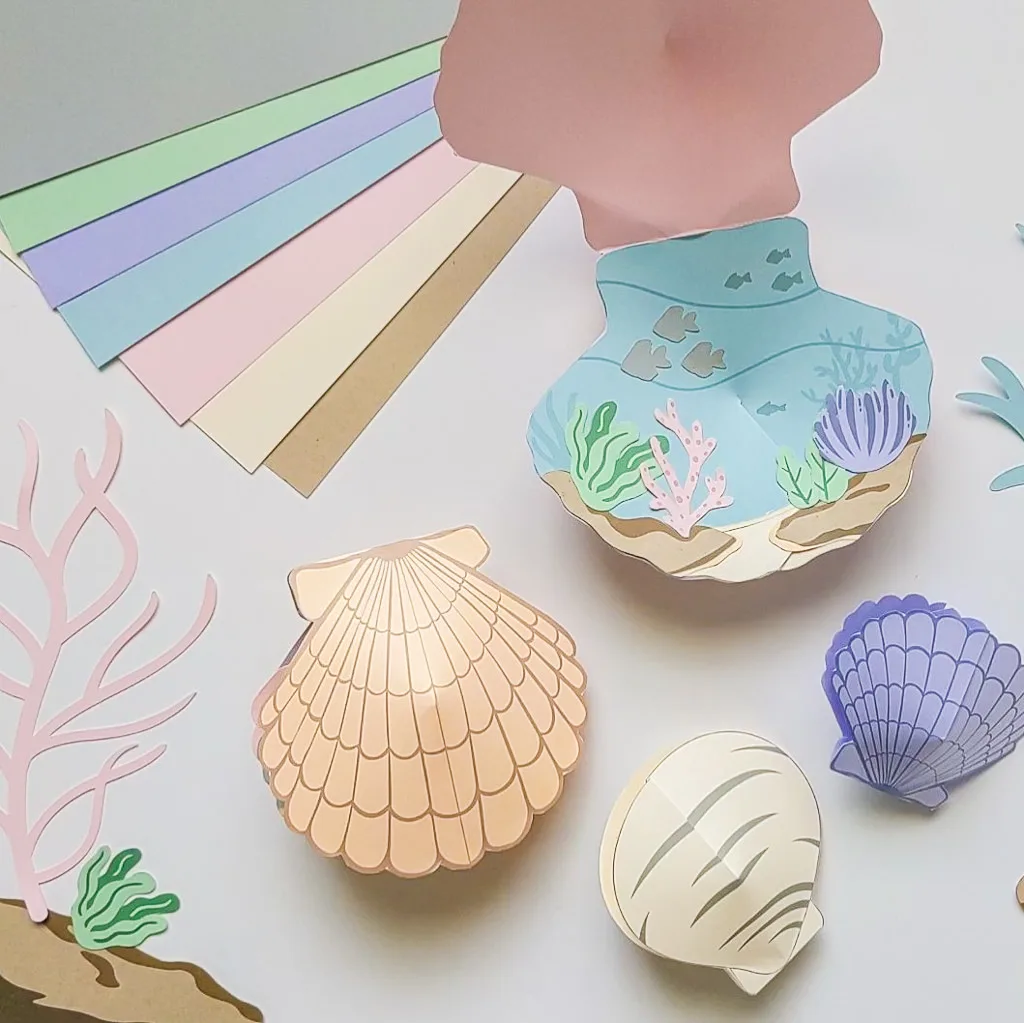 Shell-abrate summer with my easy paper seashells craft idea for kids. My paper seashells open and close just like real seashells. Pretty cool, yes? It's an easy 3D seashell printable template that's easier to make than folding origami seashells and much cuter than paper plate shells. ?
See also: 'Pretend campfire and s'mores printable paper playset »
Thanks a bunch to my favorite paper brand, Astrobrights, for sponsoring this easy summer craft idea. Astrobrights asked me to create an easy summer craft for kids using their new Astrobrights Breezy Boho cardstock pack. This new soft color palette with its eight soothing colors instantly reminded me of the beach, so I designed a summery beach-inspired craft for you with the new Astrobrights Breezy Boho cardstock color palette.
How to make simple printable seashells out of paper – no origami needed
There's no need for tricky origami folds to make my easy shells. Just cut out the paper shells, fold in half, and glue the flap to transform the seashell paper cutouts into 3D shells! I've designed four printable seashells for you: a small clam shell and three different styles and sizes of scallop shells. Just print, cut, fold, and glue the flap to make them 3D.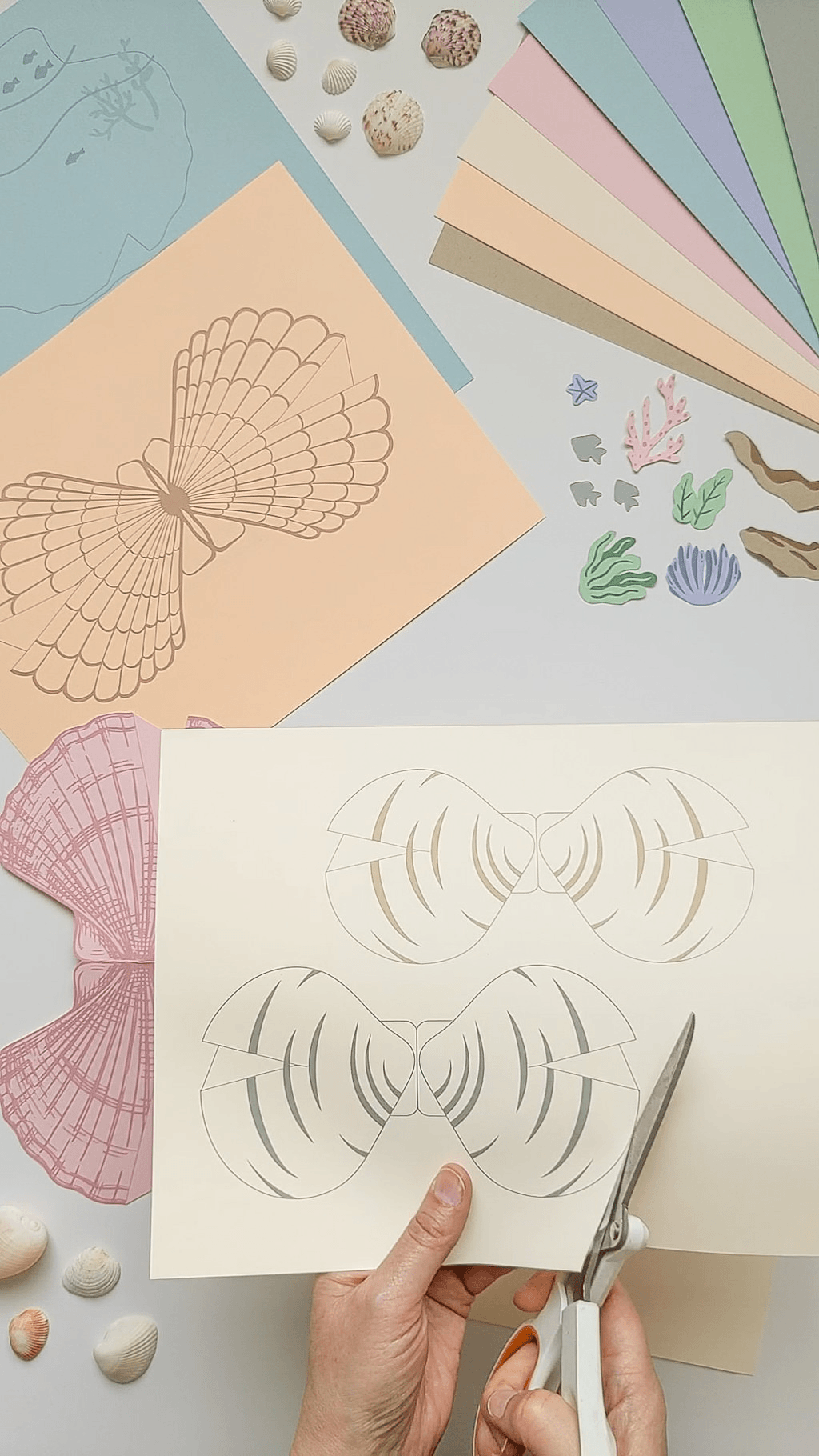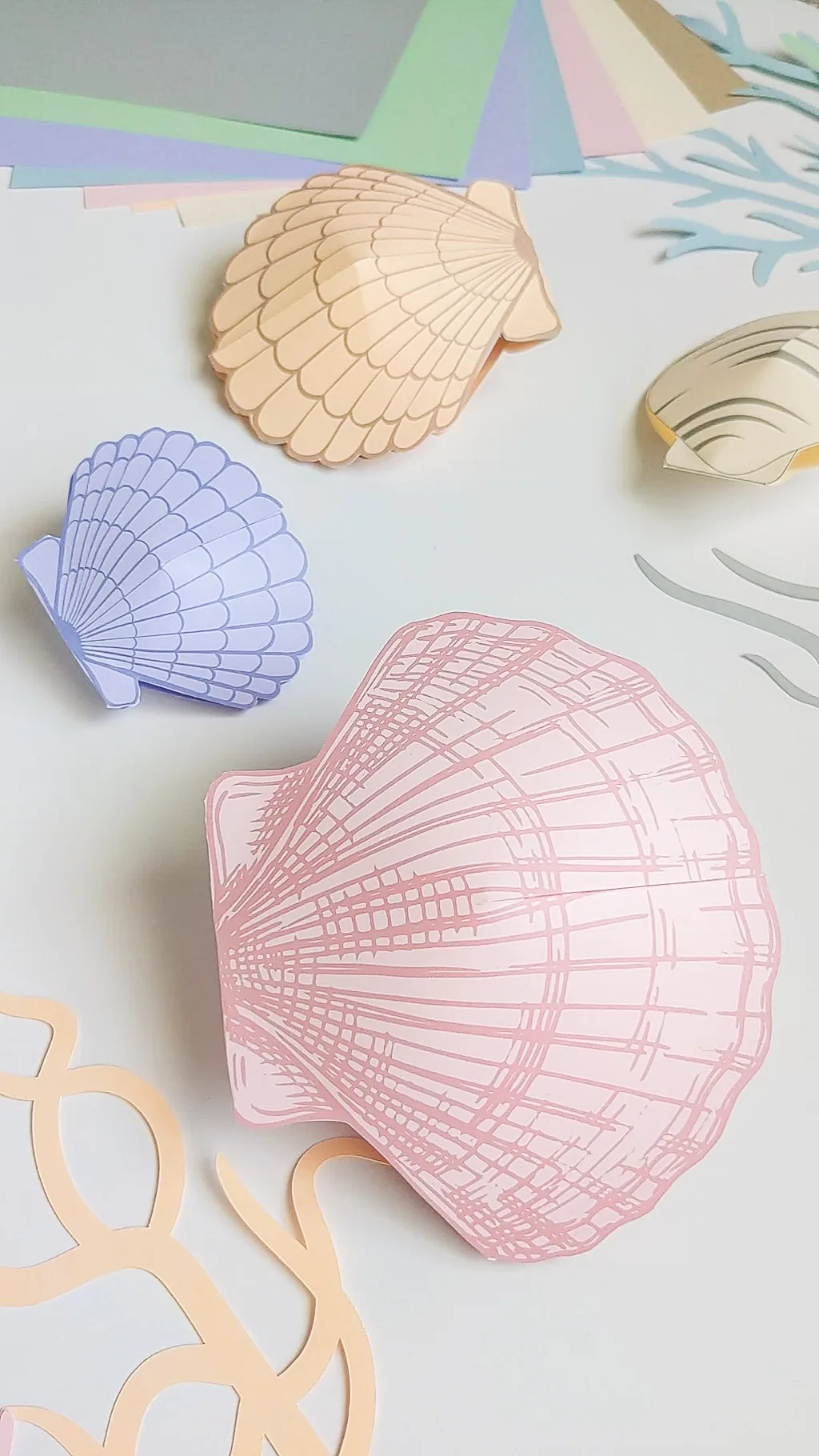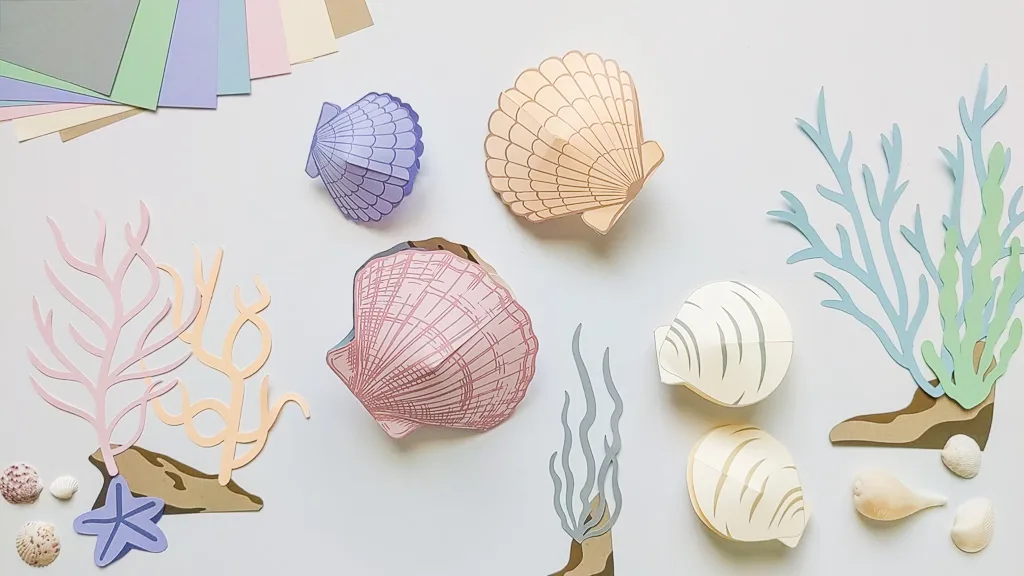 Add magical beach and underwater scenes inside the shells
And like the ocean itself, my 3D shells are filled with wonder! Just open up the shells to reveal a magical underwater coral reef and a serene beach at sunset. You can replicate my scenes inside your seashells by printing my templates or create your own scenes out of cut paper and colored pencils.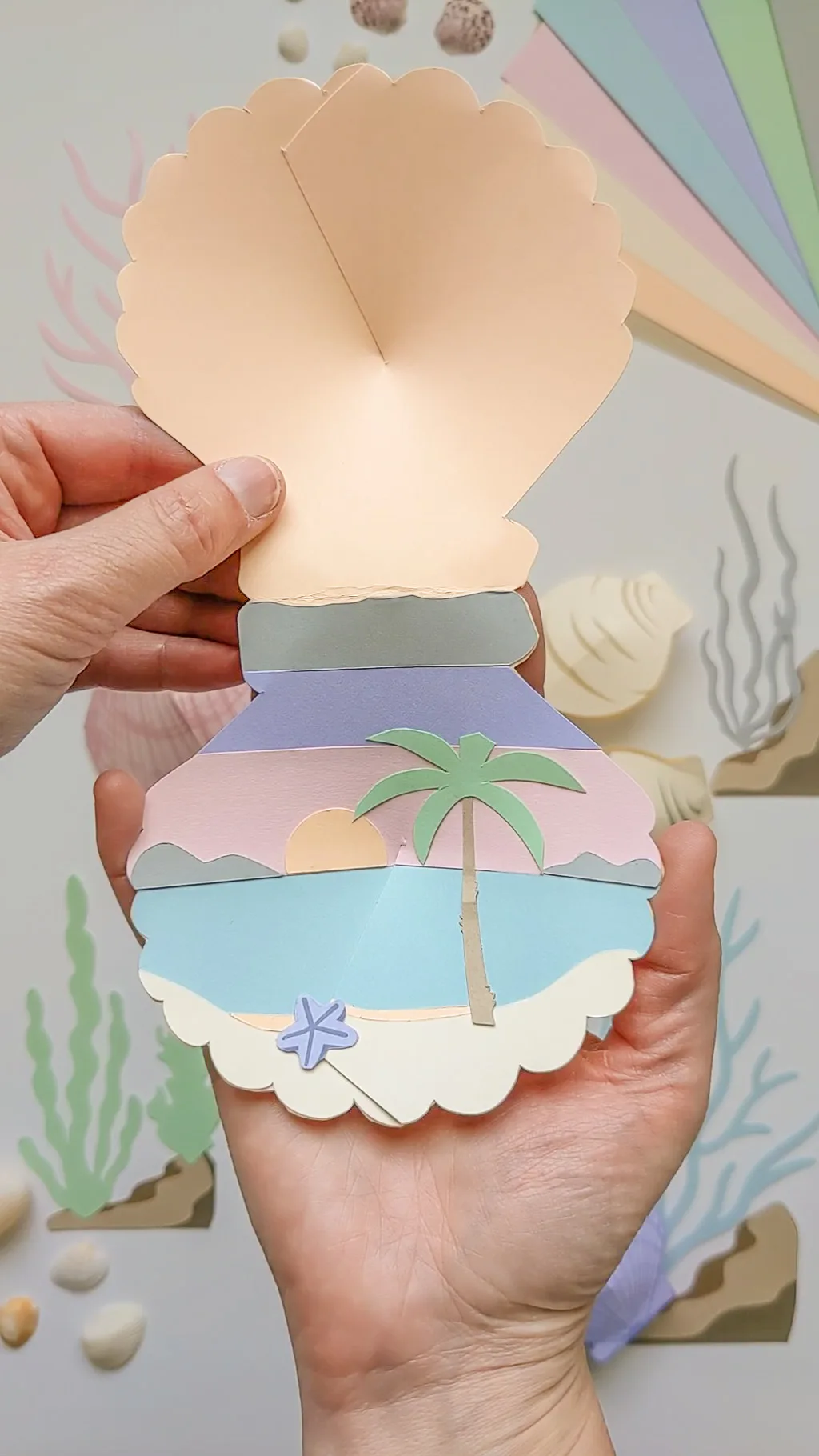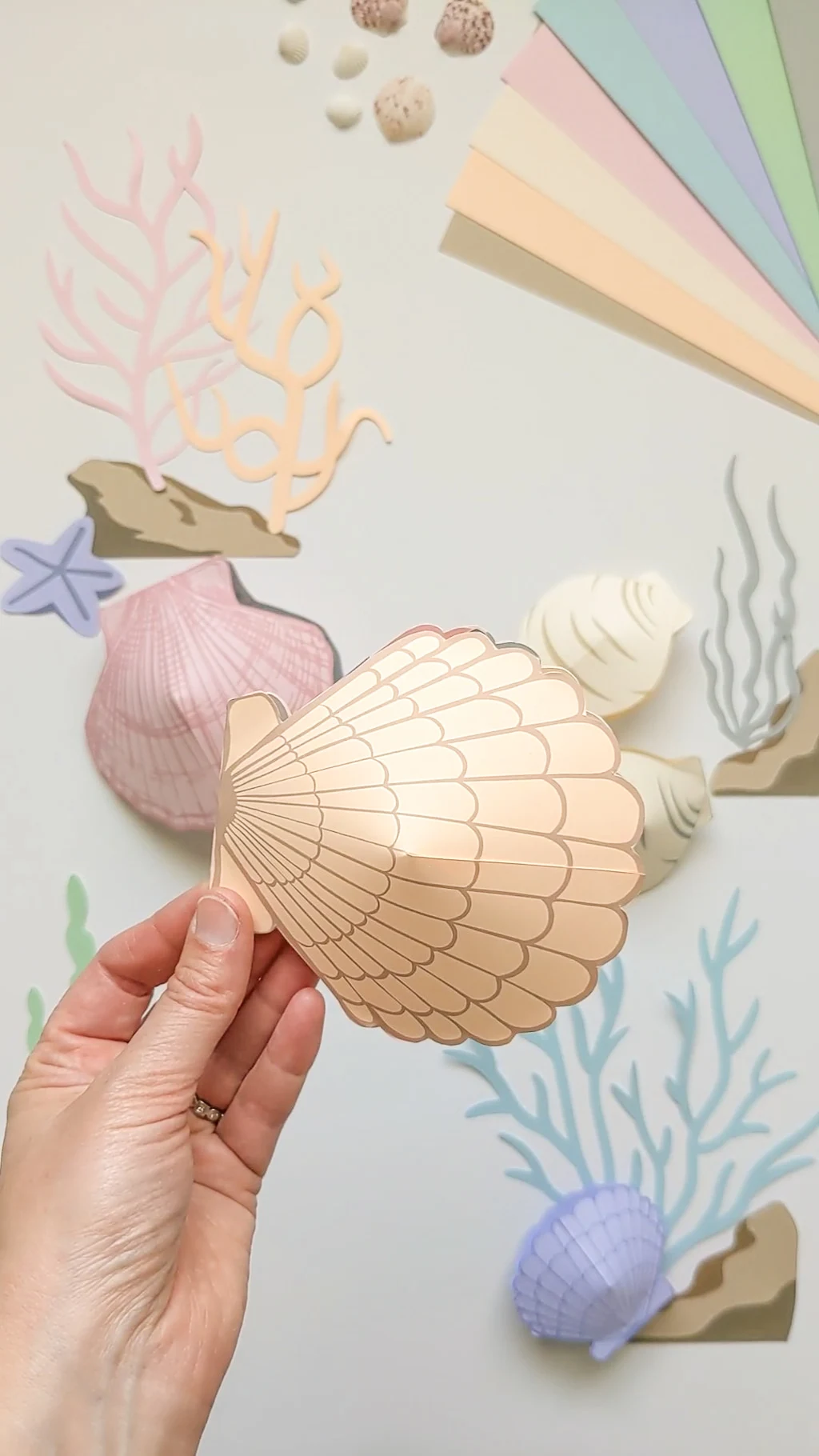 And look! Astrobrights put my seashells craft project on their homepage! Very cool.
Print my seashell templates on the new Astrobrights Breezy Boho color palette. Then cut, fold, and secure the flaps to create pretty 3D paper shells that open and close.
<Astrobrights.com home page>
+++++
A simple summer craft idea for kids, tweens, and teens
This paper seashell craft suits all ages. Elementary age kids can cut, fold, and glue 3D shells with simple scenes inside. Tweens and teens can create more involved scenes that turn their 3D shells into objects of art. My cute paper seashell template is easy to print, cut, and glue — and my paper shells open and close just like real seashells. Get my printable seashells template at Astrobrights.com.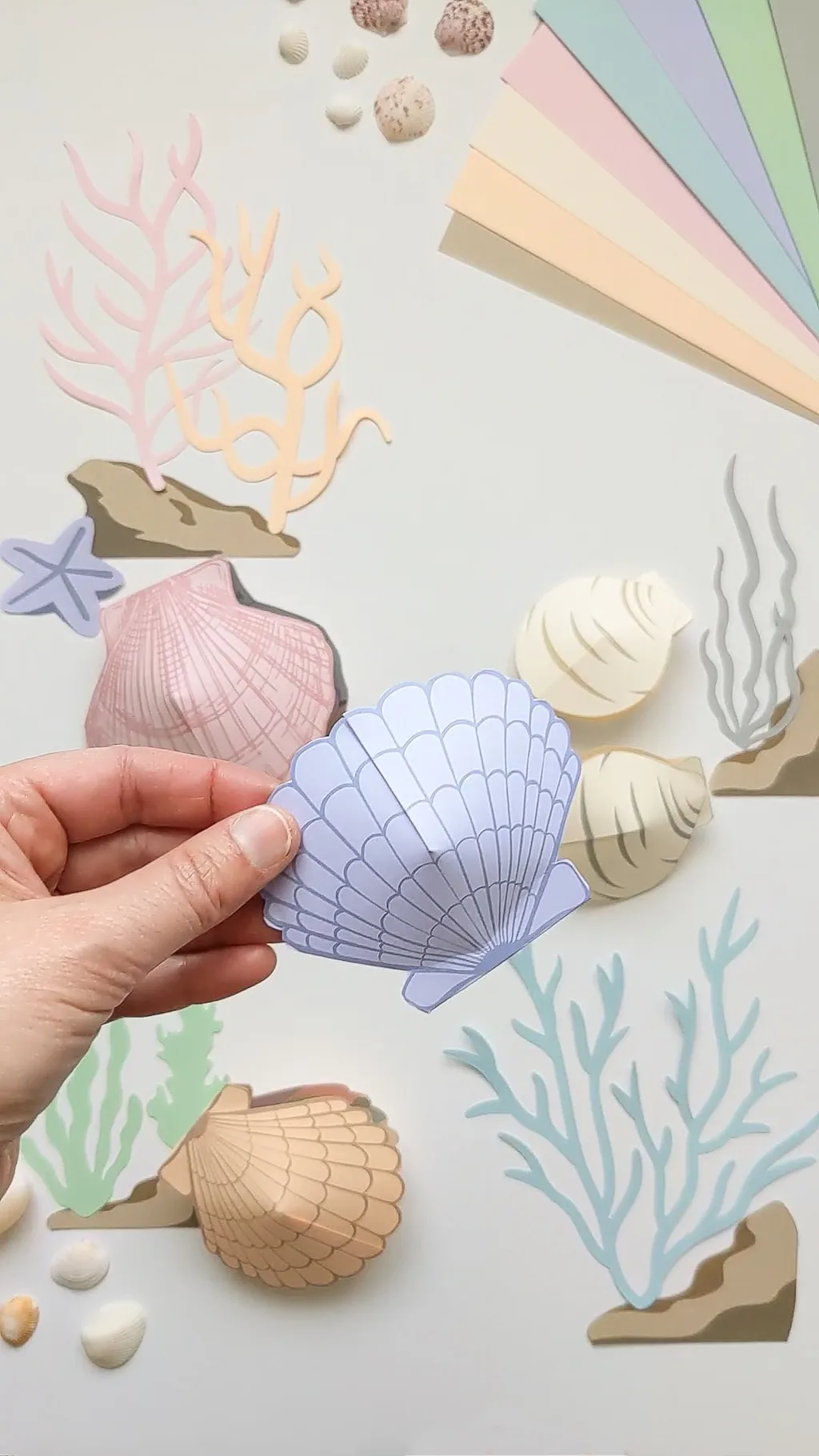 Supplies for making my paper seashells craft for kids:
How to make 3D seashells from paper
Step 1: Print my free printable seashells template
Download my printable seashell templates at Astrobrights.com. Print my seashells template onto Astrobrights Breezy Boho cardstock paper, or use your favorite Astrobrights colors. I chose Milky Way, Punchy Pink, Bare Blush, and Lavender Love. Helpful tip: If you're replicating my beach and underwater scenes inside the shells, then be sure to print the seashells full-size (in other words, don't 'scale to fit' or 'print to fit' on your printer).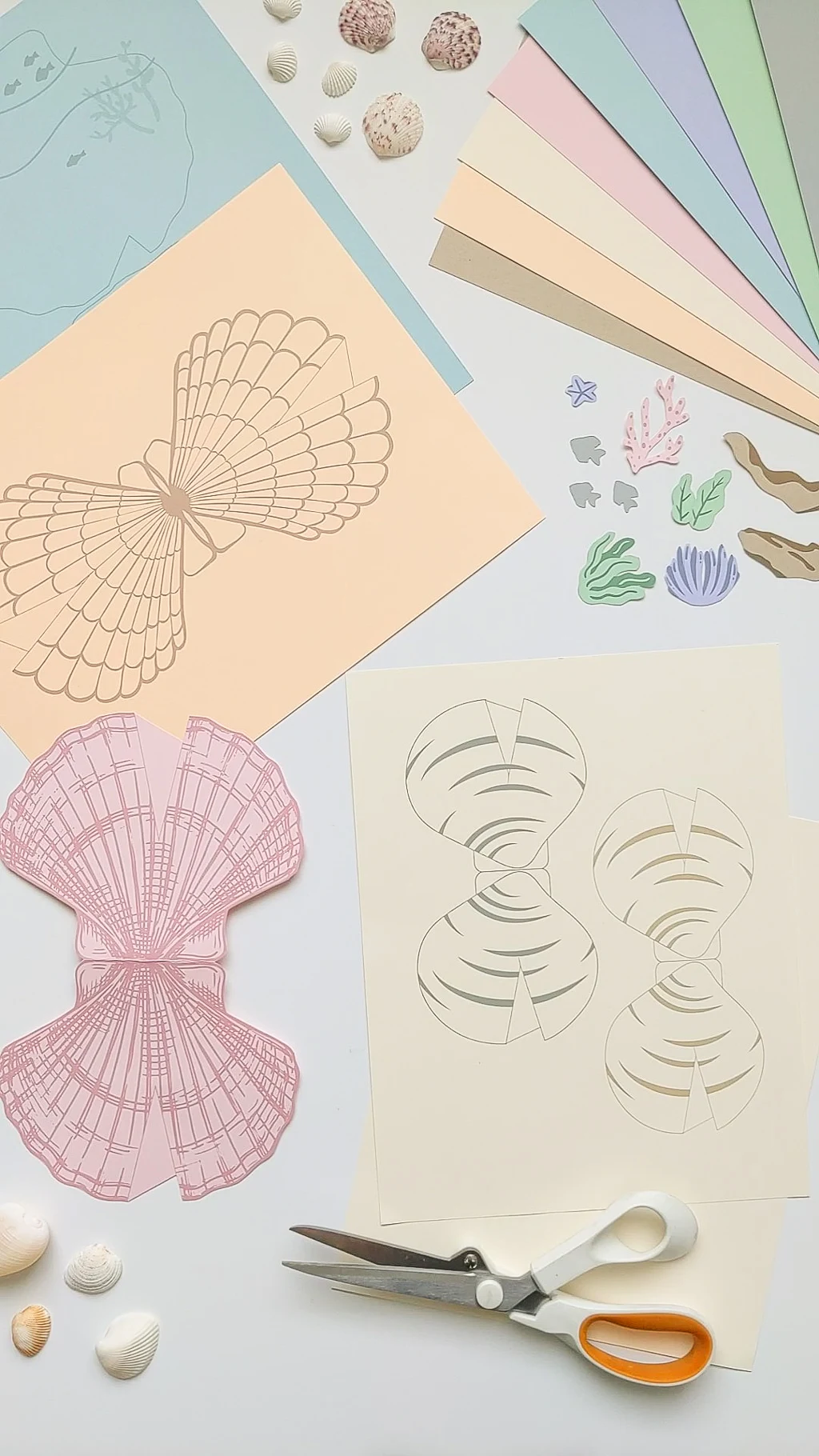 Step 2: Cut out the paper seashells template
Cut out the sea shells using good paper scissors. Cut the left side of the slit, and leave the triangle intact.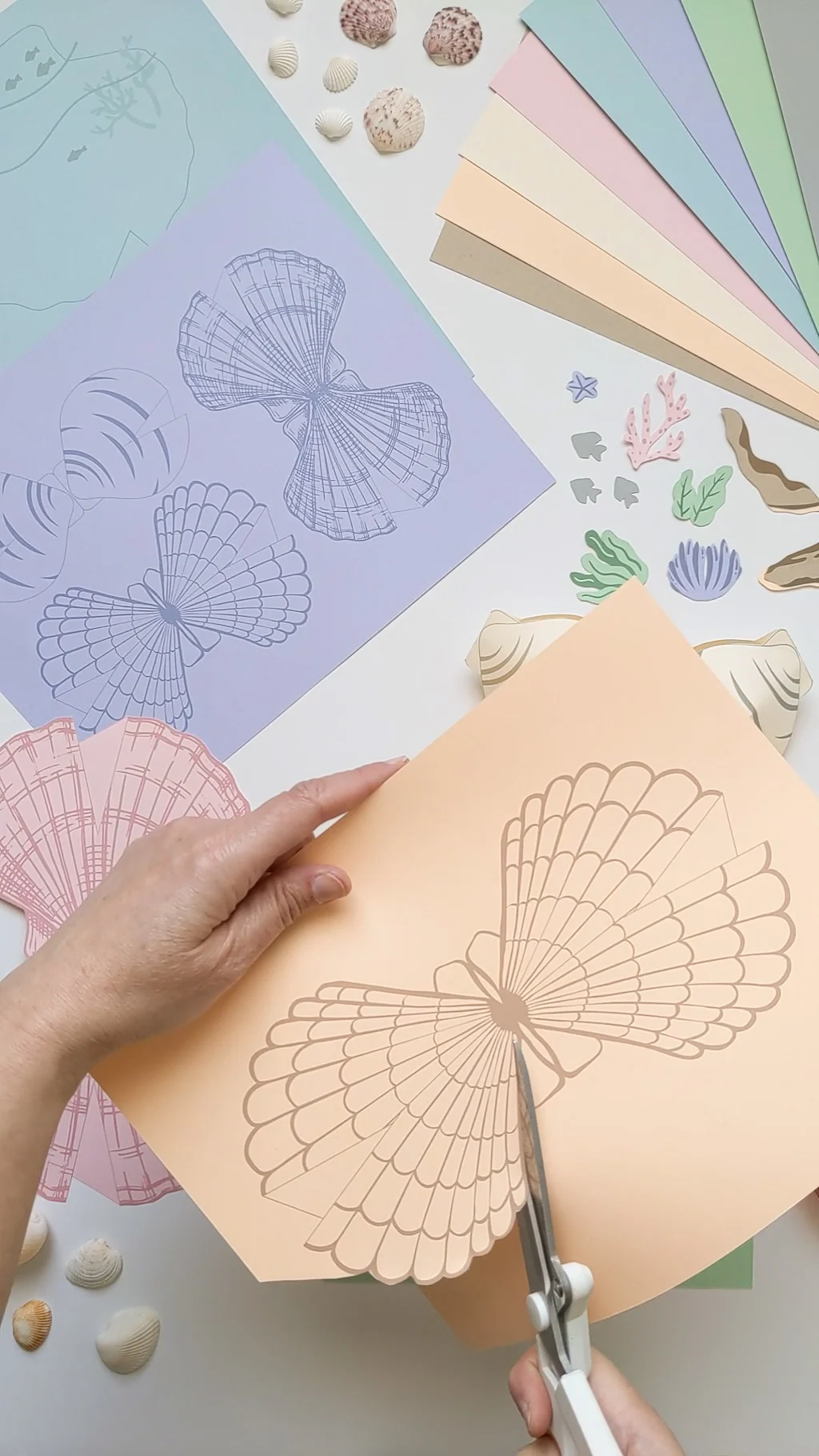 Step 3: Decorate the insides of your seashells (optional)
This step is optional but pretty cool. To decorate the inside of the shells, cut out my templates for the sunset beach or underwater coral reef. Then glue the beach or underwater scene onto the inside of the shell and let dry. Alternatively, you can create your own scene using cut paper and colored pencils. Try making a mermaid, sailboat, or fish. Secure the shell flaps using double-sided tape to create a 3D effect for the shell to open and close.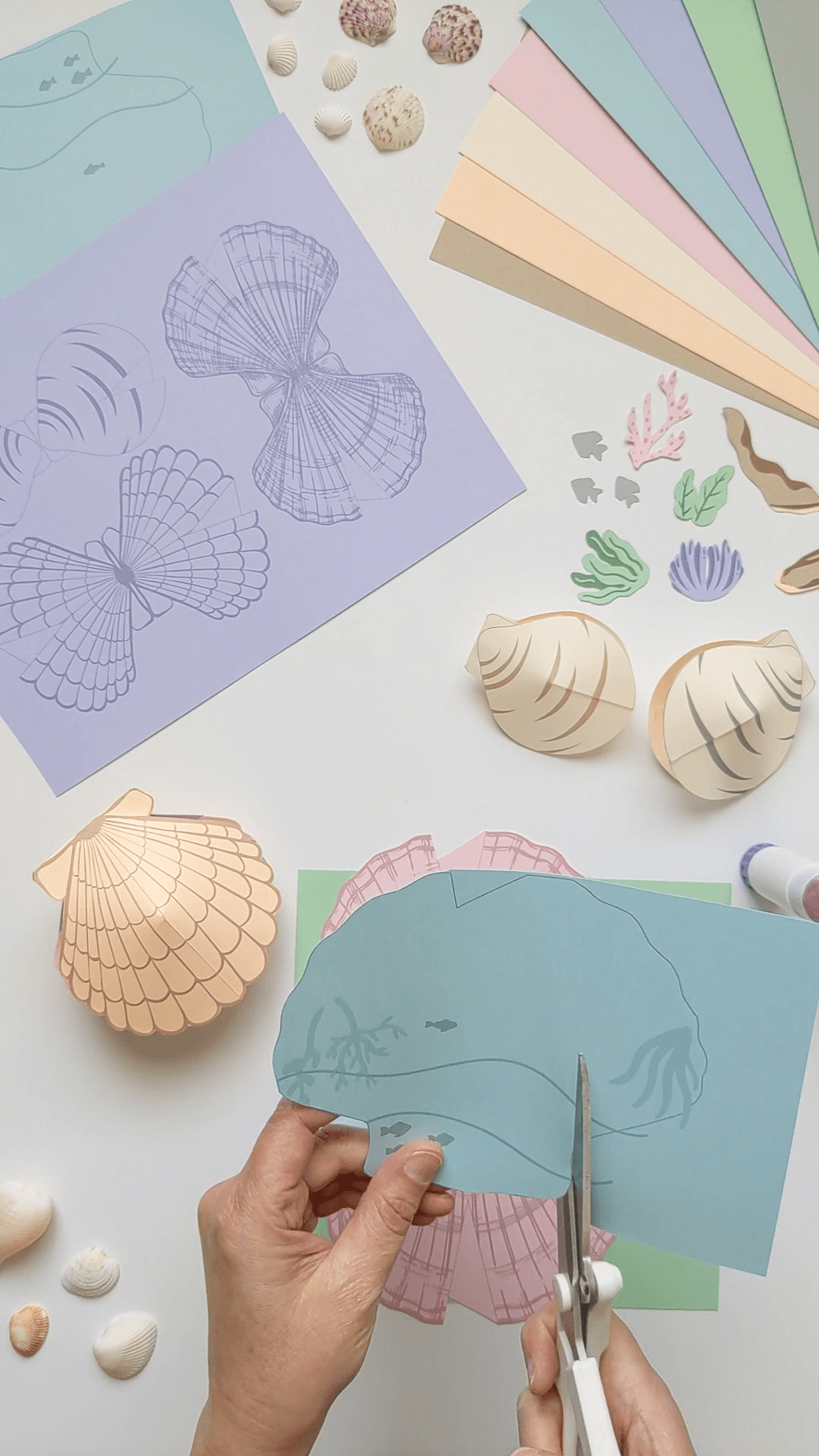 Step 4: Glue and secure the flaps to make DIY 3D seashells
Fold the seashell in half. Then glue the triangle flap using permanent double-sided tape. Hold to secure, then repeat on the other side.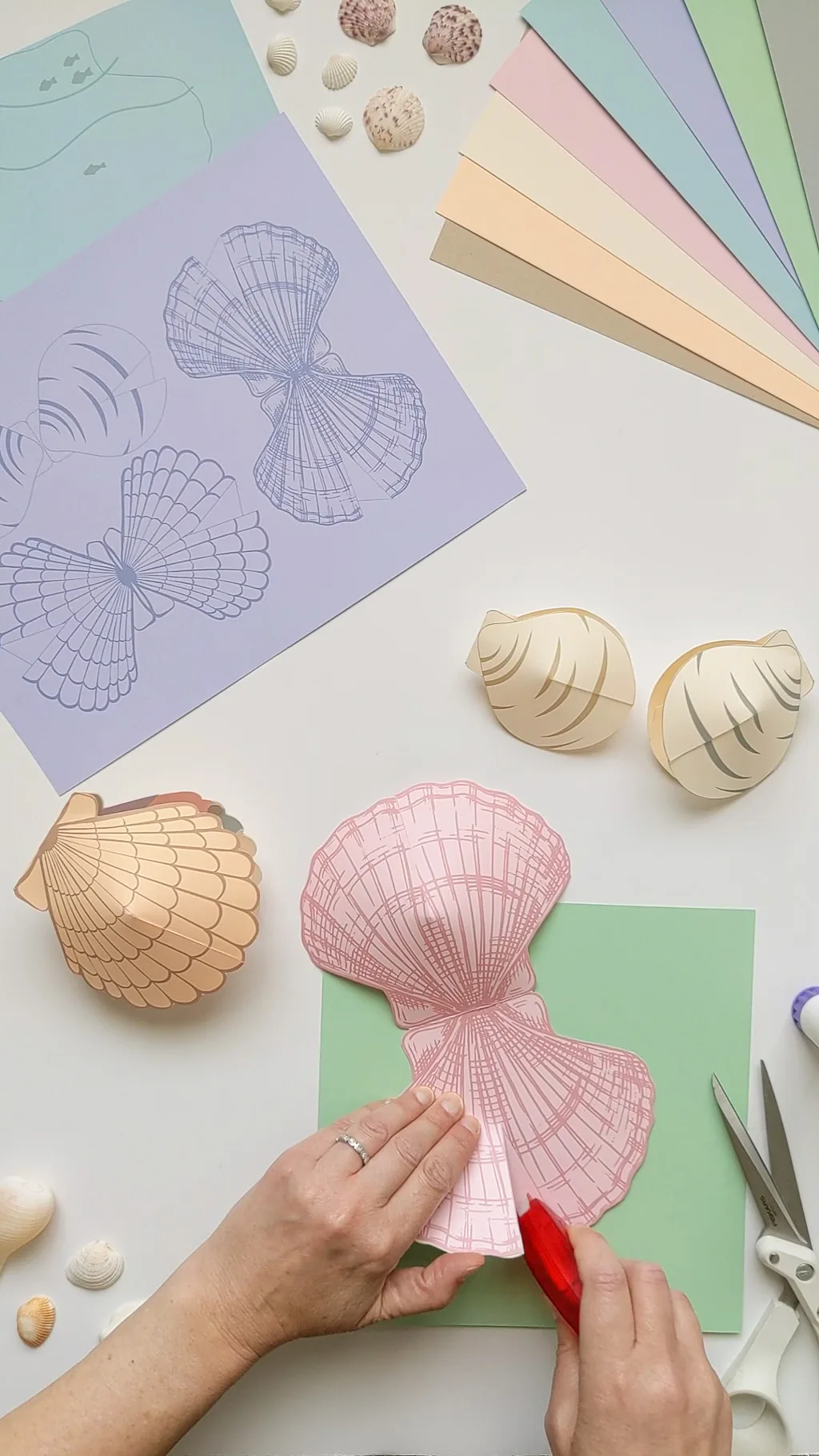 Paper seashells for a mermaid birthday party, beach party theme, and classroom bulletin board
Wondering what with these sea shells? My 3D paper seashells would make a great craft activity for a beach birthday party or a mermaid birthday party. You could make some paper seashells yourself for party decorations or have kids make their own as a simple birthday craft activity.
And teachers: Just staple the back of the shells to your bulletin boards to create interactive classroom decor that students can open up and see messages and treasures inside.
I use mine as shelf art on my rainbow bookshelves.

Be sure to pin my DIY seashells craft idea for summer fun: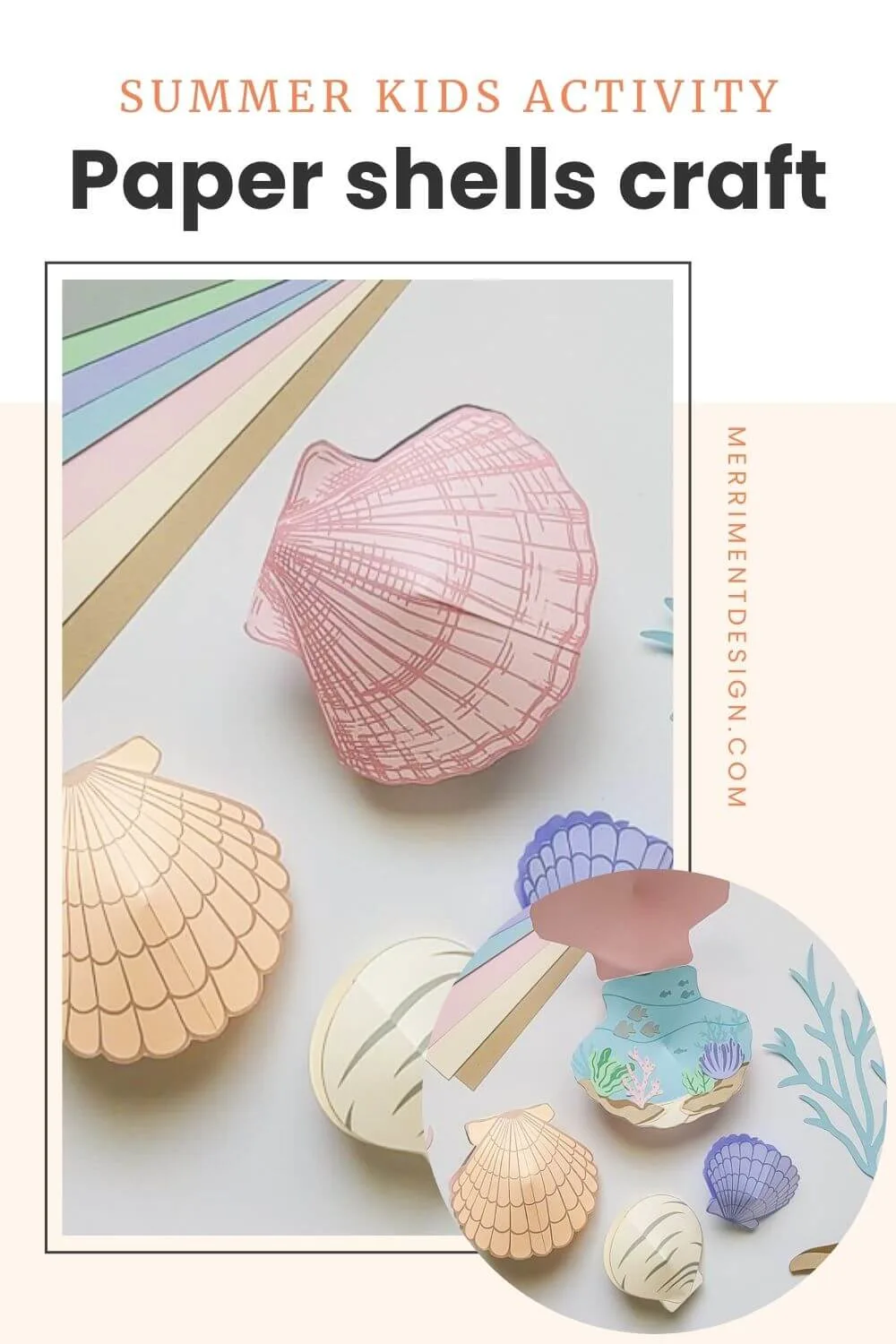 And see more of my projects that use Astrobrights paper. Have a great summer!
++++++
Like it? Share it!
The nicest way to say you like it is to pin it on Pinterest, post a comment, follow Merriment Design on Facebook, Pinterest, Instagram or sign up for monthly emails. Enjoy! 🙂
Copyright stuff: You're more than welcome to use my free project, printable templates, and tutorials for personal use. Contact me for commercial use and Etsy sales. Momma's gotta pay the bills.