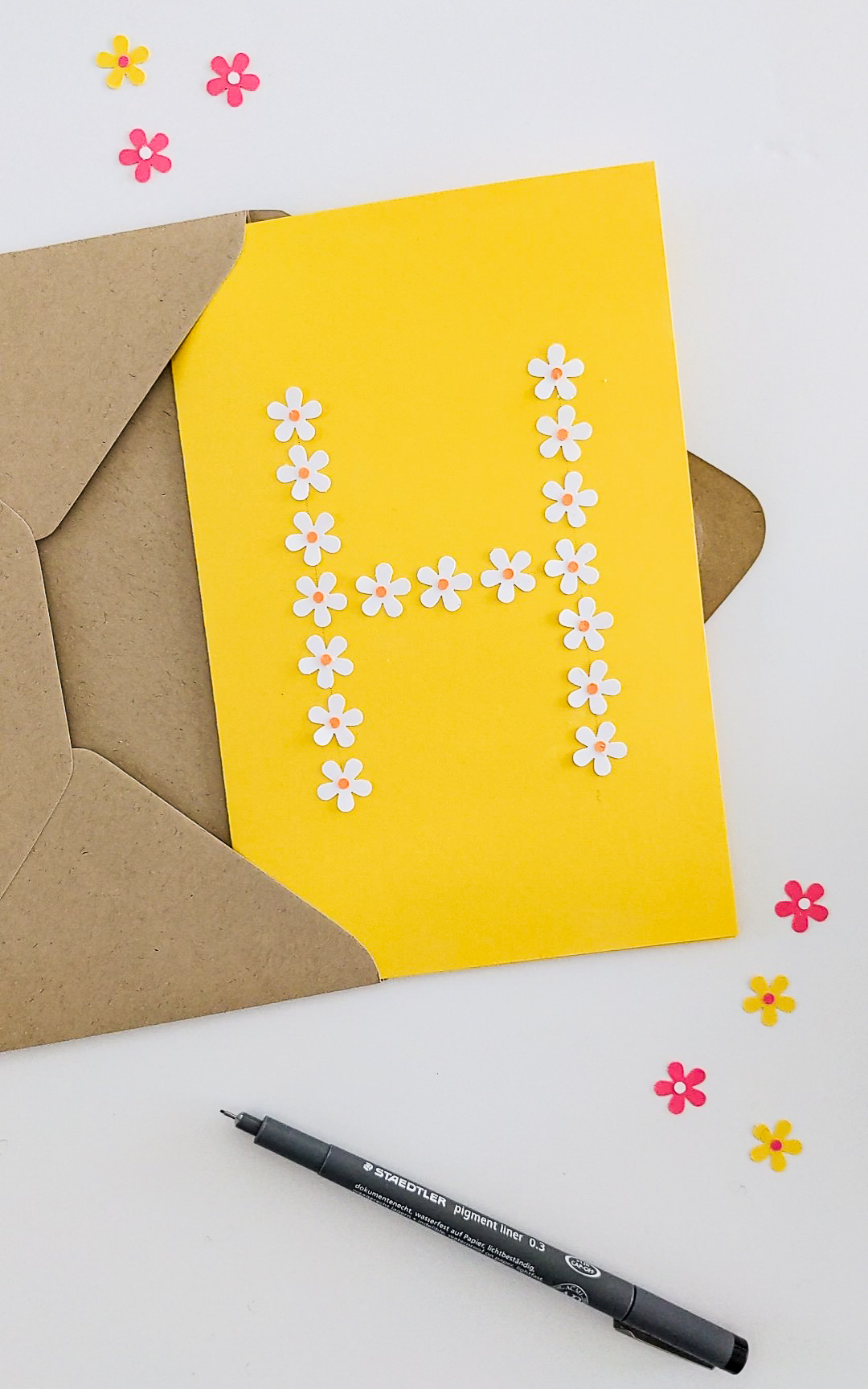 Today I'm going to show you how to make an easy DIY flower birthday card. There's nothing quite like a handmade birthday card to show someone how much you care. And when that card is covered with cute paper flowers, well, let's just say it's pretty much guaranteed to put a smile on their face. That's why I'm absolutely smitten with my simple DIY Flower Birthday Card tutorial. Not only is it an easy and fun craft project to make, but the end result is a cheerful, personalized card that will make people feel special.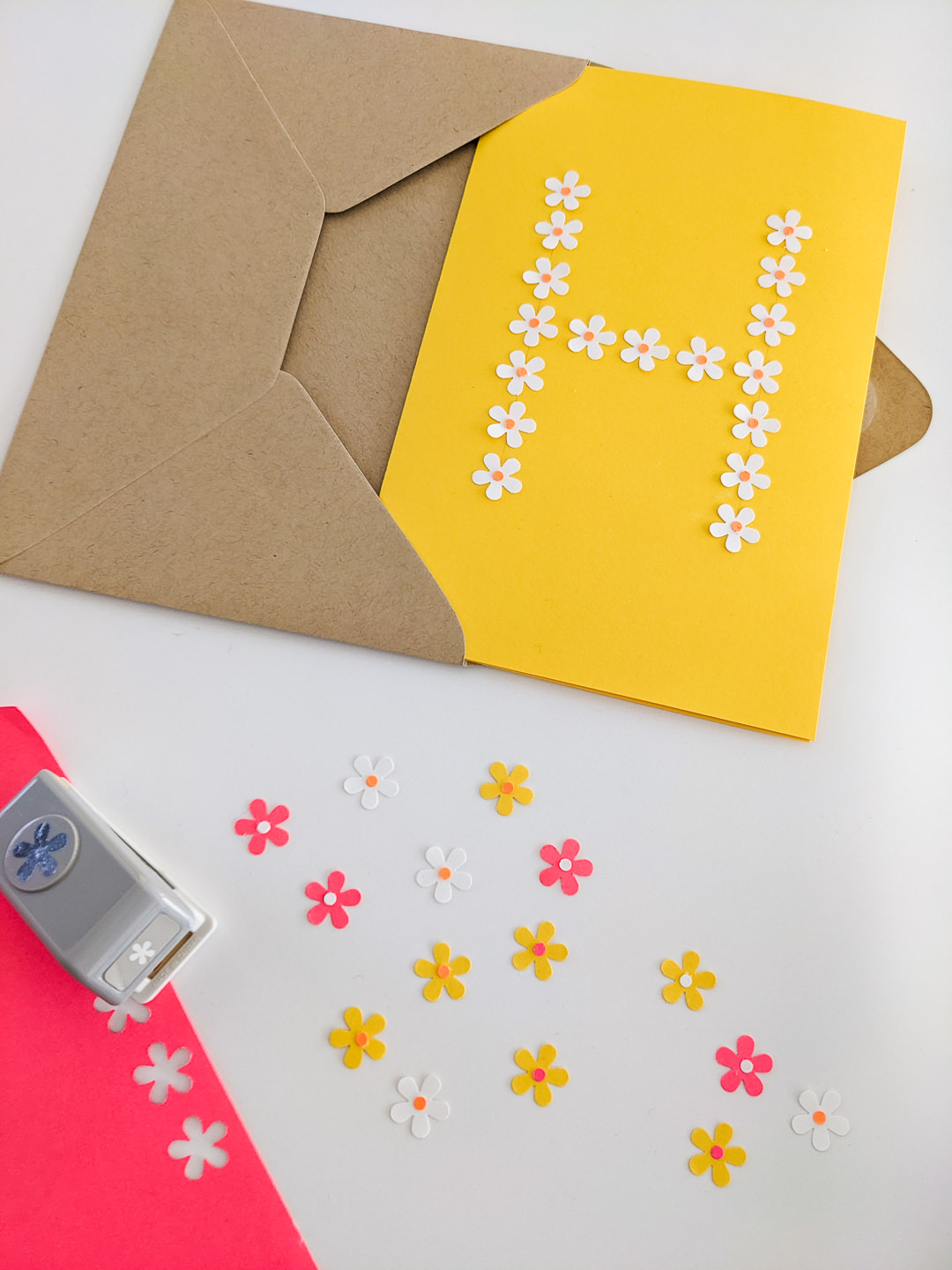 Flower power: Behold the mighty flower craft punch
Many crafters invest in fancy paper cutter machines (and real talk: I own one, too) but I've gotta say that there's something really special about the low-fi craft punch. Paper craft punches are one of the most versatile tools that crafters can have in their arsenal. With just a few clicks, you can transform a plain piece of paper into art. From delicate flowers to intricate shapes and designs, paper craft punches are fast and pretty foolproof to use. And there are a bunch of craft punch sizes, shapes, and patterns available, so lots of creative possibilities.
Paper craft punches are a must-have tool that will take your projects to the next level. My kids gave me a set of flower craft punches like five years ago and I've used them a bunch, no pun intended.
See also: Paper bead jewelry DIY ideas to make >>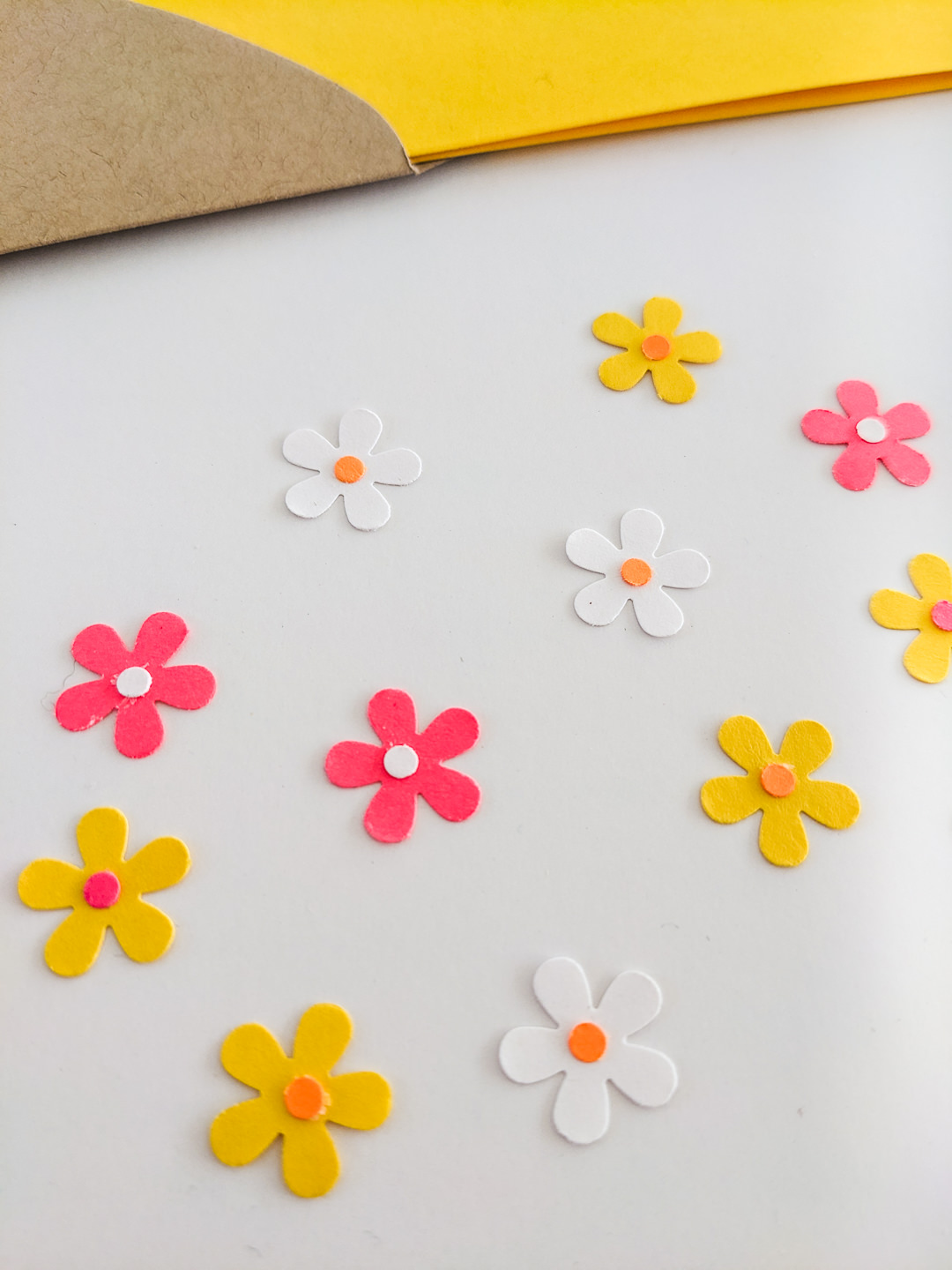 Make a cute DIY flower birthday card to celebrate friends and family
With just a few simple materials including colored cardstock paper, a flower paper punch, and a glue stick, you'll be able to create a gorgeous bouquet of flowers that will brighten birthdays. Whether you're a seasoned crafter or a beginner looking for a fun project, my handmade floral birthday card idea is sure to be a hit with your friend, sister, mom, and grandma. So gather your craft supplies, put on your favorite playlist, and get ready to create a one-of-a-kind handmade birthday card that's as unique and special as the person you're making it for!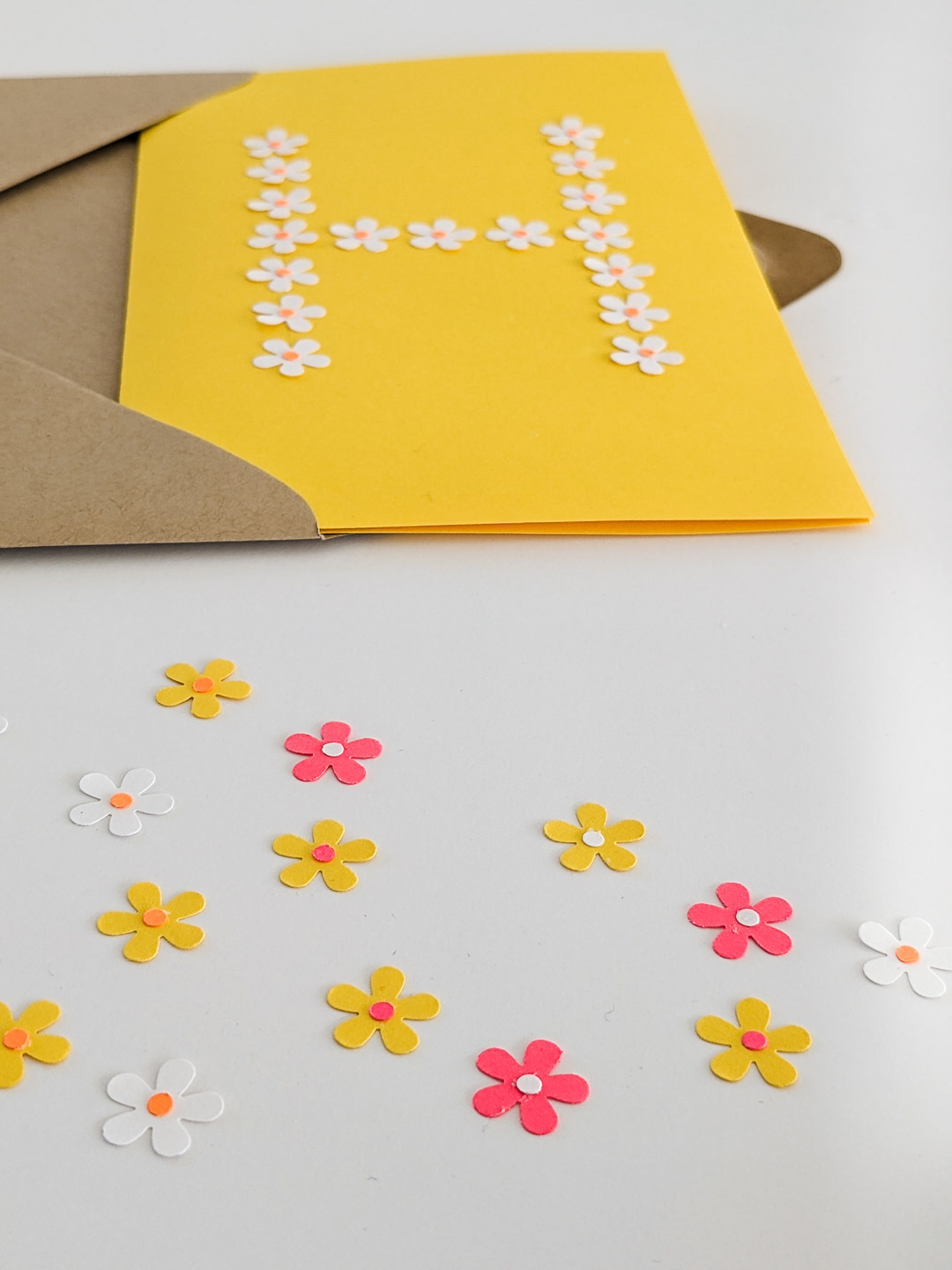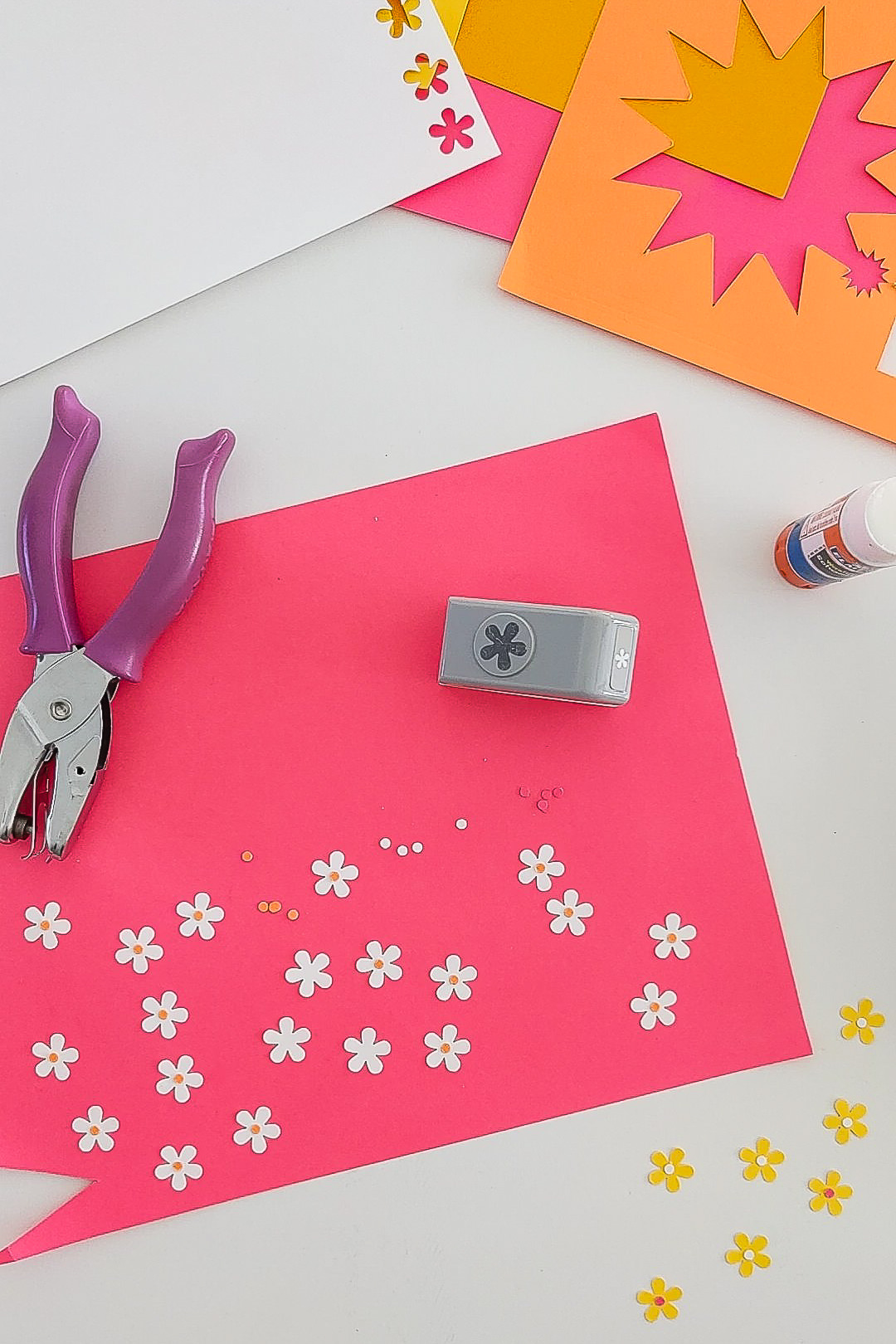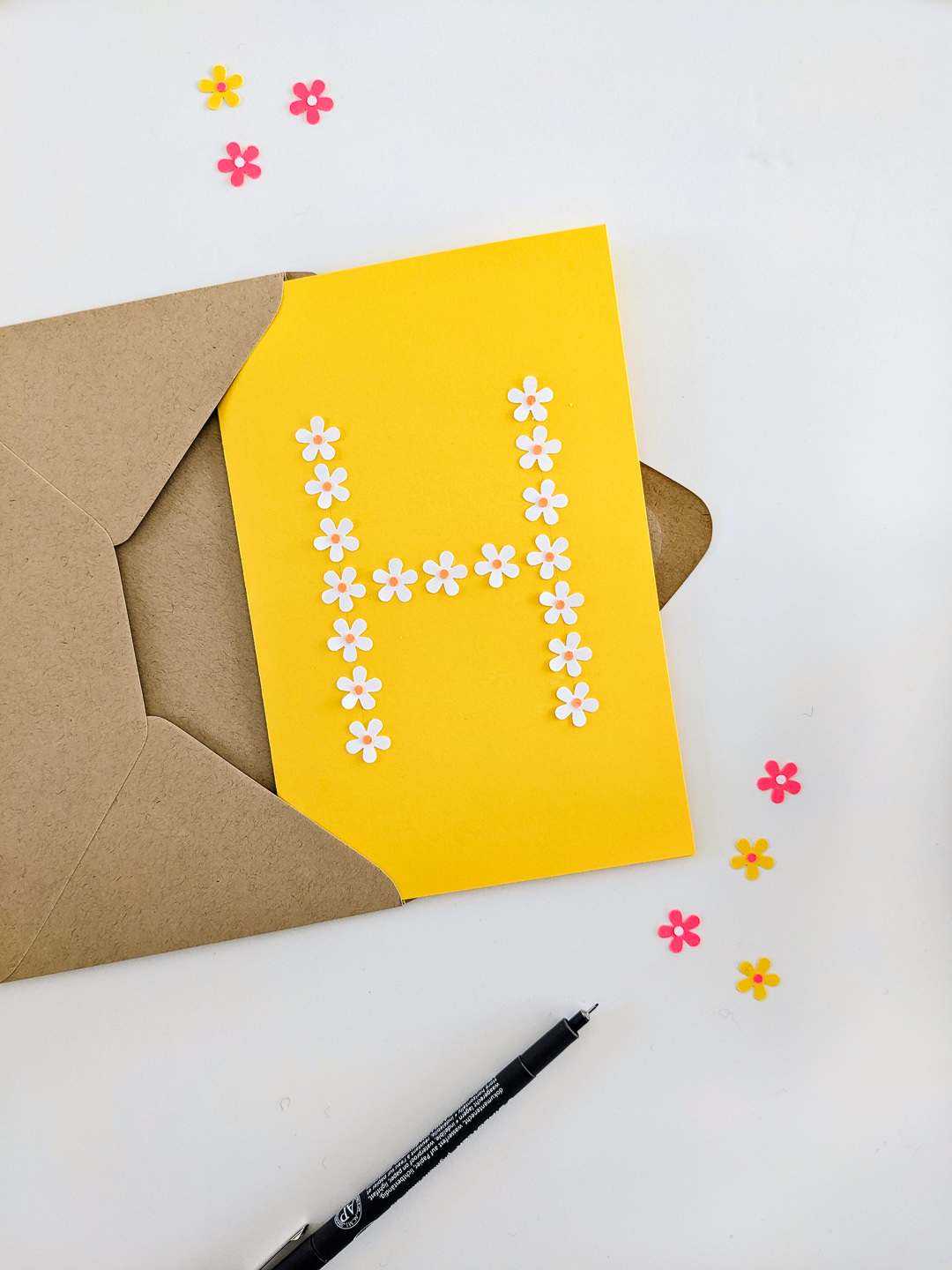 Craft supplies for making handmade birthday cards with flowers
How to make a handmade flower card from scrap paper
Step 1: Fold a piece of cardstock paper in half
Fold a piece of letter-sized cardstock paper in any color in half. You can just fold it in half, but scoring paper with a craft knife is a technique you won't want to miss. Scoring paper allows you to create clean, crisp folds that give your projects a professional look and feel. To get started, simply use a ruler and the *back side* a craft knife and run it along the edge of a ruler to make a light, shallow cut along the fold line of your paper. Be sure to use a cutting mat to protect your work surface and always use caution when working with sharp tools. Watch my video of scoring paper to see how easy this simple technique is to do.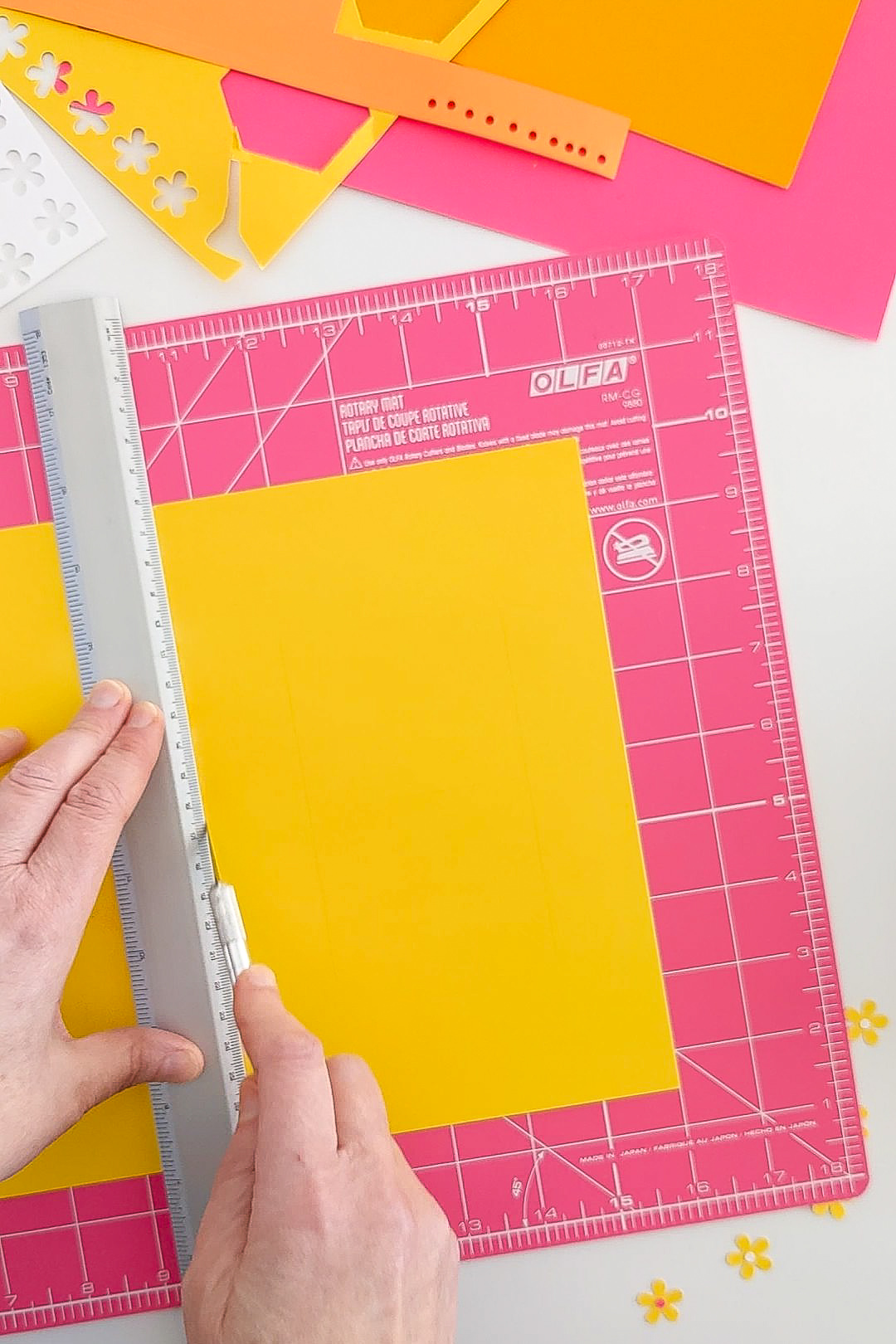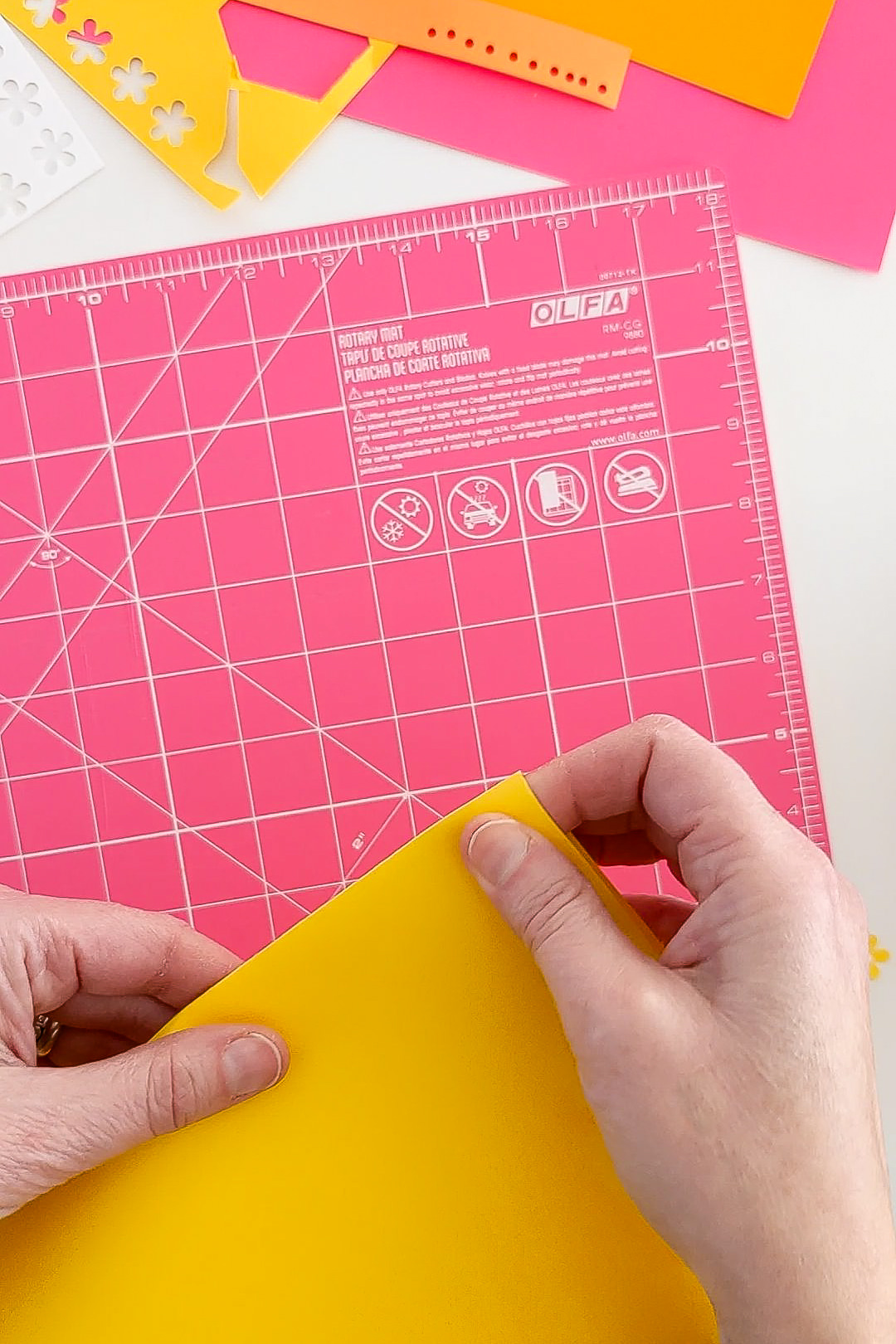 Step 2: Lightly sketch a letter onto the front of the card
Sketch the first letter of your recipient's name onto the front the card. Write very softly – you can erase these lines when your card is finished.
Step 3: Punch out flowers from scrap paper using a craft punch
The best step! Use your flower craft punch to punch out bunches of flowers from cardstock paper. Use any color you like, but be sure to punch on cardstock paper because it's slightly thicker than regular printer-weight paper and will punch more cleanly.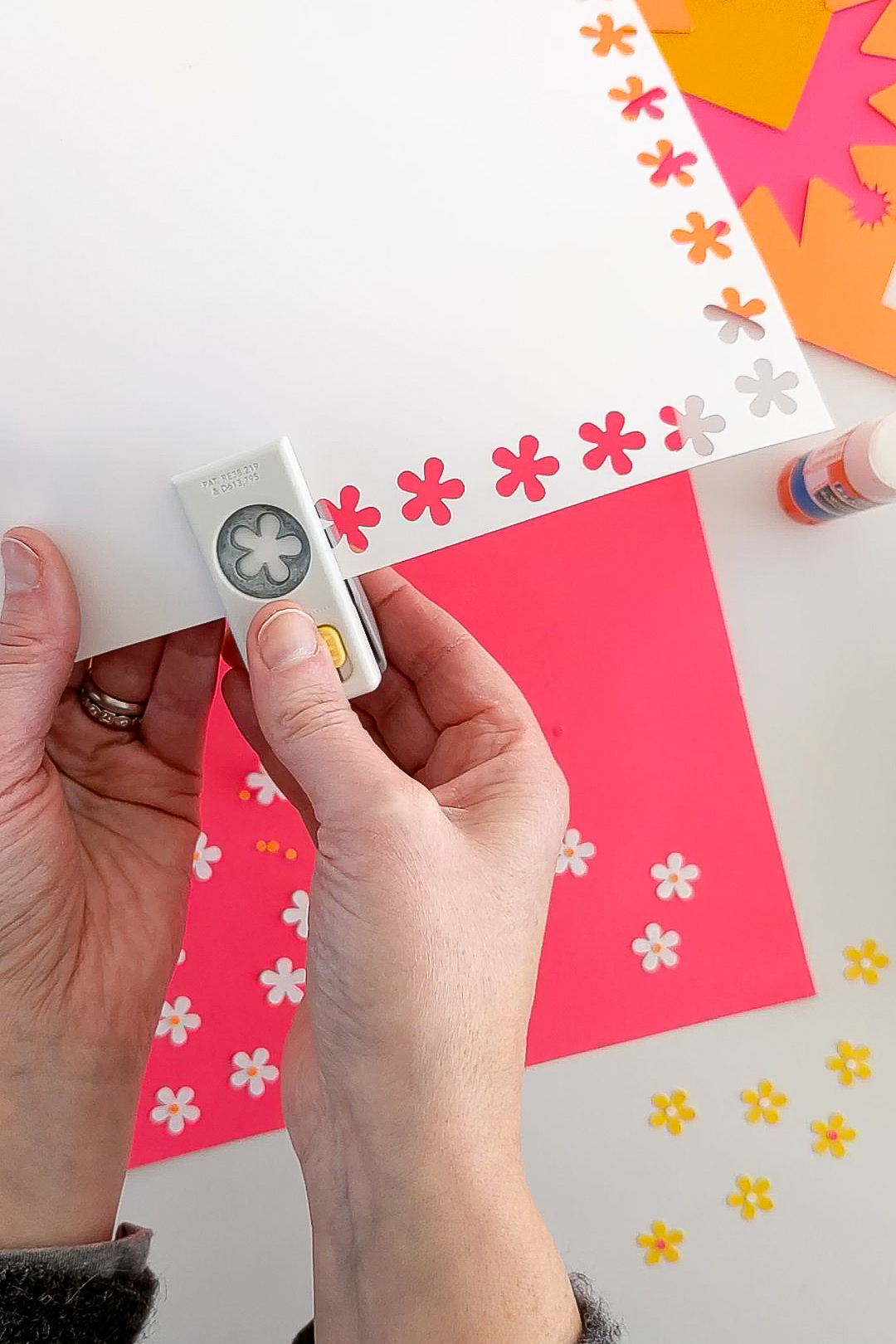 Step 4: Add centers to your paper flowers
Add flower centers using a 1/8″ hole punch. I really recommend investing in a 1/8″ hole punch because the teeny holes are just cuter than regular hole punches. I use mine at ton for hanging happy birthday banners and making gift tags in addition to dainty flower centers. Glue centers onto the flowers. I like to use my craft knife as an extra hand; I pick up a little bit of glue from a glue stick with my craft knife and then touch it to a center and affix it to a flower.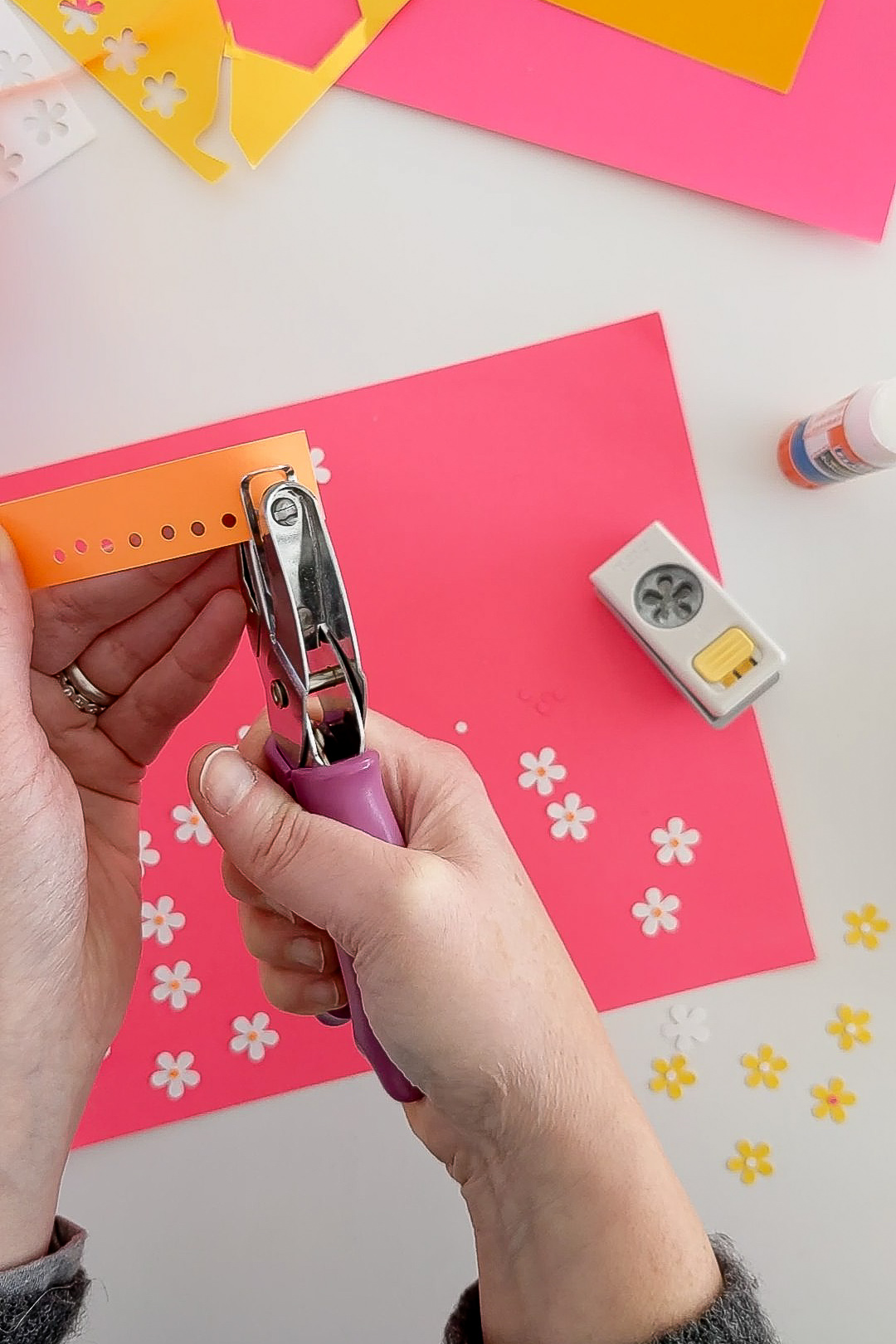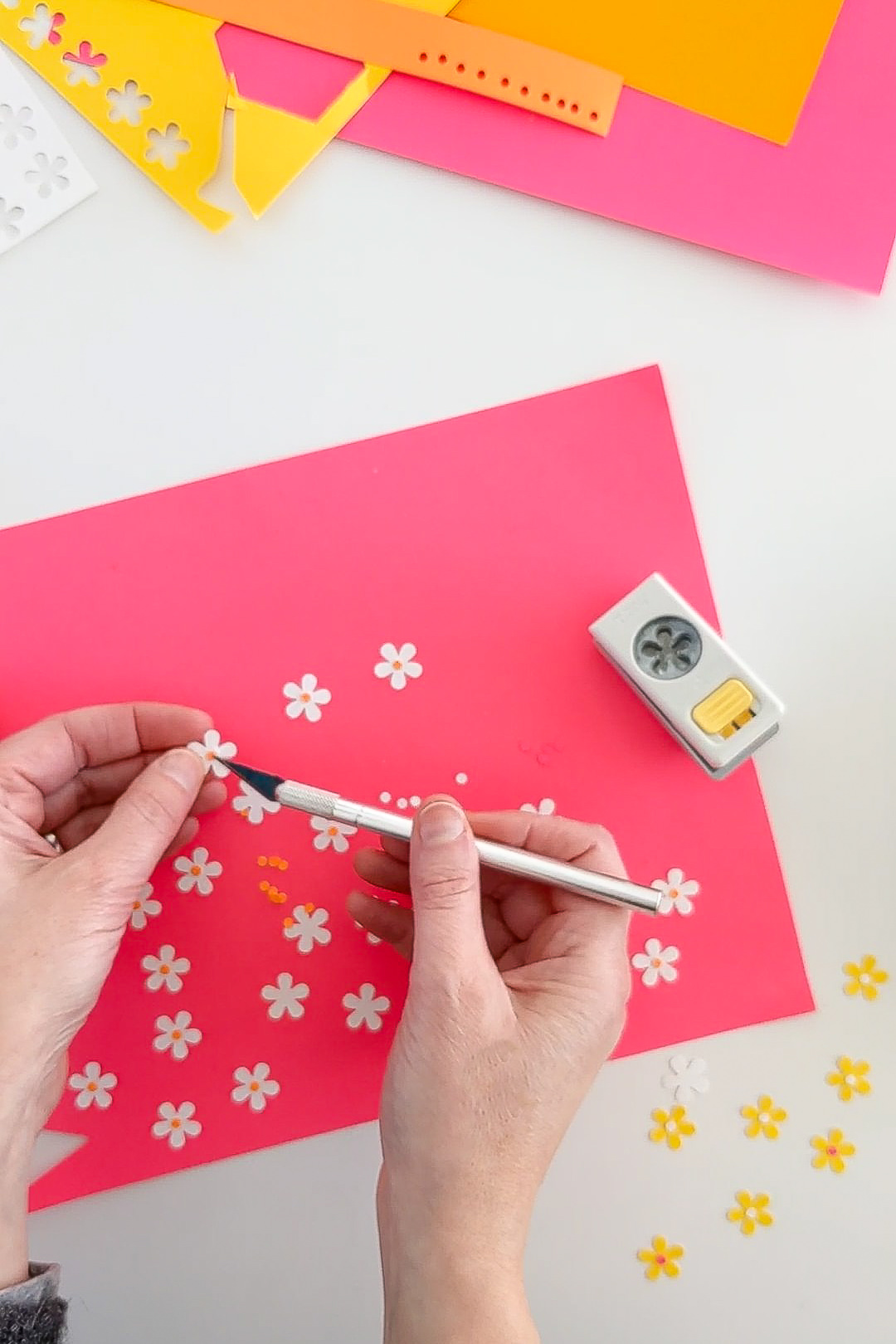 Step 5: Glue paper flowers onto your DIY flower birthday card
Glue the mini paper flowers onto your drawn letter using a glue stick. There's no need to get the spacing perfect so just have fun; it's a handmade birthday card after all. Let your card dry completely before signing it and putting it inside a colorful A7 envelope to give to your friends and family.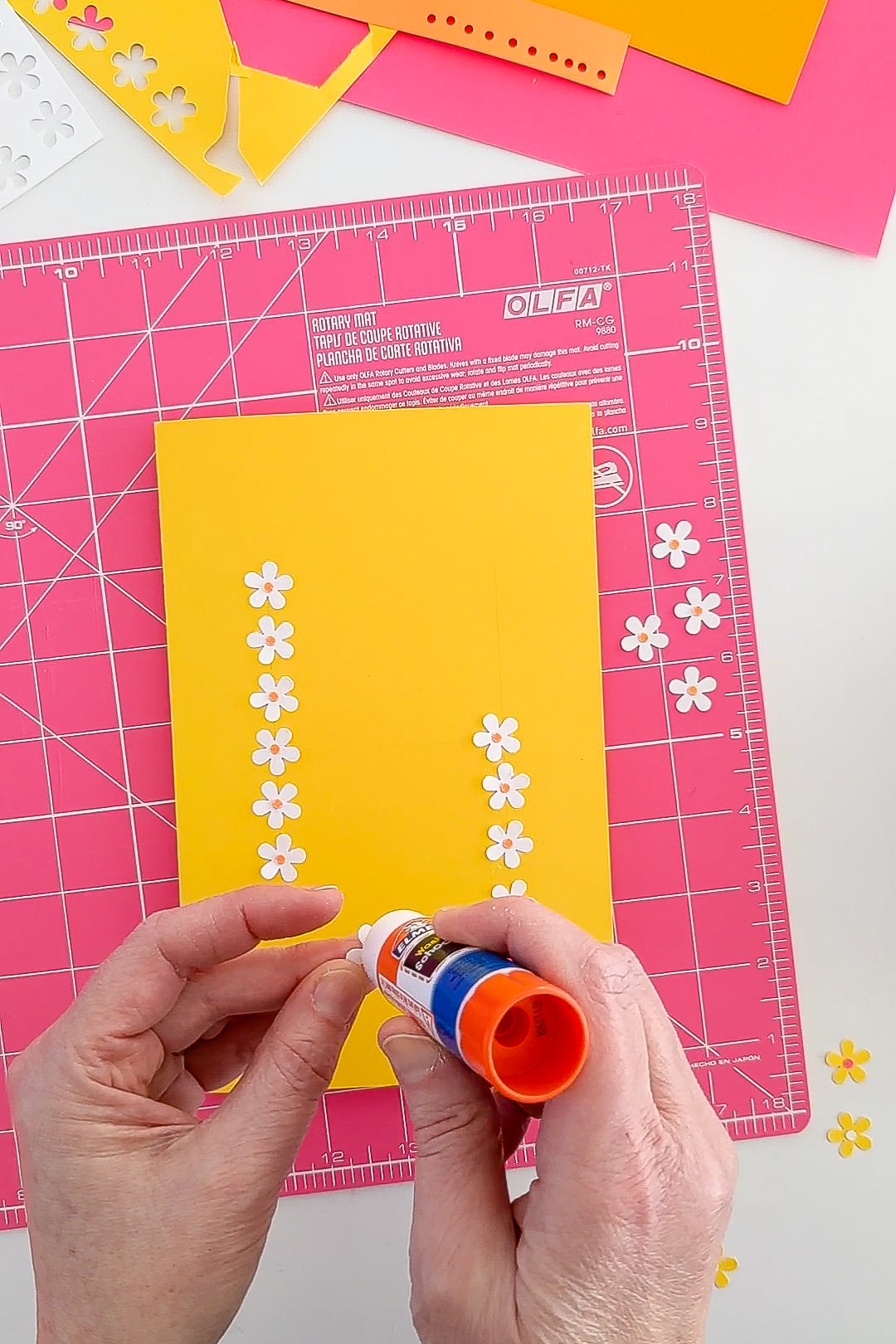 Pin my DIY flower birthday card to make for friends and family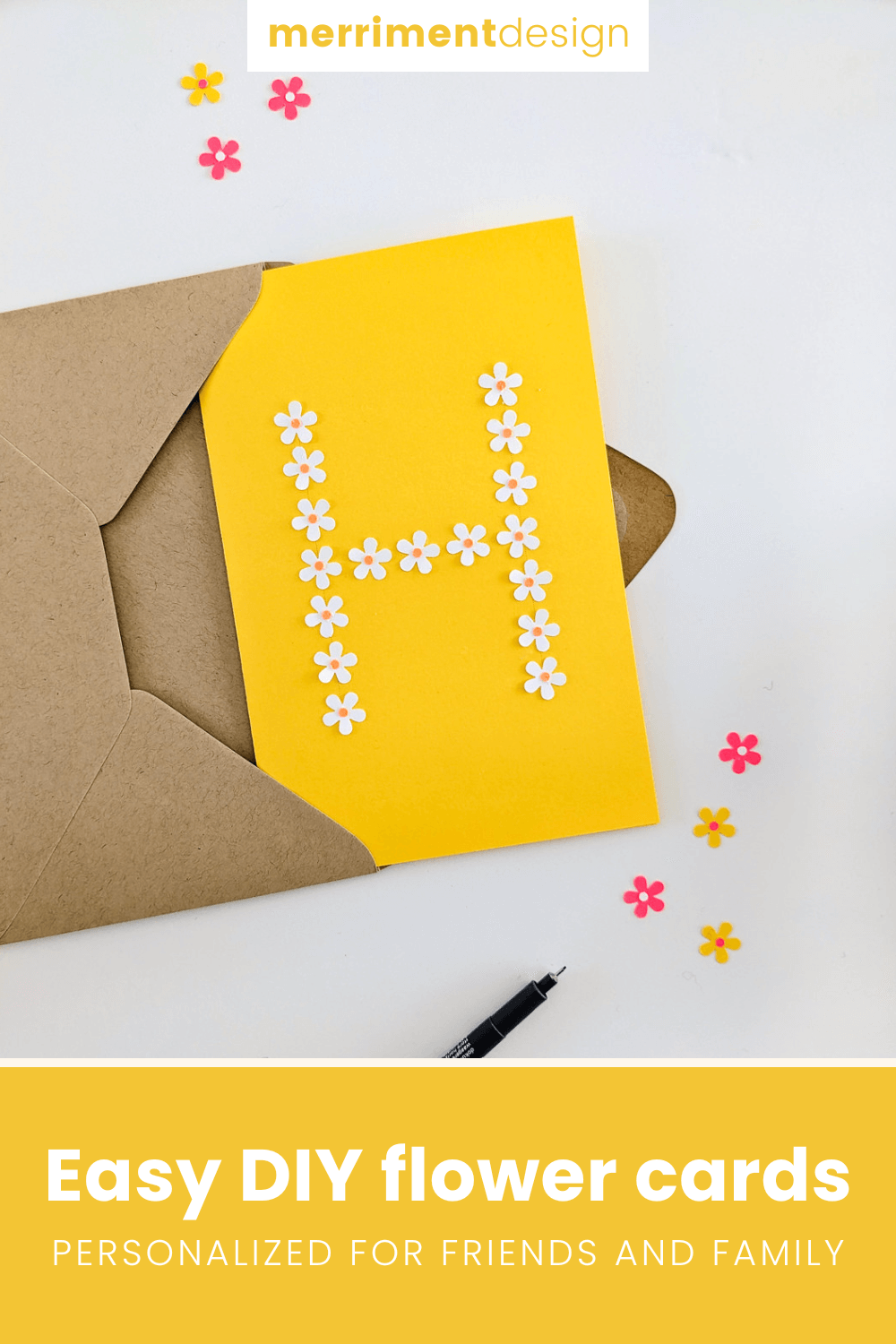 And be sure to check out more handmade cards to make like my Monogram DIY Valentines, Cute Rainbow Birthday Card, and DIY Mother's Day card.
++++++
Like it? Share it!
The nicest way to say you like it is to pin it on Pinterest, post a comment, follow Merriment Design on Facebook, Pinterest, Instagram or sign up for monthly emails. Enjoy! 🙂
Copyright stuff: You're more than welcome to use my free project, printable templates, and tutorials for personal use. Contact me for commercial use and Etsy sales. Momma's gotta pay the bills.