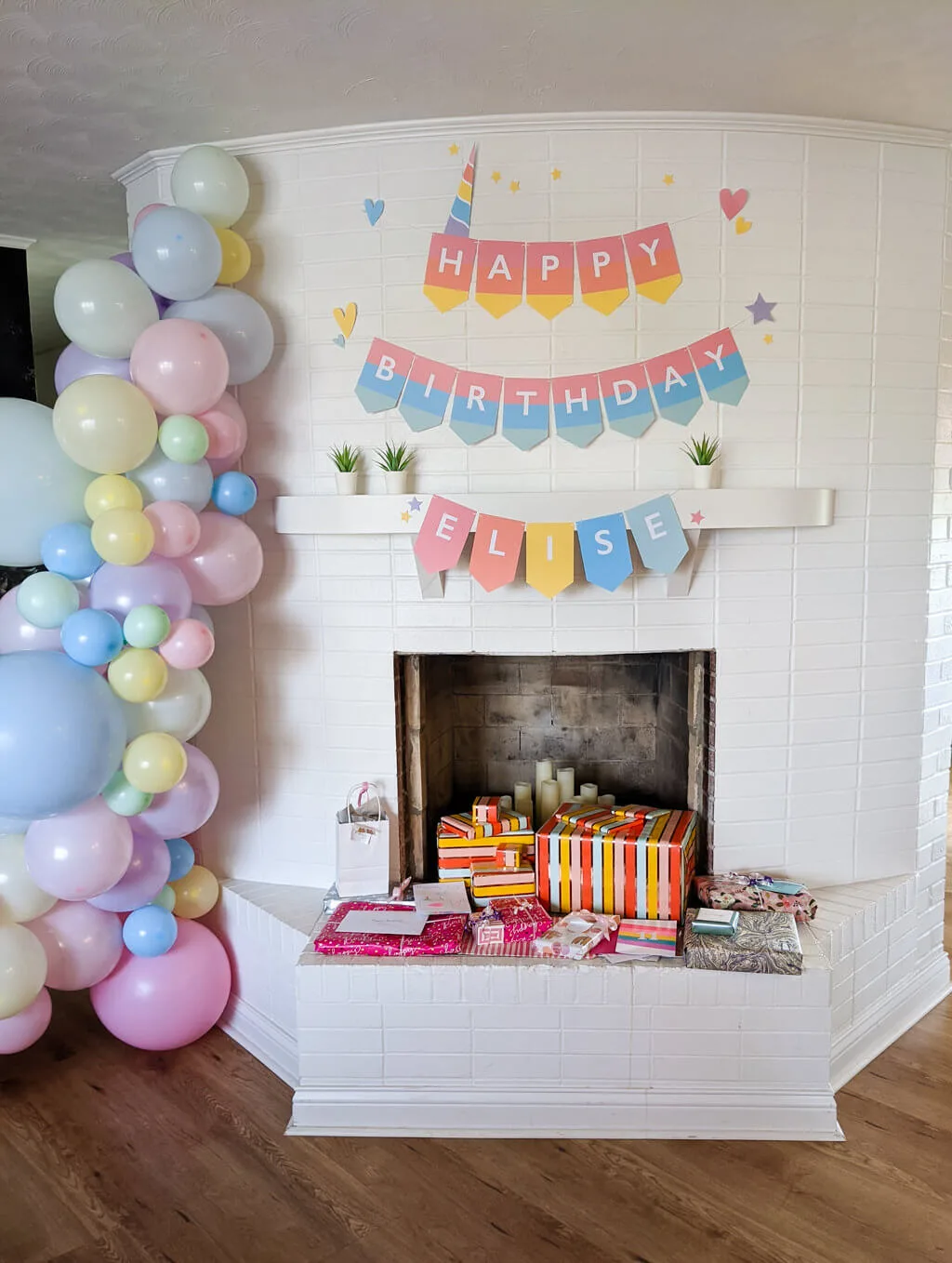 Print my cute DIY rainbow unicorn banner for a magical unicorn birthday party! 🦄🦄🦄🦄 My pastel happy birthday banner comes with rainbow letters, hearts, stars, and even a printable unicorn horn. Download and print my free printable pastel rainbow unicorn banner for pretty pastel birthday party decor.
See also: 'How to make a balloon garland' »
Cute printable unicorn birthday banner for tweens
I designed my cute and modern rainbow unicorn banner, unicorn birthday cake with horn, and pastel balloon garland for my tween daughter's Rainbow Unicorn birthday party theme. Elise is a full-on tween now so I wanted to design her a cute unicorn banner that was kawaii-enough without being too babyish for tweens. I think that my pastel rainbow unicorn banner has just the right amount of unicorn for cool tweens like E.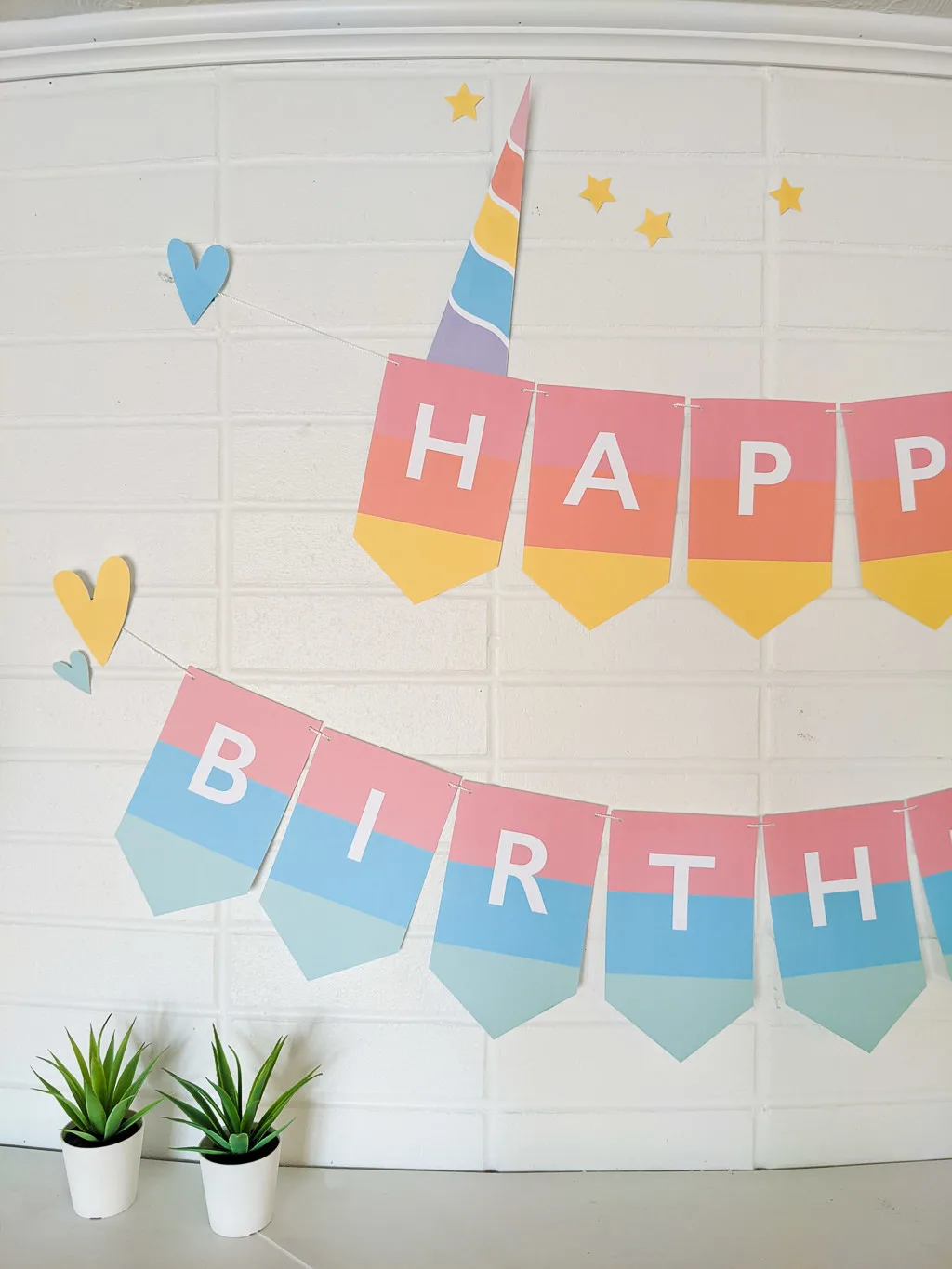 Rainbow unicorn birthday banner to print and cut out at home
You can download and print my free rainbow unicorn birthday banner at home or your local office supply store like FedExOffice. The pastel colors in this banner give this banner an ethereal vibe. HAPPY is in pink, orange, and yellow, and BIRTHDAY is in pink, blue, and turquoise. The printable unicorn horn is a pastel rainbow, naturally. We also added a couple of cute paper unicorns that we made from the Unicorn Garland Craft Kit from Paper Source.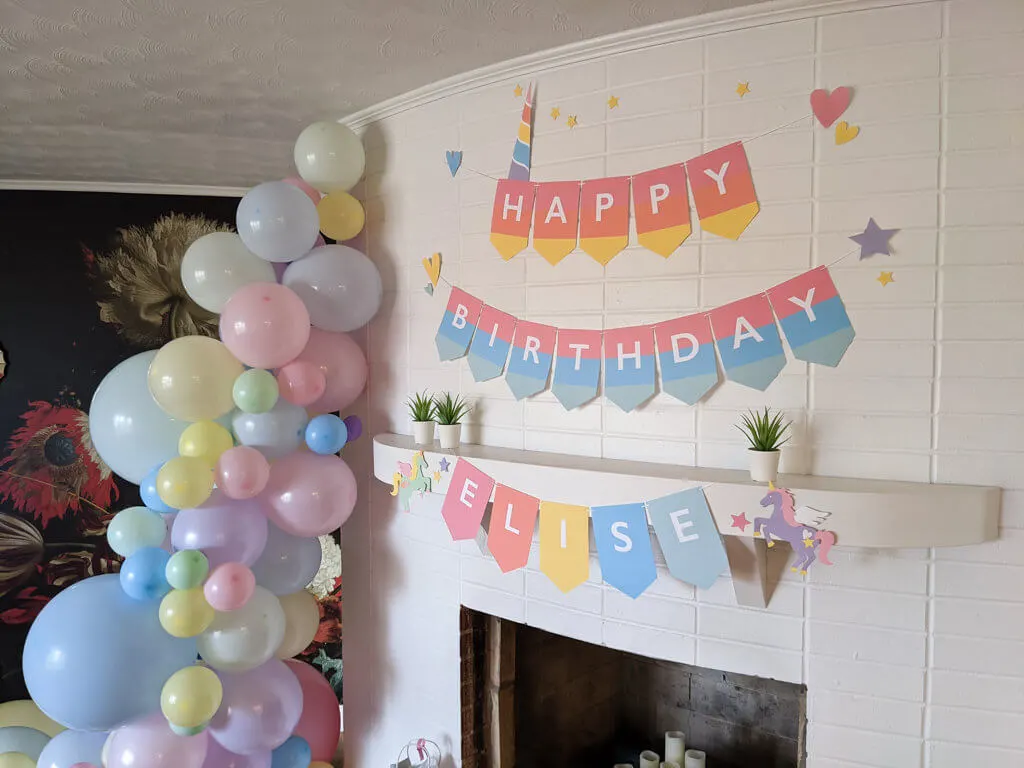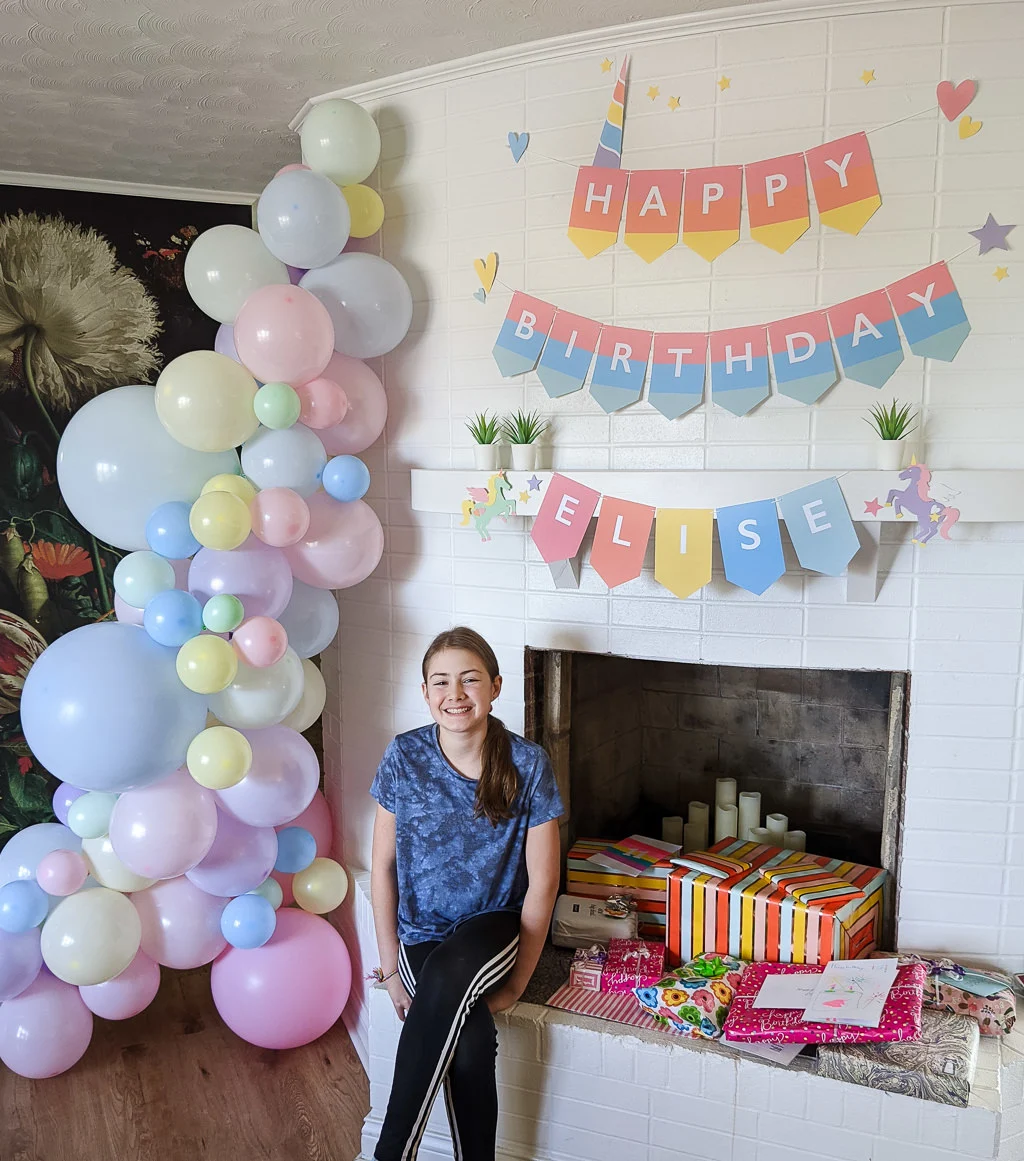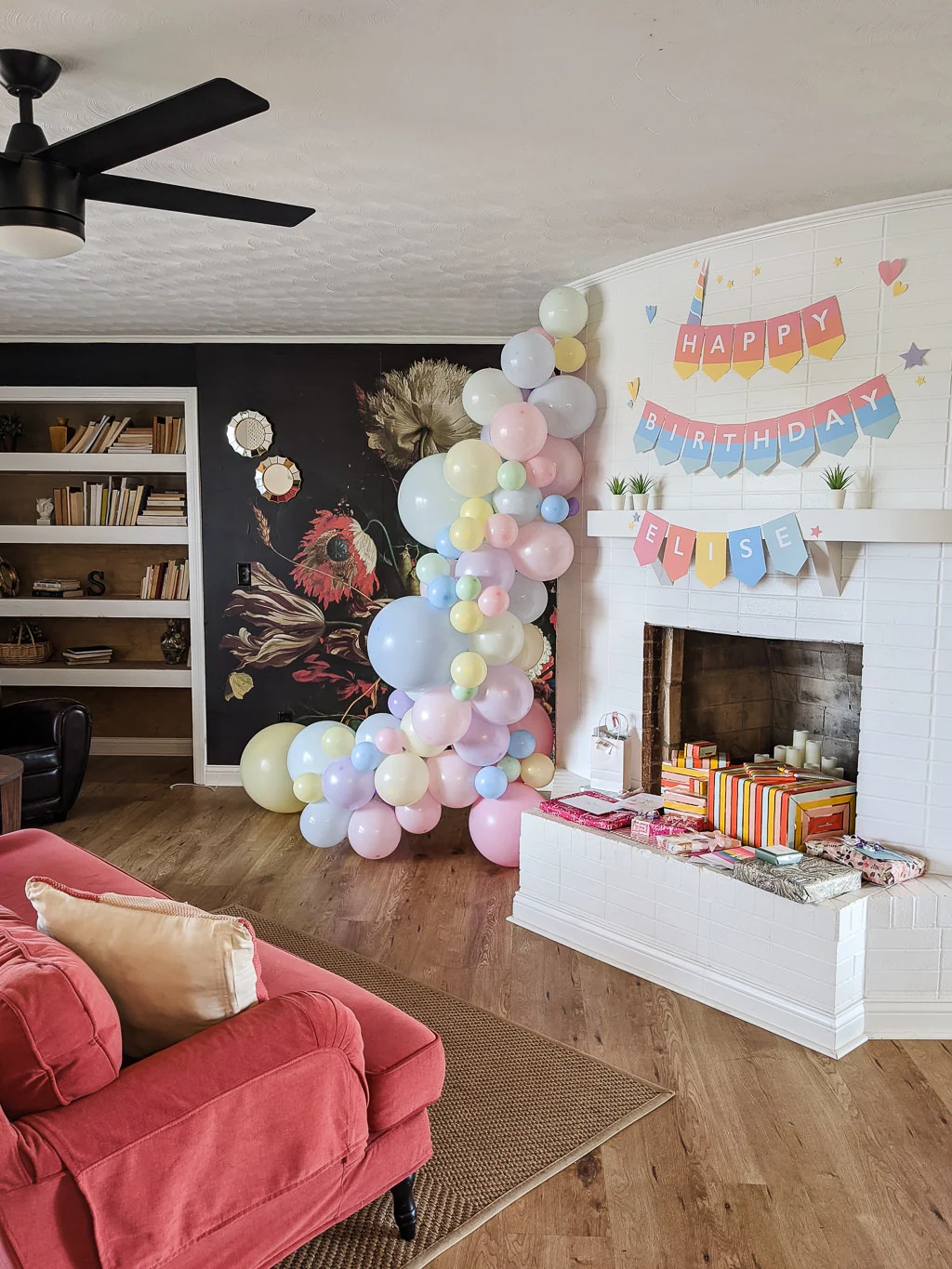 Download my unicorn horn printable (it'd look cute on wrapped gifts, too)
You know that I like a little bit of clever and whimsy in my creations, so I decided to have a unicorn horn come out on top of the banner. I think it'd be cute to print some extra unicorn horns to add to the top of wrapped gifts. Gotta carry the unicorn theme through all of the party decorations, don't you think?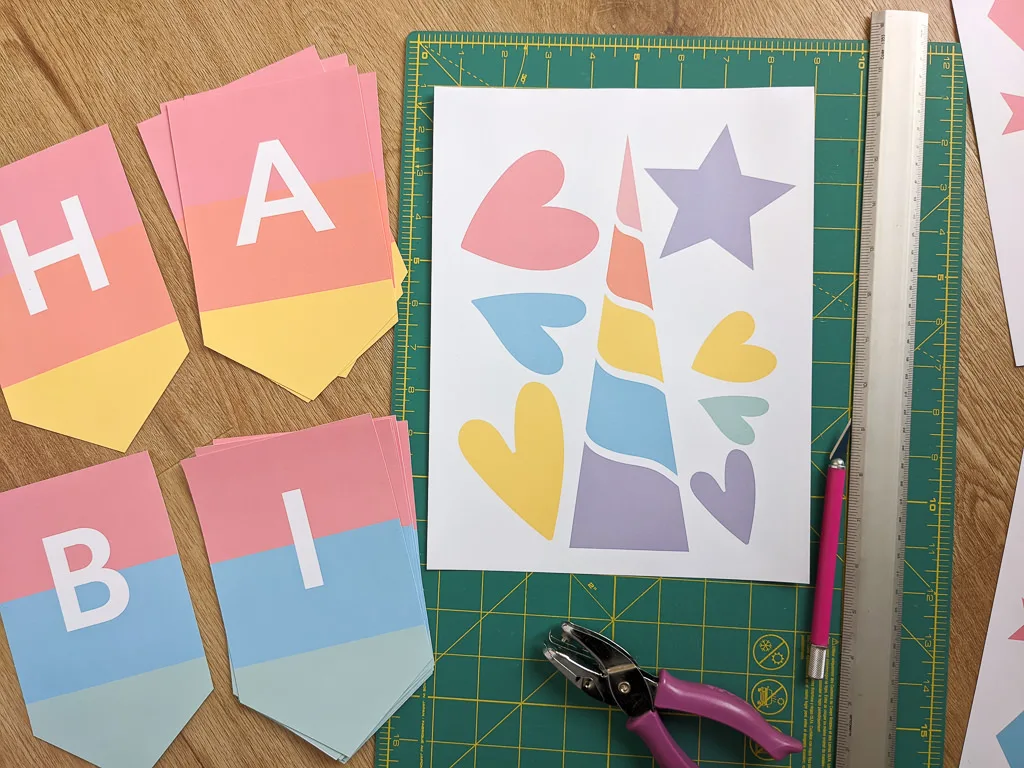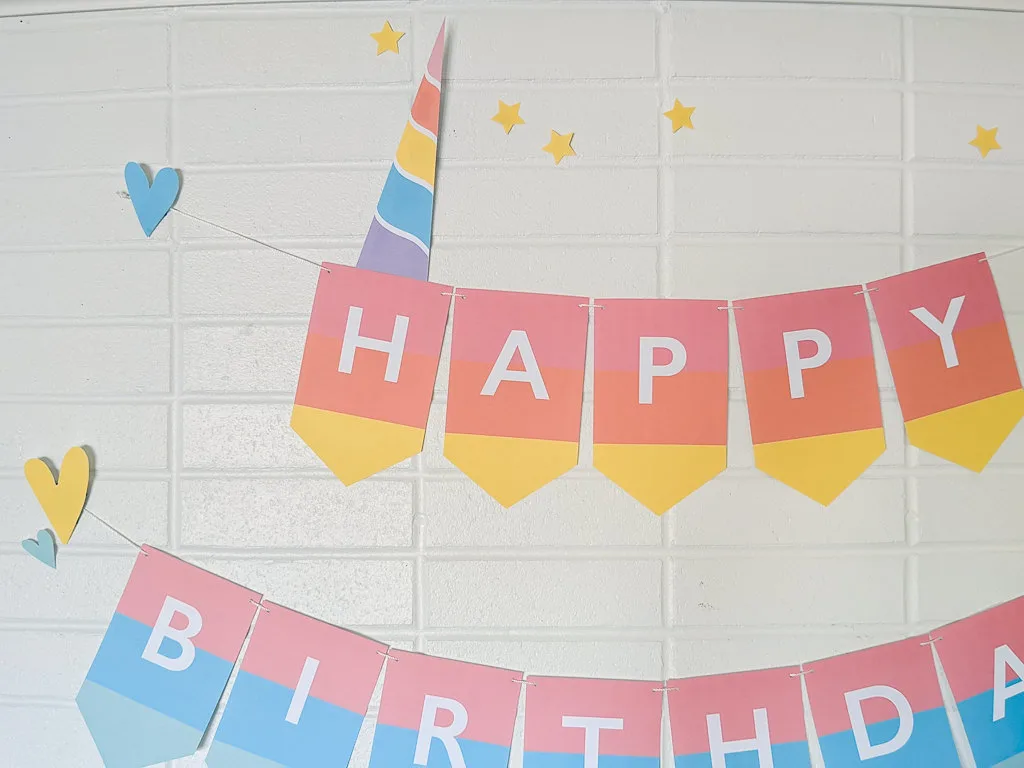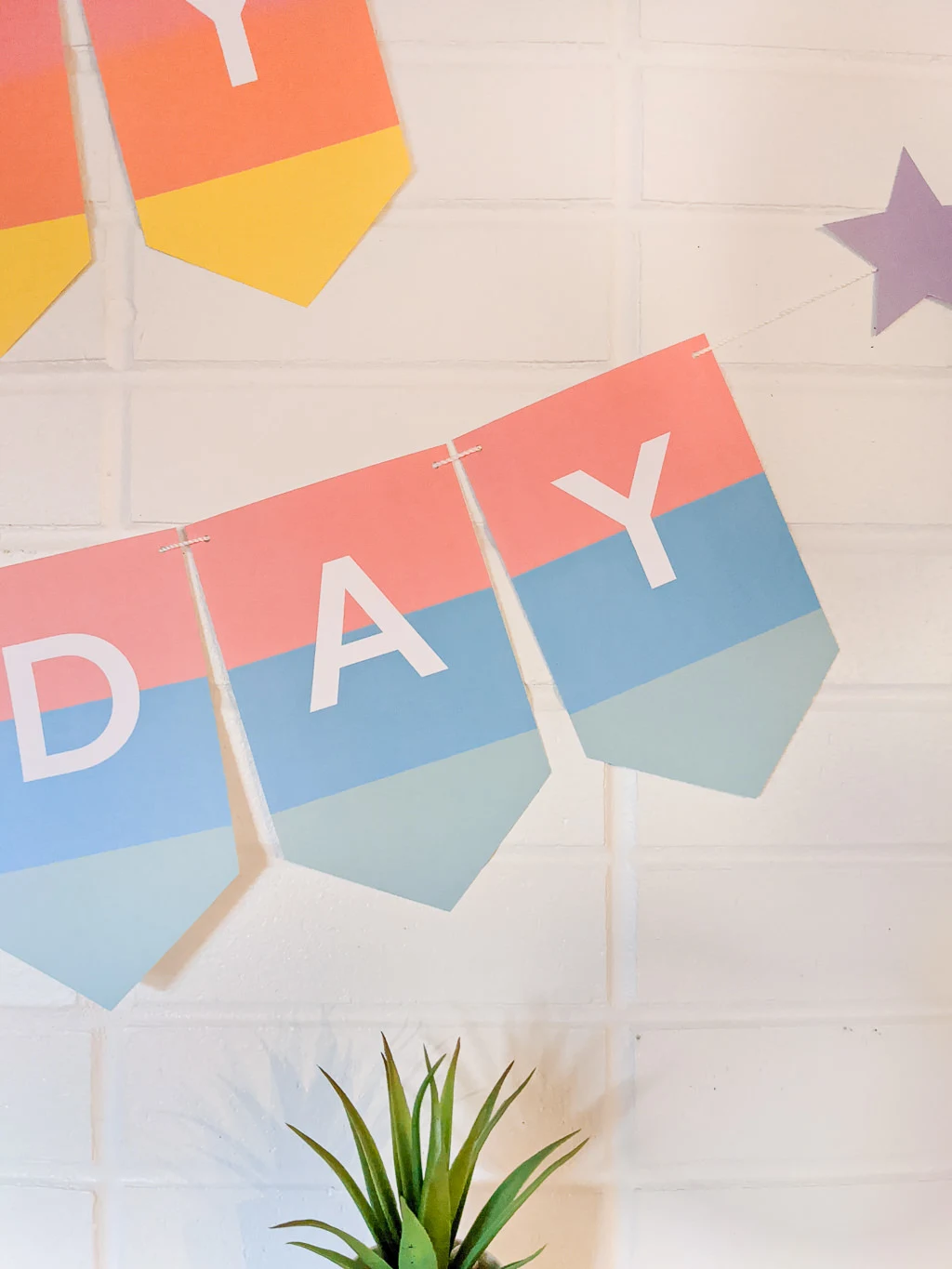 Free printable rainbow unicorn birthday party decorations for a magical party
You can download my happy birthday unicorn banner below in the 'Supplies' section. My free printable unicorn banner includes HAPPY BIRTHDAY, a printable unicorn horn, and assorted pastel hearts and stars. And if you want to add a personalized name to your banner and get all letters and numbers, the please see my fully editable unicorn banner in my Etsy shop which is easy to personalize and if you need my help, just contact me.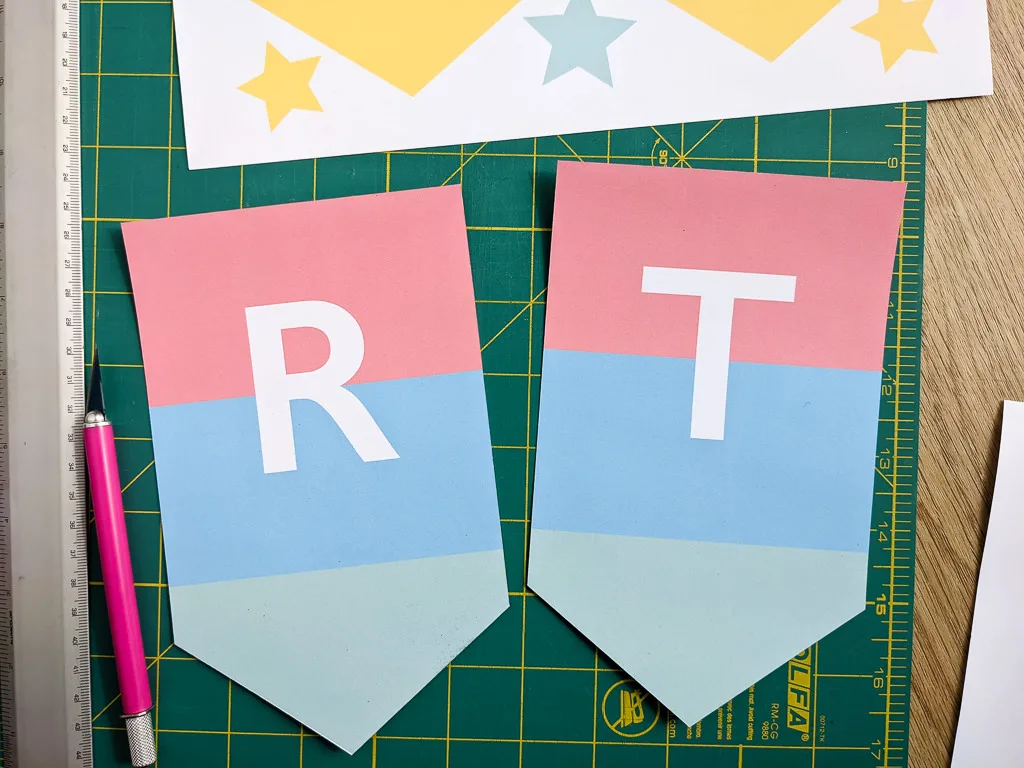 Supplies for making a DIY rainbow unicorn happy birthday banner for a unicorn birthday party:
How to make my Happy Birthday rainbow unicorn banner:
1. Download my free printable Happy Birthday rainbow unicorn happy birthday banner – with unicorn horn!
My free printable unicorn banner PDF includes "Happy Birthday" spelled in pastel rainbow letters, a printable unicorn horn (rainbow, of course!), plus assorted decorative hearts and stars. Wanna add a name to personalize your unicorn banner? To add a personalized name and get my FULLY EDITABLE unicorn banner with all letters and numbers – please see my Personalized Unicorn Banner at my Etsy shop.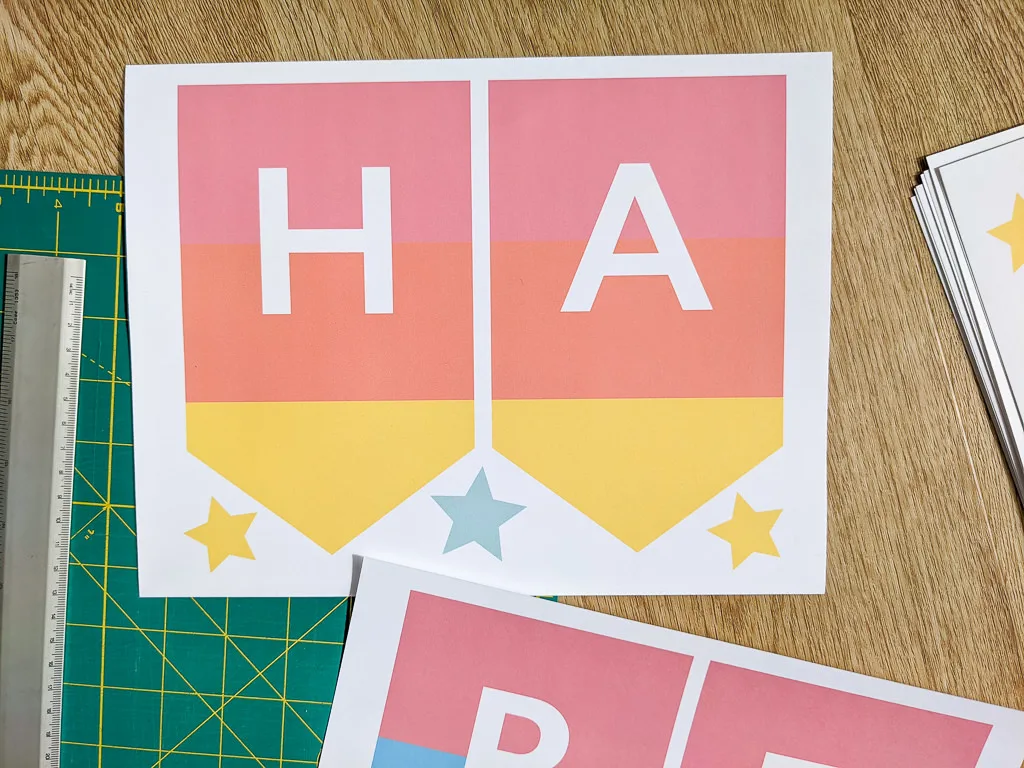 2. Print the letters on white cardstock paper
Print my unicorn banner at home or your local print shop. Here's my favorite white cardstock paper that I use to print all my birthday banners.
3. Cut out the banner letters
Grab a pair of good paper scissors or a craft knife, metal ruler, and self-healing mat to cut out the letters.
4. Punch holes and hang the happy birthday banner
I like to use a 1/8″ hole punch to punch holes on the banner letters. Then put a piece of blue painter's tape on the end of white yarn to keep it from raveling and thread the yarn through the holes. Hang the banner using blue painter's tape, then cover the tape with cut-out hearts and stars.
5. Add the printable unicorn horn
Tape the unicorn horn using blue painter's tape so it's behind the H in happy birthday. And if you're wrapping gifts, I think it would be cute to print more unicorn horns to use as gift toppers.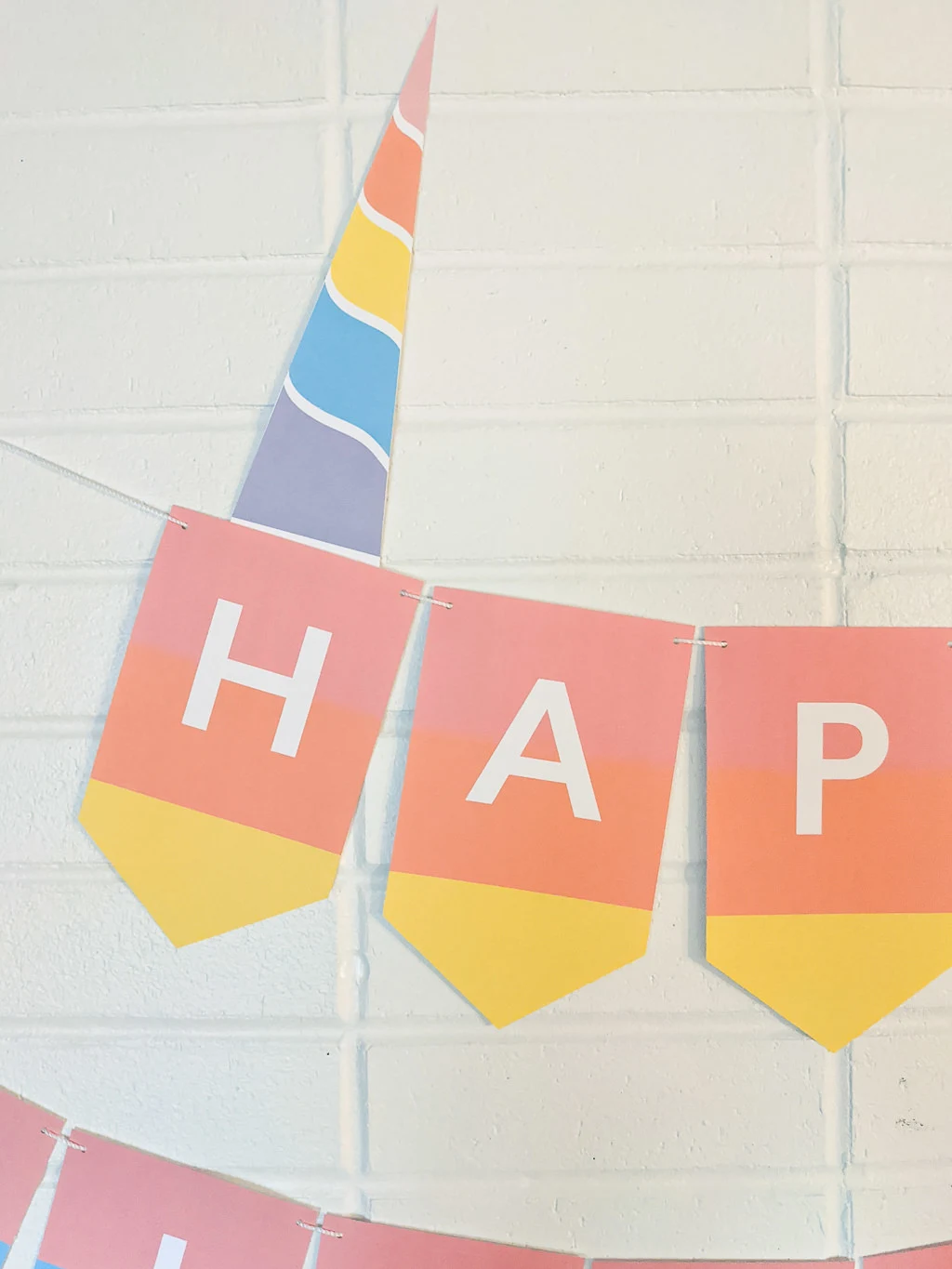 6. Add paper unicorns to your banner (optional)
Elise and I made some cute paper unicorns using a Unicorn Garland Craft Kit at Paper Source. We added purple and mint green unicorns to the sides of the banner. I think this Unicorn Craft Kit would make a fun craft activity during the party, too.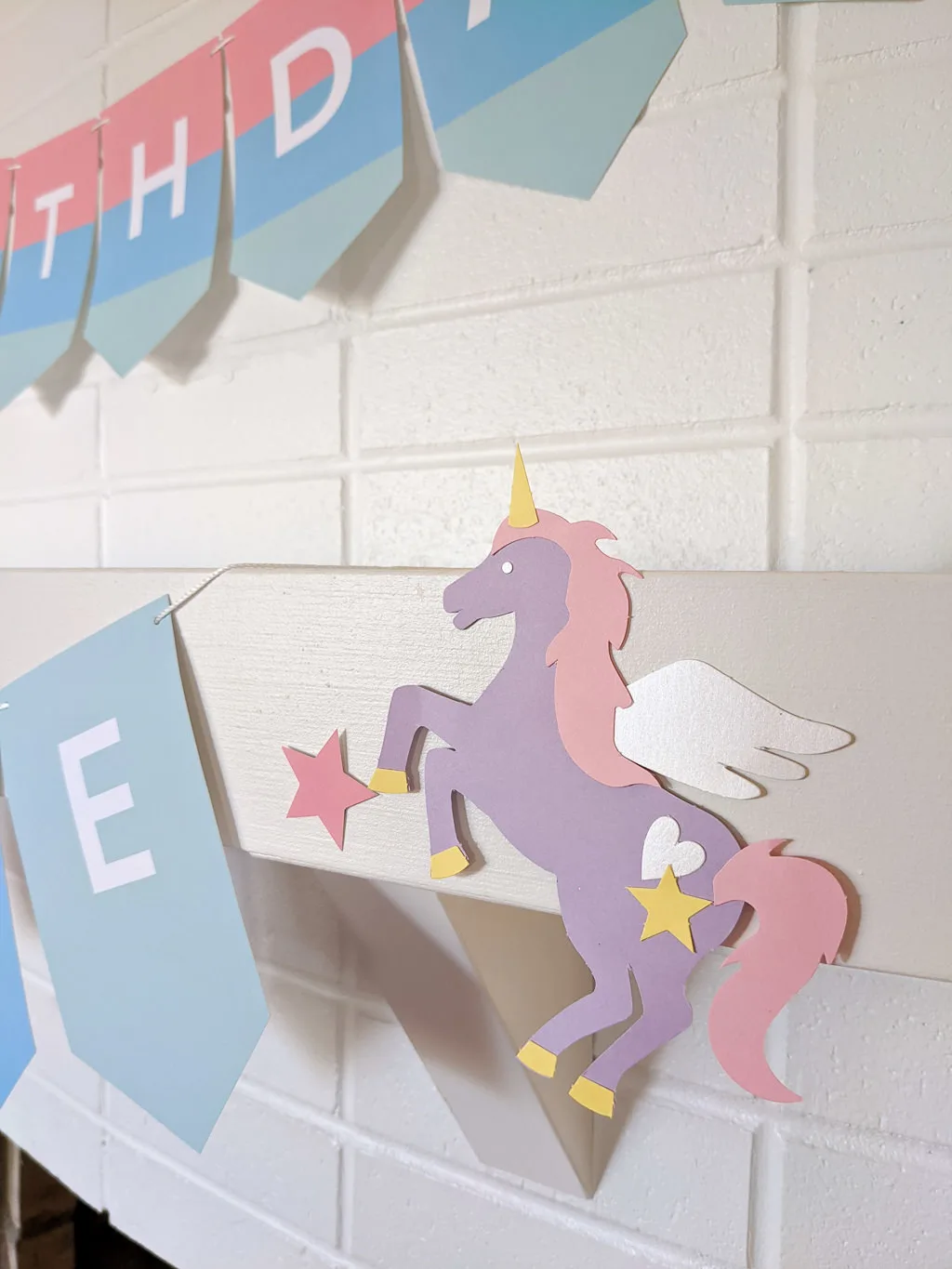 7. Add a pastel balloon garland (optional)
I added a cute pastel "unicorn mane" balloon garland which made a great photo backdrop. See how to make your own balloon garland – it's easy for beginners. And I share lots of tips for a stress-free balloon garland.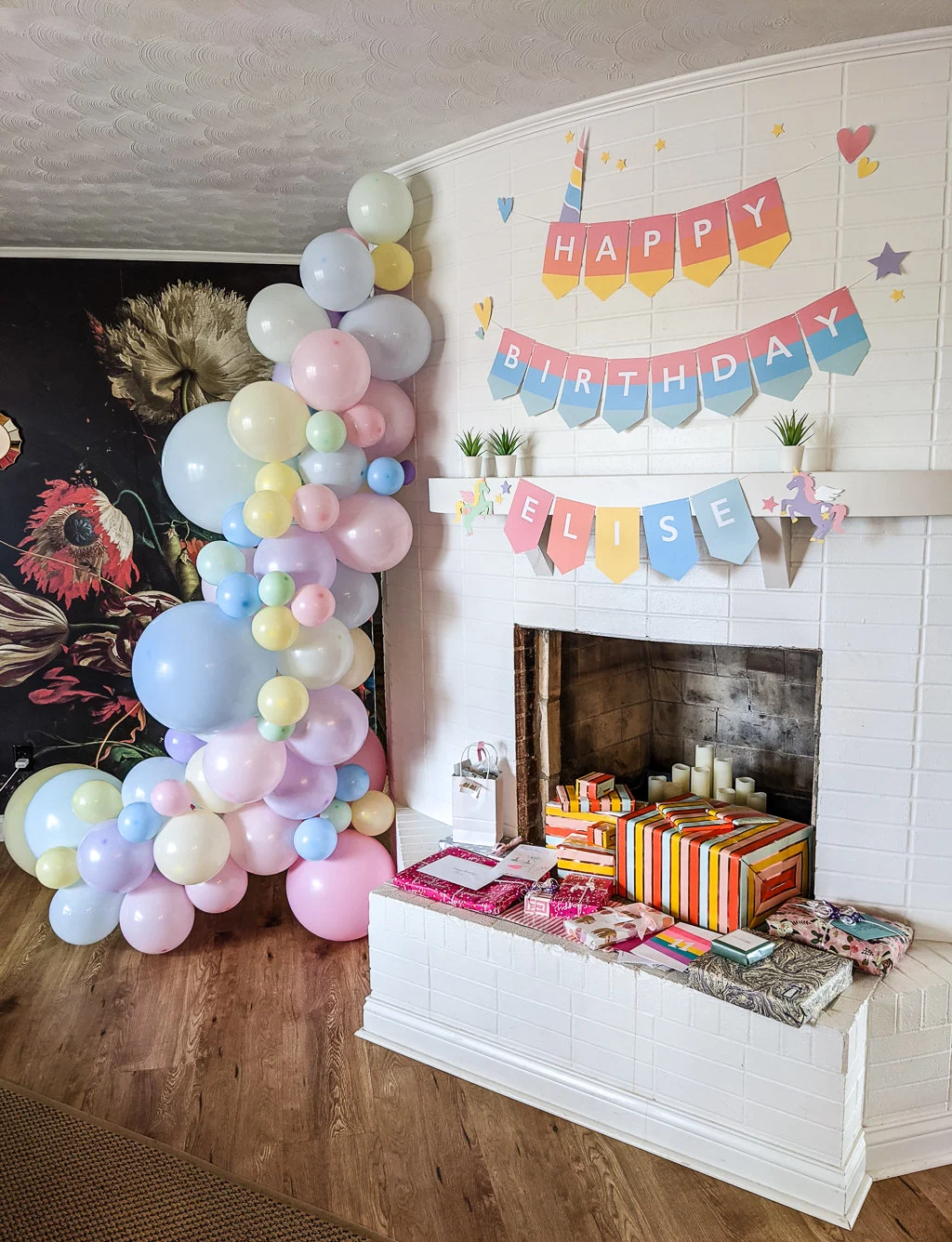 My unicorn happy birthday banner and balloon garland make a great photo backdrop for the birthday girl and her kawaii-esque unicorn cake.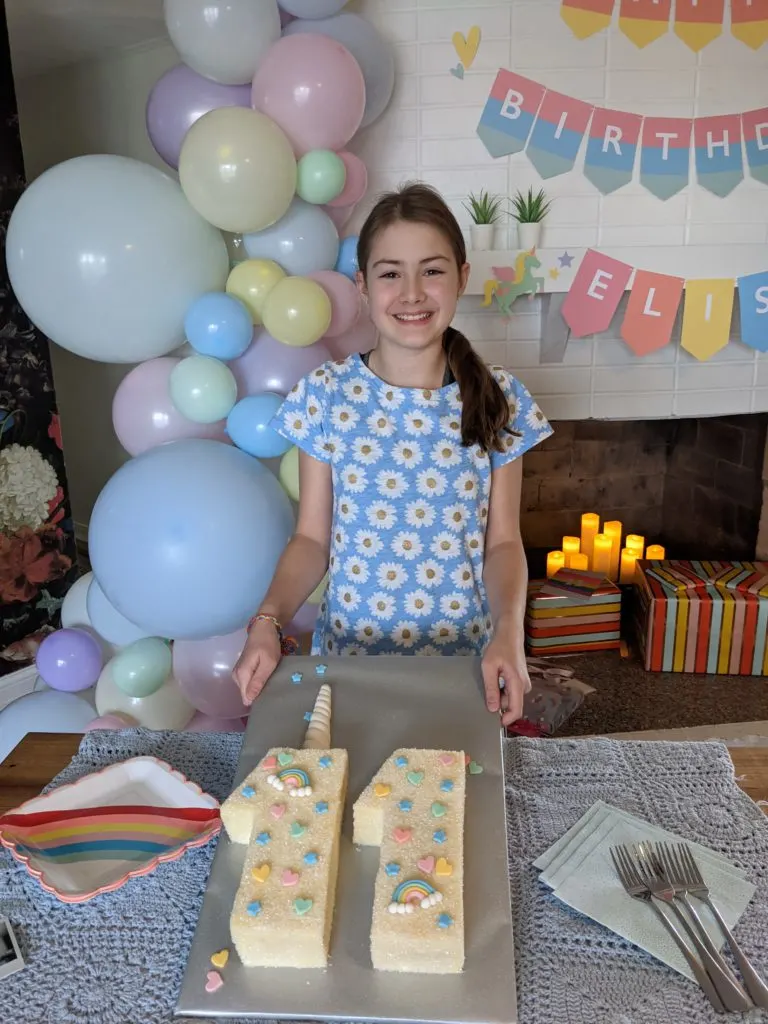 Be sure to pin my printable unicorn birthday banner: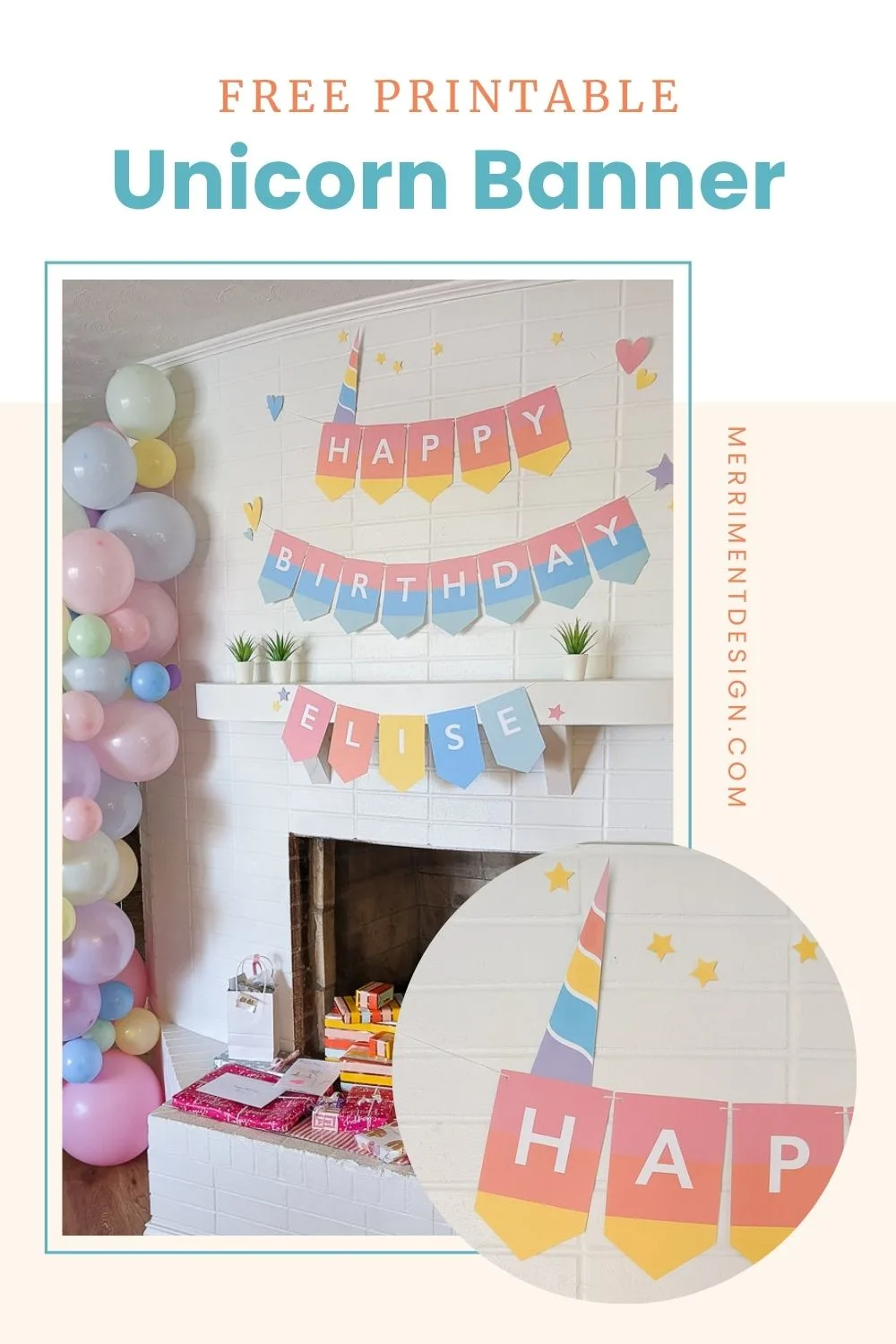 ++++++
And see more birthday party ideas for girls and printable happy birthday banners. Have a magical party!
—
Like it? Share it!
The nicest way to say you like it is to pin it on Pinterest, post a comment, follow Merriment Design on Facebook, Pinterest, Instagram or sign up for monthly emails. Enjoy! 🙂
Copyright stuff: You're more than welcome to use this free project and tutorial for personal use. Contact me for commercial use and Etsy sales.