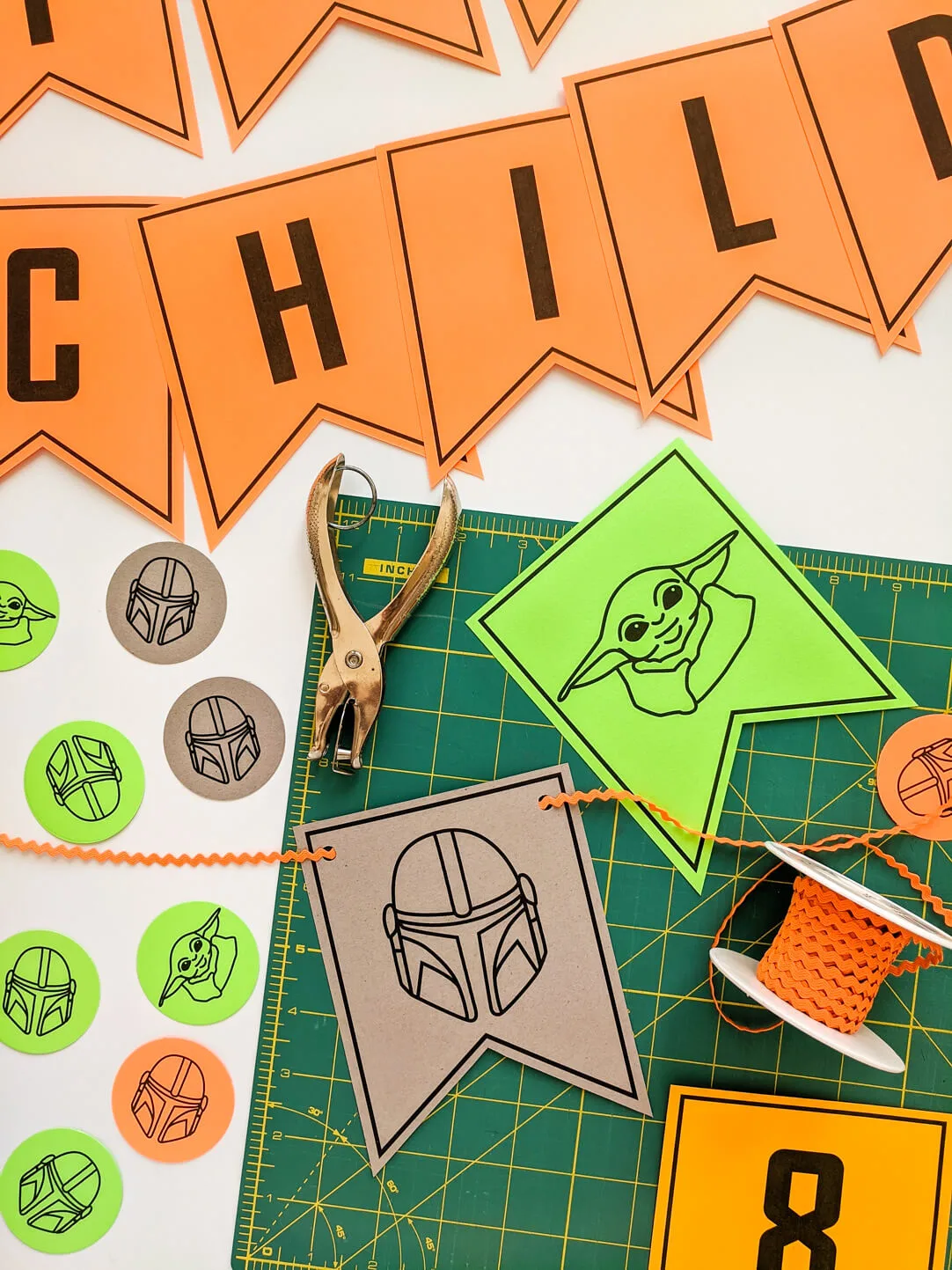 The Child is 8! Download my free printable Mandalorian and Baby Yoda birthday banner to make your own fun Mandalorian birthday party decorations. Your own Child's birthday banner can say whatever you'd like: Happy Birthday, This Is The Way, or whatever. Print the Mandalorian banner onto any color paper; I chose the sunset colors on Tatooine plus green for Grogu.
My printable Baby Yoda birthday banner coordinates with my free Baby Yoda printable cupcake toppers, my Baby Yoda birthday cake tutorial, and my free printable Baby Yoda Thank You Cards (coming soon). My Baby Yoda birthday decorations work well for a first birthday party and other ages like my 8-year-old child.
See also: 'Easy Baby Yoda birthday cake DIY' »
I think that my handmade Mandalorian birthday party decorations are way cuter than Mandalorian party supplies that you could buy at Party City or Amazon. Plus my printable banner is free — no Beskar steel payment needed.
Personalize this Baby Yoda birthday banner for your own Child's party
I'm giving you two standard options for my Baby Yoda banner: "The Child is [AGE]" and "Happy Birthday." Want to add your child's name, age, or special phrase? You can visit my Etsy store to request personalized names, ages, and phrases.
Match your party colors! You can print my Mandalorian birthday banner onto any color cardstock paper. I chose green, orange, yellow, and tan based on this cool Mandalorian imagery at Zazzle and added then added green for Grogu. See my color card stock paper recommendations below.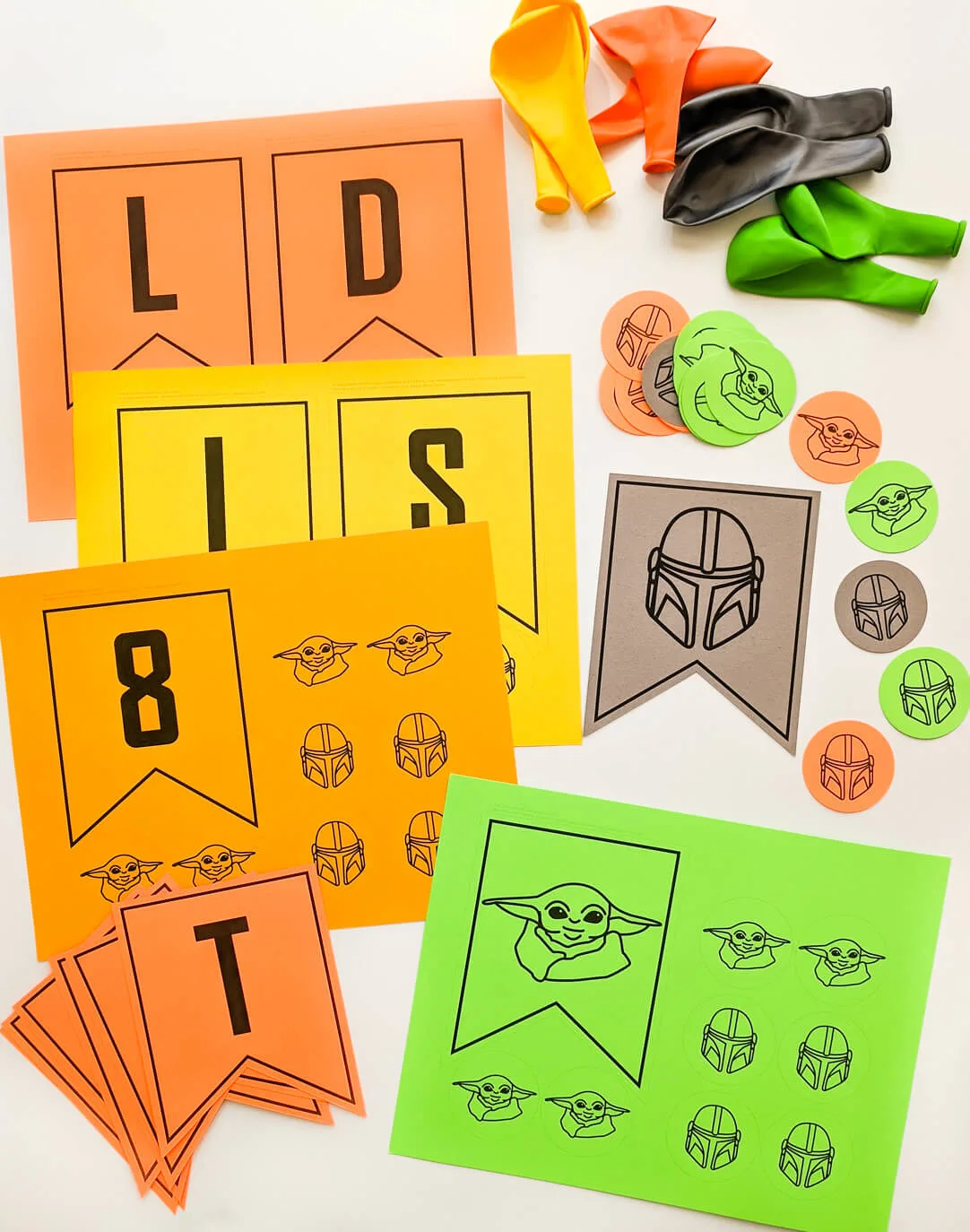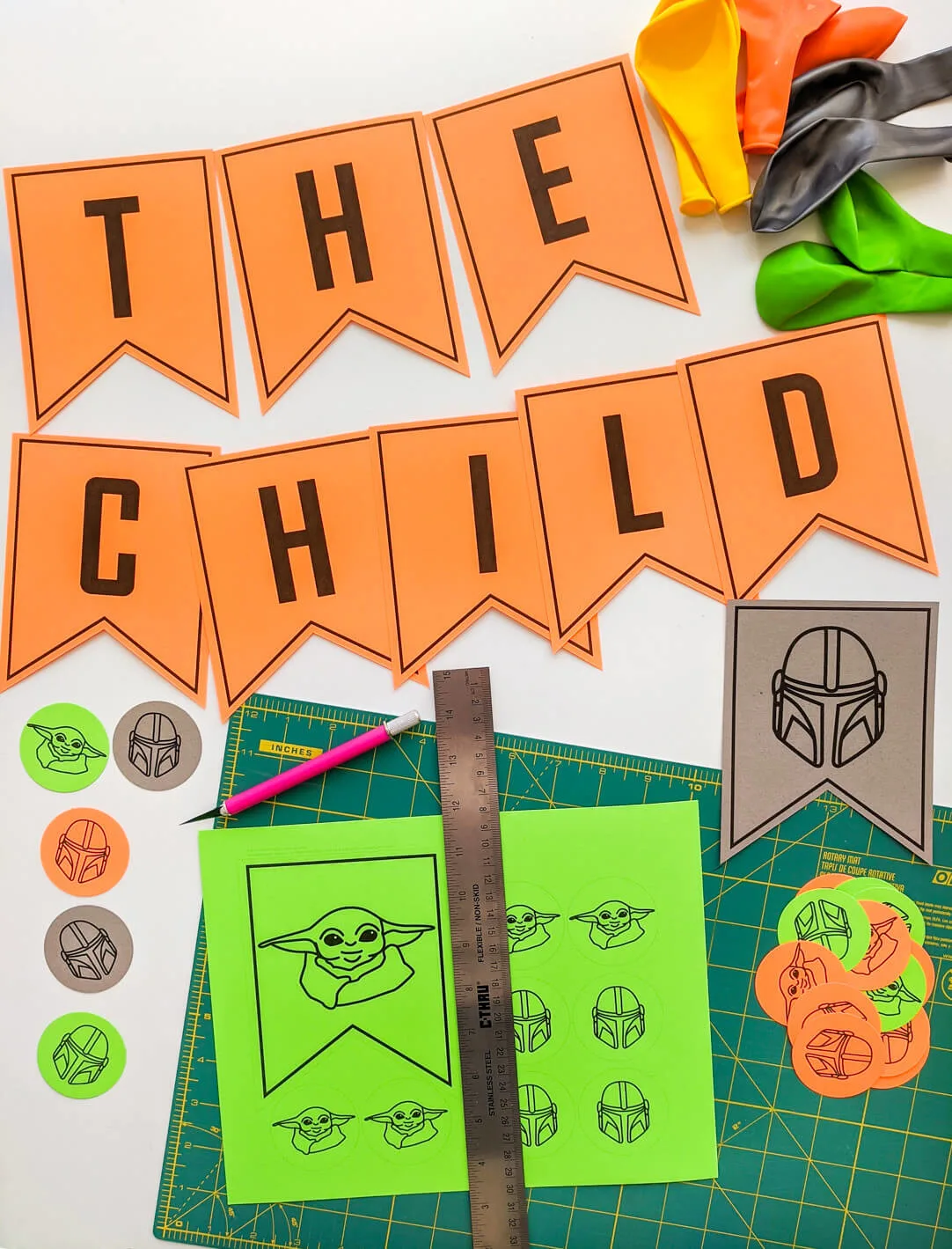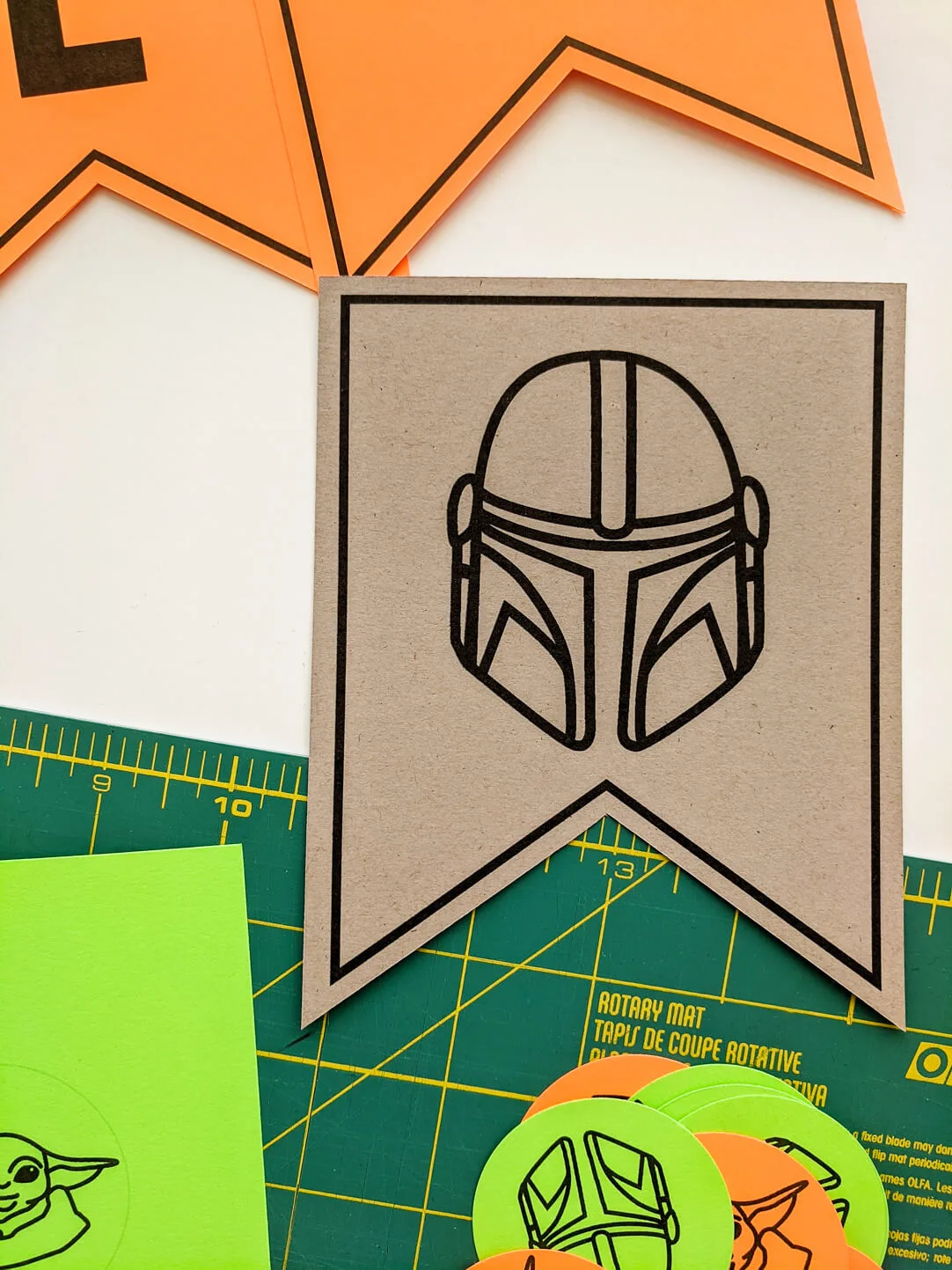 It's a cute and easy Mandalorian birthday party banner
Liam's party was so fun that I forgot to take a close-up photo of his birthday banner in our living room. Arg! You can sort of see his birthday banner below when I took this photo of Liam and his Baby Yoda birthday cake. It's a lot bigger than this of course — each letter and number is about 6″ x 5″. I added some balloons to each side of the banner.
Bonus: Baby Yoda and The Mandalorian Party Garland
You can use the circles on my free printable Baby Yoda banner to make Mandalorian cupcake toppers and party garland. I hung up the party garland between the lights above our kitchen island and added balloons to each side.
Even Grogu agrees that my Baby Yoda birthday banner and garland make legendary Mandalorian party decorations. And I have to tell you, this Baby Yoda plush toy doll is the best $20 I spent all year. "BY" has become an honorary Child in our family!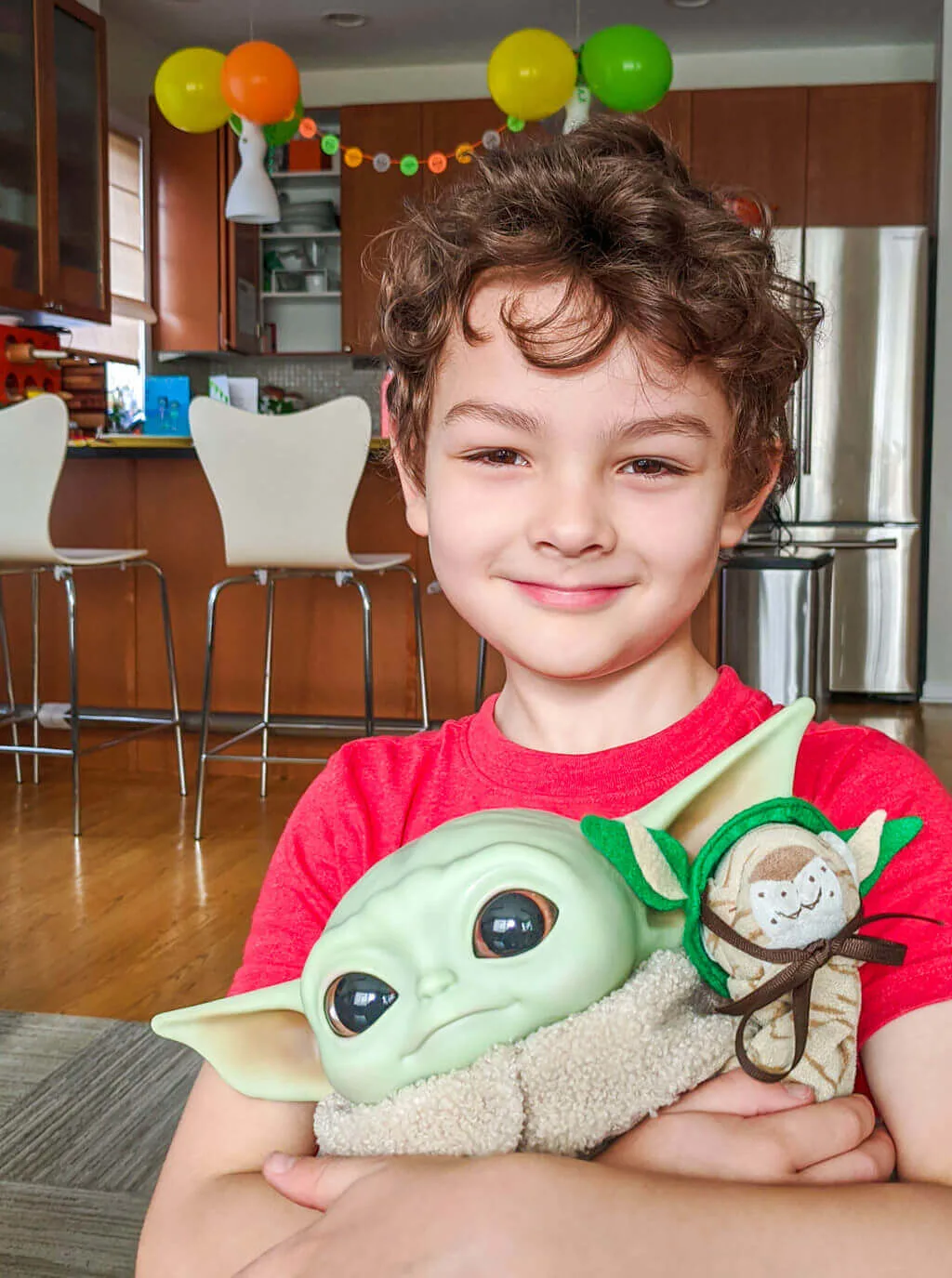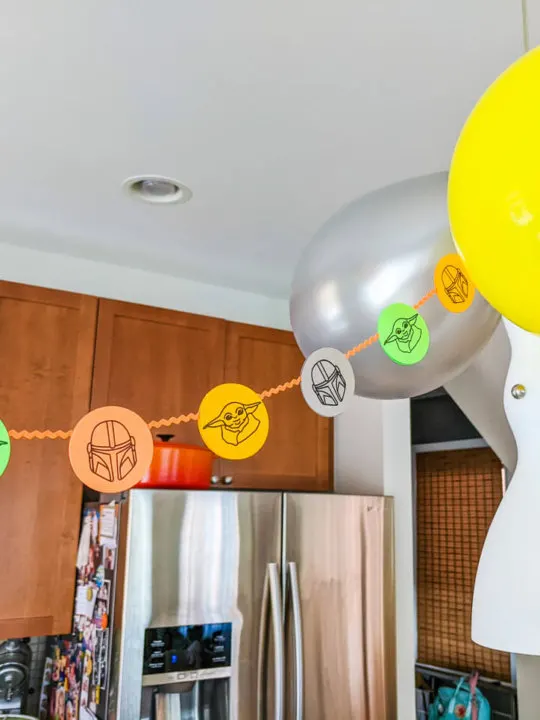 Merriment Design is supported by readers like you. If you buy products that I recommend, I may earn an affiliate commission at no additional cost to you. Thanks – your clicks help me make more free DIYs!

Supplies for making a Baby Yoda birthday banner for The Mandalorian birthday party:
This is the way …to make your own DIY Mandalorian birthday party decorations!
Step 1: Download my printable Mandalorian and Baby Yoda happy birthday banner
Open my free Mandalorian printable happy birthday banner PDF and print only the pages that you need. Choose between "The Child is [AGE]" and "Happy Birthday." I went ahead and made ages 1 – 11. Want to personalize the banner by adding your child's name, age, or special phrase? You can visit my Etsy store to request personalized names, ages, and phrases or contact me directly.
Step 2: Print your Baby Yoda Mandalorian party banner
Choose your favorite colors of cardstock paper and print two buntings per page. I chose bright card stock paper and neutral colors card stock paper.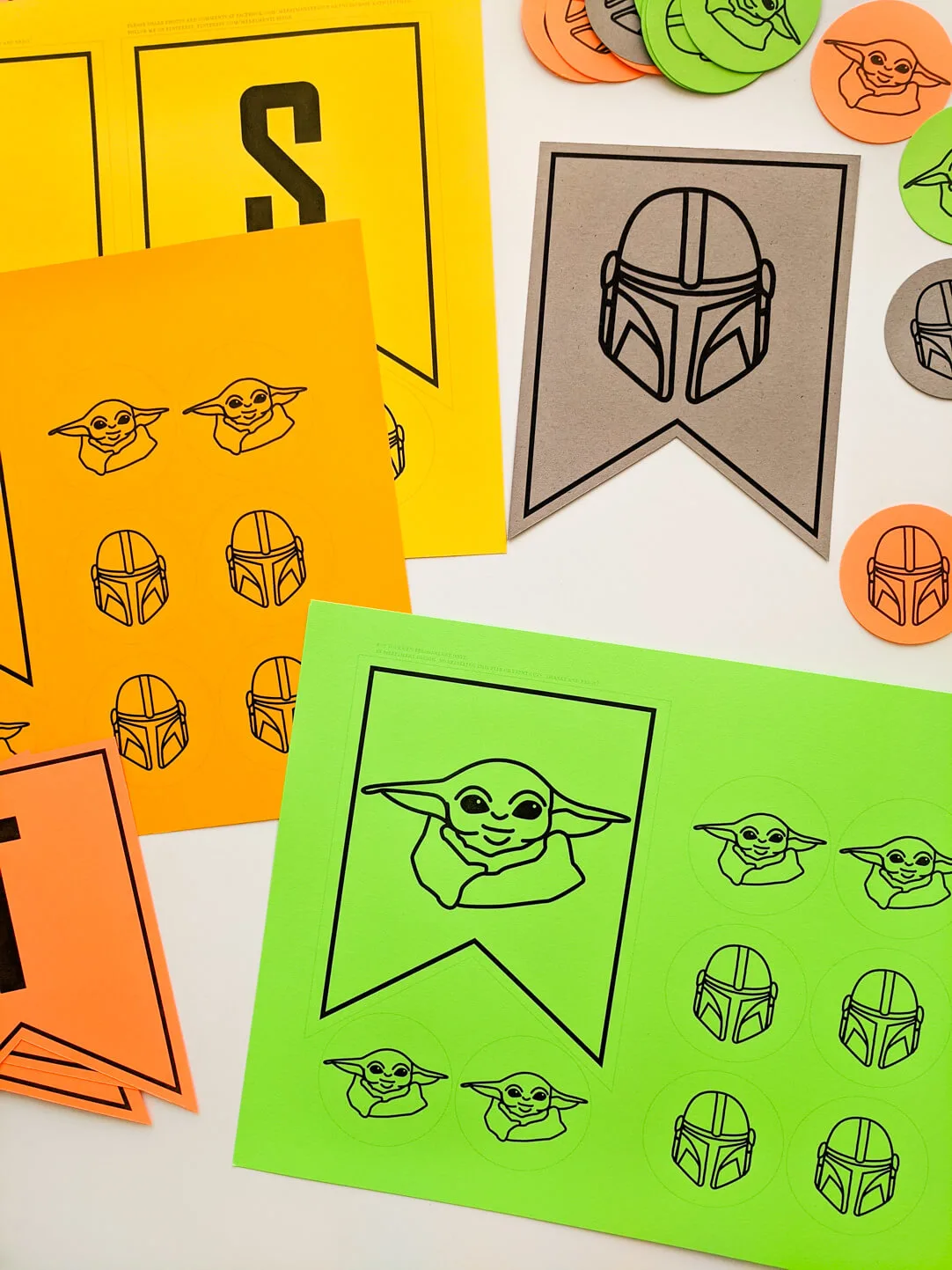 Step 3: Cut out the Baby Yoda banner
Cut the bunting using good paper scissors or craft knife, metal ruler, and self-healing mat. Cut out as many letters, Mandalorian helmets, and Grogus as you like. Cut out the circles with scissors or a 2″ circle craft punch to make either hanging garland or Baby Yoda cupcakes.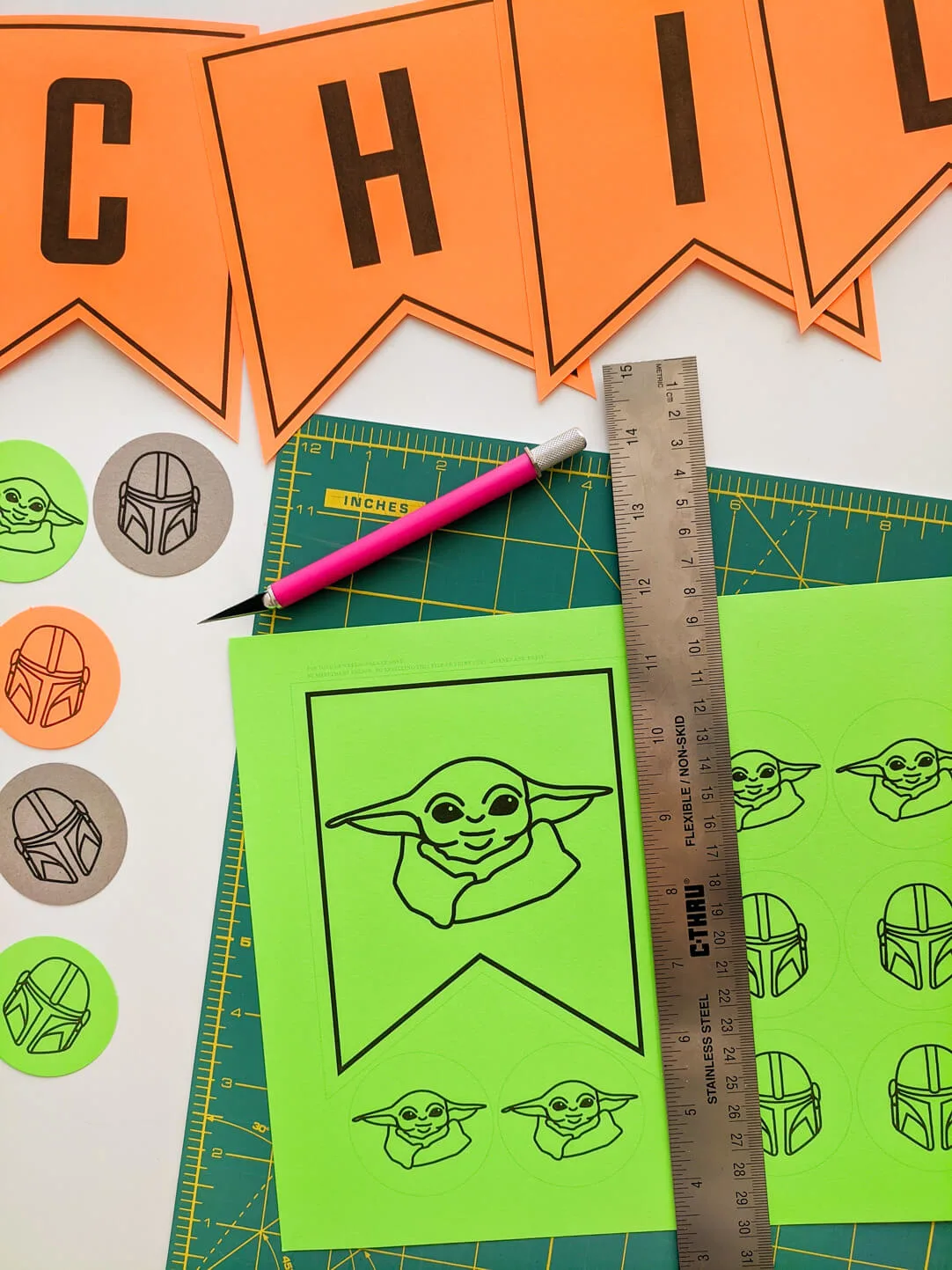 Step 4: Punch holes in the corner and hang the party decorations
Use a 1/4″ hole punch to punch holes in each corner. Weave the ric rac ribbon through the banner, and hang it. Add balloons.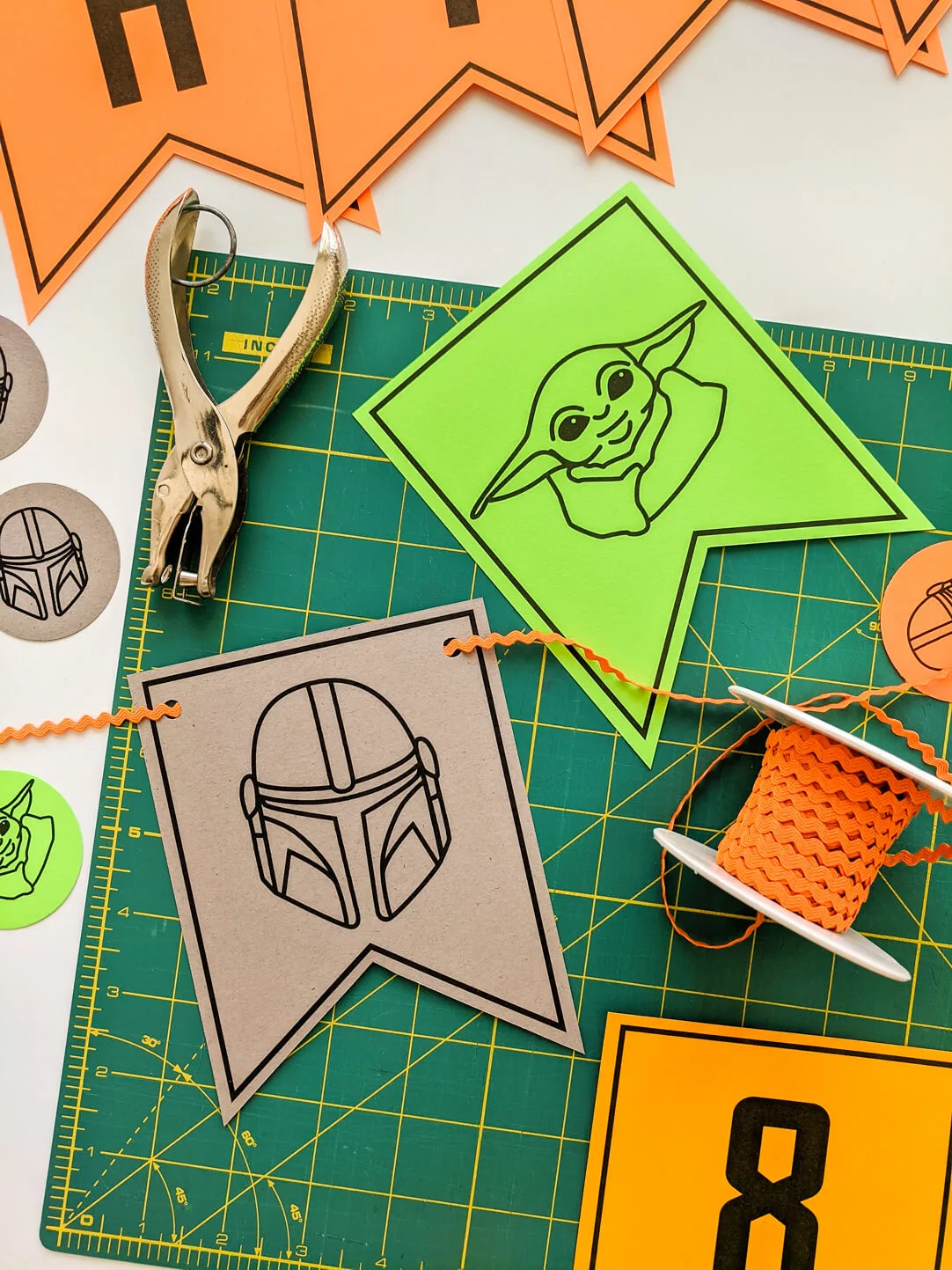 Loving The Mandalorian? Check out more Star Wars birthday printables:
I'm a lifelong Star Wars fan. I remember my dad taking me to see The Empire Strikes Back in the theater. And I have to say, The Mandalorian is the closest to feeling the way that I felt when I first saw episodes 4, 5, and 6. The Mandalorian has restored my faith in the power of Star Wars storytelling. Thanks, Baby Yoda!

Be sure to pin my free printable Baby Yoda party decorations. I have spoken.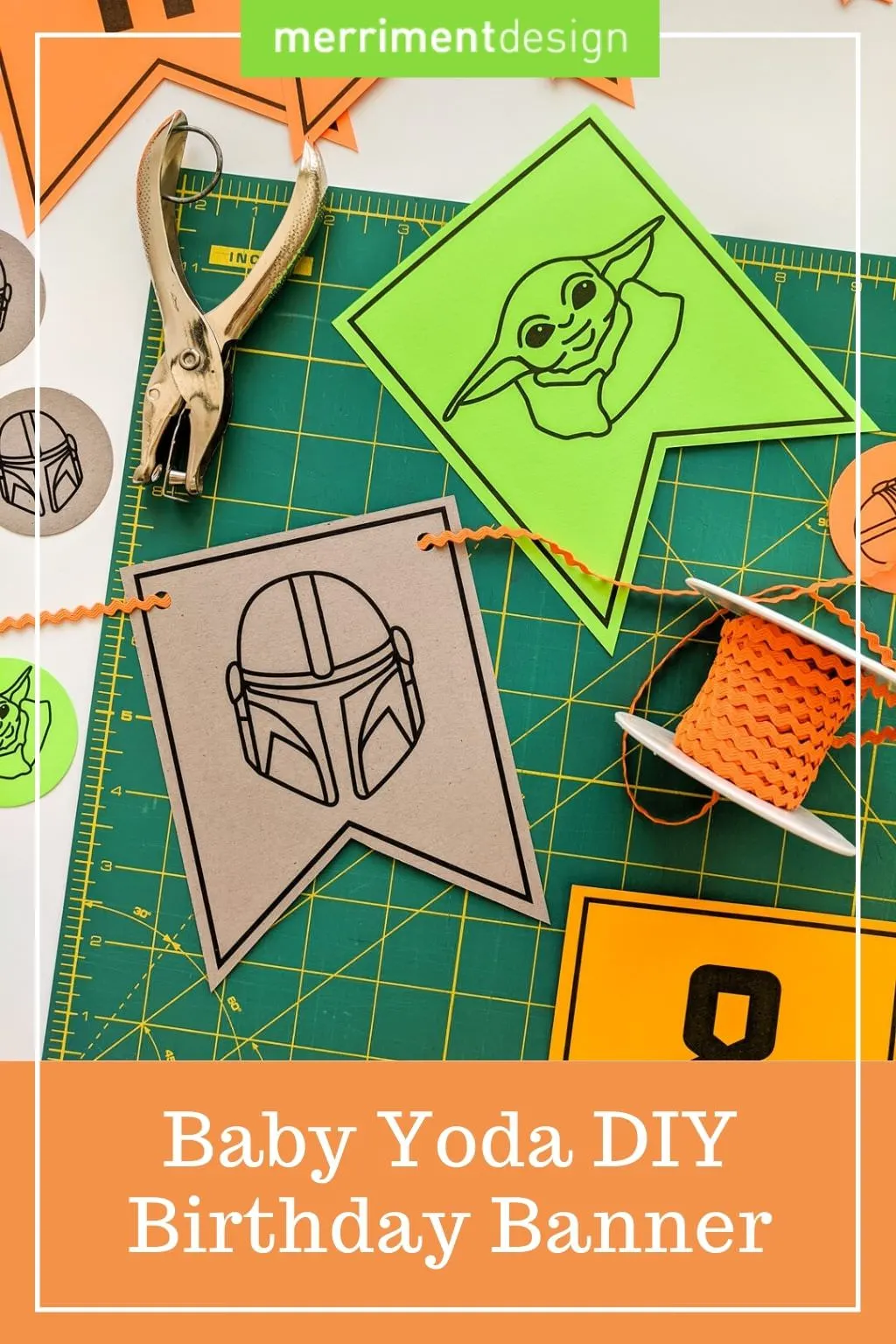 And see more birthday party ideas for boys and birthday party ideas for girls.
++++++
Like it? Share it!
The nicest way to say you like it is to pin it on Pinterest, post a comment, follow Merriment Design on Facebook, Pinterest, Instagram or sign up for monthly emails. Enjoy! 🙂