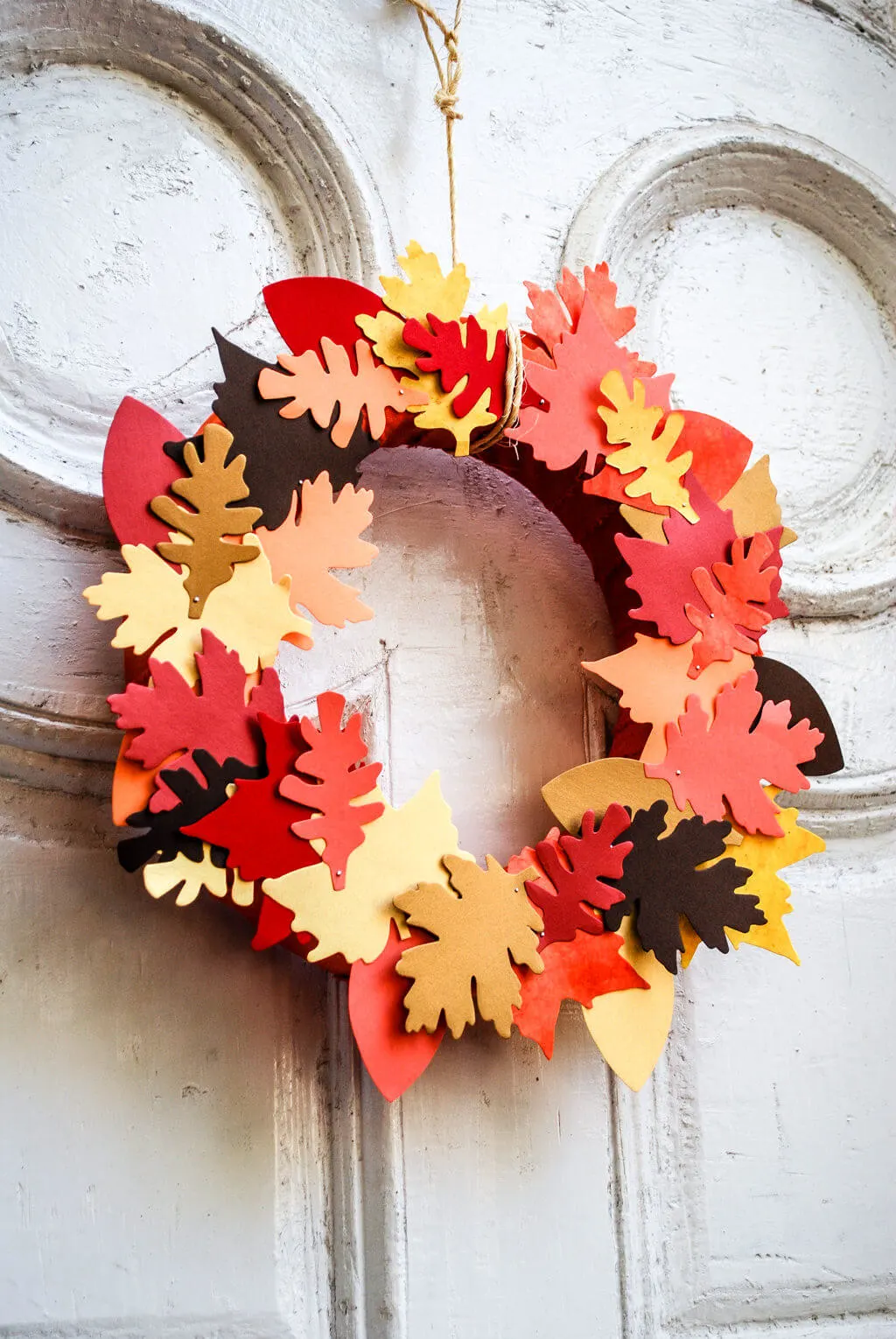 Make this easy fall DIY leaf wreath idea to properly welcome autumn! It's a simple DIY fall wreath idea that you can make in less than 1 hour. Hang it on your front door or inside your home to decorate for autumn.
I love this time of year …changing leaves, football, pumpkins, cider, late-afternoon sunshine, scarves. While I'm not the type of person who seasonally changes all my interior home decor for autumn, I do really like great DIY fall wreaths for our Chicago condo front door like this DIY fall wreath that's bursting with autumn colors: dark reds, burnt oranges, bright yellows, and glittery golds.
Easy DIY fall wreath idea for inside or outside
This is an easy DIY fall wreath idea to customize as you want. I chose a wide range of leaves in all shapes, sizes, and colors and I really like the variety. You can use water-resistant silk leaves for uncovered front doors or die-cut paper leaves like I did if your front door is covered like ours, or display this fall wreath for inside your home.
See also: 'DIY fall wreath using baker's twine and metal leaves' »
Style-wise you can keep this fall DIY wreath modern or make it more rustic by substituting burlap fabric on the wreath base.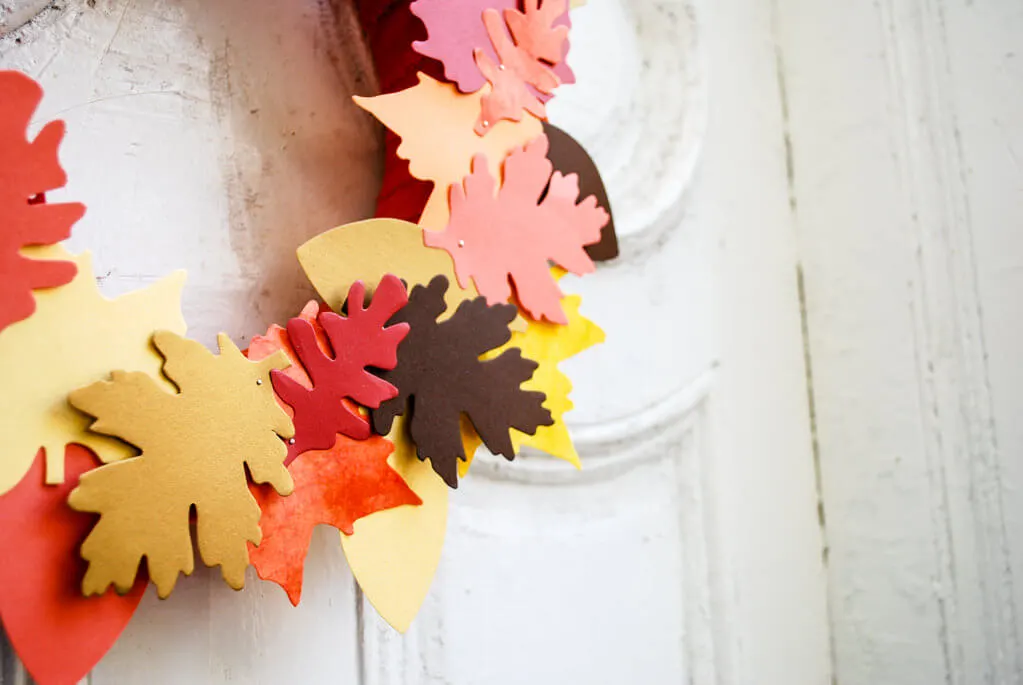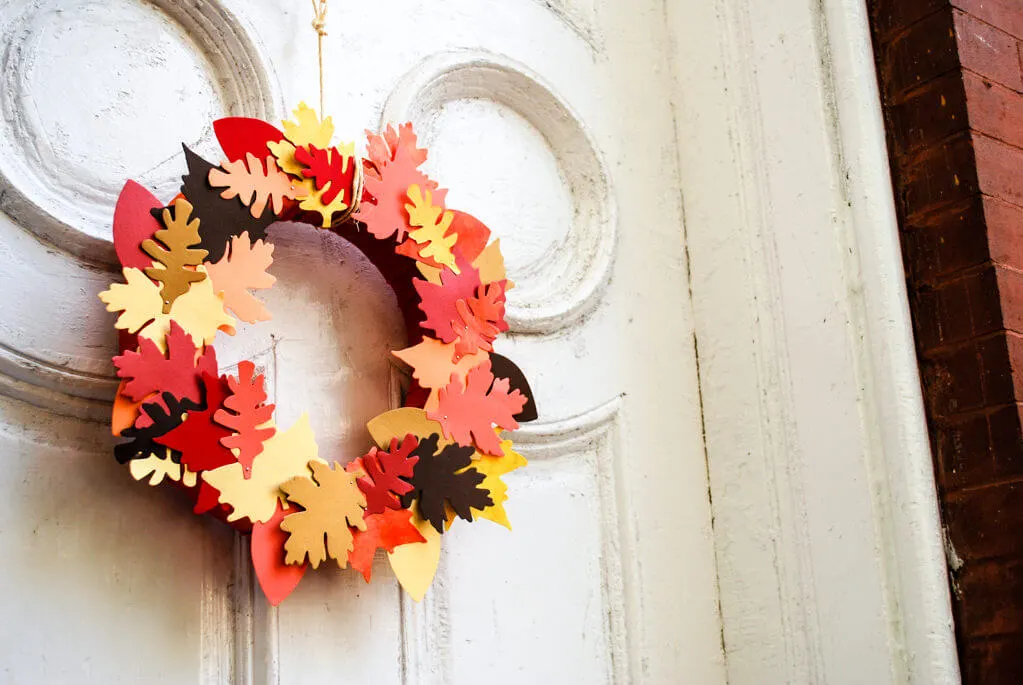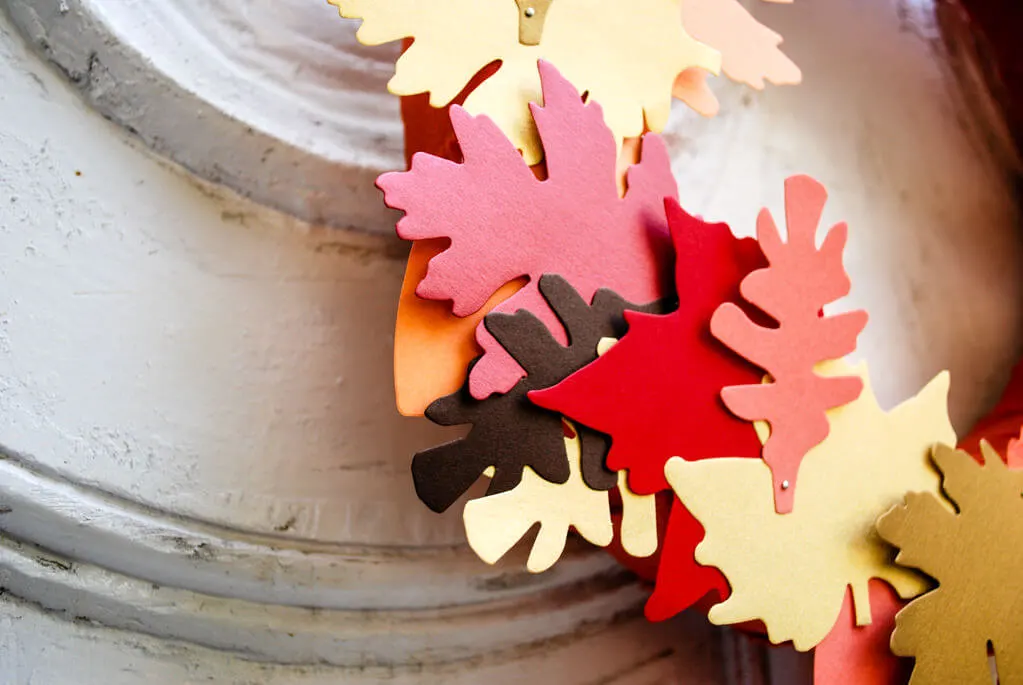 Make a DIY fall wreath in less than 1 hour
This DIY fall wreath for the front door took me all of about 15 minutes to make because I started with the same fabric wreath base that I made last year for the Polaroid urban photo wreath. Below I've included full instructions on how to make this DIY fall leaf wreath, and once you make the fabric base then you can just switch out elements year after year to make a totally new DIY fall wreath for the front door next year.
Looking for more good autumn porch decorating ideas? Be sure to check out my tips in this fun Redfin article — "15 Front Porch Decorating Ideas for Fall: Advice from the Experts" — that features my eco-friendly front porch decorating ideas along with 14 other top craft bloggers.
Merriment Design is supported by readers like you. If you buy products that I recommend, I may earn an affiliate commission at no additional cost to you. Thanks – your clicks help me make more free DIYs!
++++++
Supplies for making a leaf DIY fall wreath for the front door or inside your home:
++++++
How to make leaf DIY fall wreath for the front door or inside your home:
Step 1: Cover the wreath form with fabric strips
Measure 3 inches from the edge of the orange denim fabric and cut a small slit. Holding on each side of the slit, rip the fabric into a strip …just like they do at the fabric store. Repeat until you have three strips. The raw edges are intentional.

Take one strip of orange denim fabric and pin it to the styrofoam wreath. Wrap the strips around, overlapping as you go around. Secure the ends of the strips with silver straight pins.
Step 2: Add twine hanger to the wreath top
Tie a piece of natural jute twine to the top of the wreath for the hanger. Spread out your leaves on a flat surface. I used paper leaves but you could instead use silk leaves.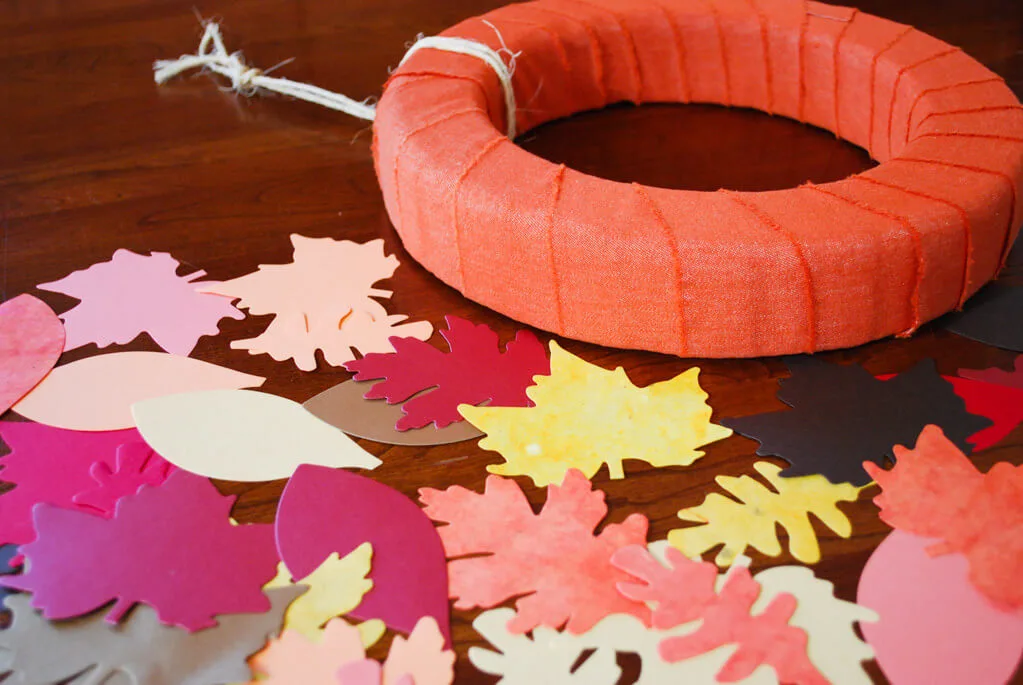 Step 3: Start placing leaves onto the wreath front
Arrange your paper leaves or silk leaves in layers on the wreath front, alternating colors, and shapes. Move leaves around until you're happy with how the wreath looks.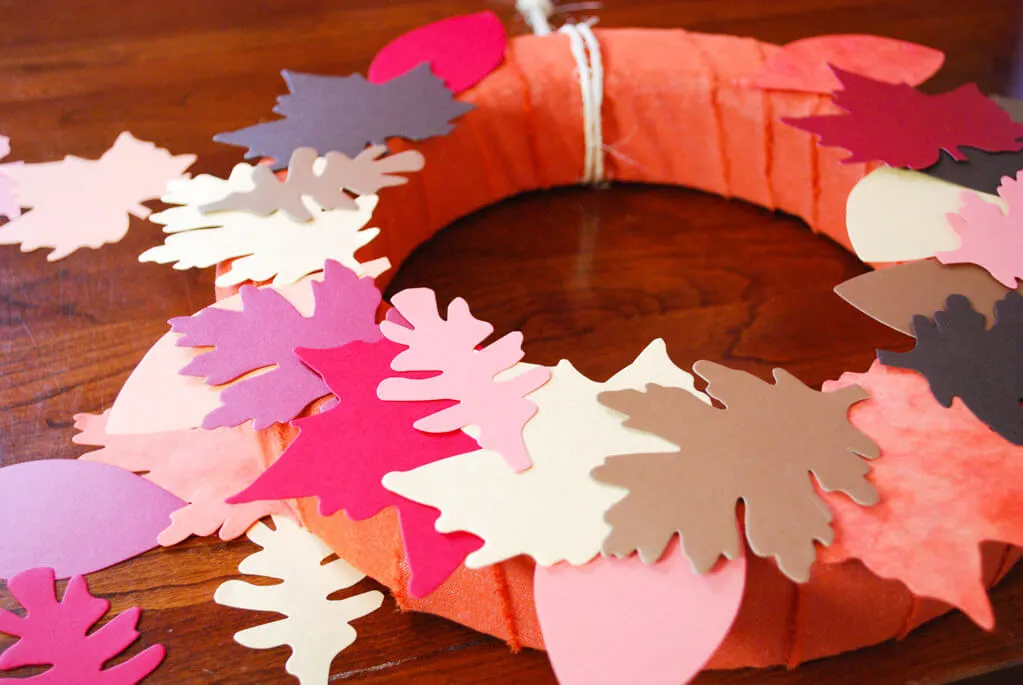 Step 4: Add pins to hold leaves onto the wreath
Secure paper leaves or silk leaves to your DIY fall wreath using silver straight pins.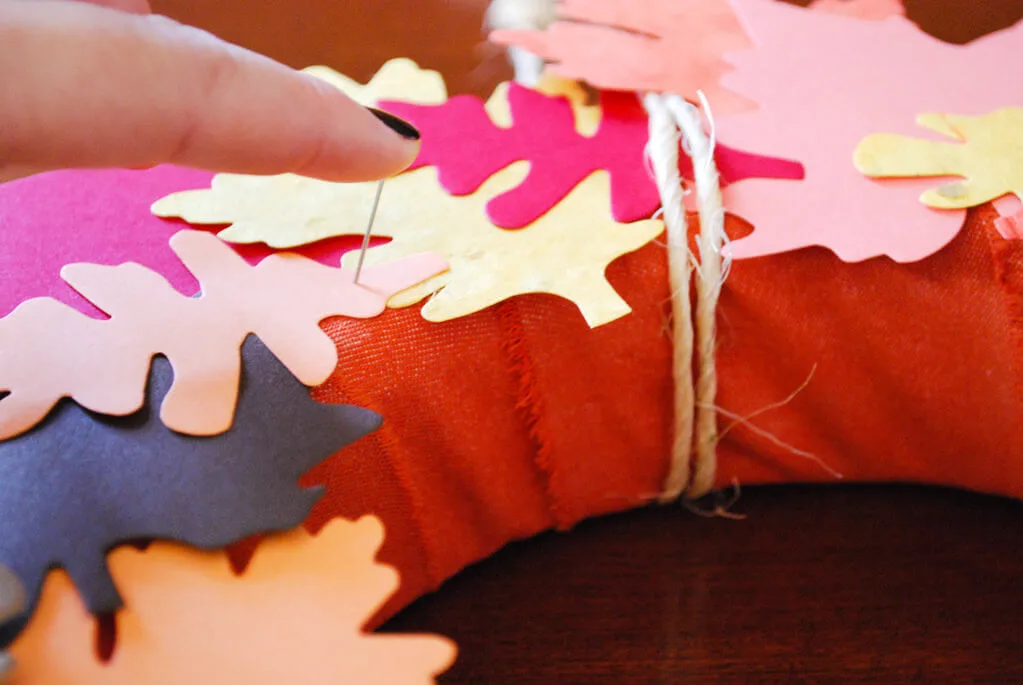 You actually need to use very few pins to secure leaves to the styrofoam wreath base …one pin can secure several leaves at one time.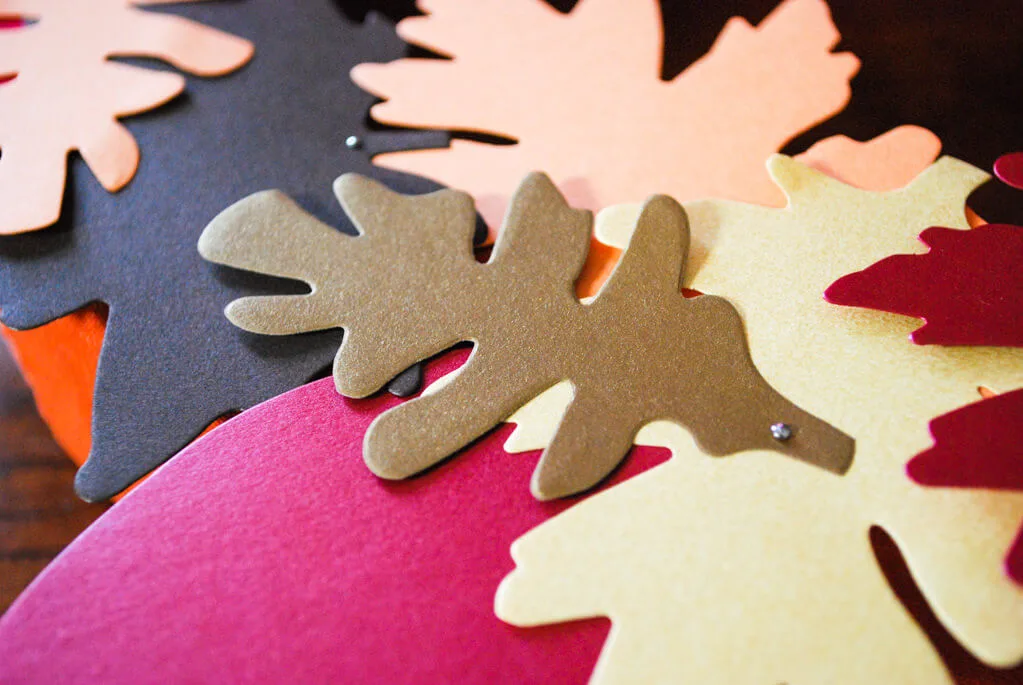 Step 5: Hang your wreath
Put your DIY fall wreath onto your front door hook using natural jute twine and a removable outdoor wreath hook. This wreath is best for a covered porch or condo interior door.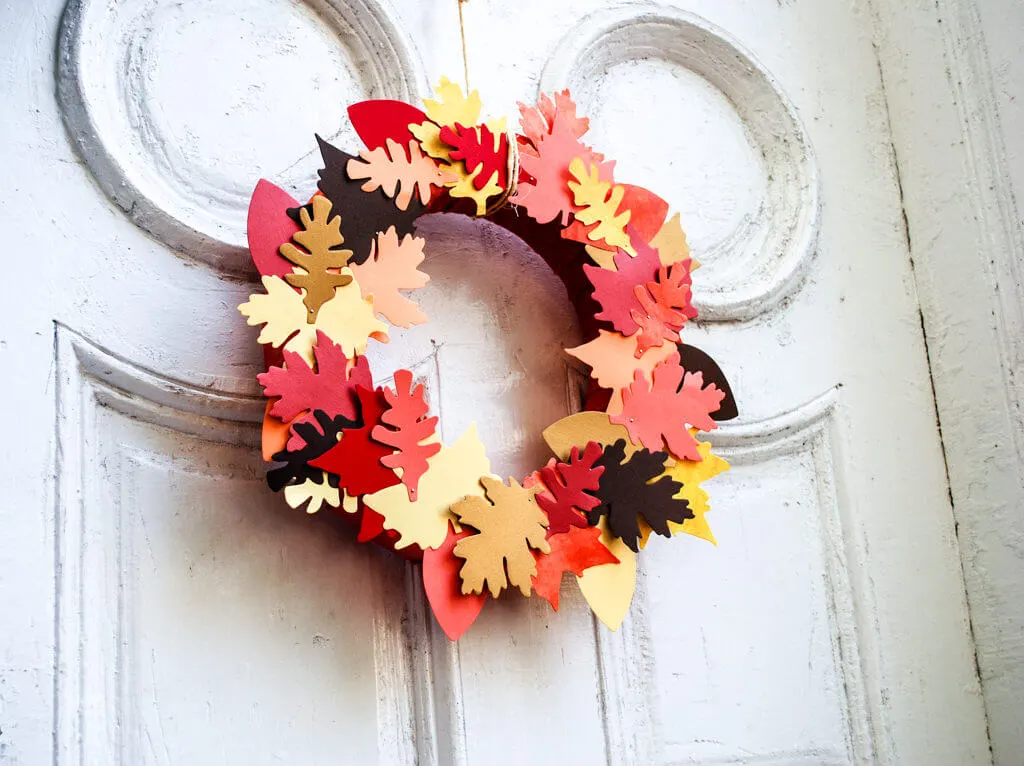 Add some pumpkins and hay to the front porch if you like. Or pair it with some mums and pumpkins for a simple fall front porch decorating idea. Be sure to see more fall craft ideas like my paper leaf napkin rings using recycled grocery bags, DIY indoor campfire play set, and my printable canning labels. Happy Fall!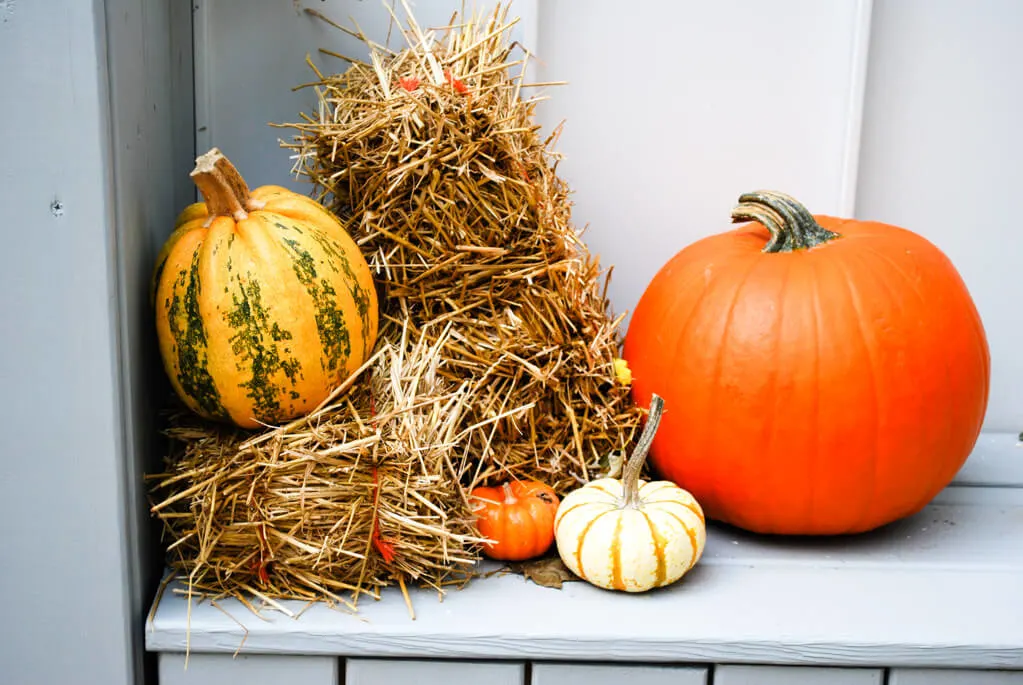 —
Like it? Share it!
The nicest way to say you like it is to pin it on Pinterest, post a comment, follow Merriment Design on Facebook, Pinterest, Instagram or sign up for monthly emails. Enjoy! 🙂
Copyright stuff: You're more than welcome to use this free project and tutorial for personal use. Contact me for commercial use and Etsy sales.