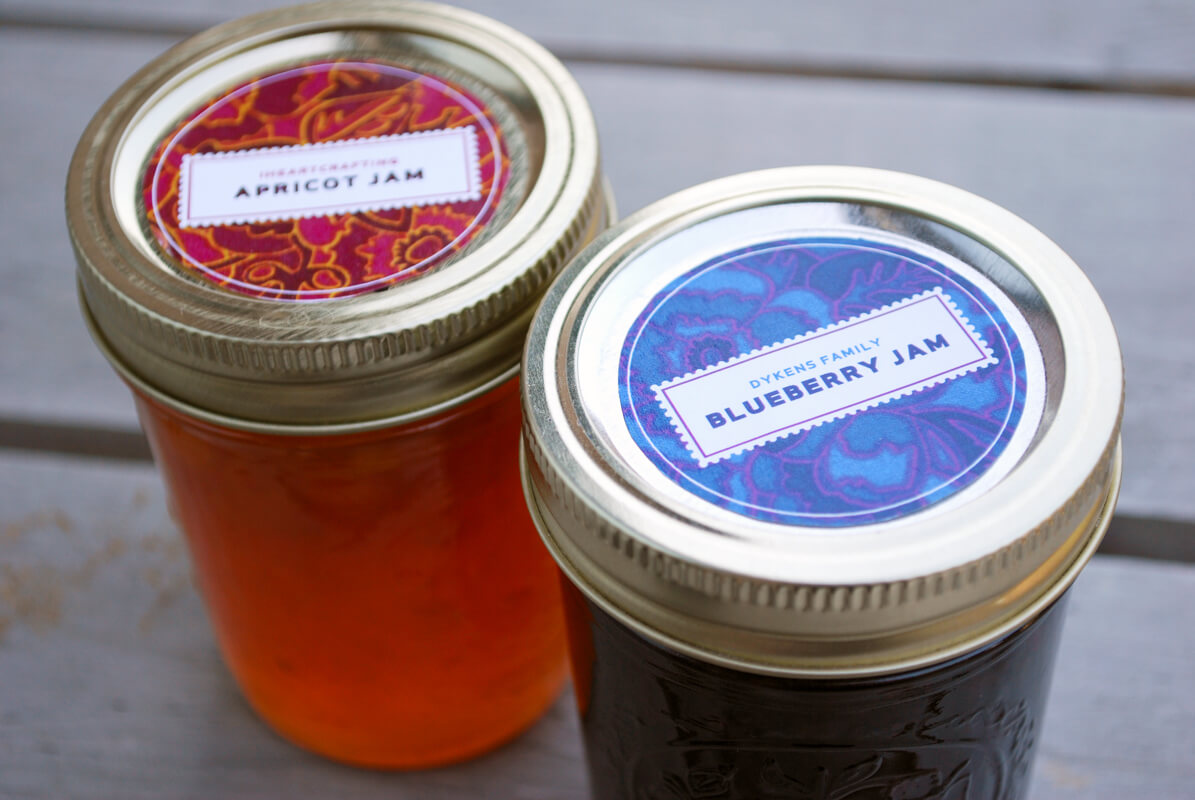 Canning has been a theme the past few weeks so I'm excited to share these free printable canning labels with you.
It all started with a canning night from iheartcrafting, a Chicago ladies' crafting group. Hostess Lisa bought large boxes of lovely blueberries, fresh green tomatoes and flavorful apricots from a local farmer's market.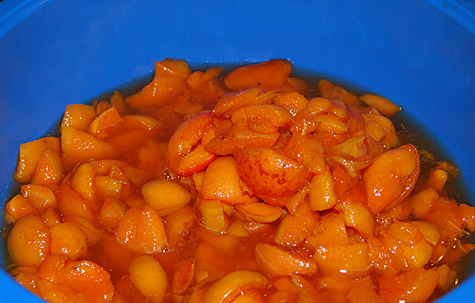 We all pitched in jars, lids, pots and labels and canned enough blueberry jam, apricot jam, and pickled dill green tomatoes for each of us to take home five canning jars.
Next up: Northern Michigan. I brought these canning labels as a hostess gift for my friend Jennie. She's been learning all about canning, including raspberry freezer jam that needs no boiling …so much easier and no boiled fruit.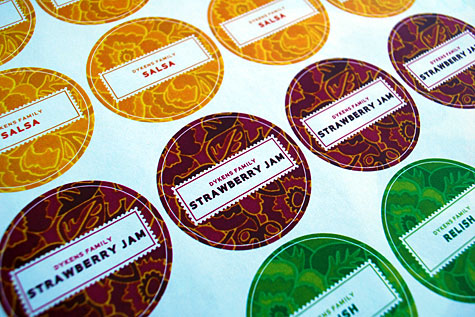 So now that you're properly in the canning mood, let's get to the labels! These labels were inspired by the cute label designs by Kendra at A Sonoma Garden.
My revised design involved scanning in a swatch of Anna Maria Small Gathering fabric in citrus…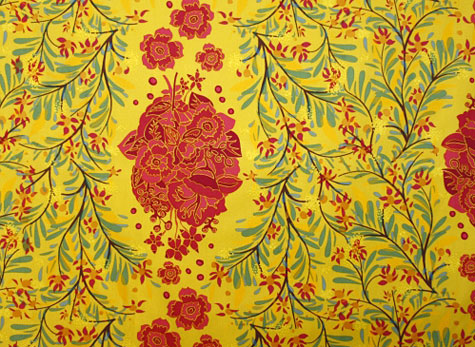 …then I cropped in close, changed the colors in Photoshop, and typed in the labels. NOTE: Some of the photos say "Dykens Family" but the free downloadable template says "Yummy Homemade."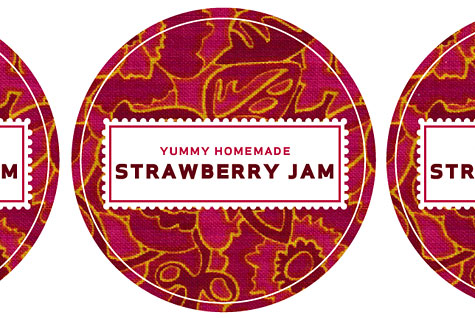 You're more than welcome to use this printable canning label template for free with the request that anyone using this template or design post a comment below. And if you'd like to use Kendra's original canning labels, be sure to check out A Sonoma Garden.
Visit my etsy store for cheap and lovely personalized canning labels that YOU can personalize yourself and print year after year.
Supplies for making my free canning labels template: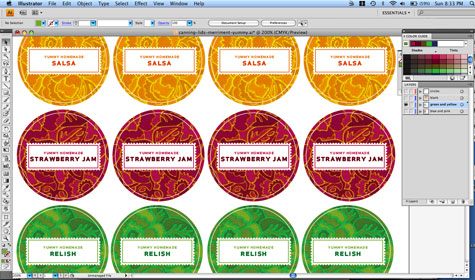 Download one of my free canning label templates (pre-typed with blueberry, strawberry, salsa and relish or blank for you to hand-write).
Visit my etsy store if you'd like to customize your own creations by typing into an interactive PDF (which will give you typed personalized labels rather than handwritten ones). My etsy store labels are sized to fit Avery Print-To-The-Edge 2″ Round Labels (products 22807, 22817, 22825, 41464, 41494).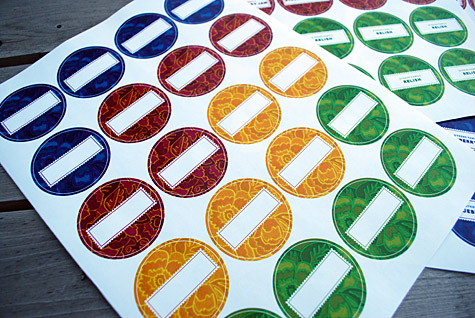 Print onto full-sheet sticker paper using a laser color printer. No laser color printer? FedEx Office can print them for you very cheaply.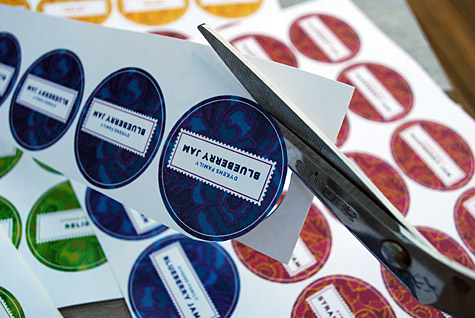 Using your 2-inch hole punch or scissors, cut out the labels.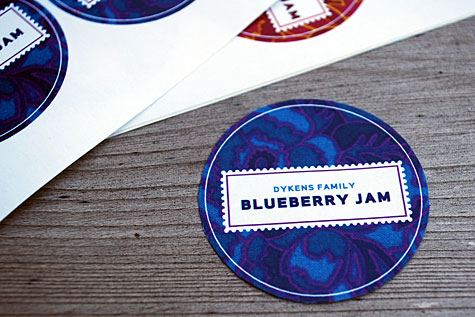 Peel off the label backing and stick on top of the lid of your canned goodness.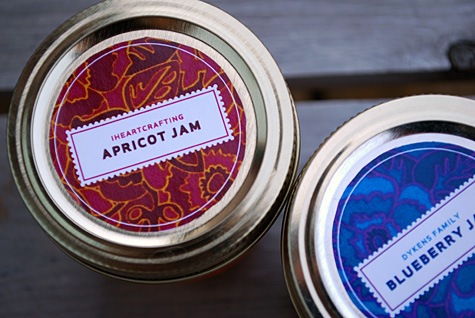 Also be sure to check out my striped modern canning labels in red, blue, yellow and purple and my easy raspberry freezer jam recipe.
++++++
Be sure to pin my printable canning labels for later.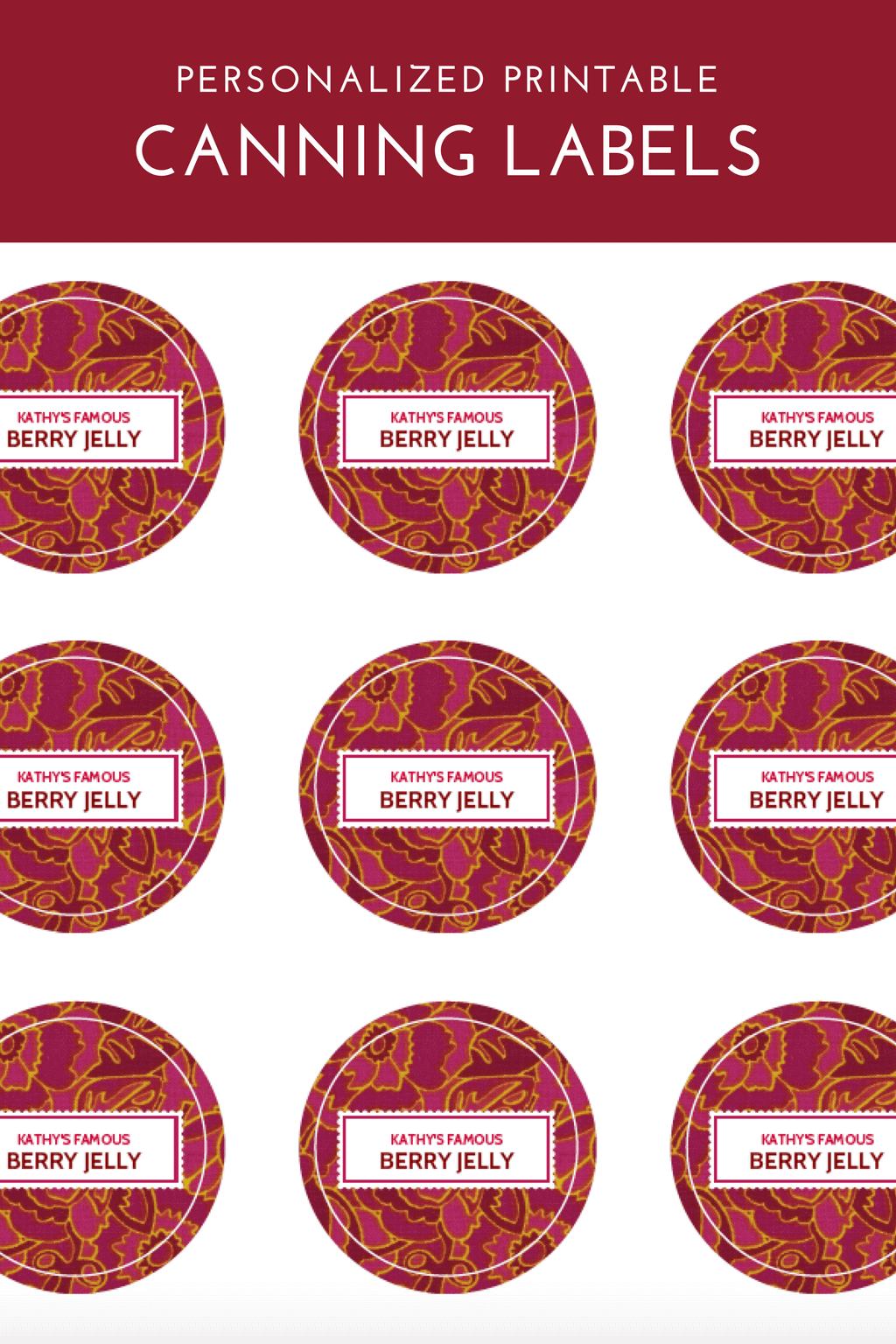 —
Like it? Share it!
The nicest way to say you like it is to pin it on pinterest, post a comment, follow Merriment Design on Facebook, twitter, pinterest, Google+, instagram or sign up for monthly emails. Enjoy! 🙂
Copyright stuff: You're more than welcome to use this free project and tutorial for personal use. Contact me for commercial use and etsy sales.