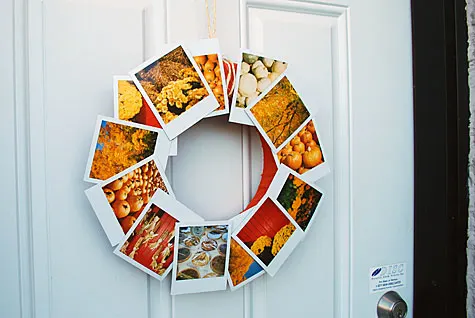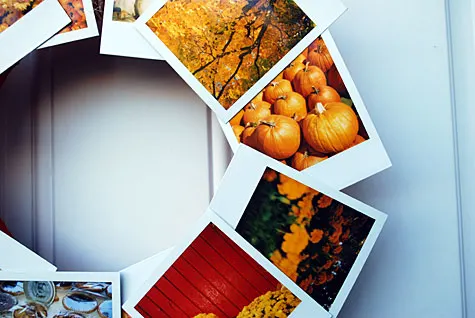 My friend Heather Crosby and I have creative chemistry. Whenever we get together we build on each other's ideas until it becomes something totally original.
Heather came over for dinner last week toting stacks of Polaroid pictures that she'd snapped that weekend – bright yellow mums, pumpkin patches, rows of individual pies, Indian corn, orange marigolds, gourds, colorful fall trees against blue skies, and other Midwestern fall finds.
I took a look and immediately thought of turning them into an urban wreath to perfectly accent our Chicago city apartment door.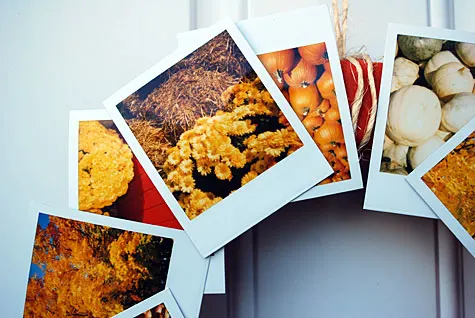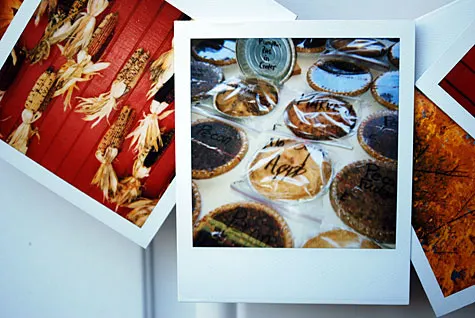 You're welcome to use these instructions and templates for free for your own personal use. Anyone using the template simply post a comment below or email me to track its usage.
Supplies:

Measure 3 inches from the edge of the orange denim fabric and cut a small slit. Holding on each side of the slit, rip the fabric into a strip …just like they do at the fabric store. Repeat until you have three strips.
Take one strip and pin it to the styrofoam. Wrap the strips around, overlapping as you go around. Secure the ends of the strips with straight pins.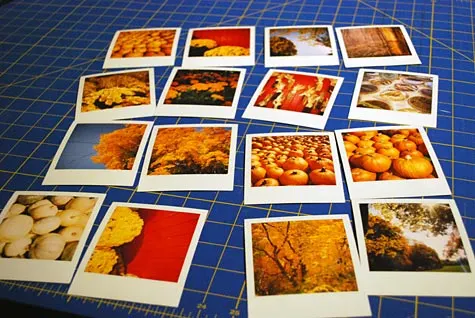 Select your Polaroid photos. We chose pumpkins, mums, gourds, Indian corn, mini-pies, marigolds and fall trees.

Tie one piece of raffia around the top to make a hanger. Lay out your photos onto the covered wreath, overlapping and layering them.

Cut the removable foam adhesive into smaller squares. Remove the backing from both sides and slip under the Polaroids to attach them to the wreath.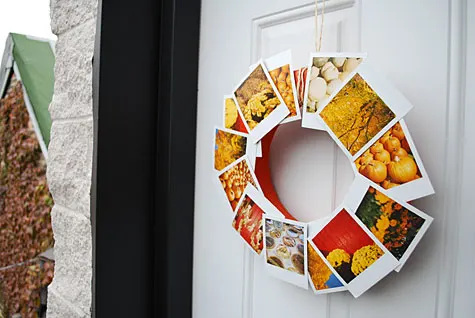 And there you have it: The Urban Wreath. While intended for covered apartment or condo front doors, I couldn't resist hanging it outside over the beautiful 70 degree (!!) November weekend we just had in Chicago.
And in true Heather fashion, I love the back of this wreath just as much as the front.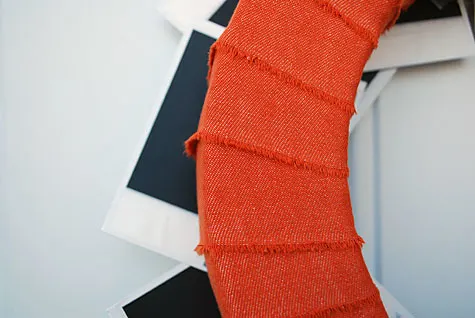 COPYRIGHT NOTE: You're more than welcome to use this project and pattern for your own personal use. Please post a comment below or email me if you use this project so I can smile when I see that it's being used. Craft and pass it on!
Save