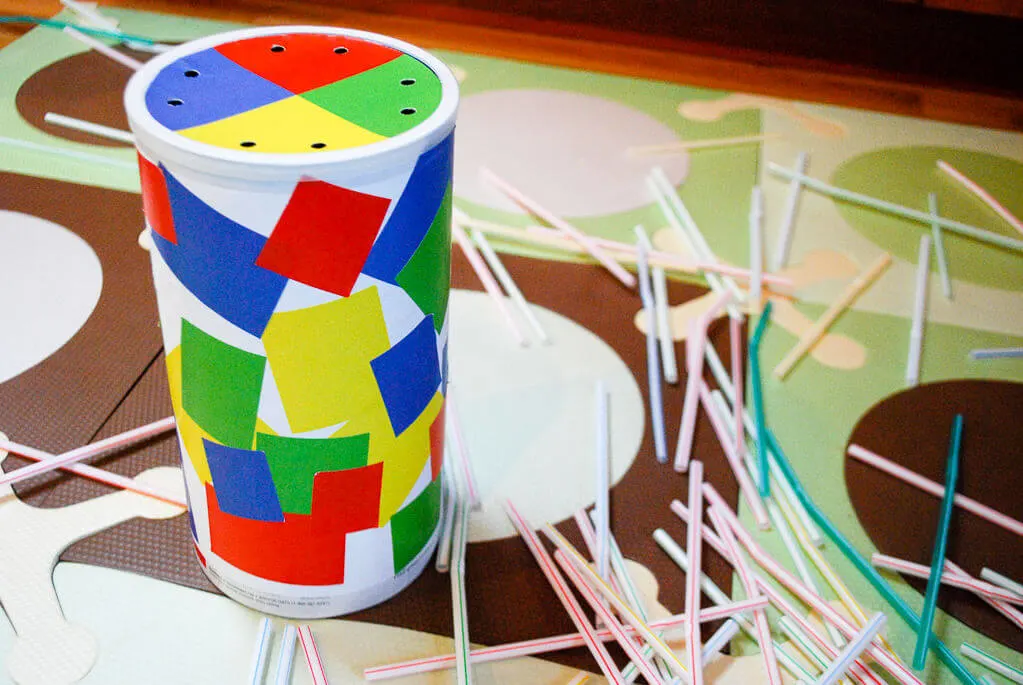 Today's indoor craft activity is for toddlers under two years old: it's a color sorting straw game made out of a recycled oatmeal container. And trust me, it will keep them entertained at home for hours. All you need is an empty Quaker oatmeal canister (or cardboard box), a standard hole punch, a bunch of colorful straws, and my free printable below. Then show your toddler how to put the straws in the holes at the top of the can where they magically "disappear" into the container, and you've got an addictive new DIY indoor activity that you can make for free at home.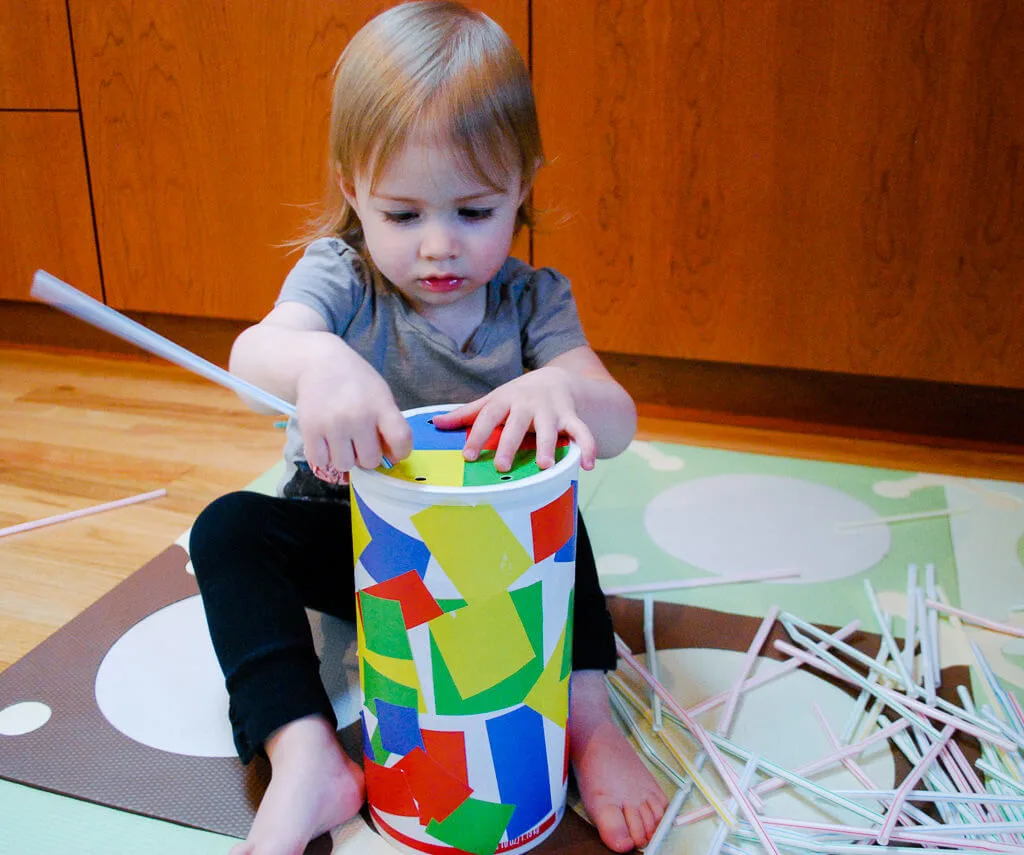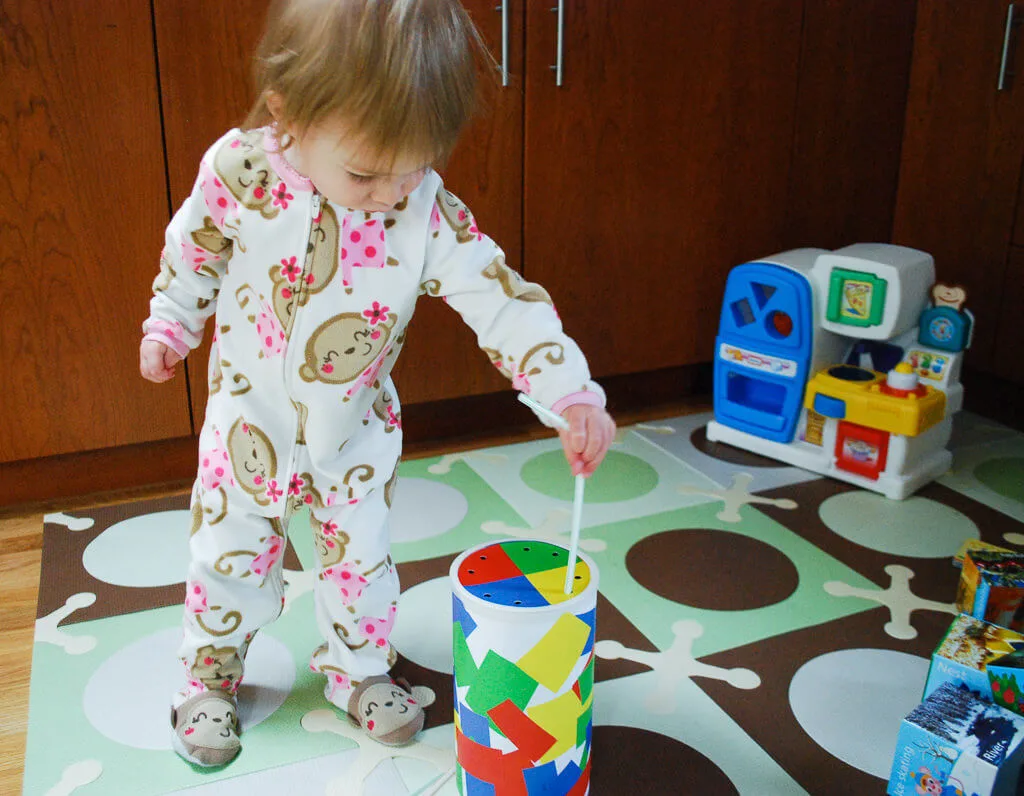 What is an oatmeal straw game for toddlers?
My friend Arlene told me about the oatmeal container straw game during the dead of Chicago winter when we were all desperate for new indoor activities for toddlers. I like to recycle objects into useful things, like fabric napkin rings made from Saran Wrap tubes and refrigerator magnets from vintage milk and juice cardboard bottle caps, and I like the idea of making a preschool educational activity that helps Elise improve her fine motor skills. So we made one and Elise was hooked!
See also: 'Non-slip DIY play mat for Play-Doh and art projects' »
A couple weeks later (and yes, this DIY activity kept my toddler entertained for weeks), I wanted to make the oatmeal straw game a little cuter and more challenging so I made a four-quadrant lid sticker for Elise to try to match the stripes on the straws with the colored holes. I also made her a stack of red, blue, yellow and green rectangular stickers to decorate the outside. Elise is totally into stickers these days and loved peeling them (with a bit of help) and sticking them on the container.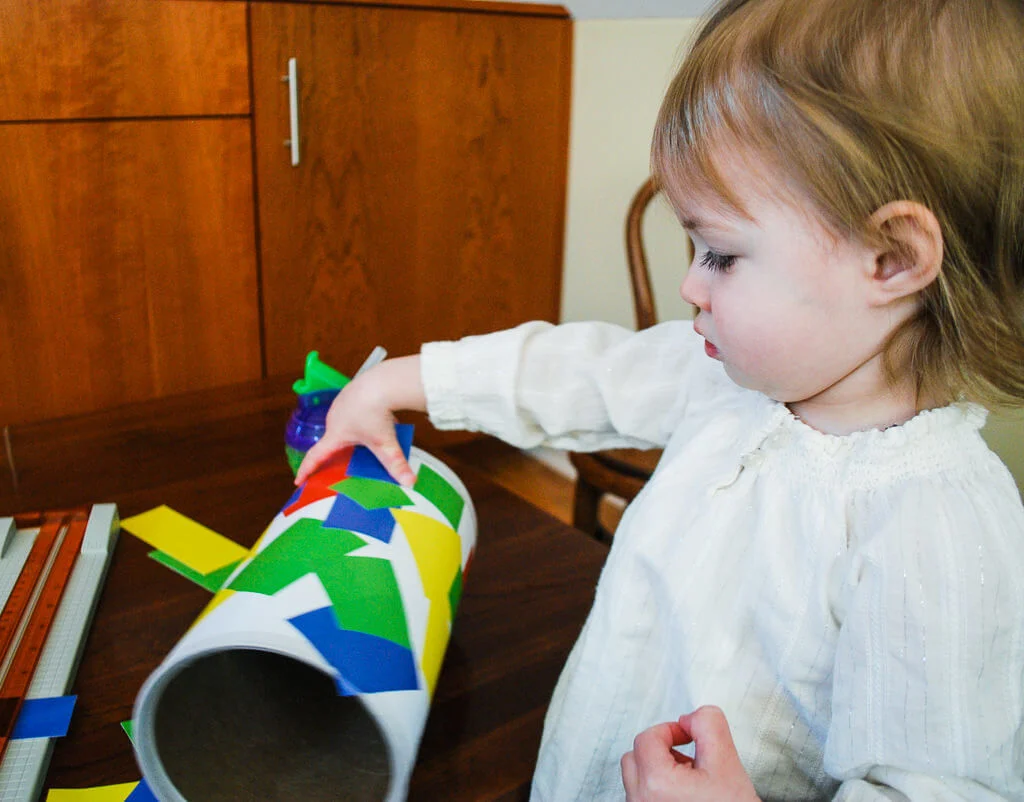 So now our color-sorting straw indoor toddler activity is fun and educational, too. And it looks a little more classy sitting in our family room than The Quaker Oats Man. Elise loves to watch the straws disappear and when they're all gone, she loves to take off the lid, dump the straws onto the floor in a pile, and play again.
What makes this indoor toddler activity educational?
This DIY indoor toddler activity builds fine-motor skills. Toddlers will peel stickers to decorate their recycled oatmeal container game. And it takes a good deal of fine motor control to grip the straws and slip them inside the holes. Additionally, this DIY activity teaches toddlers to recognize and sort colors. As your toddler to name the colors as they sort them, or your toddler can say, "bye bye yellow!" as the yellow straw disappears into the container, and "bye bye blue!" It's soothing to play this game — I often sit down and play it with my daughter and it's pretty zen.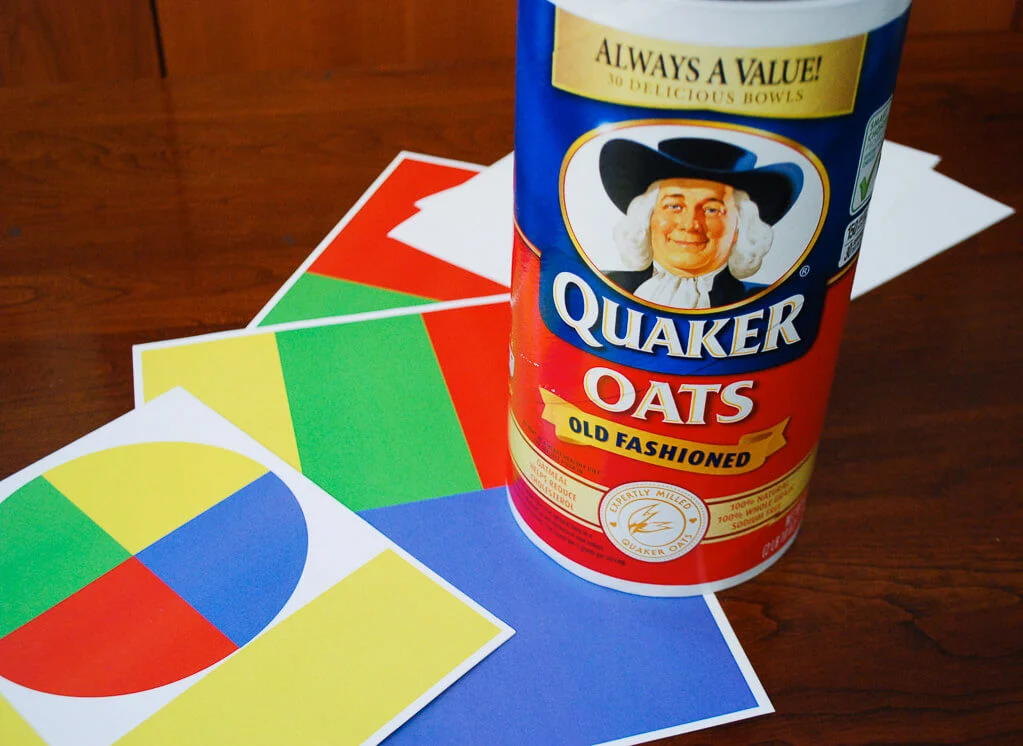 This post contain affiliate links which means that products I recommend may give me a nominal commission at no extra cost to you. Thanks – your clicks help me make more free DIYs!
++++++
Supplies for making an oatmeal container straw game for toddlers under two years old:
++++++
Step 1: Print the template onto sticker template and cut
Print my free oatmeal sticker template onto full-sheet easy-peel sticker paper. I recommend laser printing for best results but you can use inkjet. Peel 1-2 full-sheets of white sticker paper and cover the oatmeal container label to cover the container.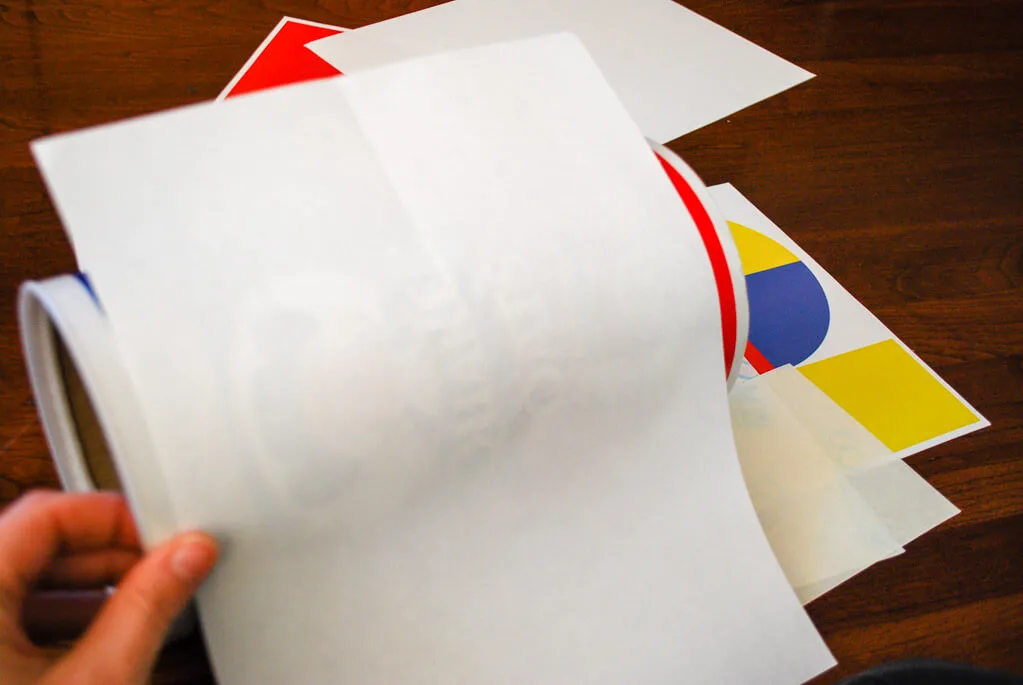 After that, cut the stickers into rectangles using your paper trimmer or good paper scissors.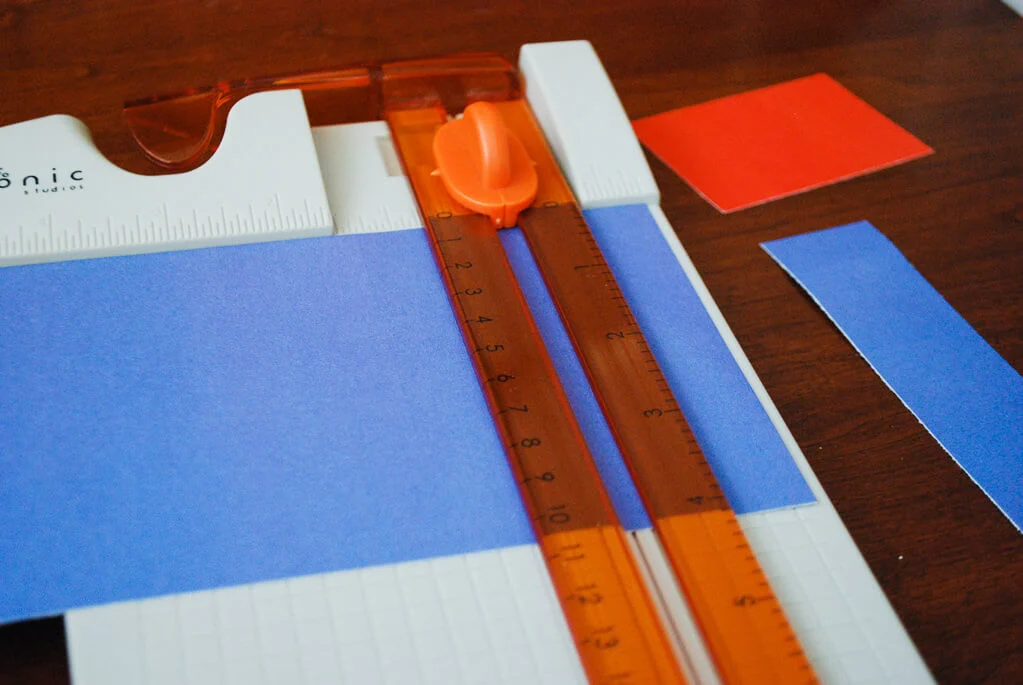 Step 2: Add stickers to the oatmeal container
Let your toddler peel and randomly put the colored rectangles all over the oatmeal box. This was a fun indoor toddler activity in itself! My toddler spent a lot of time fascinated by peeling stickers and placing them onto the recycled oatmeal container. Her favorite friend, Pink Monkey, helped supervise.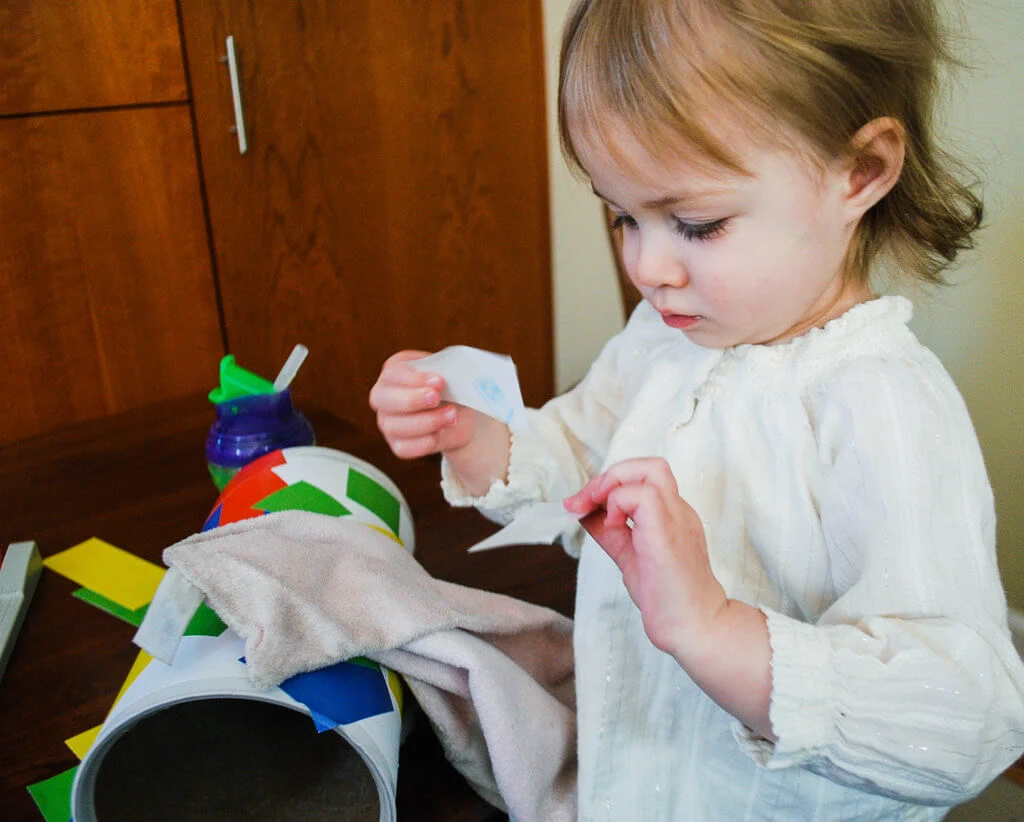 Step 3: Create the lid for the disappearing straw indoor toddler activity
Cut out a white circle from the full-sheet sticker paper, peel, and stick onto the top of the lid to cover the Quaker logo. This will ensure that the logo is completely hidden.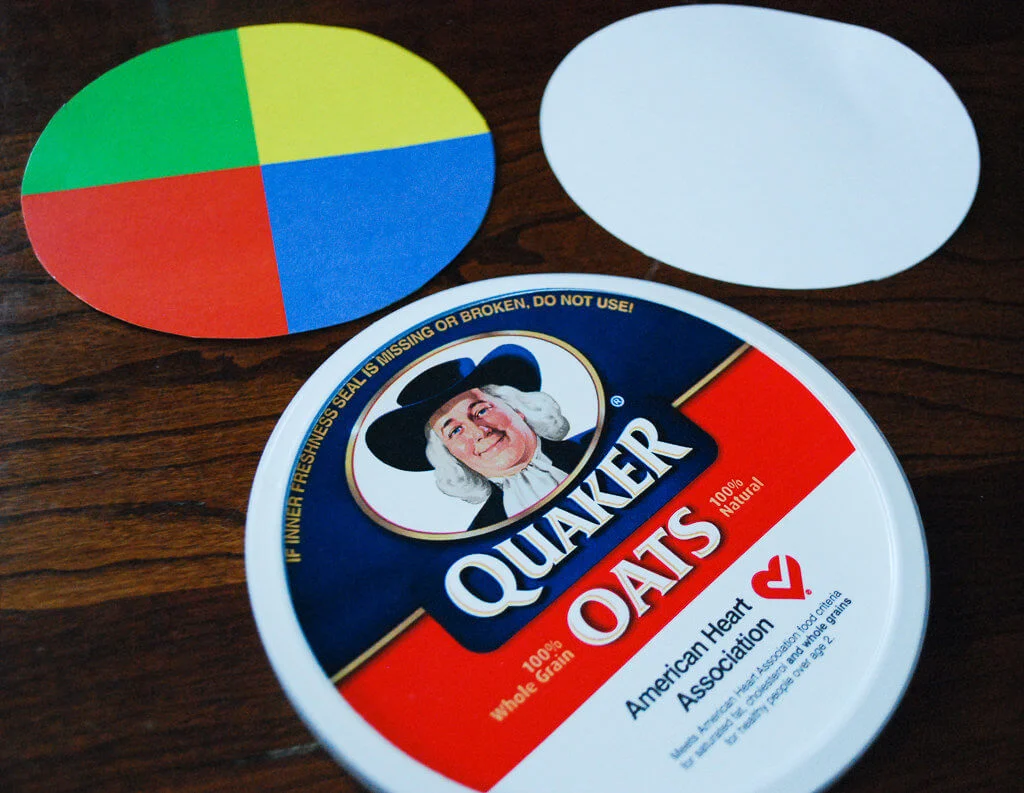 After that, cut out the colored circle sticker, peel, and stick onto the top of the white circle on the lid.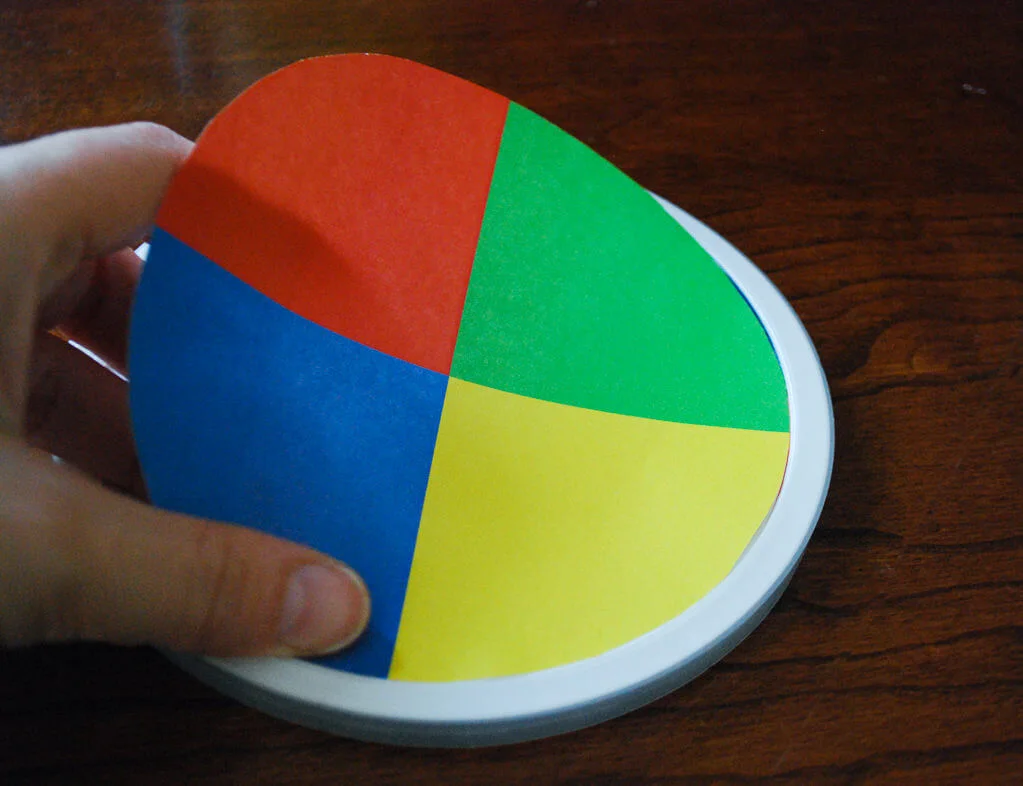 Use your 1/4″ hole punch to punch two holes in each color quadrant. You're going to have to squish the plastic lid ring a bit t get your punch into the right place. Test your straw to see if it will go through; if not, keep punching to make larger holes. Alternatively, you can use a craft knife to whittle out some holes.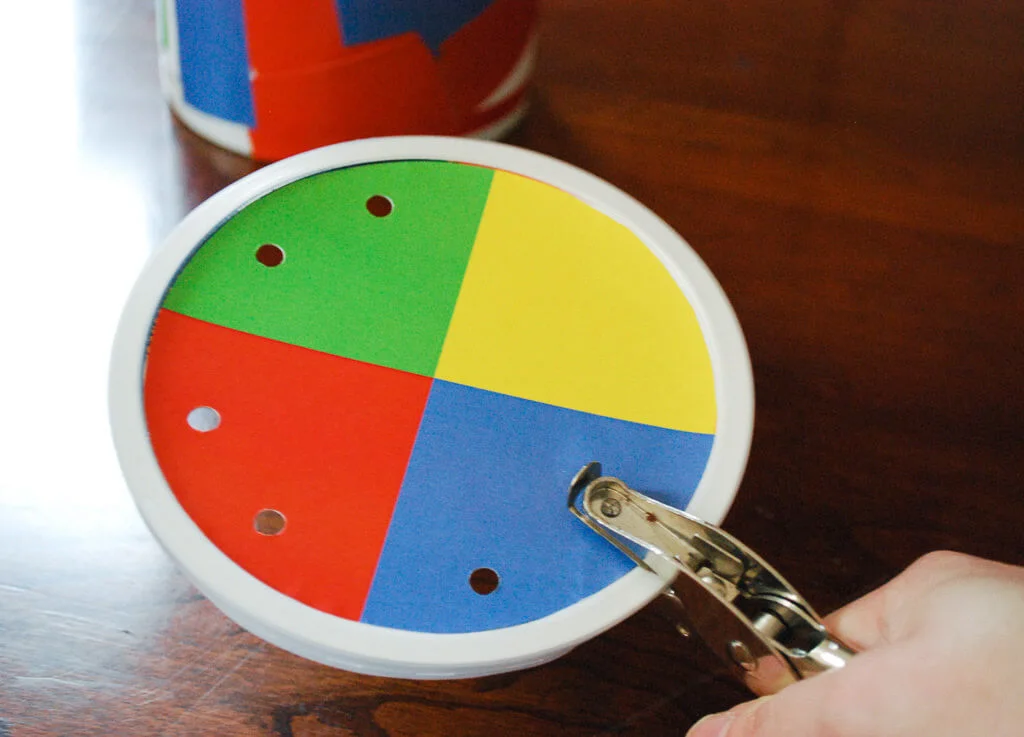 Put on the lid and play! In addition, this easy DIY indoor activity will keep your toddler interested for weeks. And they'll start to learn their colors, too!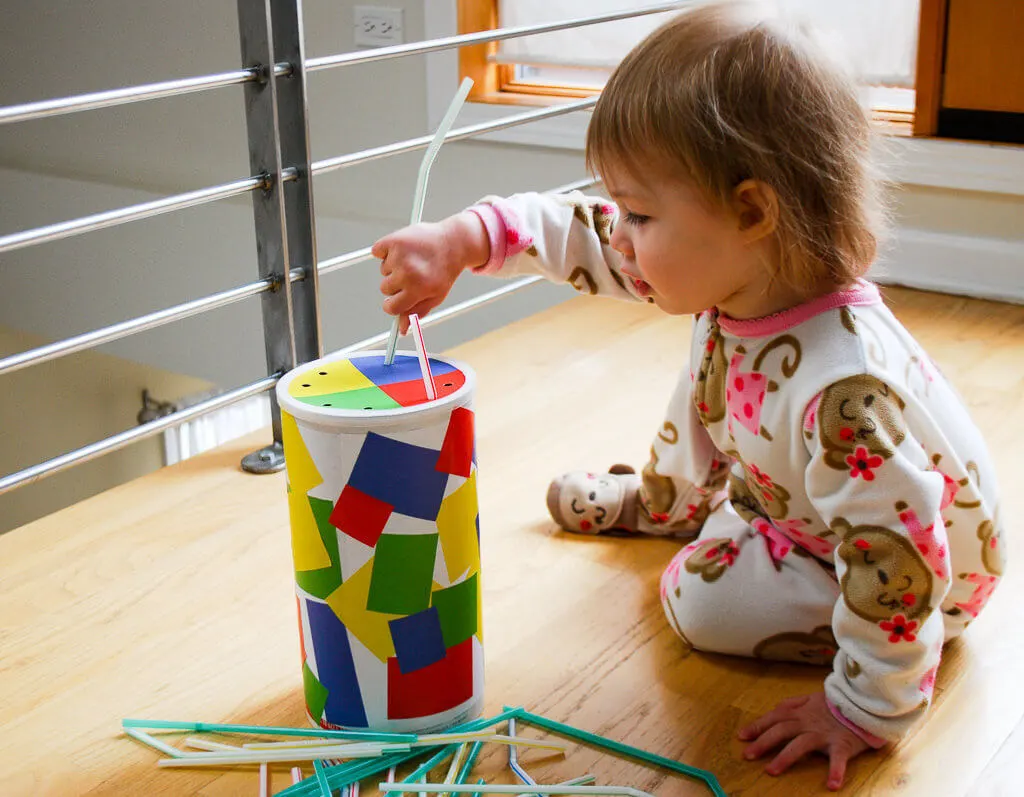 ++++++
Be sure to pin my recycled oatmeal container straw sort game DIY indoor toddler activity: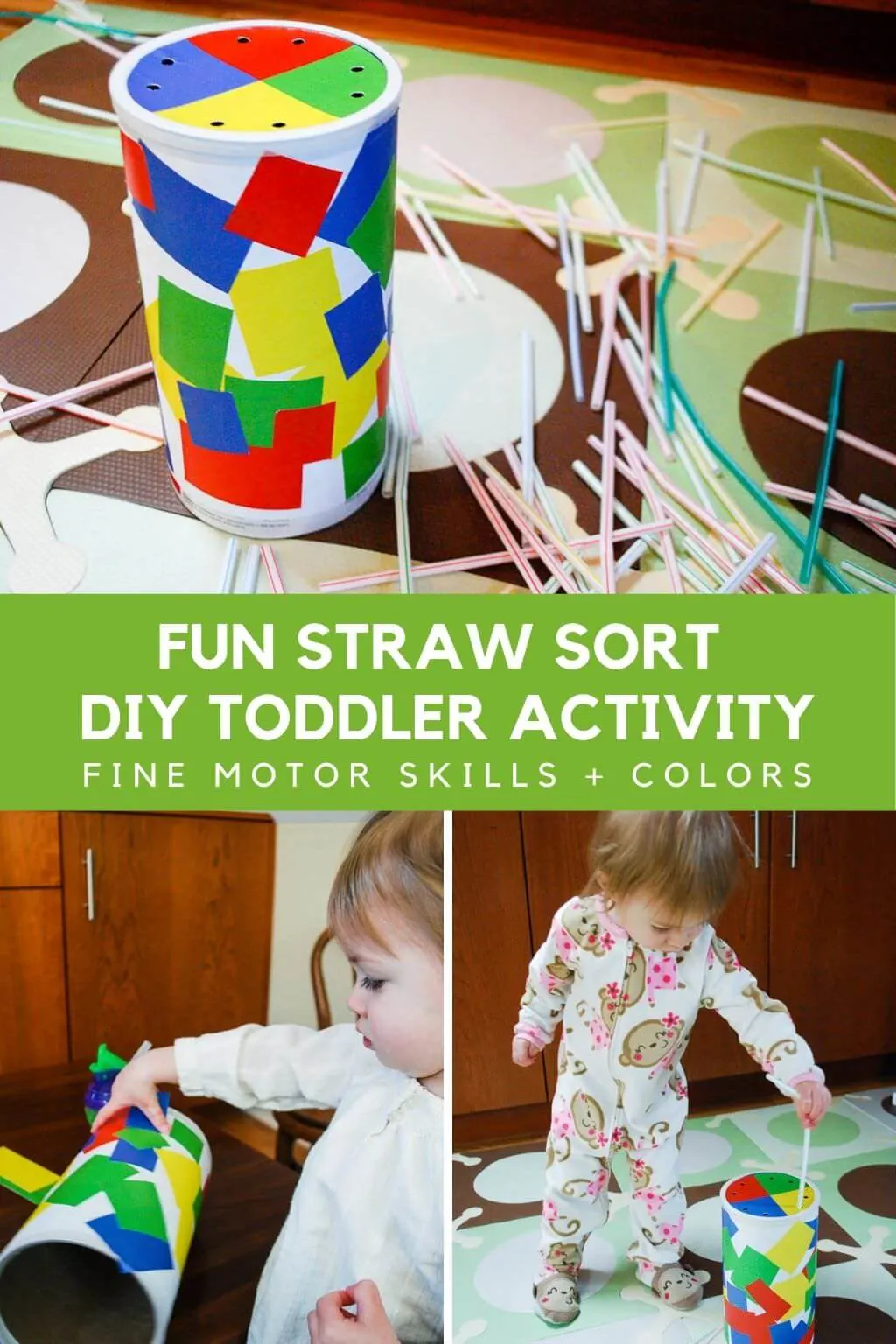 —
—
Like it? Share it!
The nicest way to say you like it is to pin it on Pinterest, post a comment, follow Merriment Design on Facebook, Pinterest, Instagram or sign up for monthly emails. Enjoy! 🙂
Copyright stuff: You're more than welcome to use this free project and tutorial for personal use. Contact me for commercial use and Etsy sales.