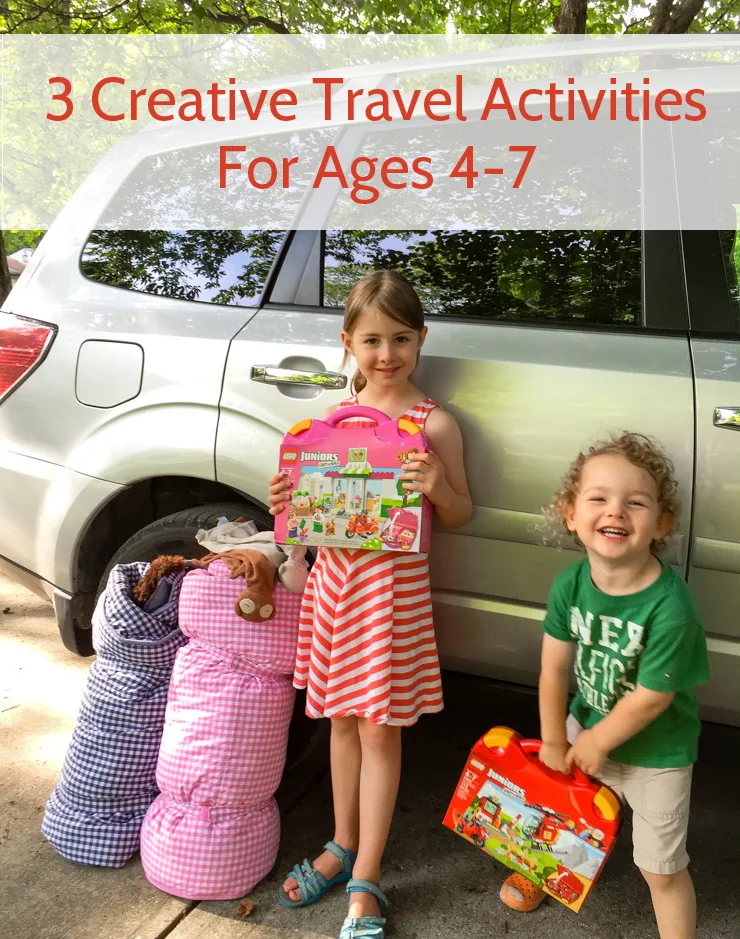 School's out and it's time to travel! The kids and I took a three-week road trip with several stops along the way. Packing for road trips can get tricky — especially choosing which toys and travel activities to take along for the kids. As a creative person, I think it's important to bring some creativity-building, non-electronic toys that will keep the kids entertained both on the road and at our destination. And I've learned from past trips that it's best to pack portable toys that the kids can play with in multiple ways.
Today I'm sharing 3 creative ways to play on-the-go this summer with LEGO® JUNIORS Suitcases …plus my free printable play mats for you to download, print and pack for your own road trip. Thanks to LEGO JUNIORS for sponsoring this post.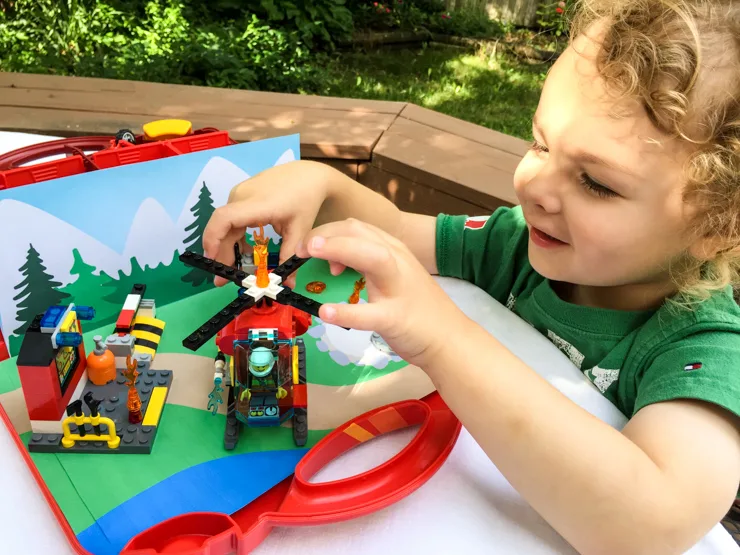 LEGO® JUNIORS is designed to give children age 4-7 a great first building experience with the LEGO brick through iconic, fun, and easy to build models. Basically, I think they're a great transition between the DUPLO bricks and the "tiny LEGOS" as my kids call them. I packed two LEGO® JUNIORS Suitcases — the pink Supermarket Suitcase and the red Fire Suitcase in the back of the car so the kids wouldn't see them yet.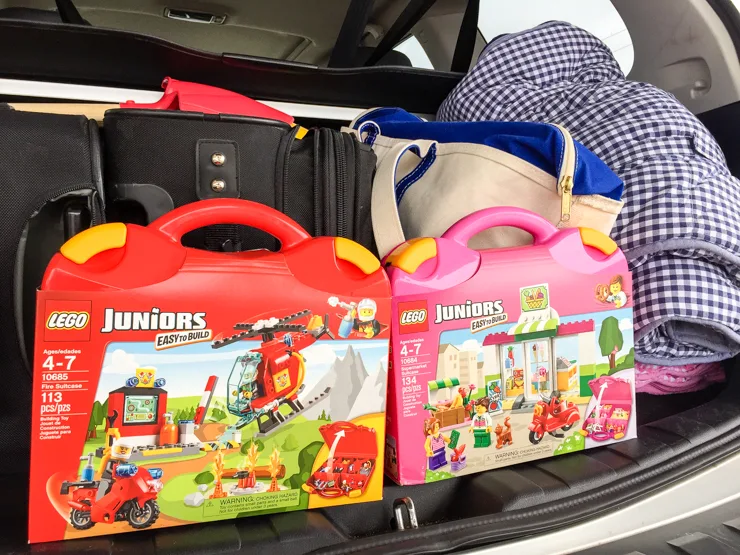 Then I gave the suitcases to the kids as a surprise when they started to get squirrel-y on the five-hour drive. Happy kids again!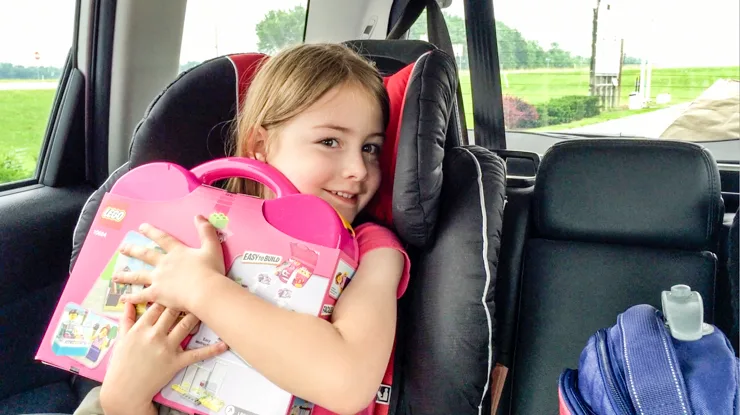 Yep, major mom points.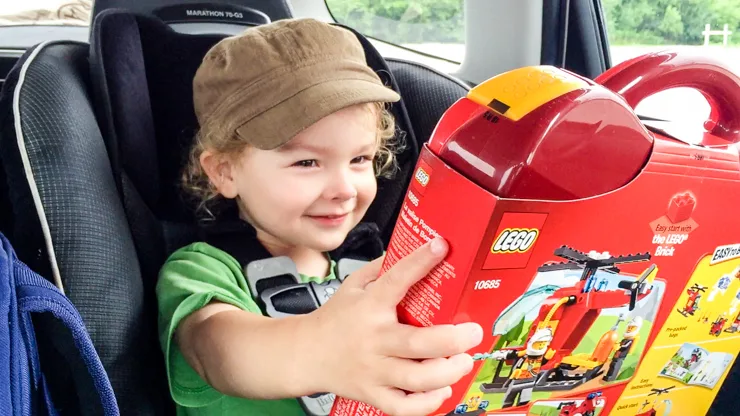 Here are 3 creative ways that we've been playing on-the-go both in the car and at our destinations — plus free printable play mats for you!
Activity 1: Build and Create (Construction Play)
Inside, the suitcases have instructions and numbered bags. The suitcase itself has a LEGO brick storage and sorting area on one side and an assembly surface on the other.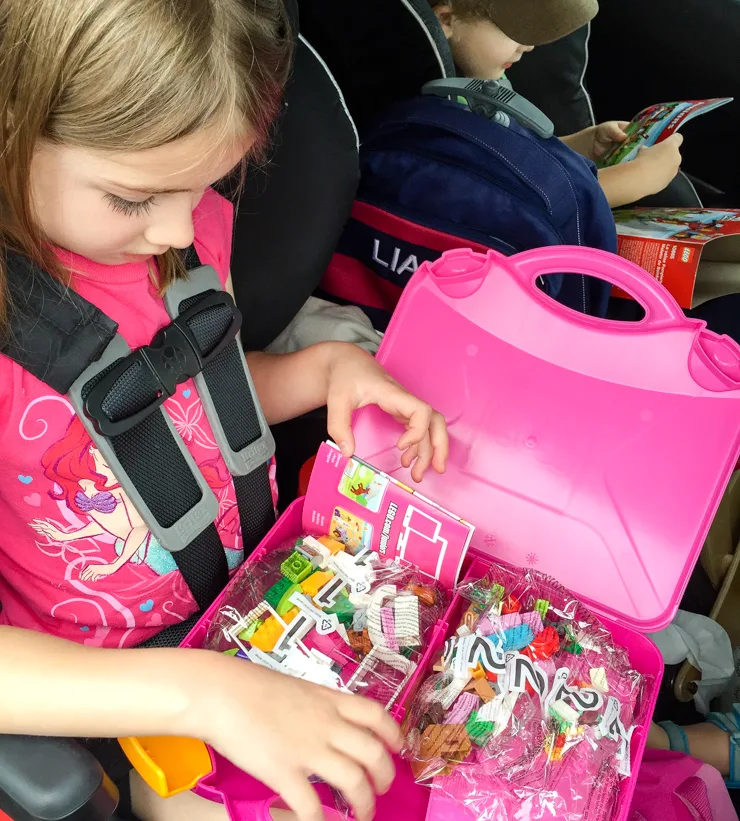 There's just the right amount of challenge for young children because the suitcases combine classic bricks with bigger "quick start" elements that gives young children the self-confidence to start creating on their own – check out how quickly it got my youngest started building his helicopter at Grandma and Grandpa's house basically all on his own.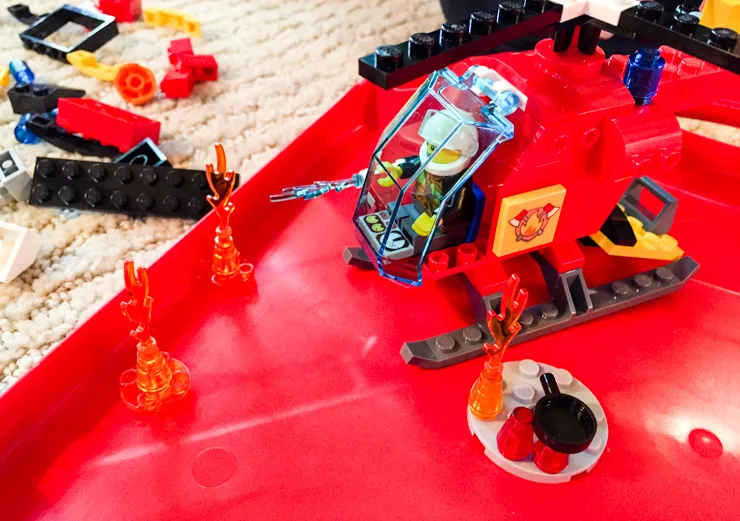 The finished creations are really cute! The fire suitcase has a helicopter, motorcycle, campfire and a rescue base for putting out fires. The Supermarket has cute food, working drawers at the cash register, an ice cream parlor, a motorcycle and a kitty. Here's a quick tour of both suitcases…
Activity 2: Pretend Like Crazy (Imaginative Play) — plus free printable play mats for you
Once the kids built their LEGOS, they immediately started pretending with them. And they quickly mixed and matched between the two suitcases …let's just say that there were a lot of fires to put out at the supermarket. During all this pretending I thought the kids could use some play mats. Here's one we made for the Supermarket Suitcase: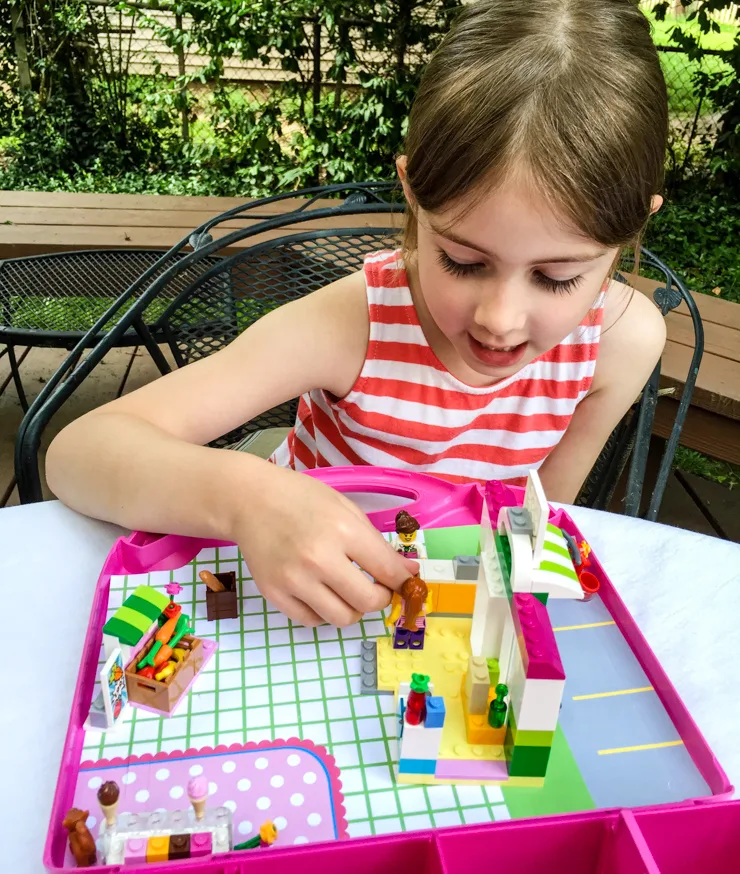 And here's the one for the Fire Suitcase: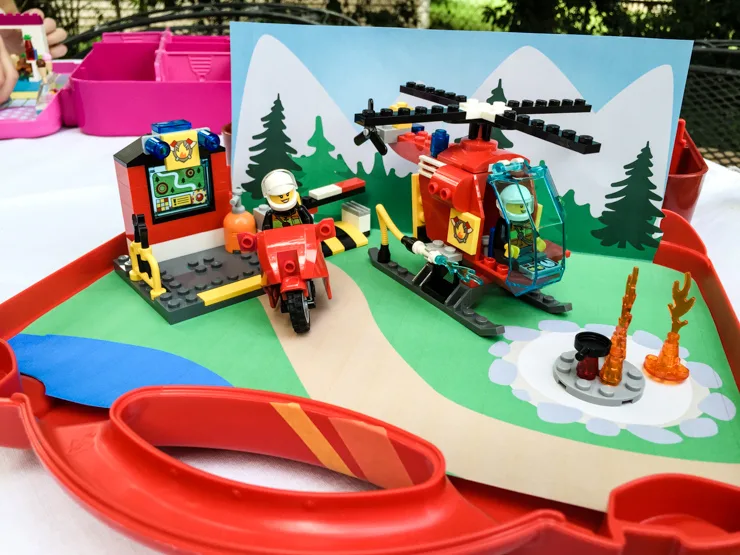 I designed these play mats to fit neatly inside the suitcases. Download and print my free printable play mats (PDF) for the Supermarket Suitcase and Fire Suitcase, or cut out a piece of paper and have your kids color their own mat.
Activity 3: Decorate & Personalize the Suitcases (Arts & Crafts)
I packed some washi tape rolls in the car and the kids and I decorated the suitcase exteriors during some vacation downtime (alternatively, you could use stickers or decals instead of washi tape). Elise loves arts and crafts and we made simple starbursts on her suitcase: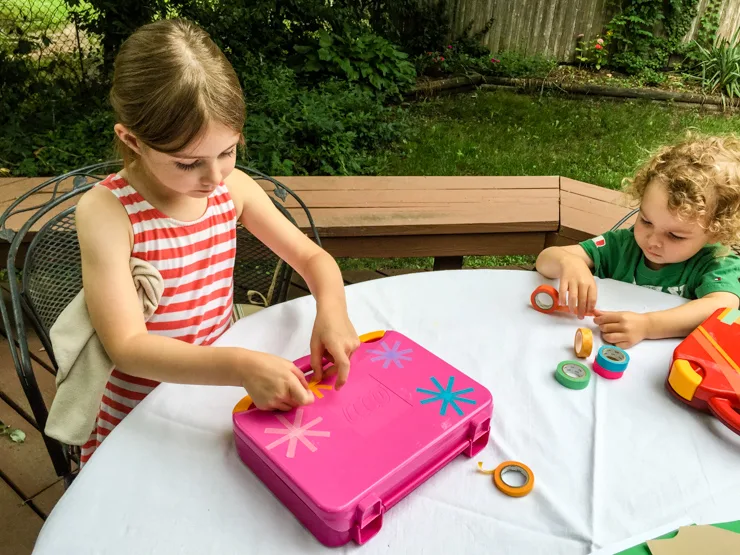 Liam wanted stripes so he picked the colors and I helped him cut and put on the stripes and make a helicopter landing pad on the back.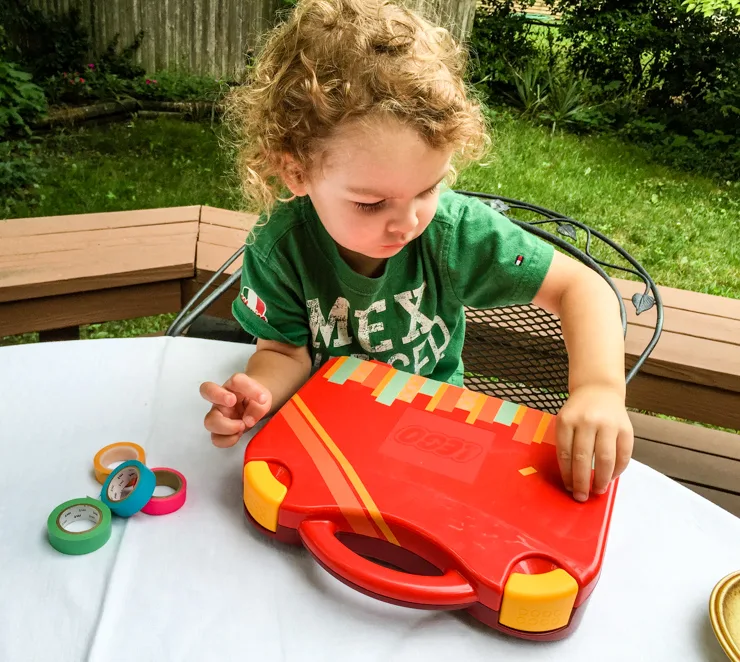 The kids like that their suitcases are now personalized just for them.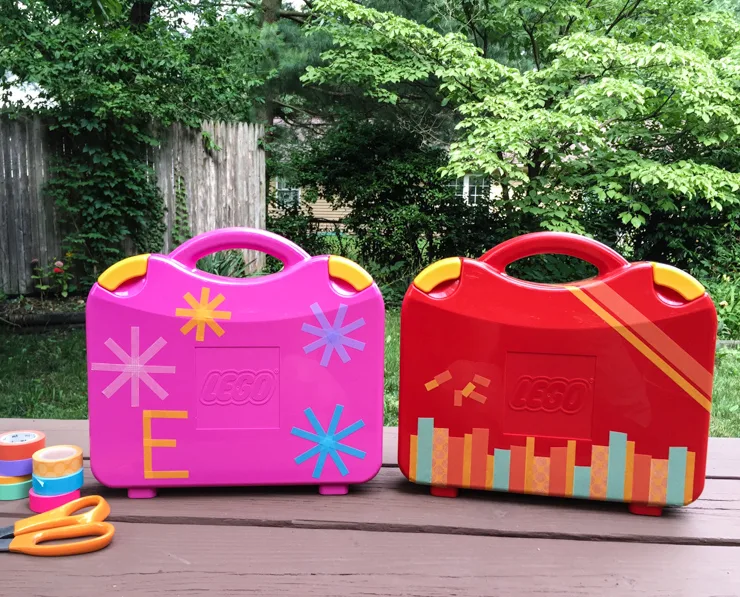 Speaking of arts & crafts: we discovered on the second leg of our three-week road trip that the closed suitcases make great car seat trays for coloring.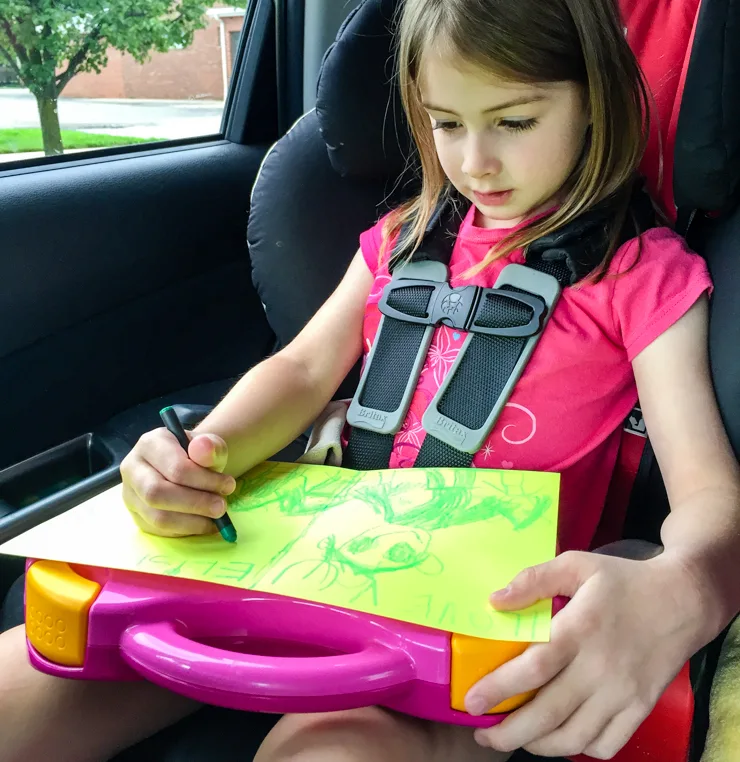 My kids think this is the best post that I have ever posted. Like ever. Thanks to LEGO JUNIORS for making these two kids very happy with their summer traveling.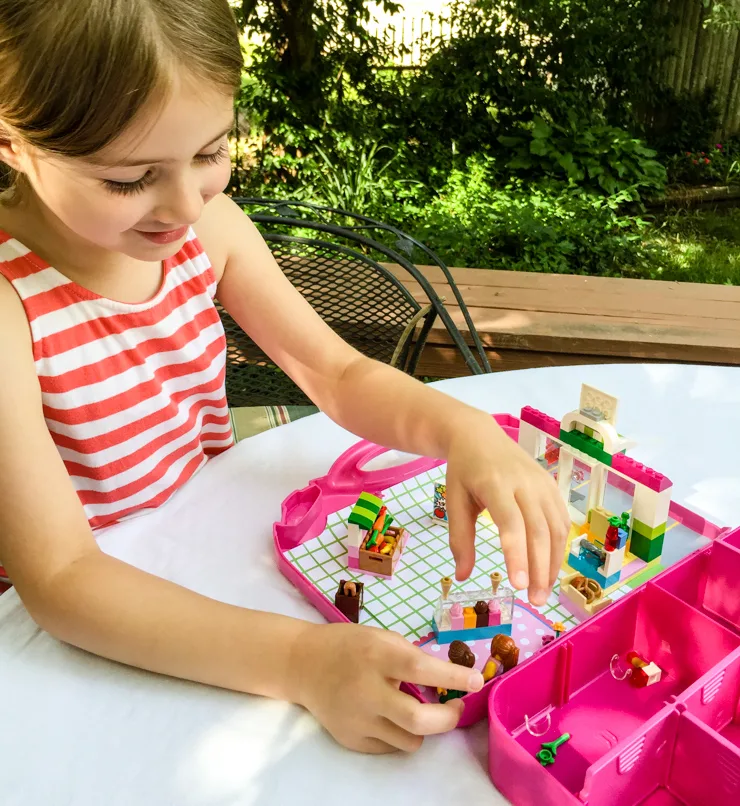 For more creations visit:
Tell me in the comments below: how do you keep your kids entertained when traveling?
I was selected for this opportunity as a member of Clever Girls and the content and opinions expressed here are all my own.