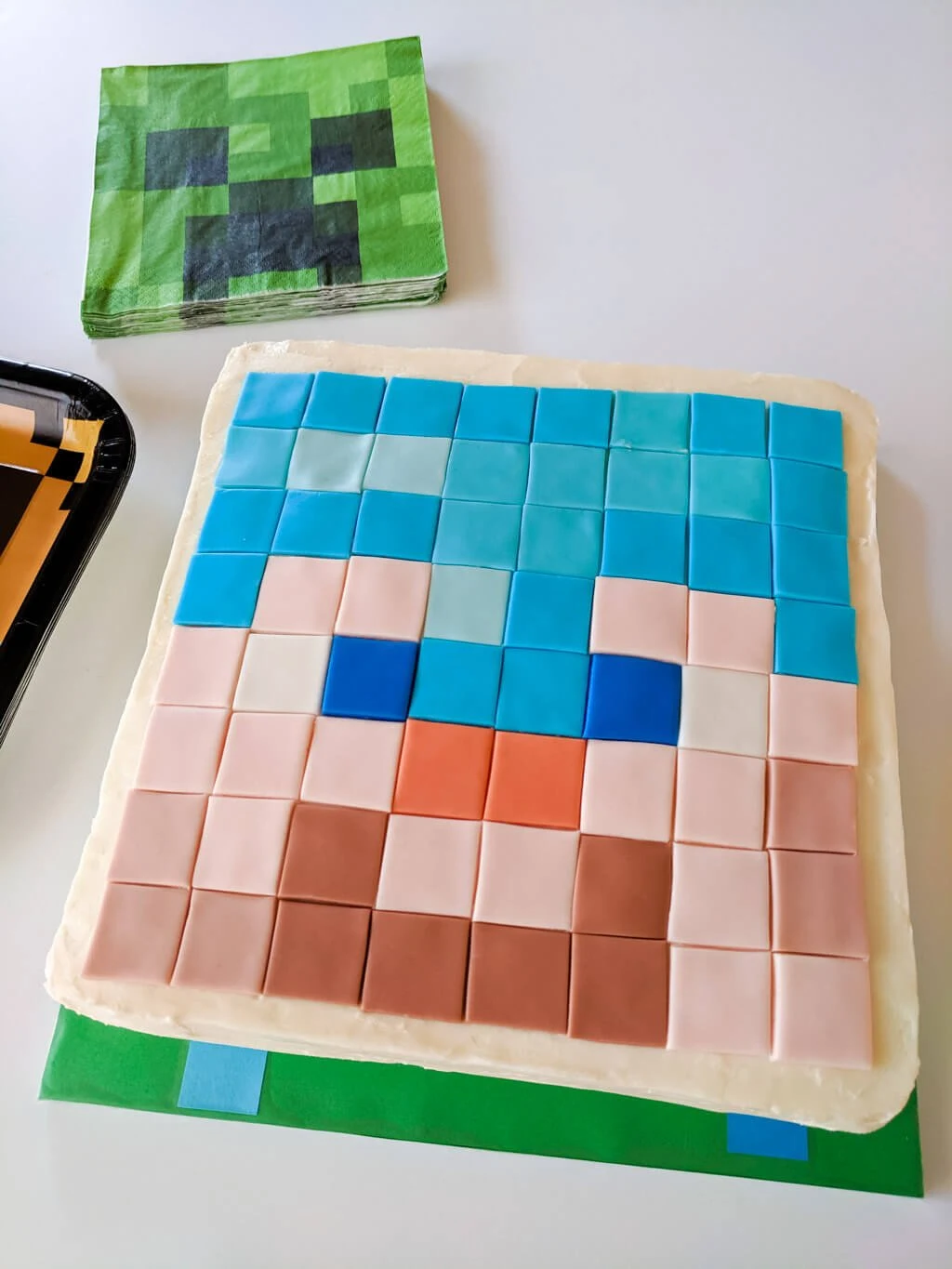 This easy Minecraft birthday cake idea is super simple and fun to make. Liam wanted a Diamond Armor themed Minecraft birthday party, so we decided that Steve could wear his Diamond Armor on his birthday cake. This Minecraft cake idea is an easy and cute design for boys and girls that you can "craft" all by yourself very quickly.
See also: 'Easy construction birthday cake' »
This easy Minecraft birthday cake is so simple to DIY because it's a buttercream cake topped with colored fondant squares that look like Minecraft pixels. And because there are only 64 fondant squares that you can make ahead of time this Minecraft birthday cake is super fast to build.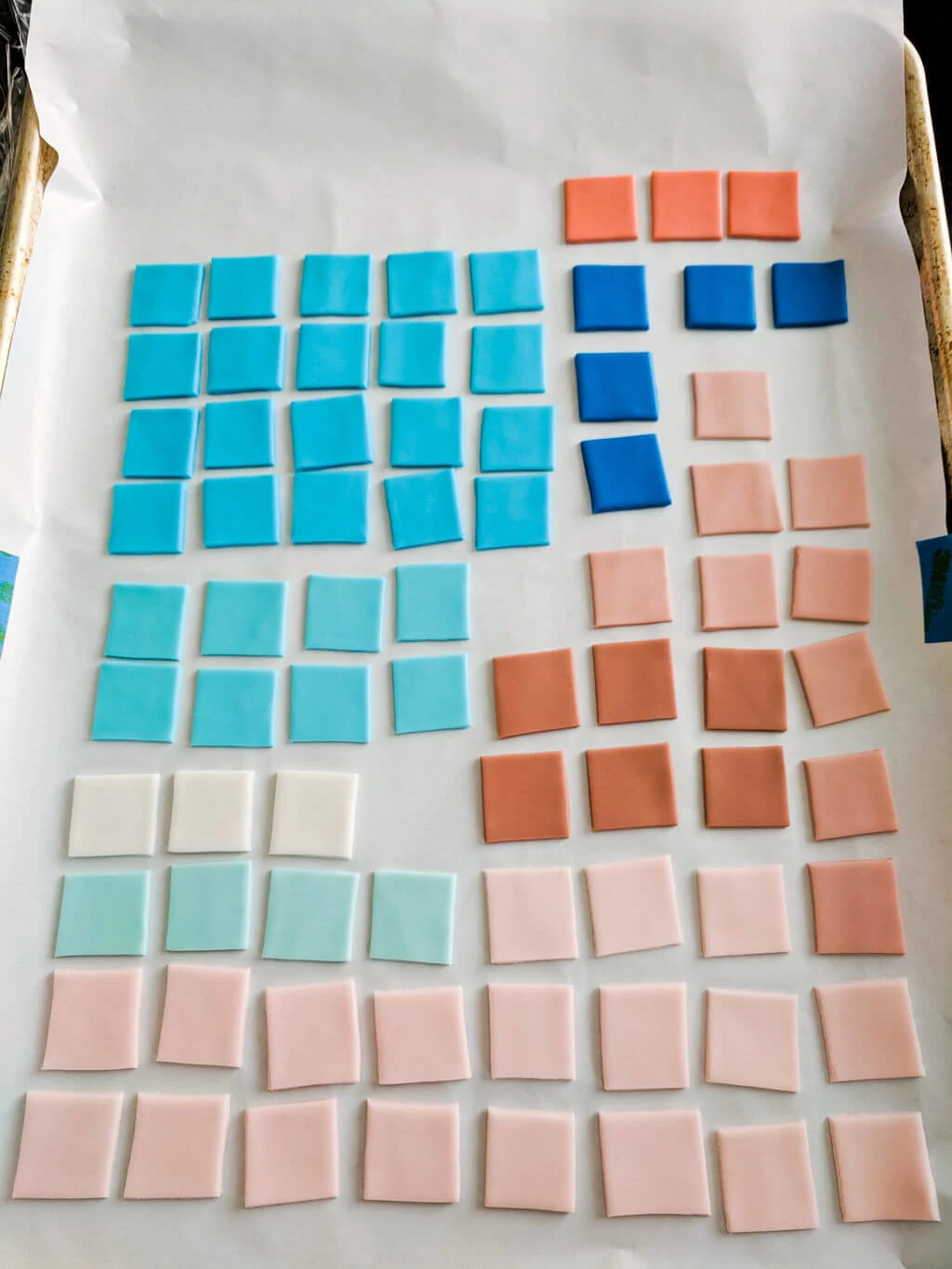 This Minecraft birthday cake designed for beginner bakers. It's much easier to bake than my Magic Treehouse birthday cake, my LEGO Friends birthday cake, and my mermaid birthday cake. You can build this Minecraft birthday cake super quickly!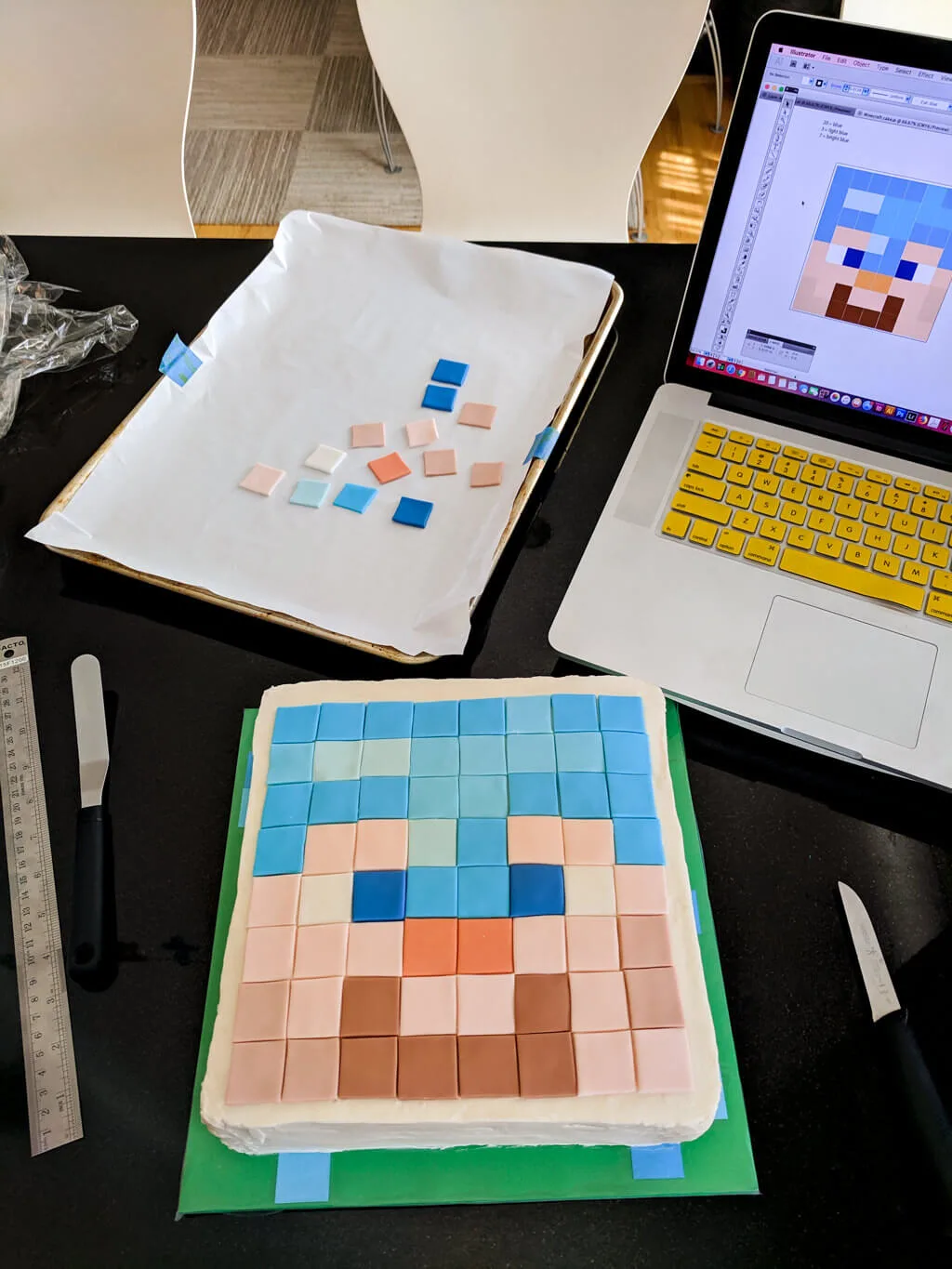 I also made a printable 'Cake' food label to go along with the other Minecraft food tents. This is a free Minecraft birthday party printable that I'll be sharing soon.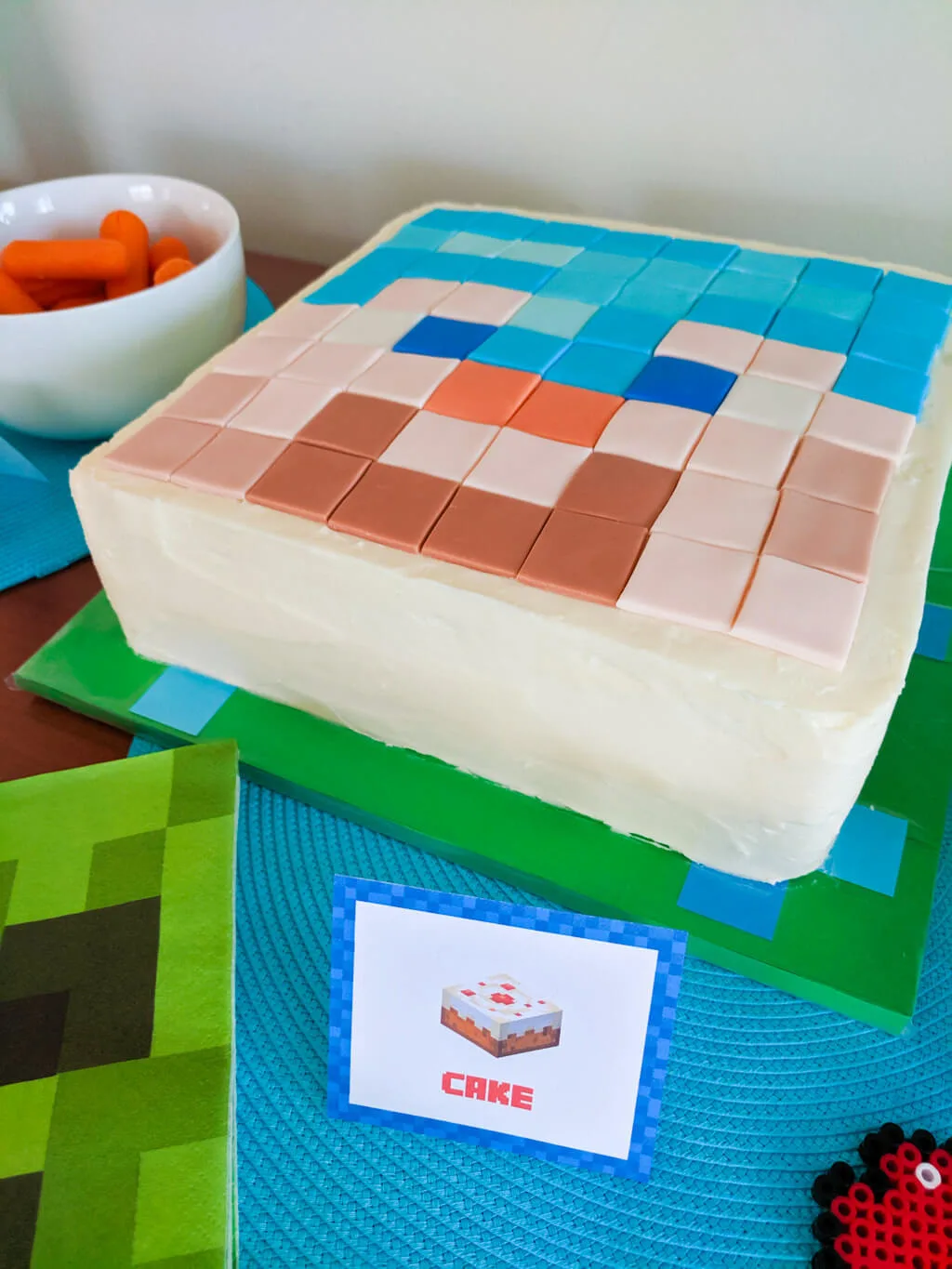 This Minecraft birhtday cake was just one of the Minecraft party food ideas. We also made Redstone strawberries, Carrot carrots, Sticks pretzels, Coal Oreos (not pictured), and Creeper Pizza (not pictured). I'll be sharing that free Minecraft party printable soon. Add some Minecraft creeper napkins and some crafting table Minecraft birthday plates and you're ready to fight the hostile mobs.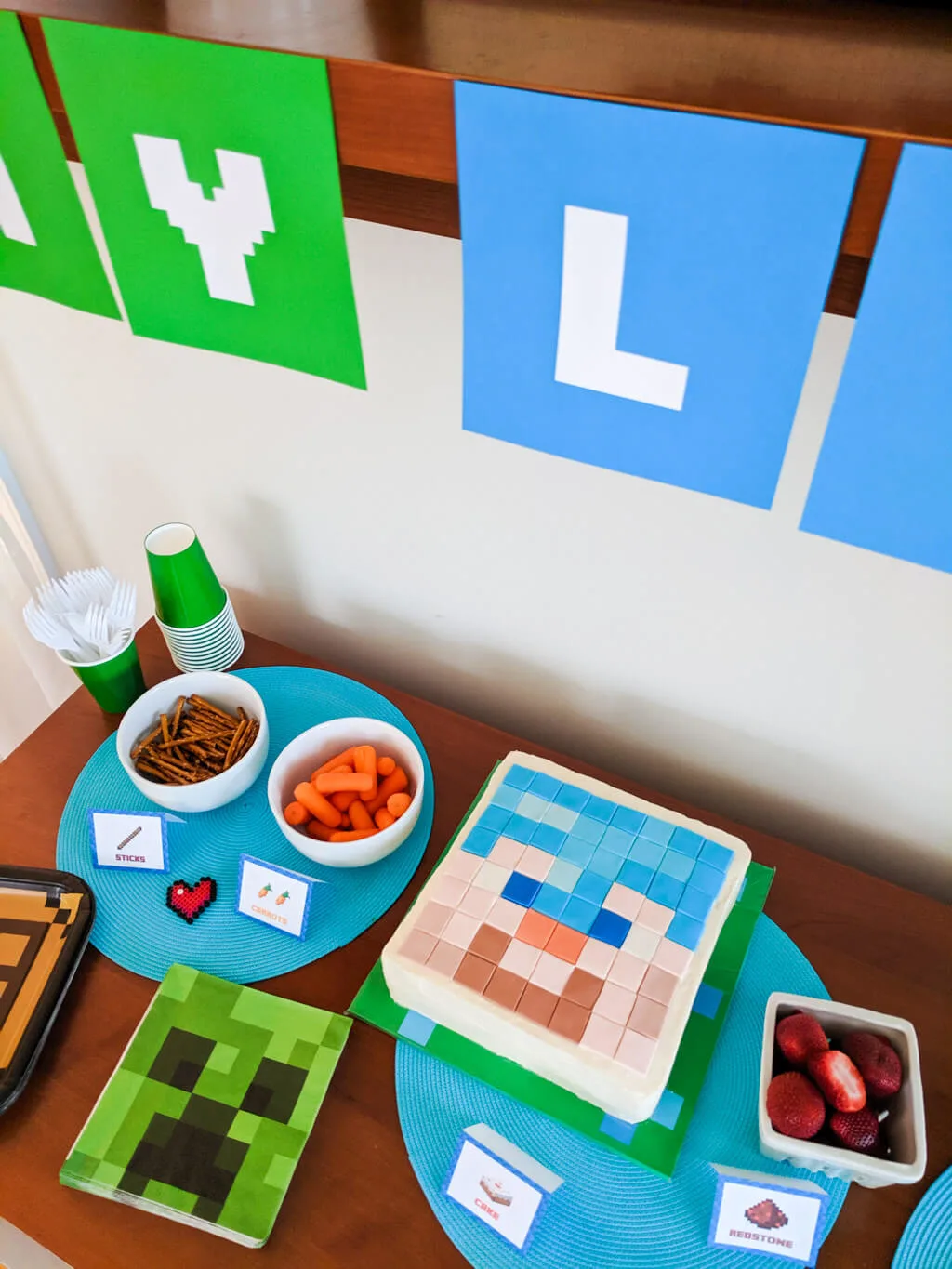 This post contain affiliate links which means that products I recommend may give me a nominal commission at no extra cost to you. Thanks – your clicks help me make more free DIYs!
++++++
Supplies for making an easy Minecraft birthday cake:
And Kathy's free printable Minecraft party printable food labels (coming soon)
—
How to make this simple Minecraft cake idea:
Step 1: Bake cakes using my favorite birthday cake recipe
Bake two 9″ square cakes for this Minecraft birthday cake using my favorite cake recipe — the Cakegirls vanilla cake recipe — and these 9″ square cake pans. This bakery cake recipe tastes the best of any that I've made. I line the pan bottoms with parchment paper and use the baking strips that Mary suggests in her recipe. I like to bake the round cakes a week in advance and wrap and freeze per Mary's instructions until I'm ready to decorate.
Step 2: Make fondant pixels like Minecraft
I made 1″ x 1″ square fondant pixels like Minecraft to create my Steve in Diamond Armor easy Minecraft birthday cake. First color your fondant using gel food coloring. See the best way to color fondant the easy way using the taffy pull method — the details are about halfway down this post. You'll make 64 fondant pixels:
2 dark blue squares
3 light blue squares
7 turquoise squares
20 diamond armor blue squares
2 white squares
17 light tan squares
5 darker tan squares
6 brown squares
2 orange squares
A few helpful tips: First, your surface needs to be super clean because fondant picks up absolutely everything. I pull my hair back and use a clothing lint roller on my clothes and apron before I begin. And super clean hands, of course. Tape down a piece of freezer paper onto your table using painter's tape. Then mark 1″ lines onto the the freezer paper with a pen.
Now you can roll your fondant – I like this fondant rolling pin because it has rubber bands on it to help you roll an even thickness. The reason you want to use rings is to keep the fondant all the same depth. I used the blue rings on the fondant roller to make my easy Minecraft birthday cake. Then you can cut the squares out by following your 1″ guide lines with a kitchen knife. Perfect squares! Pretty easy, yes?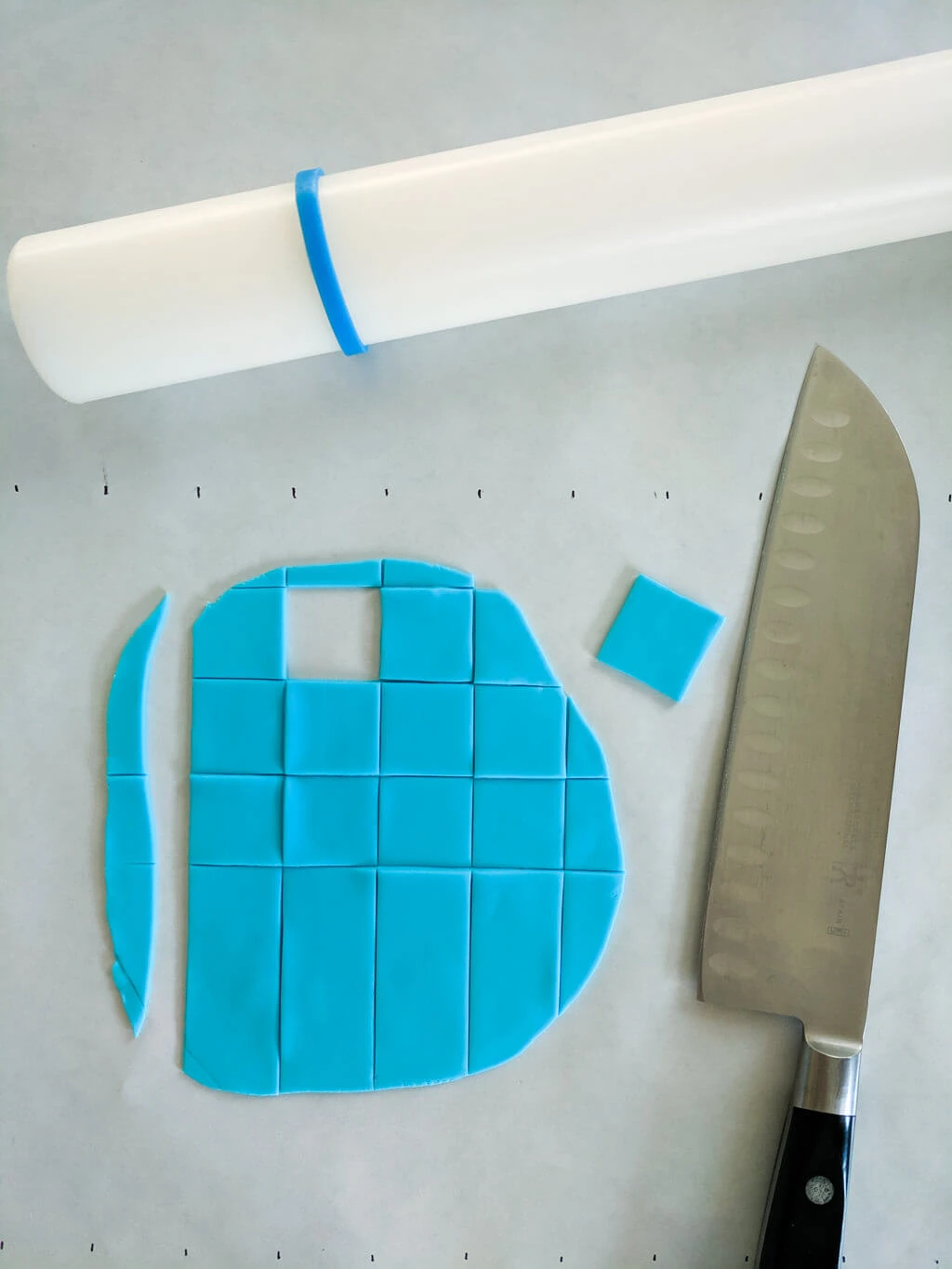 Lift each fondant square with a knife and place on a cookie sheet covered with freezer paper until you're reading to decorate your Minecraft cake. This knife method will prevent the fondant squares from getting distorted. Cover fondant scales with plastic wrap to keep them from drying out. Cover the fondant squares with plastic wrap to prevent the fondant from drying out.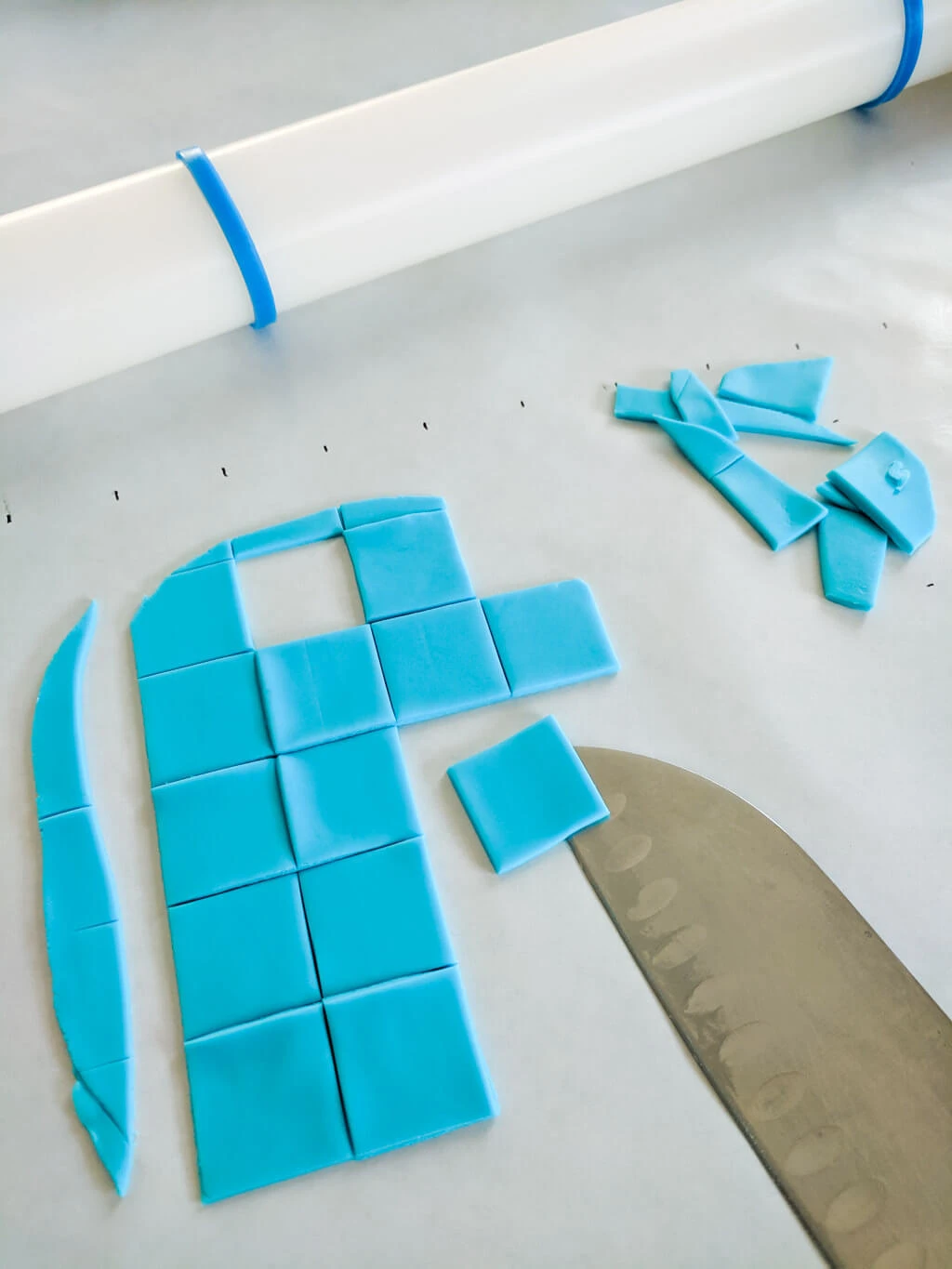 Repeat the process for all of your fondant colors in your easy Minecraft birthday cake.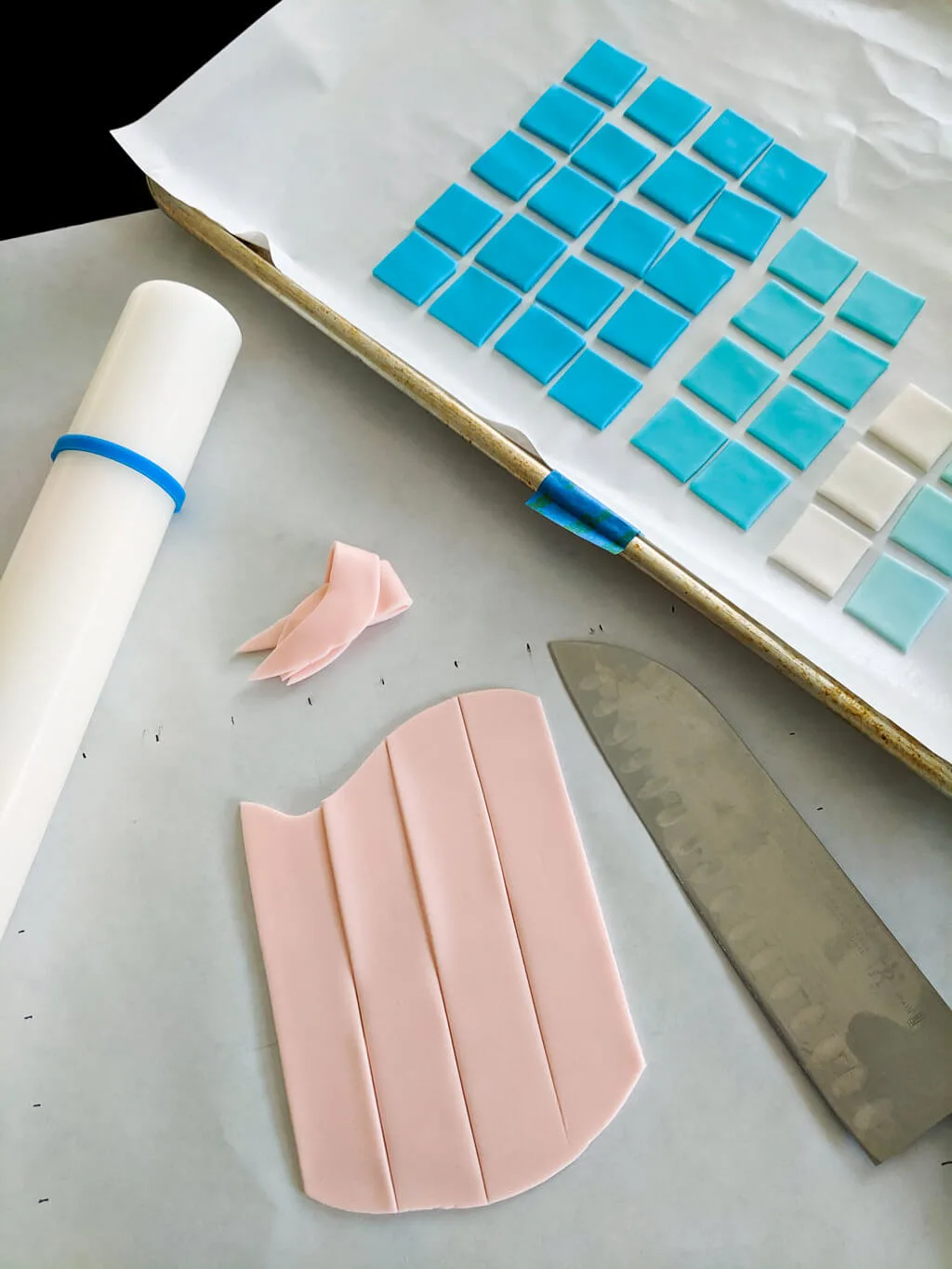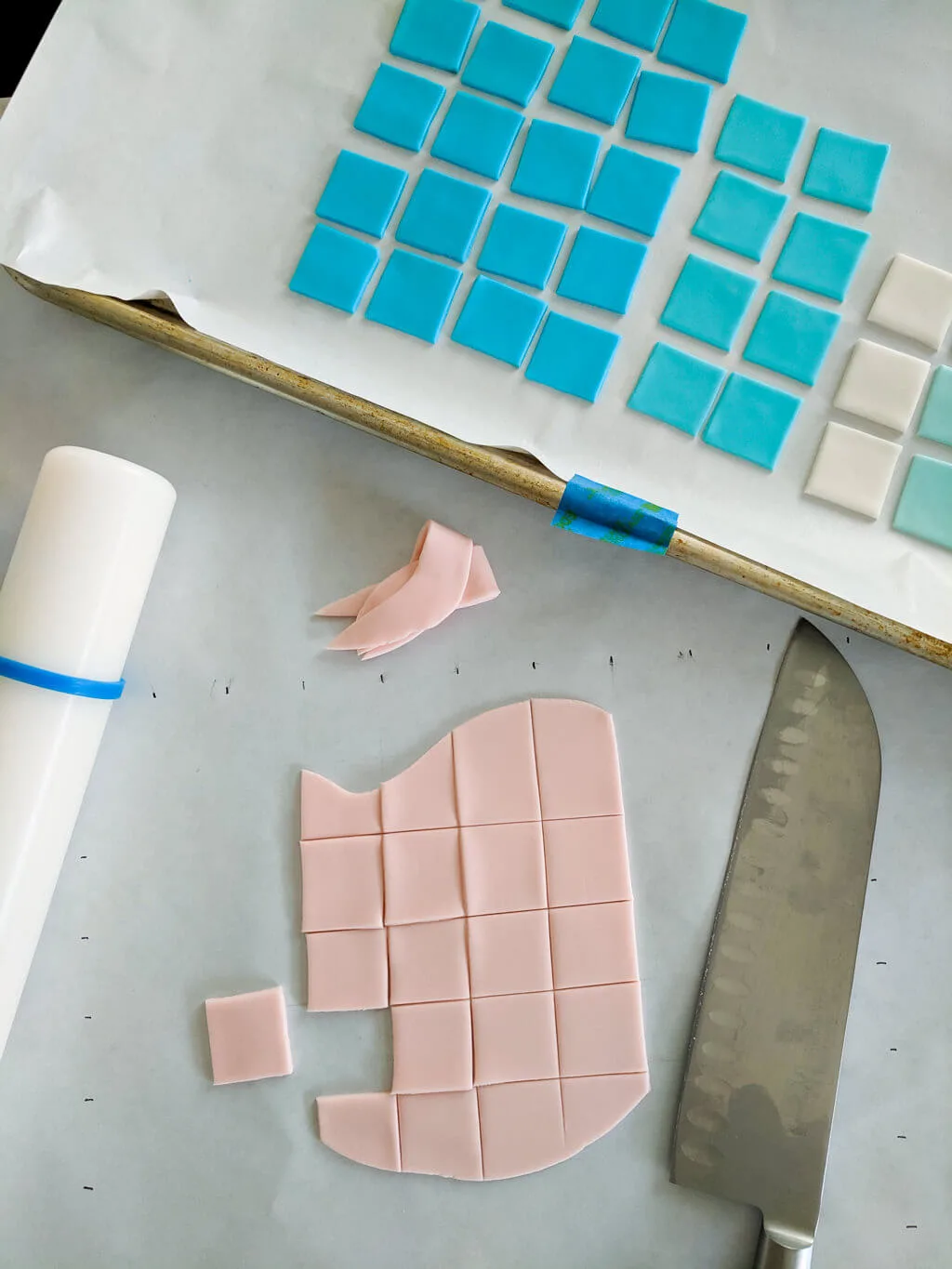 Step 3: Make DIY cake board that looks like Minecraft (optional)
I've been making my own cake boards for awhile now and they're much better (and cheaper) than store-bought. I'll be posting that tutorial soon but if you need this tutorial sooner please comment below and I'll give you the step-by-step details.
Step 4: Stack the cake layers and frost with buttercream icing
Make the Cakegirls' bakery buttercream icing recipe; this icing recipe pairs really well with their vanilla cake recipe. Put a little bit of buttercream icing on your cake board and add the first layer of cake.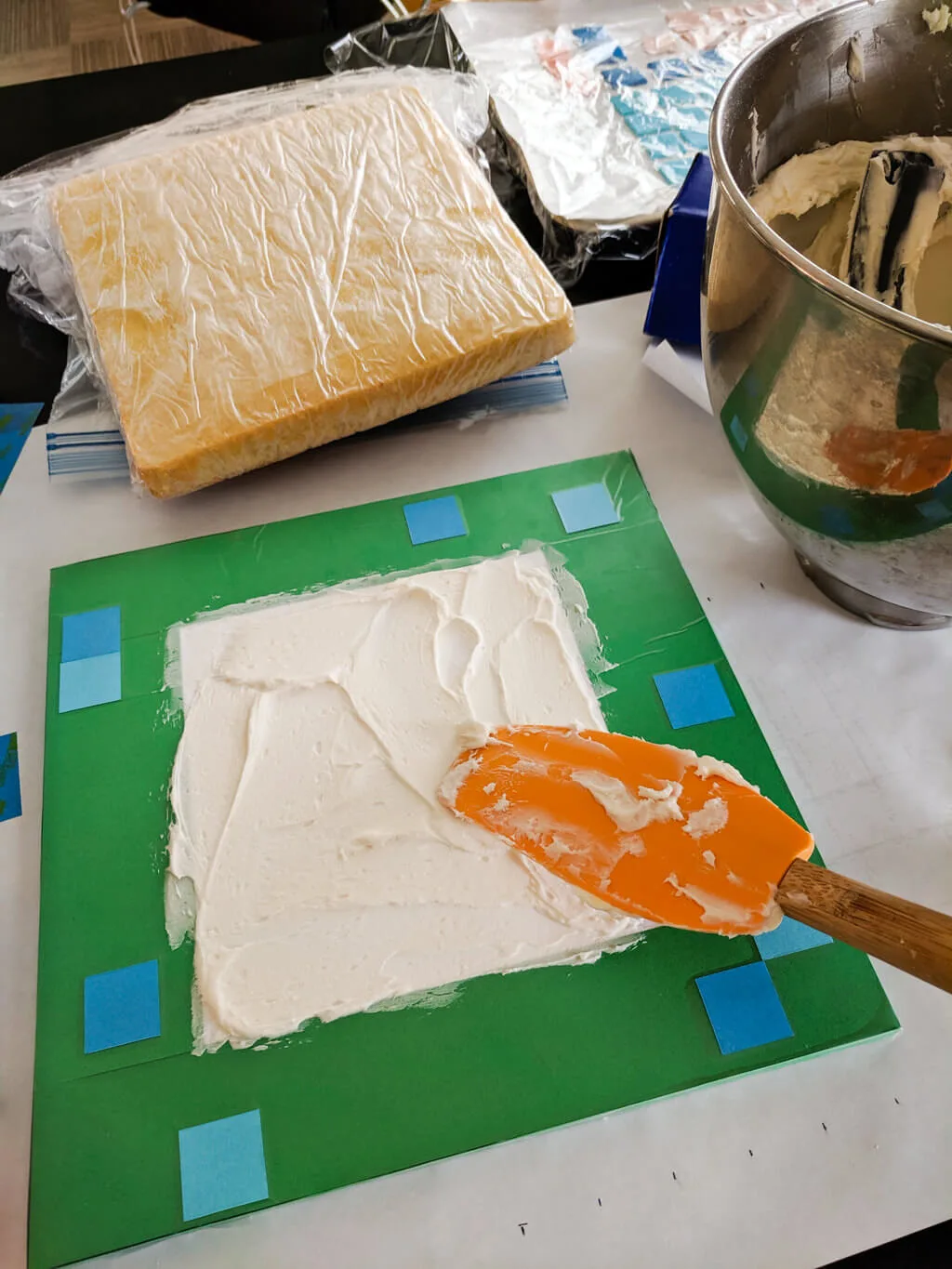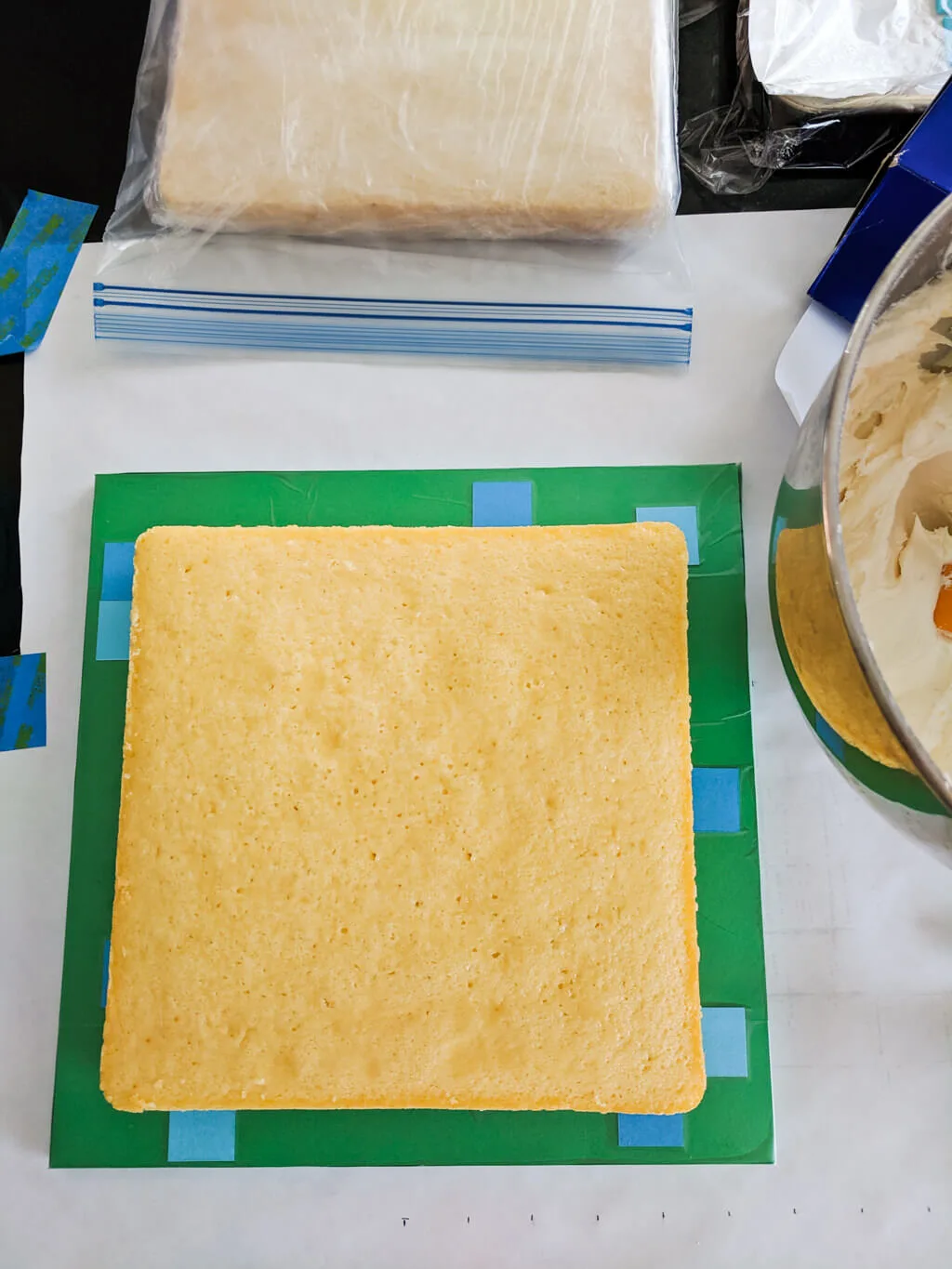 Add buttercream icing layer and top with your second layer of the Minecraft birthday cake.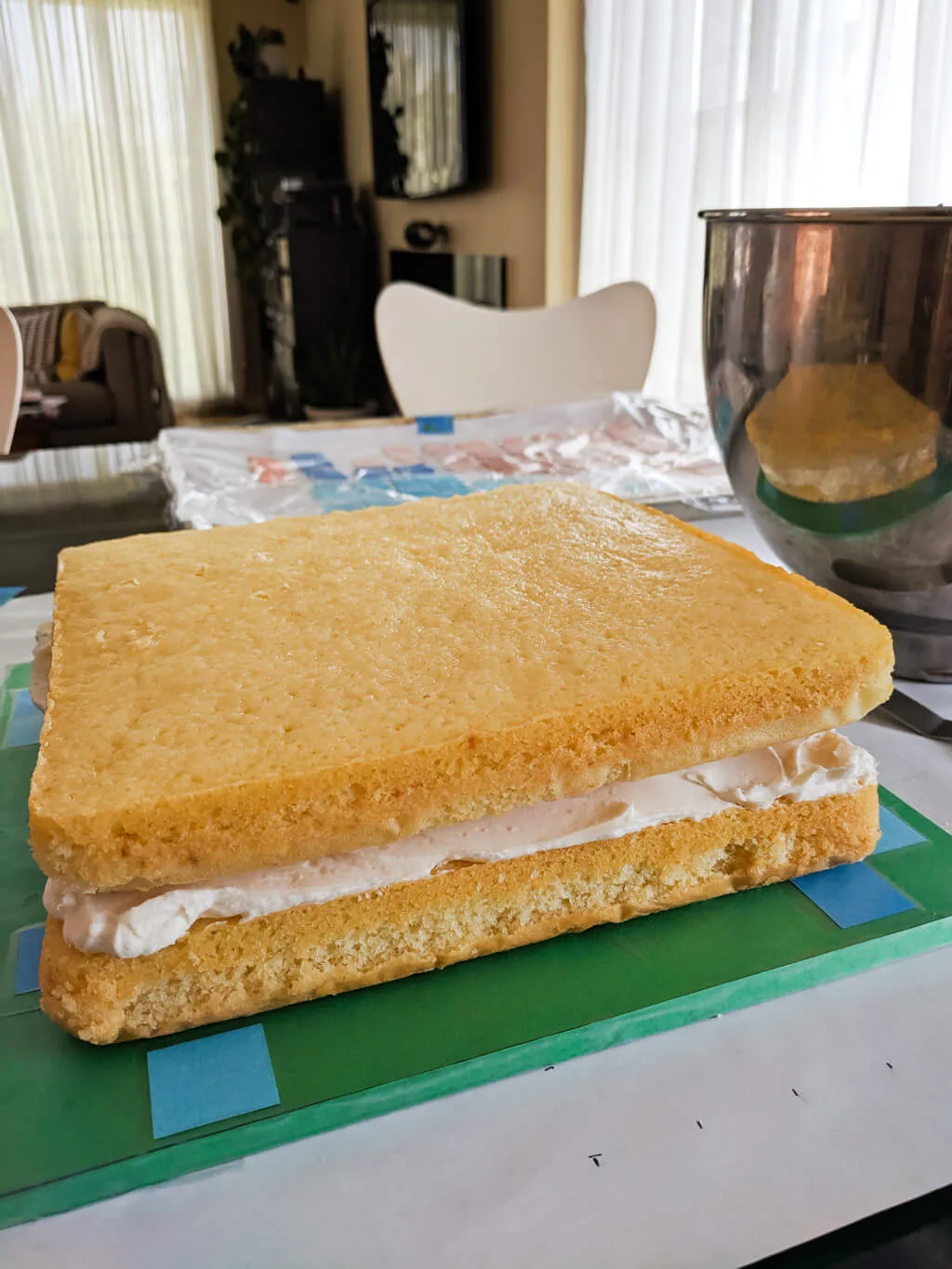 Ice the Minecraft birthday cake with buttercream icing. I like to use this icing spreader to help make it smooth. Run the icing spatula under hot water to heat it up and melt and smooth out the buttercream icing on the Minecraft cake. You can leave the top a little rough looking because the fondant squares are going to cover it all up.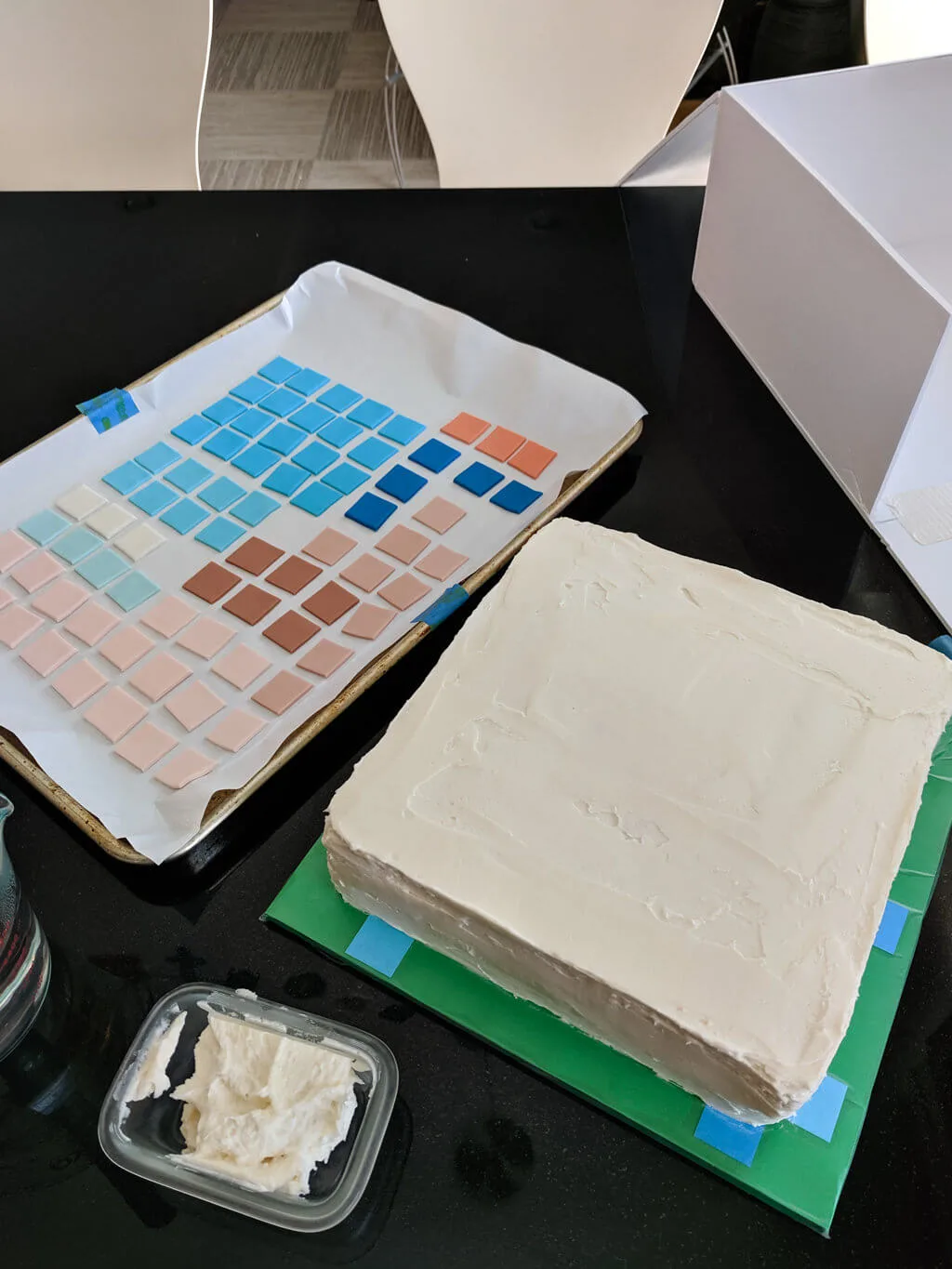 Step 5: Add fondant pixels to make a Steve in Diamond Armor cake design
Put one light blue fondant square and three medium blue fondant squares into the center of the cake. You don't have to push them down very hard.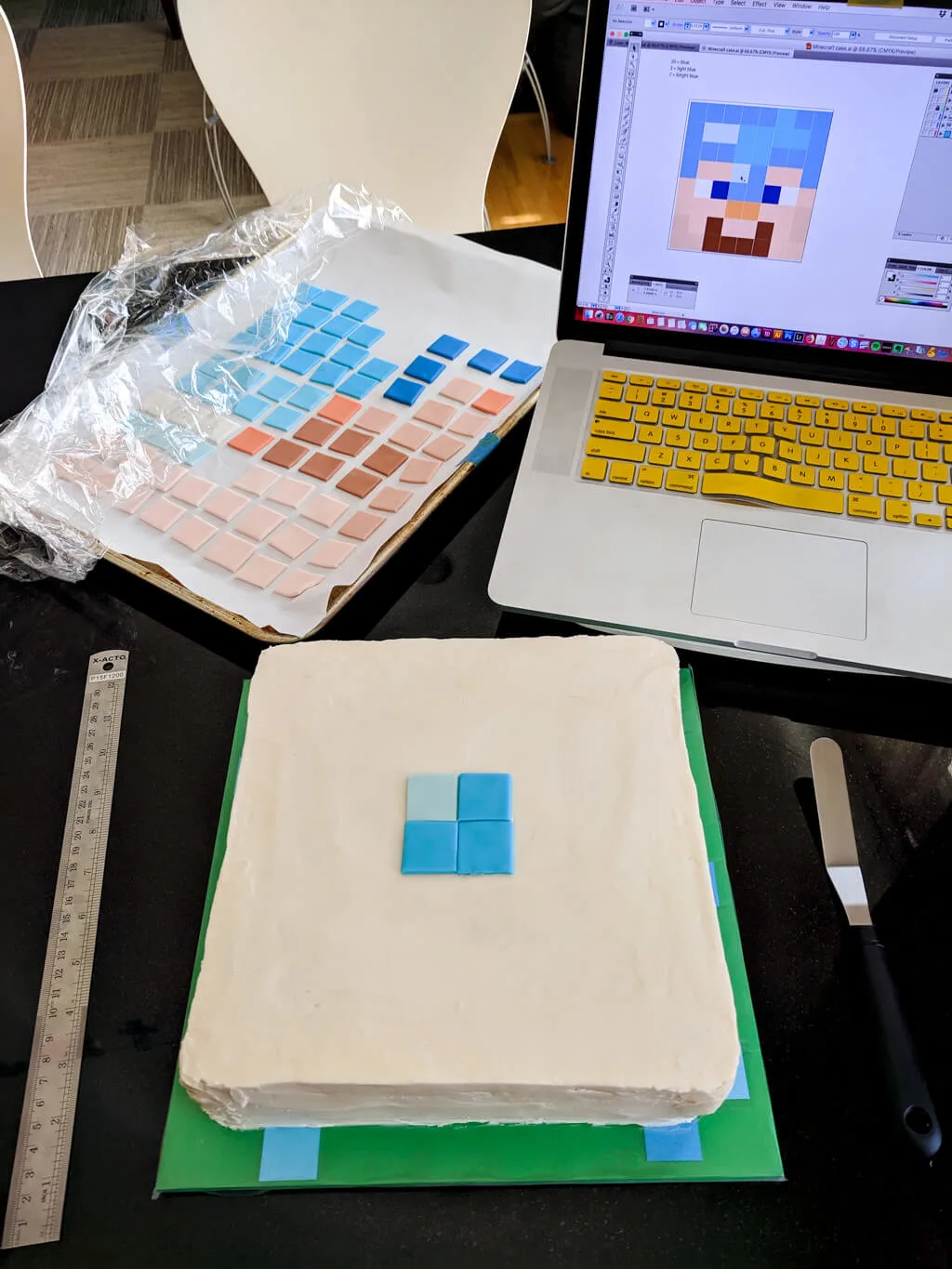 Next, finish these two rows vertically by adding more Minecraft-inspired pixels of colored fondant.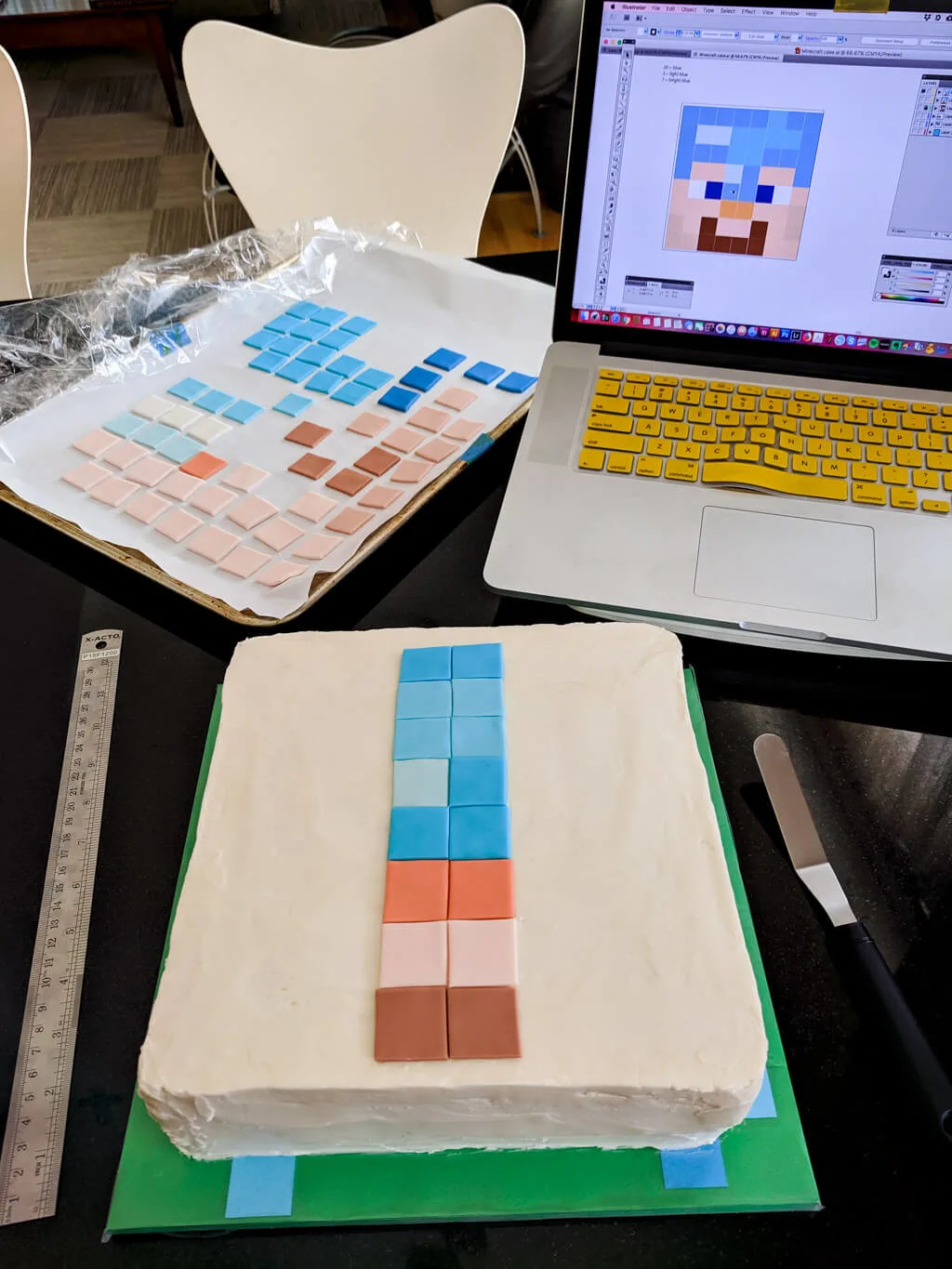 Continue adding your pixels fondant for each row of the Minecraft birthday cake.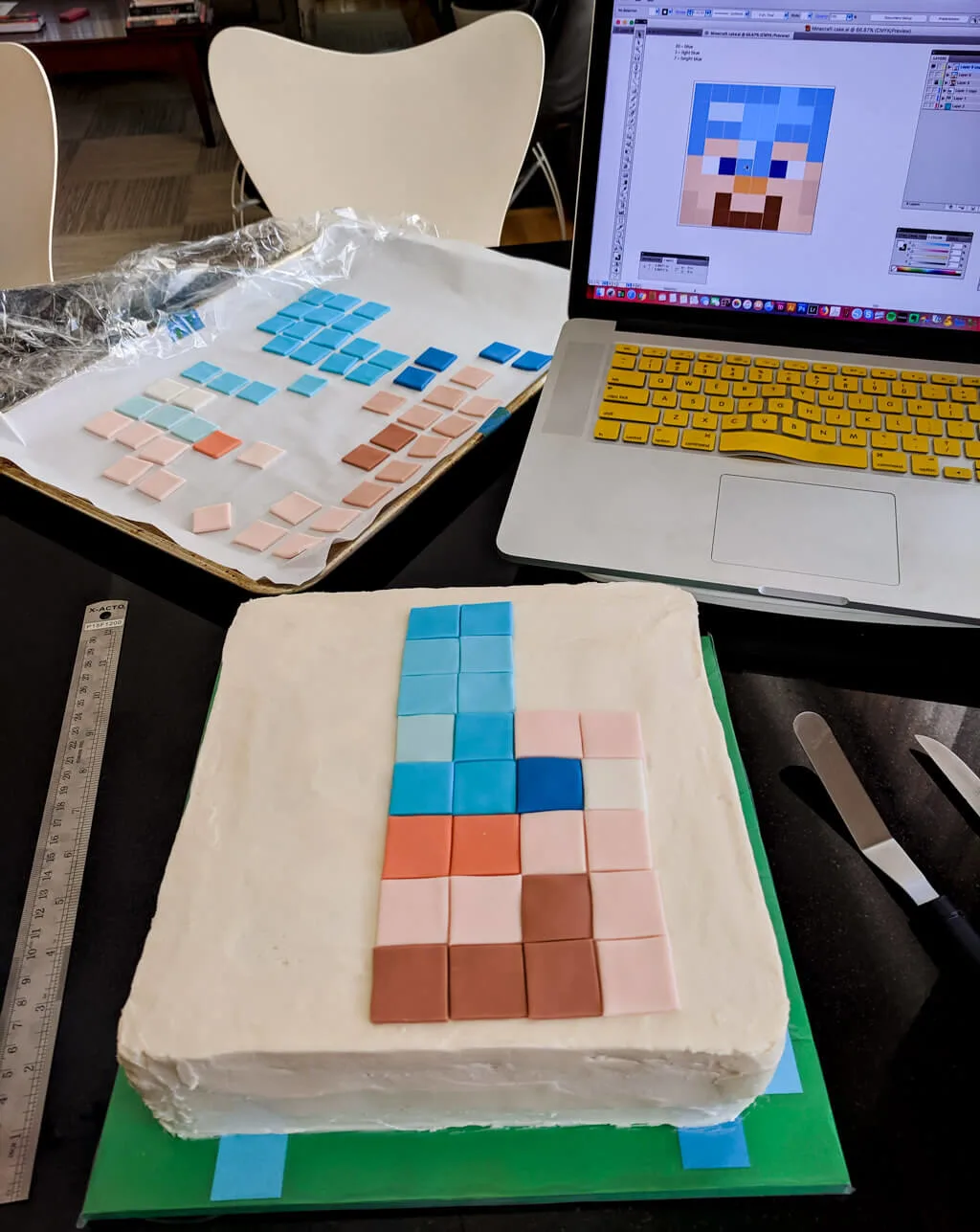 Decorating this Minecraft birthday design is really fast. Just keep adding the fondant squares with no room between them until the Steve in Diamond Armor pixel pattern is complete.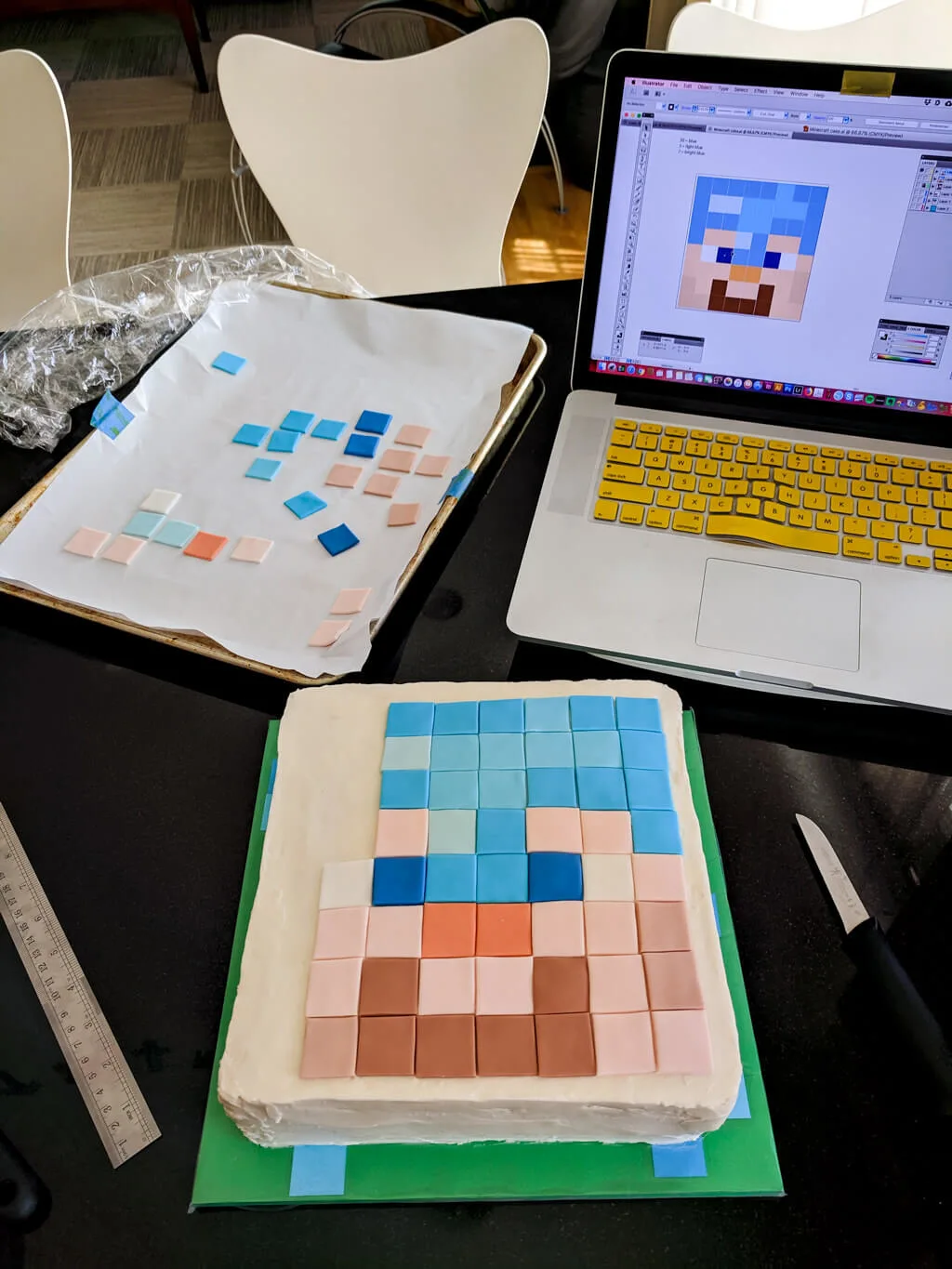 Store it in a cake box until ready to serve. I made my own DIY cake box from foam core from the dollar store. It fit my Minecraft cake perfectly and cost me only $2 to make. I'll share how to make it soon — write a comment below in the meantime if you need instructions earlier.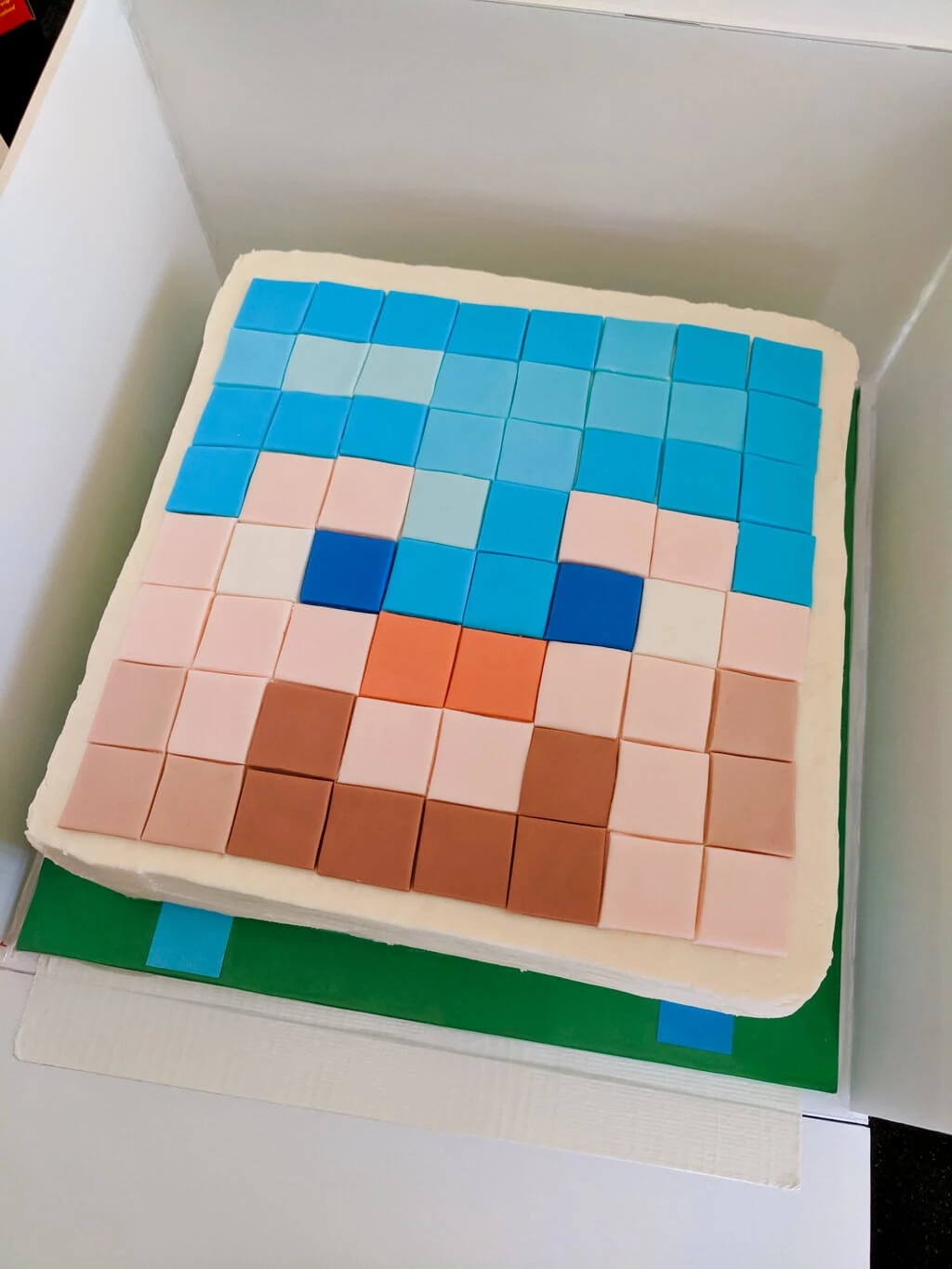 Liam loved his Minecraft birthday cake of Steve wearing Diamond Armor! We added a Minecraft t-shirt, Minecraft birthday banner, and Cake food labels and other food labels to the party. We created a huge Alex in Diamond Armor on the stairs (like our volcano stairs for Liam's dinosaur birthday party) and a crepe paper nether portal.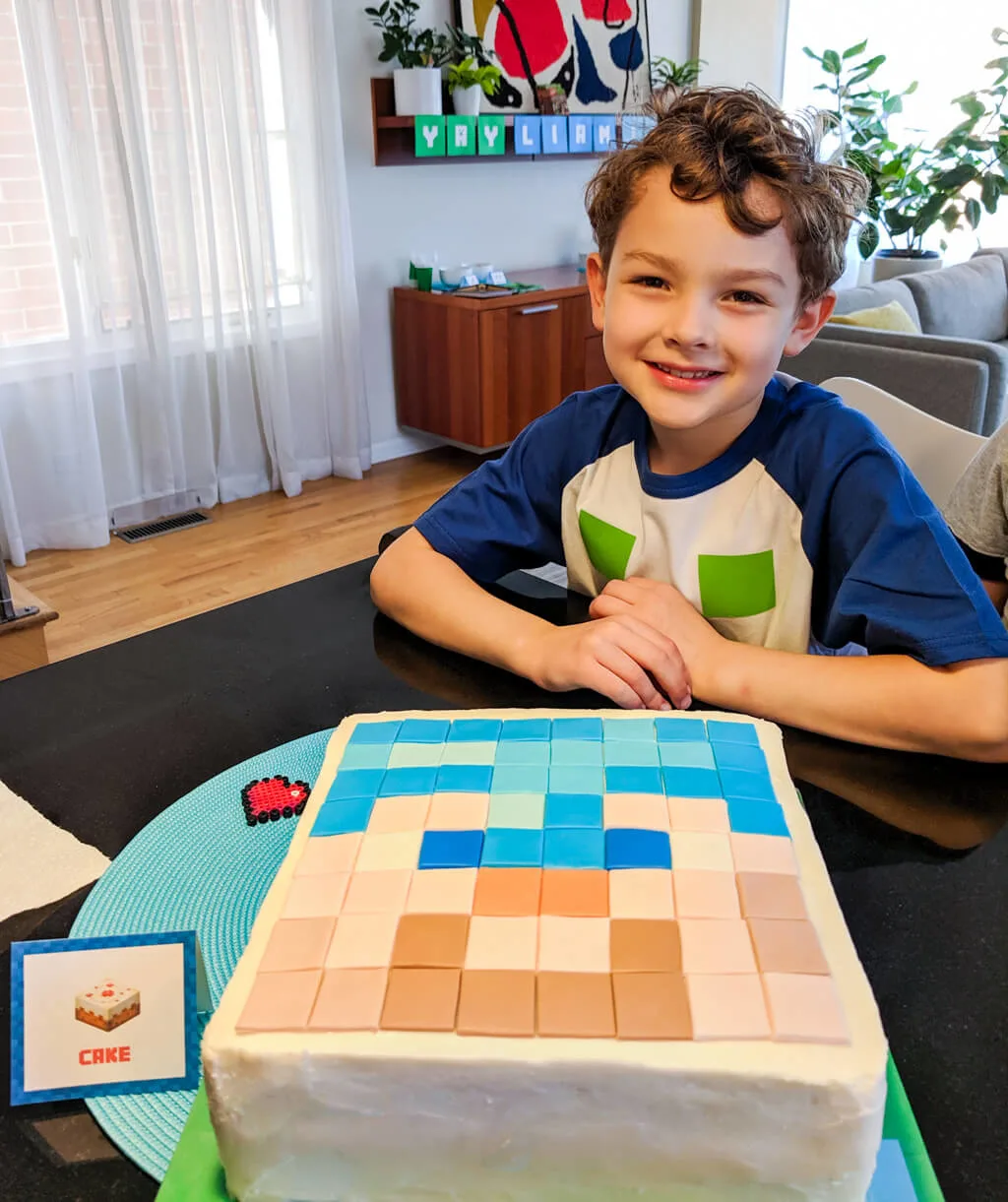 ++++++
Be sure to pin this easy Minecraft birthday cake idea for later: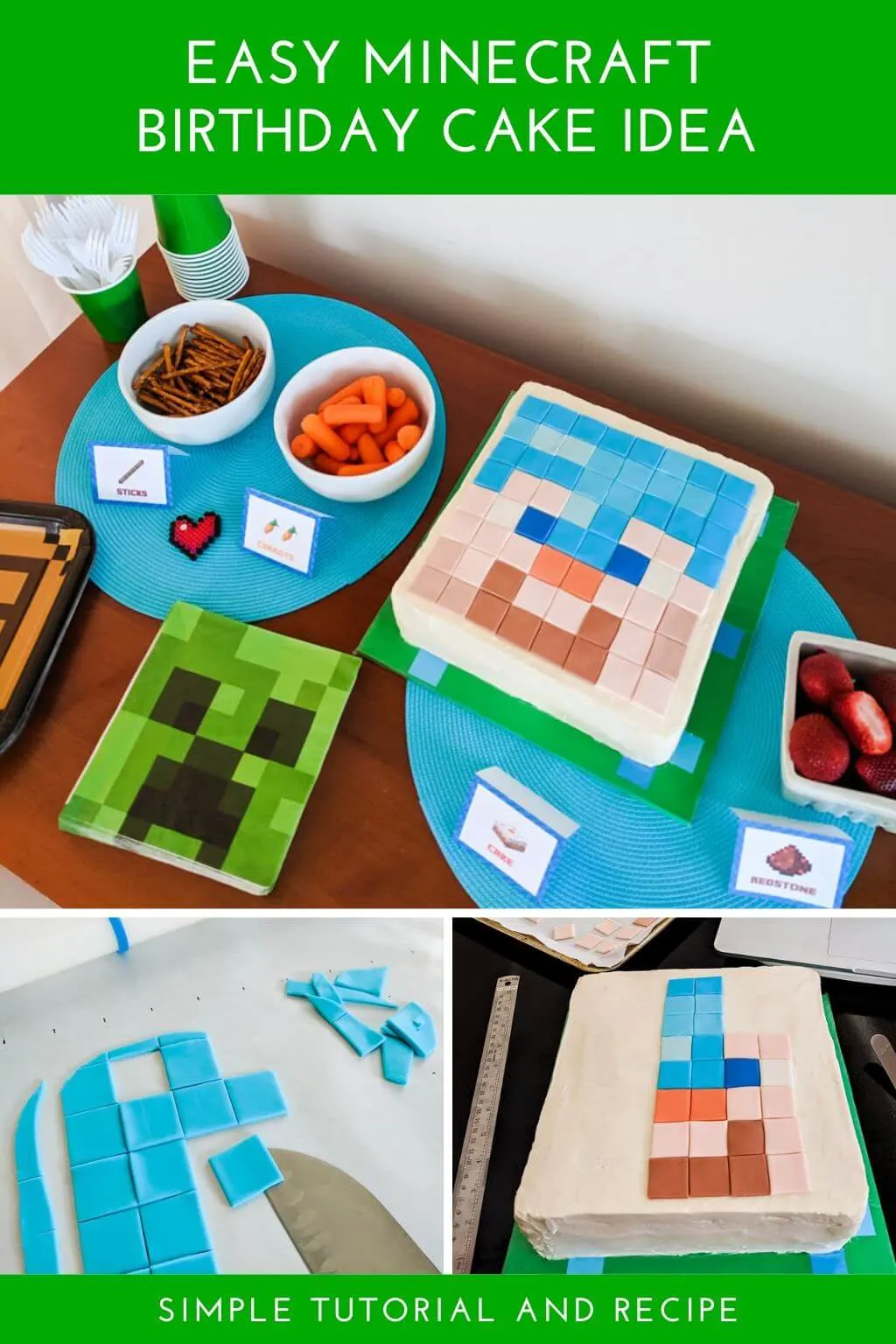 ++++++
And see more of my easy cakes, birthday party ideas for boys, and birthday party ideas for girls.
—
Like it? Share it!
The nicest way to say you like it is to pin it on Pinterest, post a comment, follow Merriment Design on Facebook, Pinterest, Instagram or sign up for monthly emails. Enjoy! 🙂
Copyright stuff: You're more than welcome to use this free project and tutorial for personal use. Contact me for commercial use and Etsy sales.