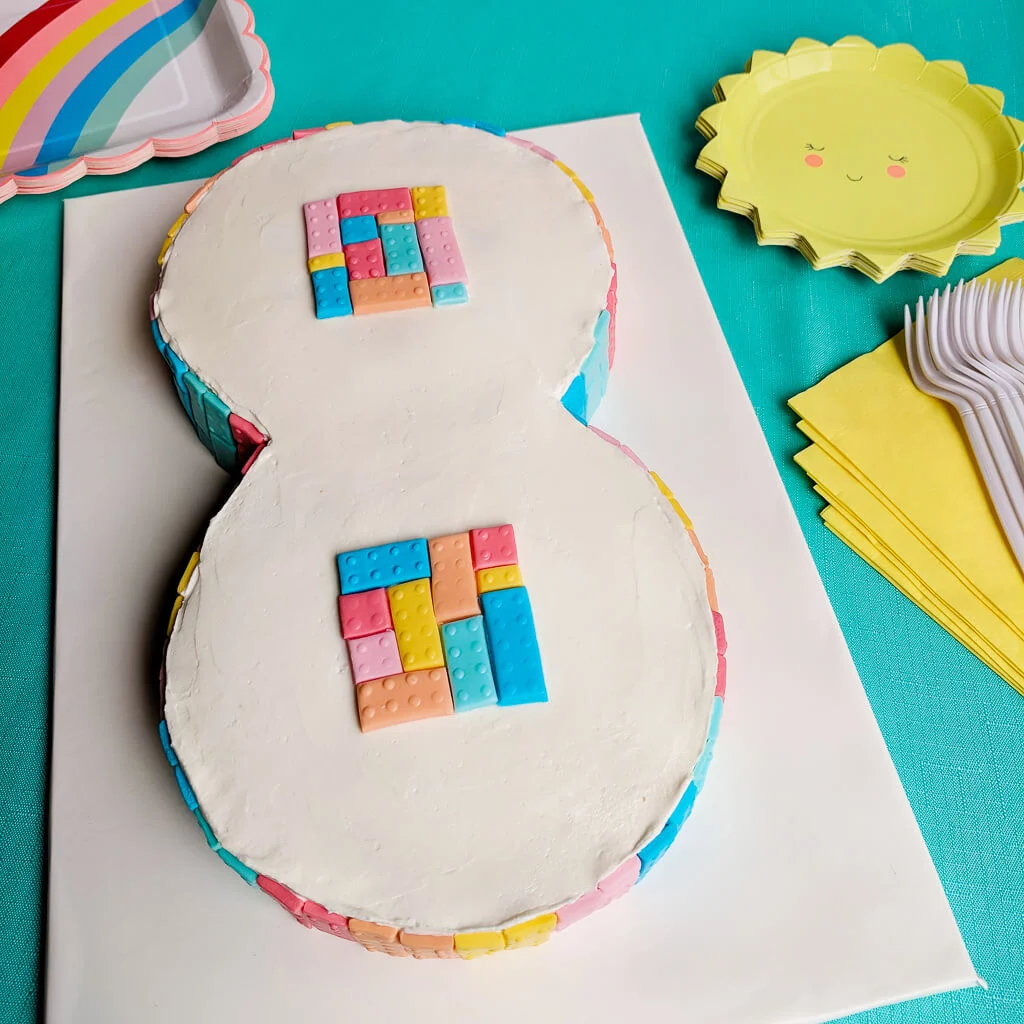 This easy LEGO Friends cake idea is a cheery way to celebrate a LEGO Friends birthday.
I didn't want to make the expected stick-some-plastic-LEGO-Friends-characters-on-a-cake version of a LEGO Friends cake, so instead I made a LEGO Friends cake that celebrates the sunshine and rainbows in Heartlake City. The cake is shaped in a number 8 (because my baby Elise turned 8 years old!!) with rainbow-colored fondant LEGO bricks on the sides and top with a clean, white buttercream top.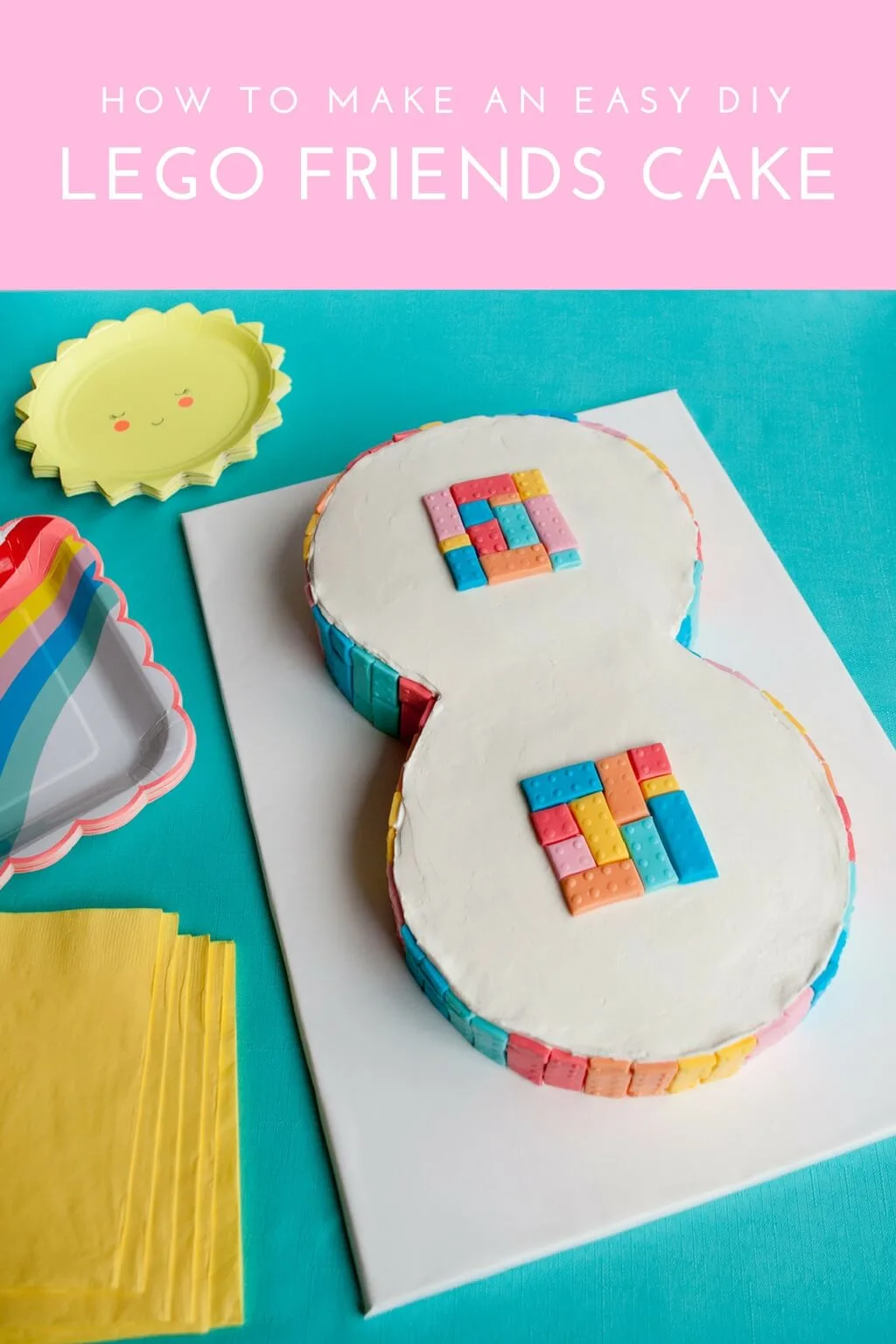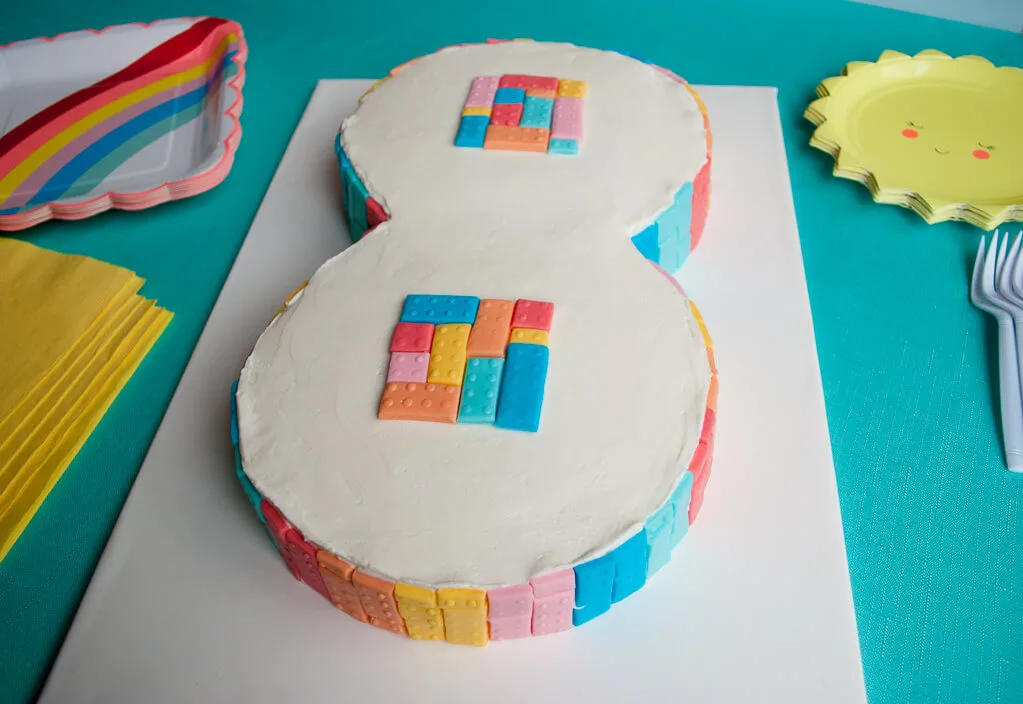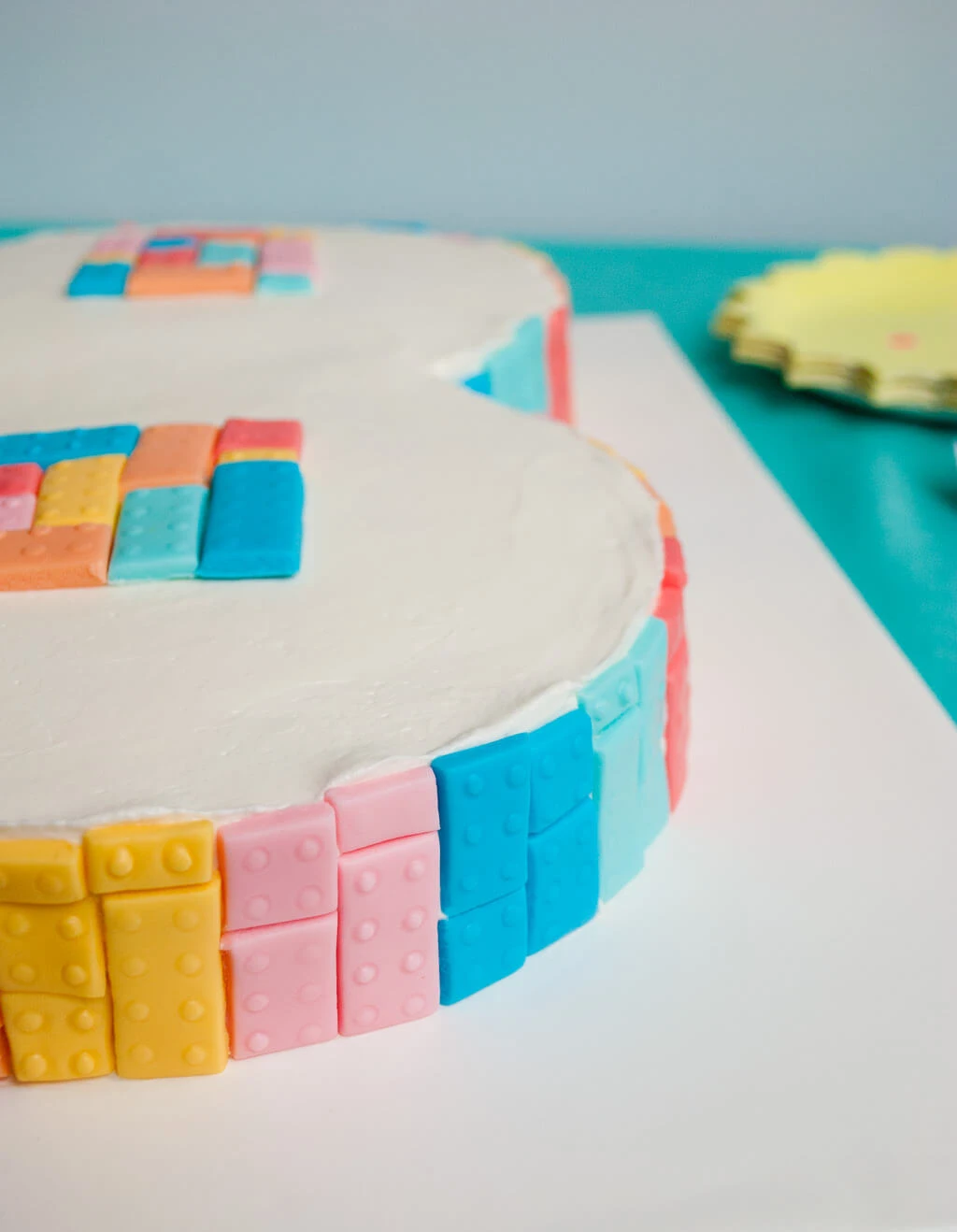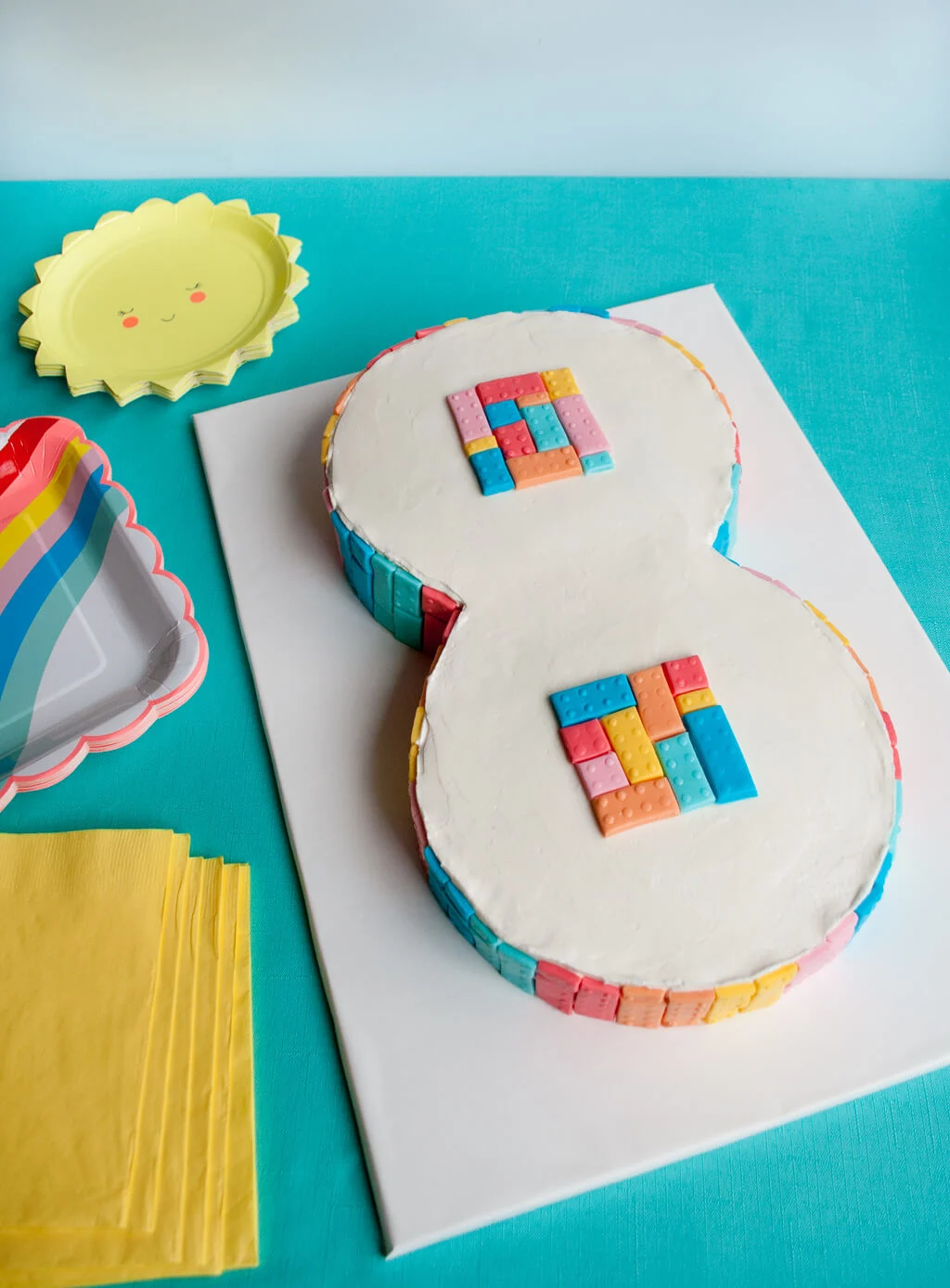 An easy LEGO cake to make at home
Two LEGO birthday parties in a row, you say? Yep, both of my kids are LEGO fans. I had just made a boys LEGO birthday cake for Liam so I decided to make Elise a totally different type of LEGO cake with thin bricks on the sides rather than life-sized fondant bricks on the top.
And I've gotta tell you, making this LEGO Friends cake was super fun and very low stress. I vowed long ago to make my kid's birthday cakes no matter how they turned out and I honestly think this was the most enjoyable and easiest easy cake that I've ever made.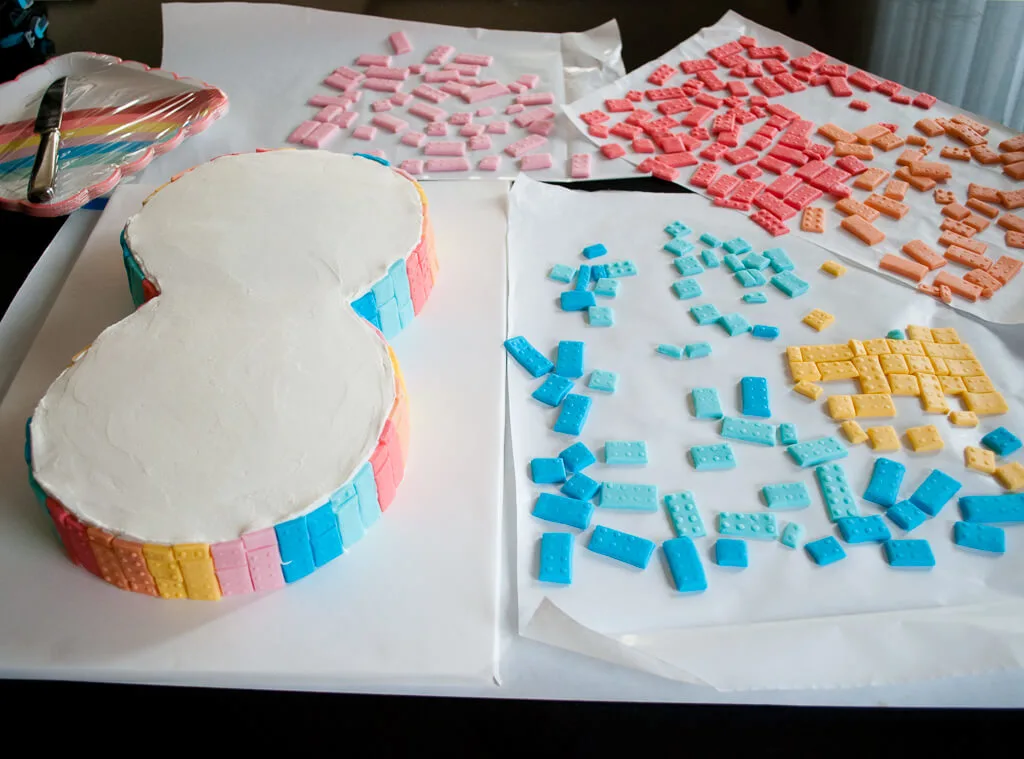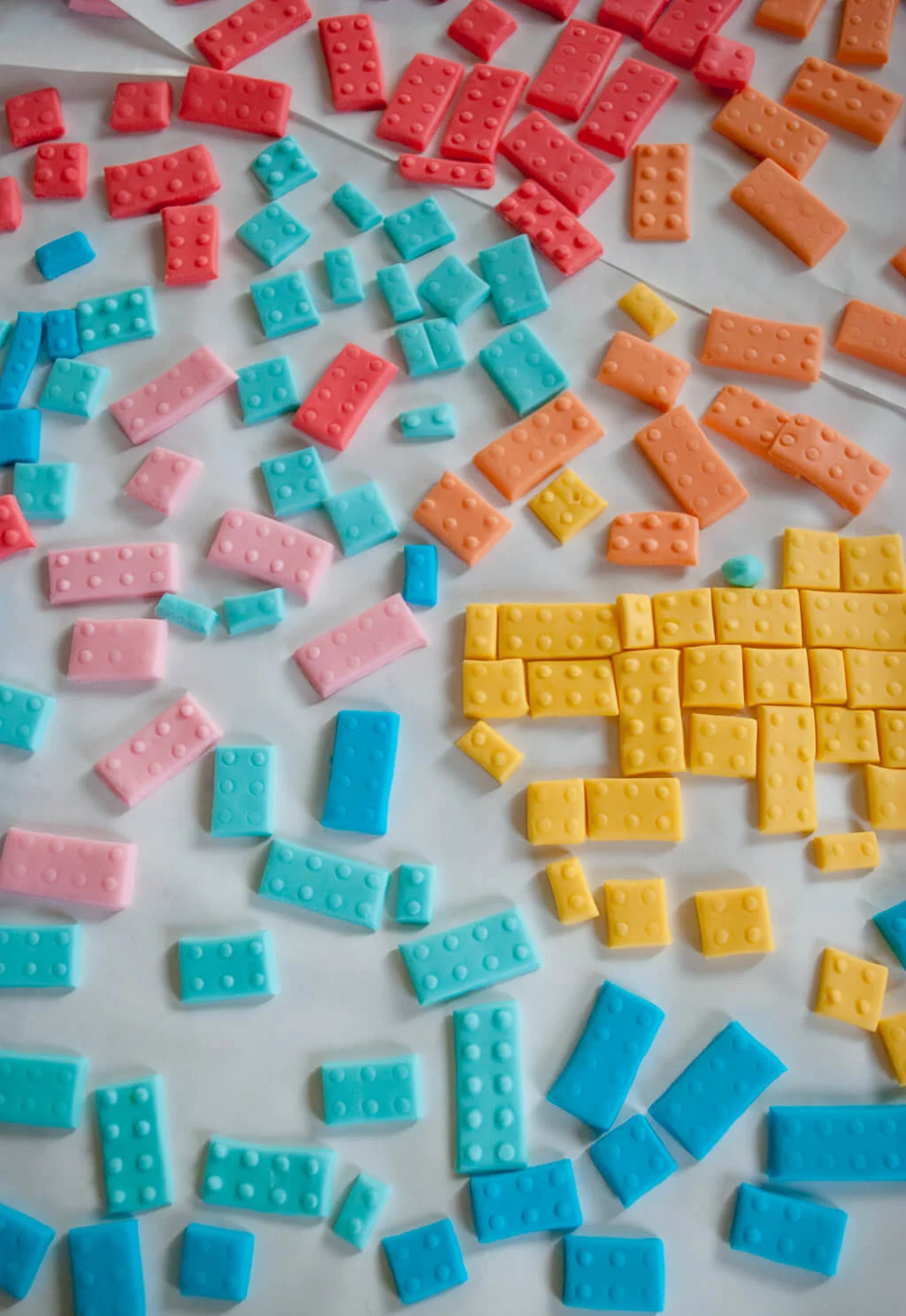 Party guests party also made their own cupcakes in the Heartlake City Bakery that coordinated with my LEGO Friends cake. I made extra fondant LEGOs and rainbow cake toppers for them to top their cupcakes.
This LEGO Friends cake actually served a lot more people than I thought it would — 19 kids plus 9-10 adults — so the party guest ate the LEGO Friends cake at the party and then took their decorated cupcakes home with their favor bag.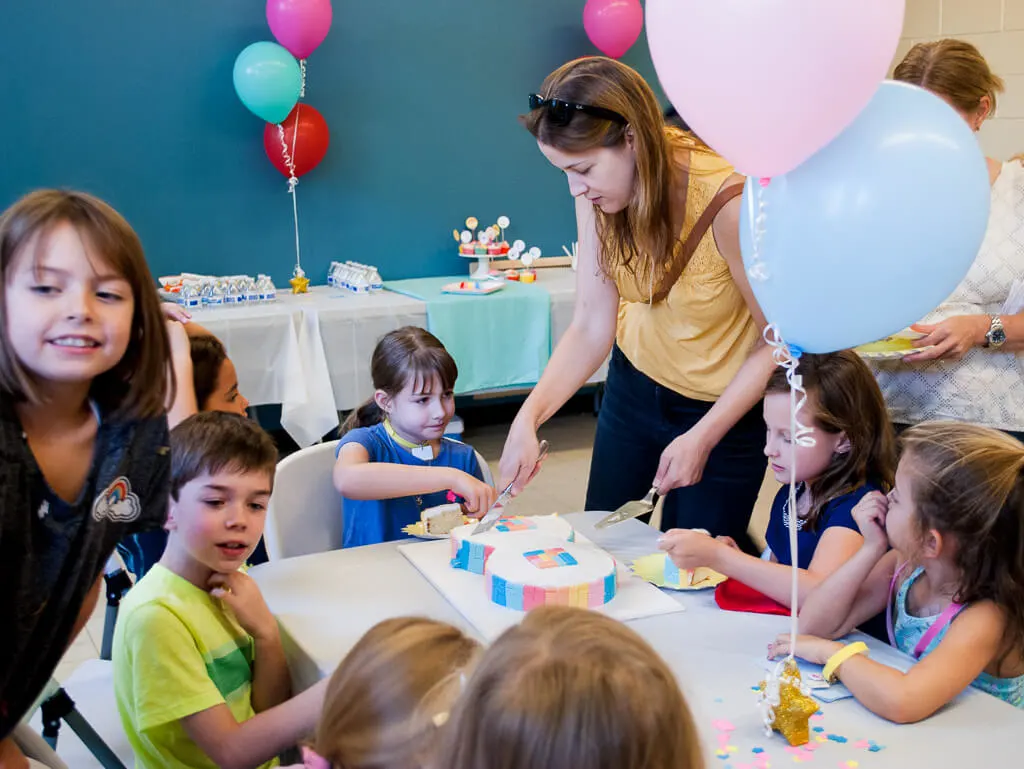 "Me and my girls, we're best friends forever." I think that LEGO Friends song is permanently etched in my brain 😀 Make a wish, my special 8-year-old girl!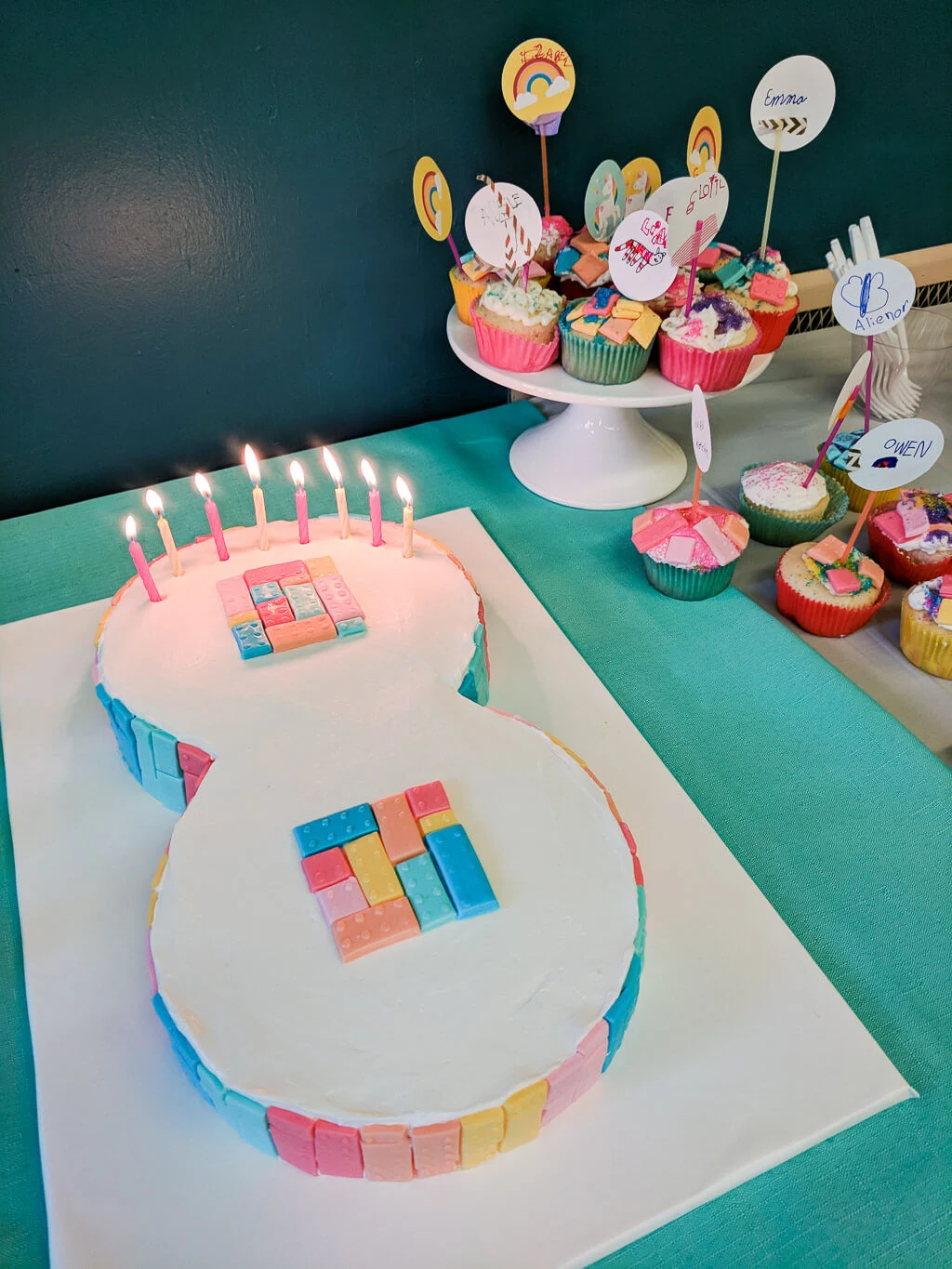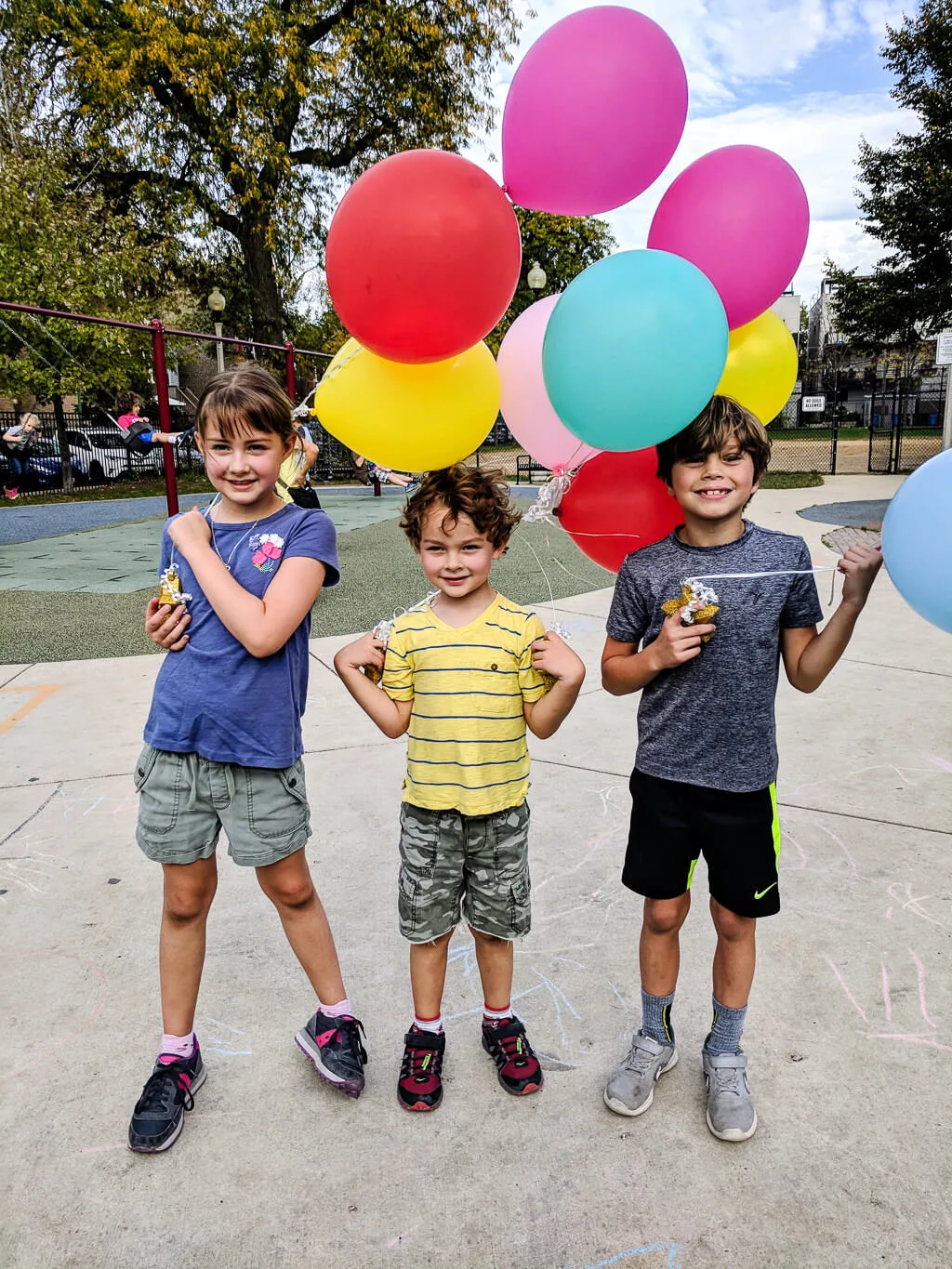 WANNA MAKE IT? Keep reading to see how to make an easy LEGO Friends cake idea for girls.
Supplies for making a LEGO Friends birthday cake for girls:
To make fondant LEGO bricks:
To make the birthday cake:
—
How to make an Easy LEGO Friends cake for girls:
Step 1: Make fondant edible LEGO bricks from fondant
First, make your LEGO fondant bricks – they're so fun to make! You can make the LEGO fondant bricks one or two days in advance and then cover in plastic wrap. See my full step-by-step post on how to make LEGO fondant bricks for birthday cakes that will explain it all in detail.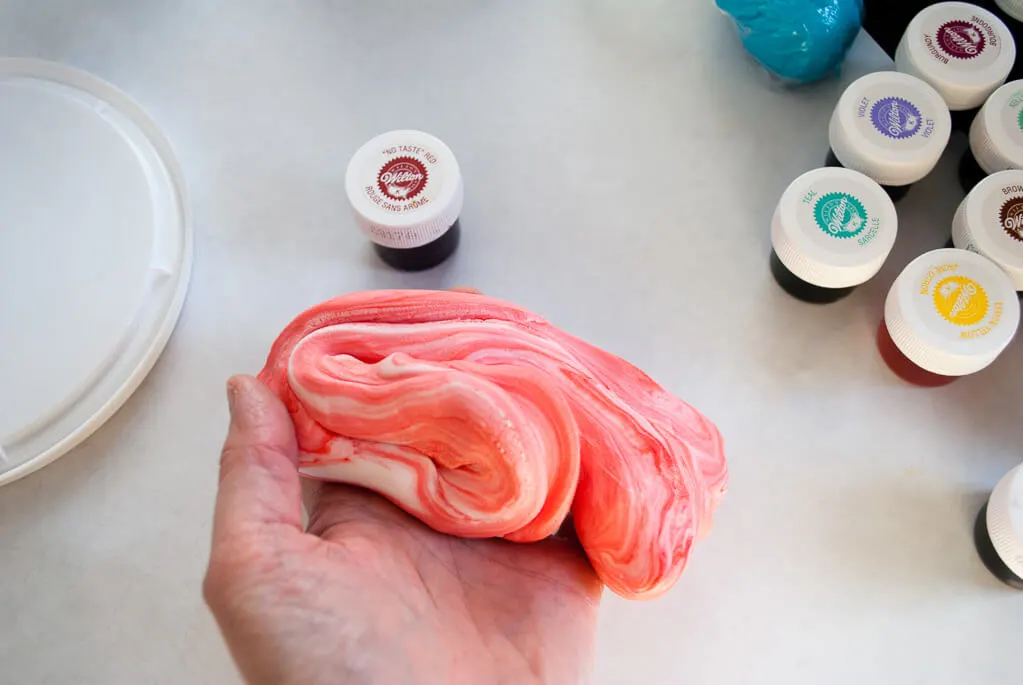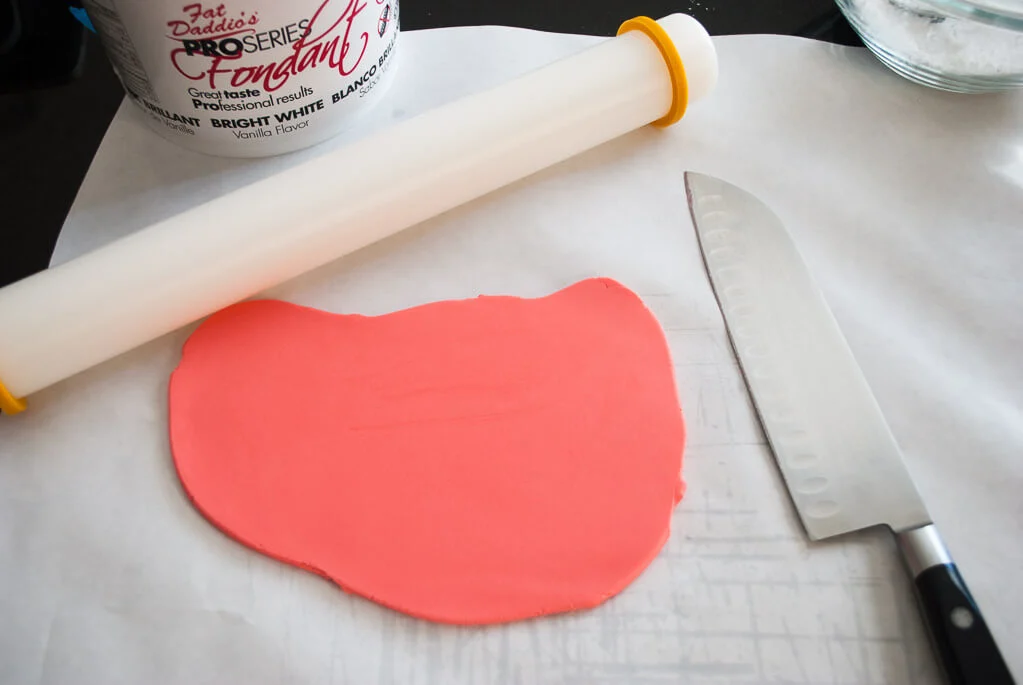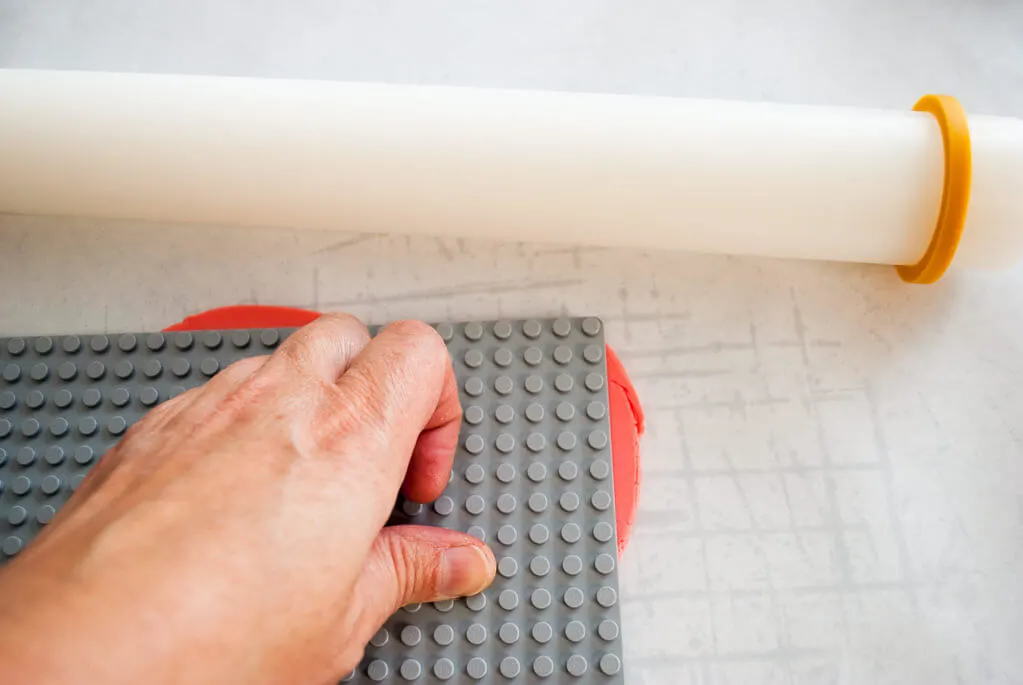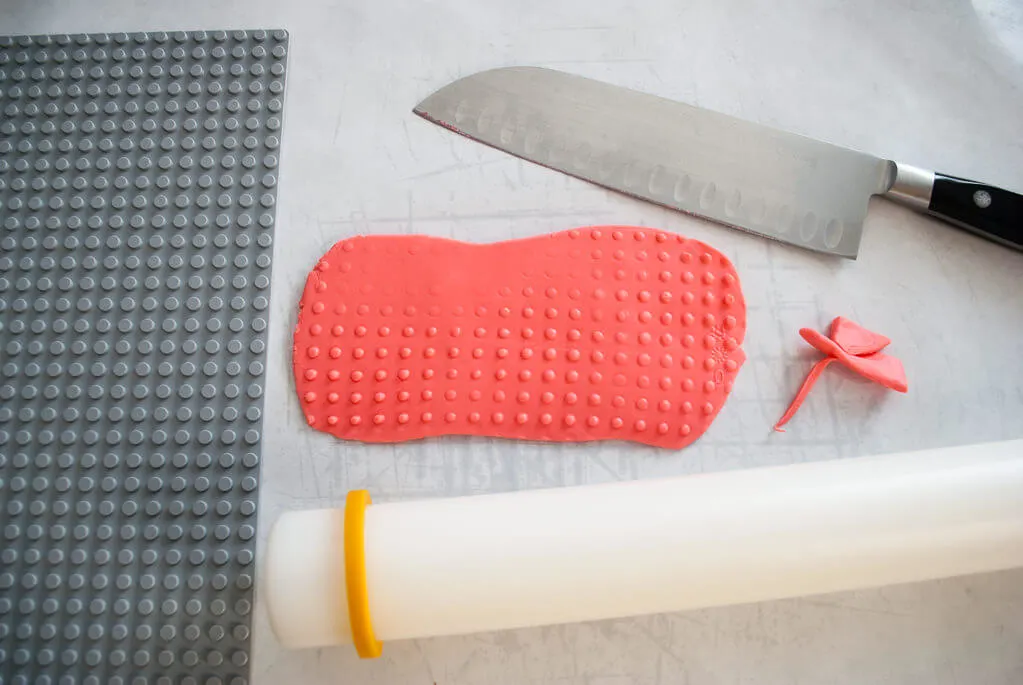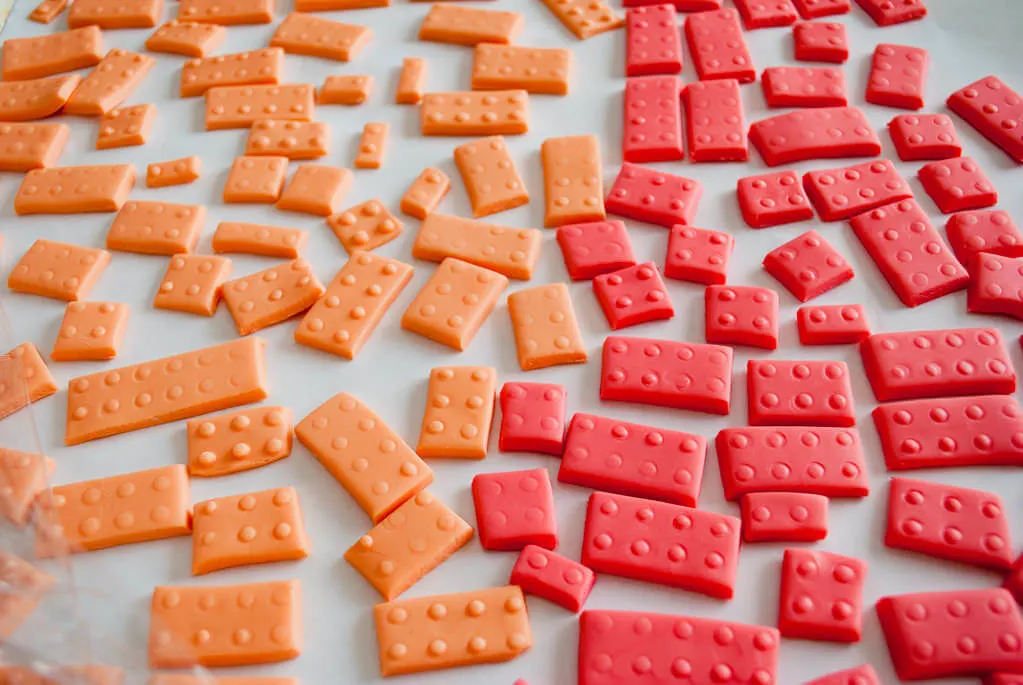 You'll notice that I made the thin brick version for my easy LEGO Friends birthday cake idea for girls. I think the thin bricks work the best with this particular LEGO Friends cake idea.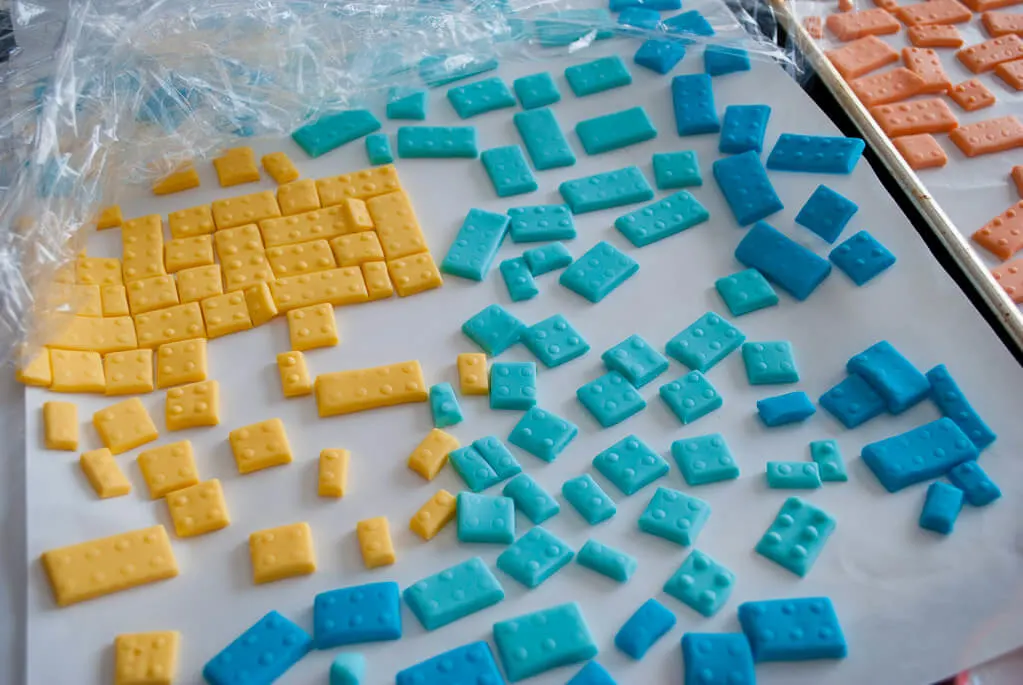 Step 2: Bake two round birthday cake layers and make into an age 8
Bake two round vanilla birthday cakes using 9″ round cake pans. As usual, I use the Cakegirls vanilla cake recipe because it's absolutely delicious. You can bake them in advance up to a month and then wrap them with plastic wrap and freeze them which is what I do every birthday. Cut a little bit off of one of the circle cakes, put a little buttercream icing and then the cakes on the rectangular cake board. Now you have a number 8 birthday cake ready to decorate.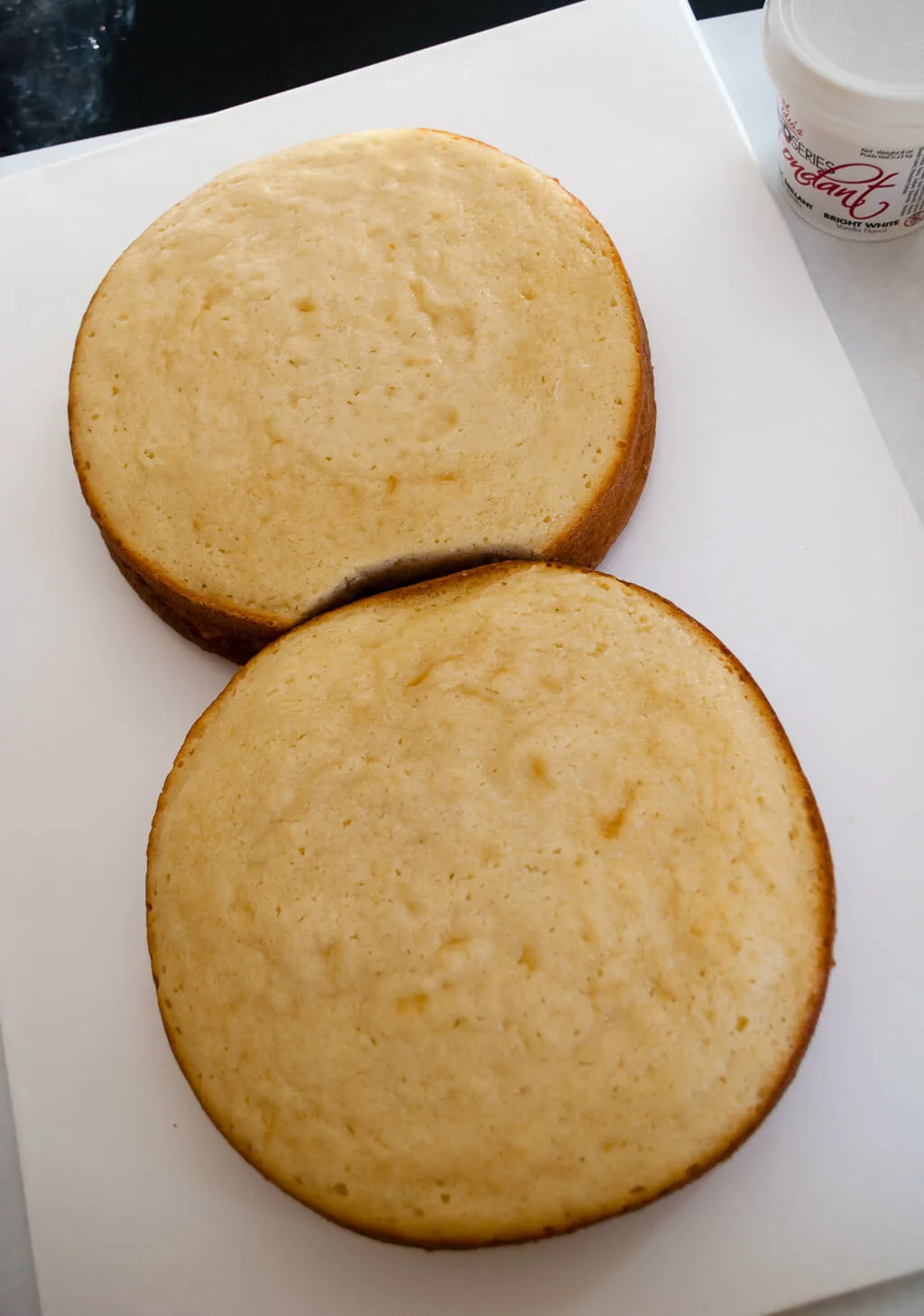 Step 3: Ice cakes using buttercream icing
Ice the cakes using the Cakegirls bakery buttercream icing recipe which pairs well with their vanilla cake recipe. Slap on the icing, then use a spatula to smooth it out.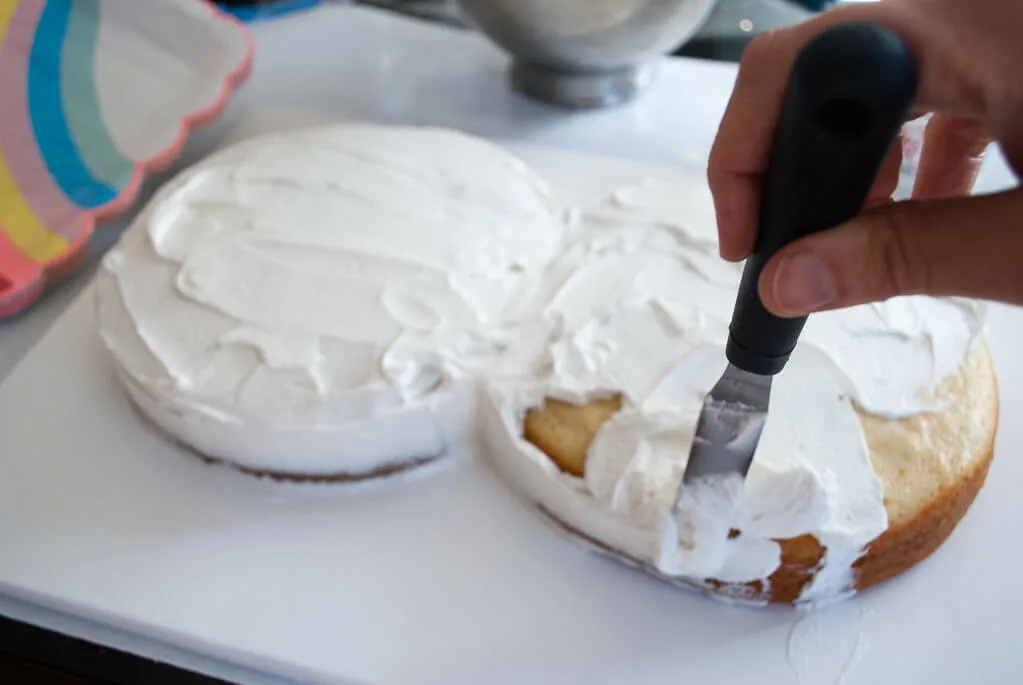 Step 4: Add fondant LEGO bricks to the sides of the birthday cake
After the icing is all smooth, start placing fondant LEGO bricks around the edges, alternating the sizes to look like a LEGO creation. I created a rainbow pattern that matched our rainbow paper plates and sun-shaped paper plates.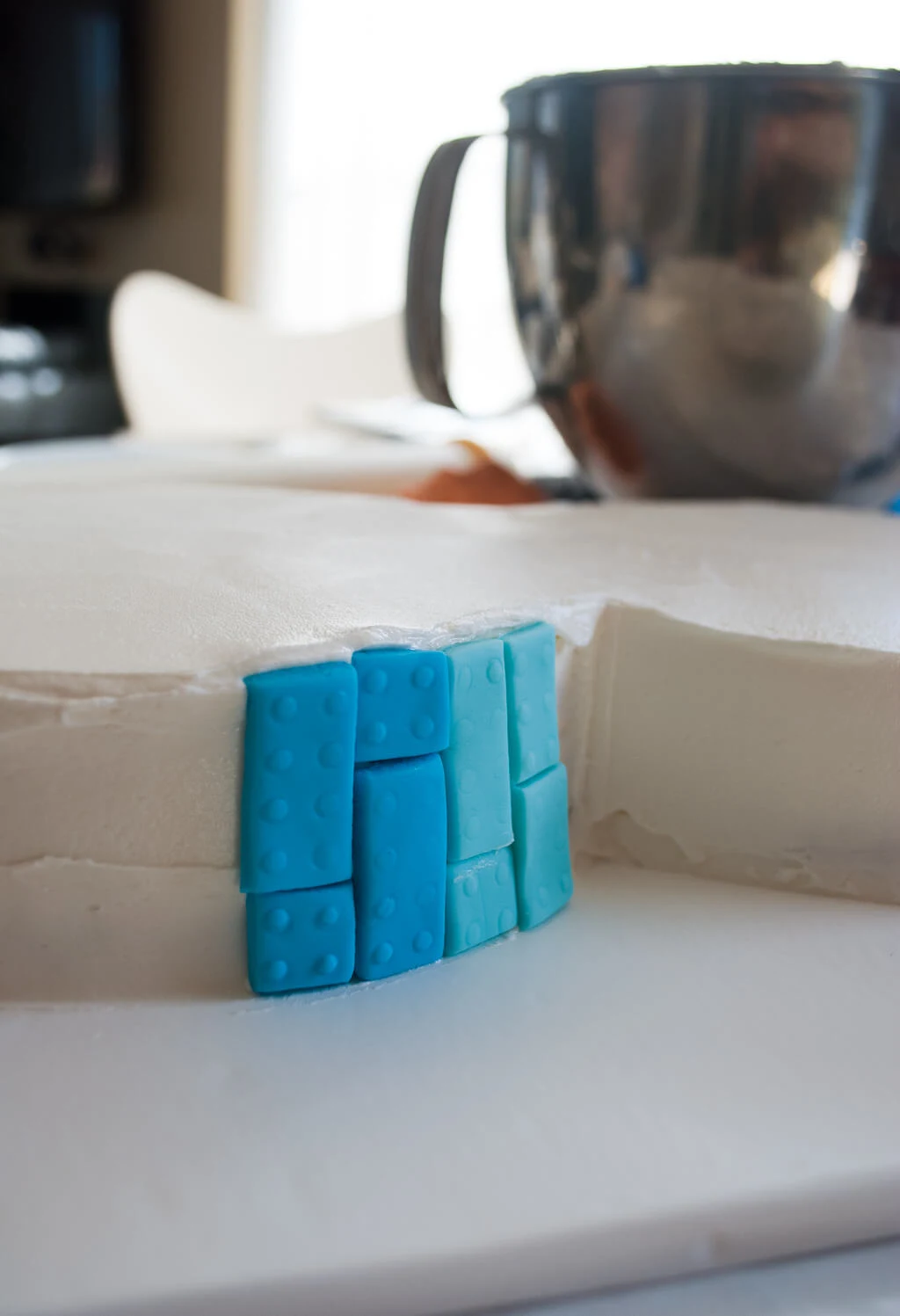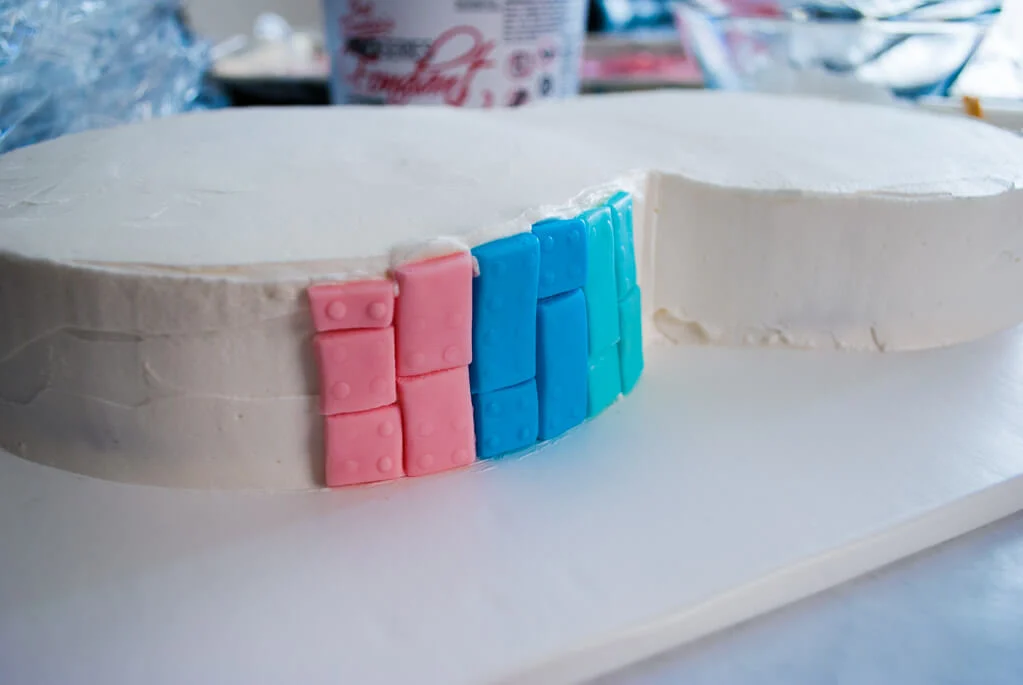 Keep going around until you've covered the sides of the LEGO Friends cake. As you can see, I made a lot of extra fondant LEGOs left so we used them at the cupcake decorating activity at the Heartlake Bakery.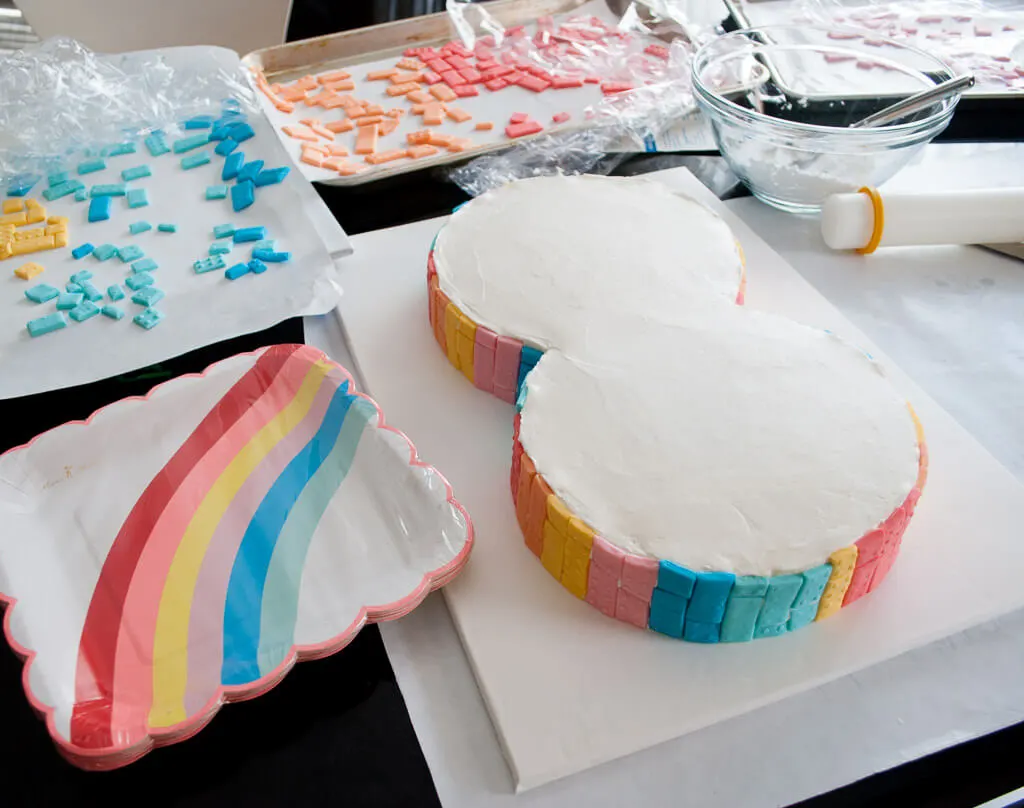 Step 5: Add edible LEGO bricks to the center of the 8s to create a number 8 cake
Make the centers of the 8 by creating a square using fondant LEGOs. I thought about then cutting it into circles instead, but I really like the squared-off LEGO look.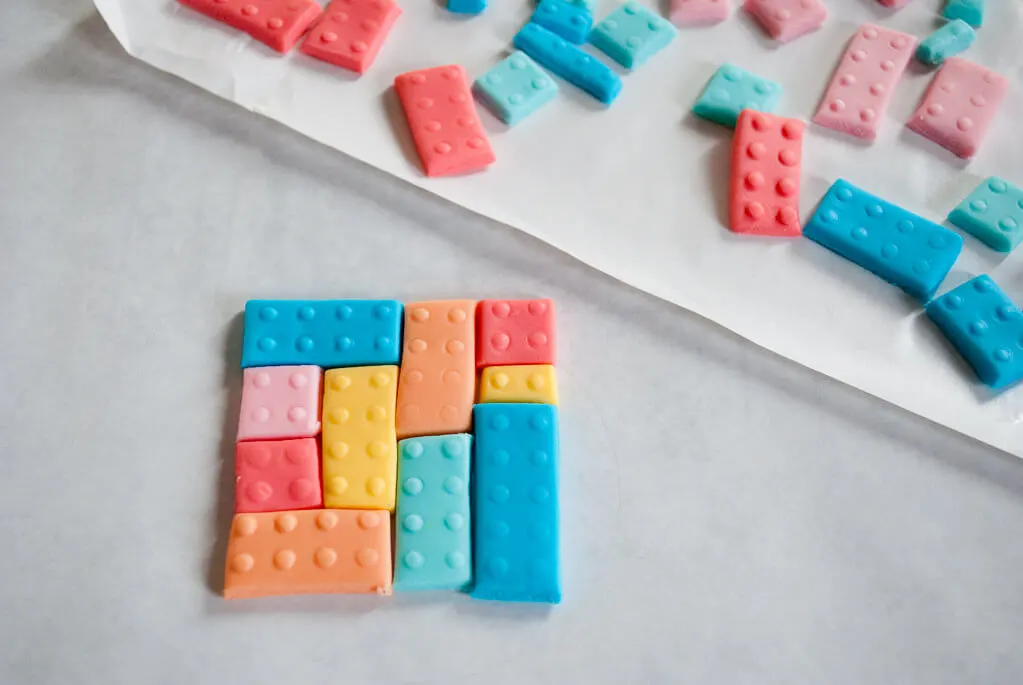 Put the fondant LEGO squares onto the top of the cake to make the age 8.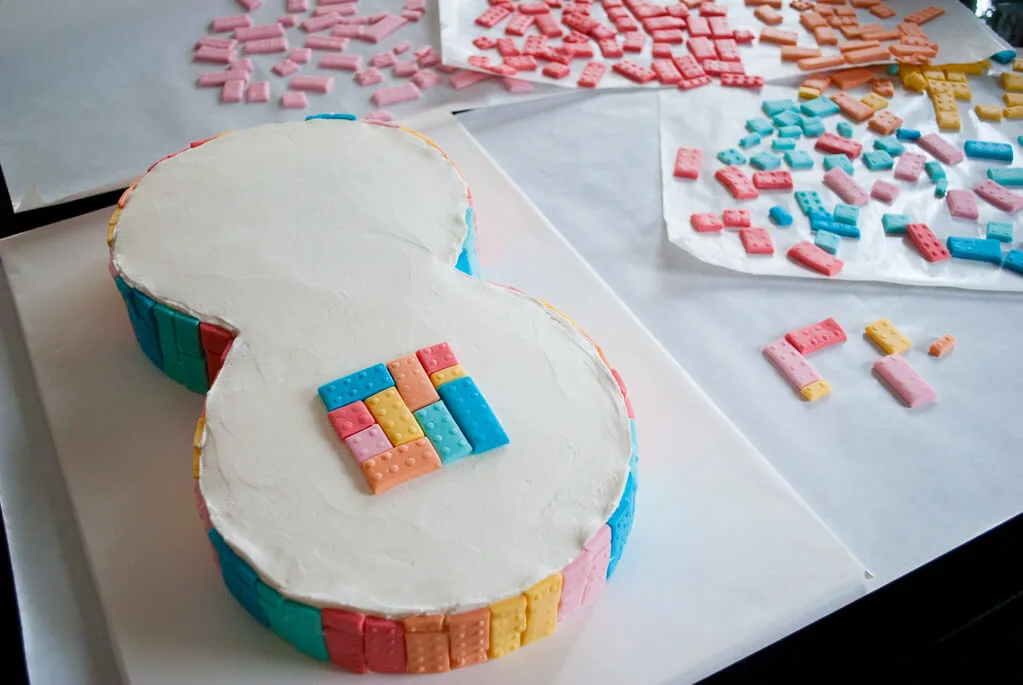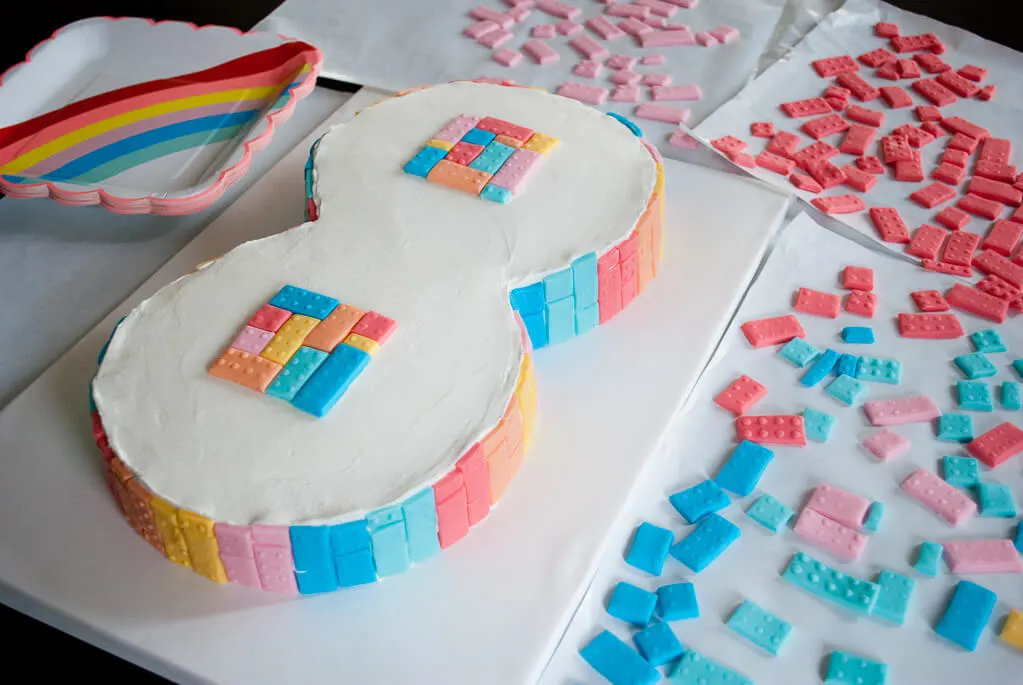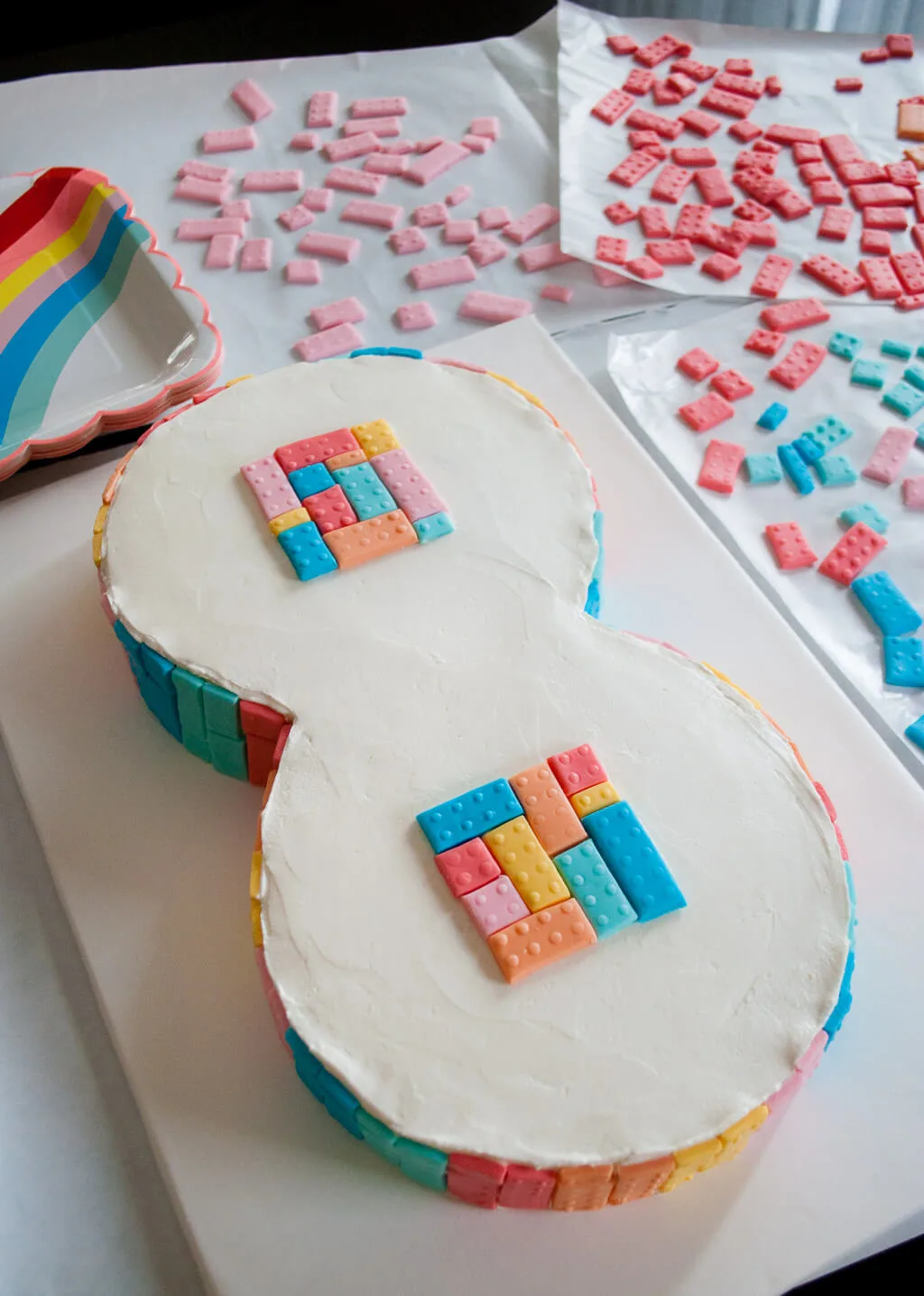 ++++++
Be sure to pin my easy LEGO Friends birthday cake idea for girls: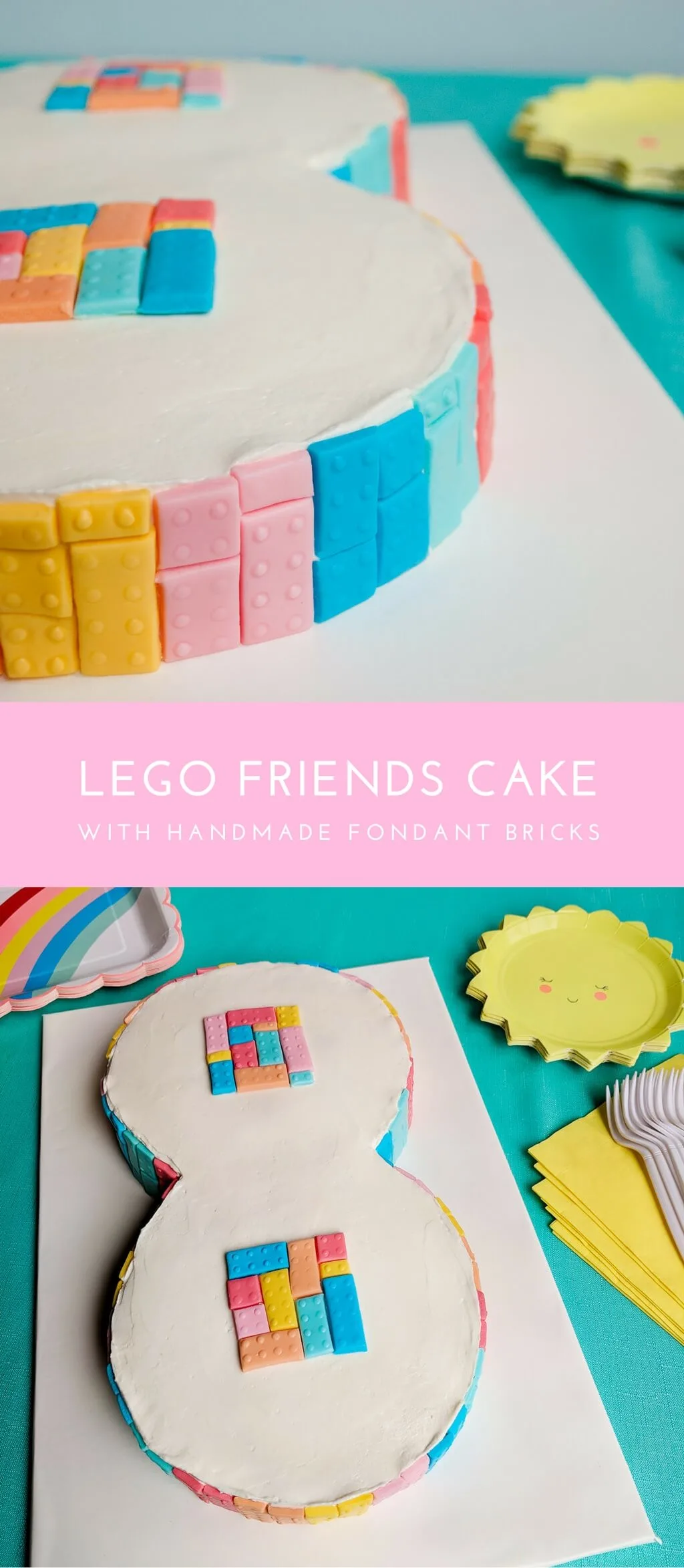 ++++++
And check out more DIY LEGO birthday ideas.
—
Like it? Share it!
The nicest way to say you like it is to pin it on pinterest, post a comment, follow Merriment Design on Facebook, twitter, pinterest, Google+, instagram or sign up for monthly emails. Enjoy! 🙂
Copyright stuff: You're more than welcome to use this free project and tutorial for personal use. Contact me for commercial use and etsy sales.