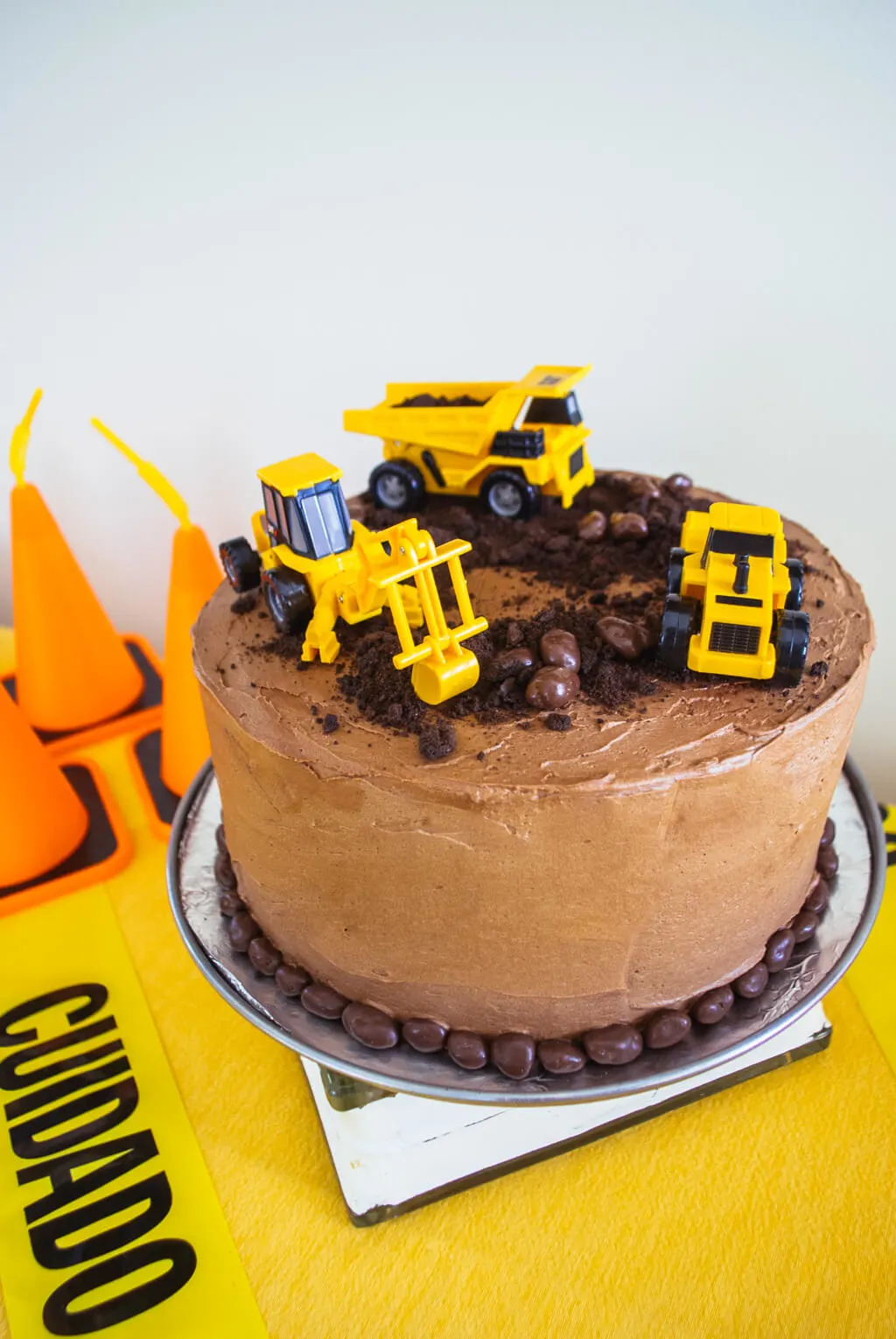 Make this easy construction birthday cake for your little construction worker's birthday party! This construction cake is easy to make for beginner cake decorators, and the birthday boy can play with the plastic construction truck cake toppers when the party's over. Diggers, go!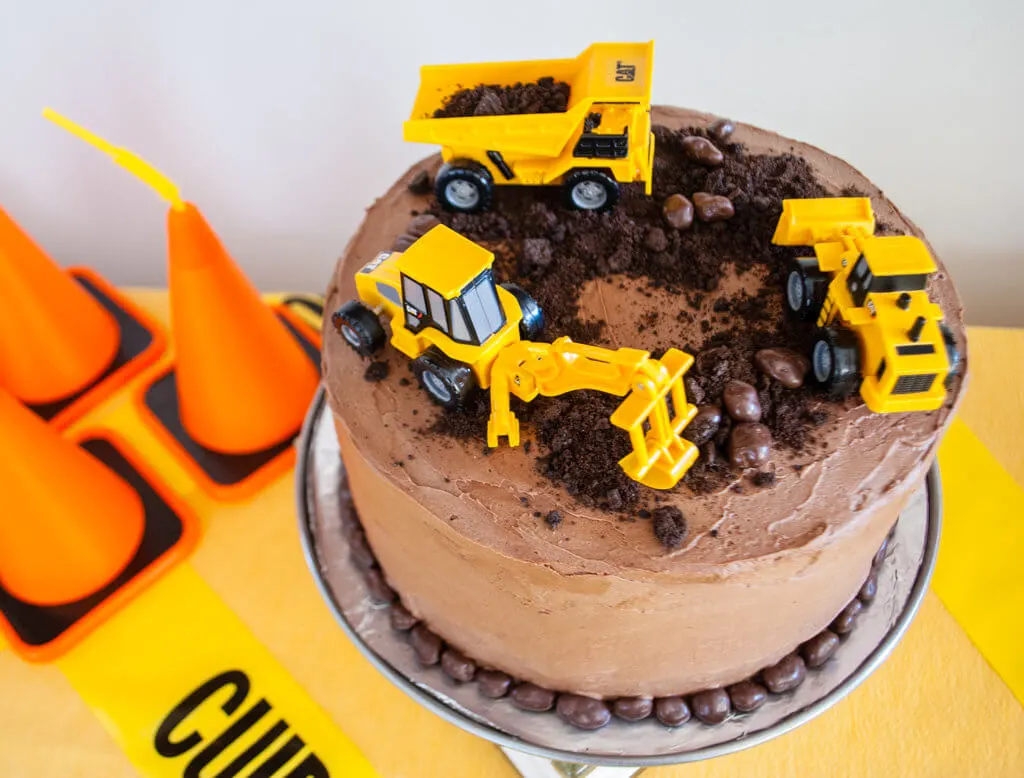 An easy construction birthday cake that tastes like a bakery
This construction birthday cake is cute on the outside and tastes awesome on the inside — that's because I used bakery-grade vanilla cake recipe and chocolate buttercream frosting recipe from my favorite professional bakers, Cakegirls. Be sure to see my instructions below on how to turn the vanilla cake tan like dirt without using food coloring.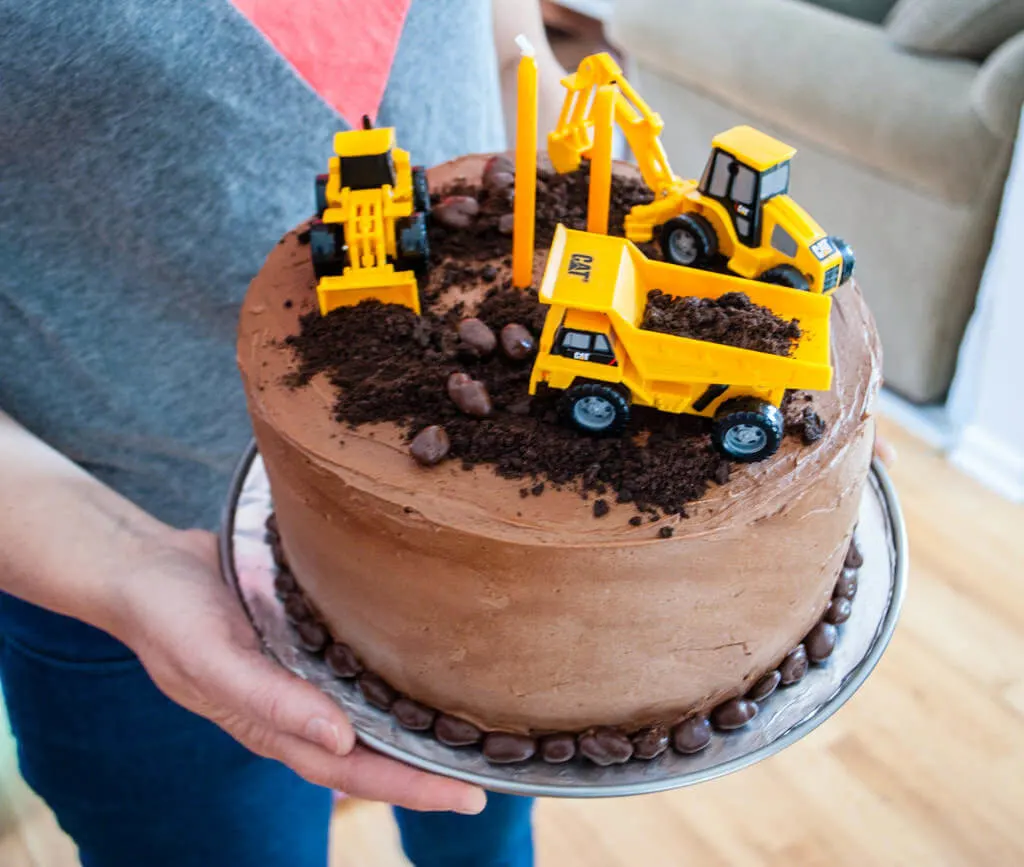 Handmade cakes pro tip: Just add toppers!
I promised myself years ago that I would no longer puss out by buying cakes at the bakery for my kids. Nope, no more bakery birthday cakes for me. I swear I going to make my kid's birthday cakes all by hand no matter if they're lopsided or whatever and you know what? Handmade cakes actually turn out pretty great.
See also: 'Construction birthday banner printable' »
Liam's construction birthday cake was a big hit, and it was a no-stress cake to make which gave me more time to make DIY construction party decorations like my printable construction cone happy birthday banner, DIY construction birthday t-shirt, and personalized construction hats.
Aren't these teeny construction cake toppers cute? Using plastic diggers and dump trucks is pretty much a universal construction birthday party cake decoration — topping cakes with these little diggers are easy, quick and such a hit with the kids.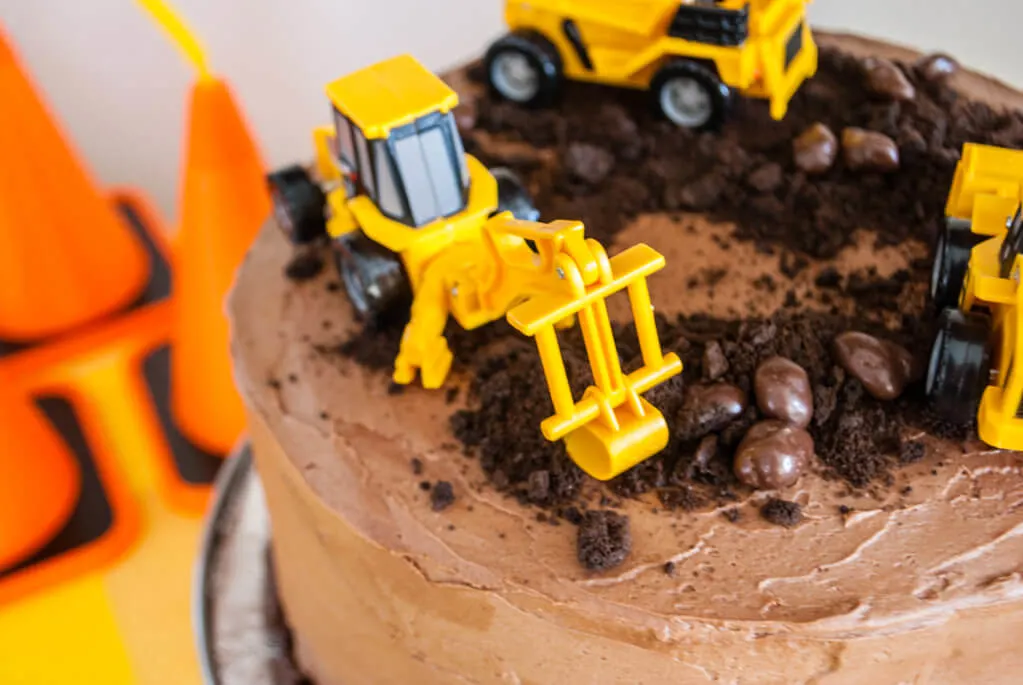 More construction birthday party DIY ideas
Here's my little construction worker, Liam, wearing his DIY construction birthday t-shirt with name and age and DIY construction hats for party guests, with his construction birthday party cake!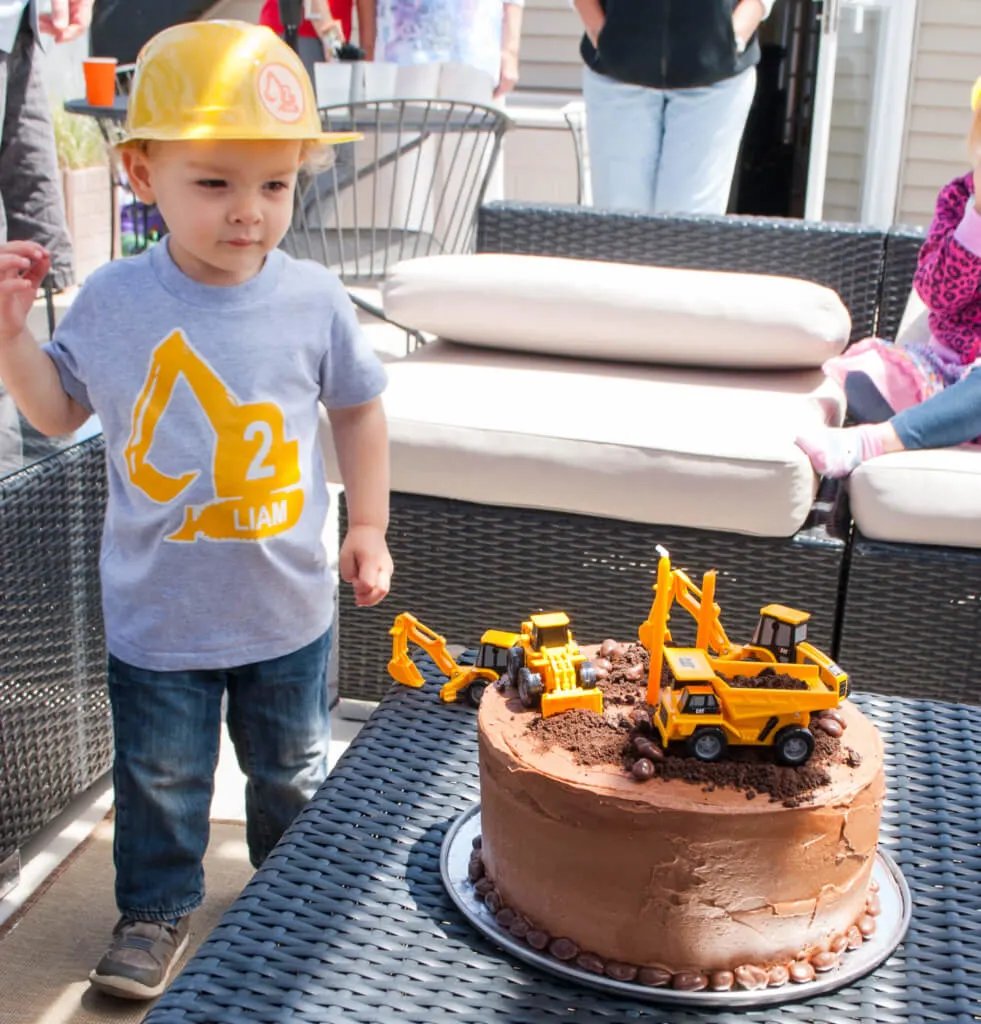 And his big sister loved helping him blow out his candles on his construction cake.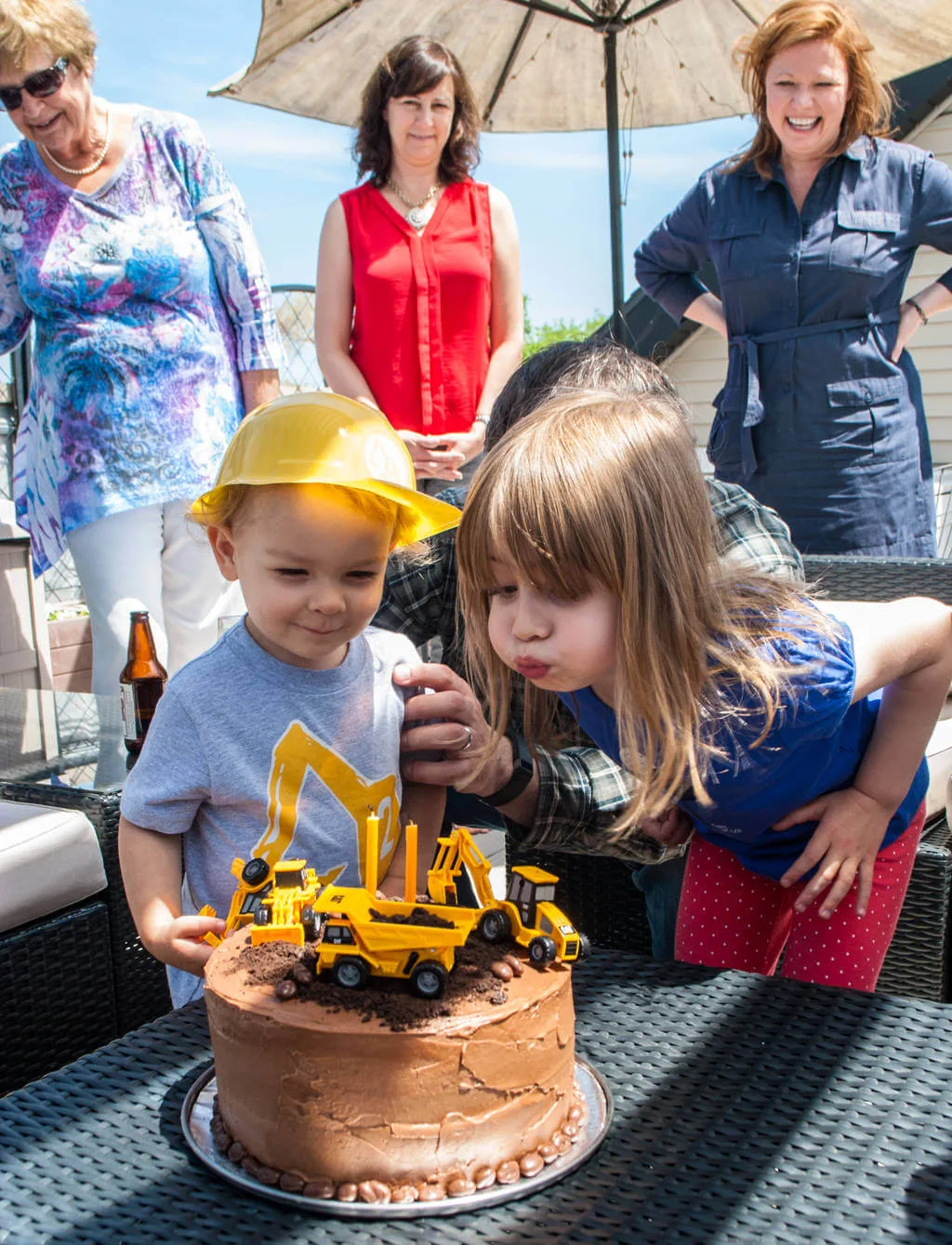 I love how Liam's construction cake turned out, and it was easy and fun to bake and decorate. Grab small construction toys, some Oreos and Raisinets, and start baking your own construction birthday cake for a construction birthday party.
This post contains affiliate links which means that products I recommend may give me a nominal commission at no extra cost to you. Thanks – your clicks help me make more free DIYs!
++++++
Supplies and recipes for making an easy construction birthday cake:
Sucanat (to turn vanilla cake light brown without food dye)
Construction tape
Chicago Bakery-Tested Recipes:
—
How to make an easy construction birthday party cake:
Step 1: Bake your construction cake layers
First, bake your construction cakes. I used the Cakegirls vanilla cake recipe with one substitution: instead of regular white sugar, I used organic sucanat which is a whole cane sugar that my friend Heather at YumUniverse introduced me to. It's natural sugar cane that's minimally processed. Taste-wise it's a bit richer, kind of has a molasses bent to it. Color-wise, my vanilla cakes turn out to tan (because sucanat is brown colored) which was perfect for the "dirt" cake when it was cut.
I made the construction cakes a couple days in advance, wrapped them in two layers of plastic wrap and tucked them into the freezer which made things a whole lot less stressful. Also, it's true that it's way easier to frost a frozen construction cake.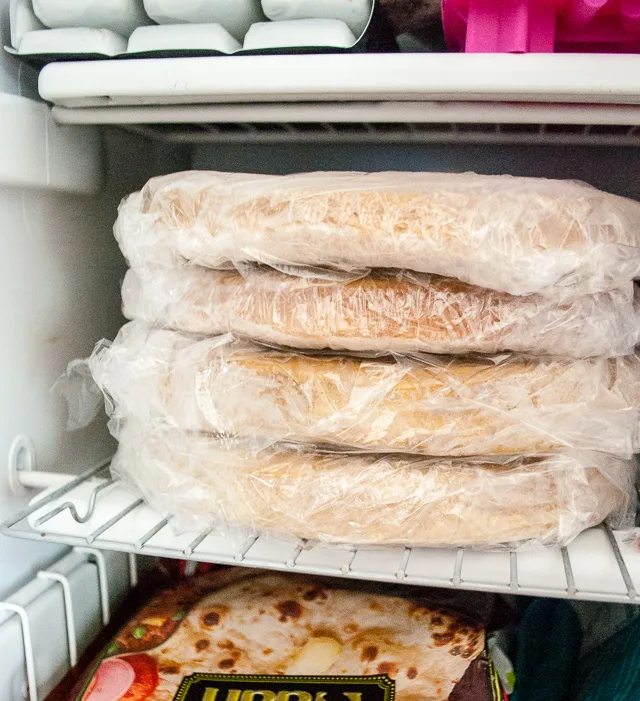 Step 2: Make chocolate buttercream icing and put layers together.
Now make the chocolate buttercream frosting recipe. This stuff tastes amazing, folks. Richer and less sugary than regular icing. The kids at our party went gaga over it! I'm talking about licking plates. And the adults liked it too, including one party guest who doesn't even like cake. (I know, I know, who doesn't like cake??)
I found a tip online to put strips of wax paper underneath the cake before icing it and it really does help keep things less messy.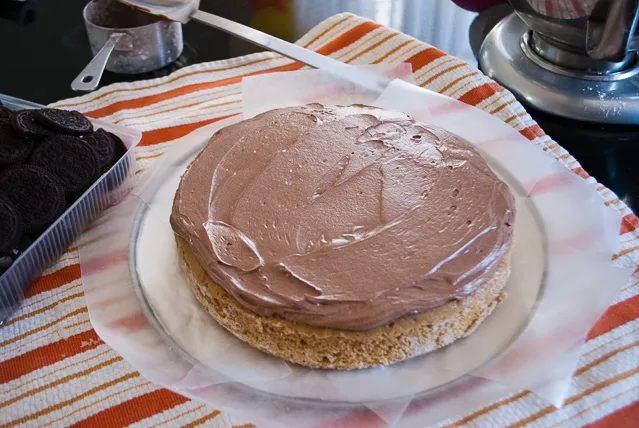 Step 3: Break up Oreos into edible dirt for the construction site
OK, time to prep the Oreos. I put my dad on this job, scraping off the white cream filling from the cookies.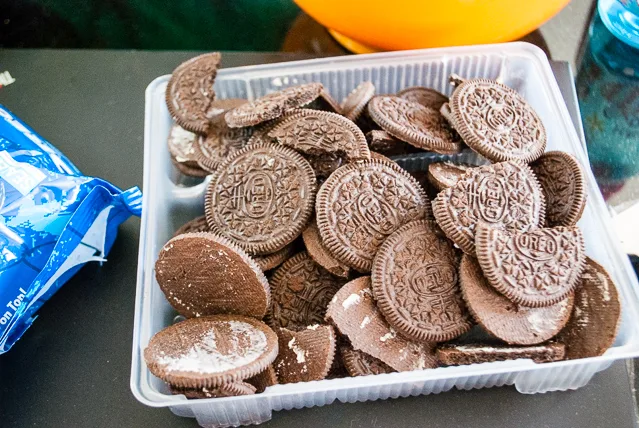 Blend in a food processor or in a plastic bag with a rolling pin. Sprinkle between the layers…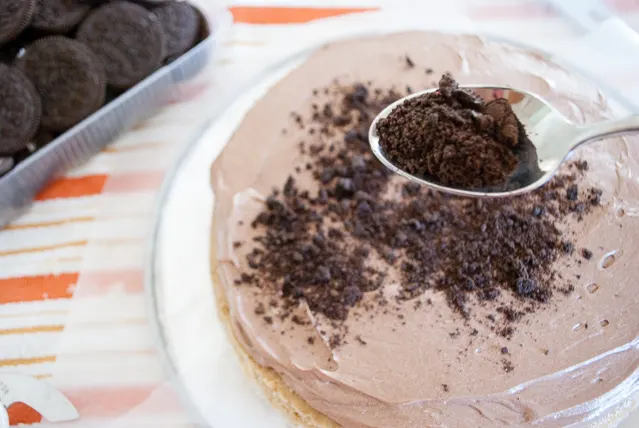 Until it's all covered.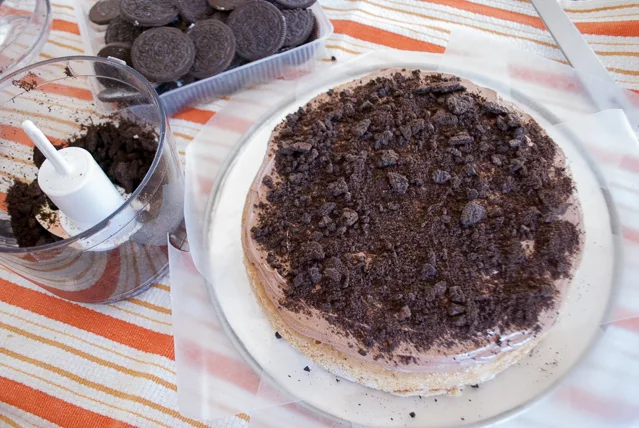 Stack and repeat. I made Liam's cake three levels high.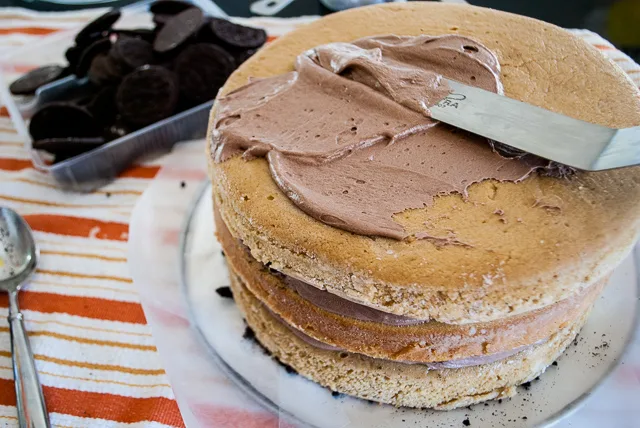 The chocolate buttercream recipe makes the perfect amount for a three-layer cake – with just enough left over to sample. See how that wax paper helped keep it all neat? You can remove the strips now.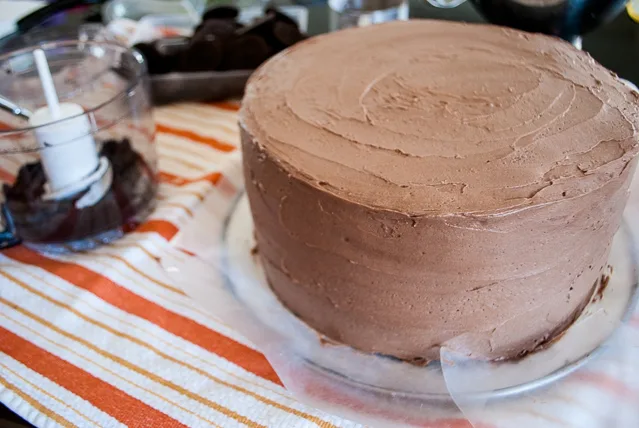 Step 4: Add Raisinets boulders to the construction case base
I added Raisinets around the bottom edge as edible construction boulders. I think it looks cute, and it covers up icing mistakes.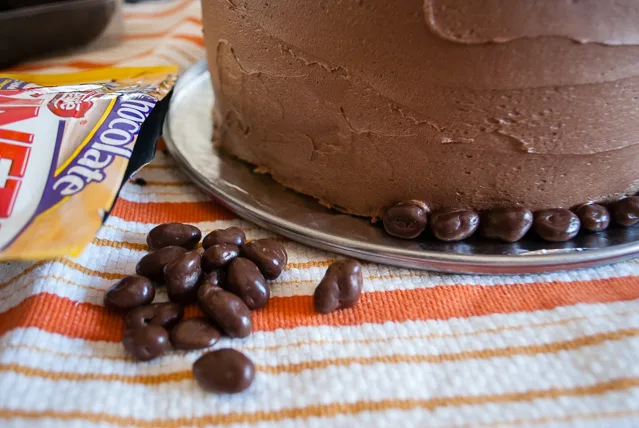 The cake inside is still frozen which kind of helped me smooth the sides. And I left the top icing looking like a construction site.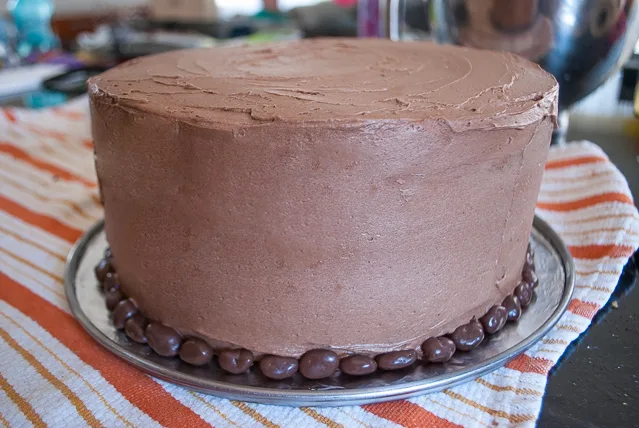 Step 5: Add plastic construction diggers, Oreos dirt, and more Raisinets boulders
This is the fun part. Sprinkle on more dirt on top, some Raisinet boulders, and the bright yellow plastic diggers and dump trucks construction cake toppers.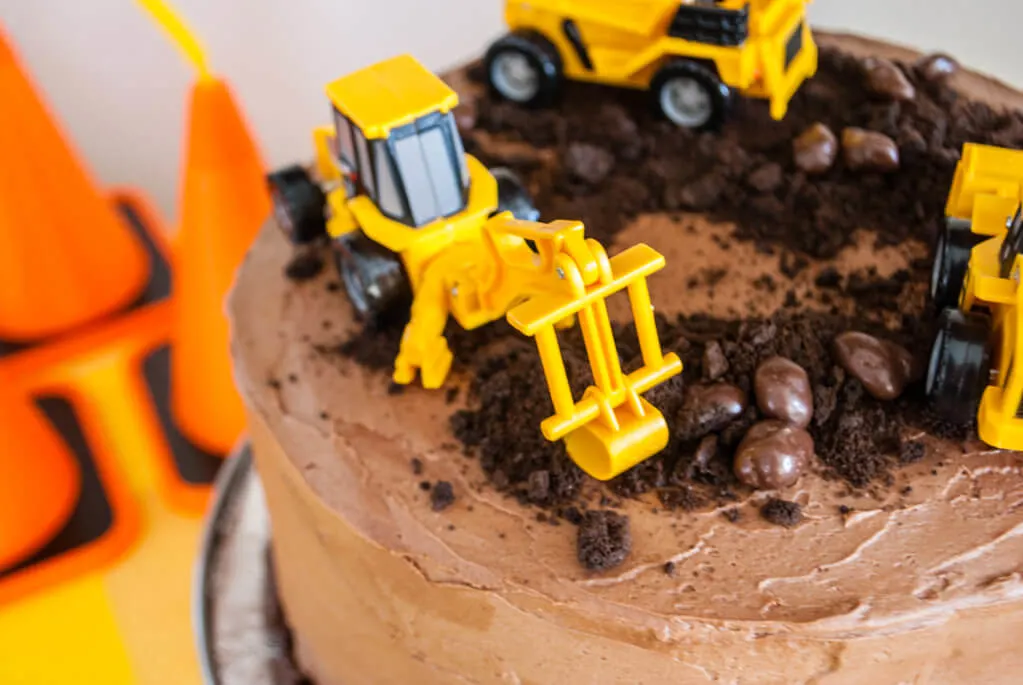 ++++++++++
Caution! Check out more easy DIY construction birthday party ideas:
Make a personalized digger iron-on t-shirt for a construction birthday party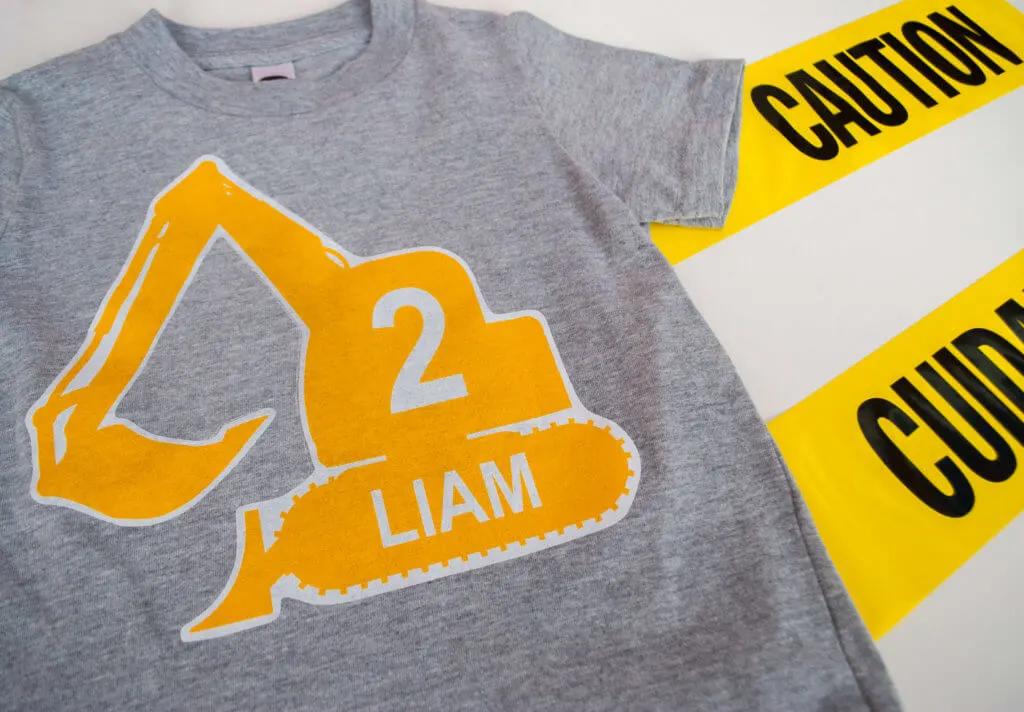 +++
Construction banner printable for a construction birthday party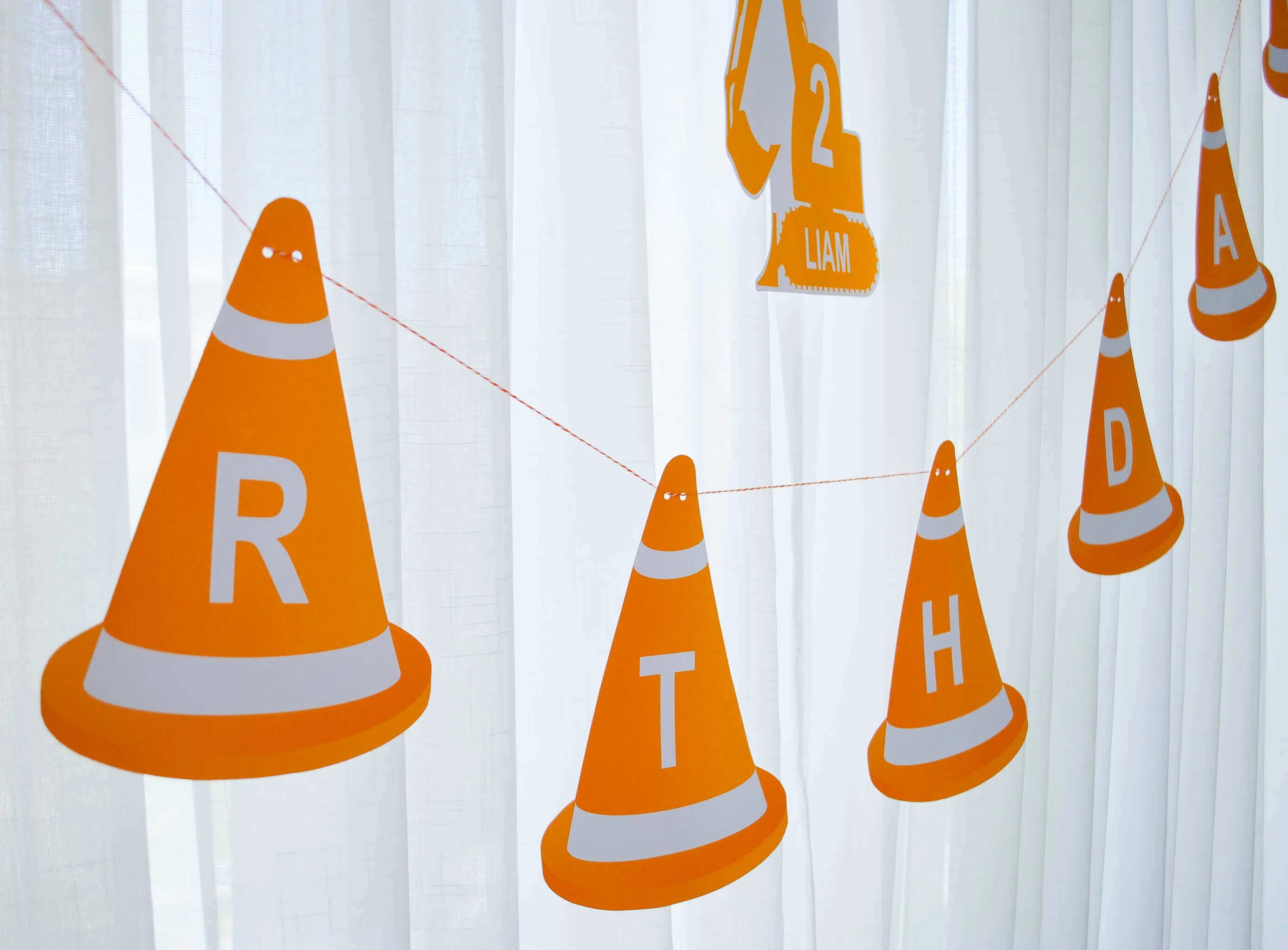 +++
Personalized construction hat stickers printable – makes a cute construction party favor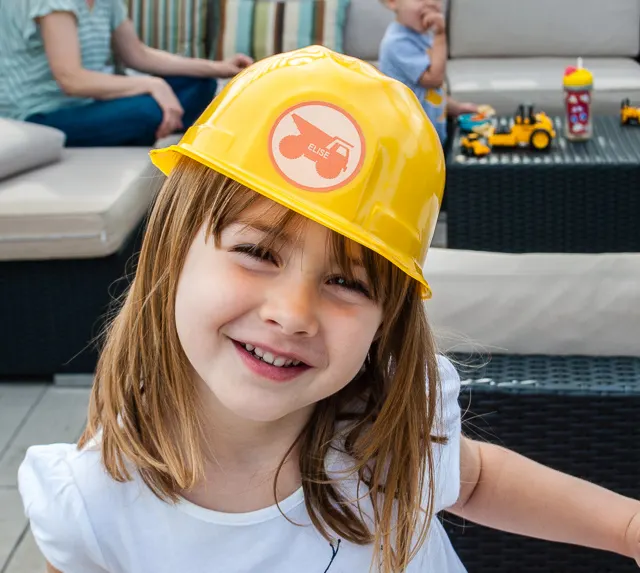 +++
Personalized construction cupcake toppers printable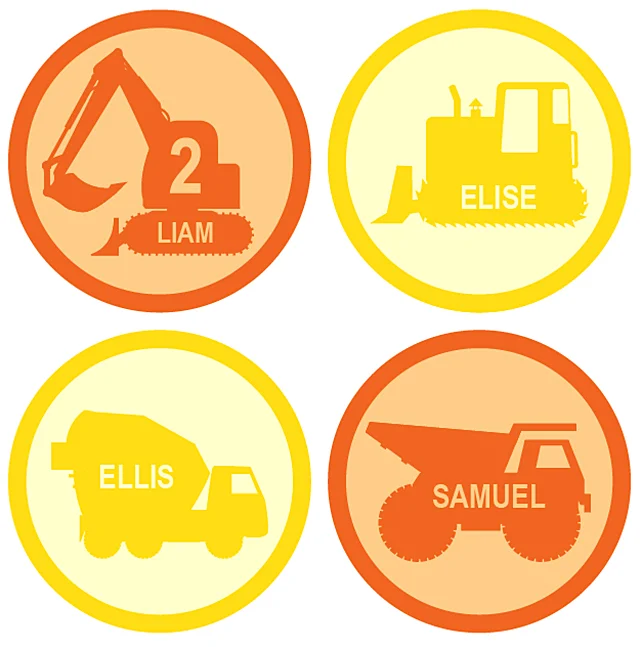 ++++++++++
And be sure to pin my construction birthday cake for your party: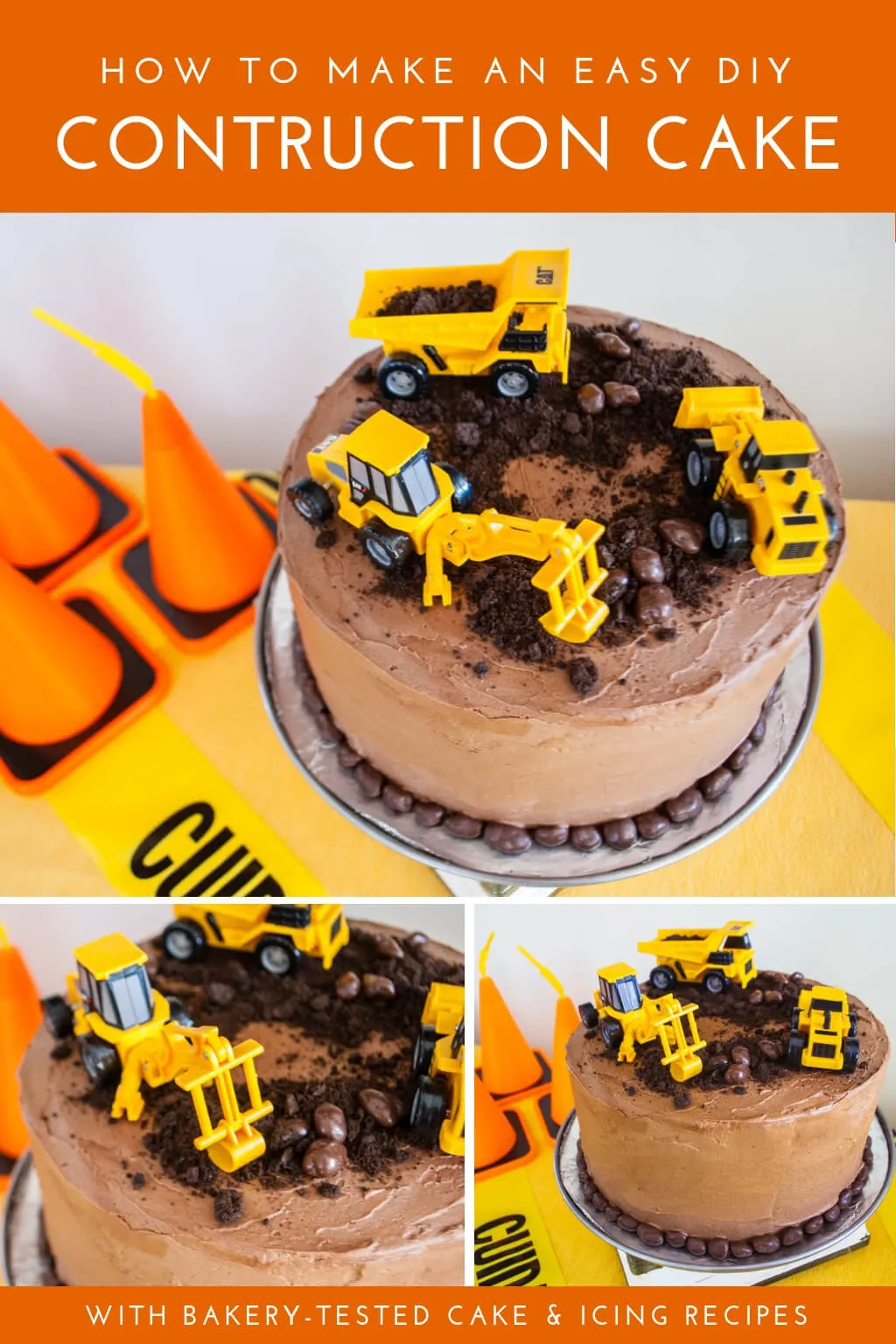 And be sure to check out my easy birthday cakes for boy birthday parties and girl birthday parties.
—
Like it? Share it!
The nicest way to say you like it is to pin it on Pinterest, post a comment, follow Merriment Design on Facebook, Pinterest, Instagram or sign up for monthly emails. Enjoy! 🙂
Copyright stuff: You're more than welcome to use this free project and tutorial for personal use. Contact me for commercial use and Etsy sales.