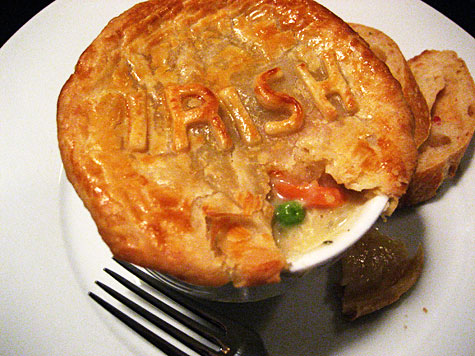 So I thought of something to do with my mini alphabet cookie cutters.
I simplified a more intensive version that Simply Recipes adapted from a Marshall Field's cookbook. Chicago *knows* St. Patrick's Day.
Ingredients:
2 poached chicken breasts, shredded, or buy a roasted whole chicken from the deli
2 1/2 cups chicken stock
Frozen sheets of pie crust (thaw according to package directions)
6 Tbsp unsalted butter
1 large onion, diced (about 1 1/4 cups)
3 carrots, thinly sliced on the diagonal
3 celery stalks, thinly sliced on the diagonal
1/2 cup all-purpose flour
1 1/2 cups milk
1 teaspoon chopped fresh thyme leaves
3/4 cup green peas, frozen or fresh
2 Tbsp minced fresh parsley
2 teaspoons salt
1/2 teaspoon freshly ground black pepper
Egg wash
1 egg white whisked with 1 Tbsp water
Special equipment needed
Six Porcelain 10-Ounce Souffle Dishes or Ramekins

Mini Alphabet and Number Cookie Cutter Set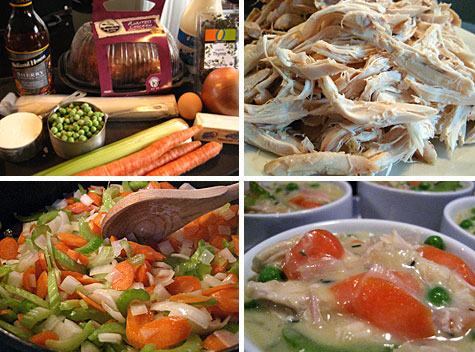 Preheat oven to 400°F. In a large skillet, melt butter on medium heat. Add the onions, carrots, and celery, and cook until the onions are translucent, about 10 minutes. Add the flour and cook, stirring, one minute more. Whisk in 2 1/2 cups of the chicken stock. Whisk in milk. Decrease heat to low and simmer for 10 minutes, stirring often. Add the chicken meat, thyme, sherry, peas, parsley, salt and pepper and stir well. Taste and adjust seasoning if necessary. Divide the warm filling among six 10-ounce ramekins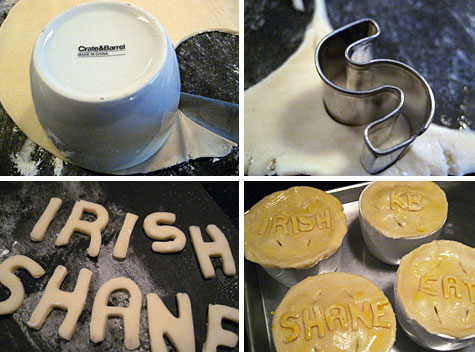 Unroll pie crust dough onto a cutting board. Cut into 6 rounds, slightly larger than the circumference of the ramekins. Lay a dough round on each pot pie filling. Fold the excess dough under itself and use the tines of a fork to press the dough against the edge of the ramekins. Use a pastry brush to apply an egg wash to each pie. Cut a 1-inch vent into each individual pie. Cut out letters from pie crust scraps. Place letters on the pie and apply egg wash (note: I put egg wash on the pie so the letters stick, put letters on and then wash them too. Follow the 'Irish' example for the best pie overlap).
Line a baking sheet with foil, place the pies on the baking sheet. Bake at 400°F for 25 minutes, or until the pastry is golden and the filling is bubbling. Let cool for at least 5 minutes before serving. Serves 6.