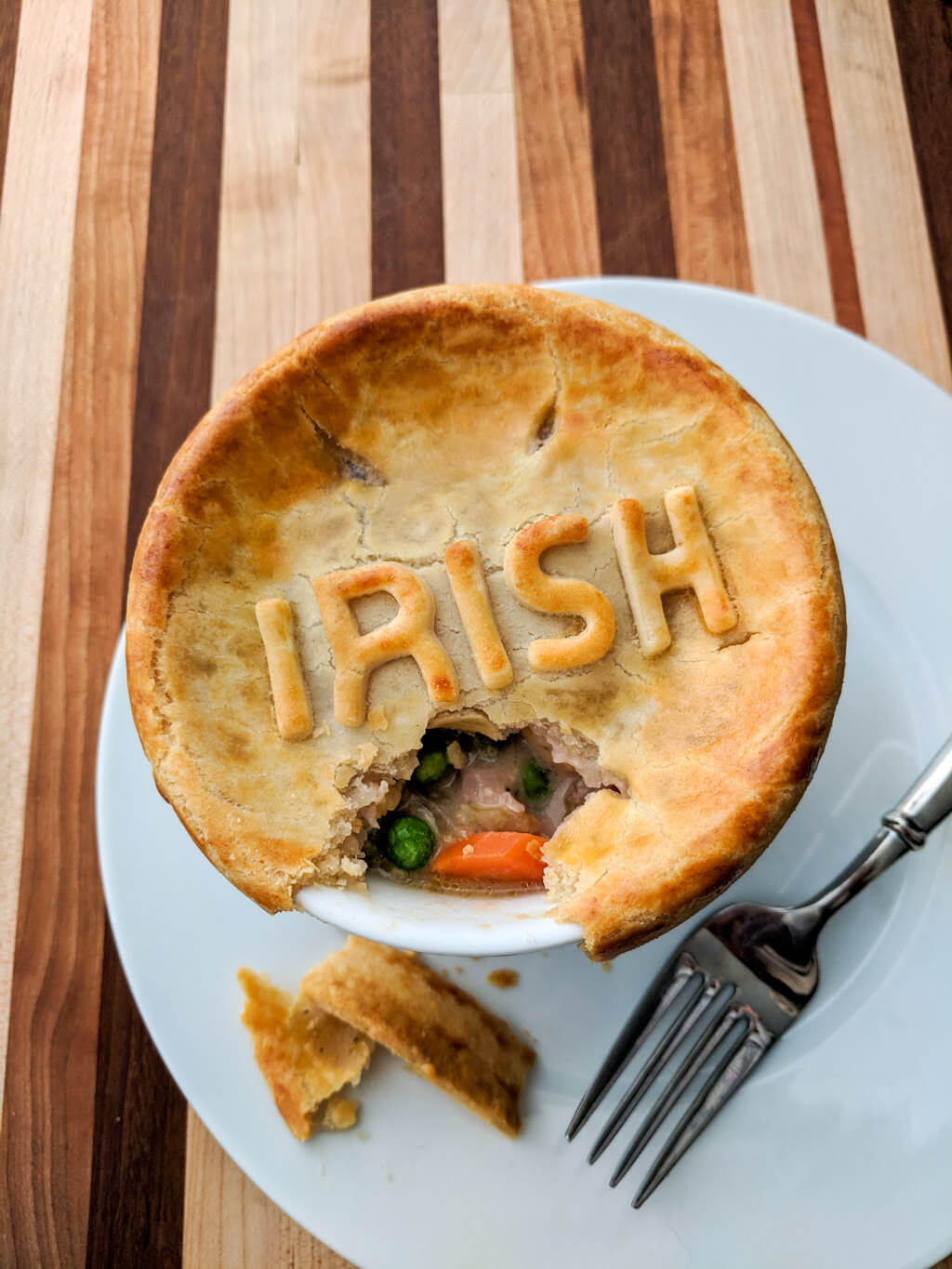 This easy chicken pot pie recipe is my favorite way to celebrate St. Patrick's Day. I started making this homemade chicken pot pie recipe as a St. Patrick's Day dinner tradition but it tasted so good that I ended up adding it into our winter dinner rotation. I like making individual mini chicken pot pies because not only are they yummy but you also can bake however many you'd like and save the rest for later. You can even make a chicken pot pie for one!
See also: 'Green chocolate peanut butter cups recipe for St. Patrick's Day ' »
The hearty homemade chicken pot pie filling inside is traditional and hearty and absolutely delicious.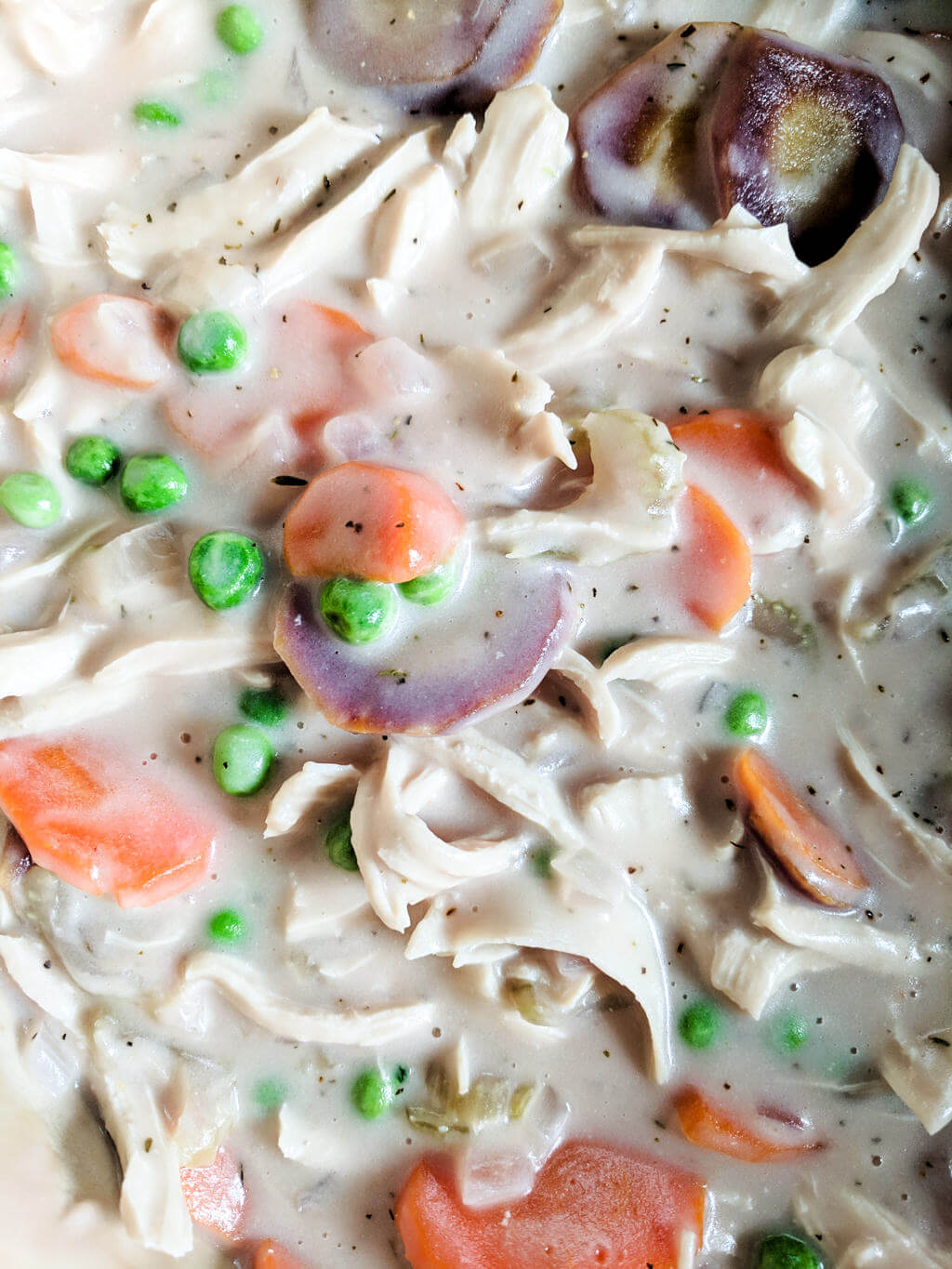 And for lucky bonus points, you can add personalized names on the top of your mini pies using mini alphabet cookie cutters. I like to write the word "Irish" to the top of our mini pies for St. Patrick's Day dinner and cut out St. Patrick's Day shapes like shamrocks to pop on top before baking.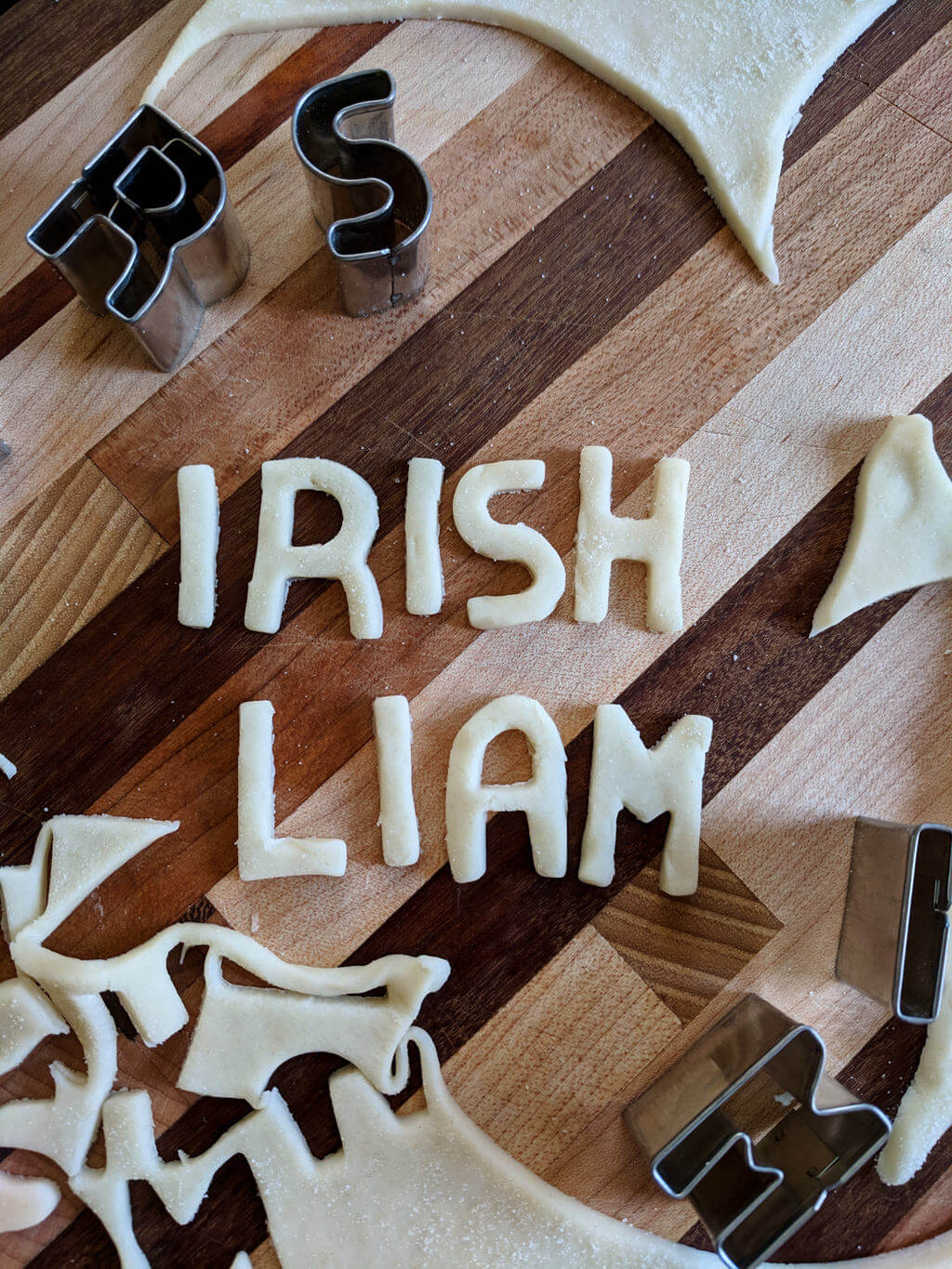 Baking individual chicken pot pies from scratch is fun and pretty foolproof. I like baking mine in these cute porcelain white ramekins.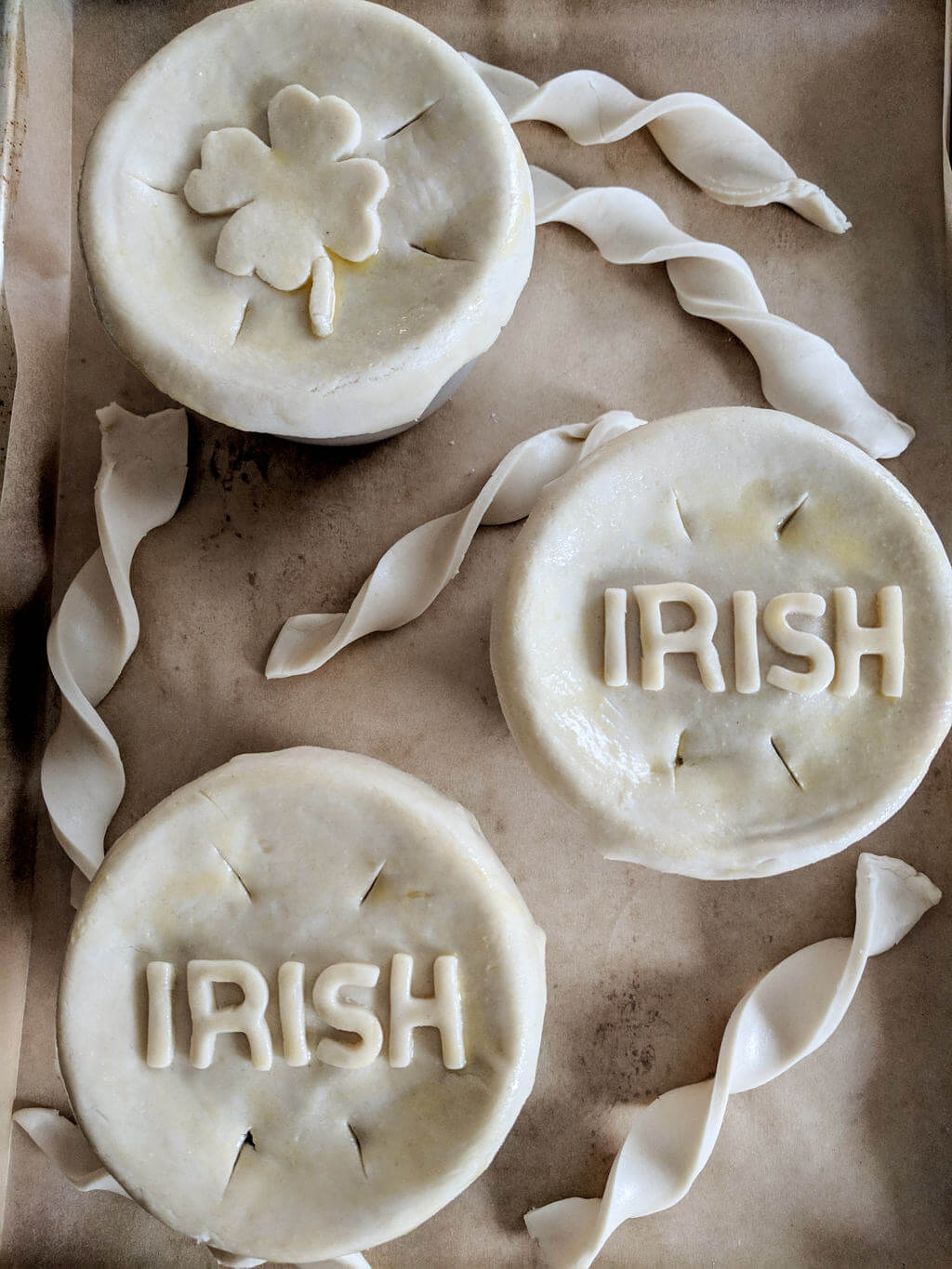 This easy chicken pot pie recipe is simple version of a more intensive one originally from the Chicago-based Marshall Field's cookbook because one thing's for sure: my hometown sure knows how to do St. Patrick's Day.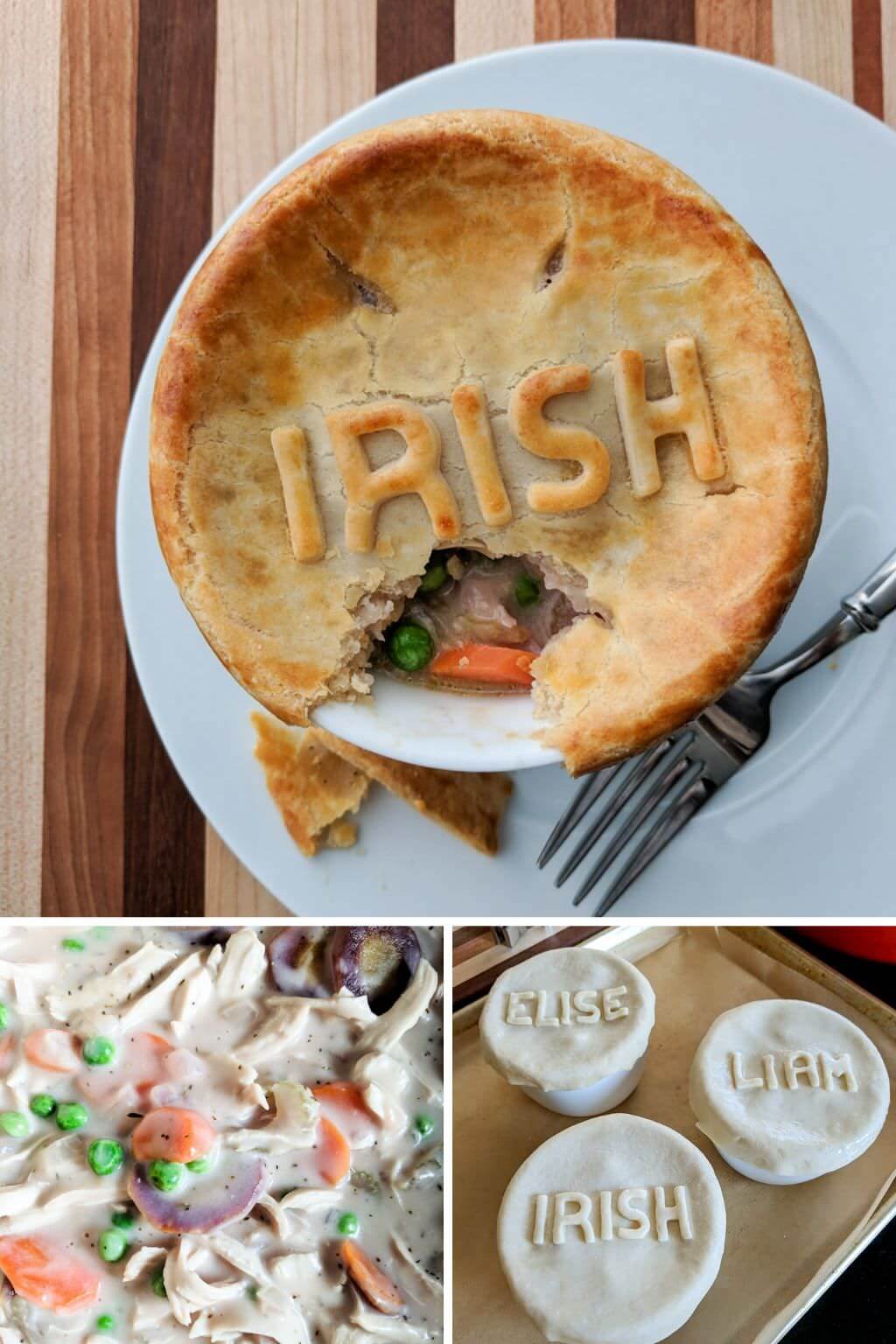 +++
Chicken Pot Pie Ingredients:
1-1/2 to 2 cups shredded chicken — you can either poach 2 chicken breasts (see instructions below) or buy a roasted whole chicken from the deli
2-1/2 cups chicken stock
Frozen sheets of pie crust (thawed according to package directions) or puff pastry sheet
1 cup diced onion (about 1 large)
3 carrots, thinly sliced
3 celery stalks, thinly sliced
3/4 cup green peas, frozen or fresh
6 Tbsp unsalted butter, grass-fed ghee, or coconut oil
1/2 cup all-purpose flour
1-1/2 cups milk
1 teaspoon chopped fresh thyme leaves
2 Tbsp minced fresh parsley, optional
2 teaspoons salt
1/2 teaspoon freshly ground black pepper
Egg wash
1 egg white whisked with 1 Tbsp water
Special equipment needed for individual chicken pot pies
Six Porcelain 10-Ounce Souffle Dishes or Ramekins
Mini Alphabet and Number Cookie Cutter Set
+++
+++
How to make yummy chicken pot pie from scratch
Step 1: Shred cooked chicken
The first step is to prepare the chicken. Either buy a cooked whole chicken from the deli, or poach chicken breasts which only takes about 10-15 minutes and you can do that in advance. Poaching chicken is super easy: just put chicken breasts into boiling water until it reaches an internal temperature of 165 degrees with a digital thermometer. See these good poaching instructions for more details. Shred the chicken by pulling with a fork.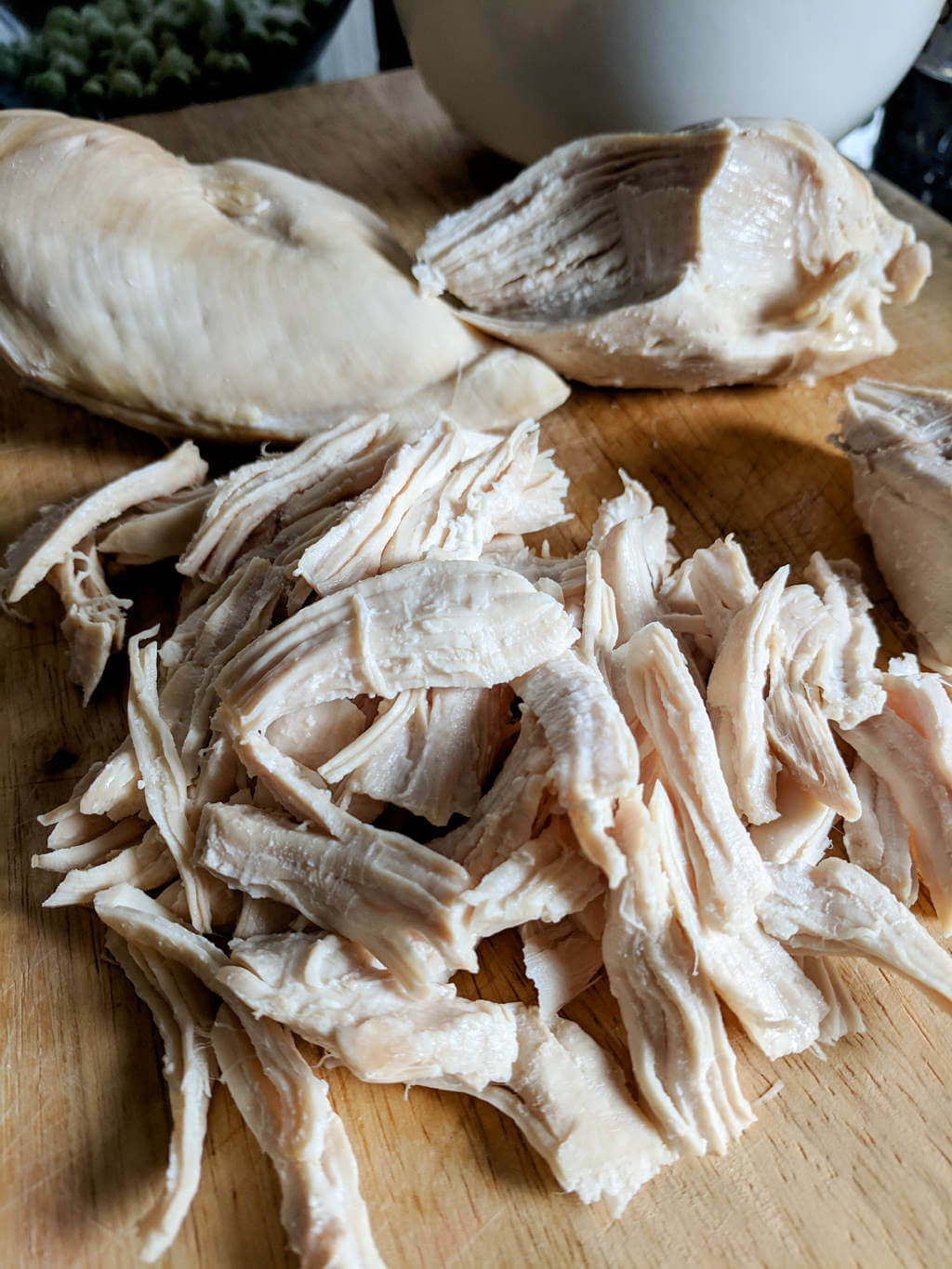 Step 2: Saute vegetables and make the simple sauce for the filling
Preheat oven to 400°F. In a large skillet, melt butter on medium heat. Add the onions, carrots, and celery, and cook until the onions are translucent, about 10 minutes. Add the flour and cook, stirring, one minute more. Whisk in-2 1/2 cups of the chicken stock. Whisk in milk. Decrease heat to low and simmer for 10 minutes, stirring often.
Step 3: Add chicken and seasonings, divide filling into ramekins
Add the chicken meat, thyme, sherry, peas, parsley, salt and pepper and stir well. Taste and adjust seasoning if necessary. Divide the warm filling among six 10-ounce ramekins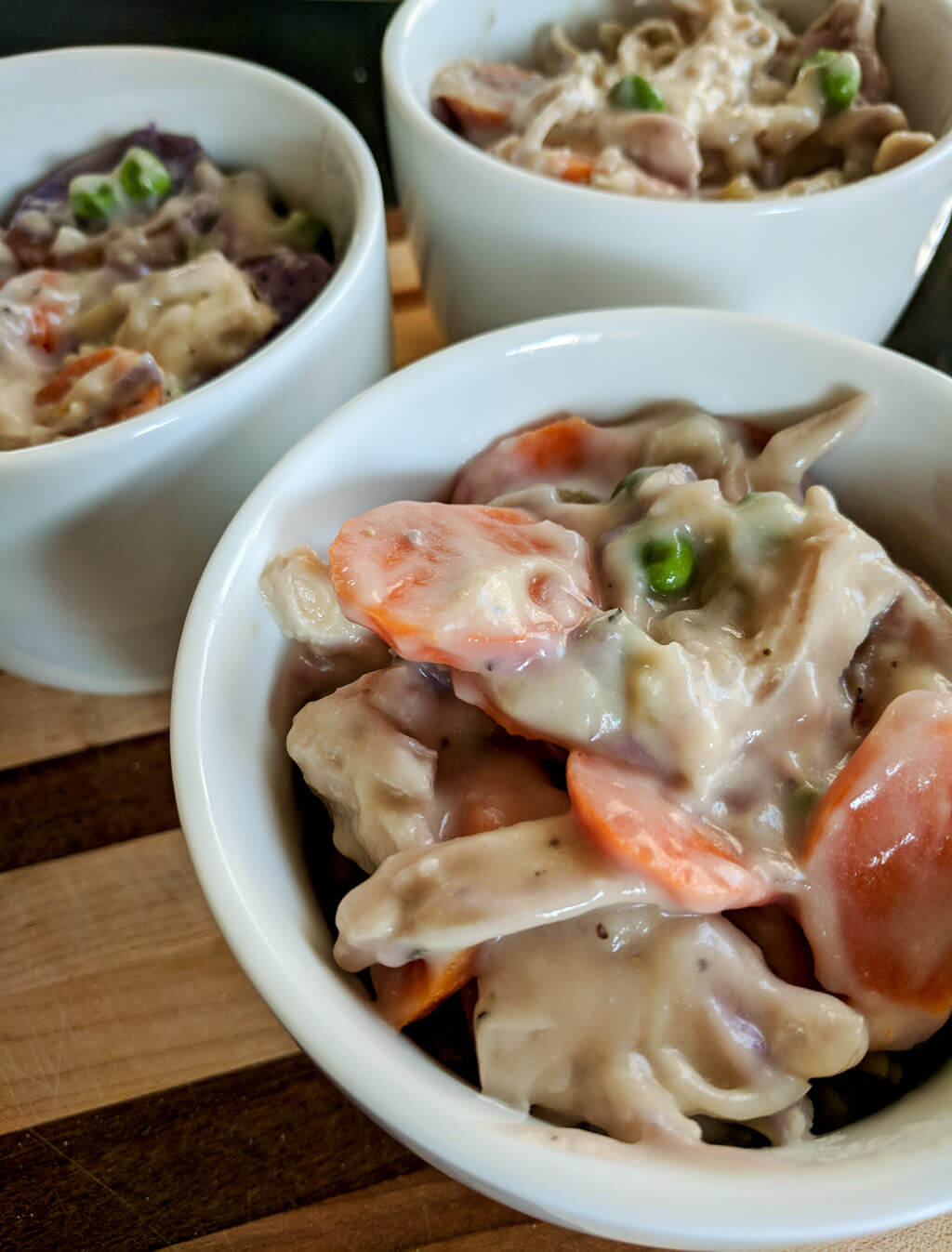 Step 4: Add pie crust to the tops of the chicken pot pies
Unroll pie crust dough onto a cutting board. Cut into 6 rounds, slightly larger than the circumference of the ramekins. Lay a dough round on each pot pie filling. Fold the excess dough under itself and use the tines of a fork to press the dough against the edge of the ramekins. Use a pastry brush to apply an egg wash to each pie. Cut out letters from pie crust scraps. Place letters on the pie and apply egg wash on top of the letters too). Cut a 1-inch vent into each individual pie.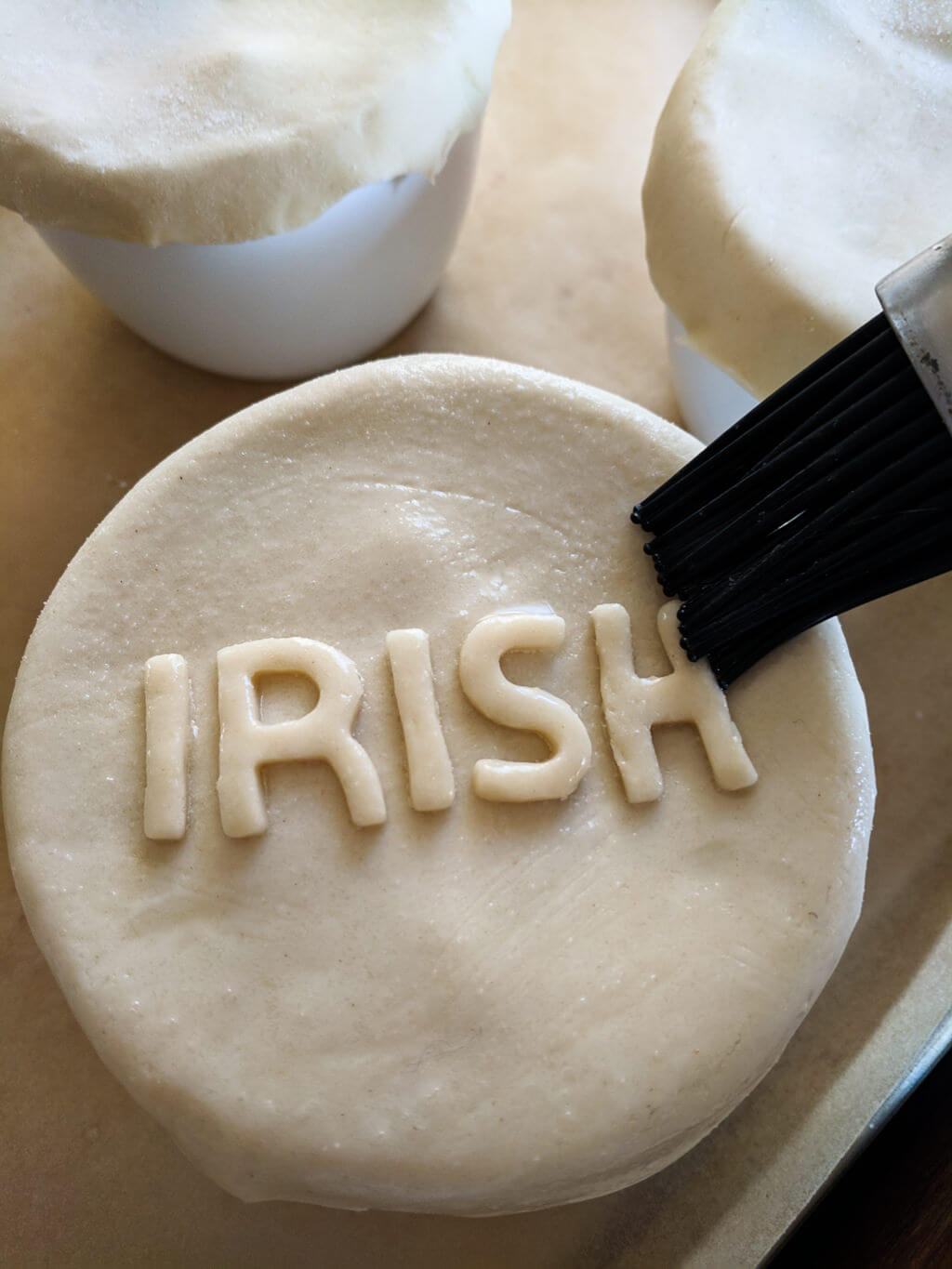 Step 5: Bake pot pies
Line a baking sheet with foil, place the pies on the baking sheet. Bake at 400°F for 25 minutes, or until the pastry is golden and the filling is bubbling. Let cool for at least 5 minutes before serving. Serves 6.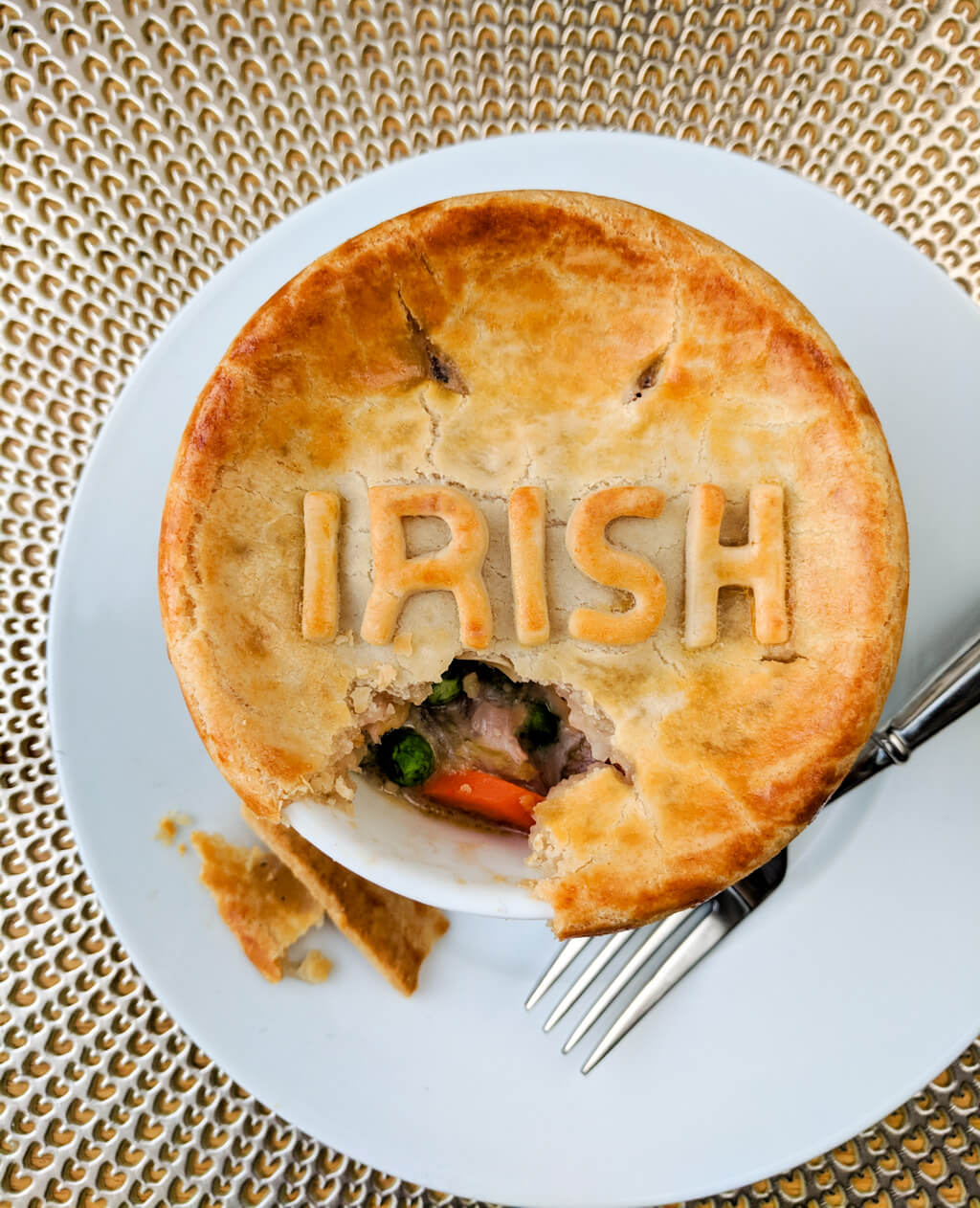 Sometimes I make this chicken pot pie recipe using puff pastry instead of pie crust and I almost like it even better. I've been making this homemade pot pie recipe for about eight years now and I recently updated the photos on this post, but I'd like to keep this photo of my *very first pot pie* that I made with puff pastry crust and was featured in Chicagoist many years ago. Memories!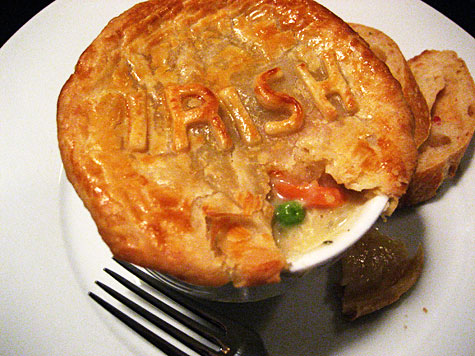 +++
Be sure to pin this easy homemade chicken pot pie recipe from scratch – it's yummy St. Patrick's Day food!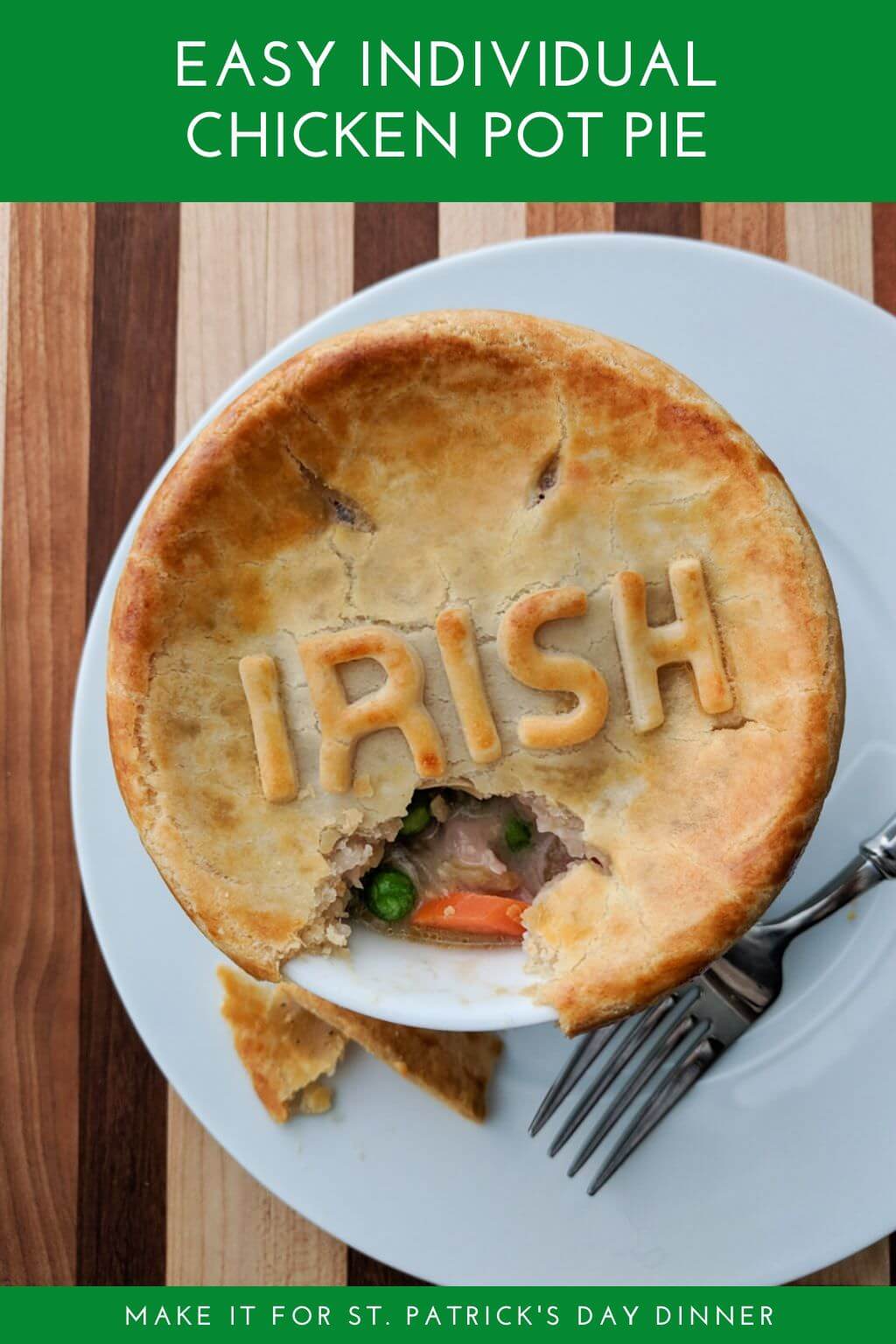 +++
And see more of my St. Patrick's Day craft activities like my DIY Irish dog tag necklaces, DIY Ireland map pins, and DIY St. Patrick's Day t-shirts.
—
Like it? Share it!
The nicest way to say you like it is to pin it on Pinterest, post a comment, follow Merriment Design on Facebook, Pinterest, Instagram or sign up for monthly emails. Enjoy! 🙂
Copyright stuff: You're more than welcome to use this free project and tutorial for personal use. Contact me for commercial use and Etsy sales.