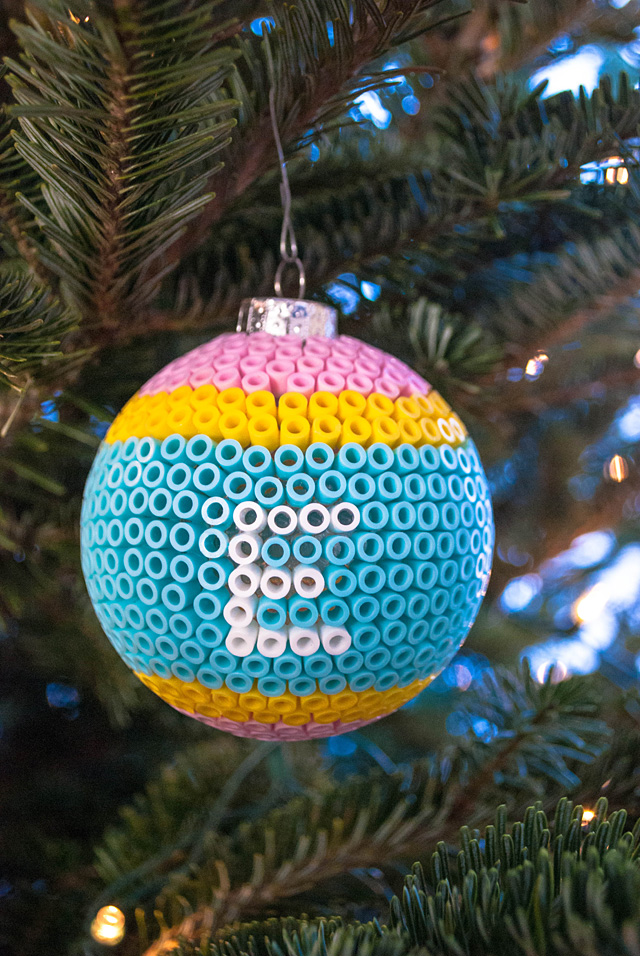 Jo-Ann Fabric and Craft Stores sponsored this #fabulouslyfestive project; all opinions are my own.
Yes, we individually glued Perler beads to clear glass ball ornaments to make these #fabulouslyfestive handmade keepsakes. It takes less time than you'd think.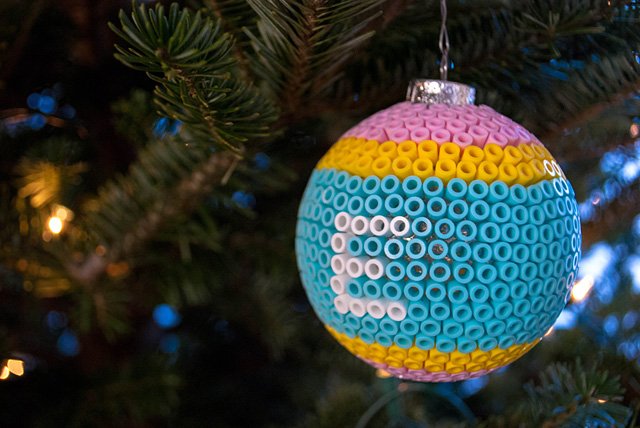 It may surprise you that I haven't made many handmade ornaments in my life. Most of my adult-life Christmas trees have been filled with ornaments collected from my traveling. Now that we have kids I want that to change so we'll be making at least a couple handmade ornaments every year, starting now.
Elise says she loves this ornament, and I love the clever look. And I'm happy that E has a personalized Christmas ornament that we made together that she can put on her tree for years to come.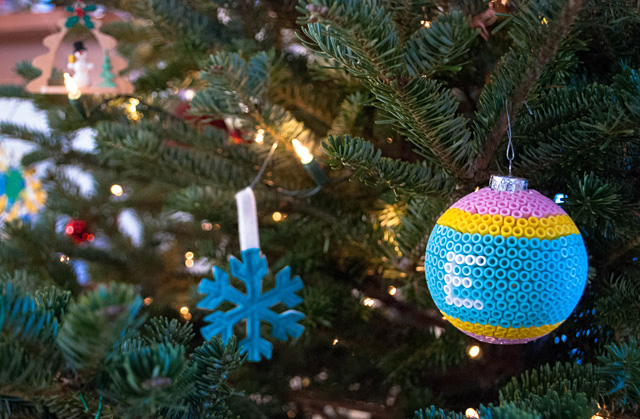 I don't know how I thought of it but it occurred to me that Perler Beads would make a pretty ball handmade ornament, no ironing required. Elise and I discovered Perler Beads over the summer when we made these Fourth of July Perler Bead Coasters together. Since then, she's enjoyed making lots of shapes – monkeys, flowers, hearts — and my favorite — a star-shaped keychain for my keys.
We got all of our supplies at Jo-Ann Fabric and Craft Stores: Perler Beads, Clear Glass Ball Ornaments, and craft glue.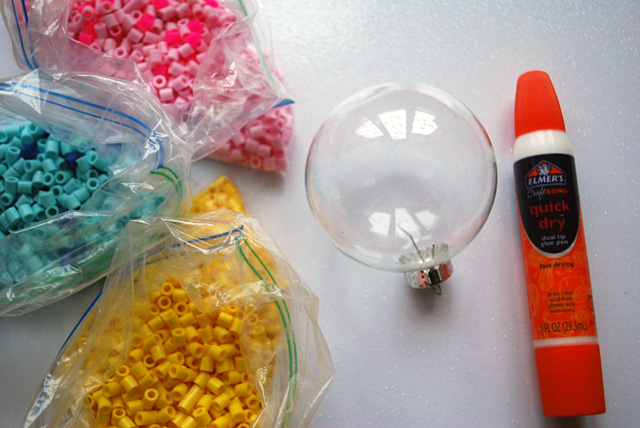 We started them on a Chicago snowy day during one of Liam's naps. We spread the project across a couple days, gluing some rows and letting them dry to keep the beads from slipping around.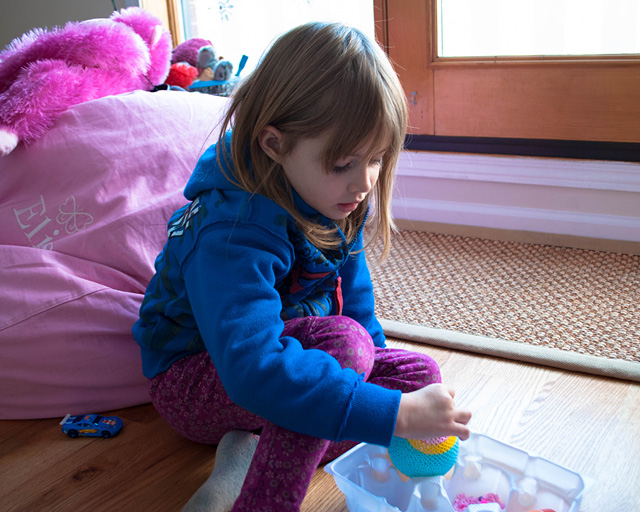 Watching it come together was really fun …and kind of reminded me building the Death Star. Anyway, I'm hooked now, and we'll be decorating more clear glass ball ornaments for Christmas using Perler Beads.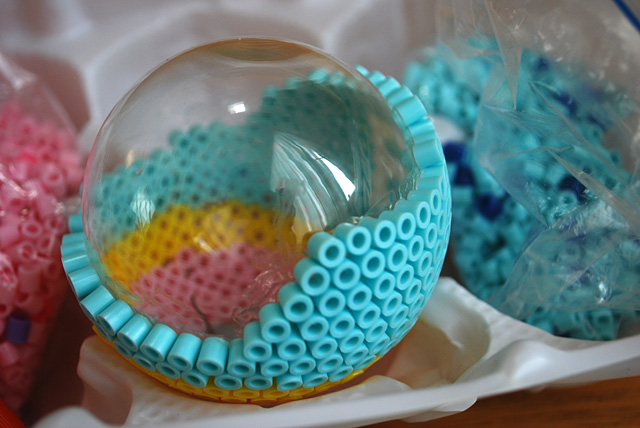 See tons of holiday craft ideas in Jo-Ann's 2013 Holiday Catalog. Jo-Ann is even giving MerrimentDesign.com readers a 50% off coupon to create your own own handmade holidays. Thanks again to Jo-Ann for sponsoring this #fabulouslyfestive craft for Christmas, as well as my Thanksgiving tepee snack cups and Halloween subtle spiderwebs door decoration. It's been a very creative holiday season with Jo-Ann Fabric and Craft Stores!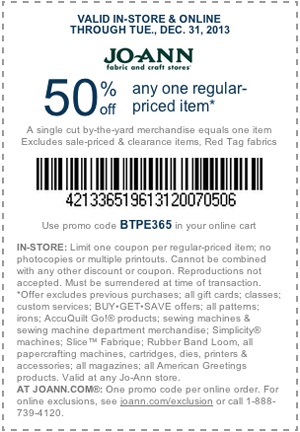 Supplies to decorate clear glass ball Christmas ornaments with Perler beads:
—
How to decorate clear glass ball Christmas ornaments with Perler beads:
Spread craft glue onto a clear glass ball ornament. We did small sections at a time until we got the hang of it.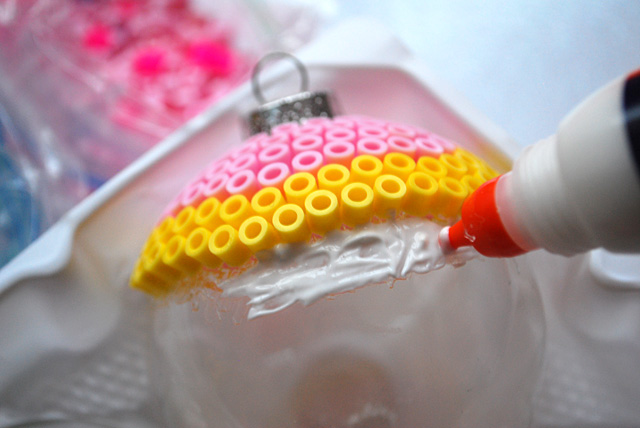 Let it dry when you get a bunch of rows done to minimize slipping. We used quick-dry glue so it didn't take too long to wait.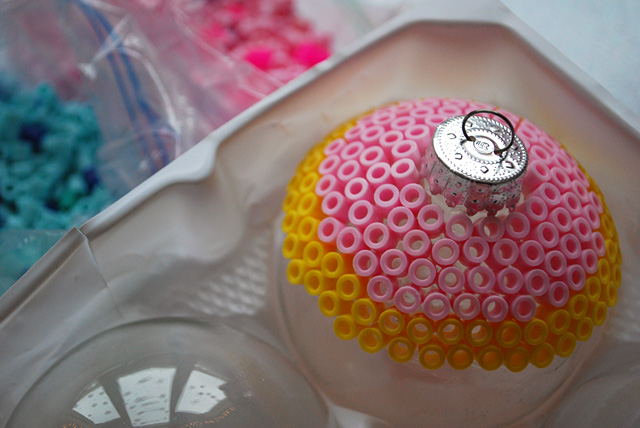 Making stripes can a bit tricky because they magnify curvy lines but I do like the multi-color look. And aren't imperfections one of the best things about making handmade Christmas ornaments? I'll remember making these ornaments together with Elise each time when we unwrap them from our ornament box to decorate our family Christmas tree.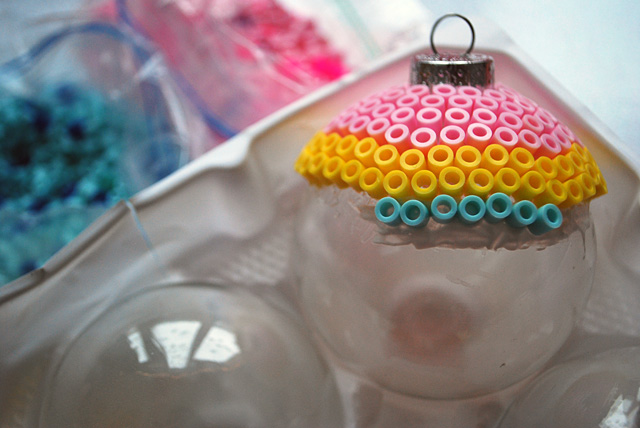 What DIY ball ornaments have you handmade to decorate your tree?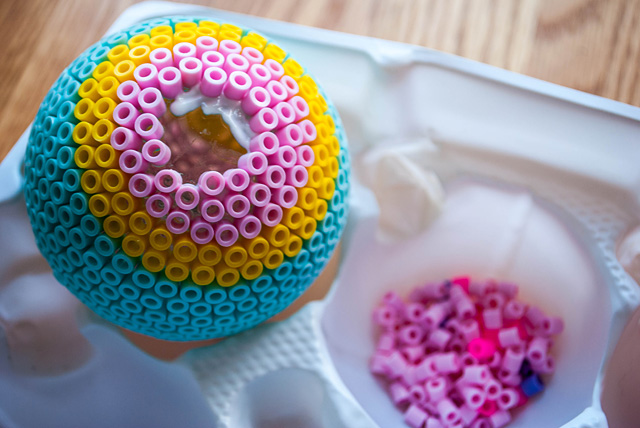 For more #fabulouslyfestive holiday craft ideas see the Jo-Ann's 2013 Holiday Catalog.
—
Like it? Share it!
The nicest way to say you like it is to pin it on pinterest, post a comment, follow Merriment Design on Facebook, twitter, pinterest, Google+ or sign up for monthly emails. Enjoy! 🙂
Copyright stuff: You're more than welcome to use this free project and tutorial for personal use. Contact me for commercial use and etsy sales.