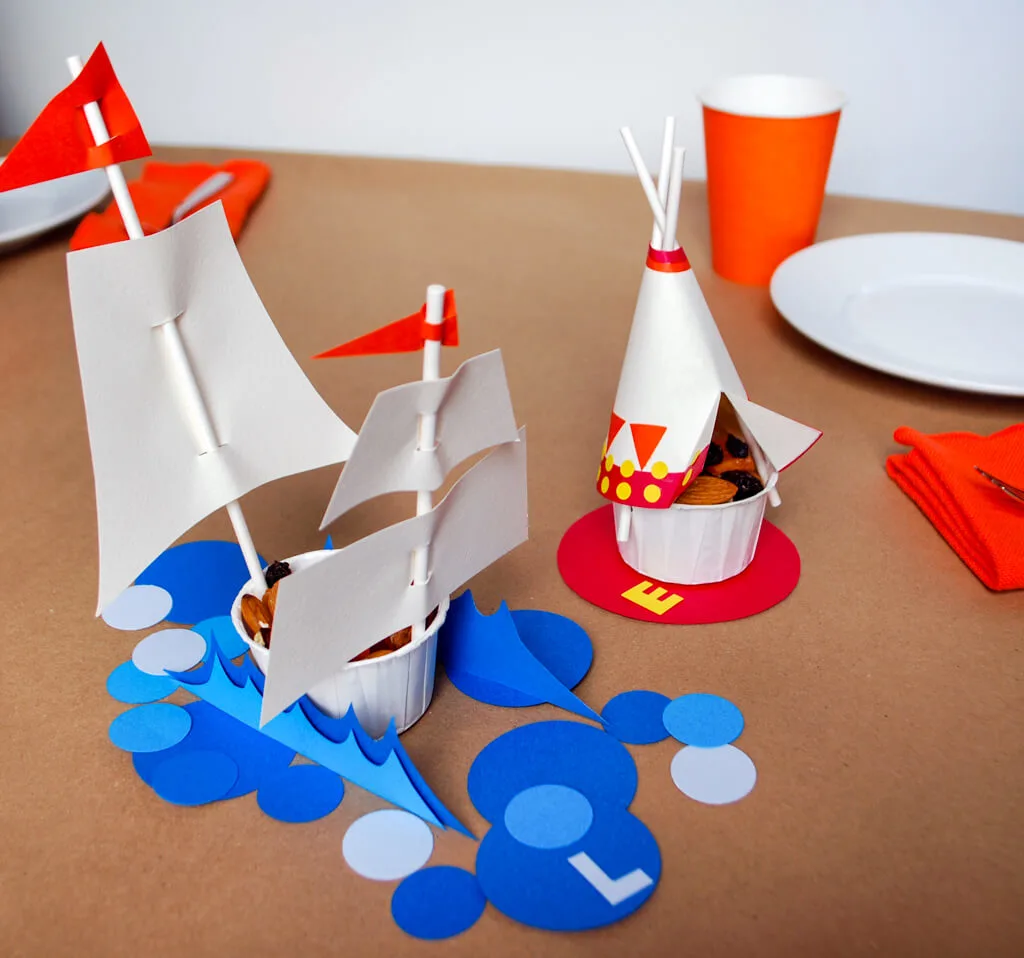 Jo-Ann Fabric and Craft Stores sponsored this #turkeytablescapes project; all opinions are my own.
It can be hard for kids to wait for Thanksgiving dinner to be ready. Stave off grumbling tummies (and "I'm hungry!" moans) with tepee and Mayflower snack cups filled with pre-dinner munchies.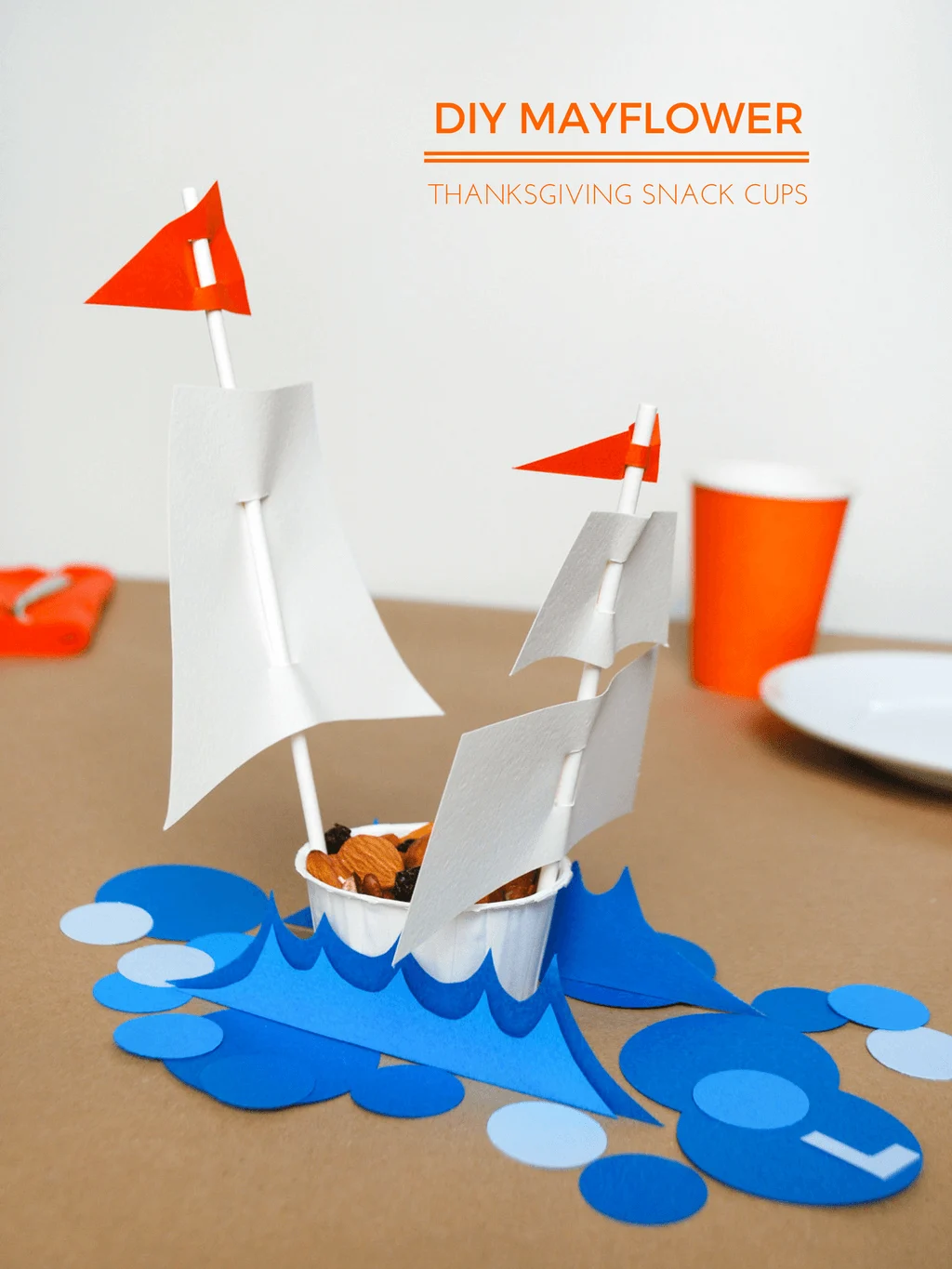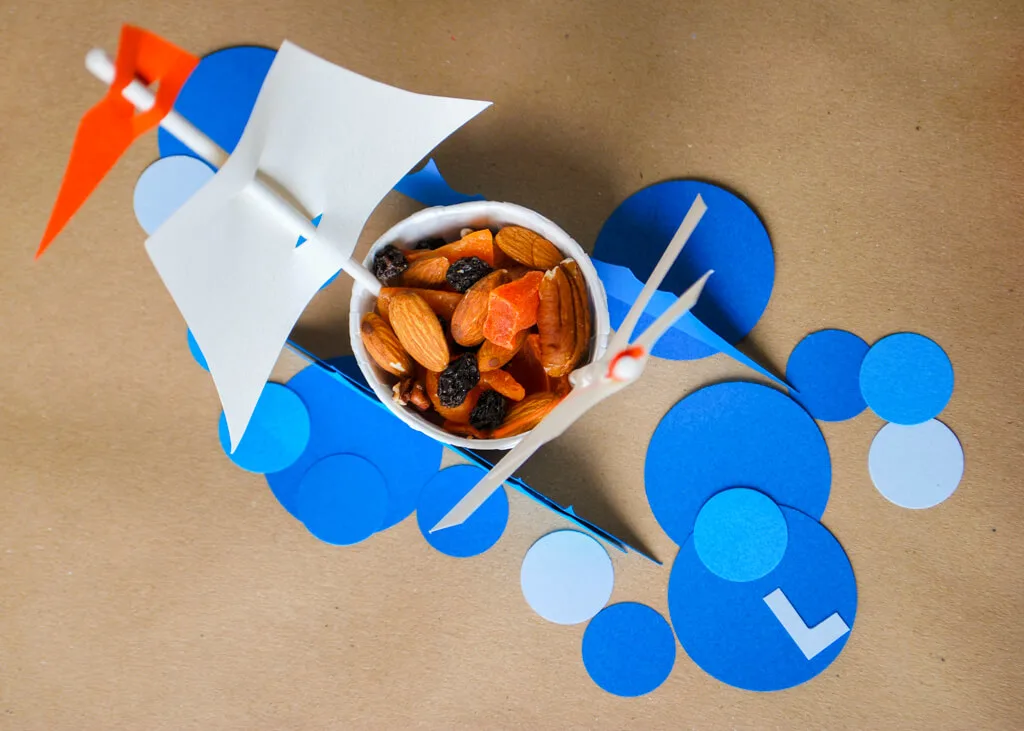 These kids Thanksgiving pre-dinner snack cups are simple to make; they're just nut cups on the bottom with lollipop sticks and card stock paper on top. I got all of my supplies at Jo-Ann Fabric and Craft Stores.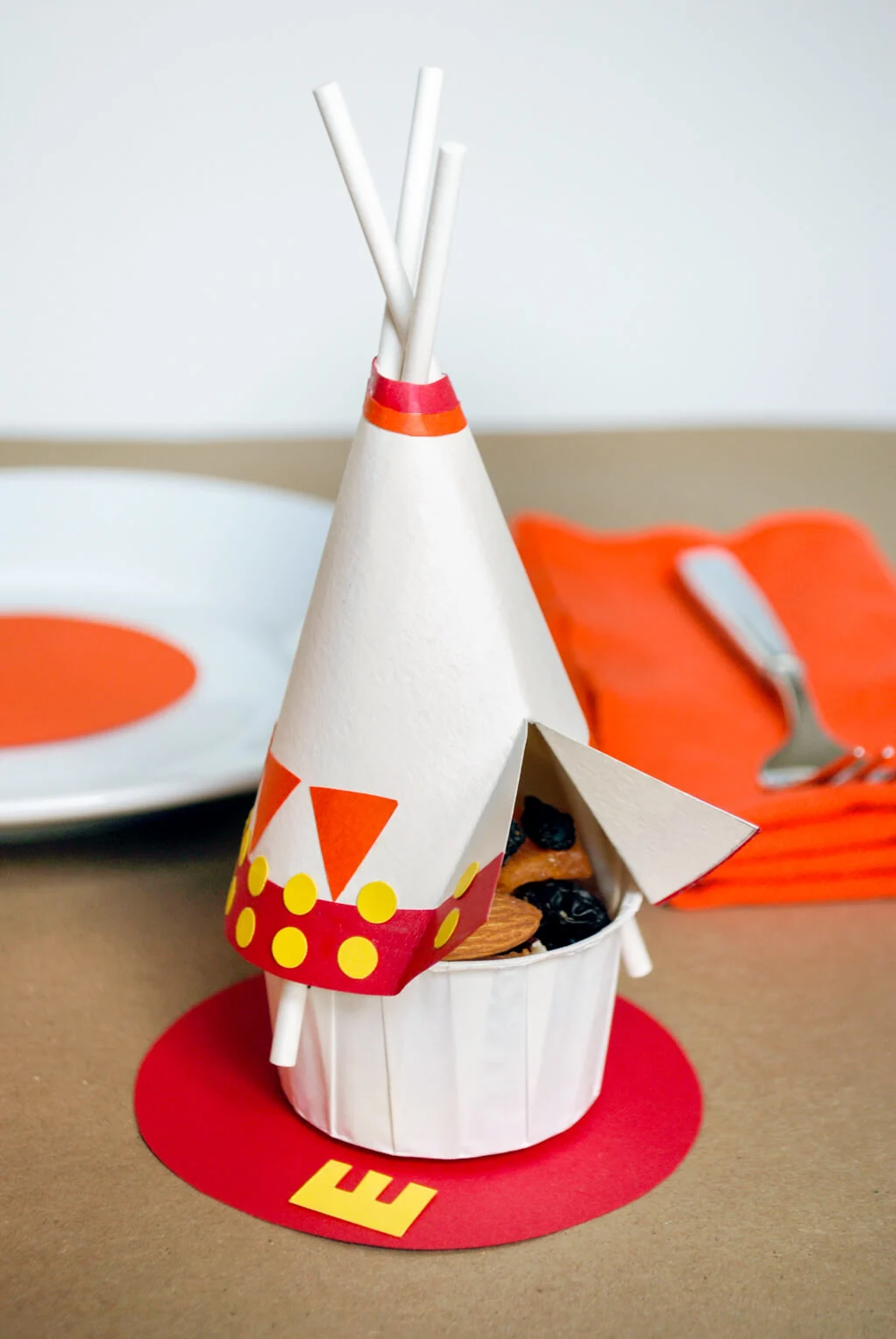 To make the tepee, I punched holes in the nut cups and slipped the lollipop sticks through, which actually makes the tepee easily removable so kids can play with it after dinner.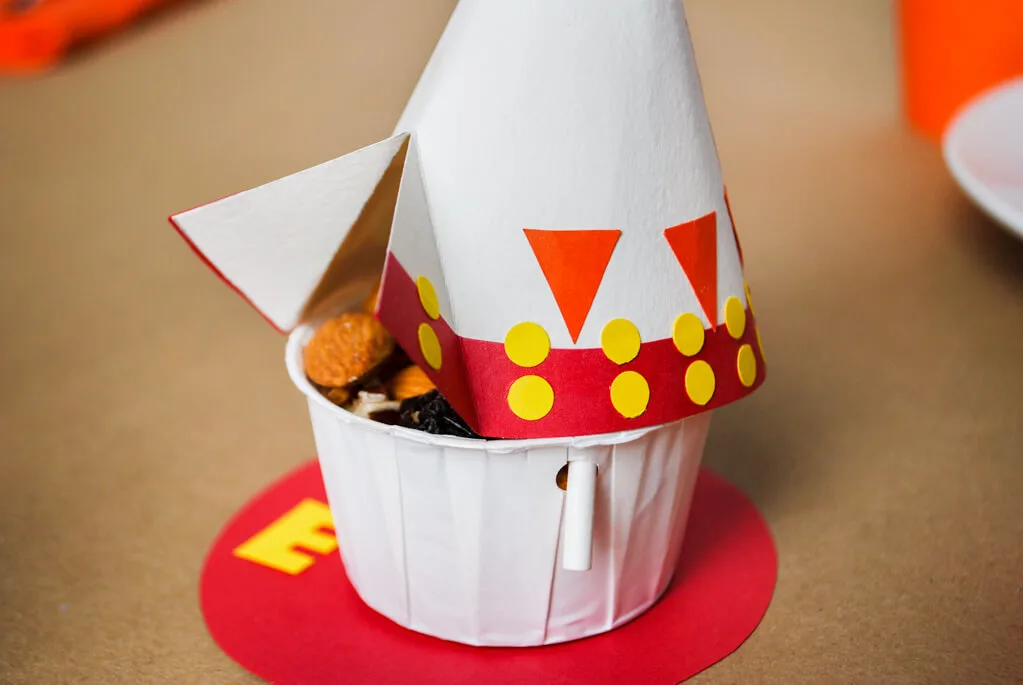 I think it's important to give Native Americans fair billing in Thanksgiving traditions and wanted to have Indian elements in our tablescape. Technically, tepees are dwellings for Plains Indians but it's a start.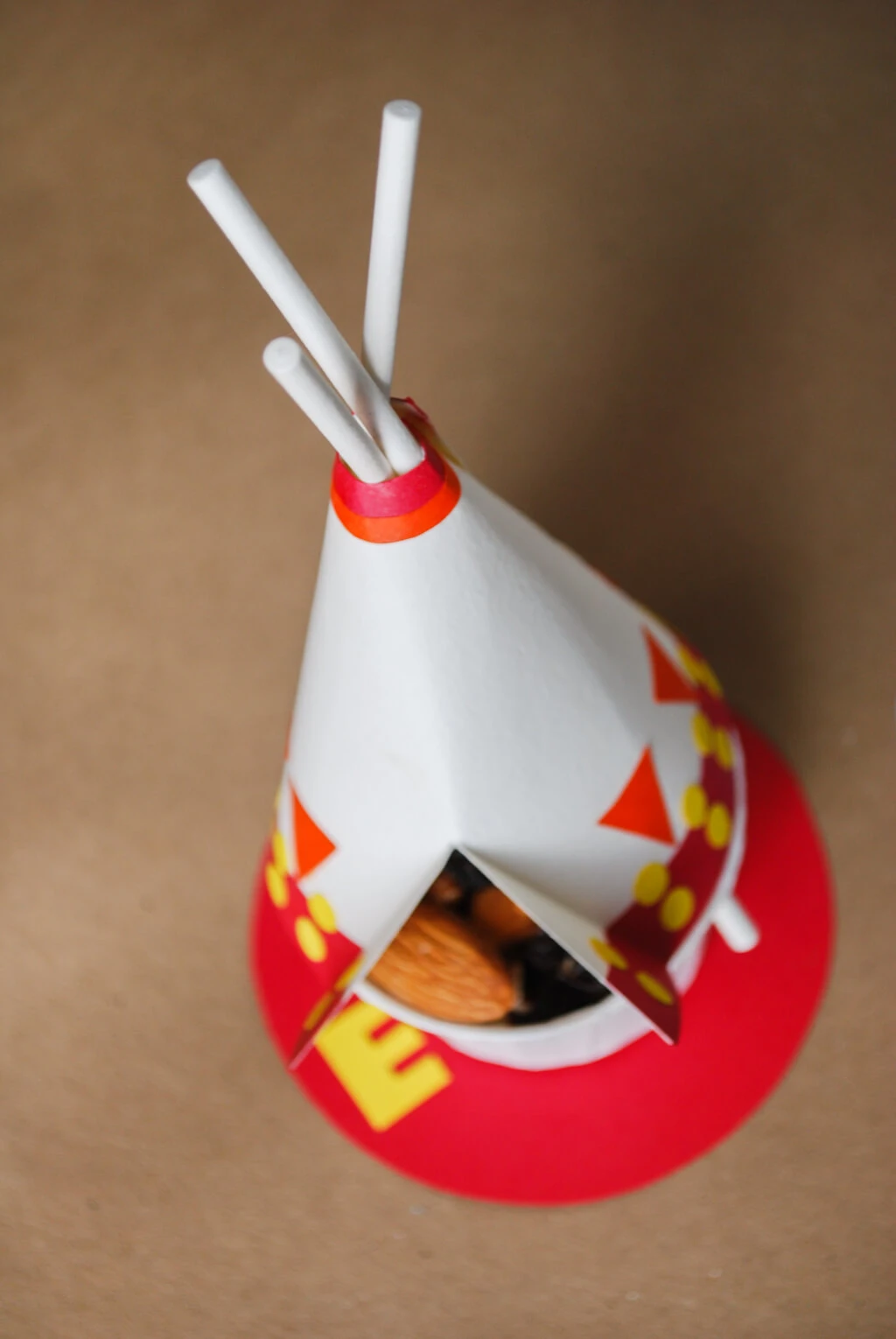 Then I saw these super cute drinking cups made using foam and straws by Lisa Storms and thought that a Mayflower would be perfect for my pilgrim kids snack cups.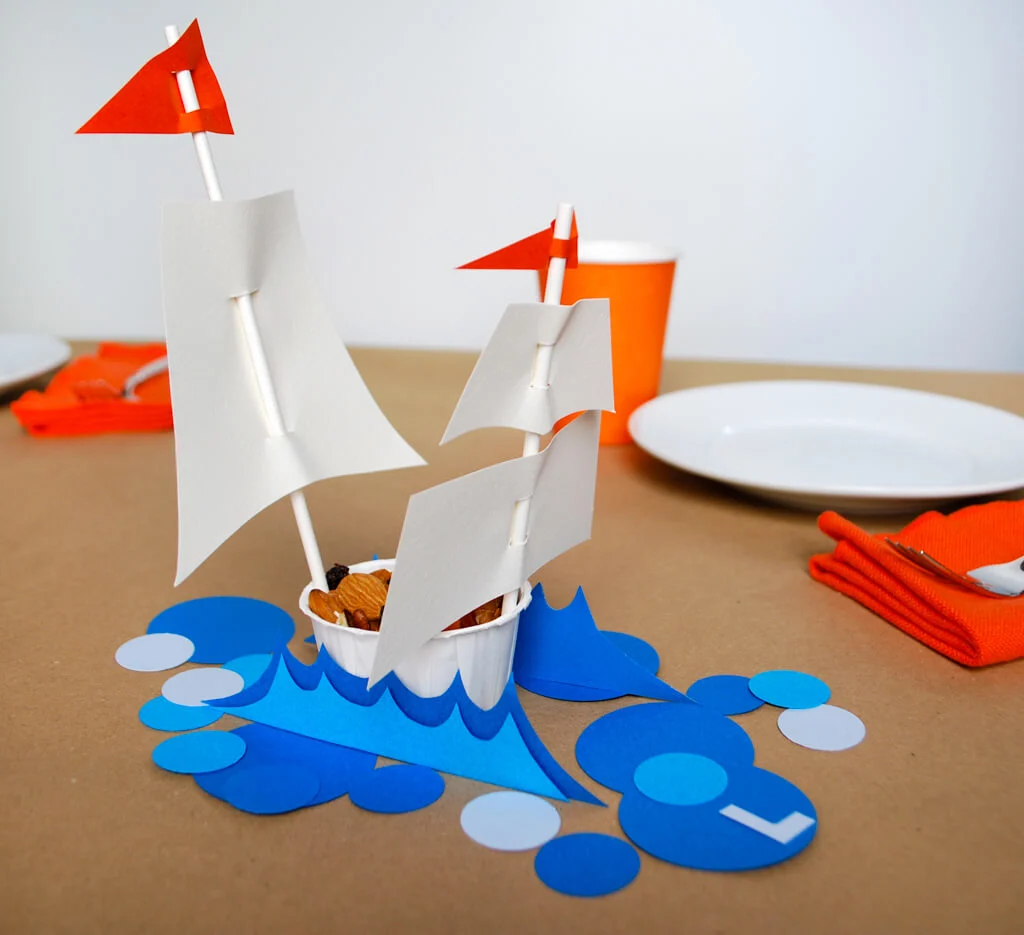 Kids can set sail with front and back sails.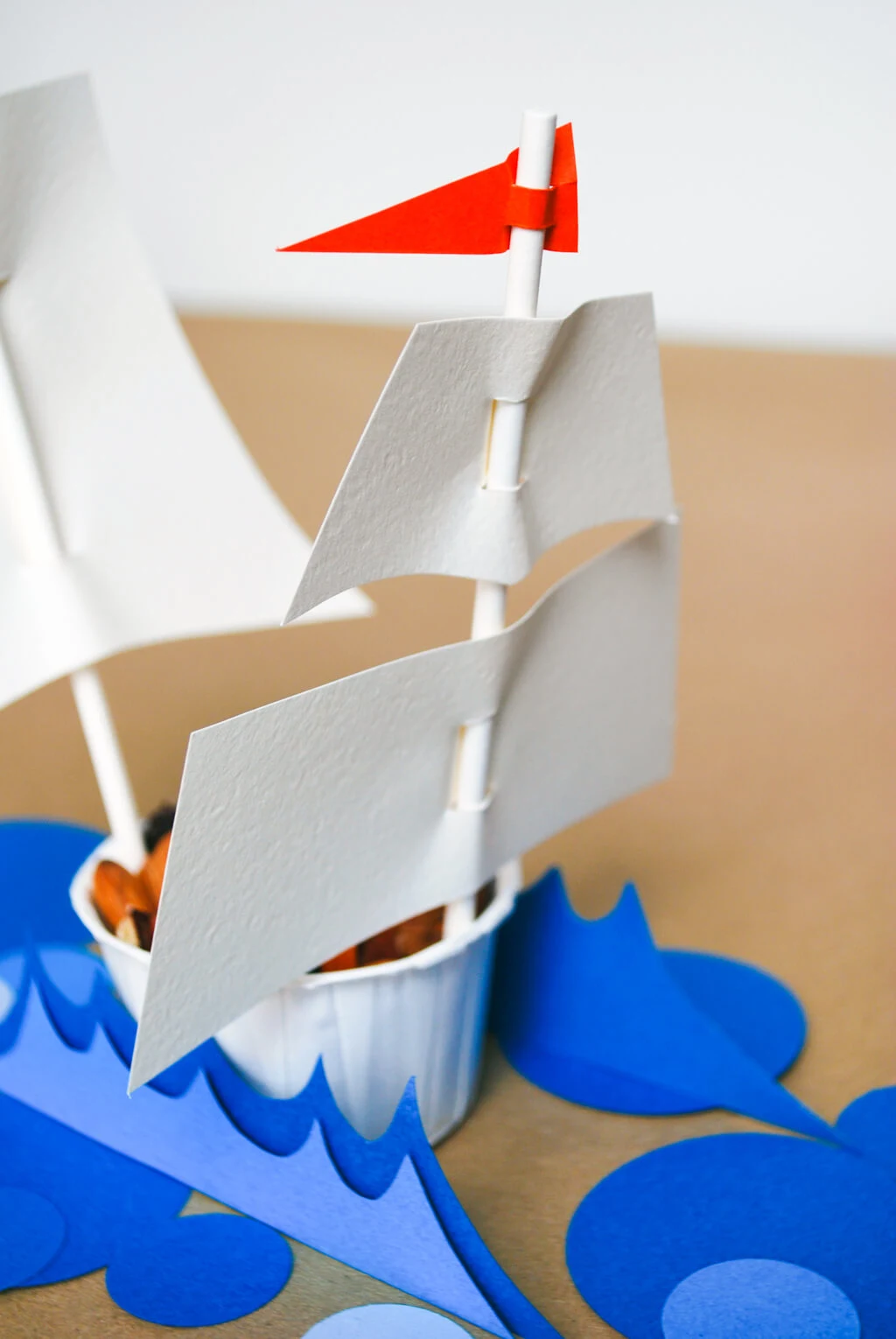 Attach some waves and make "ocean" circles for some rocking and a rollin', splishin' and a splashing.
You can personalize these Thanksgiving kids table snack cups with monograms like I did, write full names, or just keep them plain.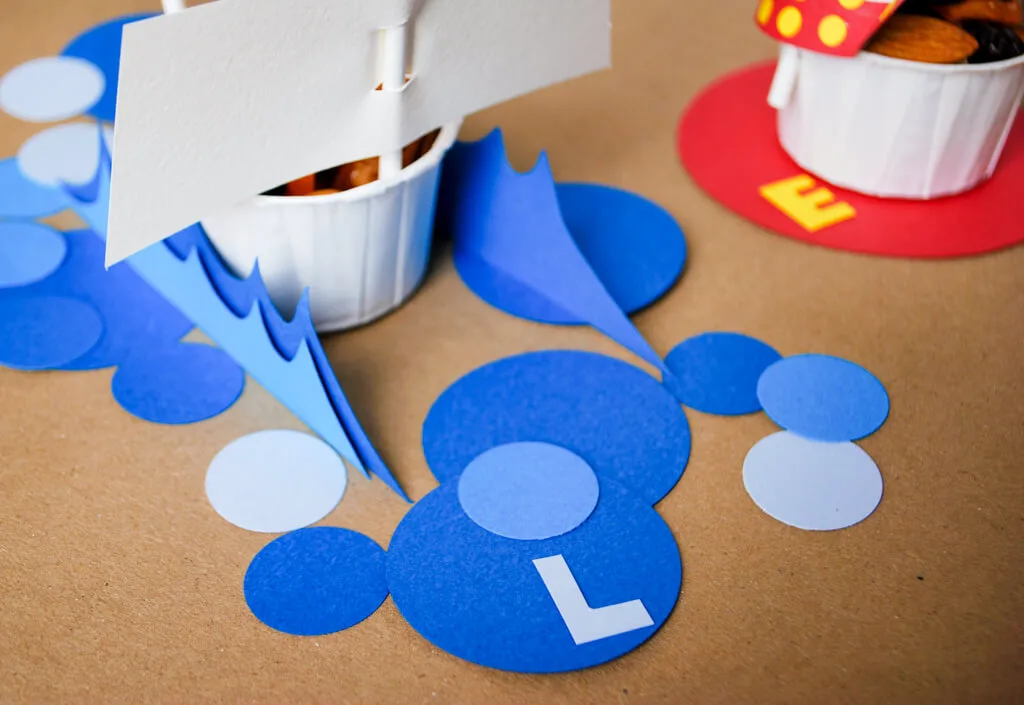 See tons of holiday craft ideas in Jo-Ann's 2013 Holiday Catalog. Jo-Ann is even giving MerrimentDesign.com readers a 50% off coupon to create your own own handmade holidays. Thanks again to Jo-Ann for sponsoring this #turkeystablescapes craft. Wopila …I mean, Happy Thanksgiving!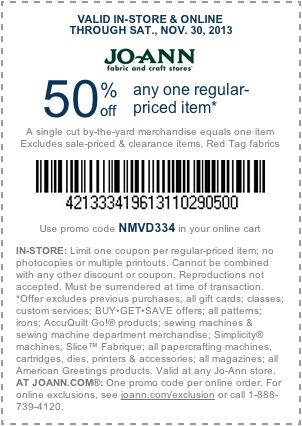 WANNA MAKE IT? Free pattern, step-by-step tutorial instructions and supply list for making my Thanksgiving tepee Pre-Dinner Snack Cups for the Kids Table –>
Supplies for making DIY Thanksgiving Tepee and Mayflower Snack Cups for the Kids Table (with affiliate links):
—
How to make DIY Thanksgiving Tepee and Mayflower Snack Cups for the Kids Table:
Download my free teepee and Mayflower snack cups for kids template (PDF). I created the patterns by looking at tepee photos…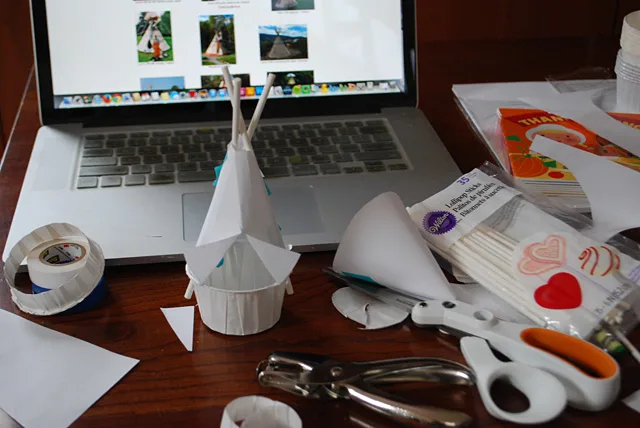 And Mayflower photos too – I can't imagine crossing an ocean in that boat!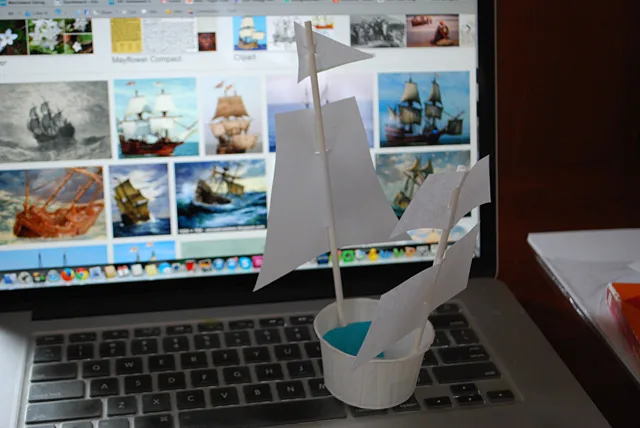 You can either print the patterns out on off-white card stock or print the template and then trace it on the card stock and cut it out (which is the way I did it because I created the pattern from scratch).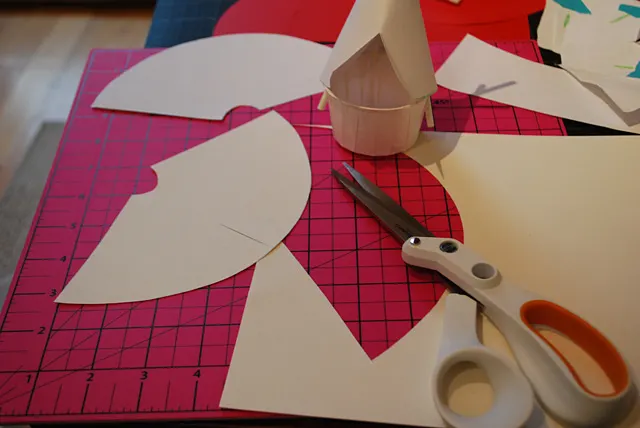 Decorate it as you wish with cut paper, markers, anything you want. This is a good chance to get the kids involved too.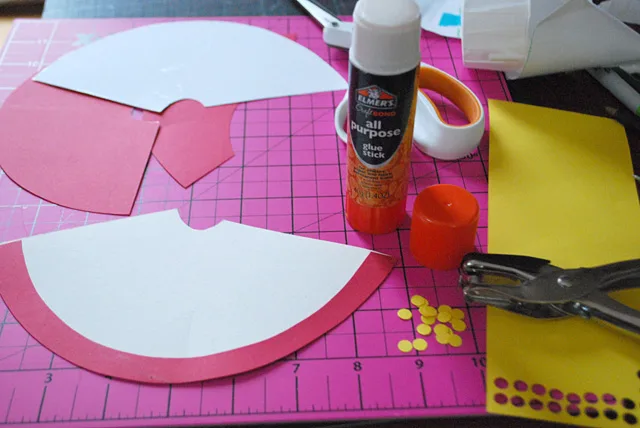 Follow the tepee pattern to slice open the front door.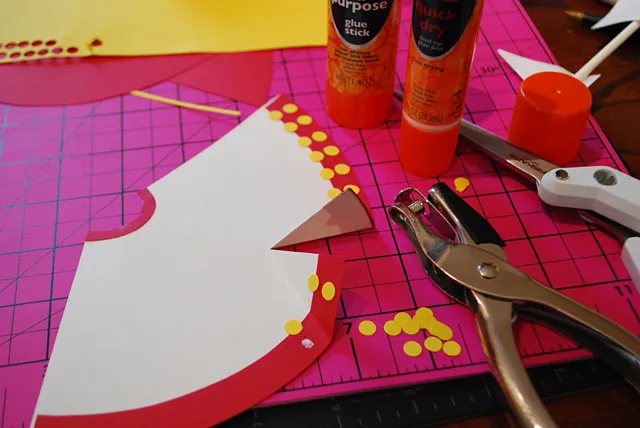 Glue or tape it together.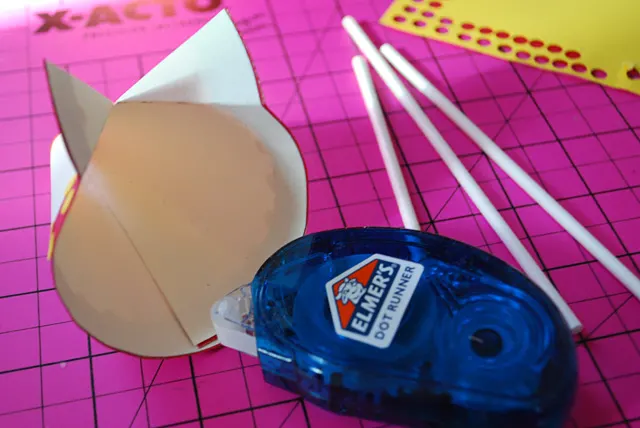 Punch three holes in the tepee nut cups – two kind of across from each other, one in the back.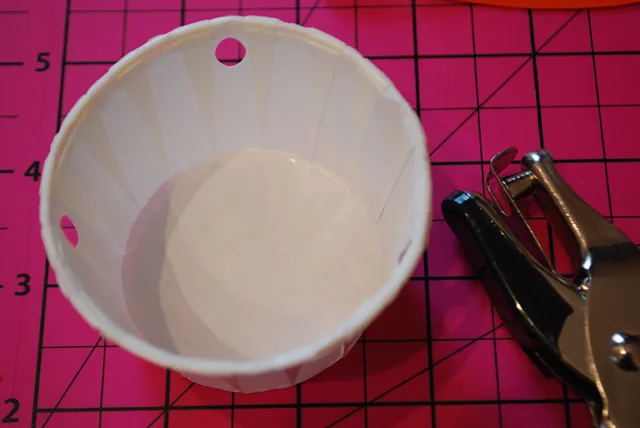 Tape in three 6″ lollipop sticks the same way – two kind of across from each other, one in the back. I found it's best to tape it up high so the sticks have room to wiggle into the nut cup holes.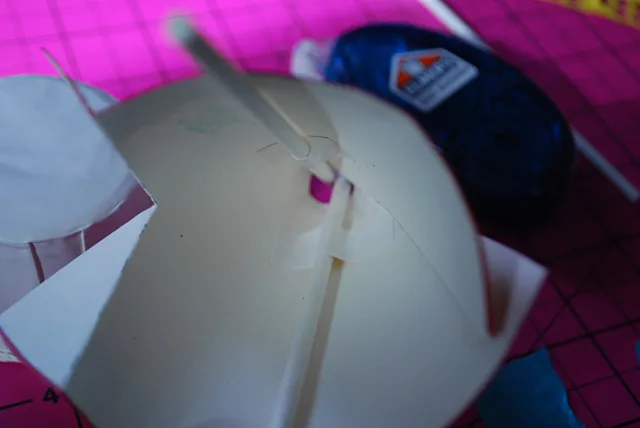 Slip the lollipop sticks into the holes. No need to tape or glue – the tepee will just sit on top.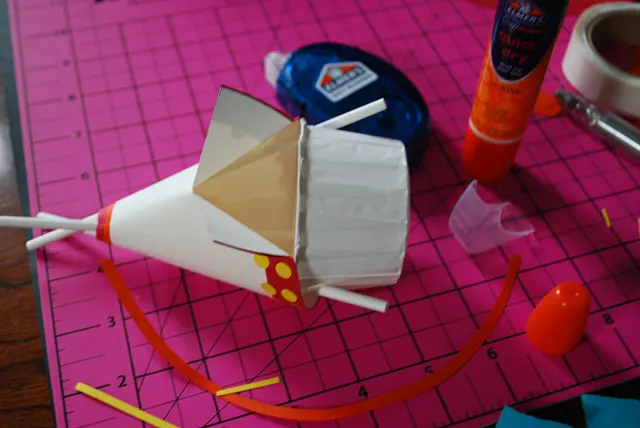 You can optionally tape a quarter to the bottom to weigh the bottom down. The snacks will weigh it down a bit too but like having the extra weight.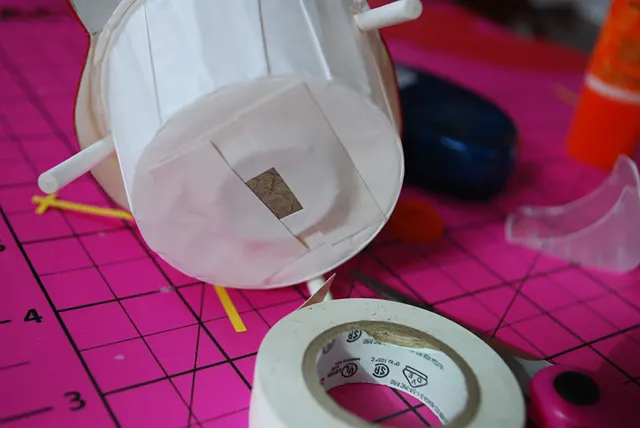 I used a coffee cup to cut a large circle for the tepee to rest on and then cut out an E to personalize it for Elise.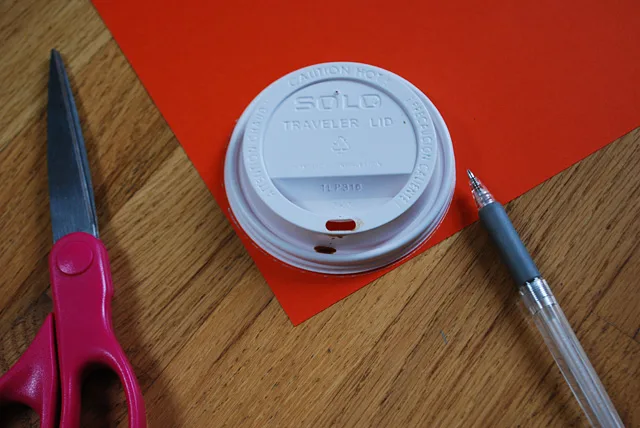 Now for the Mayflower. Cut out all the pattern pieces.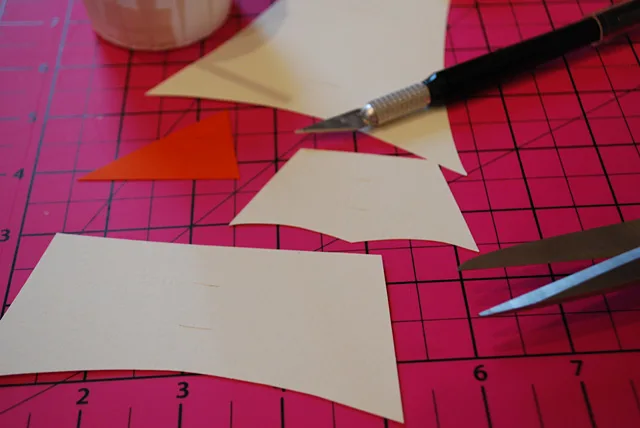 Tape one 6″ lollipop stick on the inside front and one 8″ to the inside back.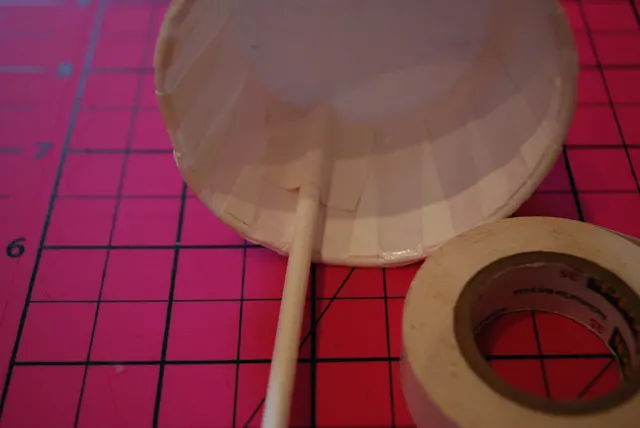 Slice a few slits and slip on the sails.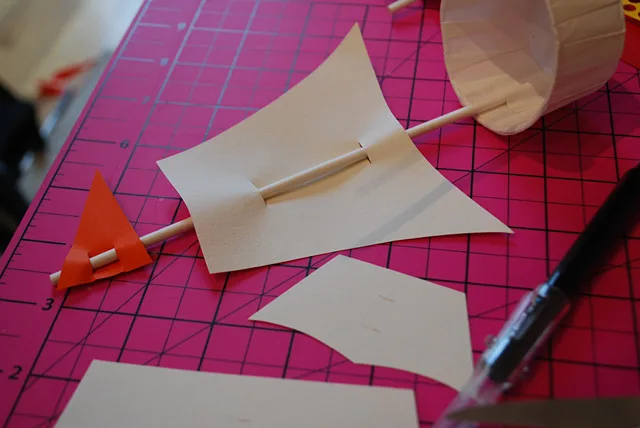 Cut out some waves and attach them using foam mounting tape so that they stick out a bit like "real" waves.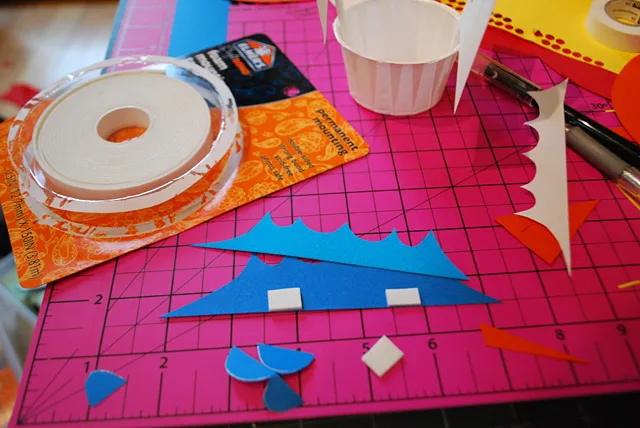 Like so.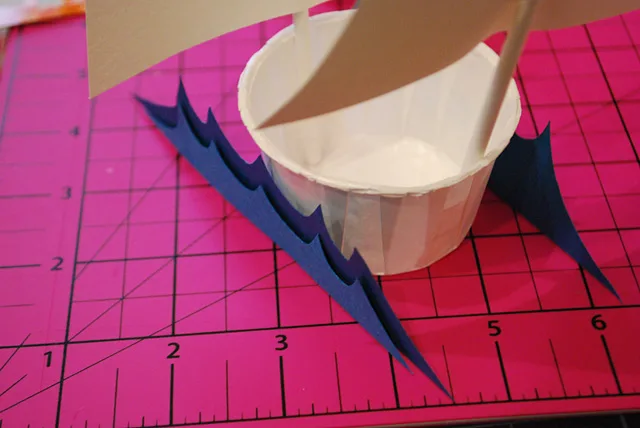 Punch out circles in shades of blue for the water using craft punches in 2″ and 1″ sizes.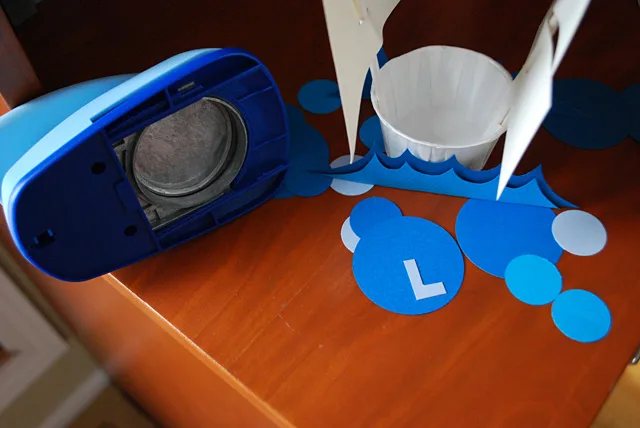 Fill with fruits and nuts and set on the Thanksgiving table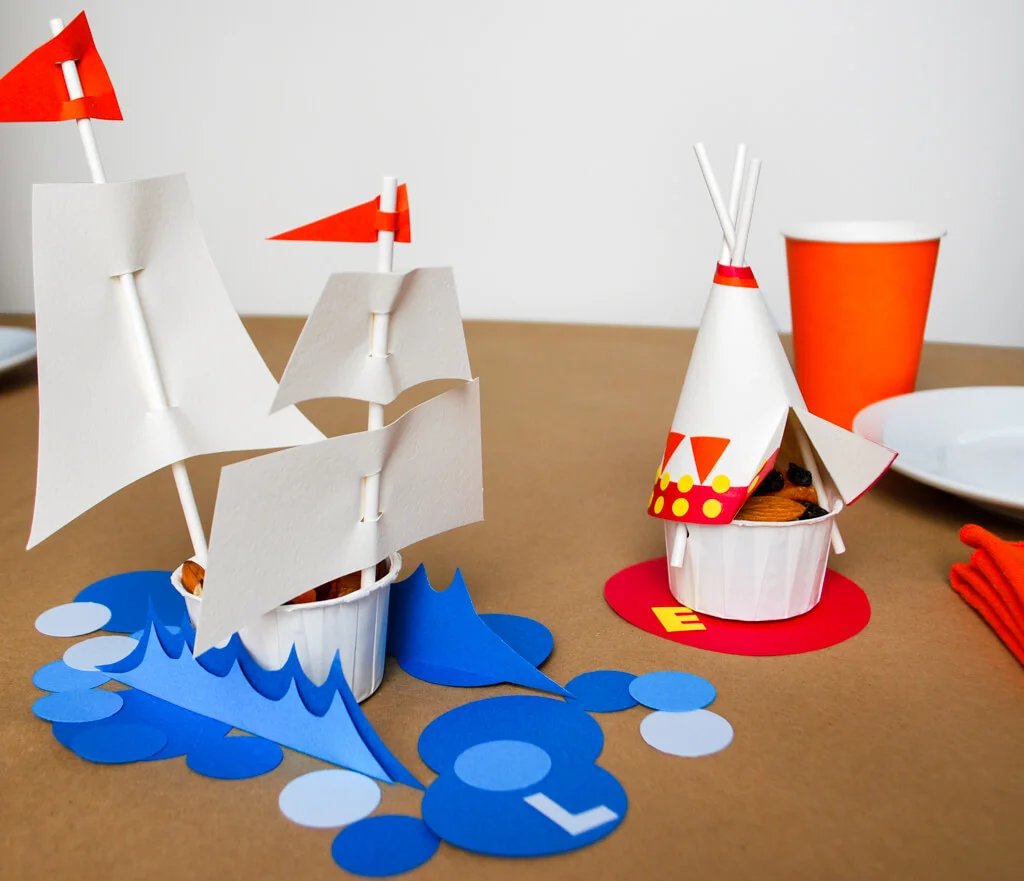 ======
Be sure to pin these DIY Thanksgiving tepee snack cups for later: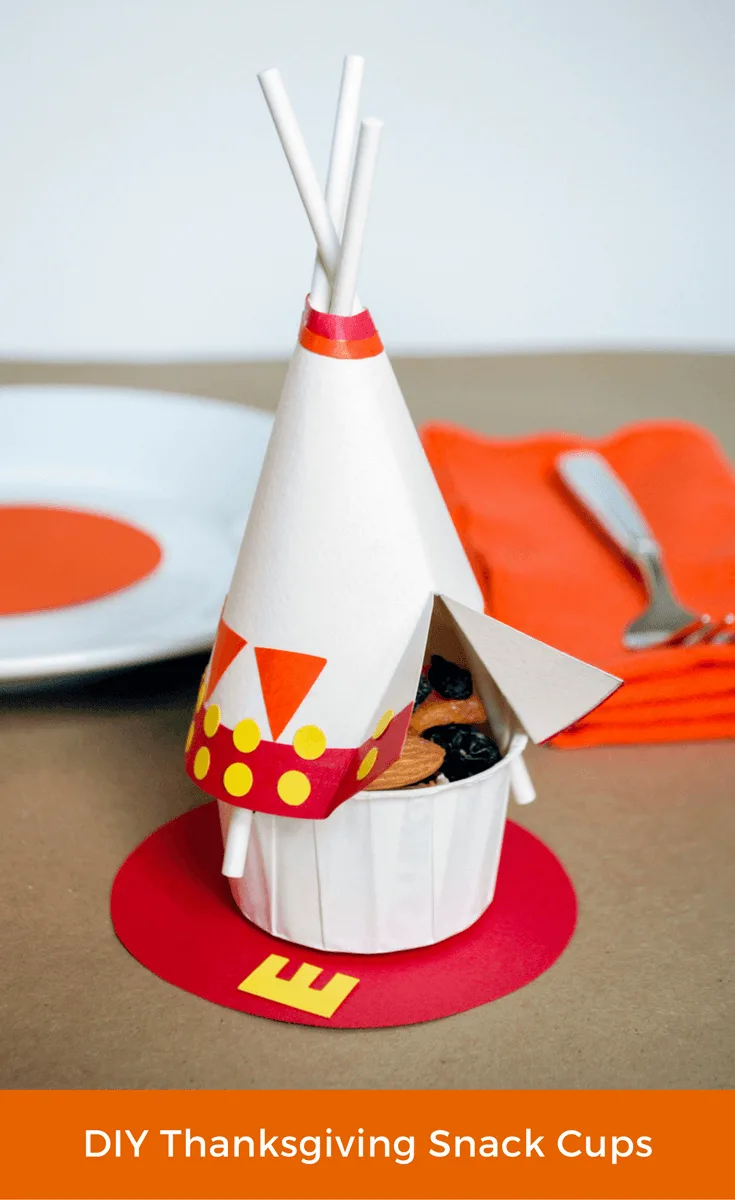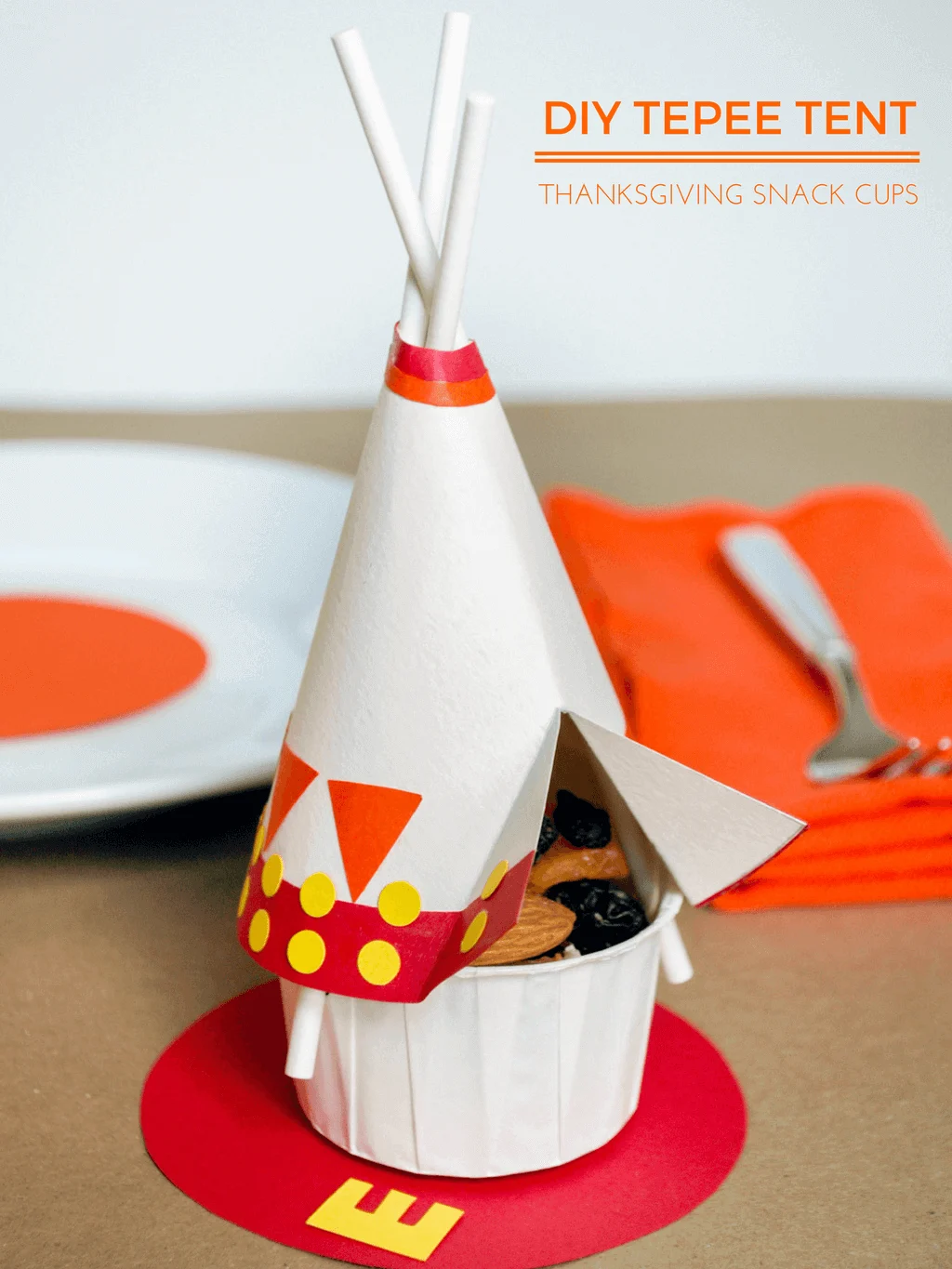 And these DIY Mayflower snack cups for your Thanksgiving table:

—
Like it? Share it!
The nicest way to say you like it is to pin it on pinterest, post a comment, follow Merriment Design on Facebook, twitter, pinterest, Google+ or sign up for monthly emails. Enjoy! 🙂
Copyright stuff: You're more than welcome to use this free project and tutorial for personal use. Contact me for commercial use and etsy sales.