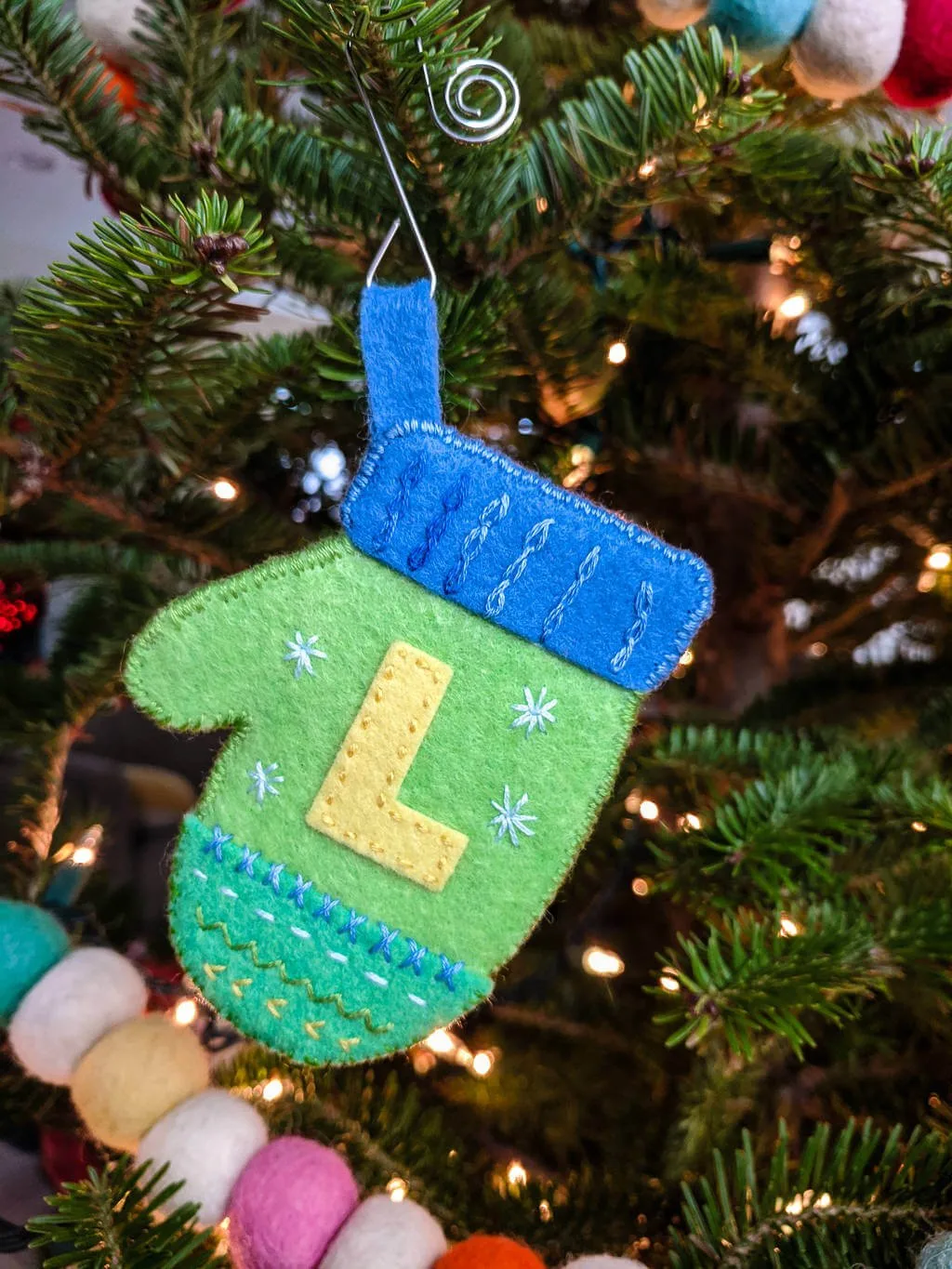 Make felt mitten Christmas ornaments for friends and family with my free mini mitten printable template. There's a monogram on the mitten front and a heart on the mitten back. I had a lot of fun making these handmade felt Christmas ornaments using super pretty wool felt and colorful embroidery floss. Download my felt ornament pattern outline template below to make your own mini mitten ornaments for the Christmas tree.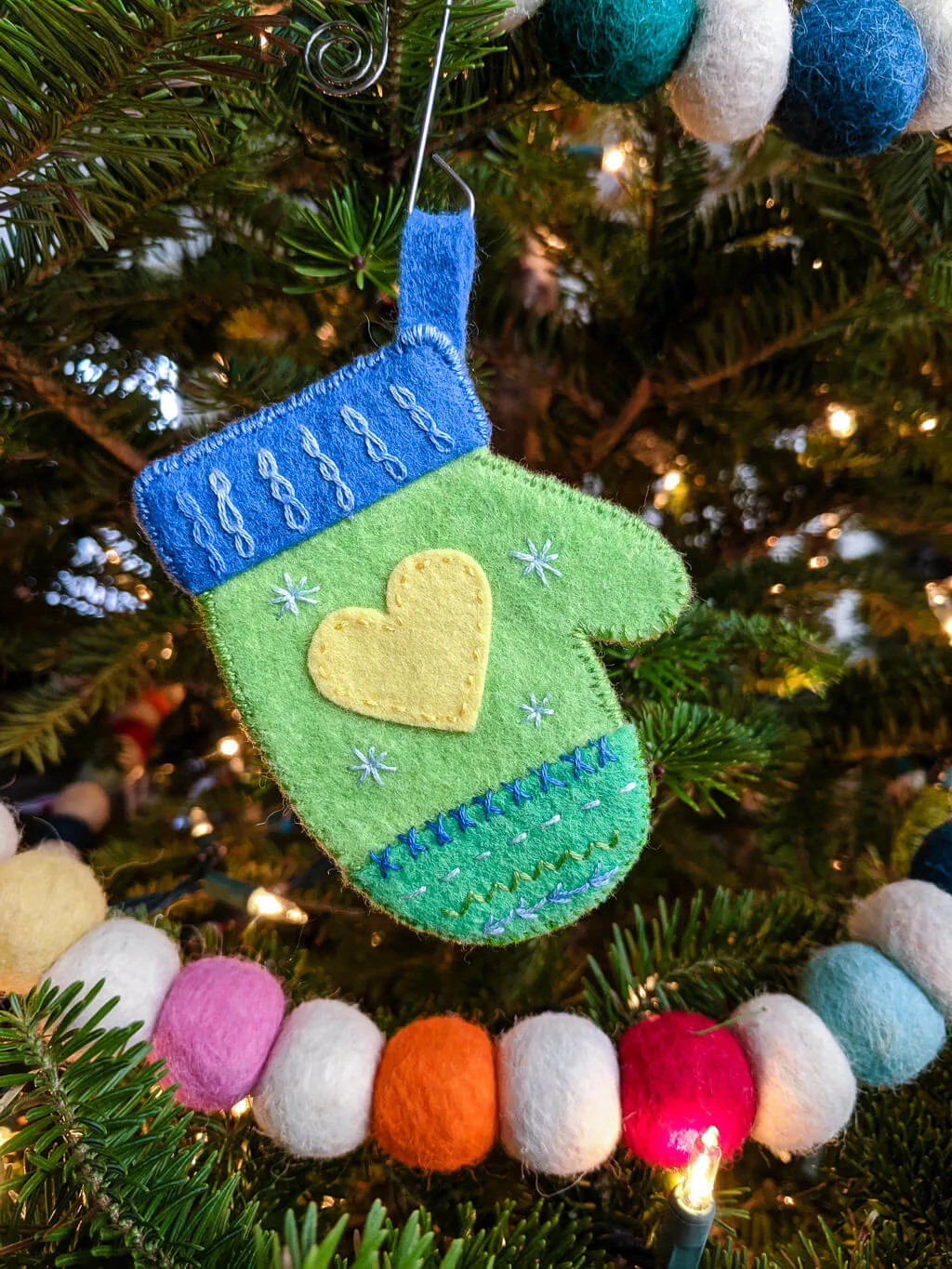 I'm obsessed with mittens as cheerful holiday decorations. Each year, I wrap the kids' presents using these mitten printable Christmas gift tags. And I also made mittens DIY gift card holders to decorate holiday gift cards for our teachers. Making the mittens printable template was easy because I just turned my printable mittens template into a small felt ornament pattern outline template.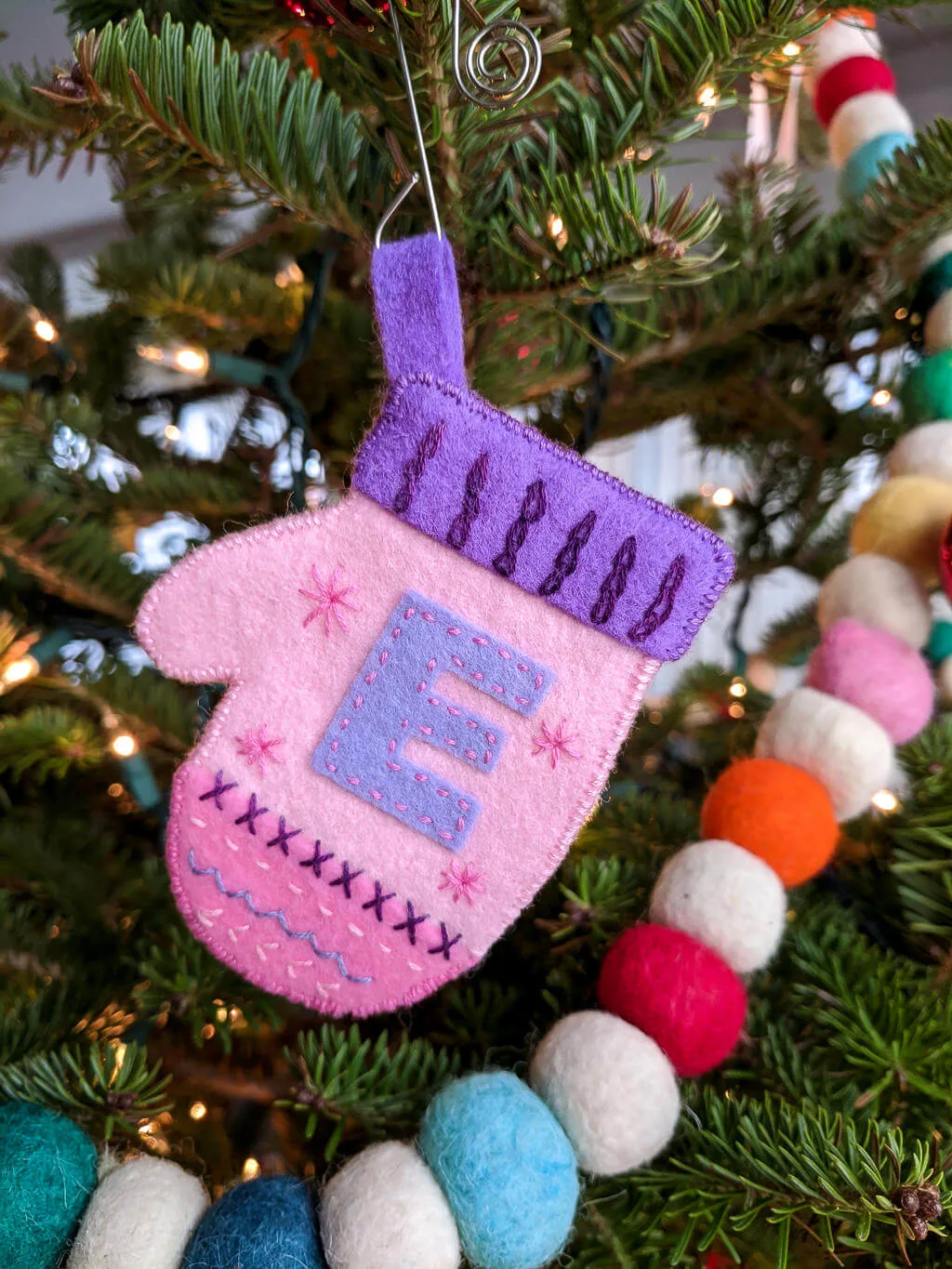 You can make personalized mitten Christmas ornaments for friends and family. I made an E monogram for Elise and an L monogram for Liam. Add a little bit of stuffing to make stuffed felt mitten ornaments or leave the top open to hold tiny treats.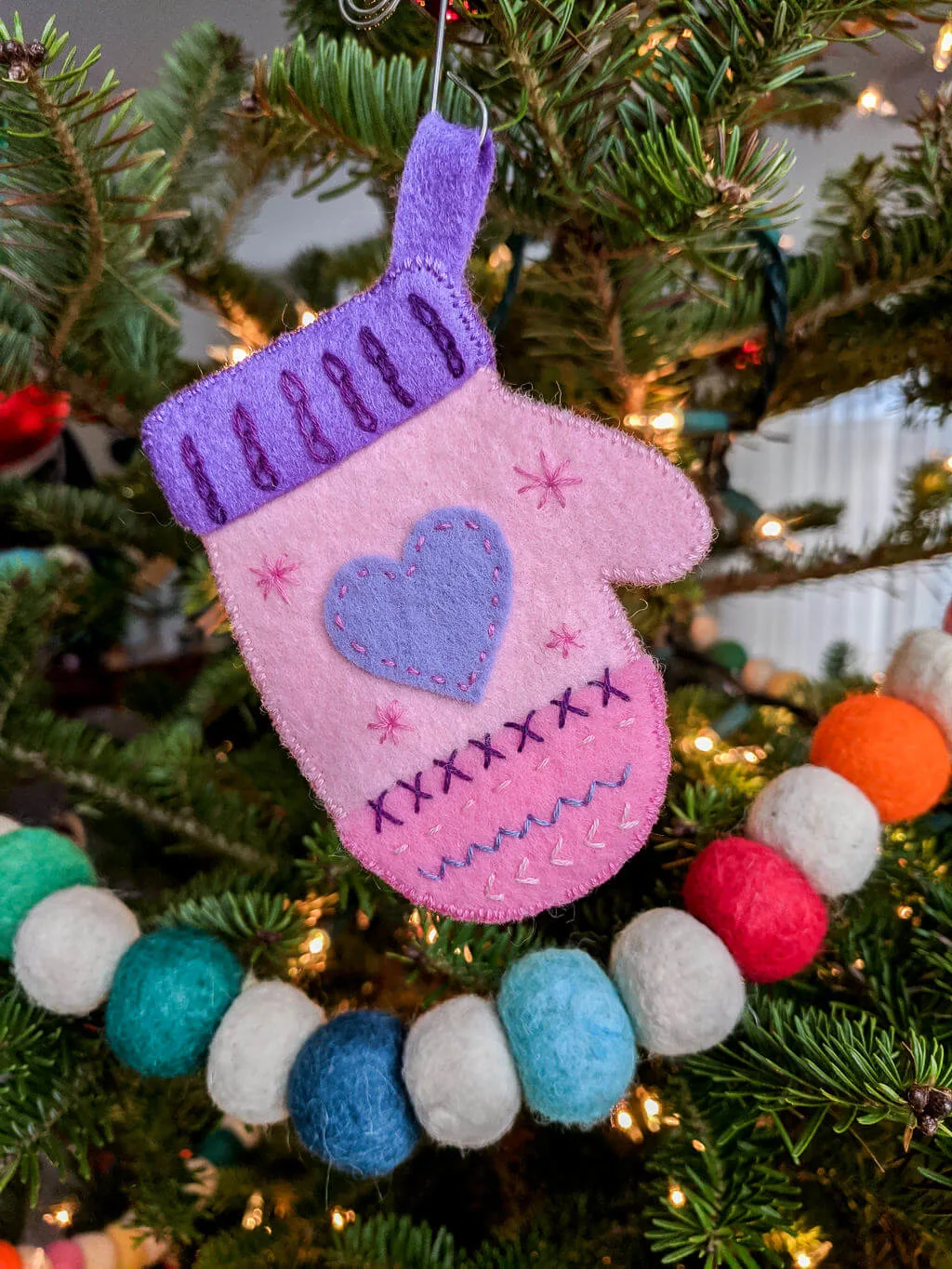 The classic "I think I can make that" dilemma
These handmade wool felt mitten ornaments are inspired by some super cute monogrammed felted ornaments that I saw at Anthropologie. Such cute winter hat ornaments, sweater ornaments, and — oh wow — mitten ornaments! And at that moment the classic maker mantra instantly flashed in my head: "I think I can make that."
See also: 'Pom Pom Monogram DIY Christmas Ornaments' »
The "I think I can make that" confidence is a double-edged sword. I like to think that I can make just about anything, and there's a certain pride in making that comes along with that. However, the messy truth is that making handmade things takes time, sometimes a whole lot of time! So it's important when making handmade ornaments to weigh the time versus the reward. Will it be fun to make? Is it going to save a bucket of money? Can I add a special twist that makes it more special?
I decided to DIY these felt mitten ornaments instead of buy them because I wanted the kids to have something that I made for them. Someday I want the kids to put these handmade mittens ornaments on their own Christmas trees and remember that time when Mom made me this mitten ornament …while on road trips.
My roadtripping felt mitten ornaments craft
And so I slowly — very slowly — handmade these felt mitten ornaments over the course of a year (and no, it shouldn't take you that long to make your own). I started making these mitten ornaments a few weeks before Christmas on a long weekend to NYC with Shane to celebrate our anniversary. Here I am stitching the on the plane to NYC.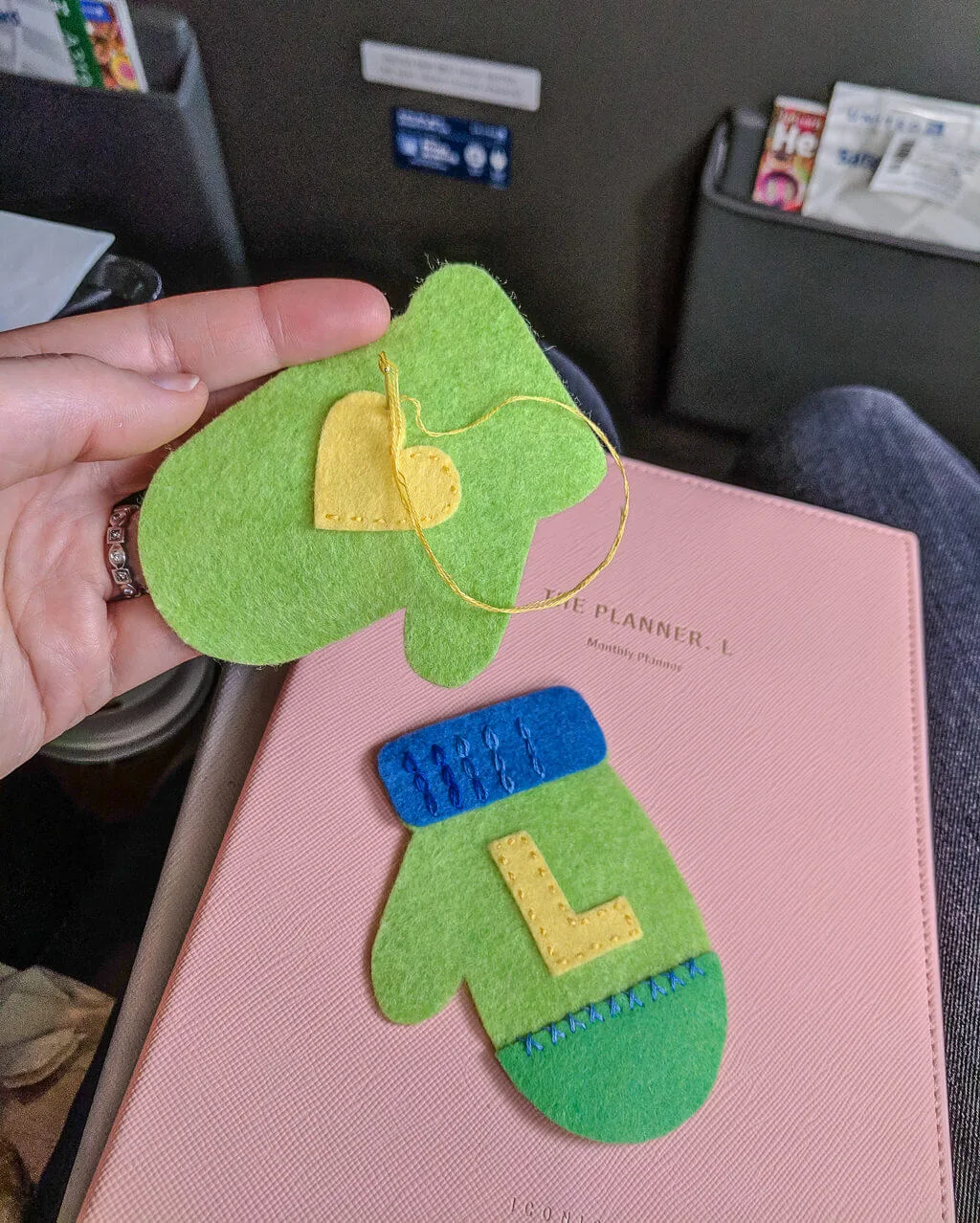 Well, I didn't finish the ornaments in time for Christmas that year. Darn. I set my half-finished mitten ornaments in my "to do" pile. I finally finished stitching them in the car on a family road trip from Arizona to San Diego with Shane and the kids.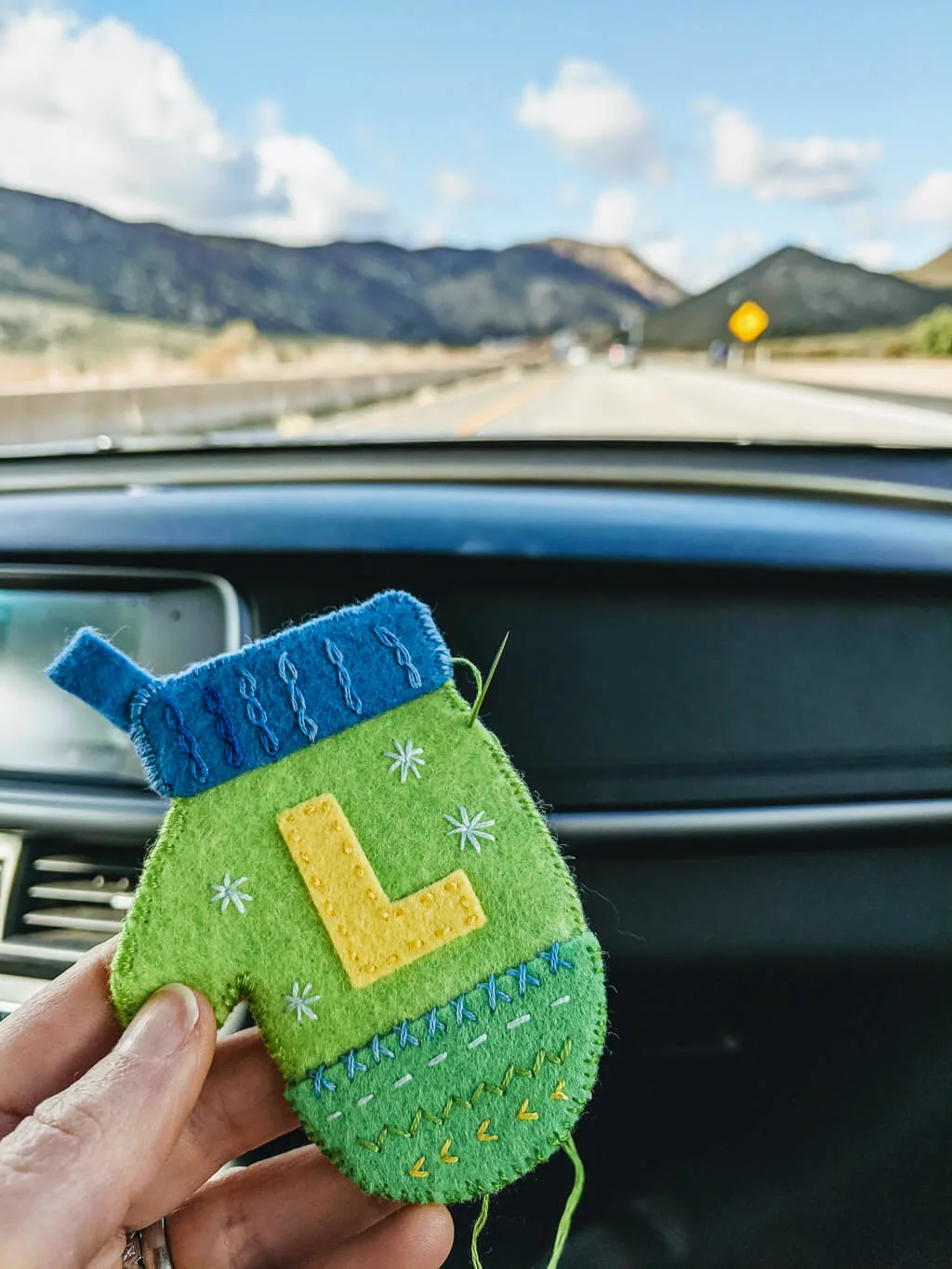 These felt ornaments really carry a lot of memories; that's an extra hidden value of handmade. Now I wouldn't recommend procrastinating a year when making these ornaments but I think they were worth the wait.
This post contains affiliate links which means that products I recommend may give me a nominal commission at no extra cost to you. Thanks – your clicks help me make more free DIYs!
++++++
Supplies for making felt mitten Christmas tree ornaments:
++++++
How to make DIY felt mitten ornaments with personalized monograms:
Step 1: Gather supplies to make felt mitten ornaments
Choose colors for your mitten Christmas tree ornaments. Elise wanted pink and purple wool felt for hers, and Liam wanted his favorite color, green. I ordered some beautiful wool felt from Benzie on Etsy. They have so many colors that it was difficult to narrow it down.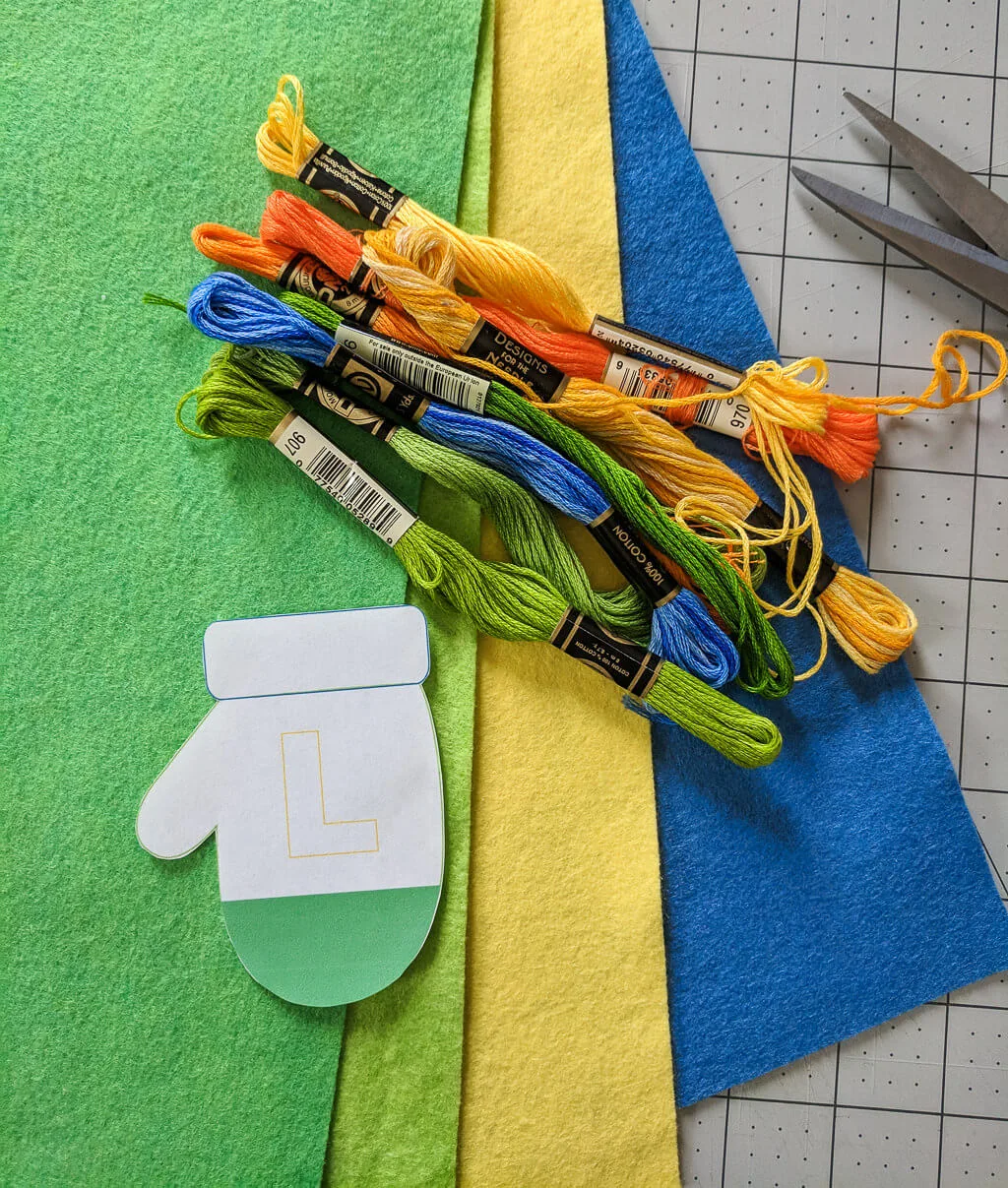 Step 2: Cut out the mitten fronts and backs using my free mitten pattern
Print my free mitten ornament pattern onto paper and cut out. For each mitten ornament, cut these pieces from wool felt:
Two mittens
Two mitten cuffs
Two mitten accents
One monogram letter
One heart
One long rectangle strip for hanging (you'll fold it in half)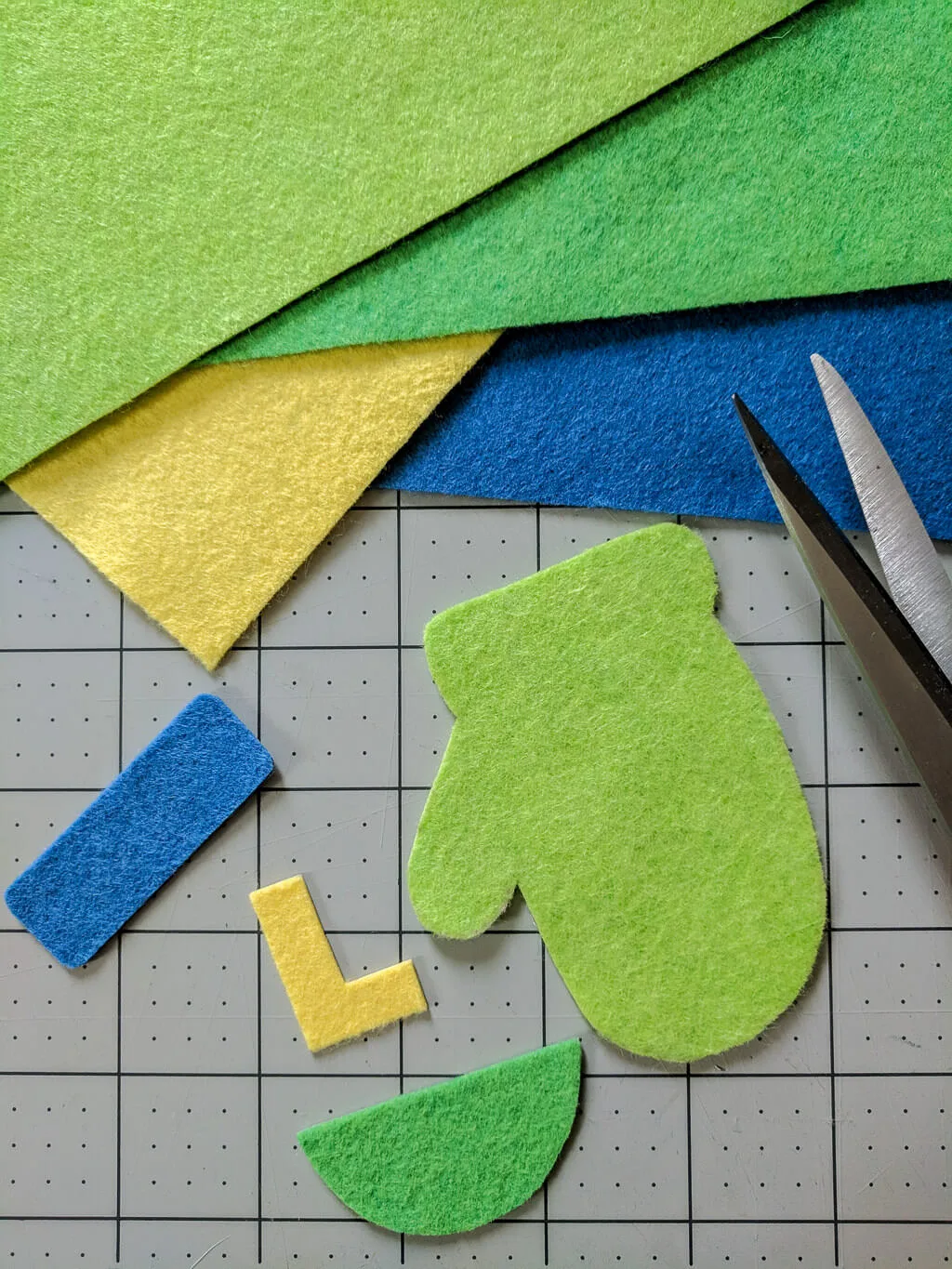 Step 3: Embroider felt pieces onto the mitten front and back
This is where you can really get creative. Start by attaching the wool felt mitten cuff, monogram, heart, and mitten accent to the mitten base. You can choose your favorite embroidery stitches using embroidery floss. I kept referring back to those cute handmade Anthropologie mitten ornaments for stitch pattern ideas.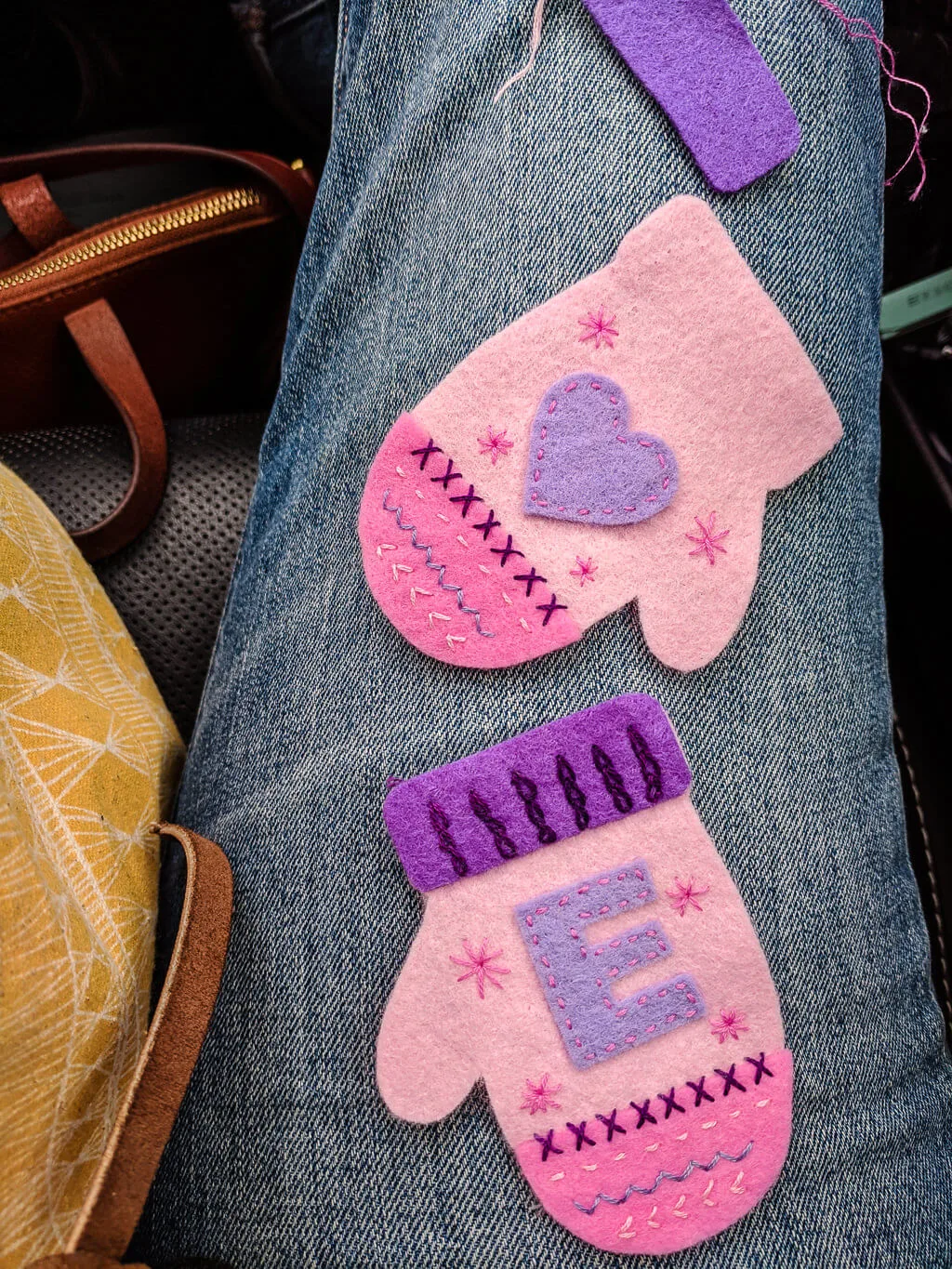 Step 4: Stitch the mitten ornament front to the back
Once the mitten fronts and backs are finished, stitch the mitten front to the back. Add a little bit of stuffing (optional) and sew the top shut. Or you can leave the top open to tuck in mini candy canes or small presents. Just be sure to fold a long rectangle in half and stitch it into the top as a pretty wire hook for Christmas ornaments.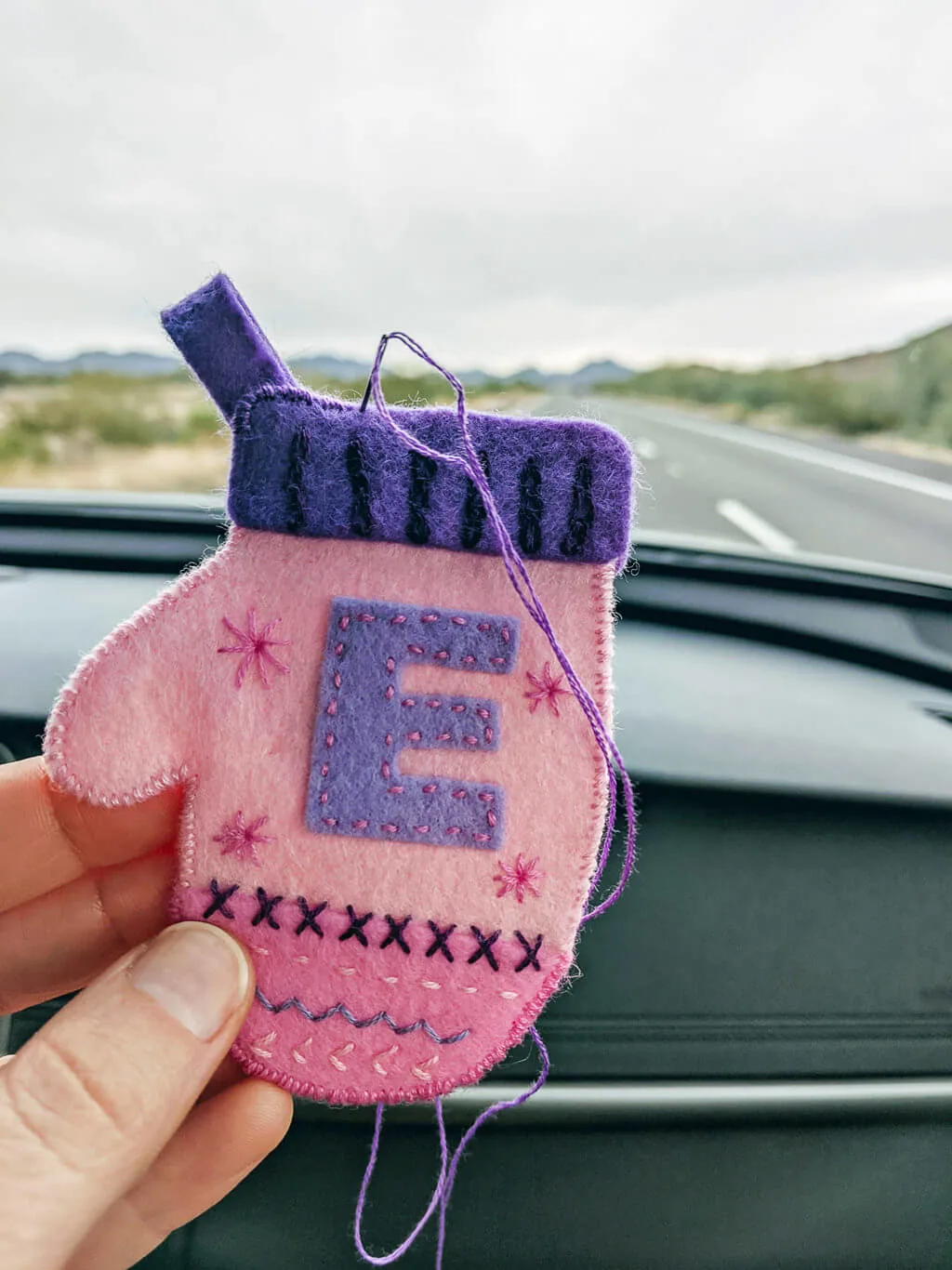 ++++++
Be sure to pin this felt mitten ornament DIY project:
++++++
And see more DIY Christmas craft projects including my printable mittens gift tags and personalized holiday mugs for cocoa.
—
Like it? Share it!
The nicest way to say you like it is to pin it on Pinterest, post a comment, follow Merriment Design on Facebook, Pinterest, Instagram or sign up for monthly emails. Enjoy! 🙂
Copyright stuff: You're more than welcome to use this free project and tutorial for personal use. Contact me for commercial use and Etsy sales.