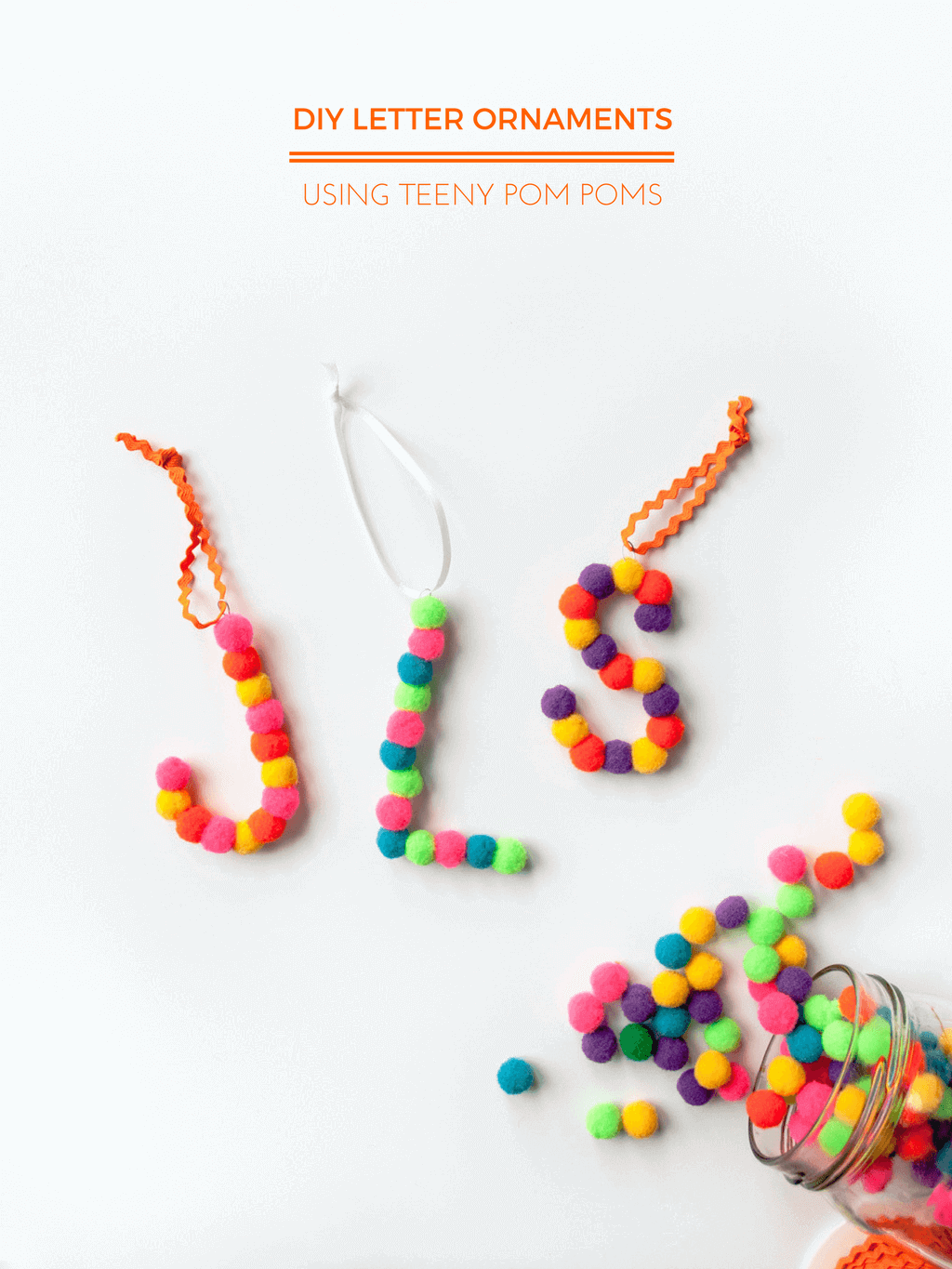 Make these colorful and cheery DIY pom pom ornaments for your Christmas tree. You only need three craft supplies — bright mini pom poms, floral wire and mini ric rack ribbon — to make easy handmade Christmas ornaments that double as merry DIY Christmas gifts.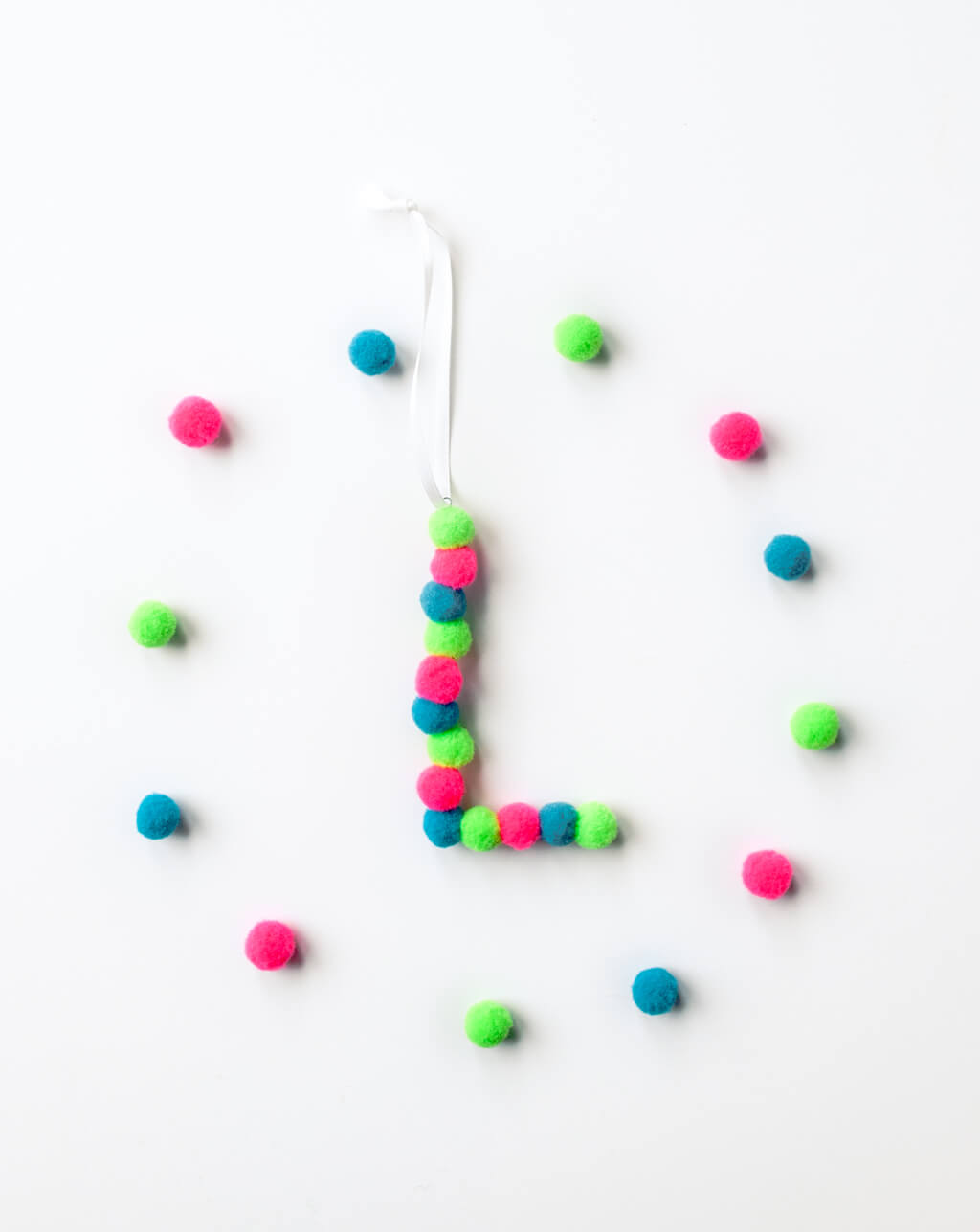 This easy Christmas craft project uses one of my all-time favorite cheery craft supplies: mini pom poms. I store these little cuties in a mason jar on a shelf in my craft studio so I can look at them all the time.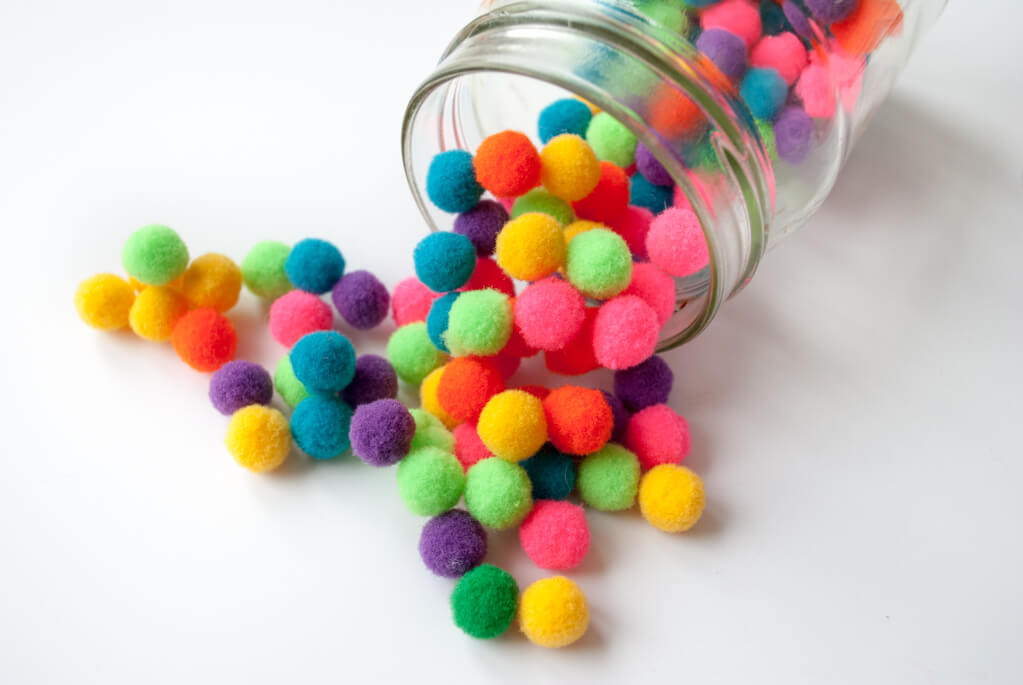 Each Christmas, I buy letter ornaments for the kids at Land of Nod. Yeah, I said buy …I love cute typography and Land of Nod has a different cute letter each year. Then I saw these cute pom pom cake toppers and thought I could use up some of my pom pom stash. I didn't have pipe cleaners but I did have floral wire, so instead of making a Joann run, I used 22 gauge floral wire and it worked really well.
I made my first pom pom ornament for my friend who temporarily moved to Chicago for a job and had zero Christmas ornaments for her tree! It was easy to make and I was hooked, so I started making them for my whole Christmas list. This year, I need to make a K for myself!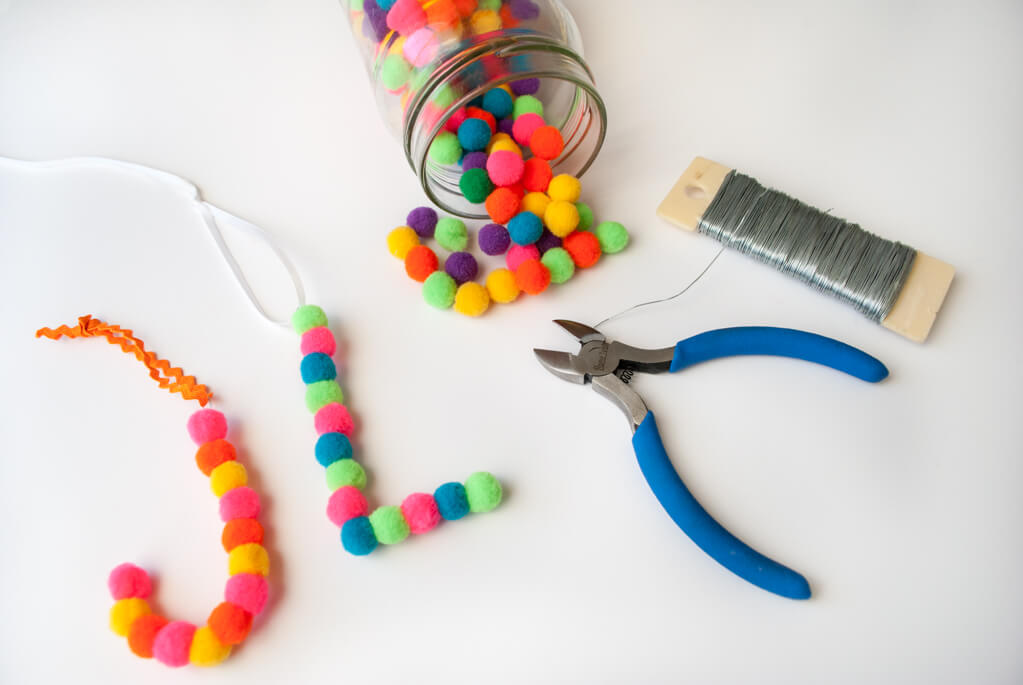 WANNA MAKE IT? Keep reading for to see how to make easy DIY pom pom ornaments–>
++++++
Supplies for making DIY pom pom ornaments – easy Christmas ornaments (with links and images from affiliates):
—
How to make DIY pom pom ornaments for Christmas:
Step 1: Make a letter shape from wire
Form a loose letter with jewelry wire or floral wire and cut with wire cutters. You'll want to cut it longer than you need just to give you enough room. And some letters, like K for example, will need a couple of pieces. Again, be sure to choose 22 gauge wire wire or 20 gauge wire because thinner wire isn't strong enough to go through the pom pom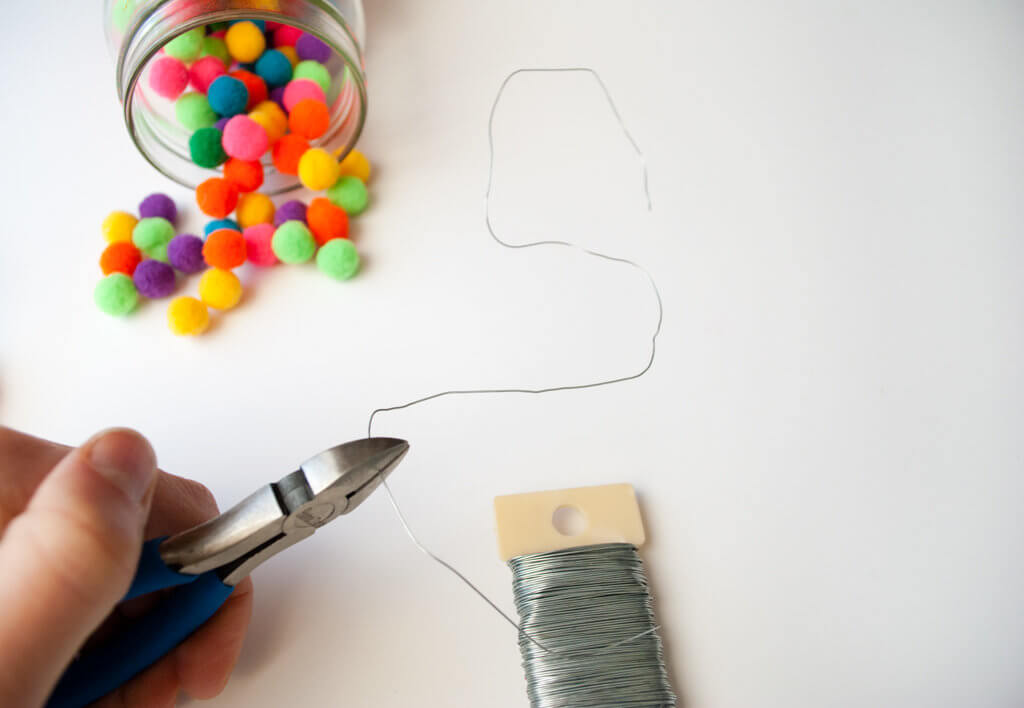 Step 2: String the first mini pom pom onto the wire and secure
Be sure to use 1/2″ mini pom poms because smaller sizes have a tougher cores to go through. This is an easy 1-2-3 step (showing small photos below so you can see it more easily): String a pom pom onto the wire (avoid poking yourself). Curve the end of the wire, then pull the pom pom down to hide the curved wire. Neat, huh?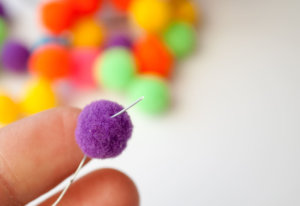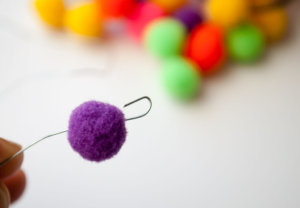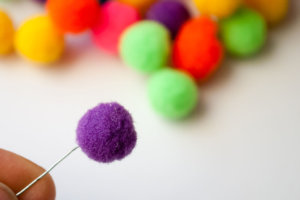 Step 3: Continue stringing mini pom poms onto the wire
Keep stringing mini pom poms until the letter is fully formed.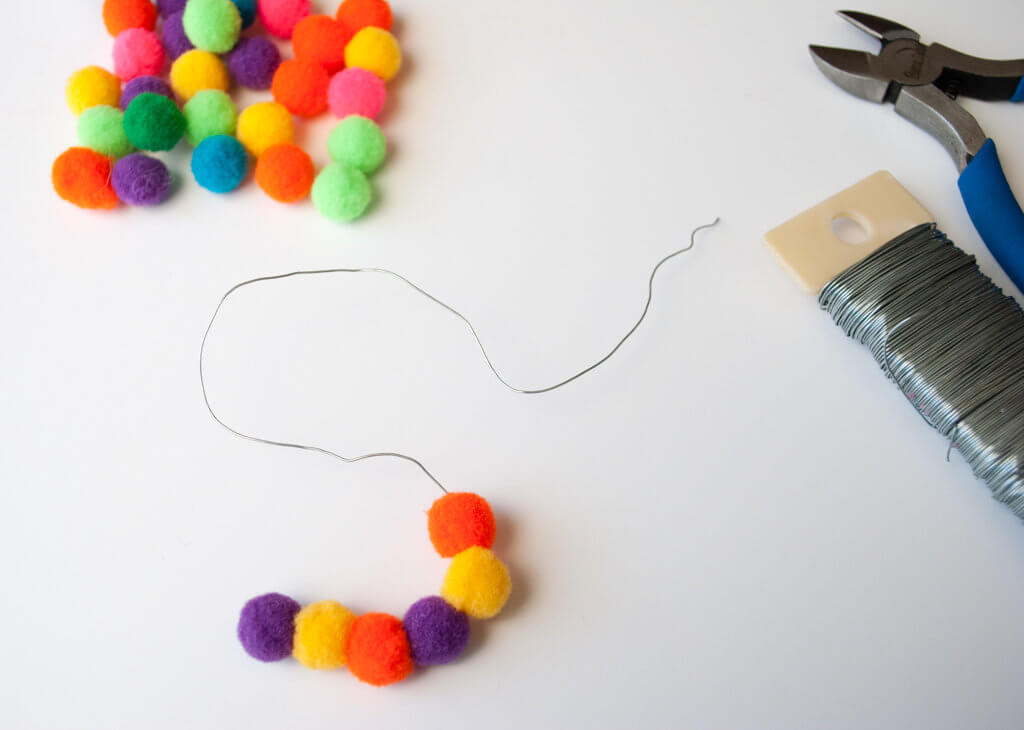 Step 4: Loop the end back into the last pom pom and add a hook
Cut the wire about 1/4″ after the last pom pom, curve the end of the wire into a small hook, and slip back into the last pom pom to secure like step 2 above.
Step 5: Add a hook to your DIY Christmas ornament
Cut a small piece of wire and bend into a small hook. Slip it into one of the pom poms, and tie on a bit of ric rack ribbon. Repeat for every person on your list!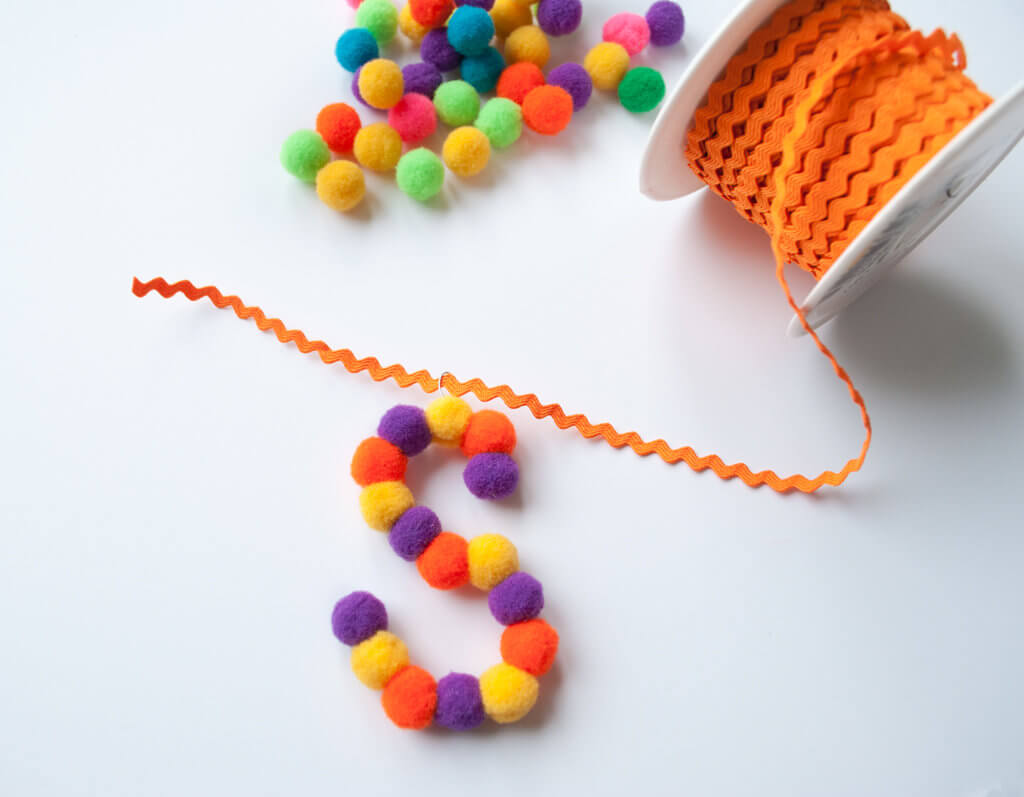 Be sure to pin these DIY pom pom ornaments for later: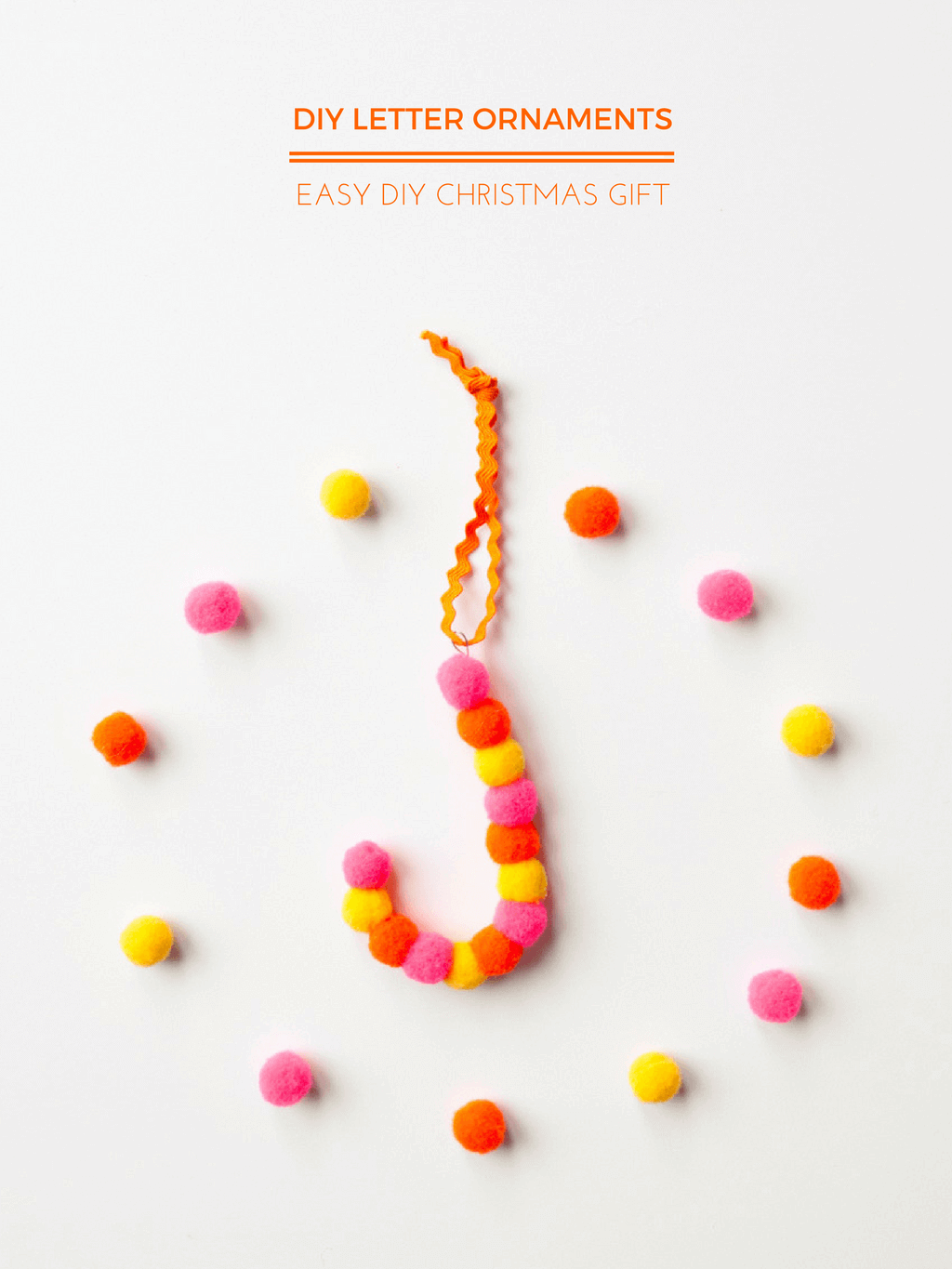 Or pin this step-by-step:

Be sure to also check out more easy Christmas DIYs:
And tell me in the comments below: What letter will you make for your DIY pom pom letter ornaments?
—
Like it? Share it!
The nicest way to say you like it is to pin it on Pinterest, post a comment, follow Merriment Design on Facebook, twitter, pinterest, Google+, instagram or sign up for monthly emails. Enjoy! 🙂
Copyright stuff: You're more than welcome to use this free project and tutorial for personal use. Contact me for commercial use and Etsy sales.