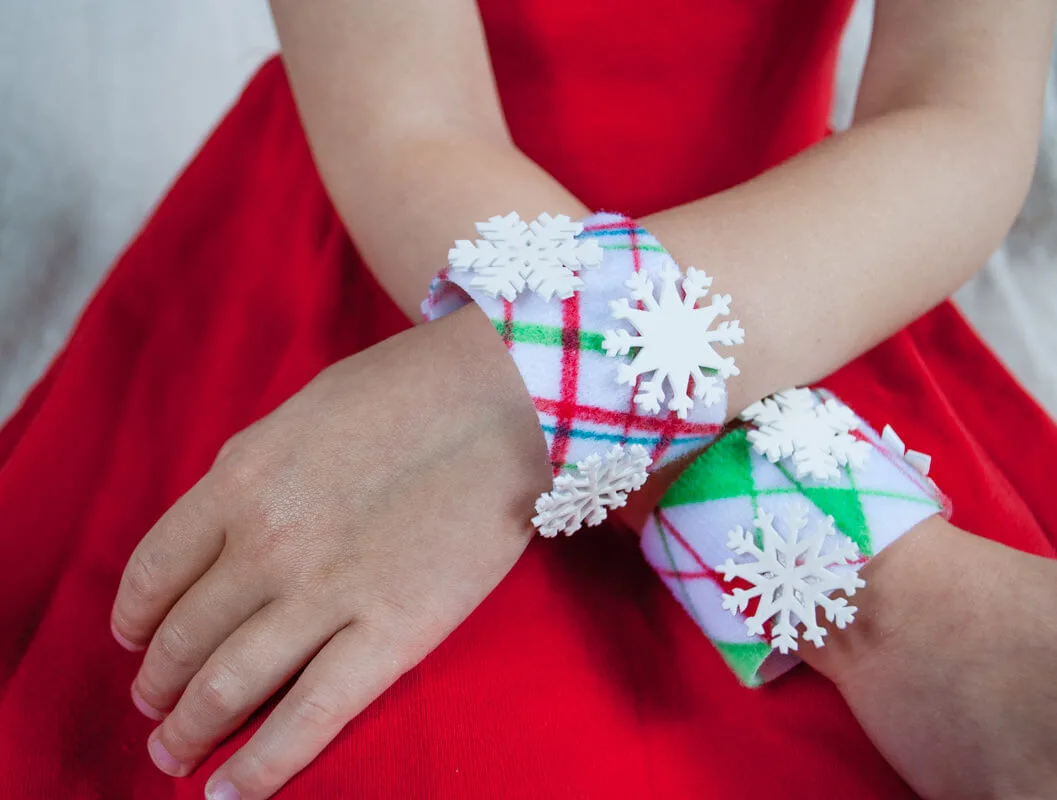 Looking for an easy DIY Christmas craft idea for kids? Make these festive no-sew DIY Christmas bracelets using just fabric markers and hook-and-loop fasteners. These DIY kid's bracelets are perfect for cute-ing up a simple outfit into an ensemble that's beginning to feel a lot like Christmas.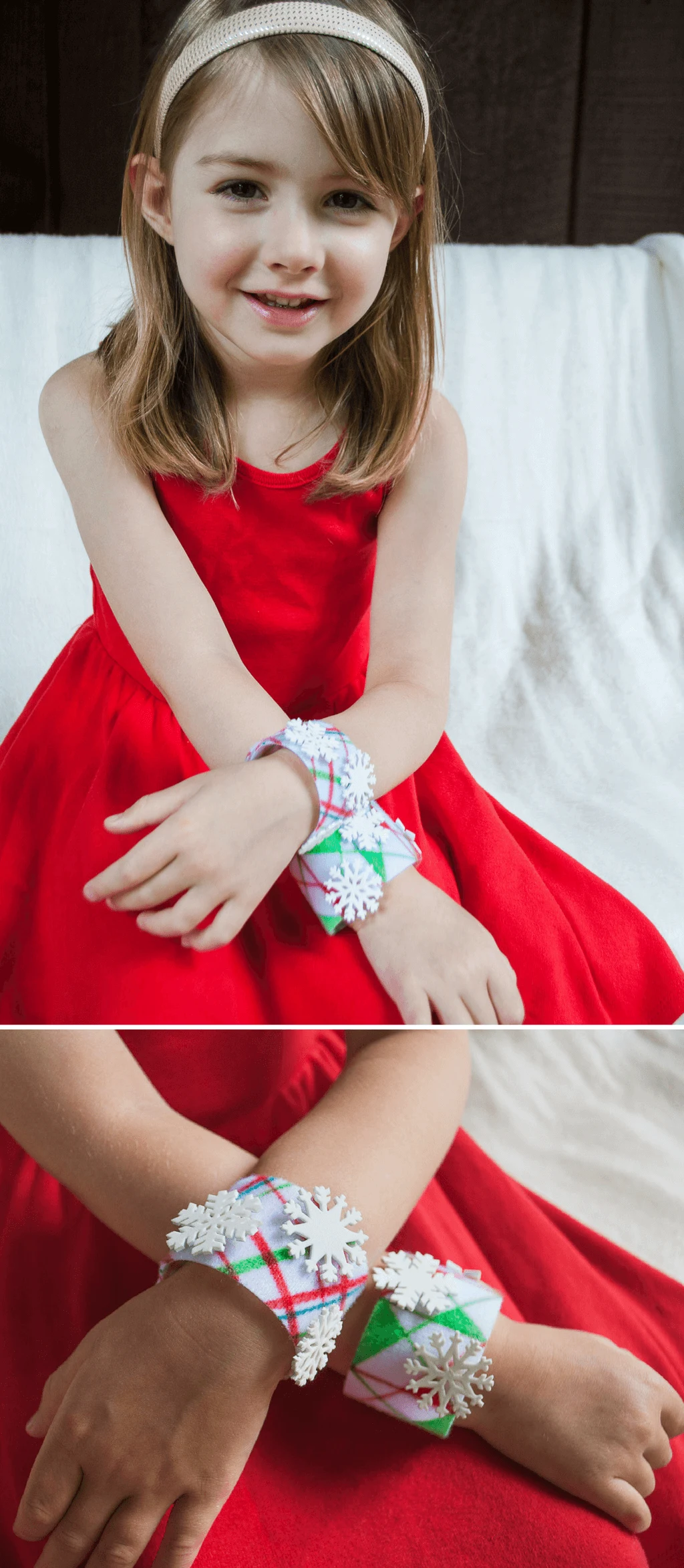 We used fabric markers to draw patterns and pictures on VELCRO® brand ONE-WRAP® fasteners – the 1.5″ version in white. VELCRO® Company gave me the supplies for another project and I decided to use it here; all opinions and text are mine. Most people know ONE-WRAP® only as a cord bundler but to me it's one of my favorite craft supplies. ONE-WRAP® sticks to itself, so literally, all you need to do is cut a piece of ONE-WRAP® , draw on it, and wrap it onto your wrist.
You can draw anything on these bracelets. We made a couple geometric plaid-ish versions above, plus a snowy snowman scene and a string of Christmas lights.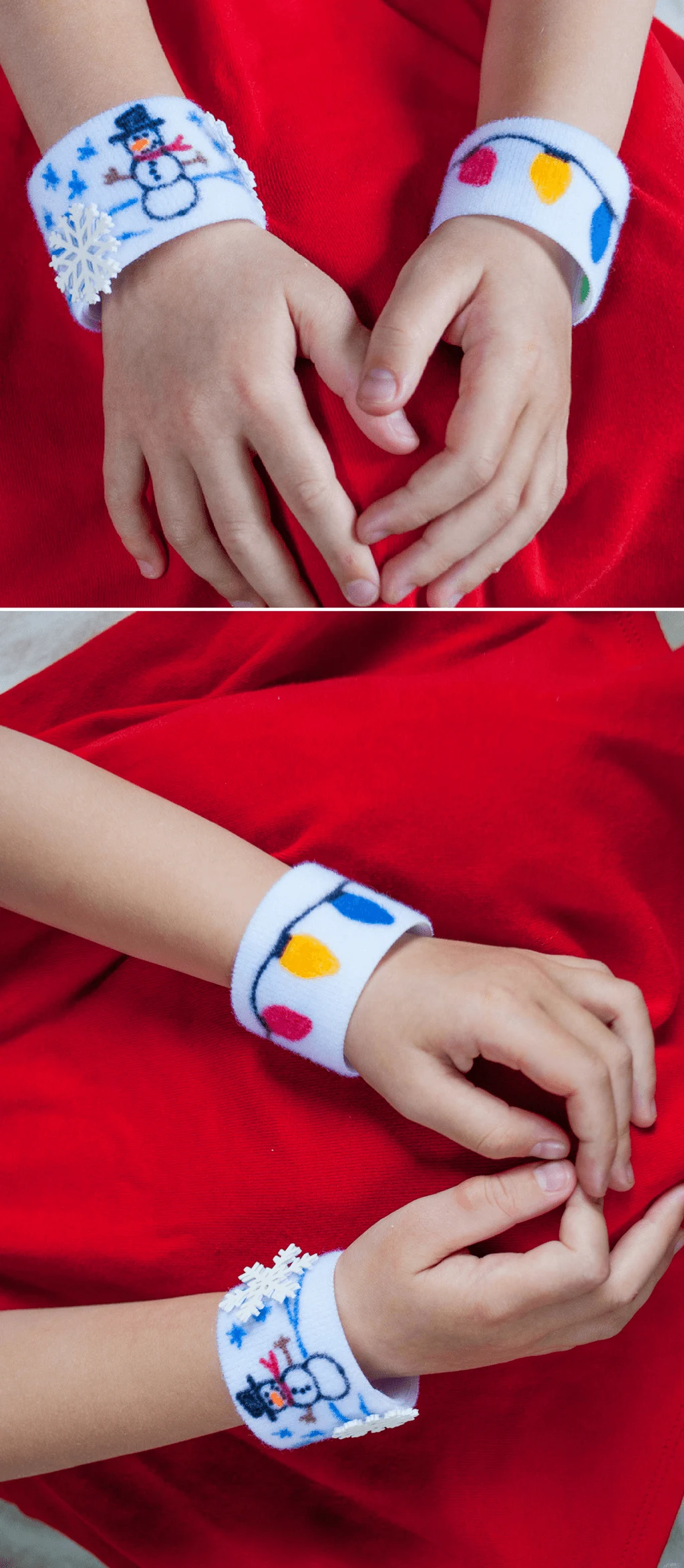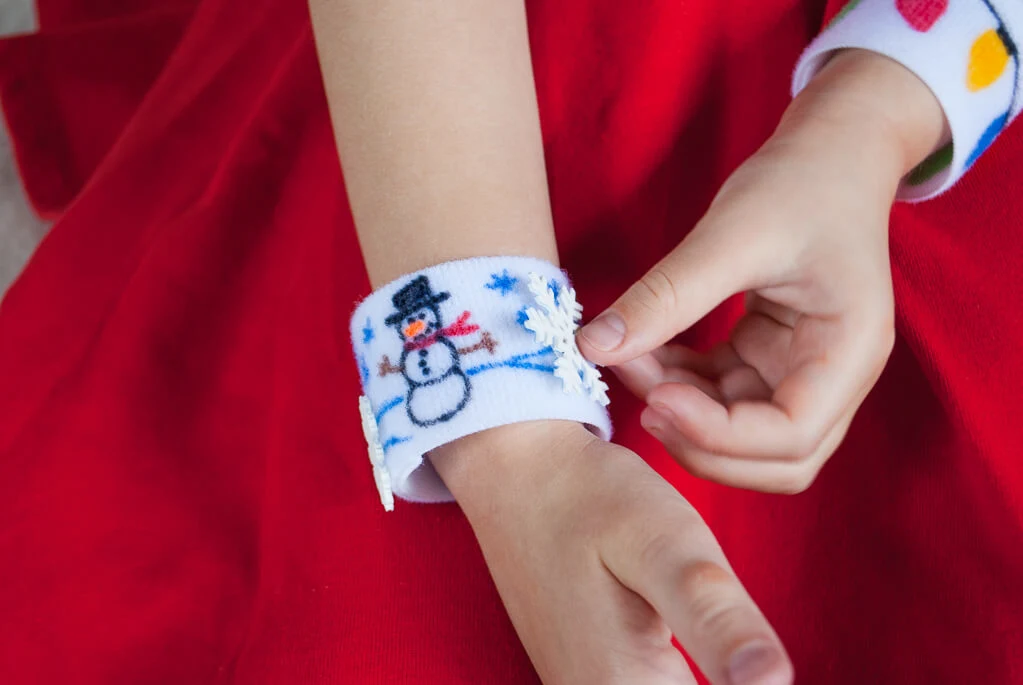 You probably know by now that I have a thing for making DIY kids bracelets. I've made DIY felt bracelets for Halloween and DIY paper Valentine's Day bracelets and DIY felt Valentine's Day pocket bracelets and no-sew DIY felt flower bracelets and DIY Frozen bracelets with magical movable snowflakes. Yeah, you see what I mean?
Or if you're Elise, you can decide to wear the bracelets instead as an arm cuff…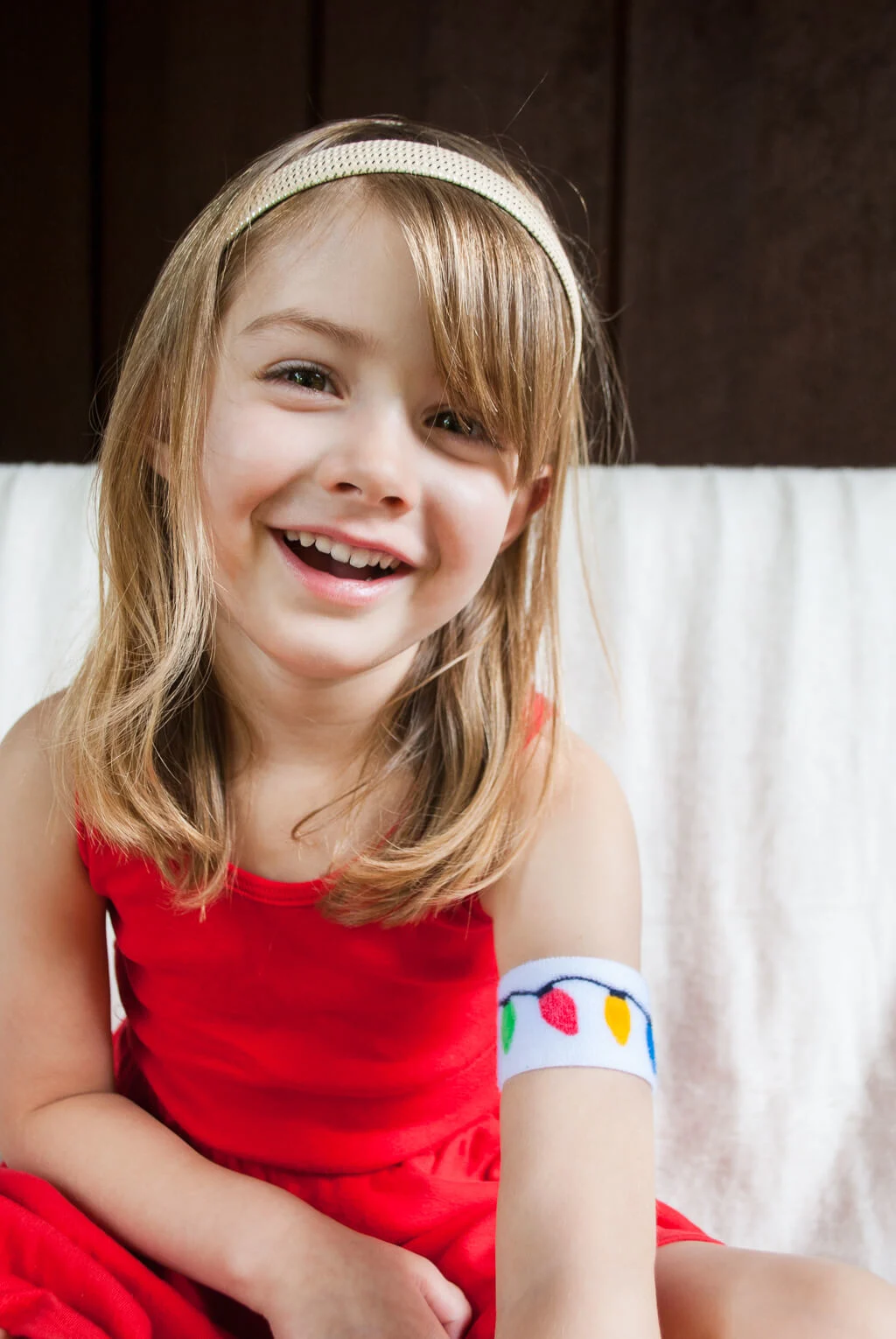 We added magical movable snowflakes that we made from Shrinky Dinks –check out my DIY Frozen bracelets with Elsa's magical movable snowflakes for a template and tutorial for how make the white shrink plastic snowflakes. The snowflakes have little hook-and-loop fasteners on the backs to attach to the bracelets. Kids can move the snowflakes around or take them off as they wish.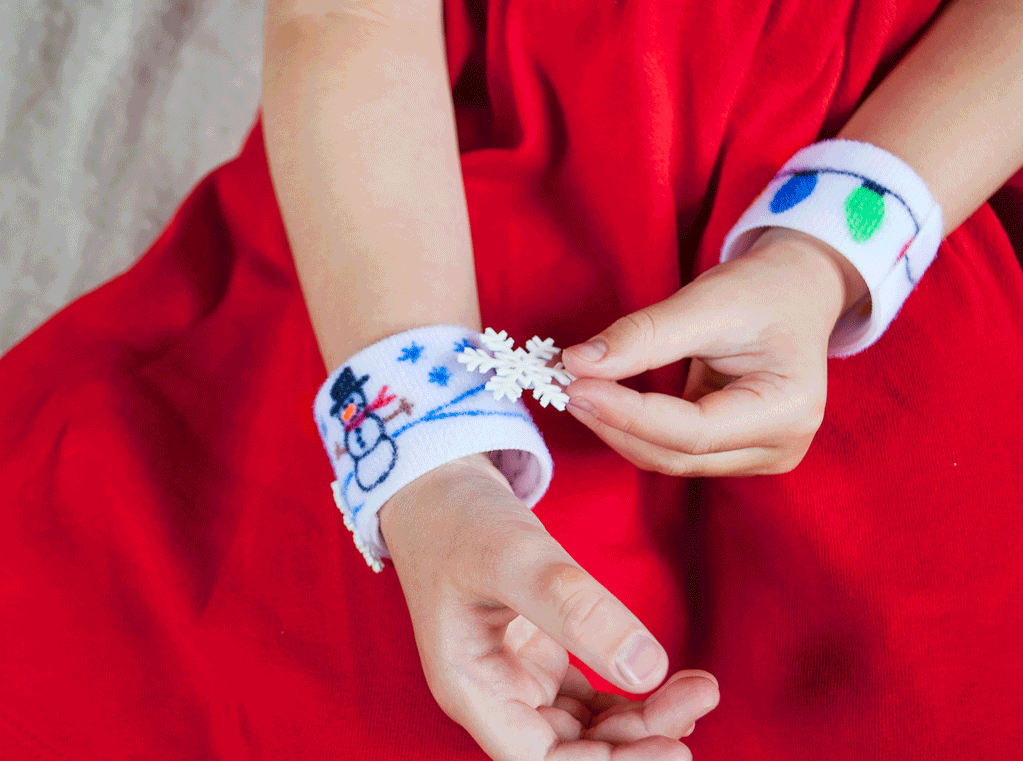 Or if you're Elise, just stick the snowflakes right onto your dress.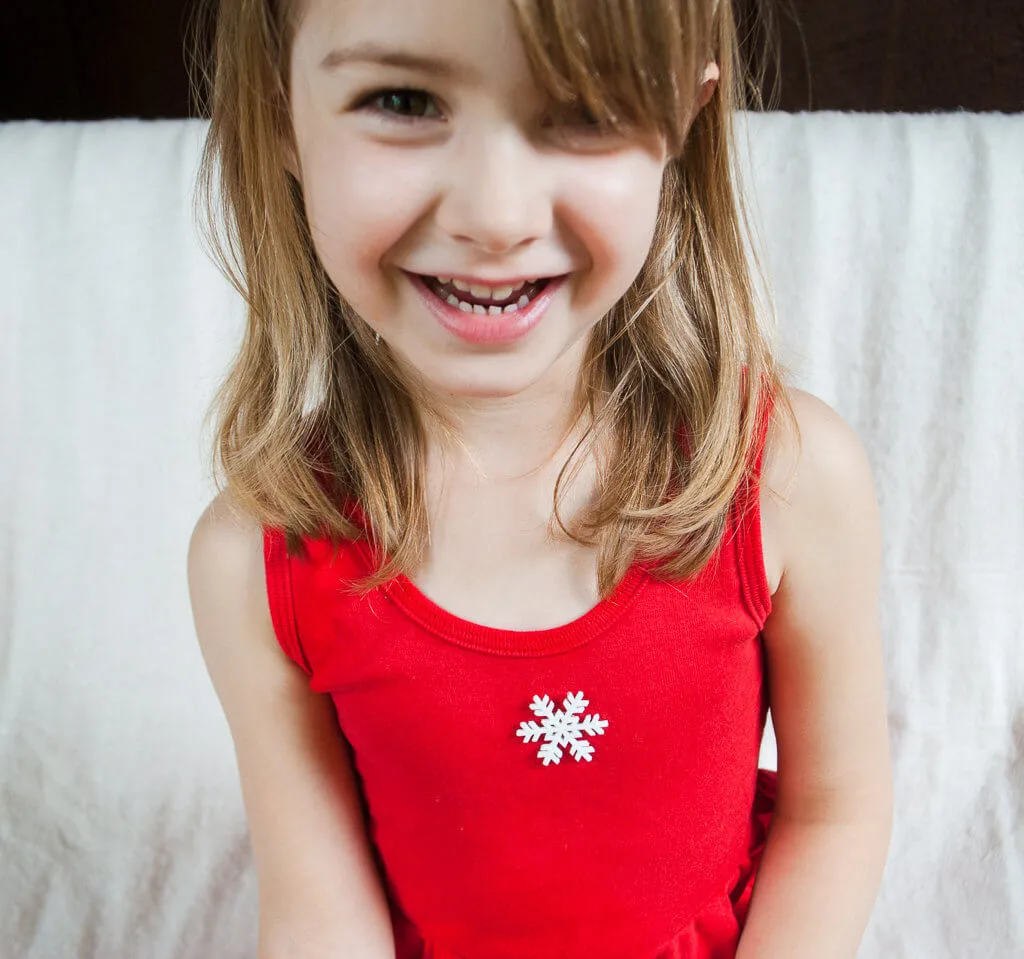 I like these DIY Christmas bracelets because they DIY Christmas bracelets added some holiday bling to her regular red dress. generally avoiding buying a special Christmas dress for Elise because I feel like it's sort of a waste to wear something only once or twice.
Elise has historically been a super good sport about Mommy taking photos for Mommy's blog. These bracelets made our Christmas photo session a whole lot more fun and festive.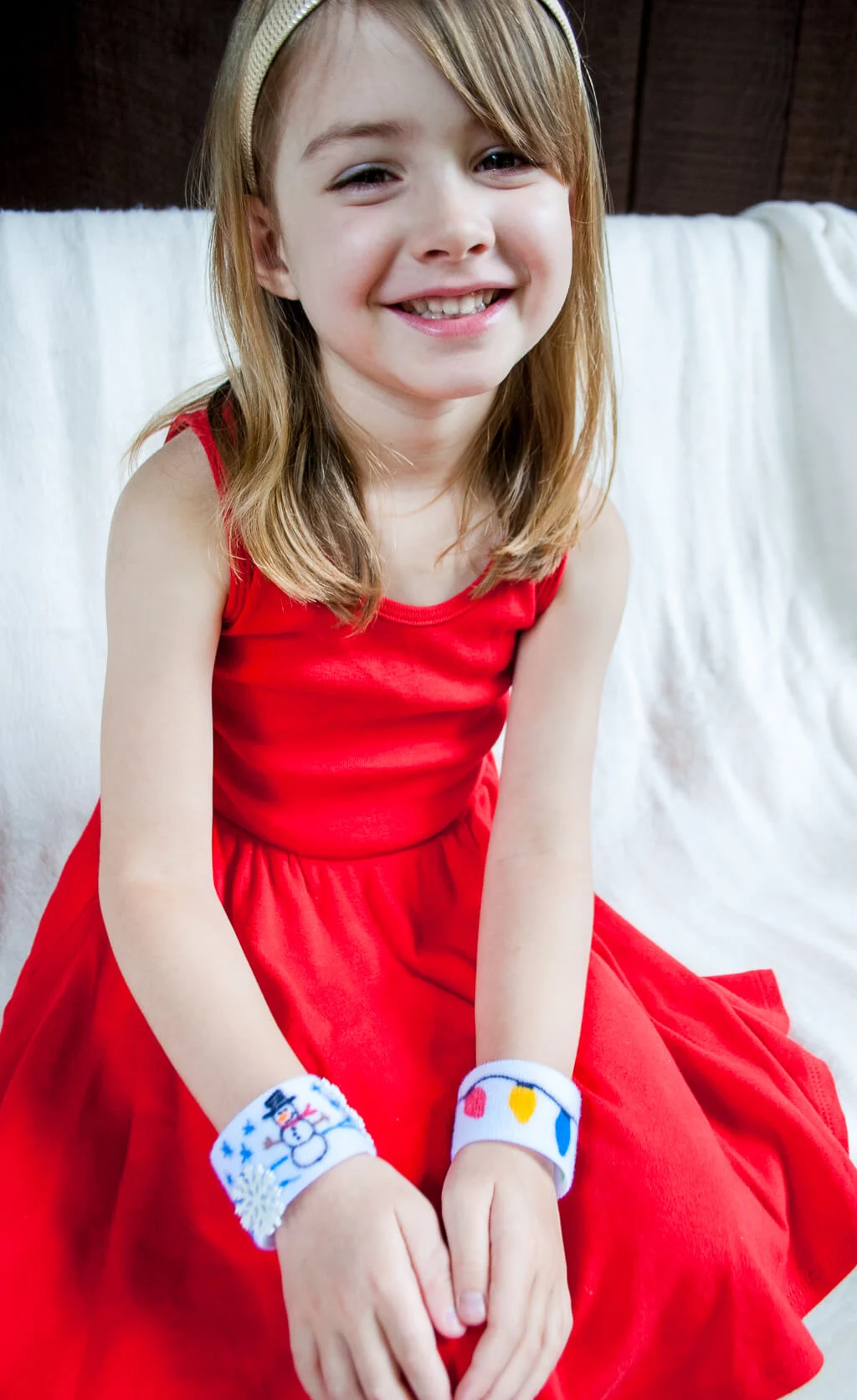 WANNA MAKE IT? Keep reading for to see how to make no-sew DIY Christmas bracelets for kids –>
++++++
Supplies for making no-sew DIY Christmas bracelets for kids:
And if you're making the optional snowflakes, you'll want to also pick up these:
—
How to make no-sew DIY Christmas bracelets craft for kids:
This is a super easy kid's craft activity. I'll summarize the steps here, and you can see my easy kid's DIY bracelets post for the full step-by-step tutorial.
Cut a piece of VELCRO® Brand One-Wrap in white 1.5″ that will wrap around the wearer's wrist. You want it to overlap about 1/2″ to close.
Decorate using Fabric markers and allow to fully dry. Use rulers to draw lines for any geometric designs. I found it easiest to tap-tap-tap to color in areas.
Make optional Shrinky Dink snowflakes – see my DIY Frozen snowflake headband for my free printable snowflake template and tutorial for how make the white shrink plastic snowflakes.
Kids can easily put the bracelets on and take them off themselves, add snowflakes and move them around.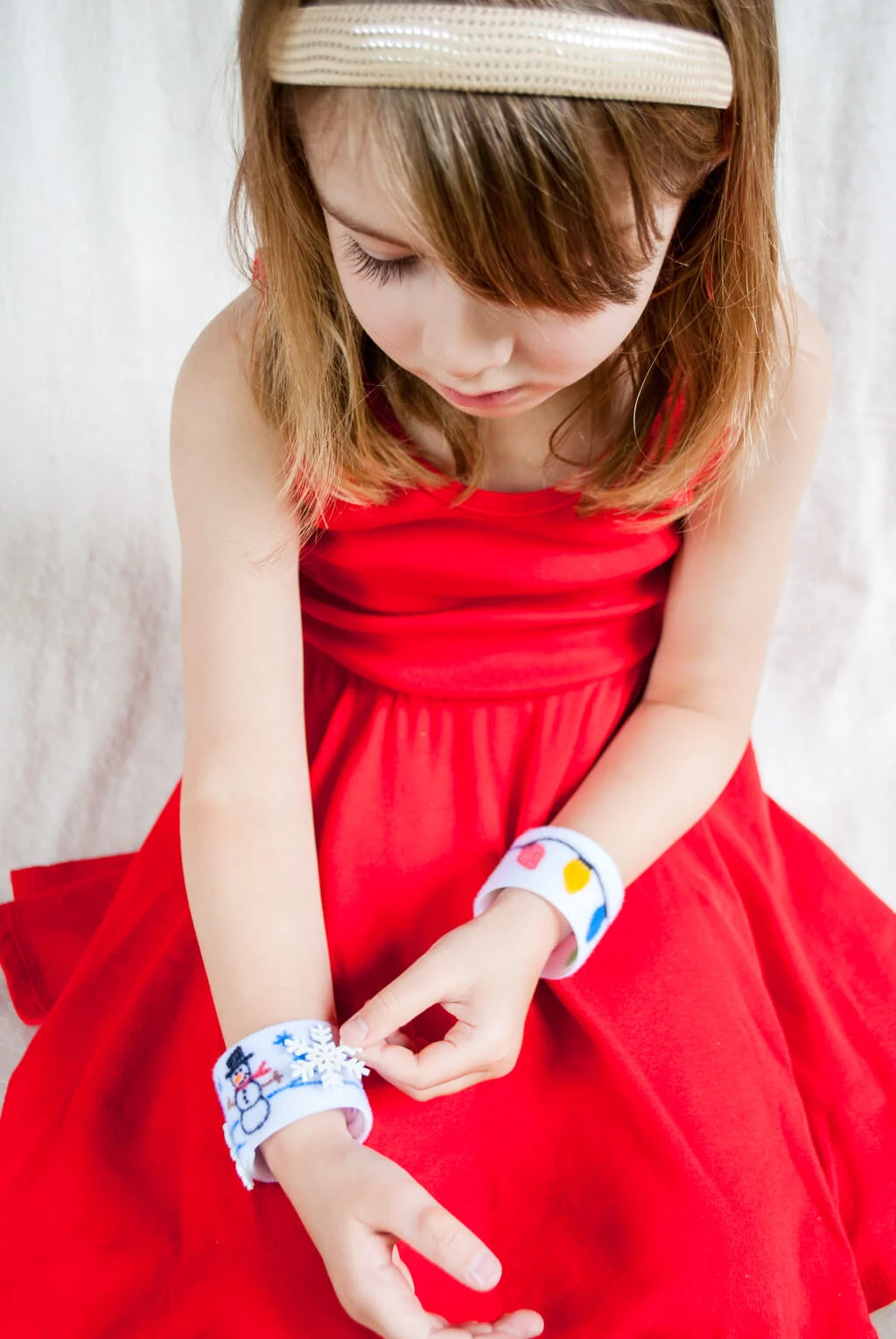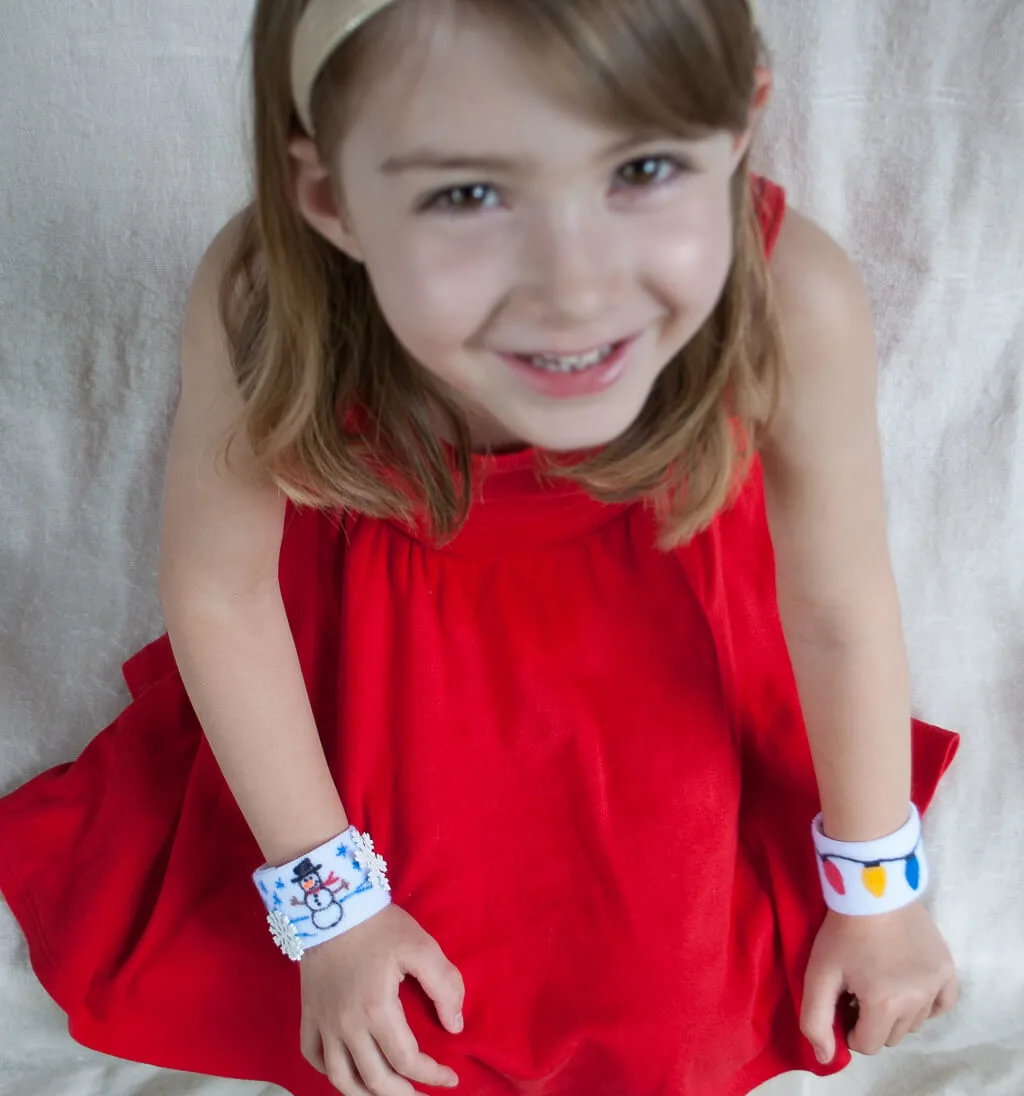 —
Be sure to pin my DIY Christmas bracelets craft idea for kids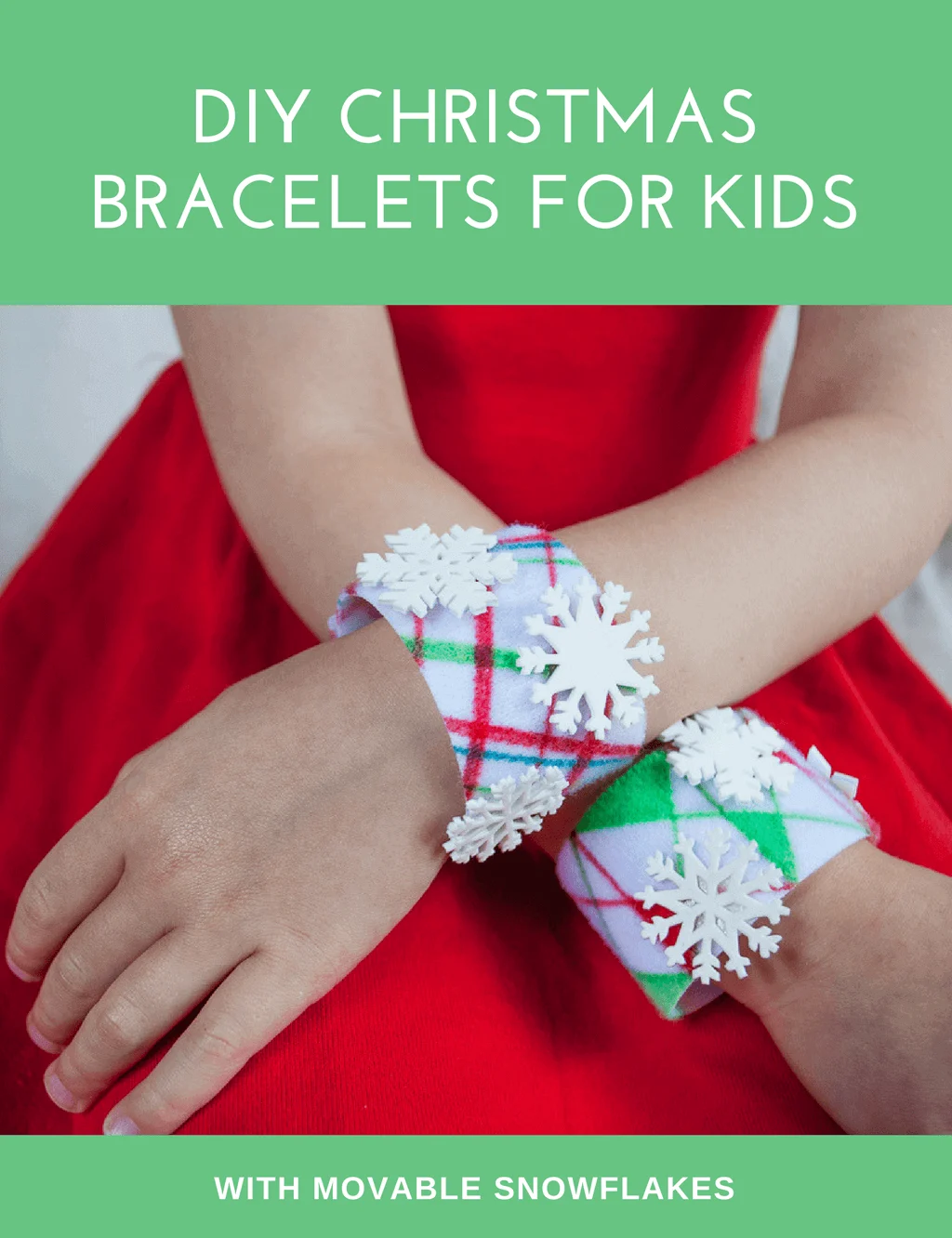 —
And try making my other DIY bracelets for kids:
And tell me in the comments: which DIY Christmas bracelet design do you like best?
—
Like it? Share it!
The nicest way to say you like it is to pin it on pinterest, post a comment, follow Merriment Design on Facebook, twitter, pinterest, Google+, instagram or sign up for monthly emails. Enjoy! 🙂
Copyright stuff: You're more than welcome to use this free project and tutorial for personal use. Contact me for commercial use and etsy sales.