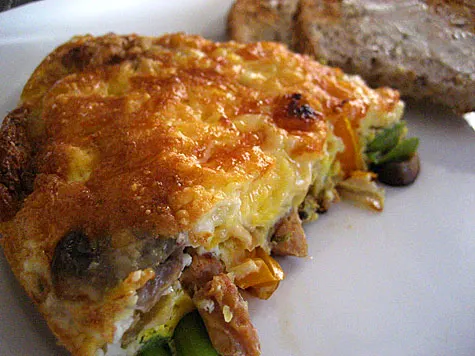 I first saw the frittata concept at Simply Recipes. The great thing about a frittata is you can really throw pretty much anything into it and it will still taste good and look like you put a lot of effort into it. It's one of those perfect weekend treat-myself-and-clean-the-fridge brunches that lets you be creative with food and experiment with very little risk of it not turning out. Did I mention it reheats well?
I like my frittatas thicker and more hearty with less cheese so I took Simply Recipes' asparagus frittata recipe and tweaked it like so:
Olive oil
1/2 onion, thinly sliced
Handful of veggies, ~3/4 cup, such as asparagus spears cut diagonally into 1/2-inch lengths, spinach and zucchini are also nice
Handful of sliced mushrooms, ~1/2 cup
One diagonally-sliced sliced pre-cooked chicken sausage, or you could use cut up bacon or shredded chicken (optional)
A bit of julianned orange bell pepper ~1/8 cup, and/or handful of cherry tomatoes cut in half
7 large eggs, lightly beaten (Elise uses 4; I like more)
1/2 cup shredded whatever cheese you have – I use combinations like white aged cheddar, Parmesan and smoked Gouda
Salt and pepper to taste
Remember if you don't have all of these ingredient's it's OK. Just use what you have.
Heat olive oil into a 10-inch oven-proof frying pan over medium high heat. Add onions and salt and cook, stirring occasionally, until onions are softened, about 3 minutes. Add sliced pre-cooked chicken sausage and brown, adding mushrooms about 3 minutes afterwards. Add asparagus, reduce heat to medium-low, and cook, covered, until the asparagus are barely tender, 6 to 8 minutes, being sure to add peppers or tomatoes to it about halfway. Season the eggs with salt and pepper, pour in and cook until almost set, but still runny on top, about 2 minutes. While cooking, pre-heat oven broiler.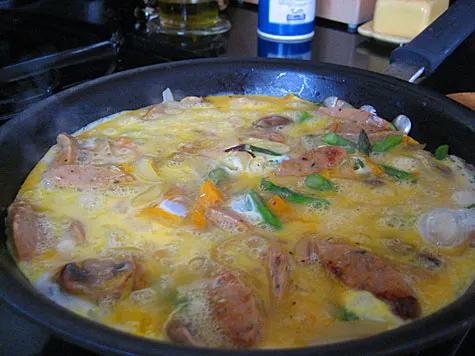 Sprinkle cheese over eggs and put in oven to broil until cheese is melted and browned, about 3 to 4 minutes. Remove from oven with oven mitts and slide frittata onto a serving plate. Cut into wedges. Serves 4.