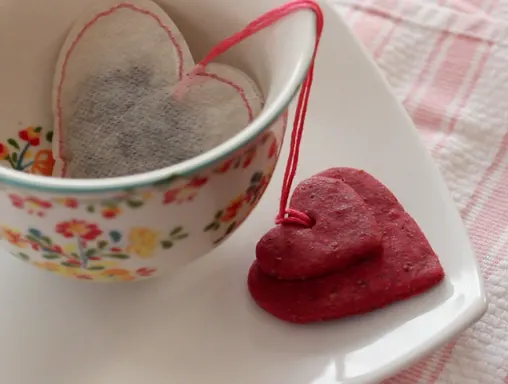 Warm your sweetie's heart with this clever tea & cookies combo: Handsewn teabags tied to yummy cookies that anchor the teabag as it steeps.
I came up with the idea while making tea with my plain old loose teabags. No surprise my sweet tooth was craving cookies …and thought that maybe they could weigh down the teabag as it steeped? Yes! Yes, they could.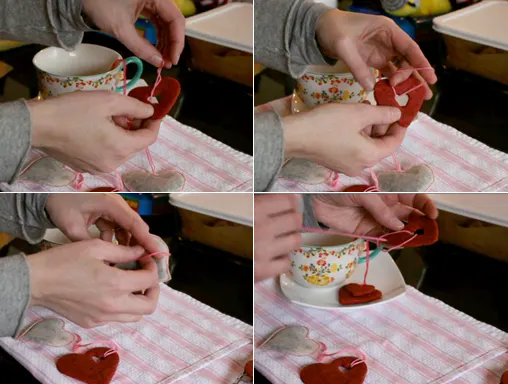 I called my good friend Heather, the talented recipe developer and founder of YumUniverse.com, with the tea & cookies idea and ironically she had just finished her gluten-free Valentine's Sweetheart Shortbread Cookie recipe. How crazy is that? So we got together and shot a video in my kitchen.
Watch the video for all the steps, the first 10 minutes for the cookies and then 7 minutes for sewing the heart teabags (we can promise some dancing and laughing, too). A bit of a preview…
Heather uses beet juice instead of food coloring for that rich red color so it's both lovely and healthy
Elise and Liam make cameos and you'll see my messy crafting area (in hindsight maybe I should have cleaned up?)
It was zero degrees in Chicago which ended up being great for rolling cookie dough
Check out the silly outtakes at the very very end 🙂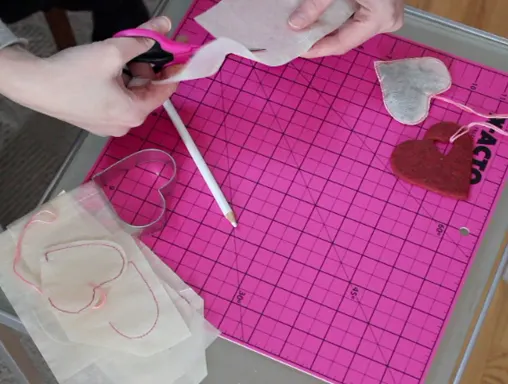 See below for step-by-step directions below for making the teabags, and visit YumUniverse.com to get Heather's Valentine's Sweetheart Sugar Cookies Recipe.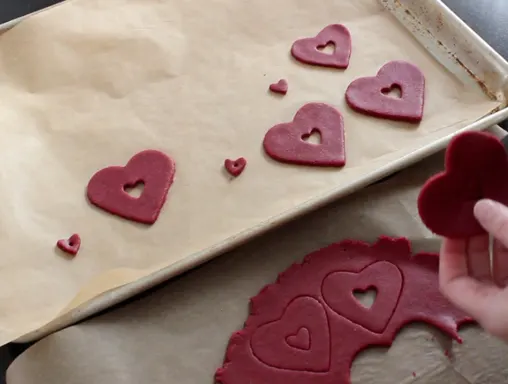 Supplies to make handsewn heart teabags attached to yummy heart cookies:
Unbleached teabags or Unbleached coffee filters
Heart cookie cutters (or any shape you like)
Embroidery thread
White pencil/pen
Sewing machine or needle and thread
Plus Heather's Valentine's Shortbread Cookies recipe over at YumUniverse.com.
—
How to make a teabags attached to yummy cookies
Make Heather's Valentine's Shortbread Cookies recipe.
It uses beet juice instead of red food coloring …fun!
Use the smallest heart cookie cutter make a hole for your teabag. You can also use a bamboo skewer to make a hole—but make the hole before you bake.
Now let's make the extra cute part of this little treat—heart teabags.
Take your tea bag filter, place on a flat surface. If you are using coffee filters, flatten two on top of each other and pin together. Lay a cookie cutter on top of bag/filters and trace a heart shape with your white pencil.
Cut just the top of the filter off about 1/4″-1/2″ from white line so that you can slip in the embroidery thread.
Cut your embroidery thread about 12-14″ long. Fold in half and feed the two ends about 1/2″ into the center of your heart "M".
You can use your sewing machine like I did or use a needle and thread like these handsewn fabric teabags. Sew around your white line' lifting presser foot when needed—to navigate the curves. Reinforce the embroidery thread with a backstitch when you make it to that part of your line/stitching. Stop sewing to leave about 1″ of your white line un-sewn so you can fill your bag with tea.
Using a small spoon, fill up your bag with about 1 tbsp of tea—you should be able to get two steeps from it. Be sure to put a plate underneath you for spillage, and reuse that tea.
Shake/jiggle the tea down into the un-open side of the bag and then sew 'er shut.
Trim extra filter off with scissors, being careful not to cut your embroidery thread (cut around it). Kathy recommends cutting pretty close to your thread—it looks the best.
Let's attach!
Feed the loop of your embroidery thread through the hole in your cookie (top, left). Open up your loop (top, right) and feed teabag through the loop (bottom, left). Now gently pull (bottom, right)—voilà!
For the ultimate sweet gift, buy a pretty tea cup and fill it with a handful of tea and cookie sets. Just wrap your cookies/teabags with unbleached parchment, making sure you have some parchment between the two to keep flavors separate.
Store cookies in an airtight container the fridge until ready to gift. Then they will keep in a pantry for up to 7 days.
Now, go make someone feel extra special with this gift.
Big thanks to:
Heather Crosby for all the fun, the cookies and raw cookie dough that I ate, and for filming and editing this video (go see her delicious plant-based recipes at YumUniverse.com)…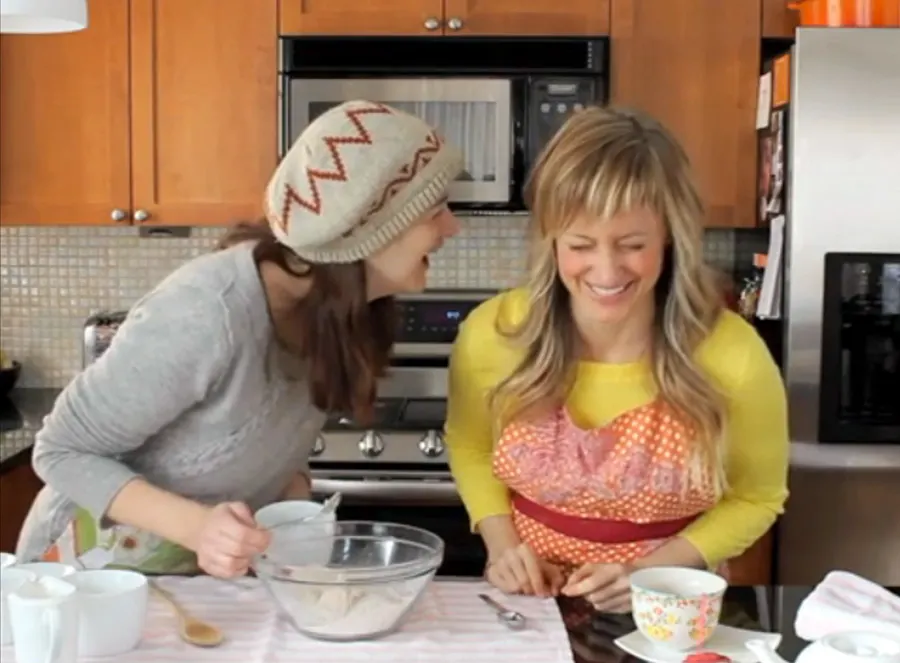 … to Liam, for comic relief…
… and of course, Mommy's best helper, Elise…
—
Do you like it?
Be a peach and Tweet about it, Pin it, share it on Facebook and/or comment below. And I love seeing your own finished project photos so do share!
—
Copyright stuff: You're more than welcome to use this free project and tutorial for personal use. Contact me for commercial use and etsy sales.
Save