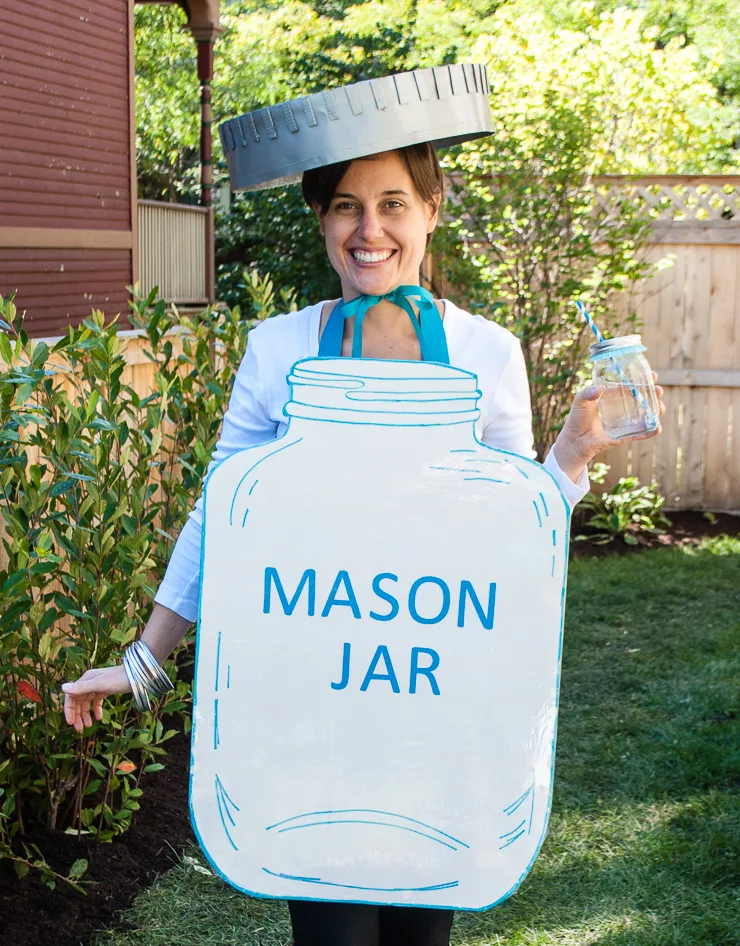 Feel like you've seen every possible incarnation of a Mason jar? Yeah, me too! Mason jars are the current Prom Queen of Pinterest – wine glasses, soap dispensers, makeshift chandeliers, wedding reception tables, pantry storage, and on and on. Whether you love Mason jars or loathe them, I thought that making a funny Mason Jar Halloween Costume could be tongue-in-cheek Halloween costume idea — and it's pretty cute too!
Make a comfortable lid hat
This Mason Jar Halloween costume for women features a show-stopping mason jar lid hat that ties in a cute bow on under your chin. The lid hat is surprisingly comfortable to wear, and it's made with just cardboard, poster board, ribbon, and a bit of spray paint with a bit of padding. Really, this entire Mason Jar Halloween costume is super cheap to make at home.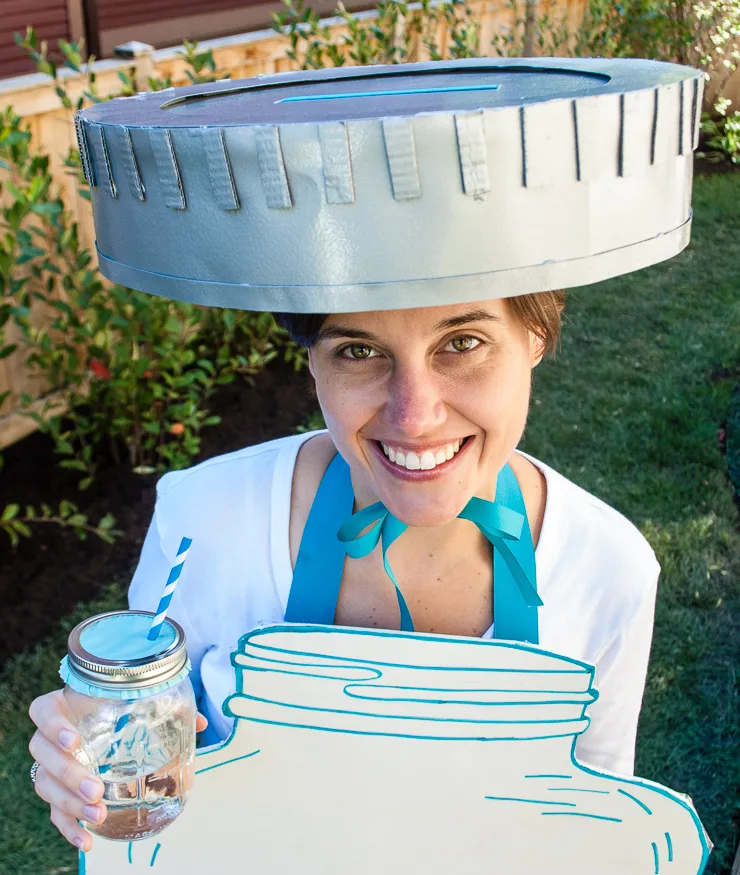 I made this Mason Jar Halloween Costume for DIY Network as one of three of my original Halloween costume tutorials at DIYNetwork.com. First for the DIY Network was a Watercolor Paint Box Halloween Costume for my preschool daughter, Elise. Then a Bull In A China Shop Halloween Costume for my toddler son, Liam. And now it's time for mommy.
See also: 'Cheetah (Land's Fastest Animal) DIY Halloween Costume for Kids' »
Except this is not me – this is my friend Cristin. I needed a model so that I could photograph the Halloween costume and Cristin is one of the most photogenic people I know (and a pretty talented DIY-er as well). I'm very grateful that she agreed to let me dress her up for these shots. Isn't she a good sport?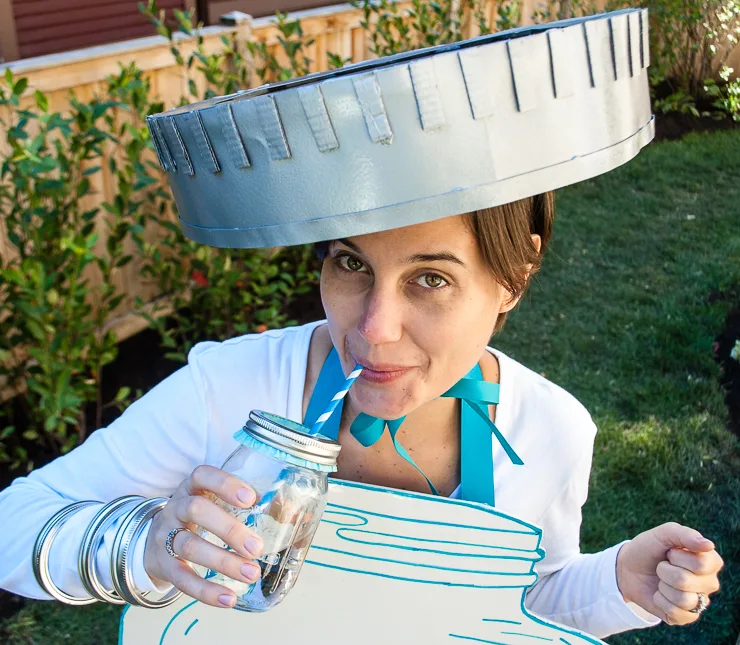 The easy Ball jar placard fits all women — plus size and regular
This DIY costume is easy to make — it's just foam core! This Mason jar Halloween costume for women is easy to DIY using foam core, clear vinyl, ribbon, spray paint, and a blue marker. You wear it on your front, so it fits all sizes of women from plus size to regular. Accessorize your costume by adding a "take and go" Mason jar Halloween beverage and some wide-mouth bands as makeshift bracelets.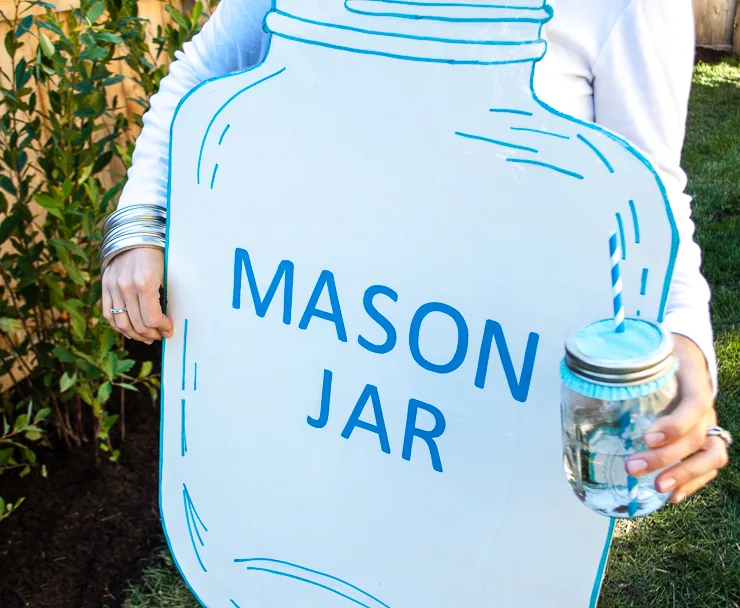 This post contains affiliate links which means that products I recommend may give me a nominal commission at no extra cost to you. Thanks – your clicks help me make more free DIYs!
++++++
Supplies for making a Mason Jar DIY Halloween Costume:
This is an inexpensive DIY Halloween costume to make. You'll notice that the supply list is pretty easy, and you might have most of it already at home. And if not, you can buy the supplies online or at your local dollar store or craft store.
1 piece of foam-core board
1 piece plastic waterproof poster board
Cardboard
Clear vinyl (optional)
Silver spray paint
1 piece of blue card stock
Ribbon
Recycled towel or batting
Glue gun and glue sticks
White school glue
Duct tape
Scissors, craft knife, and ruler
Blue marker, pencil, and eraser
++++++
How to make a Mason Jar DIY Halloween costume:
I made this step-by-step tutorial exclusively for DIY Network. Visit DIY Network for my full Mason Jar Halloween Costume tutorial to see how you can easily make your own Mason Jar Halloween Costume at home!
Get the tutorial at DIY Network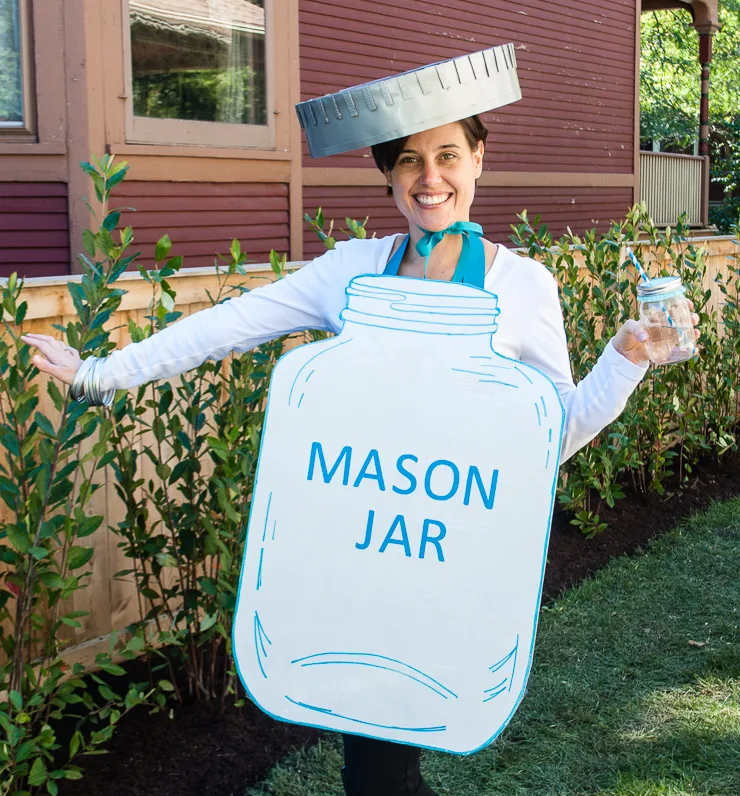 ++++++
Be sure to pin this Mason Jar DIY Halloween costume idea for women: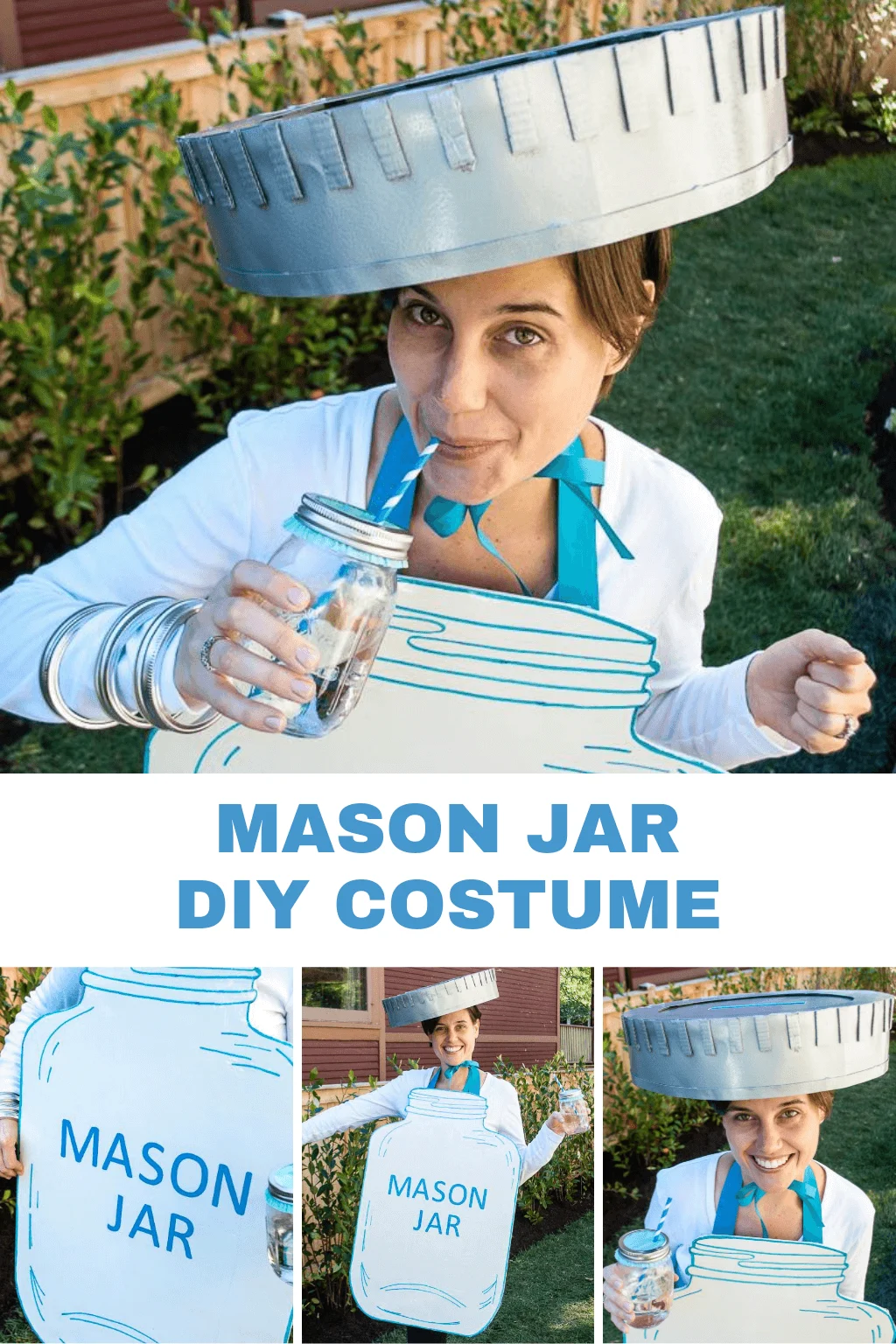 ++++++
And see more of my original DIY Halloween costume ideas for DIY Network
Also, check out my other two Halloween costumes for DIY Network – a Watercolor Paint Box Halloween Costume with Giant Paint Brush…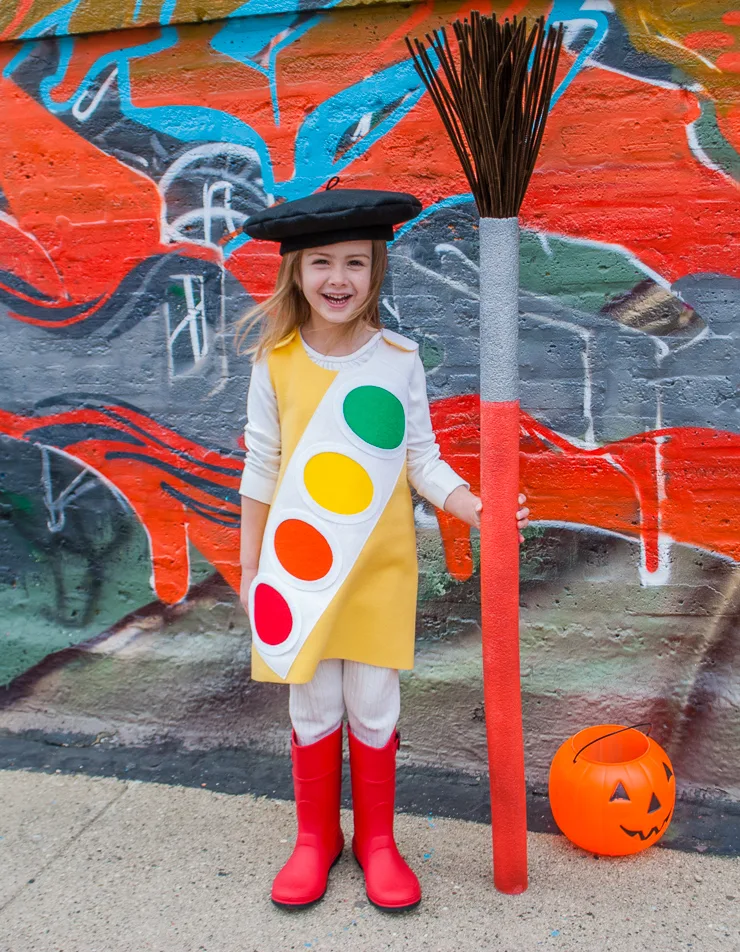 And a Bull In A China Shop Halloween Costume for Toddlers and Kids.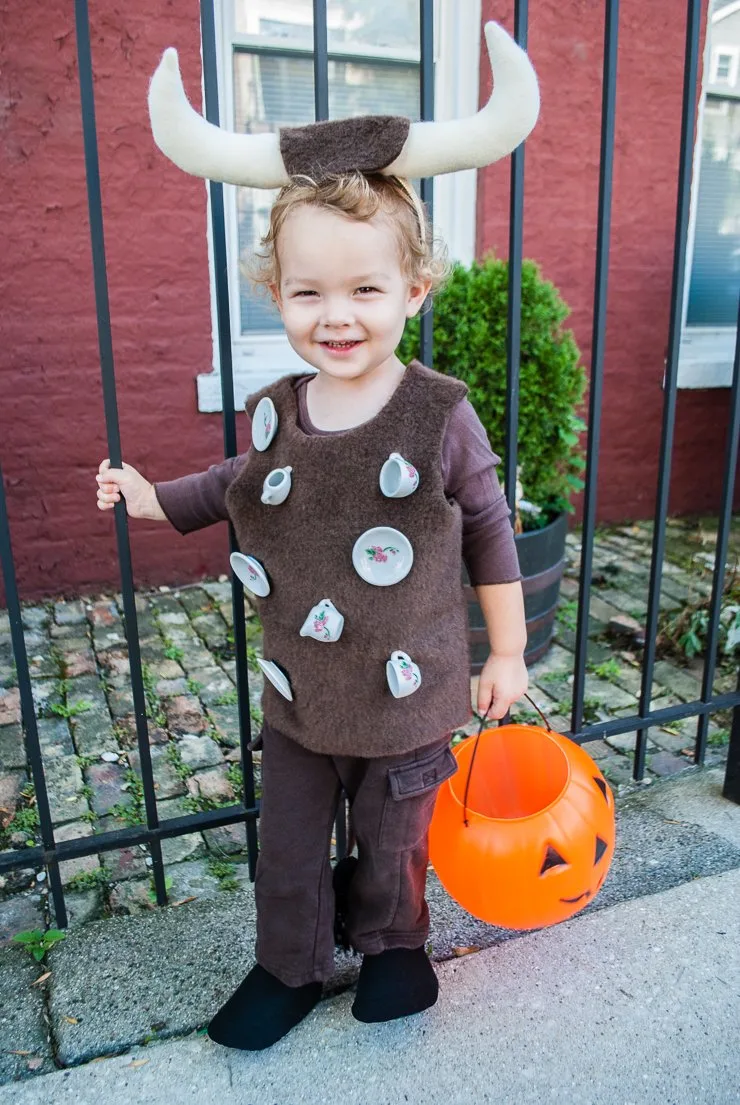 And check out more of my DIY Halloween costumes and Halloween crafts like my Trick-Or-Treat Bag with Moving Spiders, my spray painted spiderweb trick-or-treat bowl, and my Sunshine & Rainbows Halloween costume for toddlers. Boo!
—
Like it? Share it!
The nicest way to say you like it is to pin it on Pinterest, post a comment, follow Merriment Design on Facebook, Pinterest, Instagram or sign up for monthly emails. Enjoy! 🙂
Copyright stuff: You're more than welcome to use this free project and tutorial for personal use. Contact me for commercial use and Etsy sales.