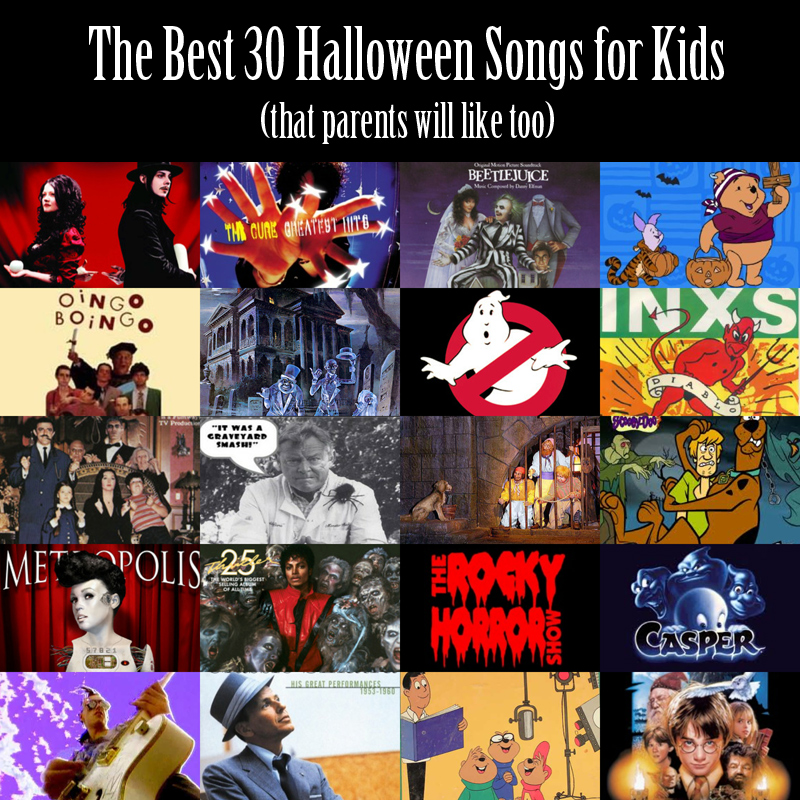 Here's your Halloween treat, friends: The Best 30+ Halloween Songs for Kids playlist (that parents will like too) – and you can tune in now!
While I usually post crafts, I thought you might like to listen to some Halloween music while carving your pumpkins and making Halloween costumes, yes? Plus creating this "G-Rated Halloween Songs for Kids Playlist" has definitely been a creative, uh, undertaking.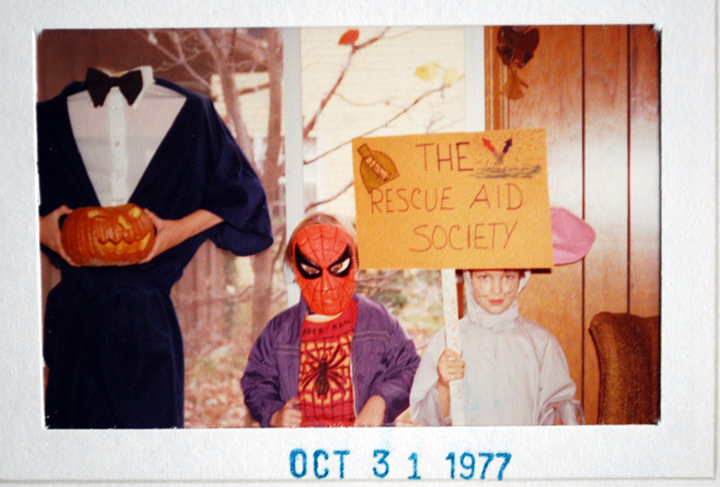 (me and my sisters – R-E-S-C-U-E! Rescue Aid Society!)
Elise and I made this kid-friendly Halloween music playlist together. When it comes to kids and Halloween there's a fine line between festive and freaky, and these songs are all thumbs-up approved for no nightmares to date.
Just scroll down to listen now right here, or you can follow our G Rated Halloween for Kids Playlist on Spotify.
These 30 kid-friendly songs last about 1.5 hours making it kid Halloween party perfect.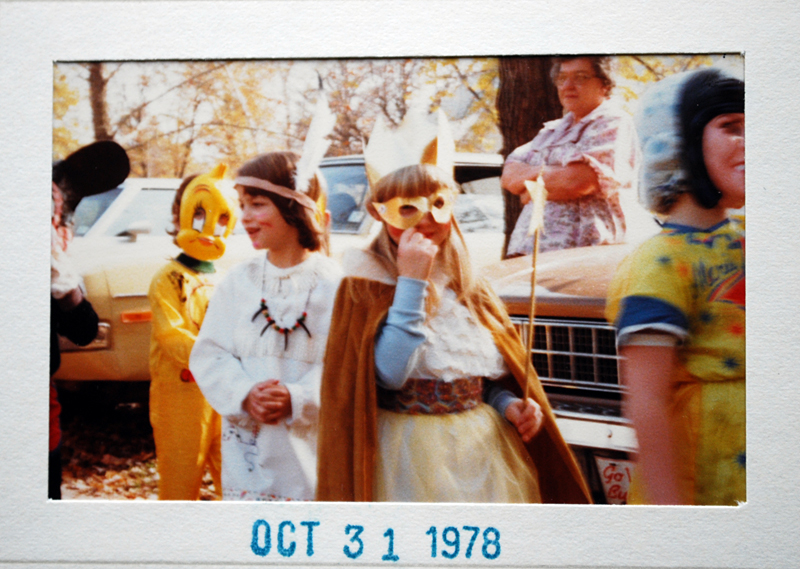 (me at my elementary school Halloween parade)
Tell me in the comments below, what's your favorite kid-friendly Halloween song? What songs did we miss??
==============================================
1. Monster Mash – Bobby "Boris" Pickett
All kids everywhere like this song. Festive, silly and fun!
2. Grim Grinning Ghosts – From Disney's Haunted Mansion – The Mellomen, Betty Taylor, Thurl Ravenscroft, Bill Lee, Paul Frees
This is my all-time favorite Halloween song!! We owned the full Disney's Haunted Mansion album when I was little, the one with Ron Howard as the lead. Such a classic. And Elise is having fun learning some new, big words like materialize, vocalize, socialize…
3. Great Pumpkin Waltz (from Charlie Brown)
I dare you to listen to this song and not think of poor Linus shivering out in the pumpkin patch, with his sister Lucy (in a rare act of selflessness) shepherding him inside from the cold.
4. Dead Man's Party – Oingo Boingo
Remember this song from Back To School? Don't run away, it's only me.
5. I Wanna Scare Myself – Tigger
Hoo! Hoo! Hoo! Tigger is always a favorite.
6. Lullaby – The Cure
Any playlist that I create has to have a little 80s in it. And lyrics like "Spiderman is having me for dinner tonight" qualifies as pretty spooky to me.
7. Little Ghost – The White Stripes
This tale about falling in love with a little ghost has upbeat music and a catchy chorus.
8. Werewolves of London – Warren Zevon
Elise loves this song. I explained the whole werewolves thing to her and she doesn't quite get it so it's still no nightmares about this one.
9. The Addams Family Theme – Victor Mizzy and his Orchestra
Elise wants to learn how to snap now.
10. I Want Candy – Bow Wow Wow
Yes, this is on every Halloween playlist out there and yes, I know this song isn't really about candy. However, it's been pretty preschool friendly so far and fun to sing together.
11. This is Halloween – from Nightmare Before Christmas
This one veers on too creepy for the kids but it hasn't caused any nightmares yet.
12. Scooby Doo, Where Are You?
Classic 70s Saturday mornings. Pour the Fruit Loops into a bowl and sing along.
13. Yo Ho, Yo Ho, A Pirate's Life For Me – Dominik Hauser
So pirates may not be your typical Halloween music but I think they're stinkers and to include. Yo Ho!
14. Witchcraft – Frank Sinatra
Frank can pull off anything.
15. Time Warp – Glee Cast Version
Ok, so this one's may lean PG-rated, what do you think? I remember going to the Indiana Theater in high school to watch Rocky Horror with friends. Parents, you may need to make your own call here age-wise.
16. Prologue – Harry Potter And The Sorcerer's Stone
When I was thinking about songs to add Harry Potter immediately came to mind. Mystical and a bit eerie, the Prologue has just the right kid-friendly Halloween vibe.
17. Ghostbusters – Ray Parker, Jr.
I ain't 'fraid of no ghost.
18. They Don't Scare Me – Mickey Mouse
I love Spotify because of finds like this. Here's a kid-friendly song sung by Mickey himself.
19. Devil Inside – INXS
I love that Aussie guitar intro, don't you? See 80s music above.
20. Ghost Town – The Specials
Reggae-infused song that's not really about a ghost town (see I Want Candy) but close enough to qualify.
21. Munsters Theme – The Horror Theme Ensemble
Instrumental version.
22. (Don't Fear) The Reaper – Blue Oyster Cult
More cowbell. This song is supposed to be about not fearing death because it's inevitable. Kind of deep
23. Casper The Friendly Ghost – Cartoon Theme
What ever happened to this friendly ghost who was kind to every living creature? I need to google that.
24. Heffalumps and Woozles – Winnie The Pooh
Pooh's honey-induced dreams make for a silly, spooky fun.
25. Trick or Treasure – The Never Land Pirate Band
Watch out for Captain Hook, kids.
26. It's the Rumpelstilskin Show – Skit from Shrek
This is a stretch but Rumpelstilskin's bubbly "sing it, witches!" cracks me up every time.
27. Violet Stars Happy Hunting! – Janelle Monae
Aliens from outer space are after you.
28. Witch Doctor – David Seville, Alvin and the Chimpmunks
There are two pretty good versions of this song on Spotify. I prefer the old timey 50s version by David Seville. There's also a modernized one with rap-intro version by Alvin and the Chipmunks.
29. Thriller – Michael Jackson
The perennial Halloween classic. I remember buying this album on vinyl from our neighborhood Woolworth's more than 20 years ago. Whoa! Now that's scary to think about!
30. Beetlejuice Main Titles – Danny Elfman
Say it three times with me.
==========
What do you think of the list? Tell me in the comments below!