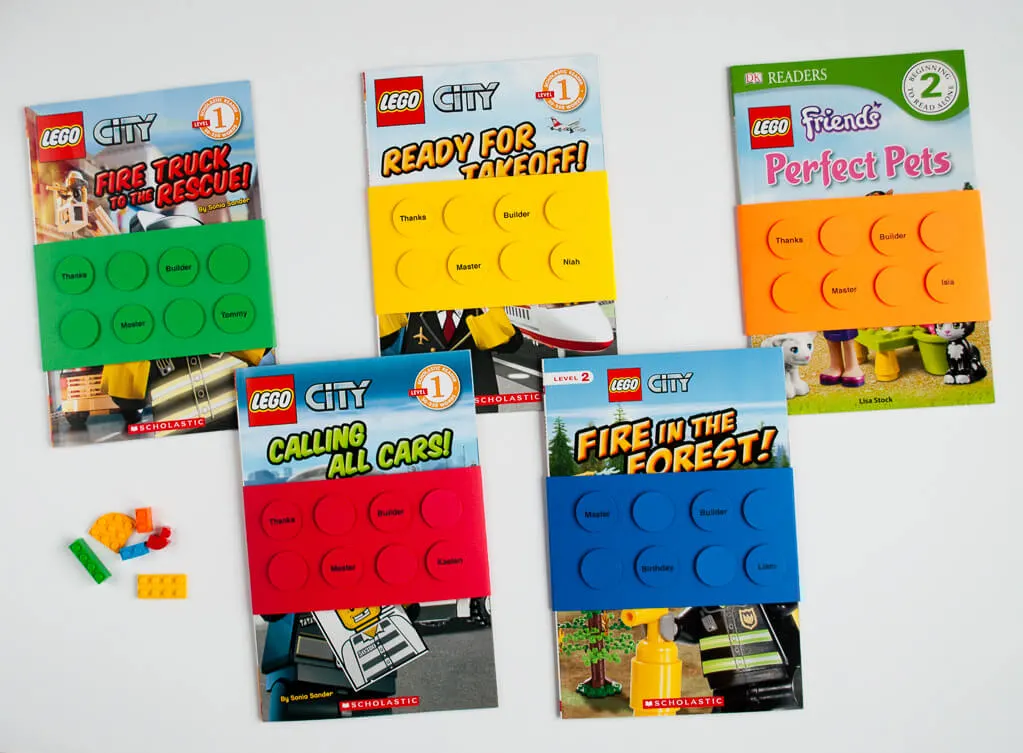 Here's an easy and cute favor idea for a LEGO birthday party: LEGO books with quick-and-easy personalized paper book wraps that look like LEGO bricks.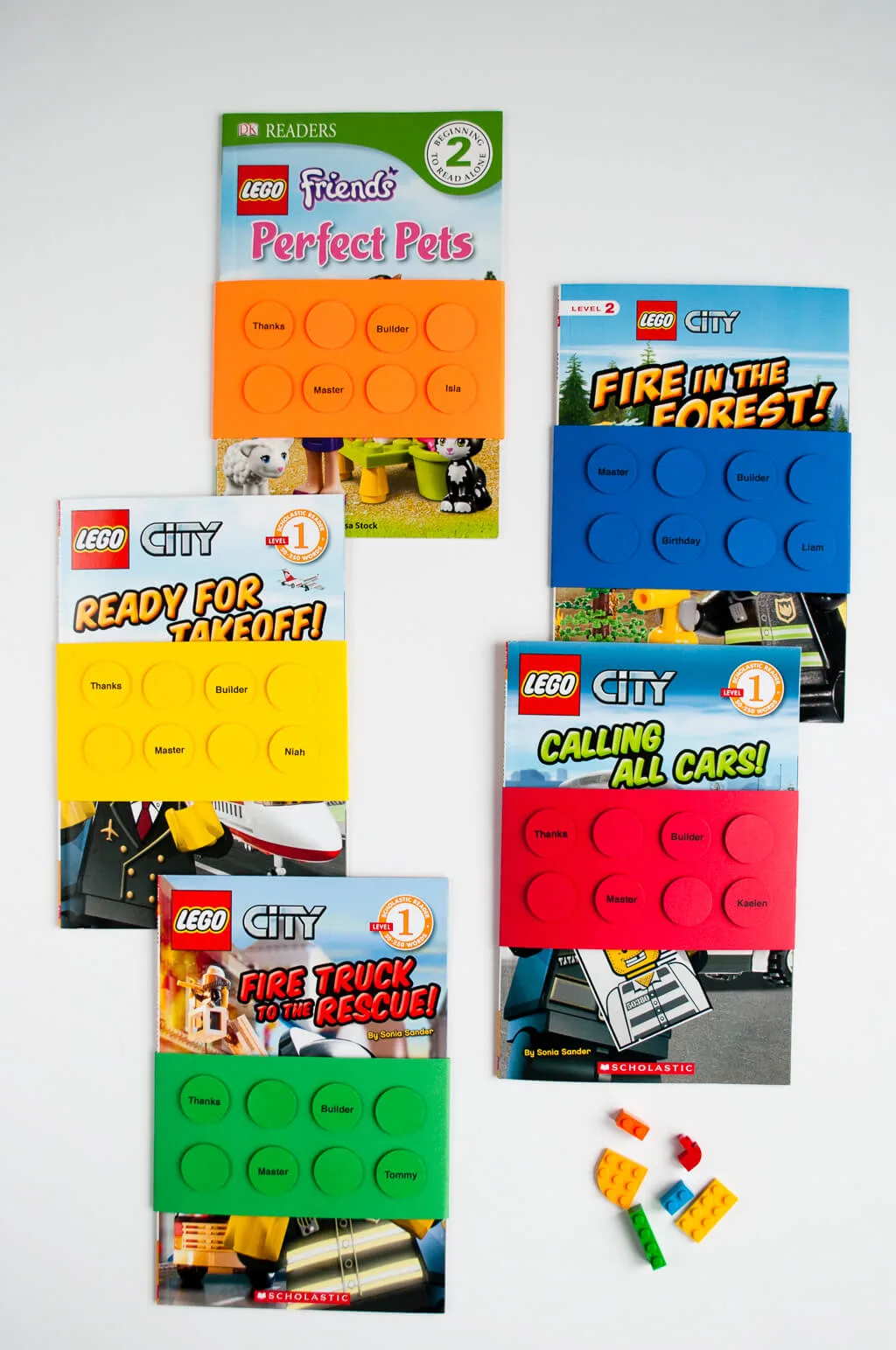 Books are always a welcome birthday party favor and the colorful and whimsical personalized favor tags add a festive touch.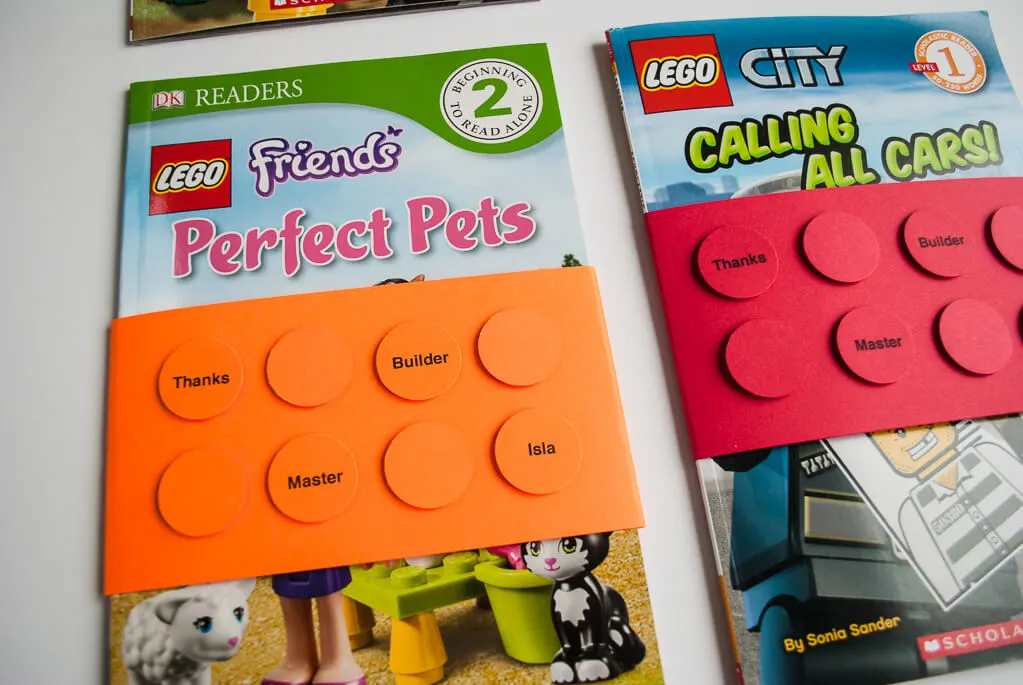 While books can run on the expensive side of the favor spectrum, I decided that I'd rather spend $4 per guest on useful and fun LEGO birthday party favors rather than give them a chotchkie-filled goodie bag. We limited the party sweets table to just my handmade LEGO birthday cake, diverted that money on favors instead, and still stayed well within our birthday budget.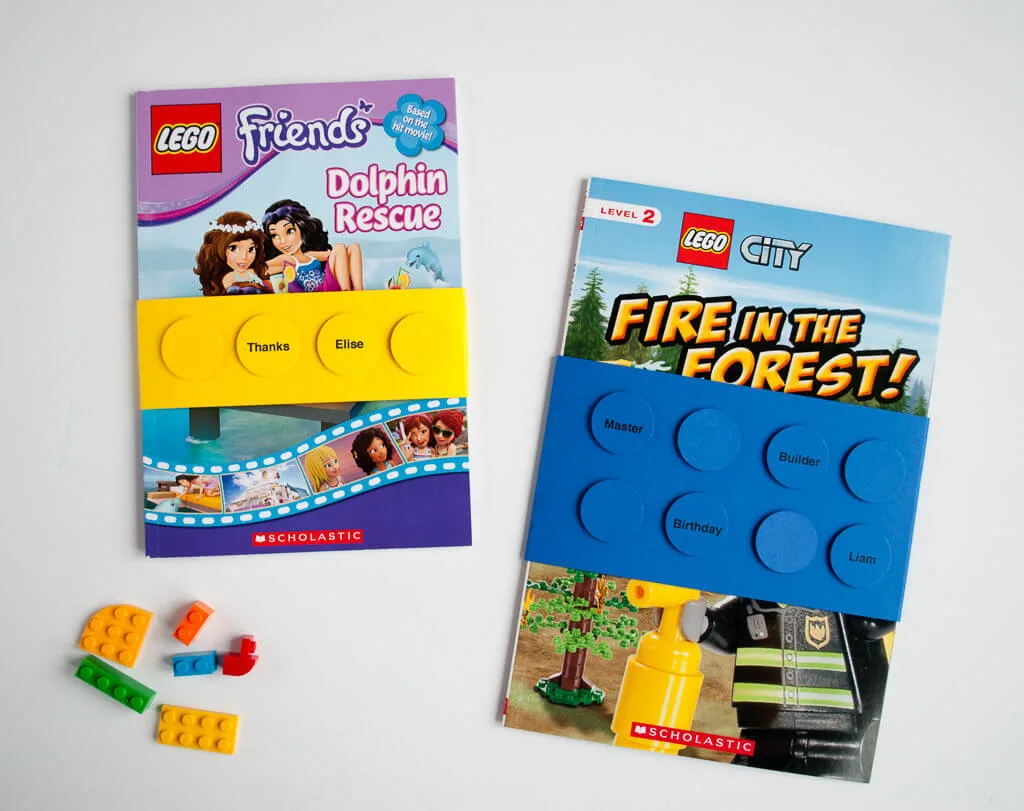 And Liam's party guests and their parents loved them!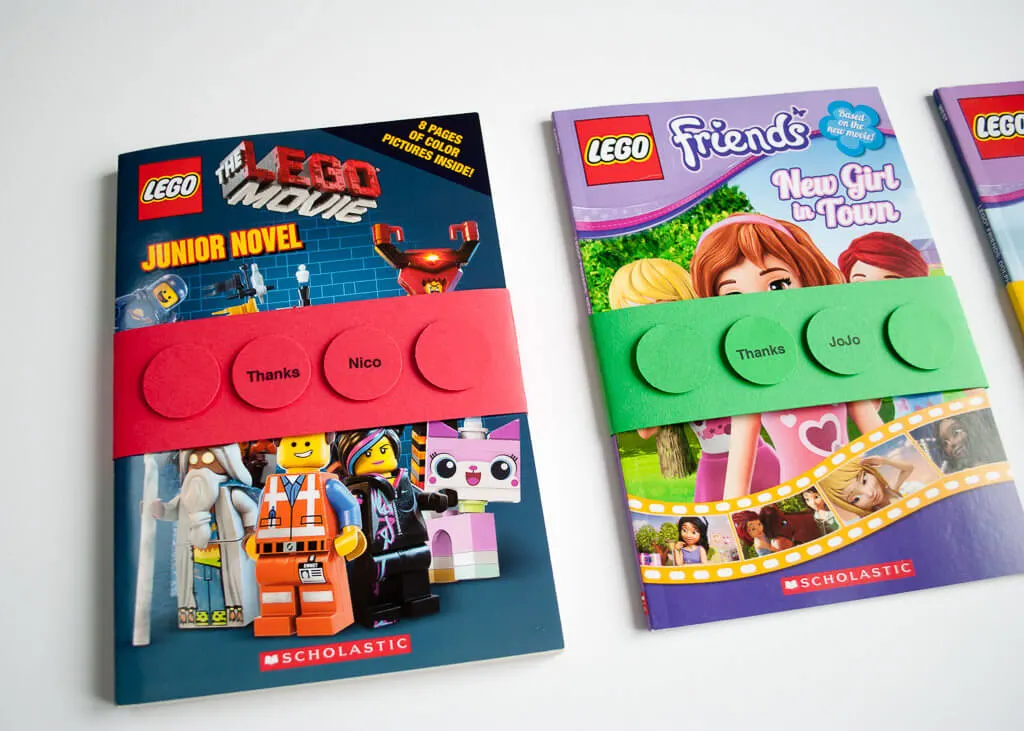 Making these LEGO birthday party favor is so easy to make that your kids can help out too. I had Liam and Elise help punch, press, and wrap in a little family assembly line. And you can personalize them any way that you'd like.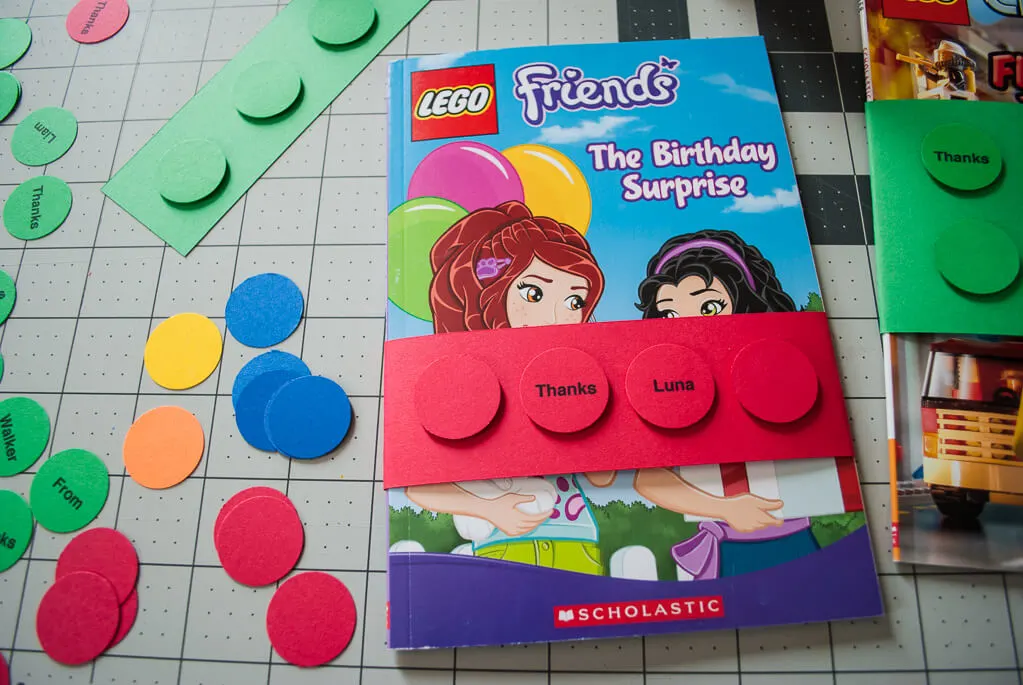 Just print words on letter-sized colored paper, punch using a craft punch, adhere using 3-D foam tape, and wrap around the book.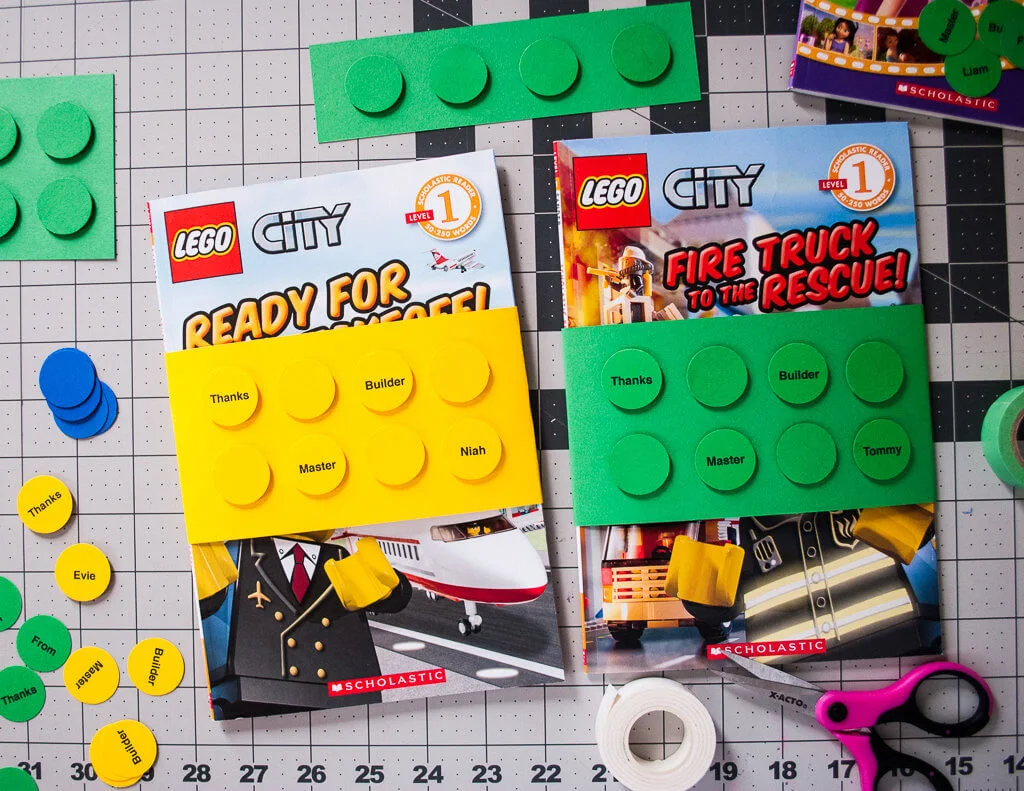 Secure the backs with a little bit of washi tape and your LEGO goodie bags are done!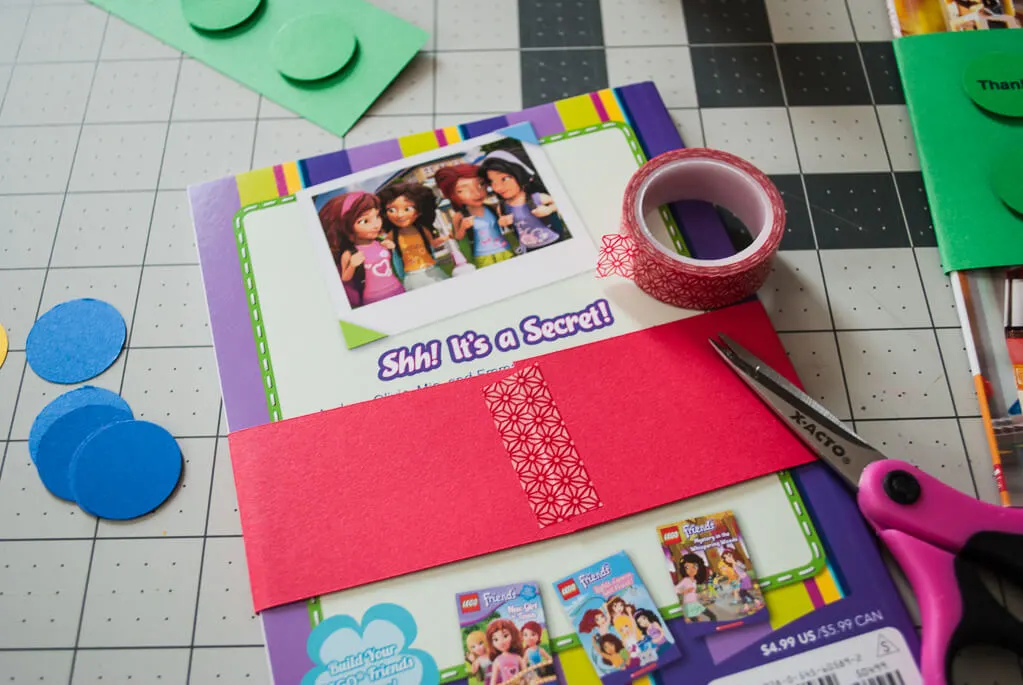 WANNA MAKE IT? Keep reading for the full step-by-step tutorial and supply list for making these easy LEGO birthday party favors –>
Supplies for making easy DIY LEGO Birthday Party Favors and Tags (with affiliates):
And of course, LEGO Books! We got LEGO Level 1 and 2 Readers for the 3-5 year old guests:
And LEGO chapter books for the handful of 1st and 2nd graders.
—
How to make easy DIY LEGO Birthday Party Favors and Tags:
Gather your supplies: LEGO book favors, colored card stock paper in LEGO-inspired colors, 1″ round craft punch, craft knife, metal ruler and self-healing mat (or good paper scissors). Not pictured: good craft scissors, Washi tape, foam mounting tape.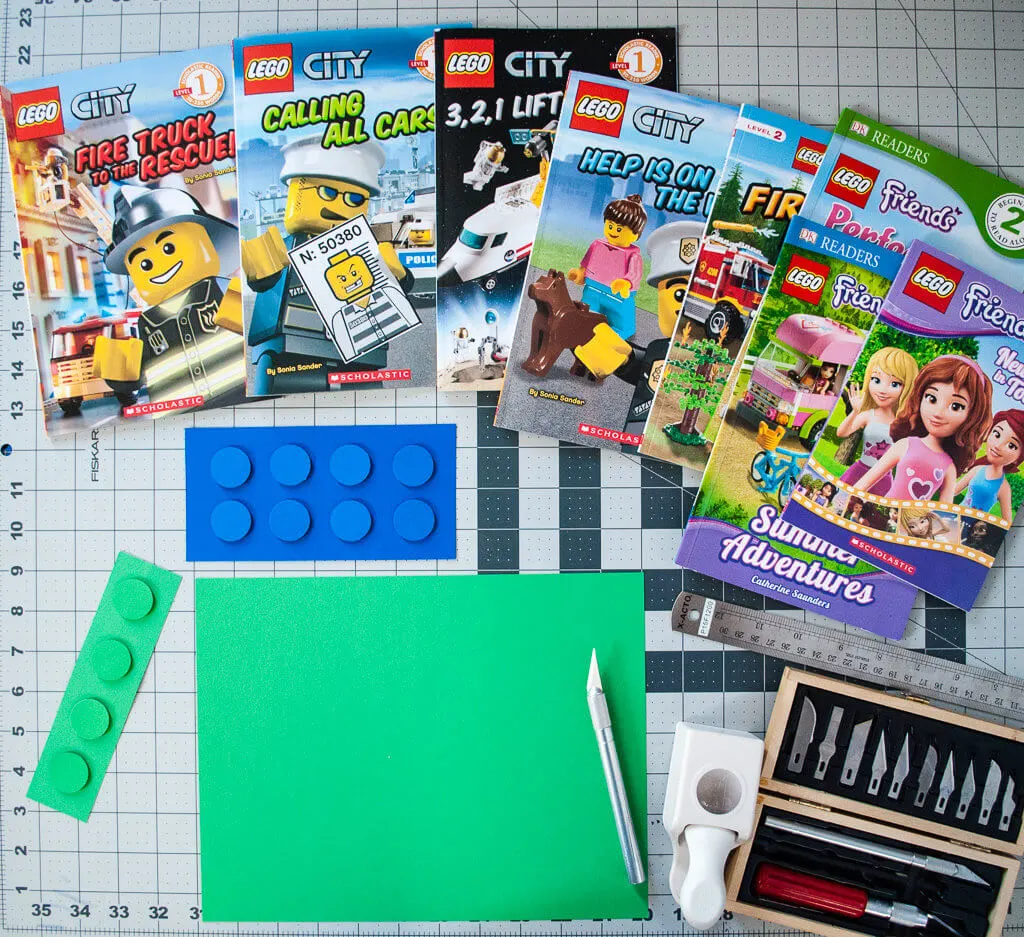 Cut a strip lengthwise from the colored paper. I cut thin strips for the chapter books and thicker strips for the Level 1 and Level 2 readers. Wrap it around the book to make a DIY book wrapper.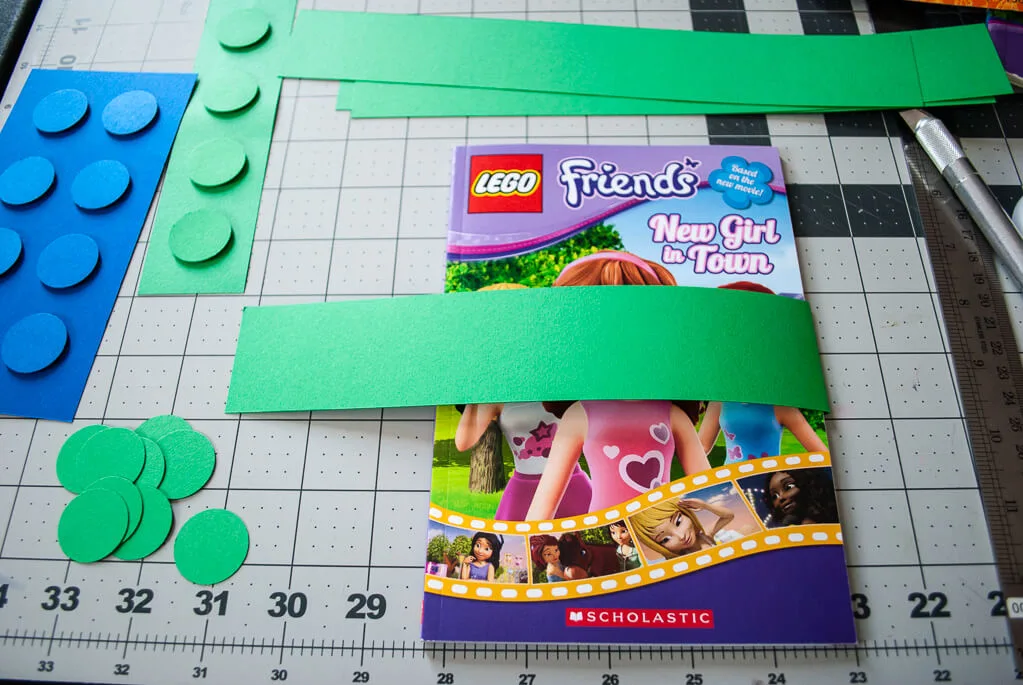 Print words onto colored paper. I used Adobe Illustrator but you could just use PowerPoint. Leave a little space between each typed word, then punch it out using a 1″ hole punch. Font-wise, I used Helvetica to match the LEGO packaging.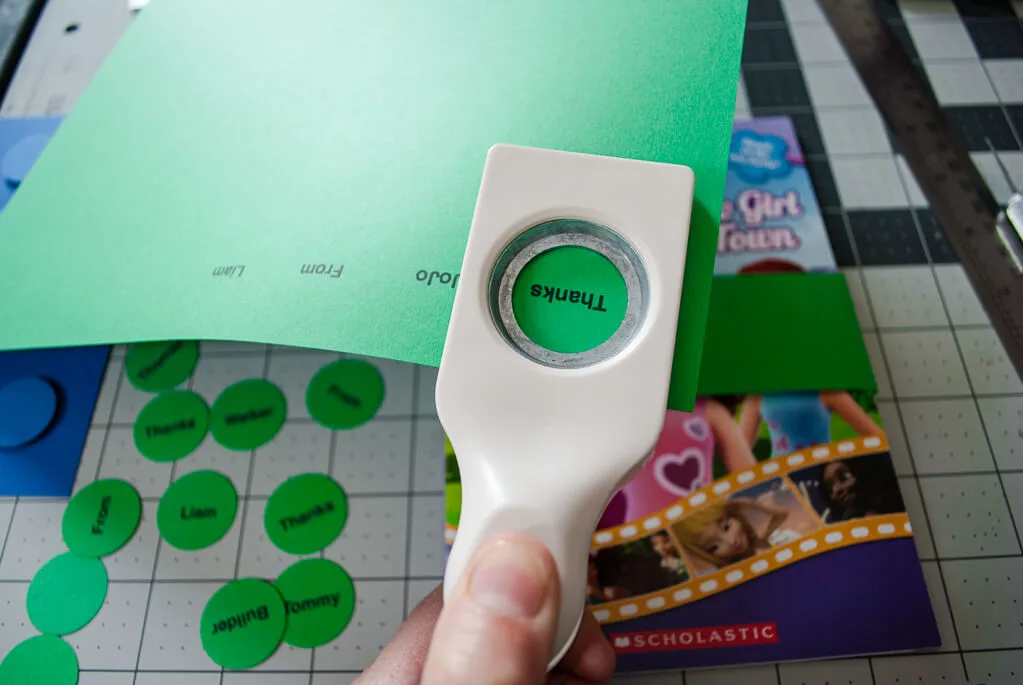 Punch plain circles to fill in between the words.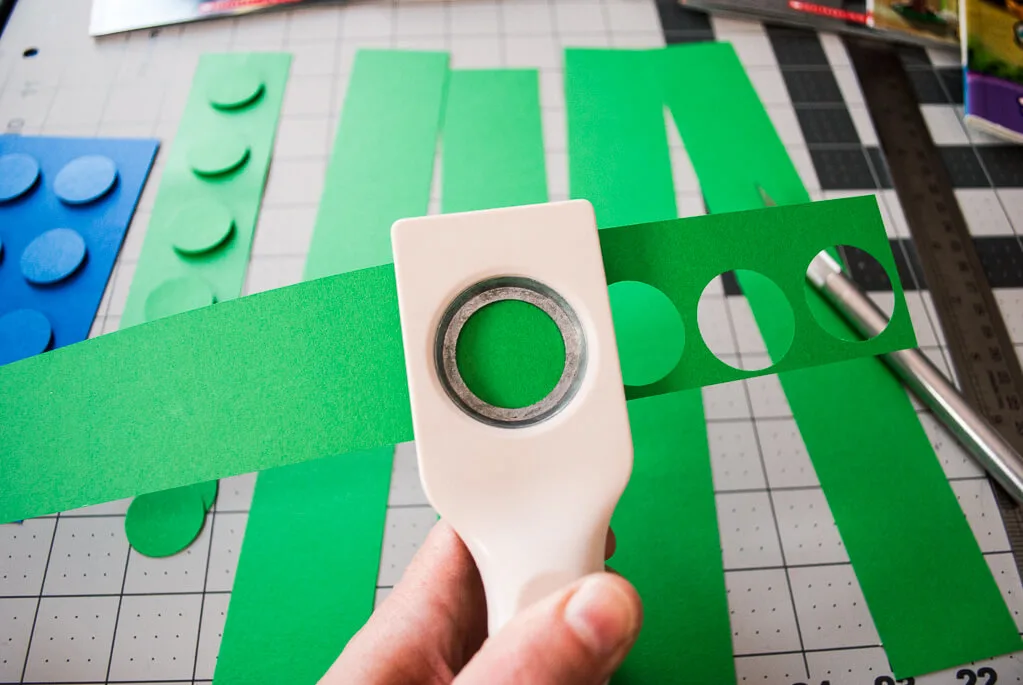 Cut a tiny piece of foam mounting tape and adhere to the back of a circle.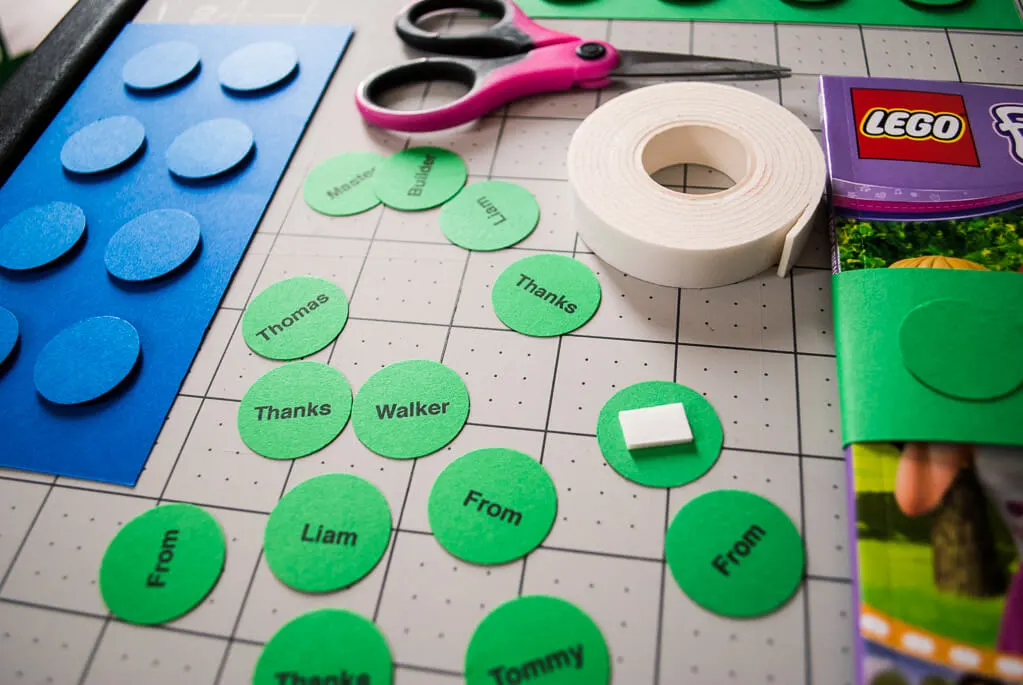 Peel the backing from the other side to stick onto the book wrapper. For the LEGO chapter books, I put two plain circles on the sides and Thanks (Guest Name) in the center.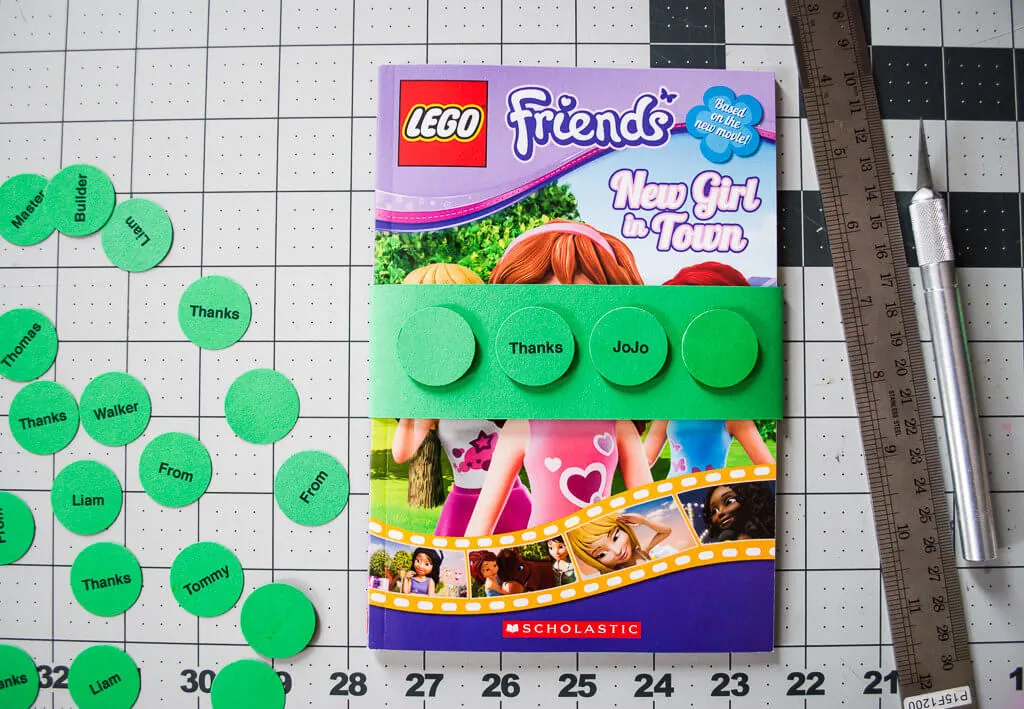 Cut a small piece of Washi tape to hold the book wrap together. For the Level 1 and Level 2 readers, I taped the wrapper to the book itself (washi tape easily peels off with no damage).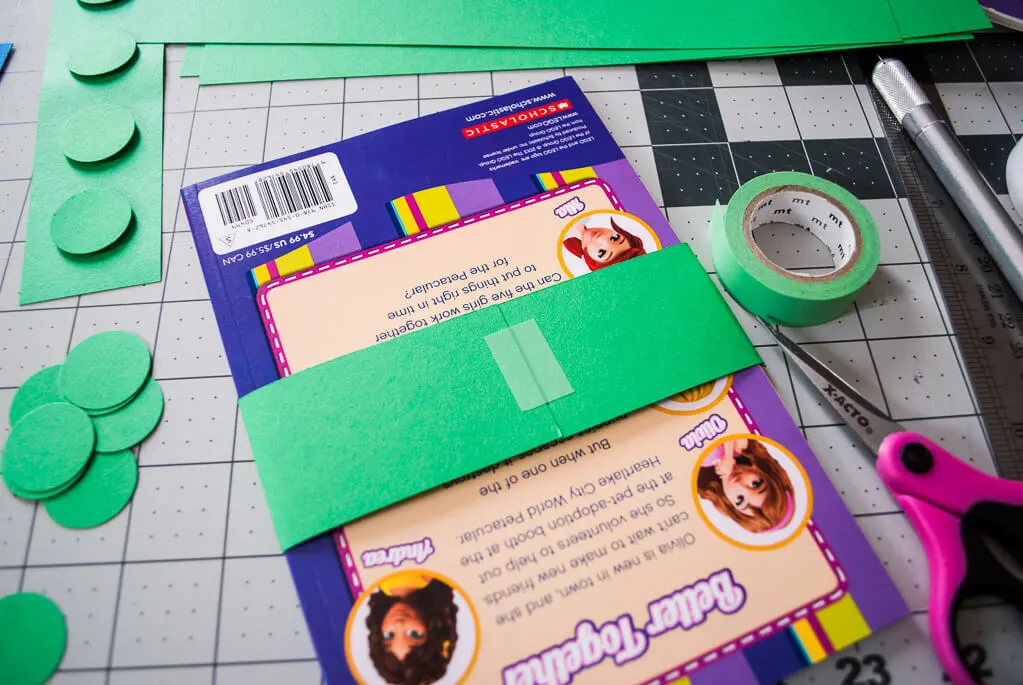 No need for a goodie bag – just hand out the LEGO books with their personalized paper LEGO brick tags. And everything is awesome!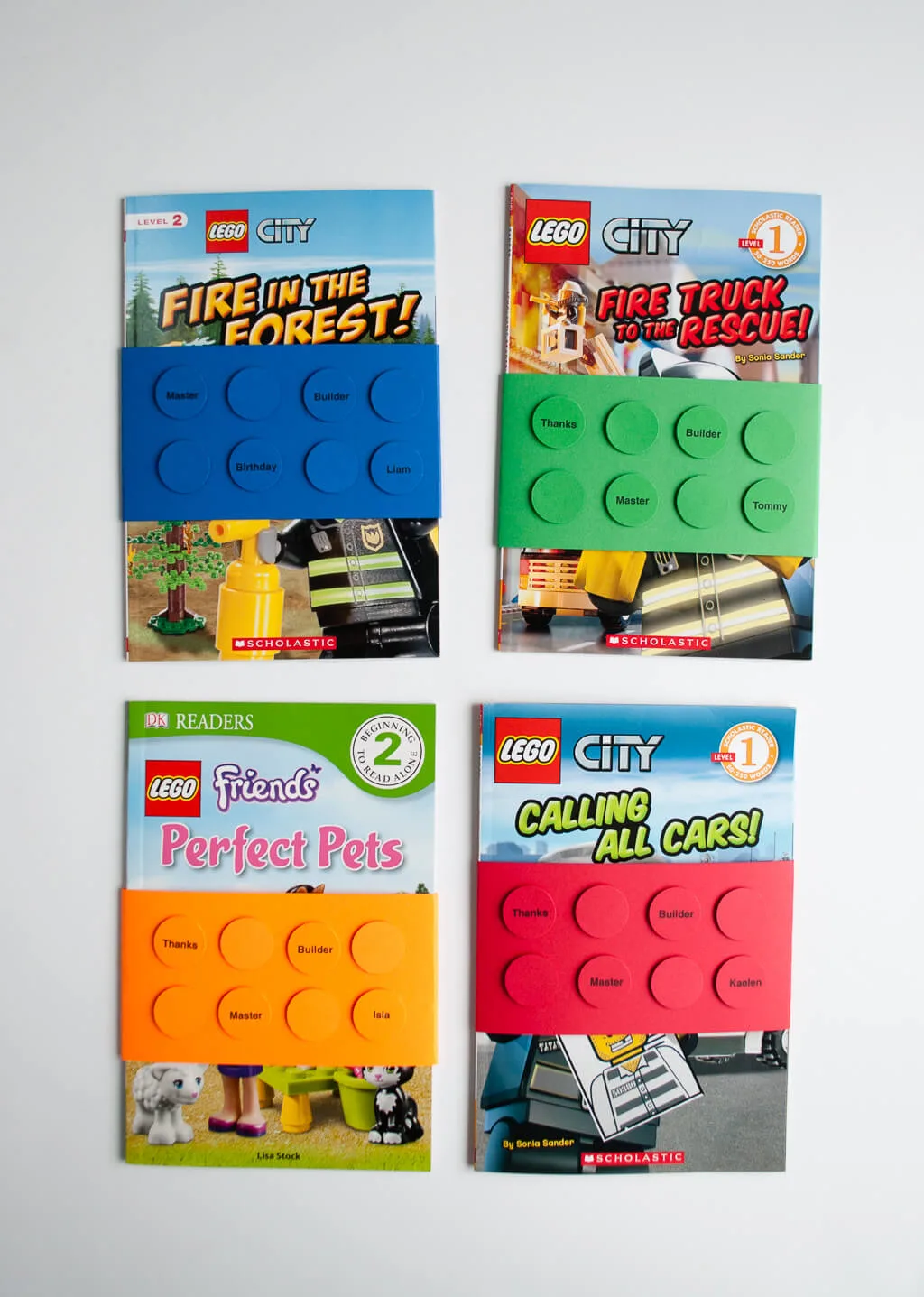 Save this pin to your DIY board for later.

—
Like it? Share it!
The nicest way to say you like it is to pin it on pinterest, post a comment, follow Merriment Design on Facebook, twitter, pinterest, Google+, instagram or sign up for monthly emails. Enjoy! 🙂
Copyright stuff: You're more than welcome to use this free project and tutorial for personal use. Contact me for commercial use and etsy sales.