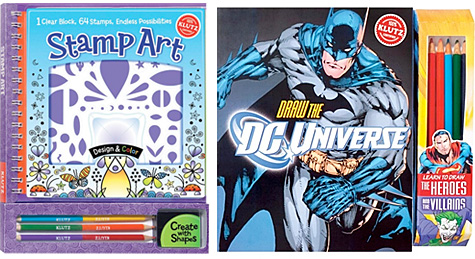 As you know Klutz is giving away two of its brand new arts and crafts activity books — Stamp Art and Draw the DC Universe — one book each to two MerrimentDesign.com readers. Well, two winners is always better than one so a big holiday congratulations to our two randomly selected commenters…
Sarah T says:
my cousin would love this!
Sarah T wins the Stamp Art book. Congrats to Sarah …and better yet, her cousin, heh. And for the next winner:
craftytammie says:
my son would totally dig the dc book, and any of my 4 would love the stamp book!
Tammie, you have won the Draw the DC Universe book. Let us know how your son likes learning how to draw all the heroes and villains. Sarah T and Tammie, please email me your mailing address or send me a DM on twitter if we follow each other.
Thanks again to Klutz for sponsoring this giveaway …and remember that Klutz is giving all MerrimentDesign.com readers 20% off your entire order of any of their arts & crafts and science books — knitting patterns, friendship bracelets, pom pom animals, and drawing Star Wars characters to name a few. Shop Klutz.com and use coupon code KLUTZ4U (Promo cannot be combined with any other offer. Offer expires 12/31/2011).