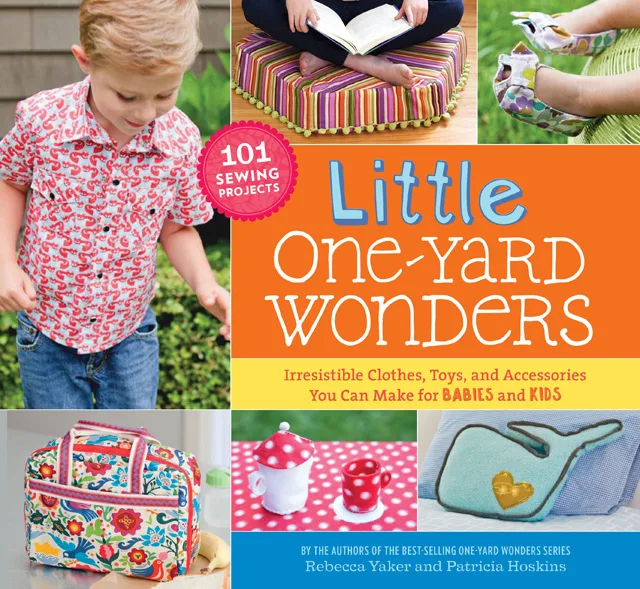 Even though I like to dabble in lots of crafts like paper and decoupage and painting, sewing is still my first love.
That's why I'm so proud to be included as a contributor in the new book "Little One-Yard Wonders – Irresistible Clothes, Toys, and Accessories You Can Make For Babies and Kids." It's the third book in the best-selling One Yard Wonders series by Rebecca Yaker and Patricia Hoskins.
Keep reading for a chance to win your own copy of "Little One-Yard Wonders" from Storey Publishing including three of my own kid-inspired sewing projects! PLUS a $25 gift card to Jo-Ann Fabric and Craft Stores to pick out some fabric. Wahoo!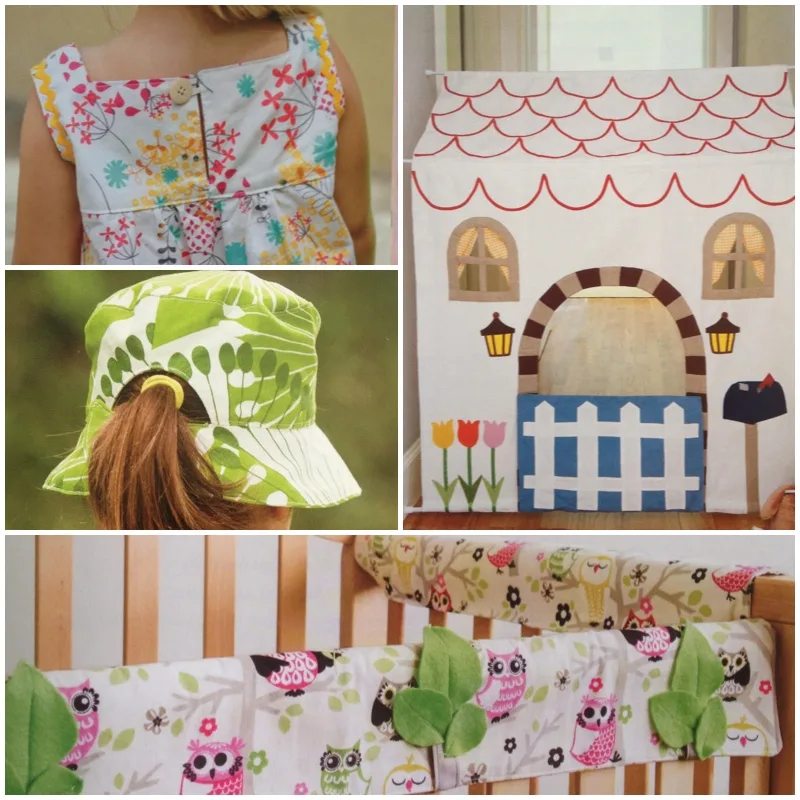 If you sew, you probably already own one or both of Rebecca and Patricia's previous books, "One-Yard Wonders" and "Fabric-by-Fabric One-Yard Wonders." Like the first two books in the series, "Little One-Yard Wonders" is packed with 101 ways to use a yard of fabric to make a special keepsake for the babies and kids in your life!
Look at the range of kid-inspired sewing projects here. The projects in the book are grouped into 13 categories that really cover all the bases: Nursery, Bath Time & Bedtime, Home & Kitchen, Tops, Pants & Skirts, Dresses & Rompers, Accessories, Tactile Play, Dolls & Plushies, Imaginative Play, Games & Hobbies, On the Go, and Moms & Dads. Whether you're furnishing your nursery, making new clothes for a growing child, or creating a unique gift for a baby shower, you're going to find a great project to make for the occasion.
I'm thrilled to be included in this book that's filled with so many clever and fun sewing ideas for babies and kids. Here are my projects — and there are 98 more inside for just about every childhood stage.
Secret Pocket Pillowcase by Kathy Beymer
This is one of my all-time favorite projects that I've ever made, folks, and that's saying a lot. This sewing pattern is a simple and clever way to add an inset pocket in a pillowcase hem to store nighttime treasures like small flashlights or bedtime friends.
I first made a secret pocket pillowcase for my daughter Elise and she still loves it. She's currently been rotating through her super hero action figures at bedtime, along with her Buzz Lightyear flashlight. The secret pocket is also nice for storing tissues and lip balm during cold season.
No-Toy-Left-Behind Travel Blanket by Kathy Beymer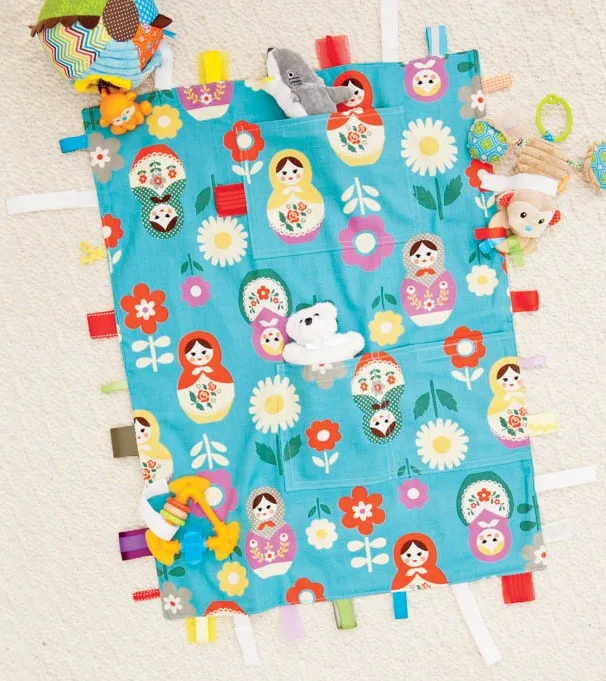 (c) Photograph by Julie Toy
This blanket is perfect for travel when you don't want dropped toys to land on a floor of questionable cleanliness or get left behind. The VELCRO® Brand Snag-Free fasteners hold toys while offering easy access for play. There are also two pockets that close securely using VELCRO® Brand Soft and Flexible Sew-On Tape.
Keep-It-Clean Kitchen Set by Kathy Beymer and Stacey Whittington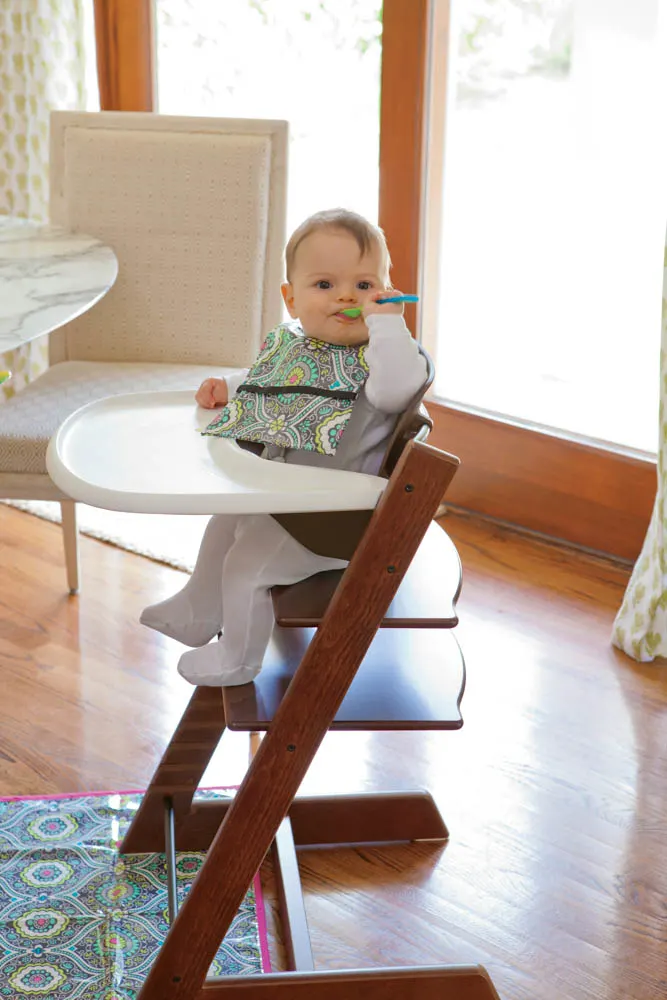 (c) Photograph by Julie Toy
I'm teamed up with Stacey Whittington here for a pouch bib and messy mat combo from coated fabric. My non-slip messy mat does dual duty — my kids like to use their oil canvas play mat for Play Doh and coloring.
Follow Storey Publishing for more ways to be creative, from crafting to gardening, pets to outdoors and more:
twitter: https://twitter.com/StoreyPub
facebook: https://www.facebook.com/storeypublishing
pinterest: http://www.pinterest.com/storeypub/
You can read more about my book contribution in my 'Inside Storey' Feature at Storey Publishing.
=====
And now for the giveaway! Enter for a chance to win a copy of this awesome book filled with baby and kid sewing ideas and patterns, PLUS a $25 Jo-Ann Fabric and Craft Stores gift card:
Terms and conditions:
The winner will be randomly selected by Rafflecopter and announced on July 18th, 2014. I will contact the winner and Storey Publishing will ship the package to your US mailing address via USPS. Please note that neither Kathy Beymer nor Merriment Design is responsible for items lost due to shipping or delivery errors.
Giveaway is open to US residents 18 and older only (sorry international readers!) and is void where prohibited. Odds of winning is based on the number of entrants. This giveaway not associated with Facebook; entrants are providing information to Merriment Design and not to Facebook. Good luck!