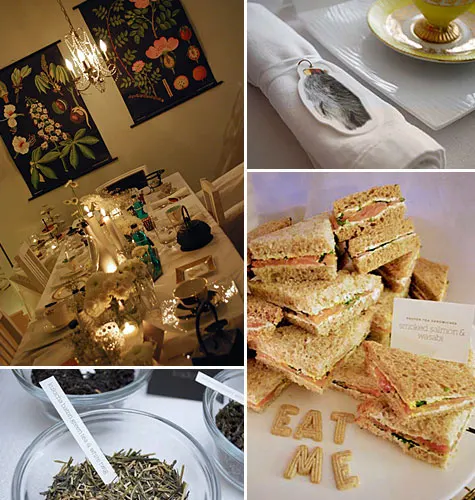 My ever-so-creative friend and frequent partner-in-crime Heather Crosby came up with a festive idea that encapsulates the two things we like best — making things and spending time with friends — by creating the tongue-in-cheek Upper Crust Social Club.
The UCSC is all about hosting a series of varied themed soirees that I'll feature here to hopefully jump-start your own gatherings. First up: An Alice-inspired night-time tea party for some of our favorite Chicago ladies that kicked off the UCSC concept in style.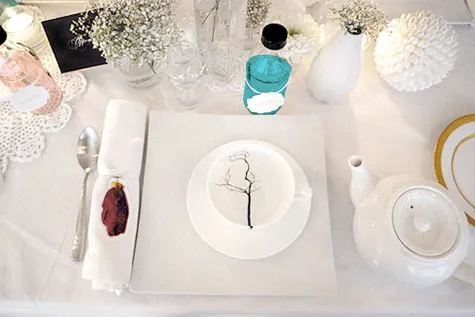 Today's tea party post features the overall decor, whimsical details and creative ways to set your tables and food display. Over the next few weeks, I'll share more posts with free templates and step-by-step how-to instructions to make all of our tea party goodies: Shrinky Dink rabbit's foot napkin holders that convert into keychain favors, super fancy tea sandwiches, handsewn tea bags for loose teas, magical "Drink Me"colored champagne bottles, edible flower ice cubes, homemade cake/sandwich stands, and more.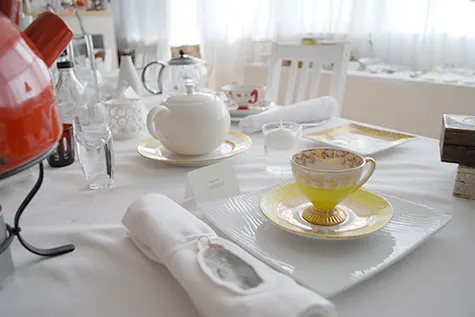 An all-white base for tablecloths, napkins, flower and candles ensured that the colors really popped from mismatched tea cups, teapots, rabbits feet, "Drink Me" bottles — and of course the yummy food and "leaded" and "unleaded" teas.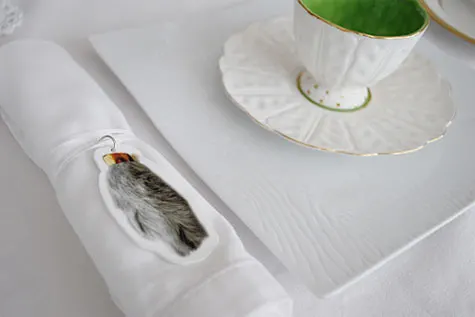 Each guest's placesetting had a handmade Shrinky Dink rabbit's foot napkin ring that converted into a keychain favor. I'll post the free DIY instructions and templates soon.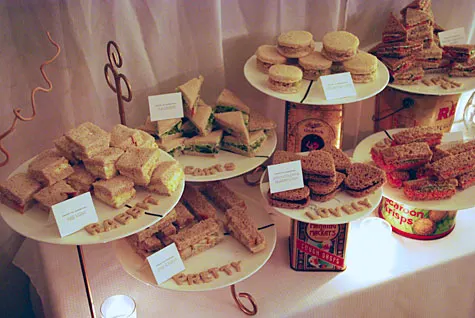 On the menu was a variety of proper tasty tea sandwiches (taken in the candlelight so sorry the photo is so dark): Fancy Almond Butter & Blueberry Jam, Carrot Ginger, Chicken Curry, Traditional Cucumber, Egg Salad, Pear & Stilton and Smoked Salmon & Wasabi. We cut them into triangles, squares, long rectangles, hearts and circles and lit up the evening buffet with dozens of tealight candles.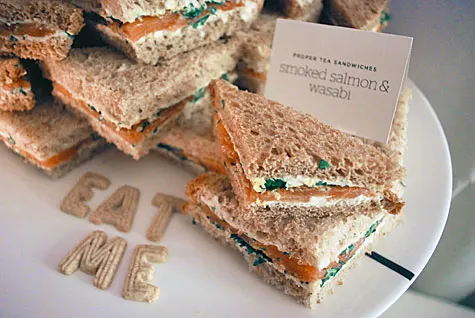 Using children's alphabet cookies, we spelled Alice-inspired phrases on serving plates including Eat Me, Pretty, Hearts, Rabbit, and Sassy.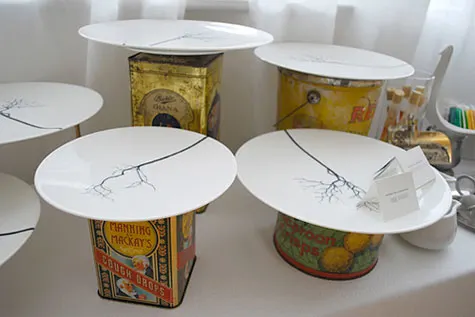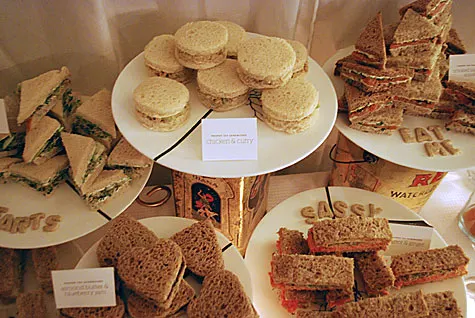 We created cheap and chic makeshift homemade risers on the fly for the sandwiches by spontaneously combining Heather's own collection of vintage tins with her delicate bone china plates (again, taken in the candlelight so sorry the photos are so dark).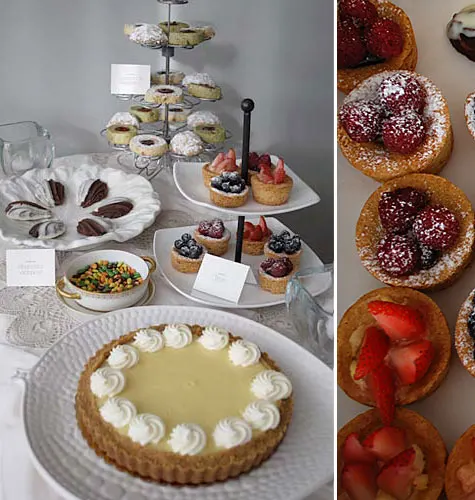 Every hostess needs to save time, so we "outsourced" our desserts to my neighborhood Alliance Bakery including bite-sized fresh fruit tarts, key lime tart, iced chocolate cookies, and hazelnut and pistachio thumbprint cookies.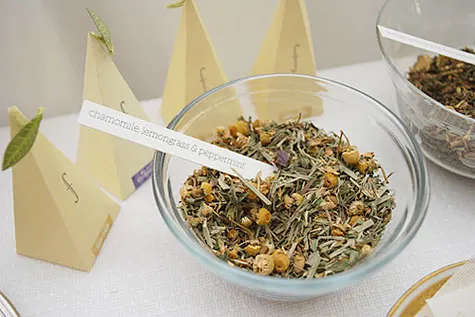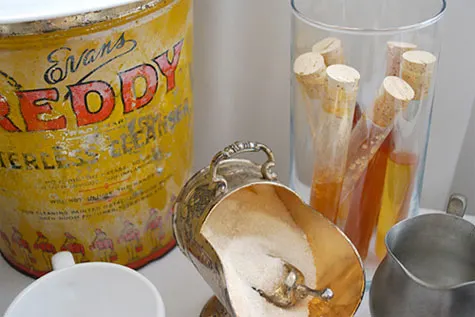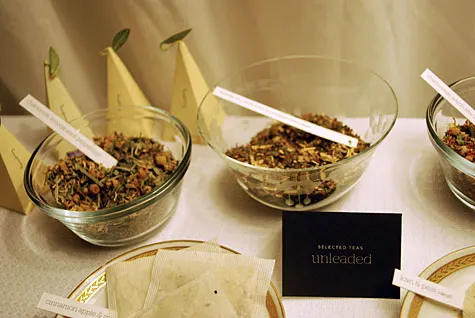 We pooled all our "leaded" and "unleaded" loose and bagged teas and all types of sweeteners…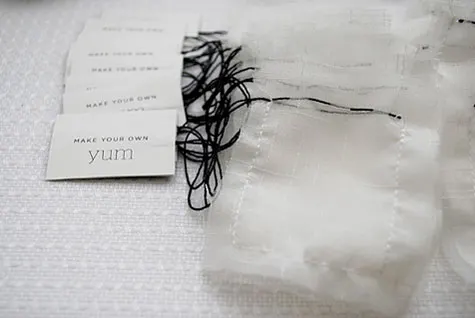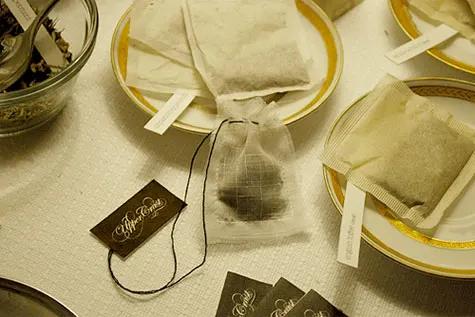 …and made handmade tea bags for loose tea from fabric remnants from my living room curtains and Heather's handmade tea labels with the UCSC logo on the front. Follow the free teabag instructions to make your own for favors or gifts.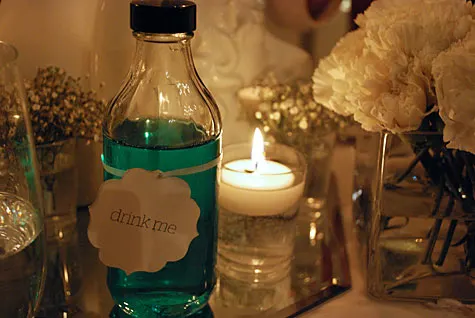 "Magical" Drink Me bottles filled with champagne, sugar cubes and food coloring in recycled bottles provided adult breaks from the teas.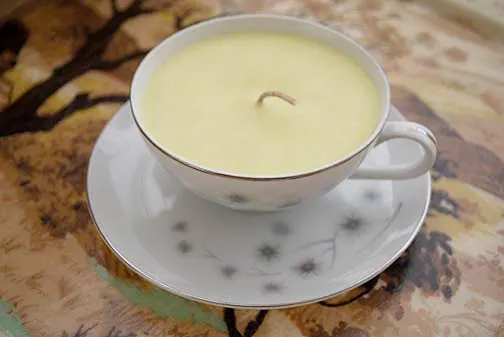 And the dazzling Alex Pruner hosted a super fun tea party game we made up based on her vintage feminist-slash-manners book crossed with a household favorite board game, Wise and Otherwise
. The winner received this soy tea cup candle made by local Chicago crafter Marcie at Something Beautiful.
Like this nighttime tea party theme? Check out the free DIY templates for Shrinky Dink rabbit's foot napkin holders that convert into keychain favors and lovely handsewn tea bags for loose teas …instructions for fancy tea sandwiches, "Drink Me" bottles of brightly colored champagne and edible fresh flower ice cubes to come soon. In the meantime, see more party photos at Inspired by Everything's post and Flickr album.