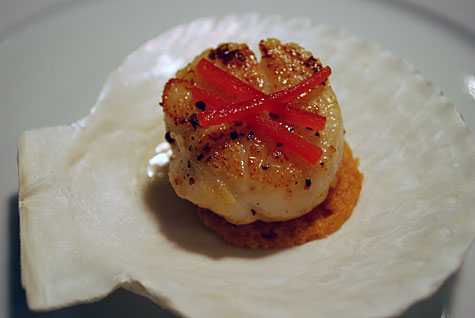 I'm a shameless sucker for all things seafood. So when I stumbled upon this recipe in an old cookbook of mine
when looking for easy appetizers for guests, I had to give this tasty recipe a try. It's my favorite type of culinary undertaking: looks difficult and elegant but is actually really easy and quick.
Ingredients:
12 small (about 1/2 pound) fresh sea scallops
1/4 cup good quality Parmesan cheese from the deli, finely grated
4 tablespoons unsalted butter (you could use olive oil but the butter adds flavor)
Bit of fresh red bell pepper
Lemon juice
White truffle oil (optional)
Kosher salt
Pepper
Supplies:
I slightly modified the recipe and instructions for more color and flavor brightness. Use chives and nix the lemon juice and red bell pepper to stay true to the original recipe
by sisters Mary Corpening Barber and Sara Corpening Whiteford.

First, make your crisps. Preheat the oven to 400 F. Take a spoonful of Parmesan cheese and drop onto a foil-lined cookie sheet. Lightly scoop up the Parmesan with your fingers into a mound about the size of a quarter. Try to make as much of a perfect mound as you can so your crisps turn out as circular as possible. Bake until crispy and brown, about 8-10 minutes. It's fun to watch them melt and bake. Take the foil off of the hot pan and let them cool a bit before peeling off and cooling completely on a wire rack if you have one.
The cookbook puts the fear of God in you about making these crisps, specifying that you must use high quality Parmesan and make them on "a day with very little humidity." In reality, they're pretty much a cinch. Just buy deli-quality grated cheese and put them into Tupperware or in a plastic bag if it's super damp out or you're making them an hour or so in advance.

Try to get your scallops wild and fresh, never frozen …that's one of the many things I've gleaned from Top Chef 😉 Dry the scallops completely using a paper towel. Season them with salt and pepper. Melt 2 tablespoons of the butter in a skillet over medium heat. Add half of the scallops and cook until barely cooked through, about 2 minutes per side. Avoid moving them around too much so that you get a nice brown sear on the top and bottom. Transfer to a paper towel-lined plate. Wipe out the skillet and repeat for the other half of the scallops.
While the scallops are cooking, slice your red bell pepper into julienne pieces. Put them to the slide until ready to assemble.
My mom used to serve scallops in natural baking shells
when entertaining so using them makes me feel like I'm making something fancy. Assemble by placing a crisp onto your serving shell, top with a scallop. Drizzle with a bit of lemon juice and truffle oil. Top with julienne bell pepper; serve and eat immediately to keep the crisps crisp.