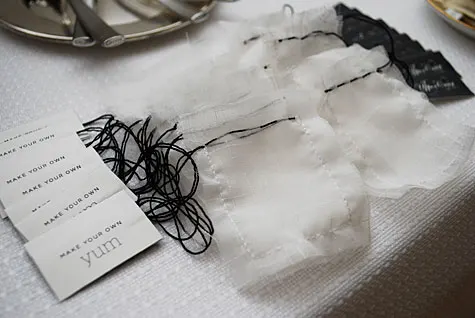 I'm posting the free tutorial for how to make sewn fabric teabags for loose tea by request. Jessica Mullen wrote: "I saw your beautiful photos from the tea party and I have a quick question. I was wondering how you made the tea bags for the make your own tea take home favors. I would love to do this for a baby shower I am throwing in 2 weeks. Any other ideas to make a baby shower more special using the tea theme? I love your ideas!!"
Thanks, Jessica! Here's how to make sewn fabric teabags for loose tea. My friend Heather came up with this idea for our Upper Crust Social Club Ladies' Late-Night Tea Party and I liked it so much that I decided to make a gold sewn tea bags variation for my mom as a DIY gift. So we've provided two free templates below, or you can easily make your own custom labels for your own teabags.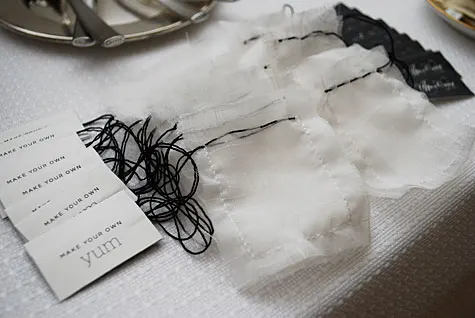 Supplies for handsewn fabric teabags:
Supplies for packaging:
:: For Making Your Own Tea Bags ::
First, cut your sheer fabric into 3″ x 2.5″ rectangles using your self-healing mat
, rotary cutter
and clear plastic ruler
OR good fabric scissors. Pin the rectangles together in pairs.

Machine sew around three sides of the teabag using white thread, leaving about 1/4 inch on the sides. I love the raw edges of the teabag, so embrace any fraying.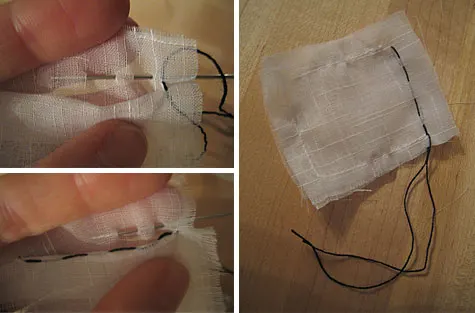 Thread your handsewing needle with thick, black thread, or use colored embroidery floss. Weave your needle in and out of the front side of the teabag and then around the back side of the teabag, leaving long extra thread pieces on both front and back. Be sure to avoid sewing the top of the tea bag shut. No need to tie any knots on this step.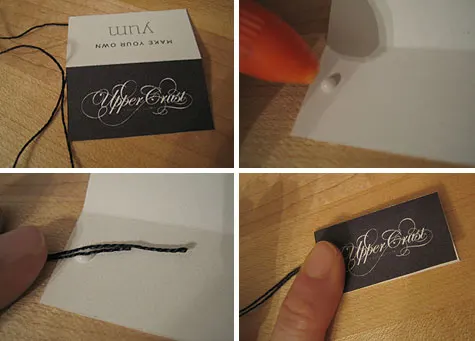 Print and cut out your tea labels using one of the two free templates provided, or making your own in Adobe Illustrator or PowerPoint. Fold them in half and place a dot of Elmer's glue on one end …a little goes a long way. Place the teabag string ends on the glue and close to seal.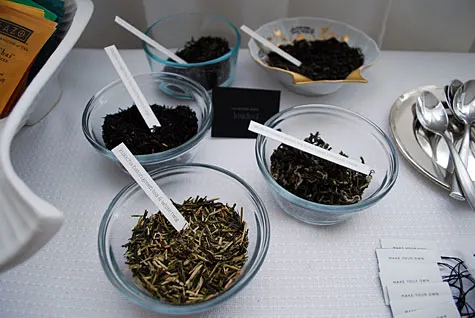 Create a "loose tea bar" using clear cups and other assorted small bowls. Fill your teabag with loose teas (my favorites including Blood Orange Tea are from Adagio Teas
…check them out. You can get free shipping with a $50 purchase
).
:: For packaging ::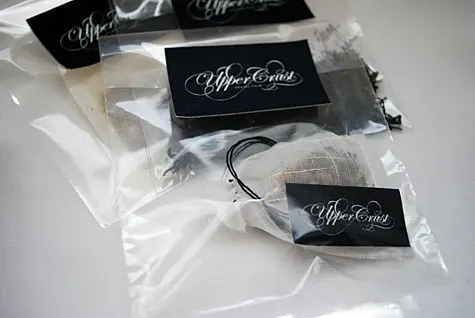 Buy clear plastic treat bags to put in a tea bag. Seal using pretty stickers, or make your own custom stickers like we did by buying 8 1/2″ x 11″ white printer sticker sheets and creating your own label in Adobe Illustrator or Powerpoint.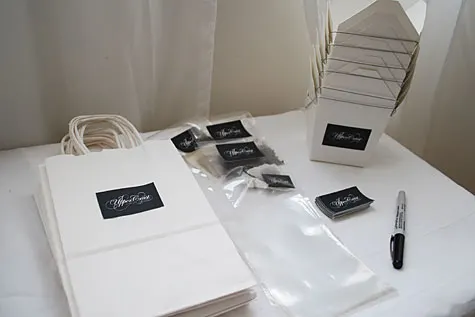 Provide white paper bags with a handle
and Chinese noodle take-out boxes for people to carry their goodies home. Relax and unwind!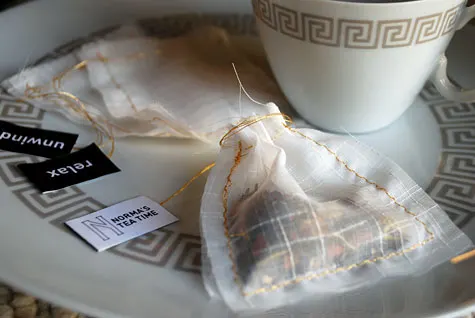 COPYRIGHT NOTE: You're more than welcome to use free pattern and how t0 step-by-step tutorial for your own personal use. Contact me for any commercial use – this includes etsy sellers.

Please post a comment if you use this project and let me know how it works for you. And you can post your photos to our "I made it!" flickr photo group. Craft and pass it on!