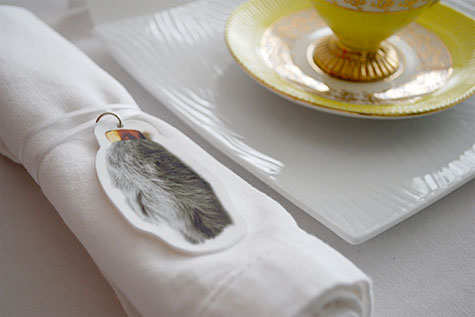 This is one of those craft projects that I just love. A little throwback, a little whimsical …and totally original.
The idea for Shrinky Dink rabbit's foot napkin rings that double as keychain favors sprung from a creative volley between me and Heather Crosby. I was hell bent on wanting to use Shrinky Dinks for our ladies' late night tea party. Heather had created a kick-ass invitation of a tea-stained coaster with a rabbit's foot. I suggested shrinky rabbit's feet for keychain favors. Heather loved it and quickly turned out an assortment of different colored feet graphics for me to make and bake.
And voila! A decorative and practical party detail that would be equally at home at a "good luck" wedding/engagement shower or goodbye party as it was at our Alice-inspired affair.
You're welcome to use these instructions and templates for free for your own personal use. Anyone using the template simply post a comment below or email me to track its usage.
Supplies:
This time rather than step-by-step photos, I decided to take my new Mac for a spin and make a little "how to" movie. Let me know what you think.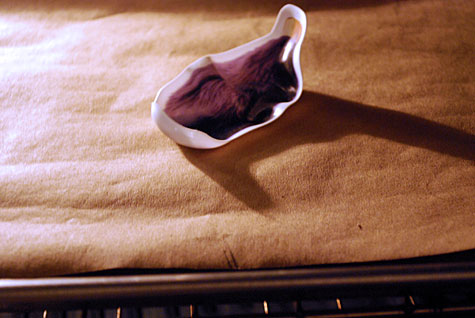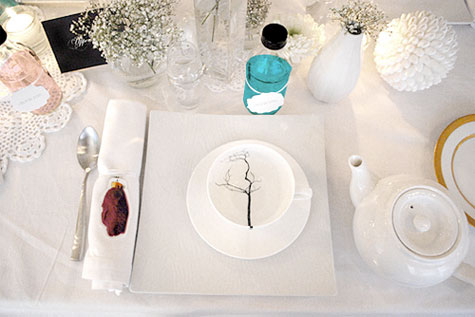 COPYRIGHT NOTE: You're more than welcome to use this project and pattern for your own personal use. Please post a comment below or email me if you use the template so I can smile when I see that it's being used.