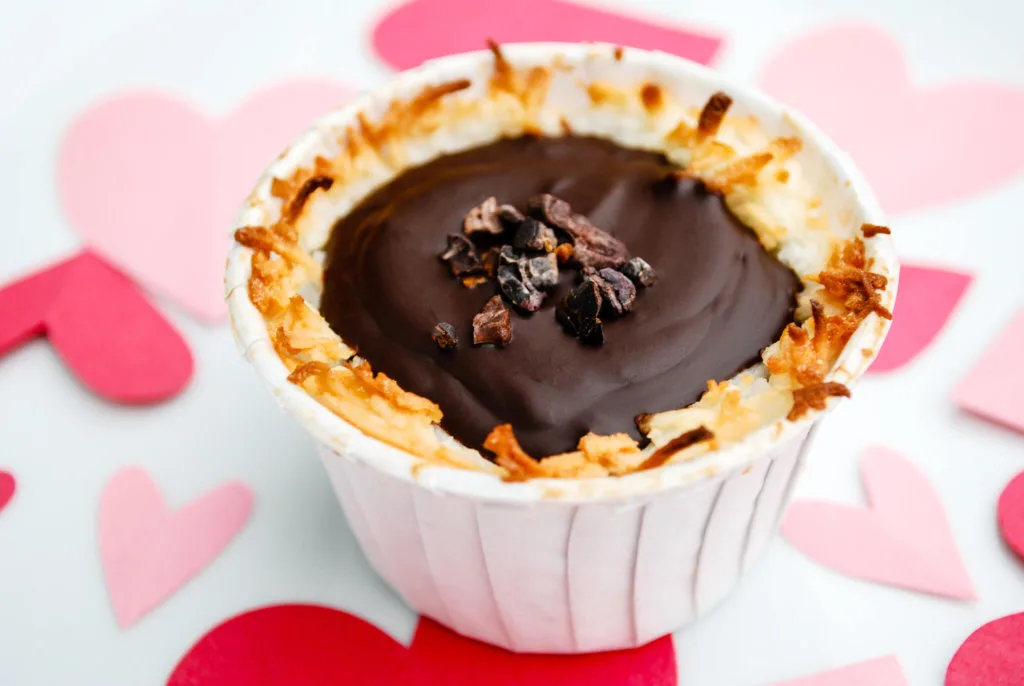 While I've never been much of a Valentine's Day girl, I've always been a big fan of coconut and chocolate. I made these special treats by modifying a recipe from an Australian cookbook
.
Ingredients (for four Valentine's Day treats):
1 cup coconut
1 egg white (buy pasteurized eggs if you can)
5/8 cup cream (just over 1/2 cup)
5 oz dark chocolate
4 large white paper nut cups (you could also try the mini-nut cups if you'd like to make more, or package for smaller treats)
Cacoa nibs for garnish (optional)
Other supplies:

Lay out your ingredients. The photo shows enough for eight treats (I doubled the recipe above to make more treats). Preheat the oven to 350 degrees. Chop your chocolate into chunks.

Place the egg whites in a bowl and whip until they're frothy and start to form peaks. I used a hand mixer but you could also use a stand mixer. Add the coconut and fold in using a spoon.
NOTE: After I made this recipe, I read that egg whites should be whipped at room temperature for the greatest volume, and also ideally whipped in a copper or stainless steel bowl. The article recommends separating egg whites from yolks them while they are still cold because it's easier, then bring egg whites to room temperature by putting them in a bowl and then setting that bowl in another bowl of warm water.

With wet hands or a spoon, press the coconut mixture into the white paper nut cups, covering the base and sides to make a shell. Bake for 8-12 minutes or until the coconut mixture gets nice and toasty brown.

While the coconut is toasting, make the filling. Place the cream in a saucepan over medium heat and cook until almost boiling, stirring constantly. Remove from heat and add the chopped chocolate, stirring until the chocolate has melted and the filling is smooth.

Ladle the chocolate filling into the coconut cups and sprinkle cacao nibs on the top. Place in the refrigerator for 15 minutes or until the filling is set. I like them best at room temperature so once set consider letting it sit out a bit before enjoying. Serve to your sweetie.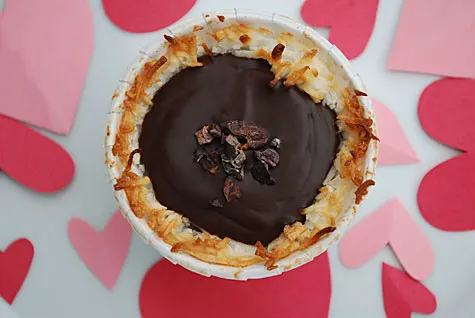 —
Like it? Share it!
The nicest way to say you like it is to pin it on pinterest, post a comment, follow Merriment Design on Facebook, twitter, pinterest, Google+, instagram or sign up for monthly emails. Enjoy! 🙂
Save