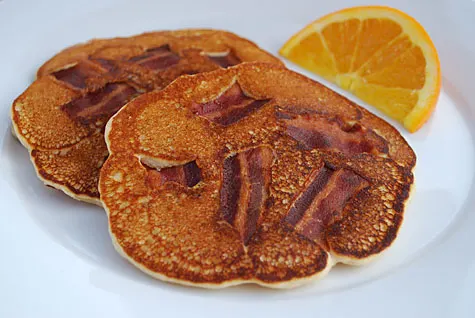 Lucky for me that magazines in my doctor's office are hopelessly out-of-date. I hit a goldmine during a recent appointment by seeing this bacon pancake idea in an old issue of Martha Stewart Living.
Well, everyone knows that I love bacon …and nothing can beat salty and sweet. So on this lovely Saturday in Chicago, I decided to recreate it for me and Shane.
Ingredients:
Supplies:

First, cook your bacon. My friend Renee has taught me the merits of cooking bacon on the stove, medium heat, using a splatter screen
to keep your stovetop nice and clean. Try to cook the bacon as flat as you can …later it will keep the pancake batter from oozing under the bacon and hiding it. Drain on paper towels and set aside.

Heat your griddle so it's warming up. Mix your pancake batter as directed, but make it on the thinner side by adding more liquid …I had a few flops using thicker batter. Transfer your batter into a Pyrex pouring cup so it's easier to work.

Drip water on your griddle to see if it's hot. If they bubble, you're ready. Spray your hot griddle with Pam for Grilling. Break your cooked bacon into 1/2 inch pieces or so and place tightly together in a circle. Pour your pancake batter in a circle, starting outside in, and covering all the bacon pieces.

Cook until lightly browned and bubbling on the edges, a couple of minutes or so, and flip. Garnish with orange and enjoy with real maple syrup. Salty and sweet. Yum.