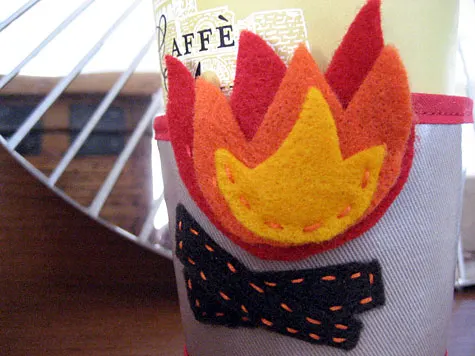 Make my campfire coffee cozy DIY with felt flames and logs! This cute handmade coffee cozy not only protects your hands but also brings joy to your cup.
While I'm not a particularly heavy coffee drinker I've been known to enjoy my oat milk mint mocha from time to time. If I buy coffee once a week I'm using 52 of these little guys. Buy coffee every workday and it skyrockets up to 260. Ouch.
See also: 'DIY foam custom koozie can and bottle drink cooler' »
Reduce, reuse, recycle …and show some personality to boot. I made this cozy campfire coffee insulator out of some felt and old fabric scraps.
++++++
Supplies for making my campfire coffee cozy insulator wrap:
Merriment Design is supported by readers like you. If you buy products that I recommend, I may earn an affiliate commission at no additional cost to you. Thanks – your clicks help me make more free DIYs!
++++++
How to make campfire coffee cozy DIY insulator wraps
Step 1: Cut coffee cozy insulator wrap pieces
Using your cardboard coffee insulator as a pattern cut out the khaki fabric, red fabric, interfacing, and vinyl. If you choose to use vinyl you will avoid some potential coffee stains; following the package directions iron the vinyl onto the khaki fabric.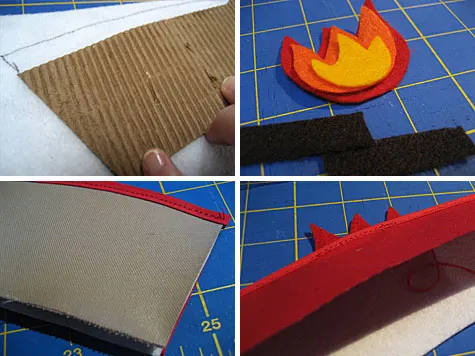 Your interfacing should be about 1/8th thick; it's almost like flexible fabric cardboard. Get the good stuff so that you can be sure it's insulating.
Step 2: Sew binding tape to the coffee cozy top
Sandwich the interfacing between the khaki fabric on top and red fabric on the bottom. Sew binding tape *onto the top only* for now.
Step 3: Add out campfire flames and logs to the DIY coffee cozy
Cut out three flames in different sizes plus two logs. Using three strands of embroidery thread handsew the largest flame onto the khaki fabric through the interfacing but not the red layer. This will make sure your stitches don't show on the finished wrap. Repeat for all three layers of flames and the logs. I made my flames stick above the top; I think it's cuter and more fun that way.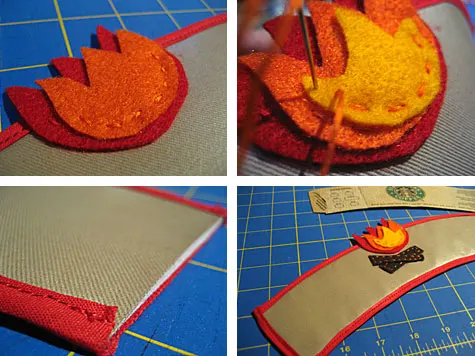 Step 4: Sew bias tape on the sides and bottom
Sew bias tape on the bottom through the khaki, interfacing and red layers like you did the top. See now how your flame stitches are hidden? Sew bias tape on the sides, folding down a bit extra on both tops and bottoms.
Step 5: Sew coffee wrap into a circle
Now shape it into a wrap and sew back and forth for security across the top and bottom.
Voila! Campfire cozy coffee!
++++++
Be sure to also check out my prentend paper campfire play set with printable paper marshmallows, graham crackers, and chocolate to make s'mores.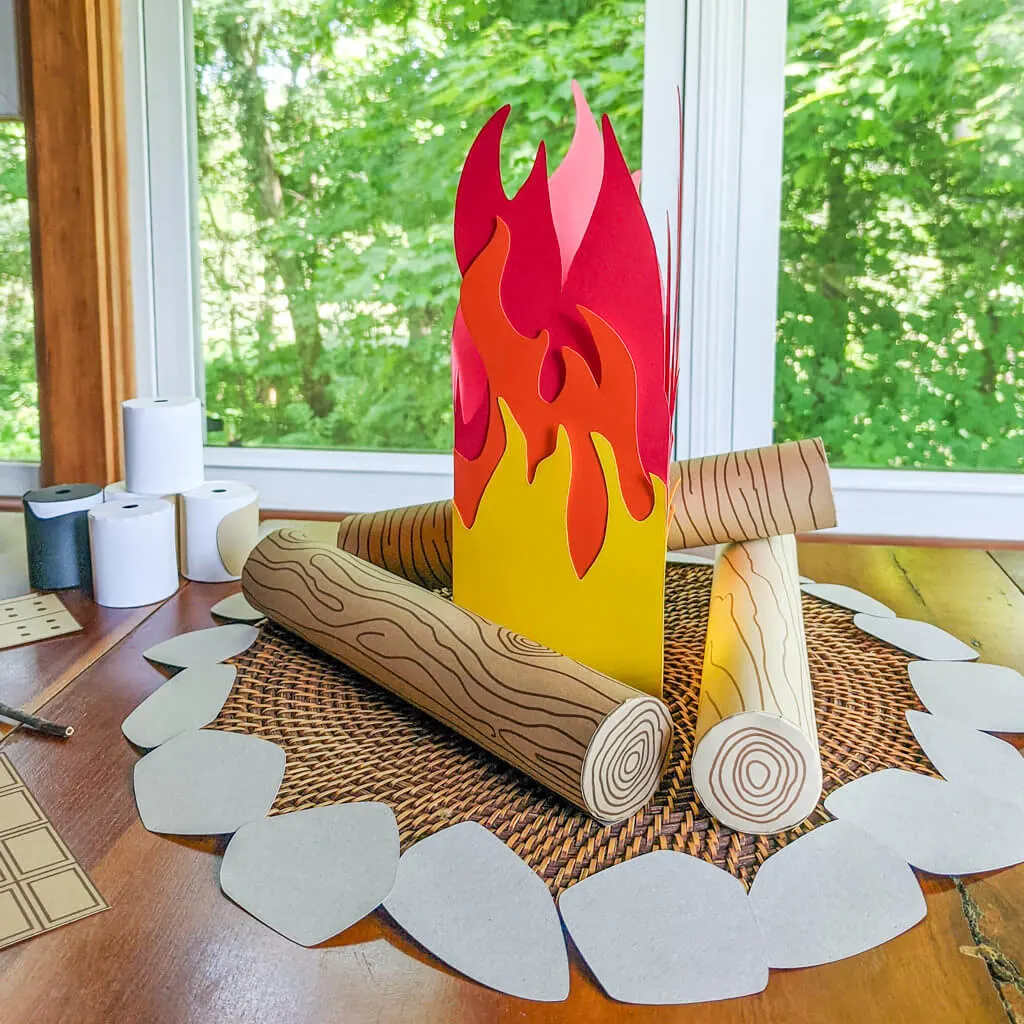 —
Like it? Share it!
The nicest way to say you like it is to pin it on Pinterest, post a comment, follow Merriment Design on Facebook, Pinterest, Instagram or sign up for monthly emails. Enjoy! 🙂
Copyright stuff: You're more than welcome to use this free project and tutorial for personal use. Contact me for commercial use and Etsy sales.