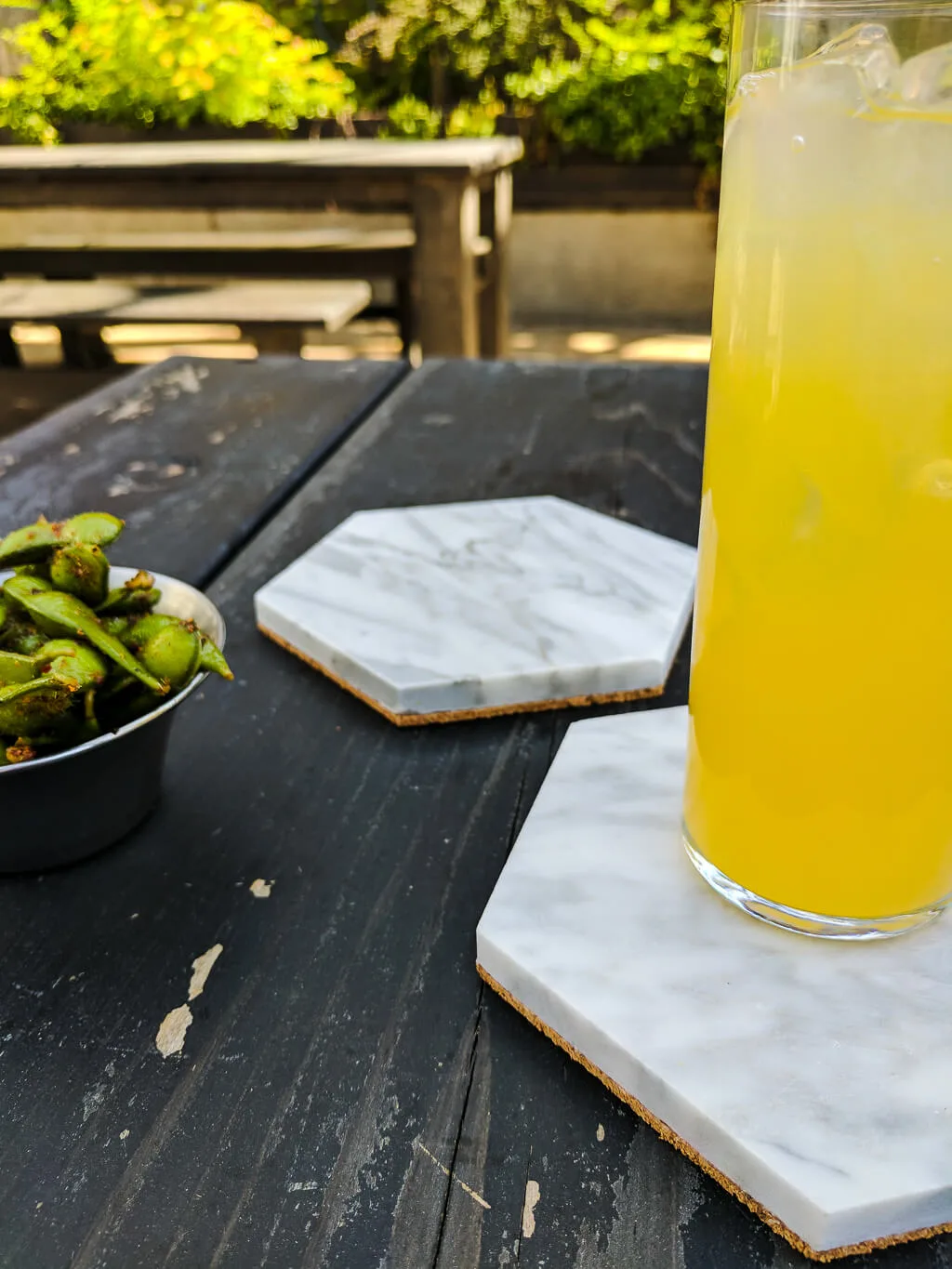 If I could renovate our 13-year-old kitchen tomorrow, I would choose classy Italian Carrara marble counter tops. Until then, I made myself some modern DIY hexagon Carrara marble coasters that cost just $5 each. See how to make these easy DIY coasters for yourself or a friend. This is a super quick DIY project. You'll be amazed at how easy it is to make your own handmade hexagon coasters.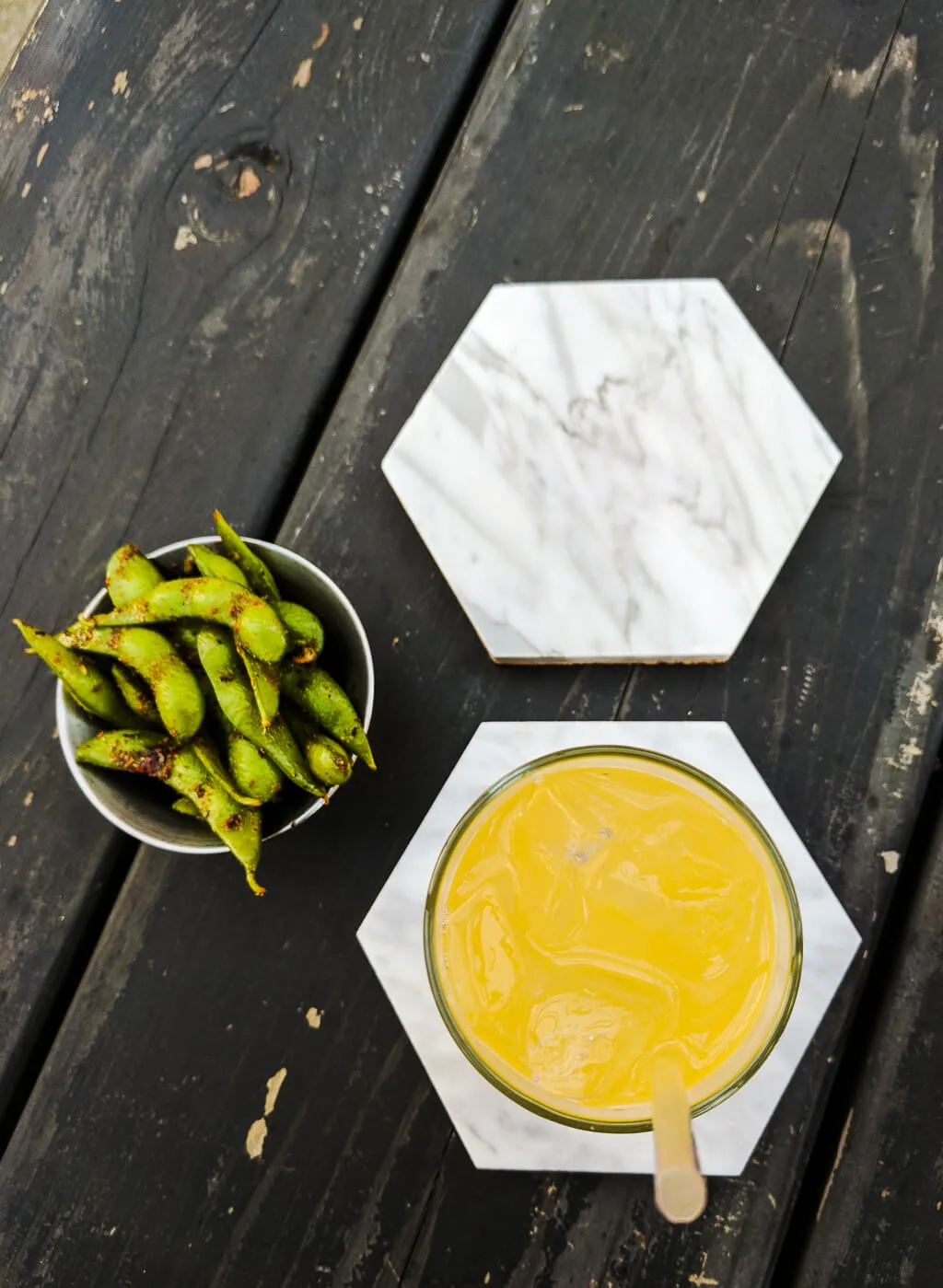 DIY hexagon marble coasters make great DIY gift ideas
Wouldn't these DIY hexagon marble coasters make a great DIY gift idea? Make them for a DIY Mother's Day gift, DIY birthday gift idea, DIY Christmas gift idea, or handmade housewarming gift. I would want them, wouldn't you? Look how cute they look outside on the picnic table with some spicy edamame and a nice and bright fruity cocktail? I took this photo while lunching with my good friend, Danielle.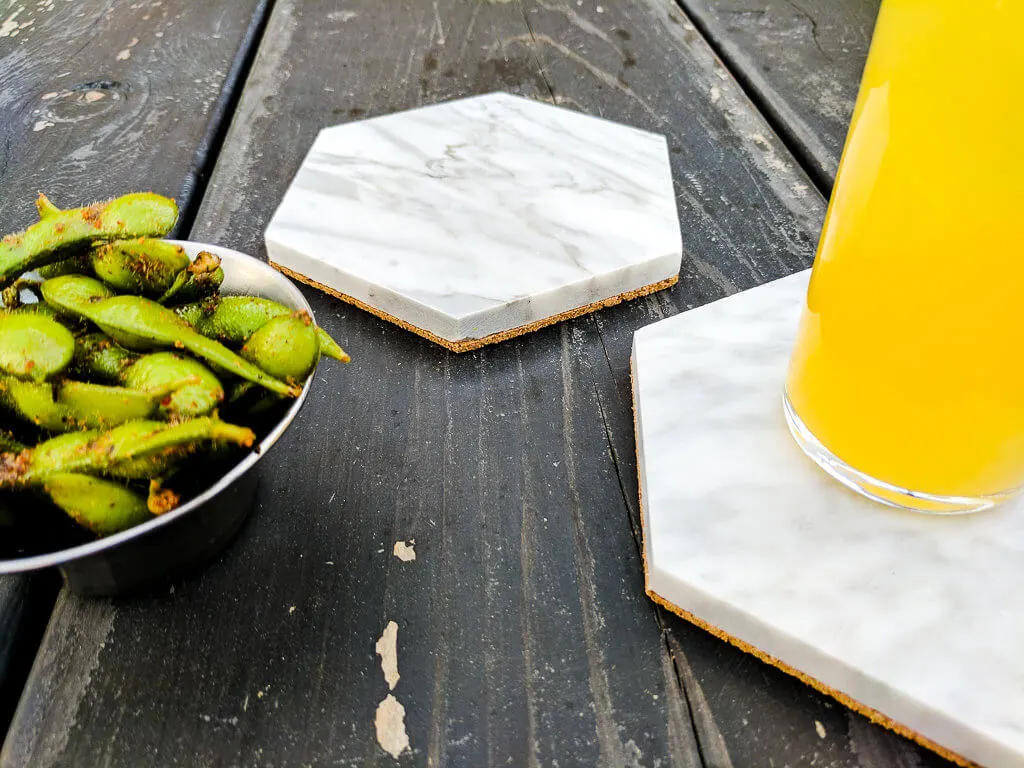 Easy DIY hexagon marble coasters in just three steps
Making these DIY hexagon marble coasters are so easy that it feels weird writing a "tutorial" on how to do it. It's only three steps, people. And if you buy polished marble tiles then it's only two steps. ONLY TWO STEPS.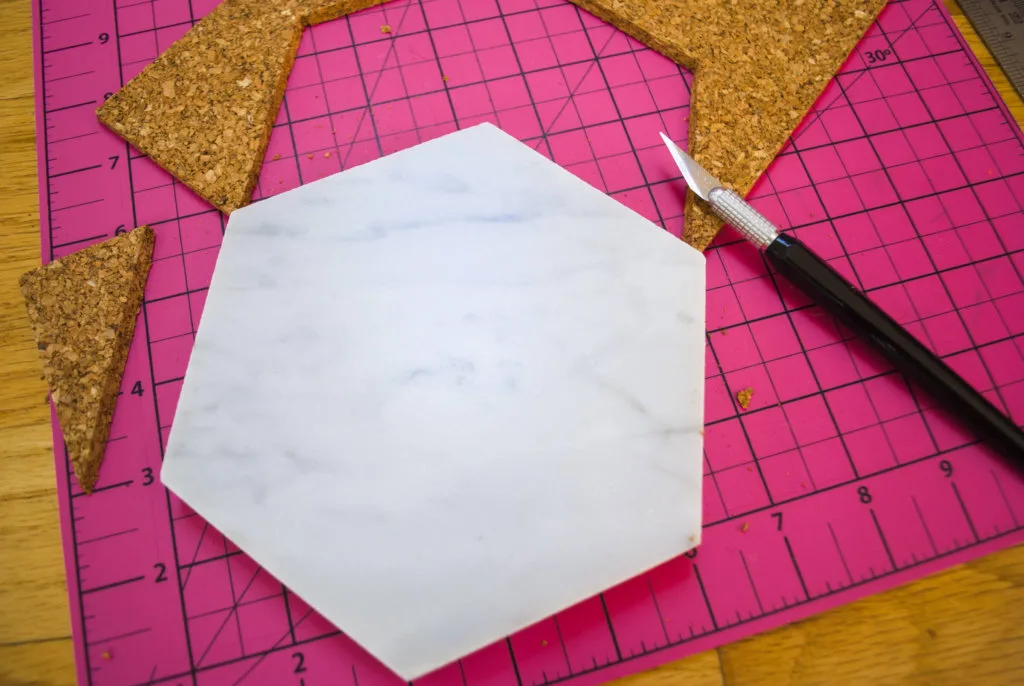 Isn't that easy? Almost too easy. I mean, as much as I love simple things I've definitely been known to over-complicate my crafting projects. Anyway, I originally made these easy DIY coasters 4 years ago (you can see them here in my Kentucky Derby horseshoe etched beer glass tutorial) and I'm finally writing up this DIY marble coaster tutorial. Pretty embarrassed that that it took me so long to share this easy DIY gift with you.
And they still look great, 4 years since I first made them…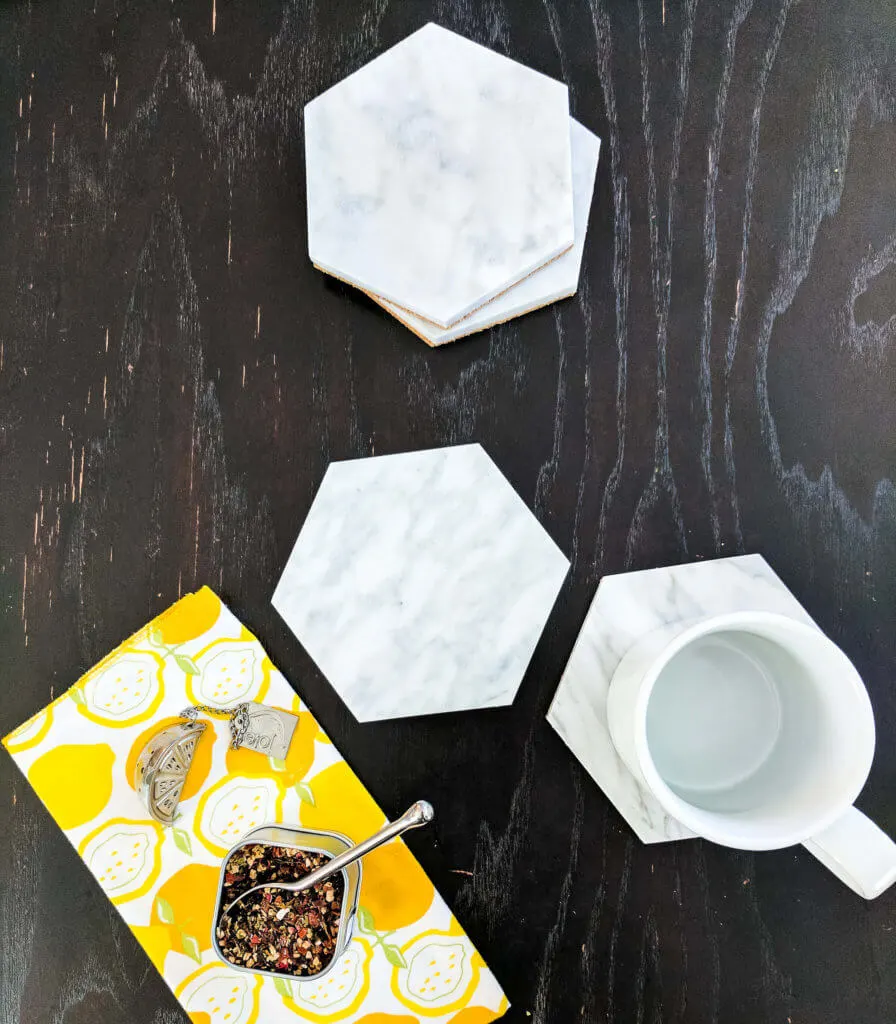 I also gifted a set of DIY hexagon coasters to one of my favorite instagrammers/quilters/bloggers, Nicole at Modern Handcraft. Doesn't it look right at home in her kitchen?
Merriment Design is supported by readers like you. If you buy products that I recommend, I may earn an affiliate commission at no additional cost to you. Thanks – your clicks help me make more free DIYs!
+++++
Supplies for making easy DIY coasters using hexagon Carrara marble tiles:
NOTE: If you use honed (matte finish) hexagon marble tiles like I did, you will also need these supplies:
How to make easy DIY hexagon marble coasters:
Step 1: Seal your hexagon marble tiles (optional, do this if your tiles are matte finish rather than polished)
I found two types of Carrara marble tiles for sale on Amazon: honed which is a matte finish, and polished which is shiny. I wanted mine to be matte so I went with honed. If you decide to buy polished tiles, then you can skip the sealant step. Even easier.
I contacted the tile manufacturer about my matte hexagon tiles and they recommended sealing honed tiles to prevent staining. I used some leftover sealant from our bathroom marble. If you don't want to buy a sealer like this then you could seal it using Mod Podge outdoor formula.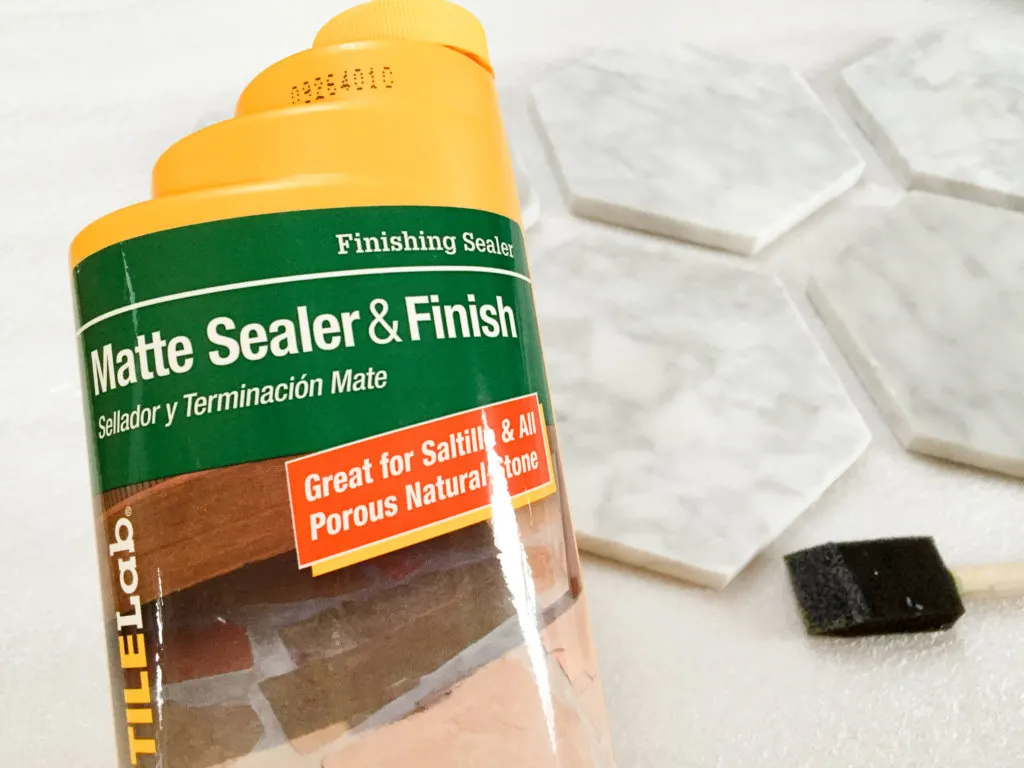 Apply two thin coats following package directions, and let it dry overnight.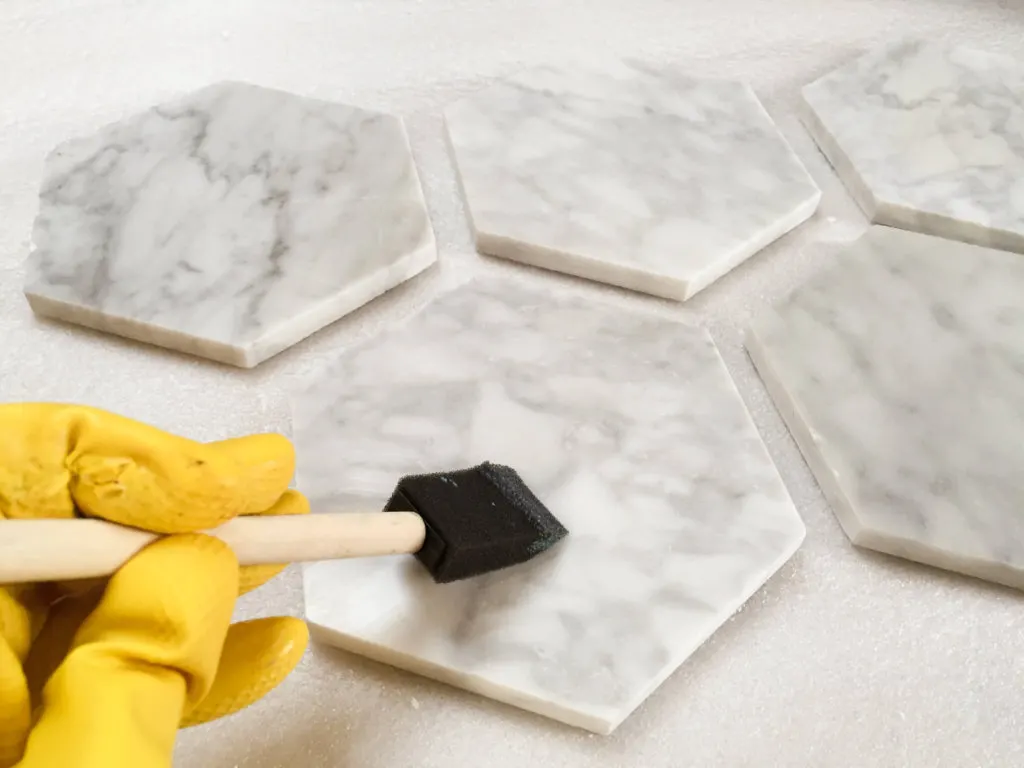 Step 2: Glue cork onto the bottom of the hexagon tiles
Place your dry marble tiles wrong side up. Paint a decent amount of Mod Podge on the back, making sure to cover all bits and all the way to the sides. Work quickly because Mod Podge can dry fast.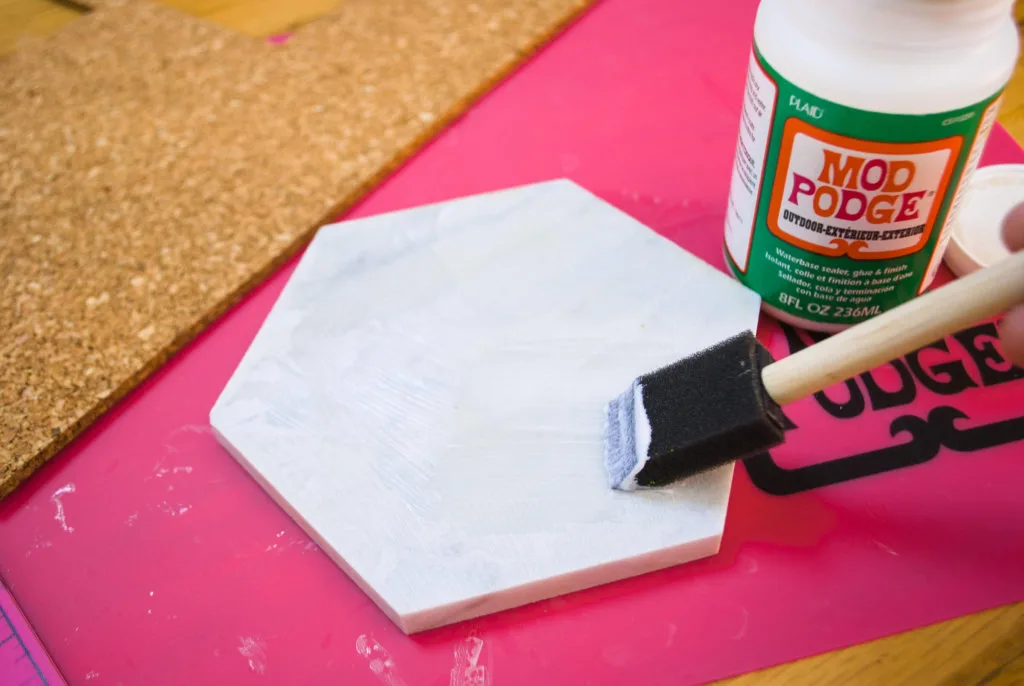 Place it glue-side down onto cork. Or for a different look, you could use wool felt. Let it dry. Make sure the cork is adhered well before moving on to the next step.
Step 3: Cut the cork using the coasters shape as a guide
Run your craft knife close to the hexagon tile to cut it out – be sure to use a self-healing mat.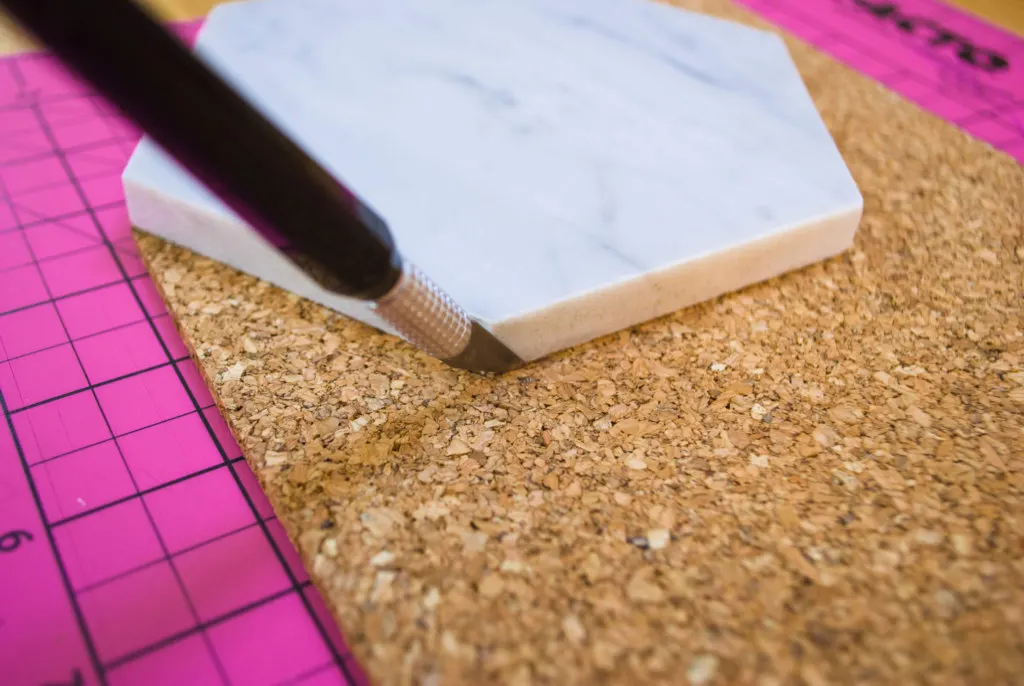 Here's the back of the coasters with cork on the bottom…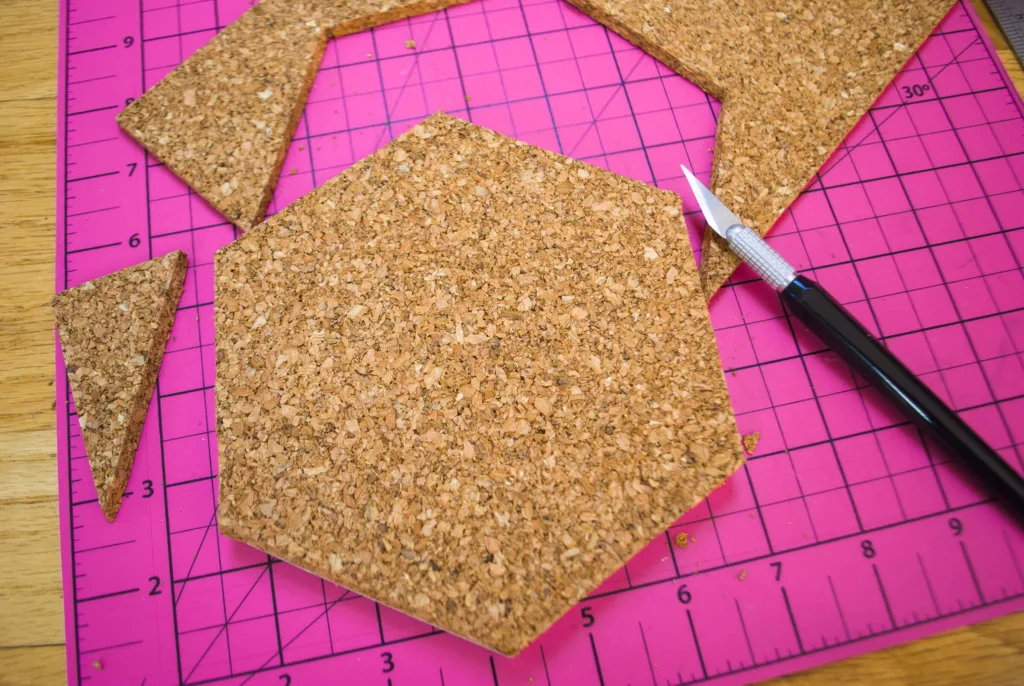 And that's it. Wasn't it too easy to make a DIY coaster that's this classy?? These modern coasters definitely look handmade, not homemade.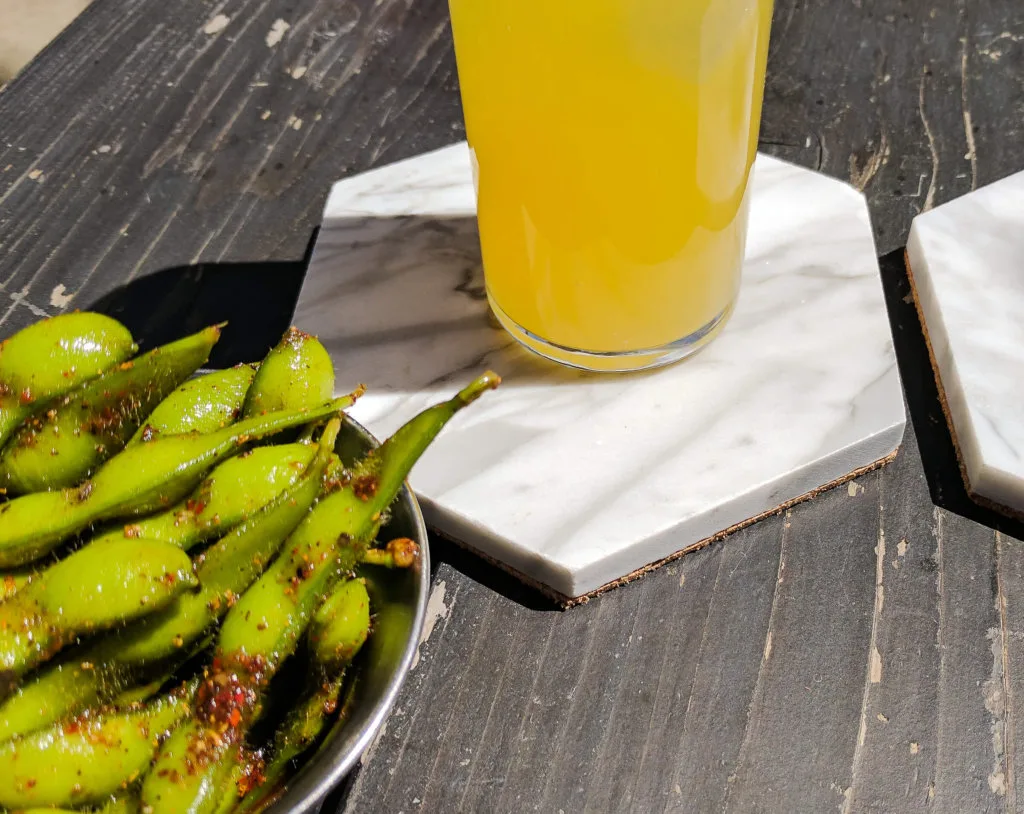 Tell me in the comments below: what is your favorite drink to put on a coaster?
—
Like it? Share it!
The nicest way to say you like it is to pin it on Pinterest, post a comment, follow Merriment Design on Facebook, Pinterest, Instagram or sign up for monthly emails. Enjoy! 🙂
Copyright stuff: You're more than welcome to use this free project and tutorial for personal use. Contact me for commercial use and Etsy sales.
Save
Save
Save