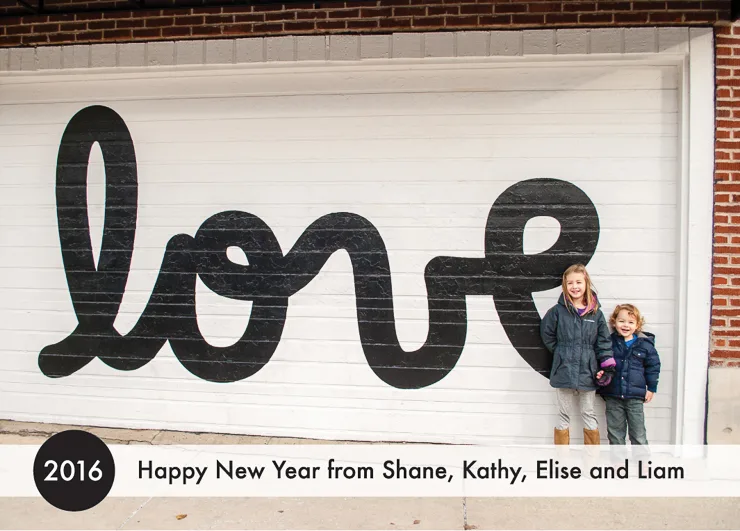 Happy New Year! Today I want to share our family's new year's card and talk a little bit about measuring time. First, I love these photos of the kids. I took them on Damen south of Cortland in Chicago. We had a lot of fun doing a little photo shoot and then walking down the street for post-photo cookies.

Second, I love the white blank box that I added to this year's card.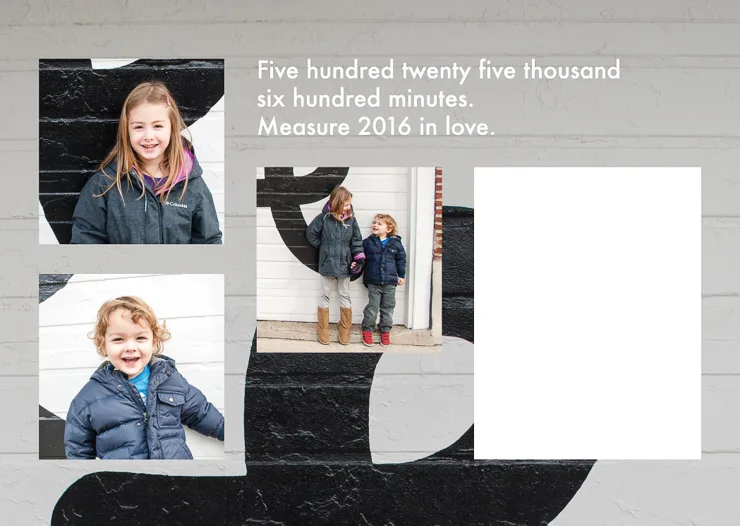 Sometimes the kids drew a little picture for the recipient, like the rainbow below. Sometimes I wrote a personal note. I really dislike the current trend of personalized-yet-impersonal holiday cards with pre-printed address label stickers on front envelopes, nothing handwritten at all. When did holiday cards turn into pretty yet sterile direct mail pieces? Anyway, I still like the handwritten note, the heartfelt sketch, the personal touch that the empty white box allows.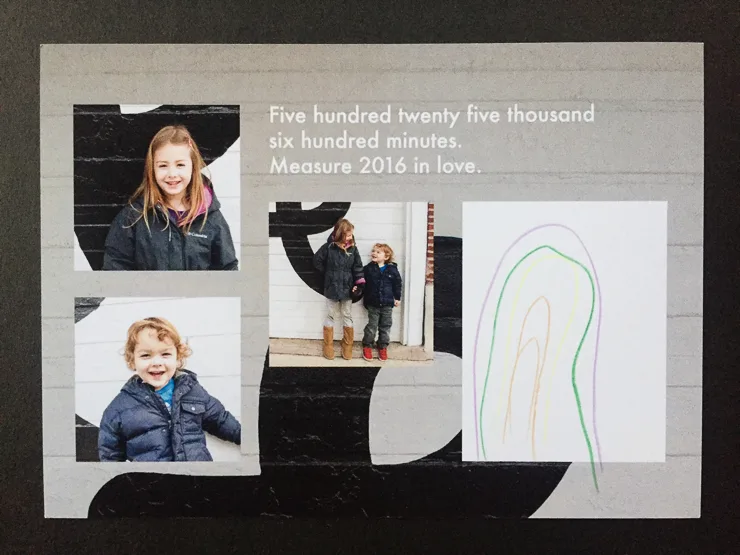 Third, the love. Love was inspired by my friend Wendy's Instagram picture of her kids that made me start playing the song "Seasons of Love" from Rent in my head on repeat. 'How do you measure, a year in the life?' Humming the lyrics over and over got me thinking about time passing, about life, about evaluating past years and anticipating the promise of new ones.
We're conditioned as a culture to evaluate ourselves and our accomplishments annually and I started to wonder: what exactly did I achieve last year? What work did I put towards my goals for my business and my family? 2015 has been another year of transition for me. My kids are both in full-time school for the first time, my identity has been shifting once again, and since the fall I'd been thinking: what am I doing with my newfound "extra" time? What have I been able to cross off of my ubiquitous list? I started mentally cataloging the projects that I finished in 2015 as well as the much longer list of good intentions left half-done or not even started. I kind of went down a spiral and it wasn't pretty.
"Seasons of Love" kept rumbling around in my head: measure in sunsets, in cups of coffee, in laughter, in strife. How about love? How about the times that I laughed with my family, good conversations with old and new friends, moments of joy in making new things? How about measuring my days by the moments when I'm with people that I love or doing what I love?
Thank you for visiting Merriment Design, for subscribing, for pinning, for creating, for commenting. I'm grateful to you all for helping me do what I love to do to support and spend time with the family that I love. Happy 2016 to you. Here's to measuring it in love.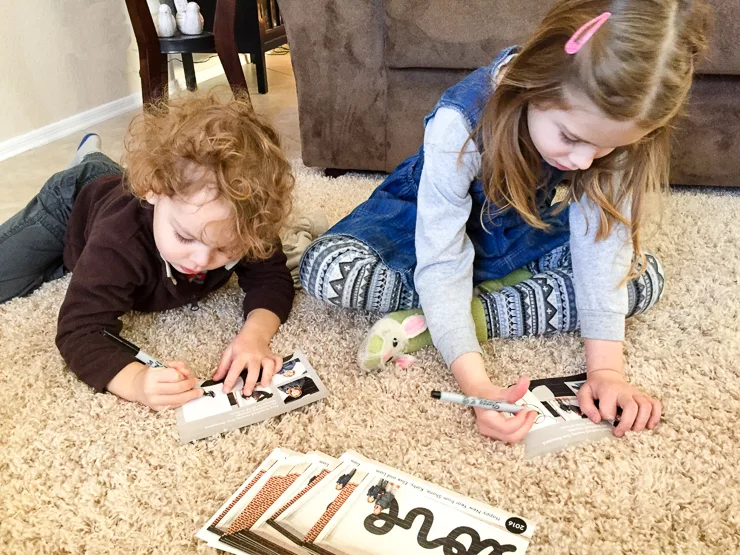 —
Like it? Share it!
The nicest way to say you like it is to pin it on pinterest, post a comment, follow Merriment Design on Facebook, twitter, pinterest, Google+, instagram or sign up for monthly emails. Enjoy! 🙂