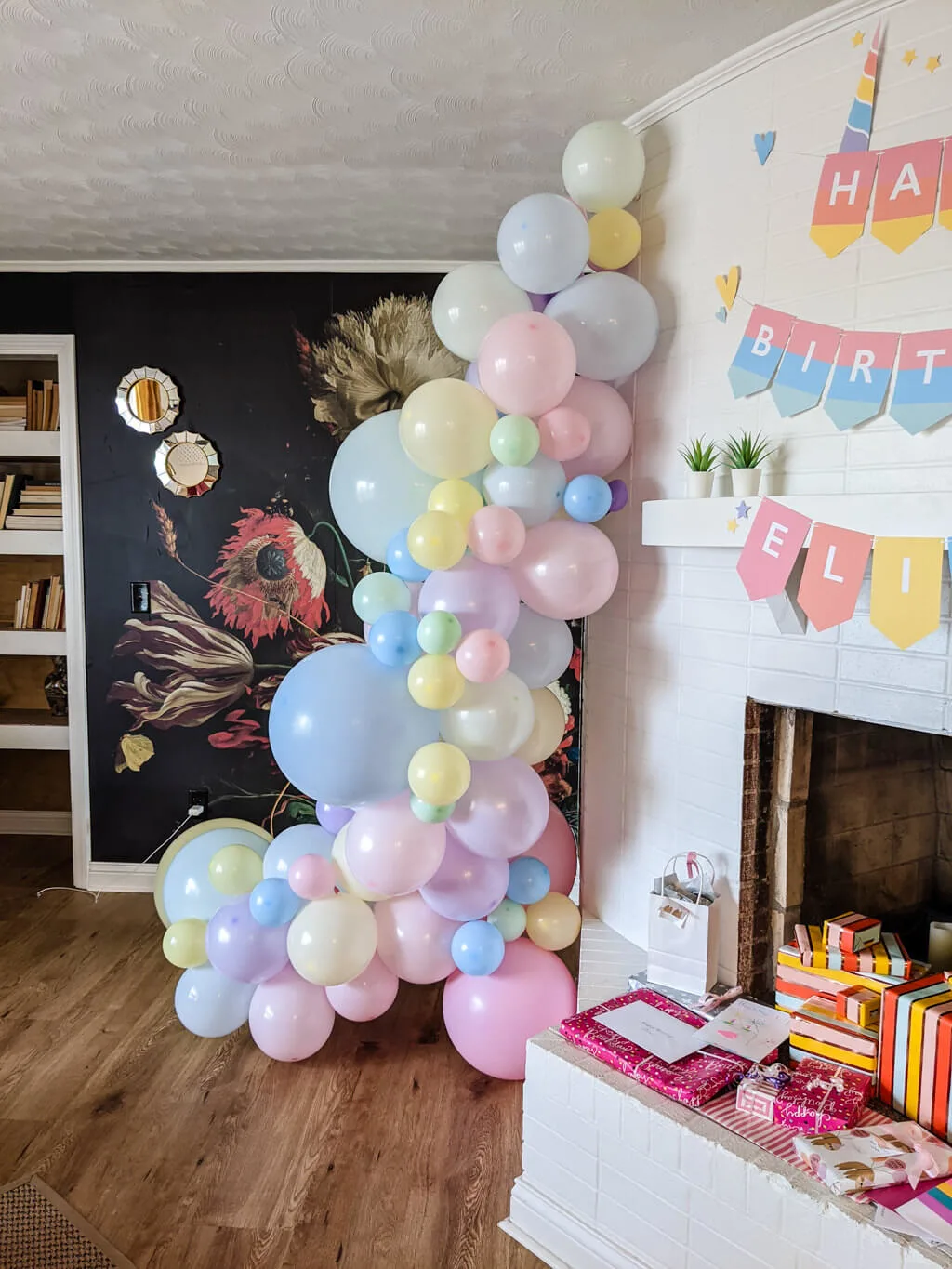 Making a balloon garland is an easy way to add pizazz to your party decor. Balloon garlands look impressive yet they're surprisingly easy and quick to make — you can make a balloon arch in about an hour or two depending on its size. Balloon arches make a great photo backdrop for birthdays and baby showers, and because there's no helium you can make them in advance of your party.
See also: 'Easy Mermaid Birthday Cake' »
How to make a balloon garland – the easy way for beginners!
I'll be honest – I was really intimidated at first to make a balloon garland so I spent way too much time watching a bunch of YouTube tutorials and researching methods. I summarized below what I learned to help save you time. I'll show how to put together a simple balloon garland, answer some common questions, and share tips for beginners.
Balloon garlands give a lot of bang for the buck. This whole arch only cost me just $16 to make!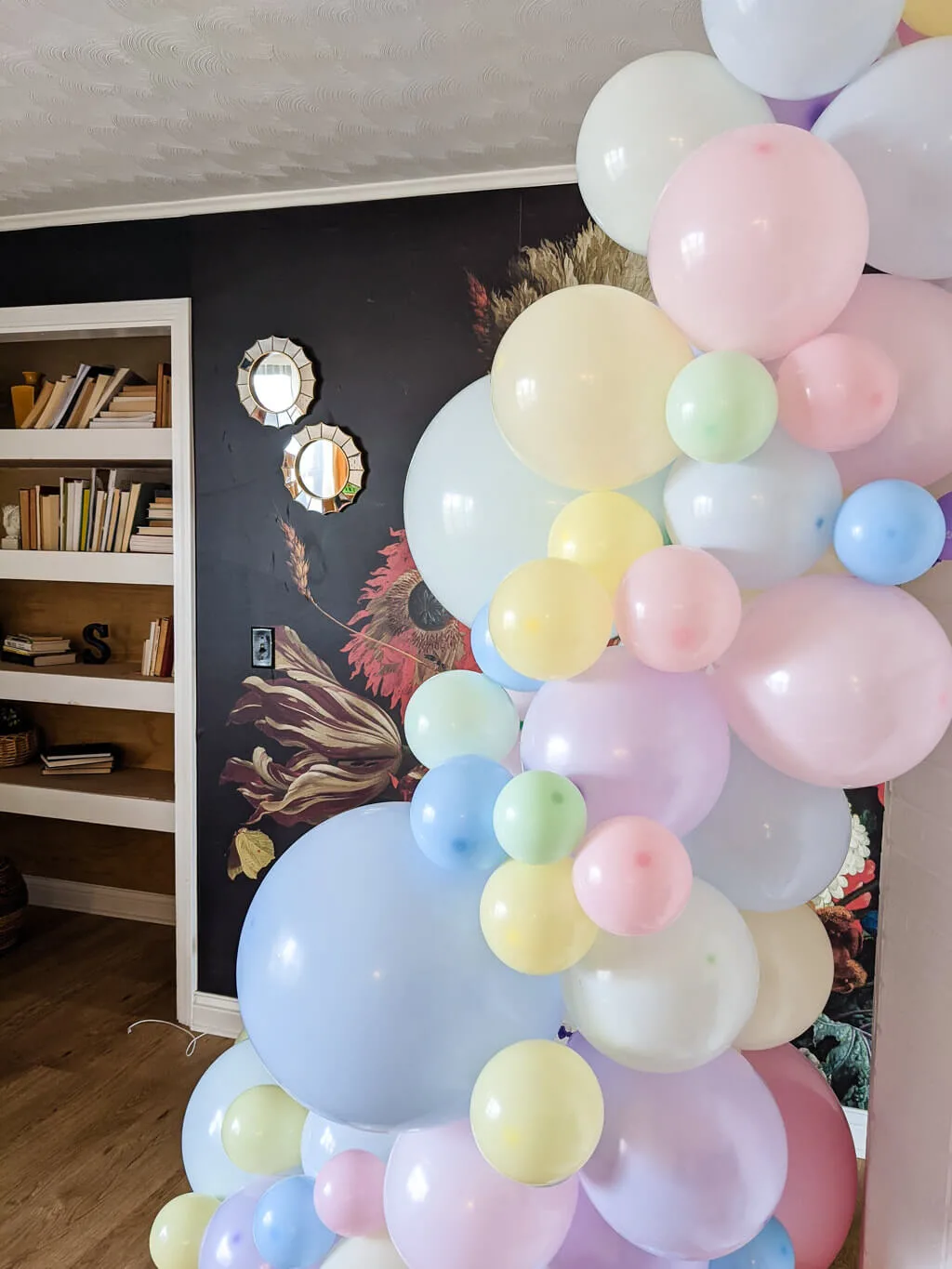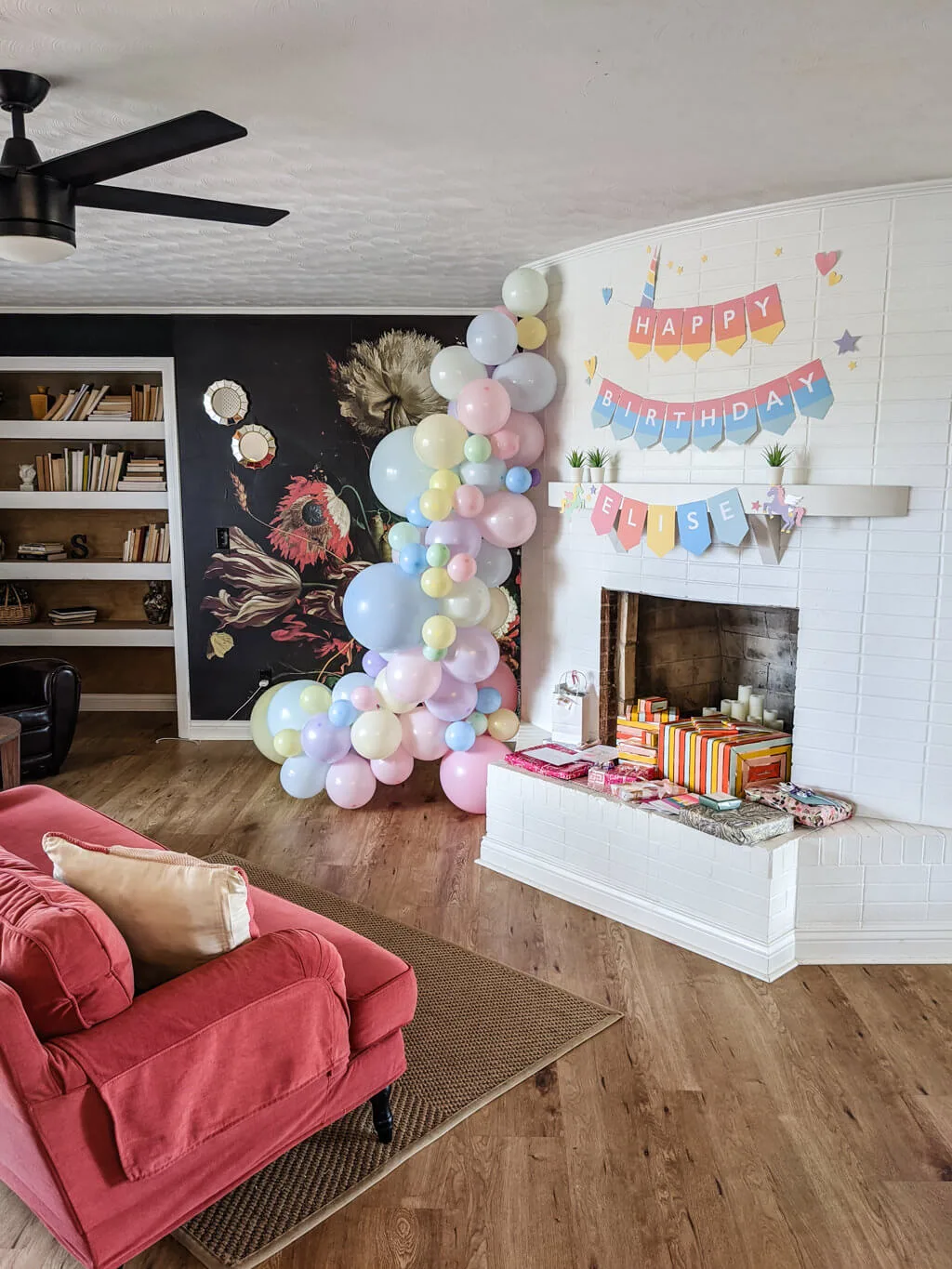 Pastel balloon garland for a Unicorn & Rainbows party theme
This pretty pastel balloon garland for a unicorn theme birthday party is my first balloon garland. I can't believe how easy it was to put together! I mean, it was really super easy, and the kids helped. Elise called her unicorn balloon garland a 'Unicorn Mane' because it flows down the wall. It made such a great photo backdrop for her birthday! I paired the pastel garland with a DIY pastel rainbow Unicorn Happy Birthday Banner.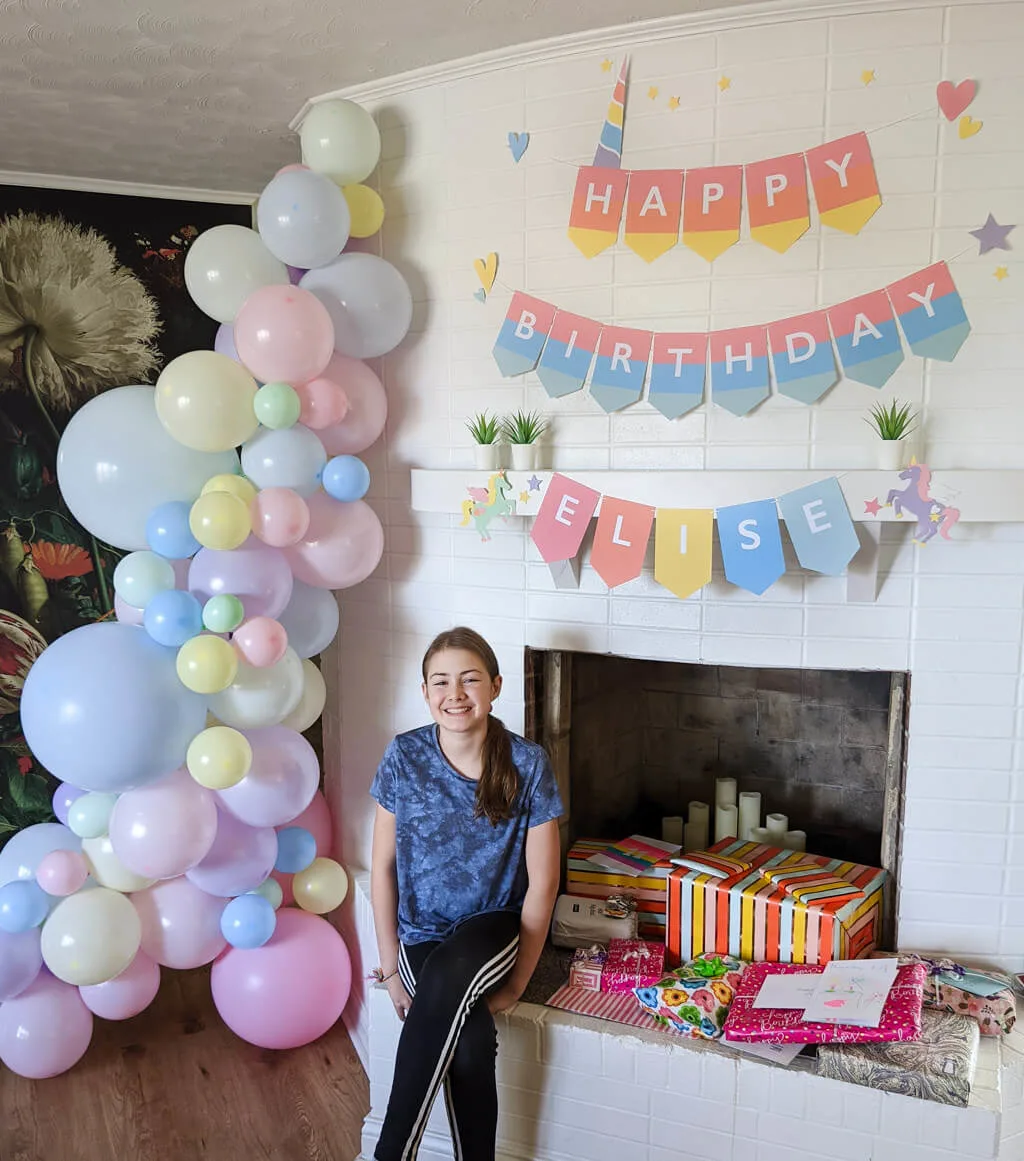 Keep reading to see how to make your own balloon arch including supplies, how to use the plastic decorating strip, how to attach the balloon arch to the wall, and tips for beginners.
++++++
Balloon Garland DIY Supplies List
Here's what you need to make your balloon arch for your birthday party, graduation, or baby shower:
1. Balloon garland kit
Balloon garland kits come in so many colors and typically include balloons, a plastic decorating strip and glue dots, and a balloon tie tool to help keep your fingers from getting sore. And sure, you can purchase all of these items separately but if you're a beginner making your first garland then a balloon garland kit is going to save both time and money. After you've made your first balloon arch and want to make more (and you will) then you can go ahead and buy balloons, plastic decorating strip, and glue dots separately. You'll want three sizes of balloons for contrast.
Here's the pastel balloon garland kit that used for Elise's unicorn balloon arch. The balloon arch kit included 100 good-quality balloons (only 1 popped while filling) in five pastel colors: pink, blue, purple, yellow, mint green. Each color had 10 (ten) 5-inch balloons, 8 (eight) 10-inch balloons, and 2 (two) 18-inch balloons. I had a handful of balloons leftover to decorate other areas of the room.
Etsy has a lot of super cute balloon garland kits with custom colors and unique balloons such as confetti and metallic.
2. Command Hooks
Removable hooks make hanging balloon garlands a snap! I only needed one 1-pound weight Command Hook to attach my entire unicorn balloon garland to the wall. NOTE: If you're hanging a garland outside, then I recommend using screw eyes with fishing line instead.
3. Electric balloon pump (optional but highly recommended)
Why oh why didn't I buy an electric balloon pump, like 10 birthdays ago?!? An electric pump is so fast and easy! And personally, I really hate the taste of latex balloons (barf) and there's no need for that with an electric balloon pump. Yes, you can still make a balloon garland using just a hand pump, or no pump at all, but you'll be a lot happier if you use one of these electric babies.
+++++
How to Make a Balloon Garland with a Strip
I'm going to show you how to make a balloon garland with strip. There are other ways to make balloon garlands that involve fishing line and twisting two balloons together but using a strip will be easiest for beginners.
1. Blow up balloons
Blow up balloons and tie. Again, I totally recommend this inexpensive electric balloon pump. Here's a great video that shows how to use the balloon tie tool to avoid sore fingers.
2. Attach balloons to the decorating strip
Some videos that I watched recommend cutting the strip before adding balloons. I disagree — don't cut the strip! There's no need to cut the strip until AFTER you've added balloons and the arch is the length that you want it to be.
Be sure to leave about 6-8″ of open holes on the decorating strip so that you can use it to hang onto the wall. I wanted my 'unicorn mane' to flow down the wall and sit on the floor, so I only needed to leave space on one side. However, if you're attaching both sides of the balloon arch then leave 6-8″ empty on both sides.
Pull the knot of the balloon completely through the decorating strip. Be sure that you've pulled the entire knot through the hole rather than just the loose end.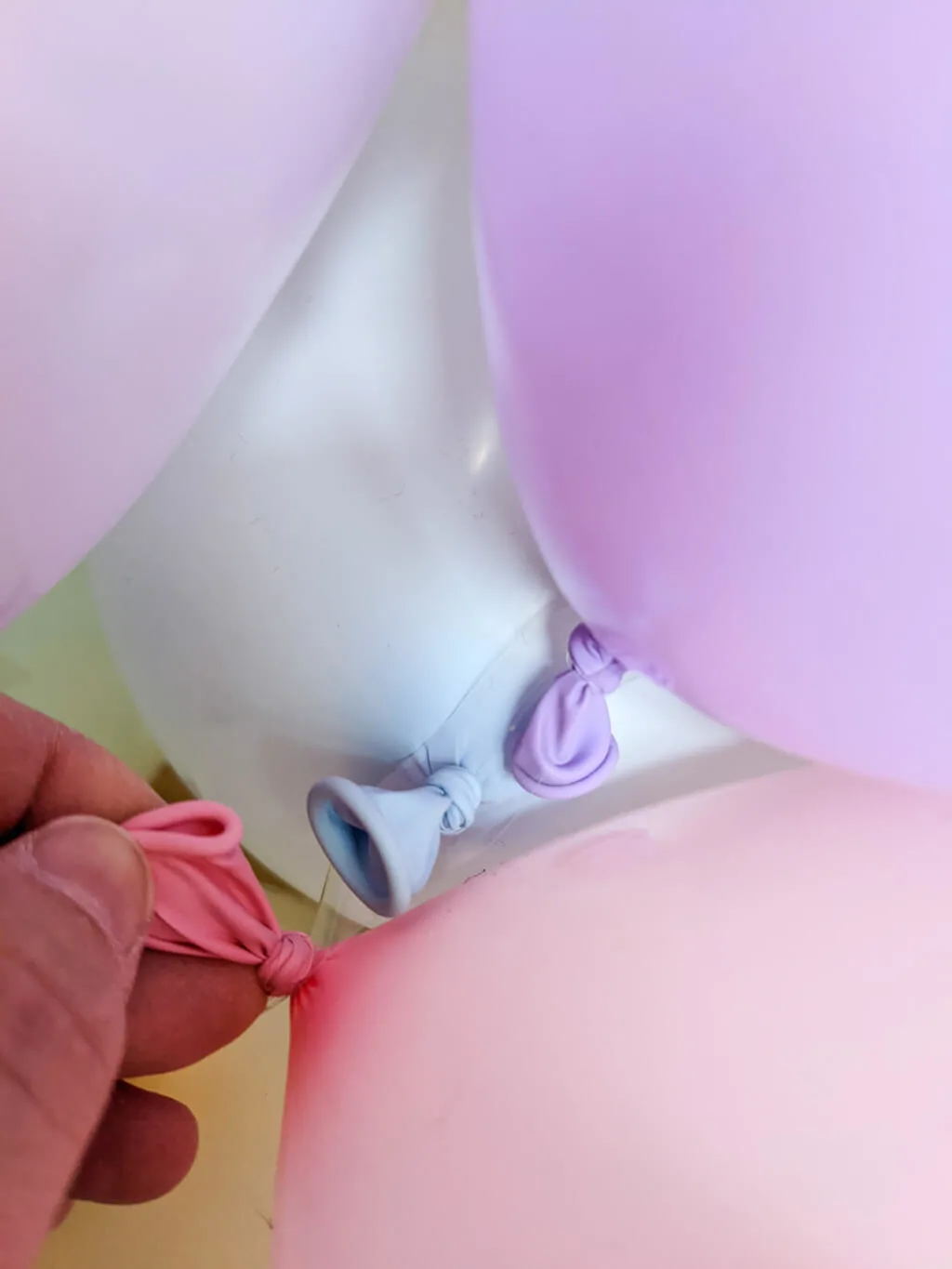 One of the best YouTube tutorials that I watched recommended attaching only medium and large balloons to the decorating strip and attaching all of the 5″ balloons using glue dots. I can see how this would work well with indoor balloon arches, but for outdoor garlands, it is probably best to attach most (if not all) balloons securely to the decorating strip so that they don't fly away.
3. Attach balloon garland to the wall
Lift up the balloon arch to the wall to see where you'd like it to go, then hang Command Hooks. Be sure to leave enough time for the Command Hooks to cure before hanging your arch. Mine had to cure for 1 hour before hanging, but read your package instructions in advance to avoid time crunches. Slip the strip onto the hook. After you're happy with how it's hanging then cut the decorating strip to size.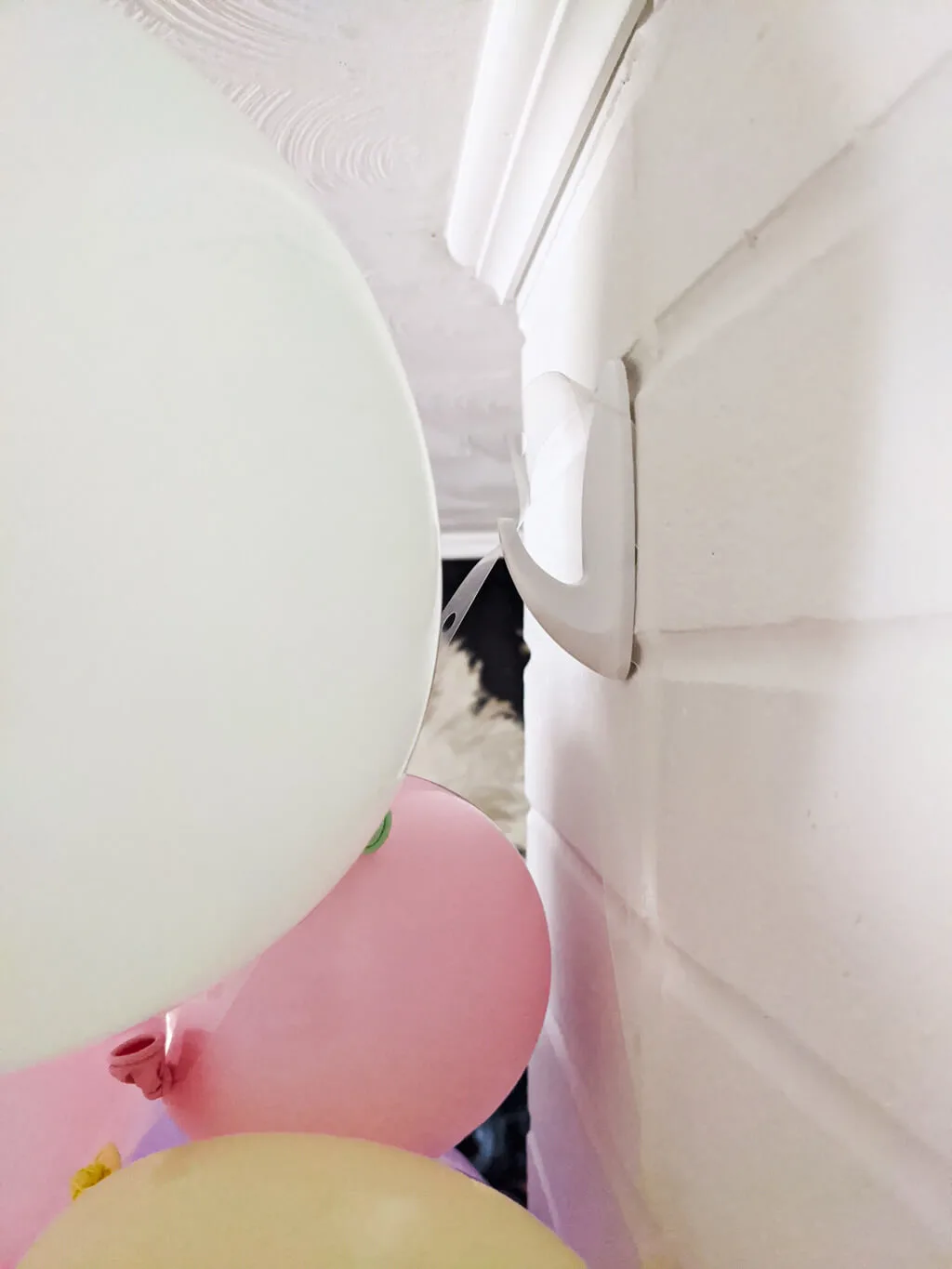 4. Fill in any gaps
Add some 5″ and 10″ balloons to fill in any gaps in the arch. Be sure to hide the tied ends on the inside of the garland. I put glue dots near the tied ends and then added glue dots to the sides where needed to secure.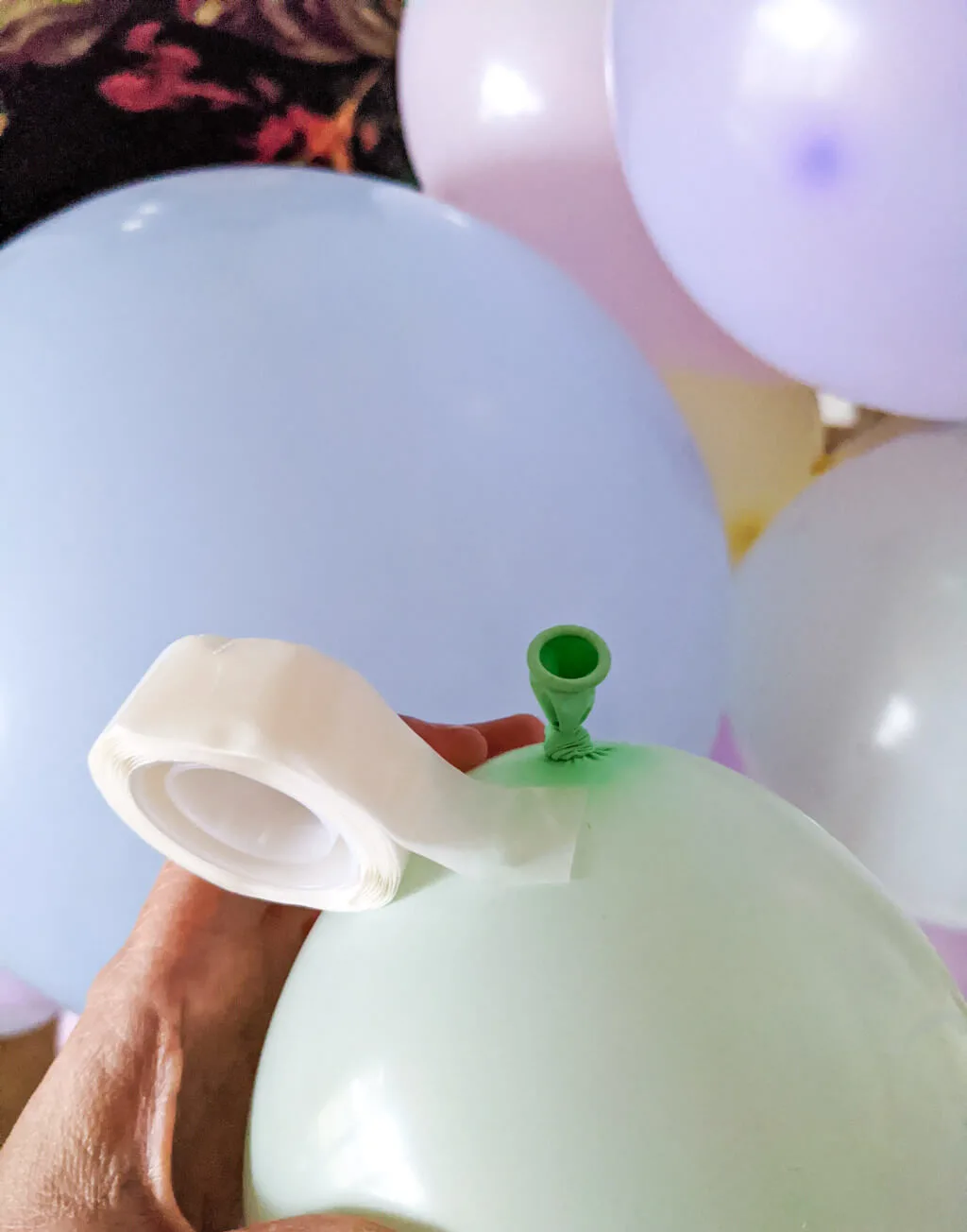 5. Take lots of photos with the balloon backdrop!
I really love how the 'unicorn mane' filled in the space for Elise's party. I took a bunch of both posed and candid shots with the pastel balloon column and unicorn bunting in the background.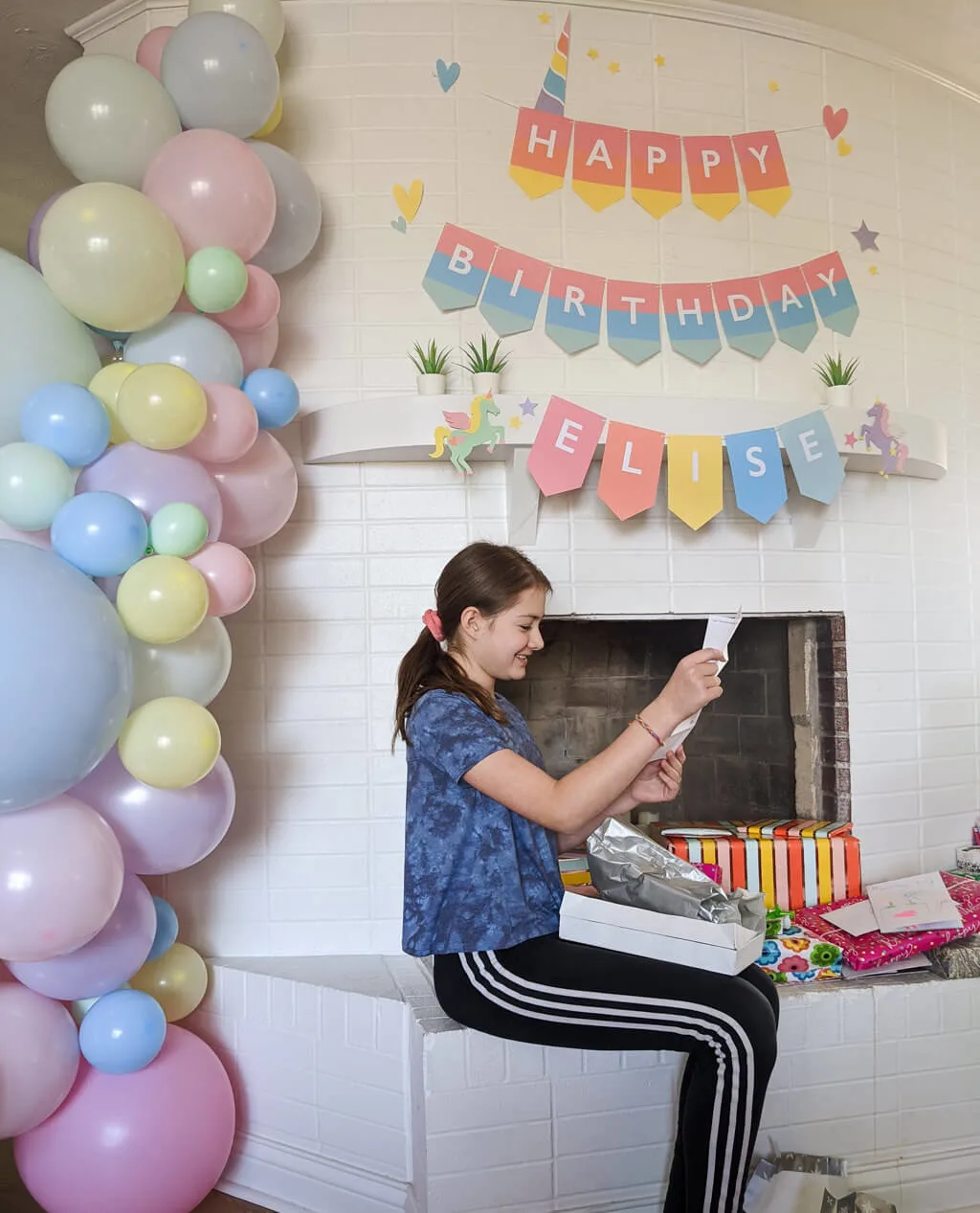 ======
Tips for Balloon Arch Beginners
Read these tips first before you start making your balloon arch. You'll save a lot of time and effort, and you'll be happier with your results.
1. Vacuum your workspace before filling balloons
Balloons are super static-y so unless you want your balloon arch to feature a bunch of fuzzies and hair (gross) then be sure to vacuum your working space before filling balloons.
2. Invest in an electric balloon pump
The $20 investment is totally worth it for this electric balloon inflator! And if you feel like it's out of your party budget, then share the cost with friends and neighbors and spread the joy.
3. Avoid overfilling balloons
I realized after filling a couple of balloons with my electric balloon pump that we were making them pear-shaped instead of round. You definitely want round balloons, so if you overfill balloons into pears then just let out a little bit of air before tying. We ended up hiding these pear-shaped balloons deep inside the arch.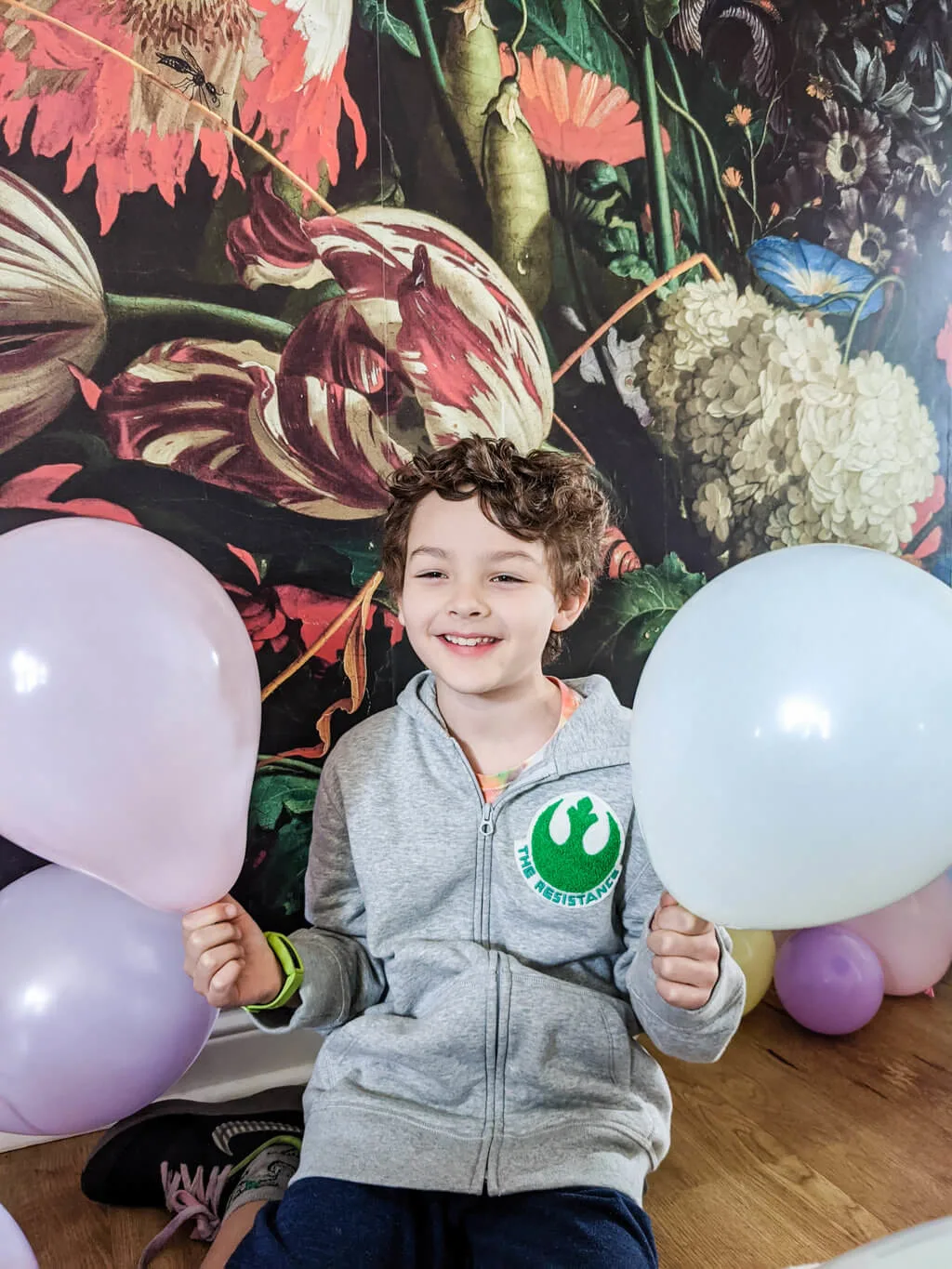 5. Don't stress too much about having a plan
Balloon garlands are one of those magical crafts where it's going to look good no matter what you do. Don't worry too much about having a plan other than spacing out the 18″ balloons. You will be adding 5″ and 10″ balloons to fill in any gaps and add needed colors.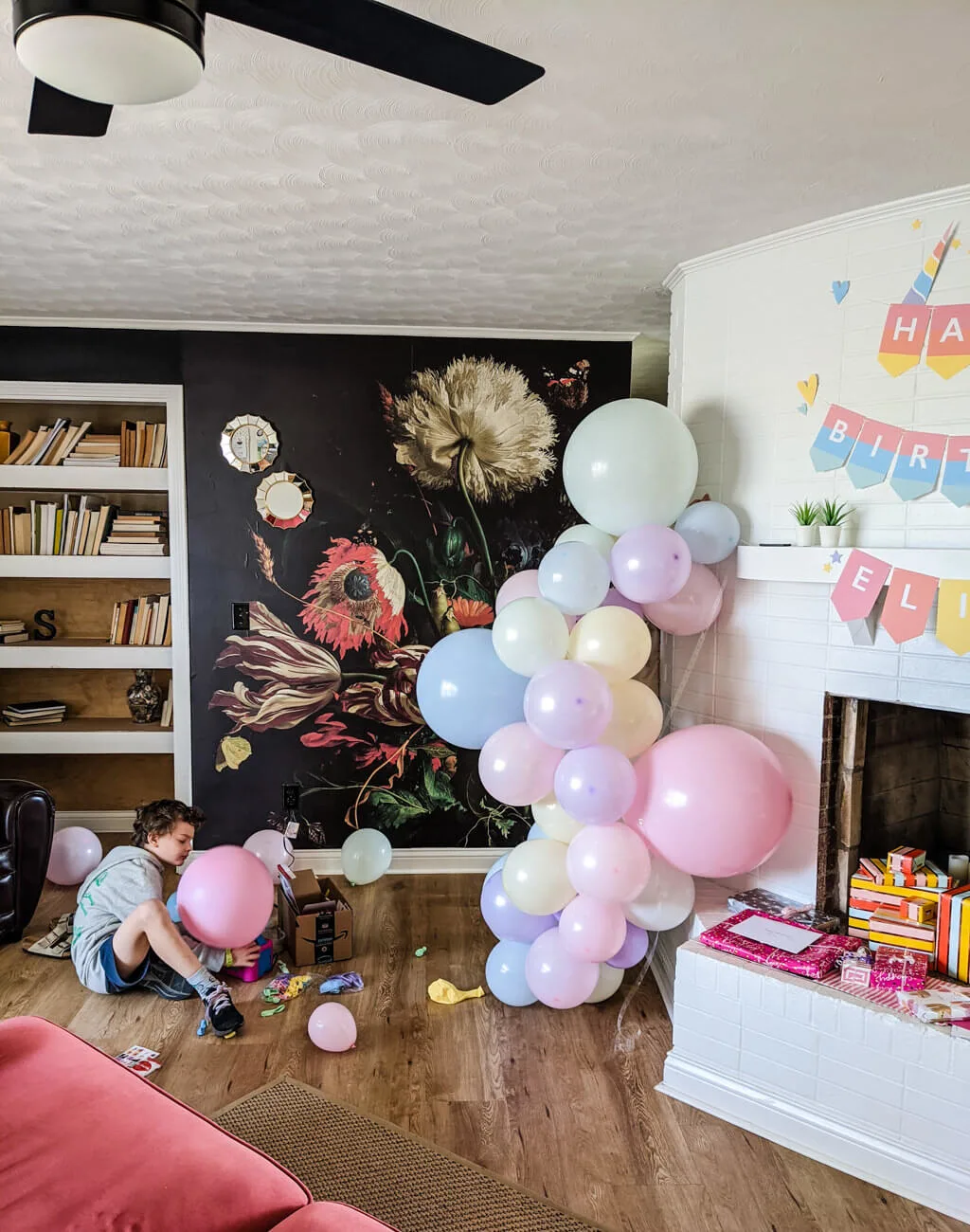 6. Get the kids involved
Recruit your small helpers to lend a hand. Blowing up balloons is a fun party-prep activity for kids to help out with even if they get a little bit off-task.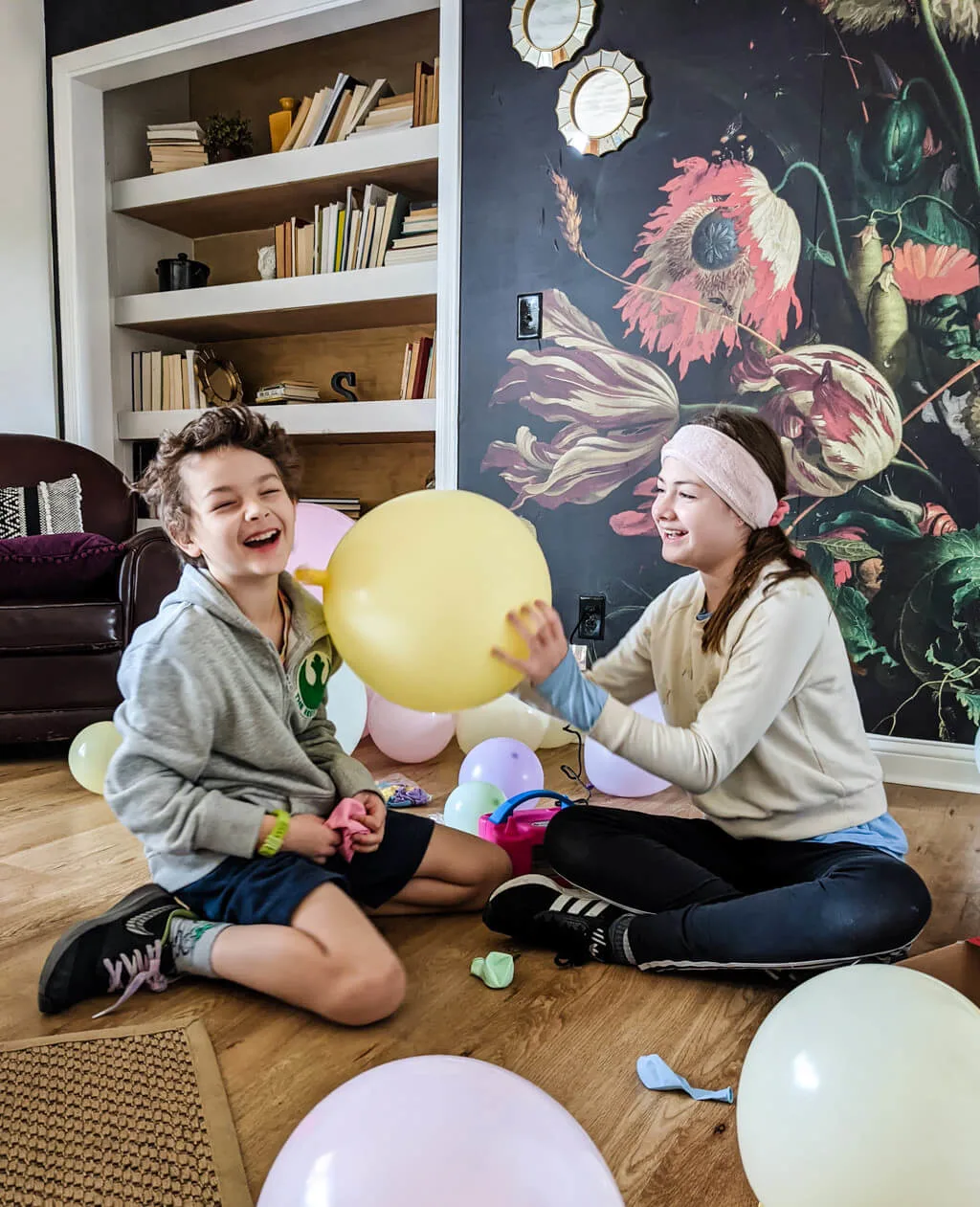 ++++
Common questions about DIY balloon garlands:
How to use a balloon garland strip?
The key to using a decorating strip successfully is to (1) leave 6-8″ on each end to hang it, (2) wait to cut the strip to size until you've finished filling it up with balloons, (3) pull the balloon knots *all the way* through the holes, and (4) skip as few holes as possible for a full-looking garland.
How to attach balloon garland to a wall?
For indoor garlands: Use Command Hooks. You can just slip the end of the plastic decorating strip onto the hooks.
For outdoor garlands: I recommend securely tieing the plastic decorating strip to screw eyes using fishing line.
How many balloons do you need in a balloon garland?
It depends on the size of the arch. Shoot for 100 balloons in three sizes for contrast (18″, 10″ and 5″ balloon sizes) to make a 16-foot-long arch, and if you have some balloons left over then you can use them for future parties.
How many days in advance can you make a balloon garland?
You can make a balloon garland the day before and it will still look great. After a couple of days, some balloons may start to deflate, so I wouldn't recommend making it too far in advance, but we had Elise's unicorn balloon garland up for a week before taking it down and most balloons still looked fine. It depends on the quality of your balloons; the kit that I used included high-quality balloons. If you're hanging the garland up outside, then you can make it the day before but wait to hang it until the day of the party.
Can I recycle a balloon garland?
While balloons are not typically recyclable, you can re-use them by donating after your party. List it on your neighborhood's online board in advance of your party to schedule a pickup.
++++++
Be sure to pin this balloon garland with strip tutorial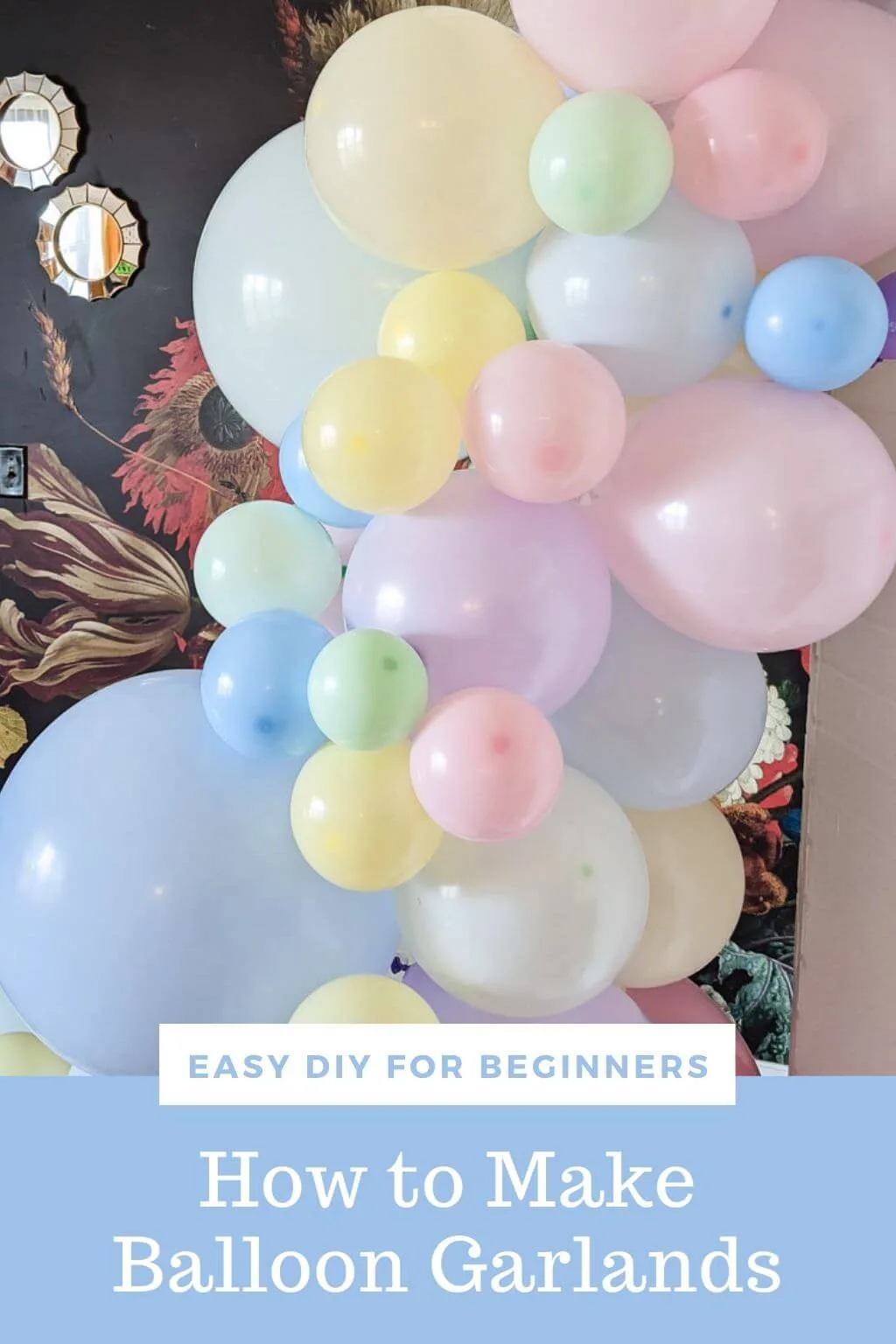 ++++++
And see more DIY birthday party ideas and easy cakes for kids.
—
Like it? Share it!
The nicest way to say you like it is to pin it on Pinterest, post a comment, follow Merriment Design on Facebook, Pinterest, Instagram or sign up for monthly emails. Enjoy! 🙂
Copyright stuff: You're more than welcome to use this free project and tutorial for personal use. Contact me for commercial use and Etsy sales.