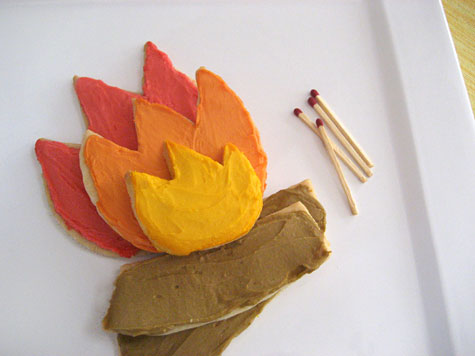 Hot Indiana summers spent at Camp Na Wa Kwa seeded my campfire obsession. The idea for this one has been in my head for a while, and I couldn't stop thinking about it while recently making star sugar cookies.
These whimsical stacks of yummy iced sugar cookies that look like a campfire is a fun idea for birthdays or special weekday treats for the kids.
Ingredients:
Cookies
Icing

1 box (1 lb.) confectioners sugar
1/3 cup softened butter (leave out for a smoother yet less tasty icing)
Up to 1/4 cup water
1 teaspoon vanilla
Gel food coloring in various colors (so fun)
Supplies:
Rolling pin
Plastic wrap
Toothpicks
Cutting board for rolling
Parchment paper or silicon baking mat
Small bowls, one for each of your icing colors
Wire cooling rack

Make sugar cookies according to package directions. Roll into a ball, wrap in plastic wrap, and chill in the refrigerator for a bit. Once it's chilled, roll out the cookie dough 1/4 inch thin using a healthy bit of flour on your board. Using your knife, freehand cut three sizes of flames and two logs. Continue to roll and cut, flouring when you need to and returning the dough to the refrigerator if it gets too mushy.

Put on a cookie sheet covered with parchment paper or silicon baking mats. Bake according to cookie package directions. Be careful on your timing …if they brown too much they'll be hard as bricks. Best to slip baked cookies off the sheets and onto wire cooling racks or paper towels to avoid overbaking.
Make your icing. Mix the butter, sugar and vanilla together. Add the water/milk a little bit at a time, stirring completely, until you reach the consistency you want. If you add too much liquid then add more sugar. Separate into several small bowls, one for each icing color, and add a little bit of gel icing using a clean toothpick. Ice and sprinkle away on paper towels for easy cleanup. I used red, yellow, orange and brown.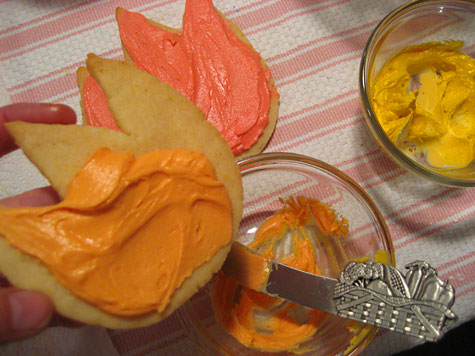 Ice your cookies. Let them 'dry' a bit first, then stack. Garnish with wooden matchsticks.
COPYRIGHT NOTE: You're more than welcome to use this project and pattern for your own personal use. Please post a comment below or email me if you use this project so I can smile when I see that it's being used. Craft and pass it on!