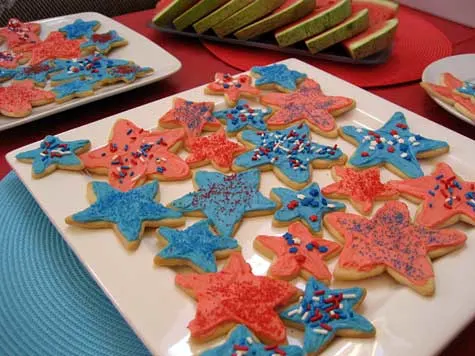 It could have been the yummy flavor, the scraggly homemade cuteness or the cold beer that made these star cookies fly off the platters at Shane's Fourth of July birthday BBQ.
The icing in particular was really tasty …I guess that's the secret of starting with a stick of real butter.
Ingredients:
Cookies
Icing
Supplies:
Make sugar cookies according to package directions. Roll into a ball, wrap in plastic wrap, and chill in the refrigerator for a bit.

Once it's chilled, roll out the cookie dough 1/4 inch thin using a healthy bit of flour on your board. Cut out various sizes of stars. Continue to roll and cut, flouring when you need to and returning the dough to the refrigerator if it gets too mushy.

Put on a cookie sheet covered with parchment paper or silicon baking mats. Bake according to cookie package directions. Be careful on your timing …if they brown too much they'll be hard as bricks. Best to slip baked cookies off the sheets and onto wire cooling racks or paper towels to avoid overbaking.
Make your icing. Mix the butter, sugar and vanilla together. Add the water/milk a little bit at a time, stirring completely, until you reach the consistency you want. If you add too much liquid then add more sugar. Separate into several small bowls, one for each icing color, and add a little bit of gel icing using a clean toothpick. Ice and sprinkle away on paper towels for easy cleanup.

I made a some cute double-decker cookies by sticking small iced stars on top of larger stars before the icing set. Big hit.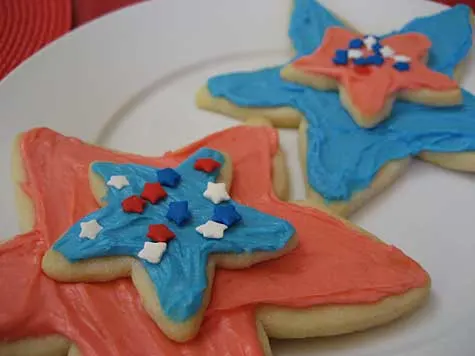 Store in airtight containers until party time. Place on platters and serve.