I'm so proud to share the gala decorations for our annual school charity fundraiser at Salvage One Chicago. Our school gala theme was "Better Together," and I loved the idea that while our school is made up of individual children and families, we are best when we come together as a community. I love the positive and inclusive spirit behind this charity theme, and I was totally excited to design the event decorations at Salvage One and want to share these ideas with you.
Fellow parent Cody Hudson designed the school gala invitation based on the Better Together gala theme, and I concepted, designed, and made the charity event decorations based on his shapes and colors.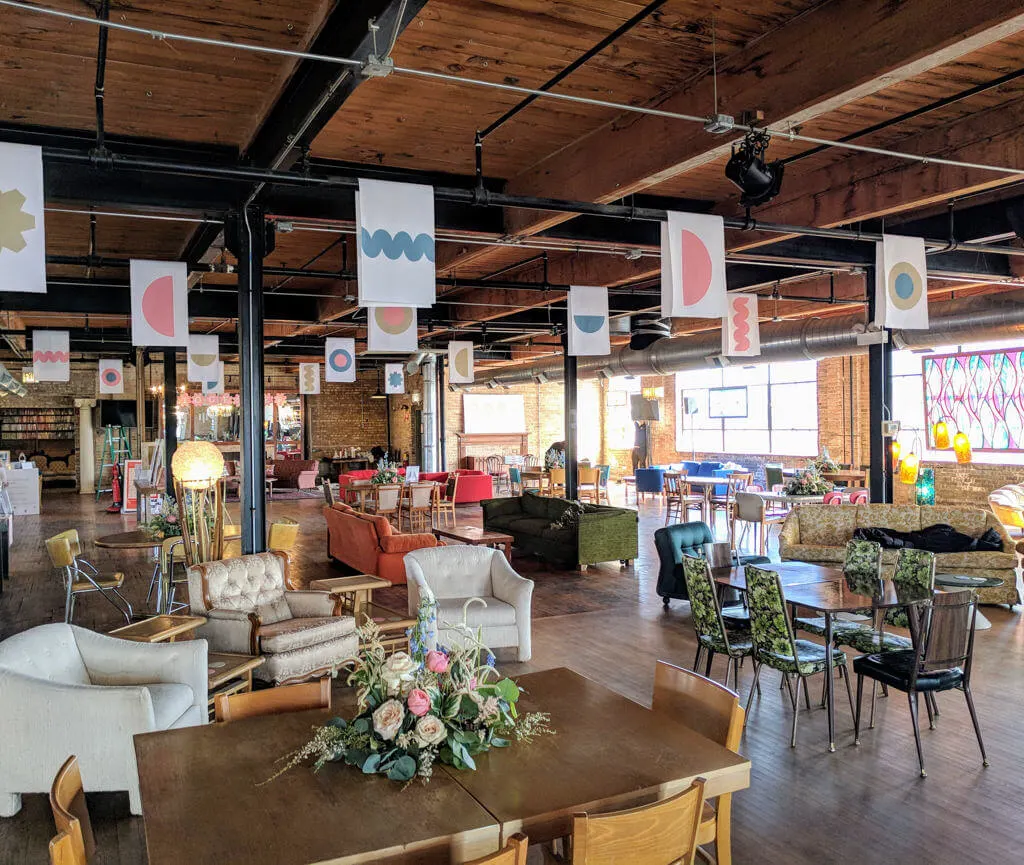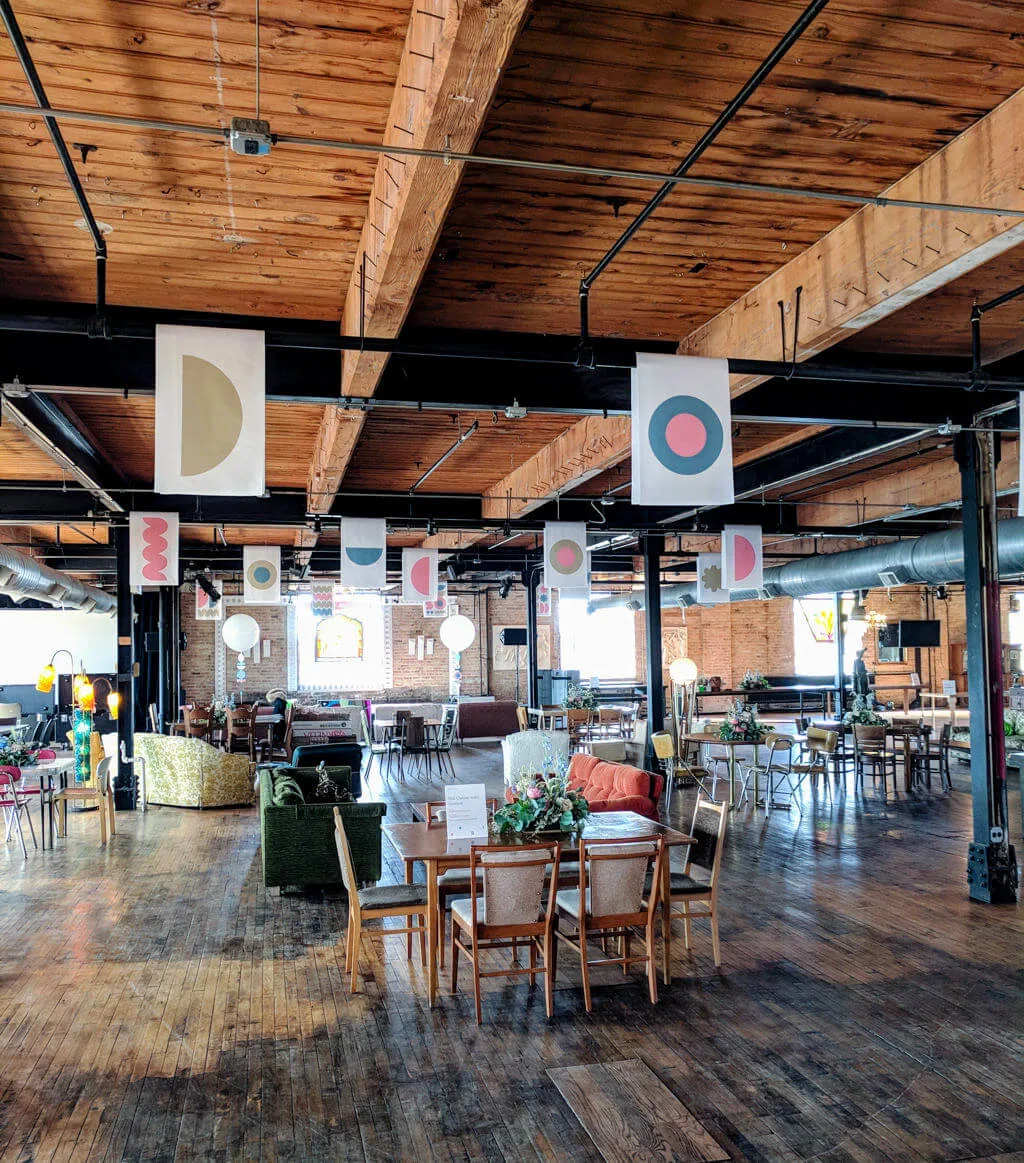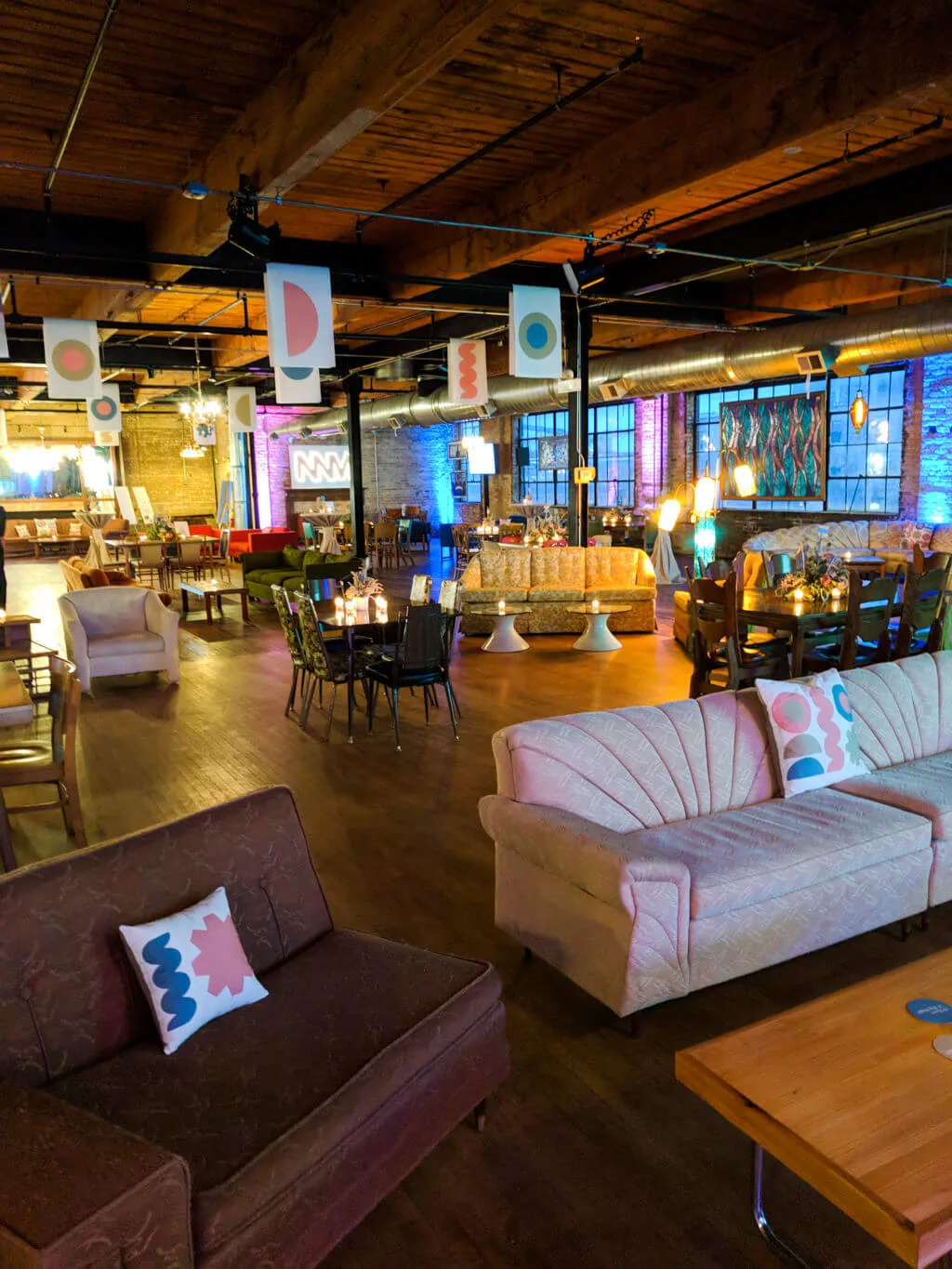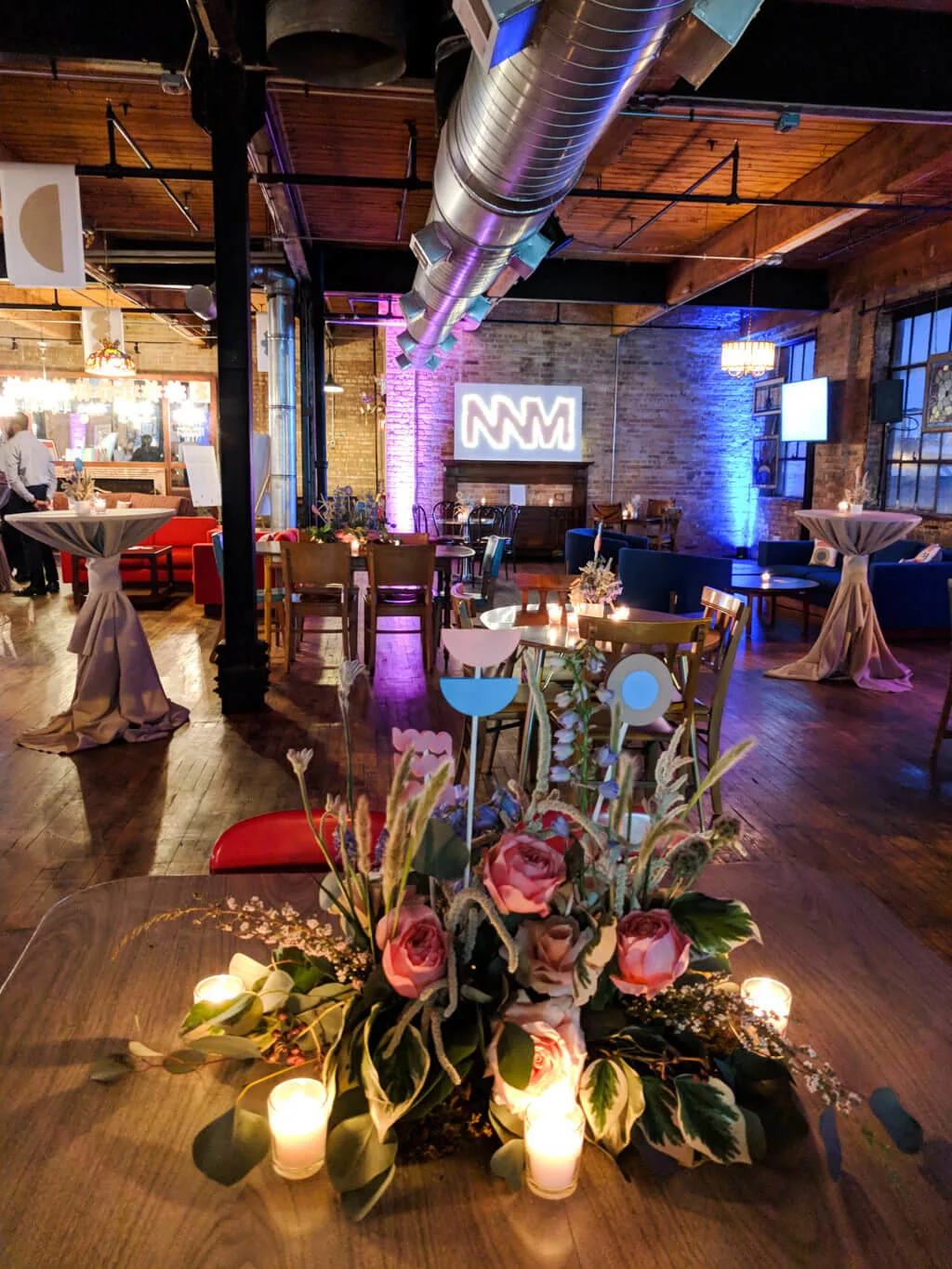 This was the second year that I designed event decorations for our school fundraiser at Salvage One Chicago and I like that each event looked and felt totally different than last year's theme.
See also: 'School Fundraising Gala: Clock Party Theme Decorations' »
I wanted our school fundraiser decorations to feel warm and uplifting while complementing the Salvage One Chicago aesthetic which is vintage, eclectic, and whimsical. I wanted to encourage people to get to know one another and celebrate our school's community. I concepted fabric banners to hang from the ceiling, pillows for the couches, drink stirrers, drink coasters, balloons for the stage, a lighted school sign, and event signage, plus paper "whimsies" accents for the floral centerpieces provided by Fleur Chicago.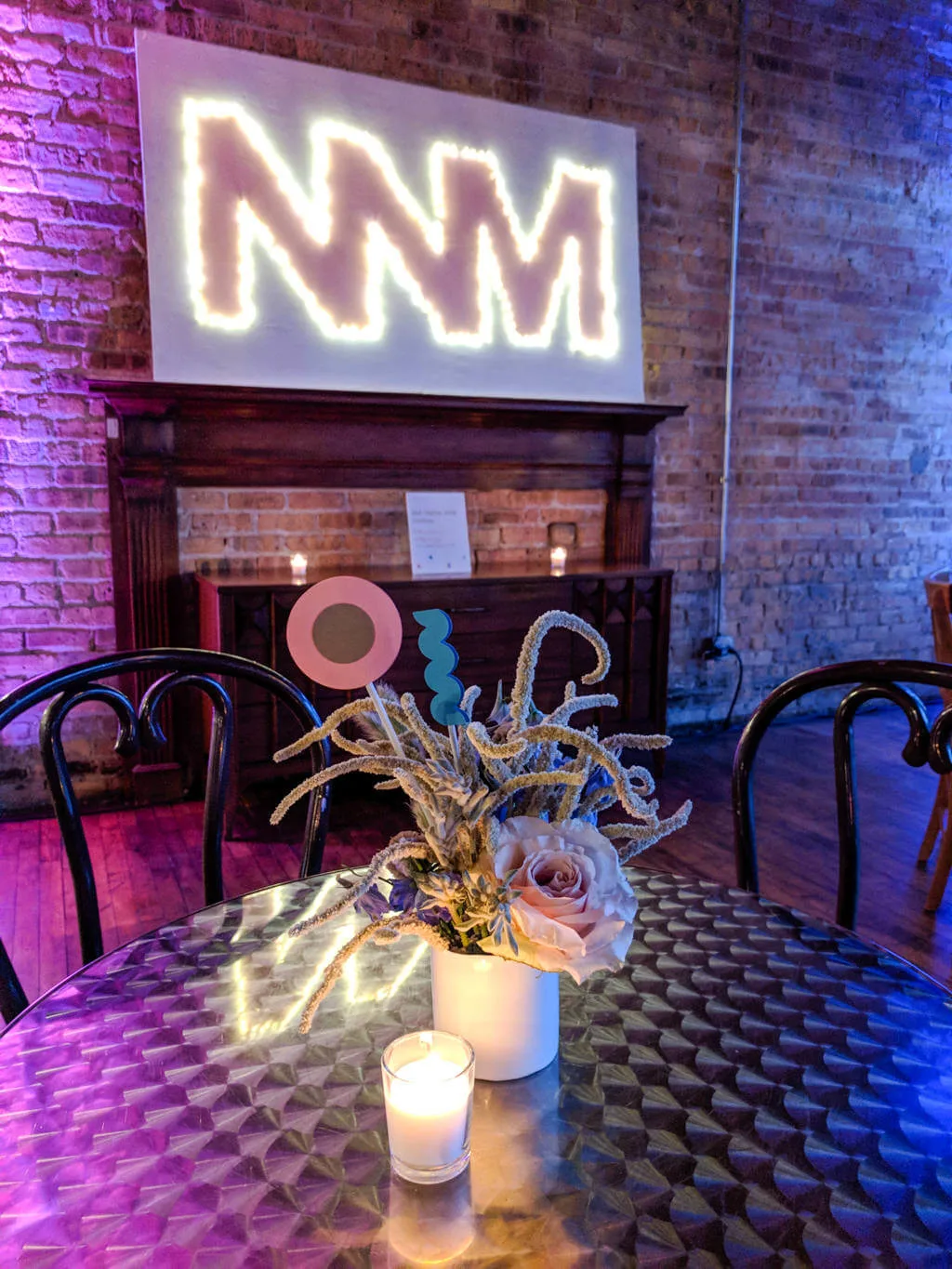 ++++++
Fabric Banners 'Better Together' Gala Decorations
I came up with the idea of creating fabric banners to hang from the ceiling. The idea was to encourage people look up and be uplifted. My idea was to have many banners with individual shapes and colors to represent individual children and families. The front row of banners were patterns of many shapes and colors, symbolizing the Better Together concept of coming together as a community. Yeah, it's a little abstract but I loved the effect. I designed all the banners using Cody's shapes and colors, printed custom fabric at Spoonflower, and then I cut them all out. And yeah, it took a really long time to prep and cut it all 😉 Volunteers helped me install the fabric banners the day of the event.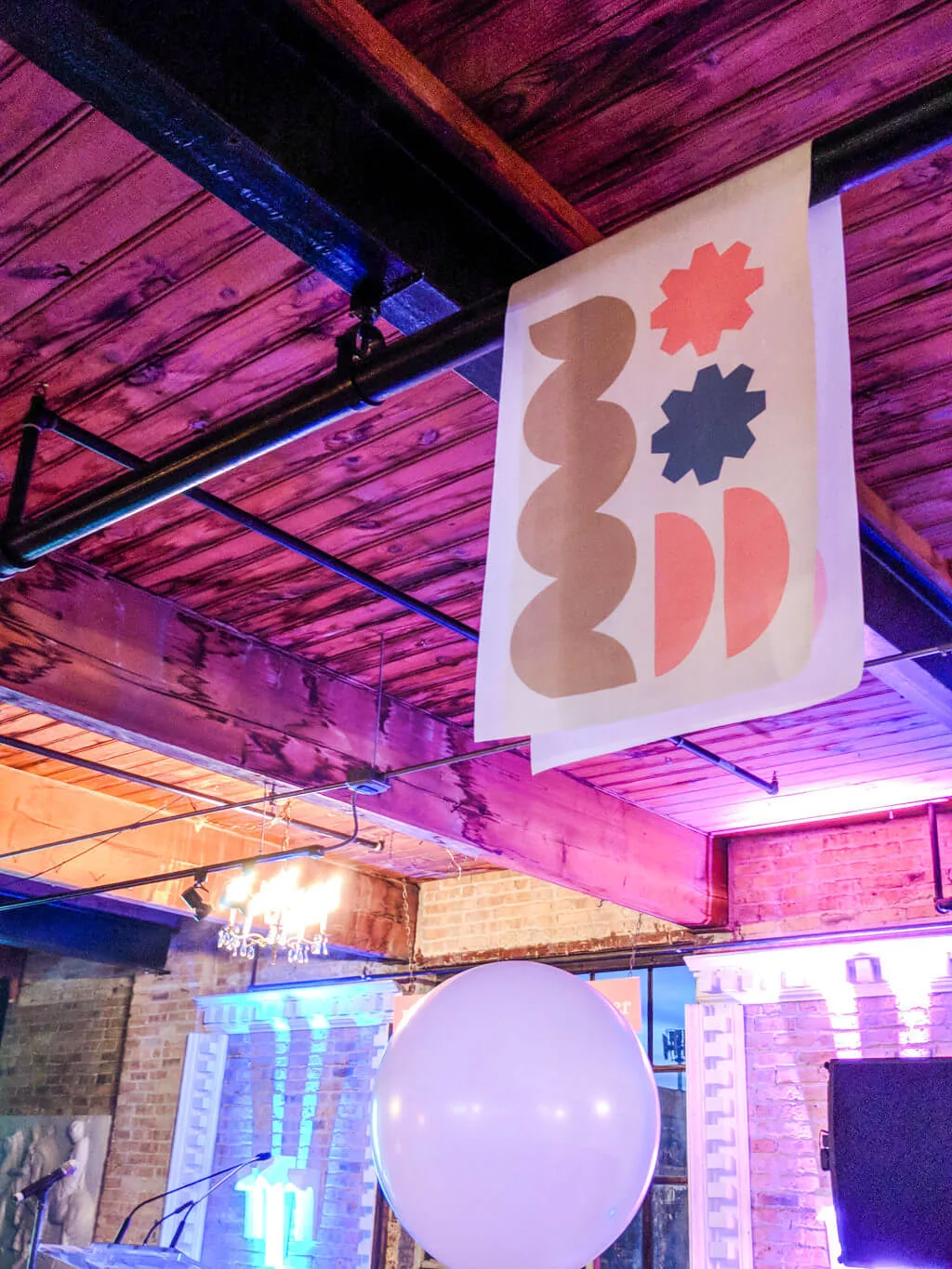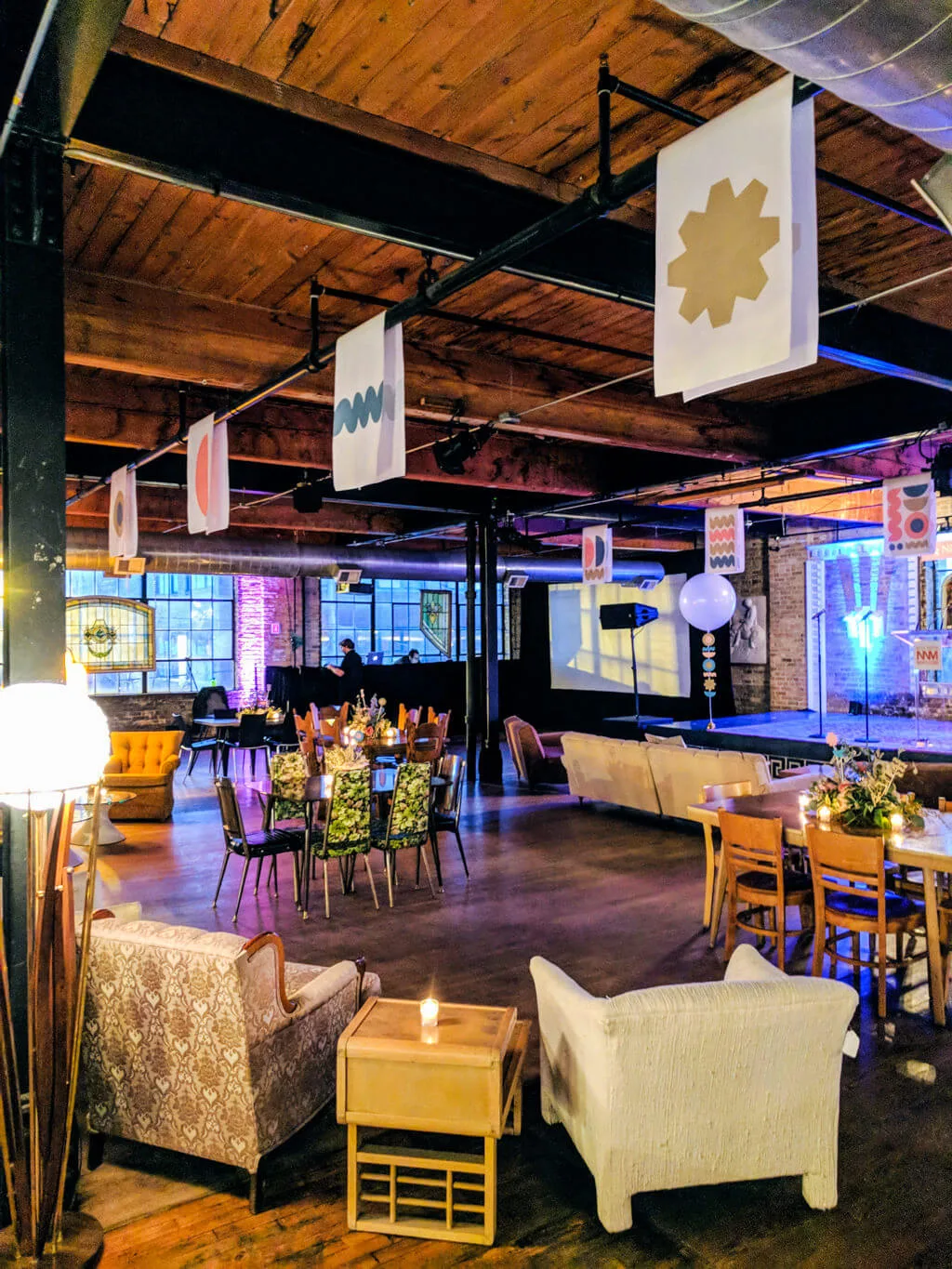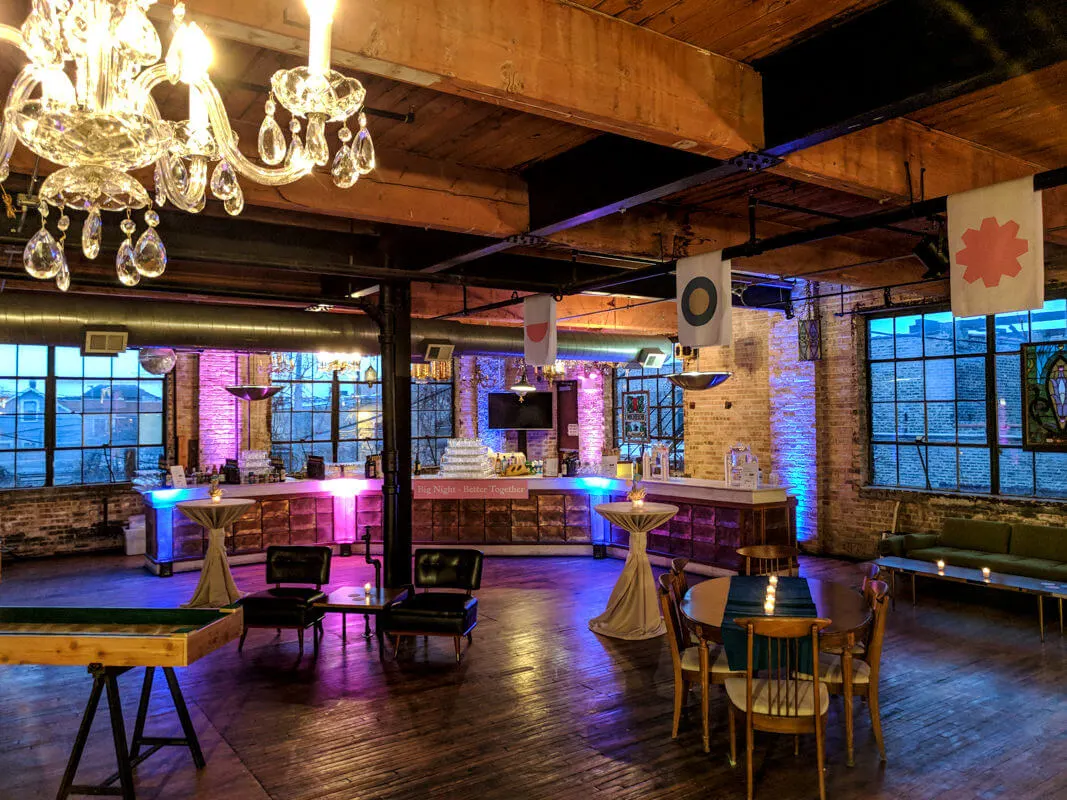 ++++++
DIY Wire Lights Sign Gala Decorations
Salvage One Chicago is pretty dark venue, so I designed and made a large DIY lighted sign of our school's logo to add a little light. And I got a quick lesson in how heavy wood can be! The good people at Lowe's actually offered to deliver the wood to the school for free, and I cannot thank them enough. Then I printed out a large logo, and parent volunteers helped me paint it onto the wood. Then I nailed in thin nails and wrapped LED wire lights around it. It was really a lovely DIY lighted sign and it looks so much better in person than I could take with my camera.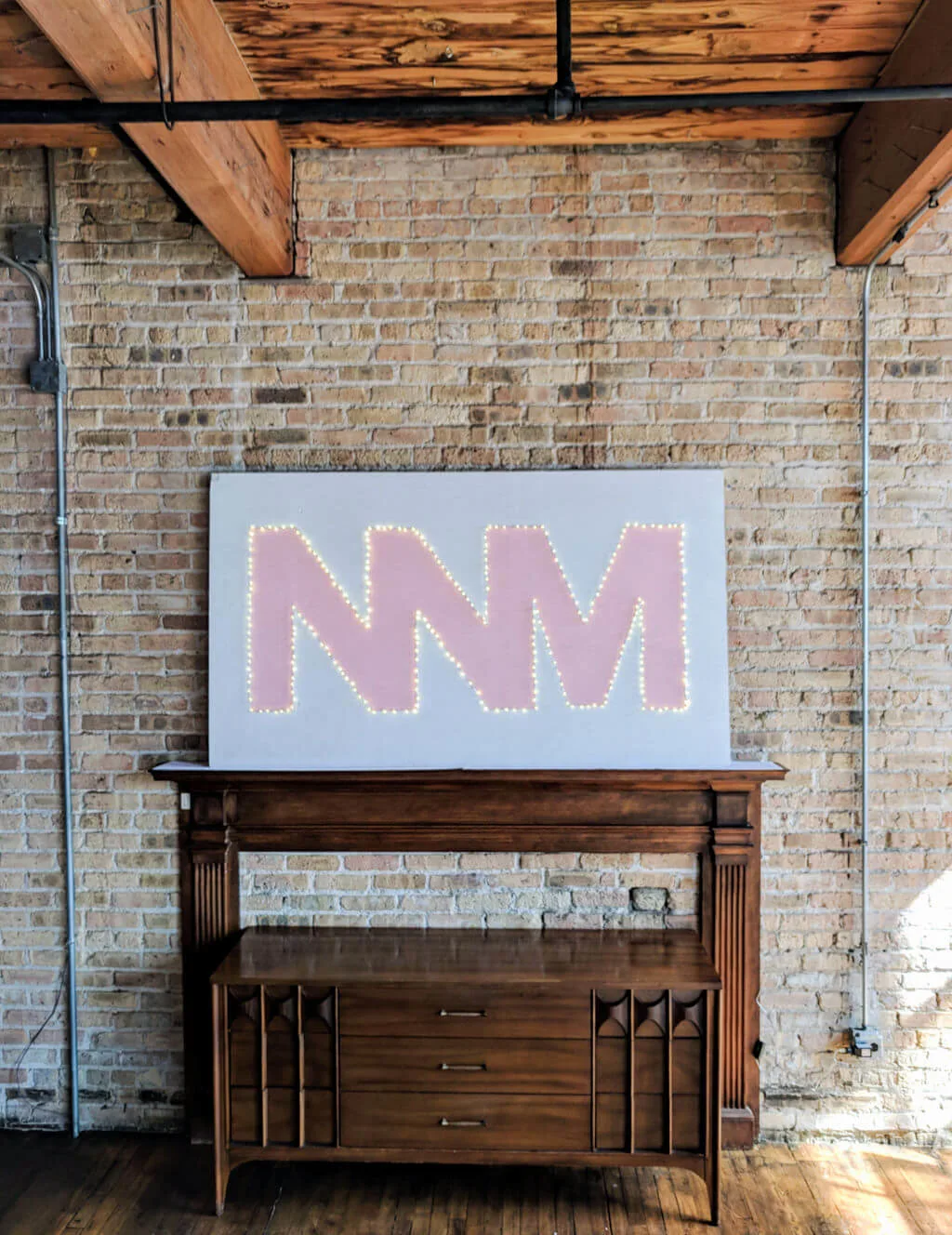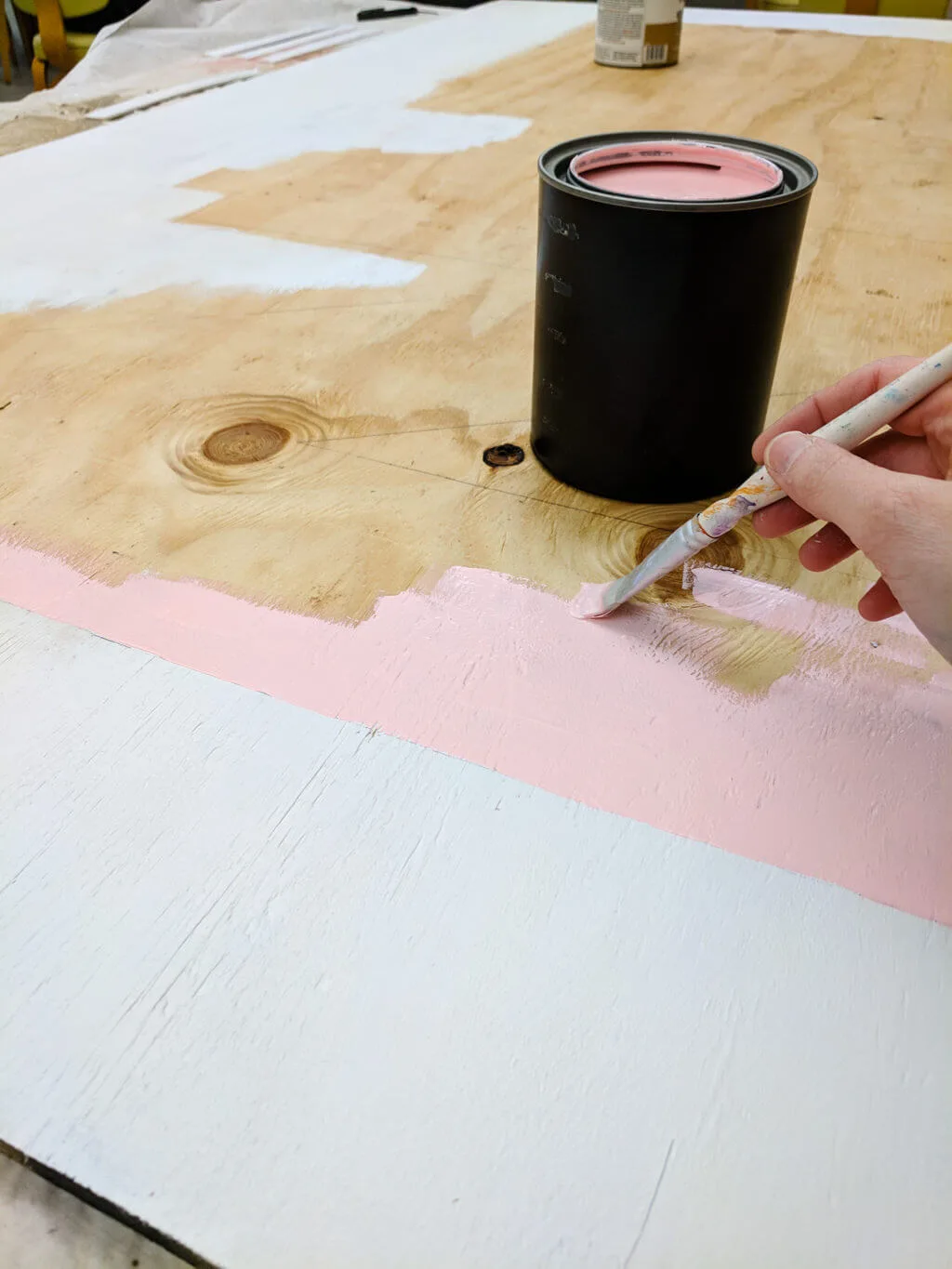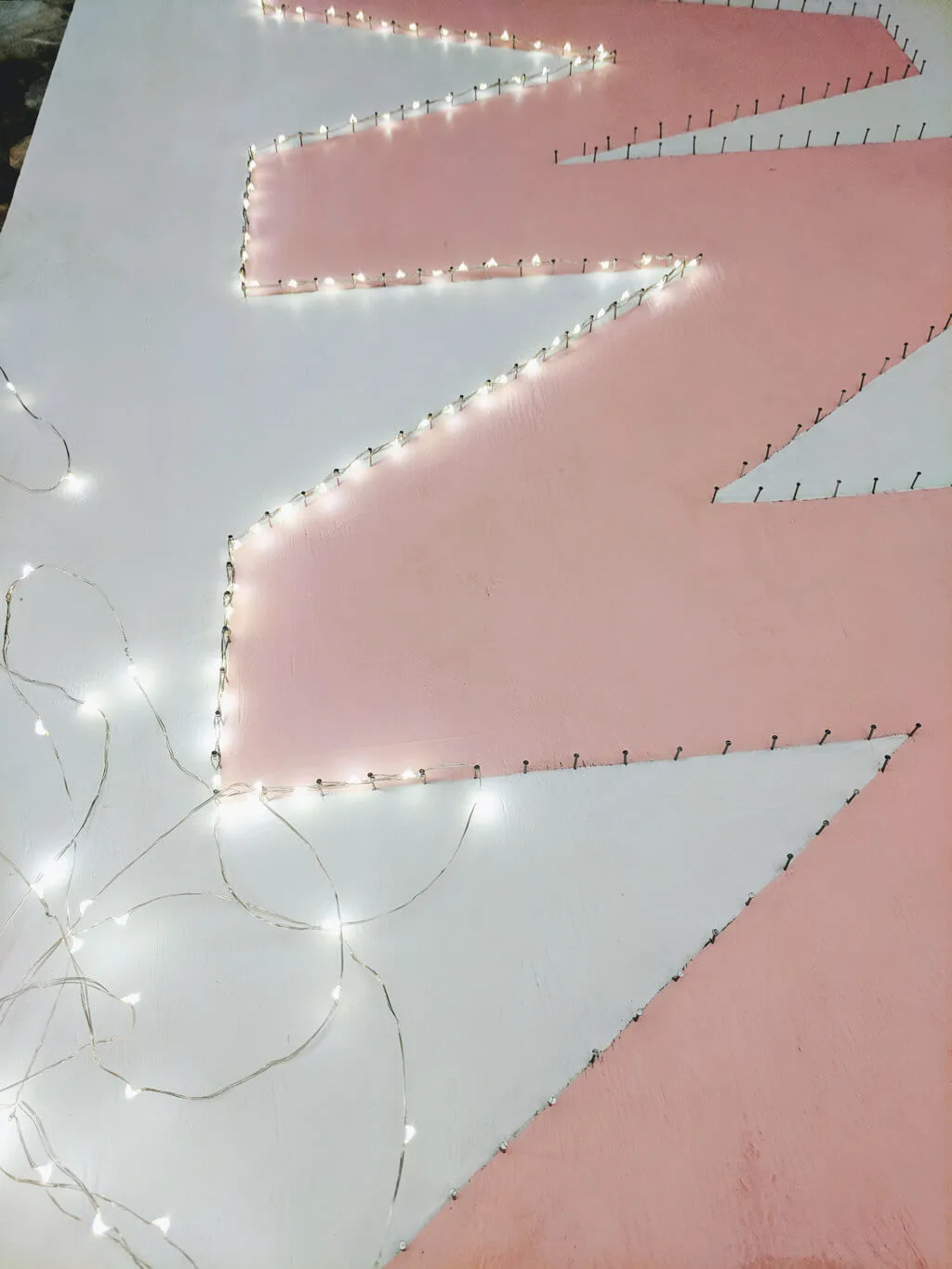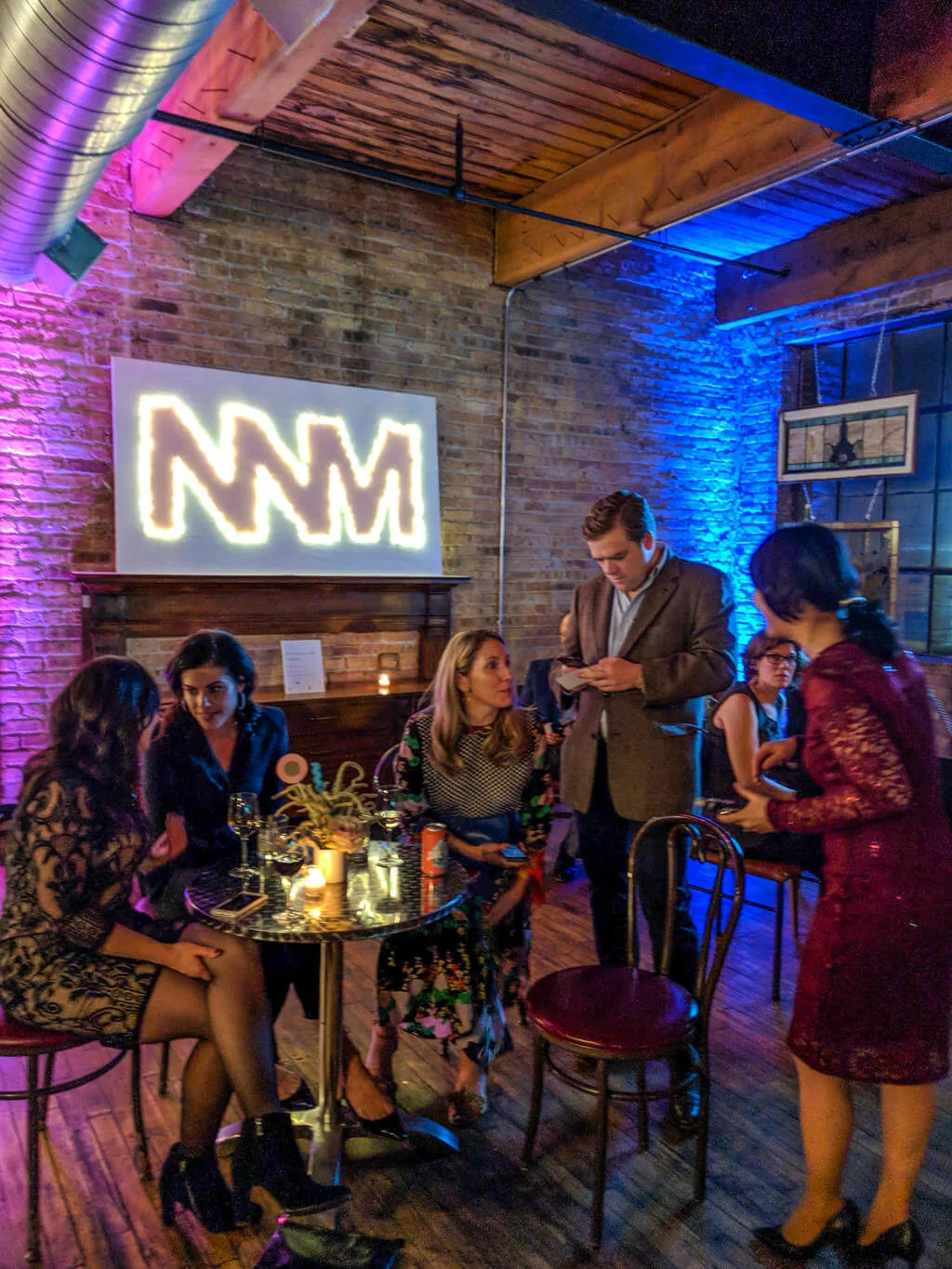 ++++++
Cocktail Stirrers and Coasters
What's a party without drinks?? We designed both cocktail stirrers and coasters that reinforced the Better Together message. We printed the coasters at Zazzle, and volunteer parents helped make hundreds of super inexpensive drink stir sticks from coffee stir sticks and paper printouts. See my DIY drink stirrers for cocktails tutorial for a how to make hundreds of drink stirrers that cost less than $10.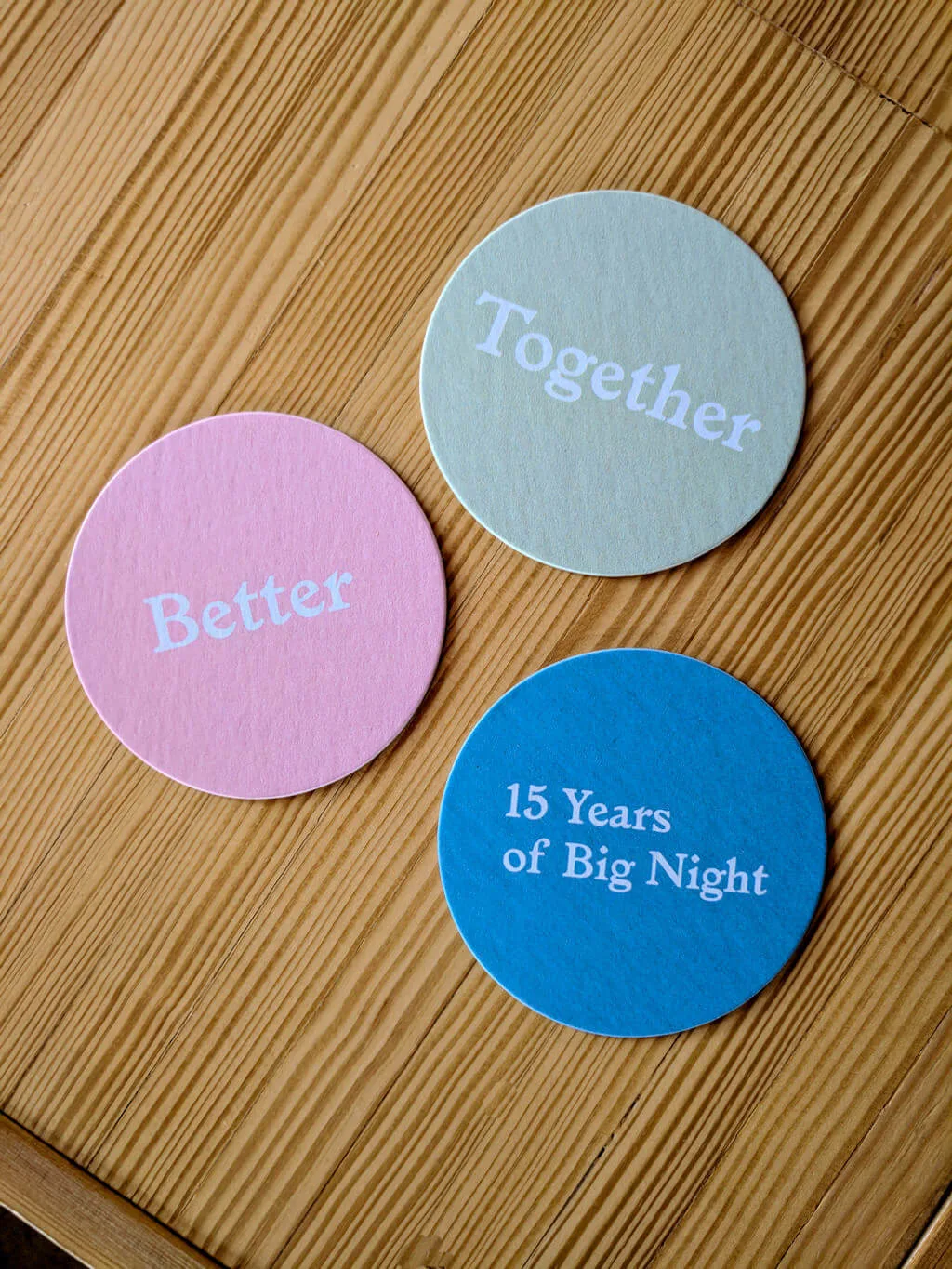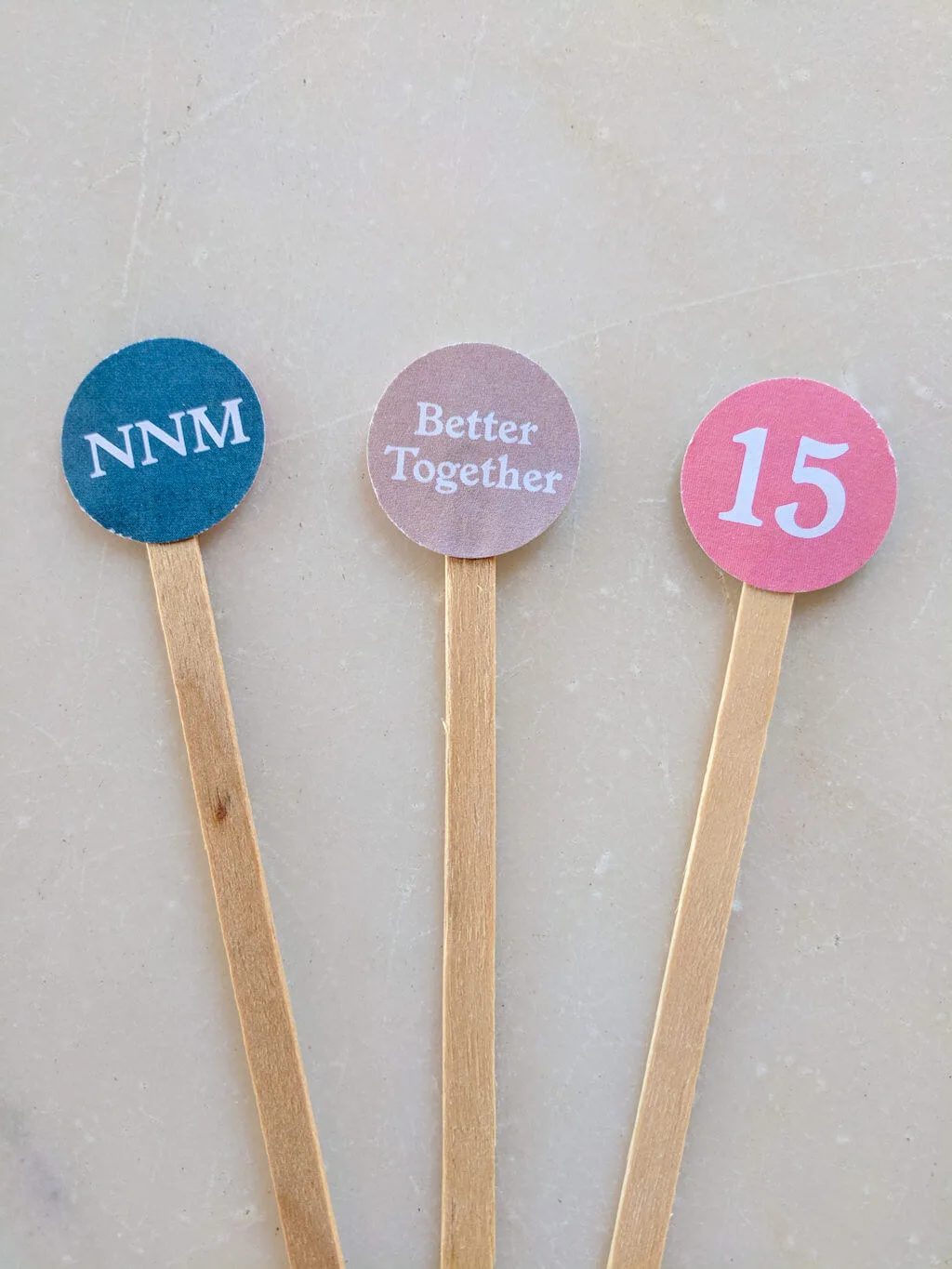 ++++++
Auction Stage School Gala Decorations
I wanted to keep the stage for speeches and auction items simple, so I used two giant oversized balloons with tassels using Cody's shapes. We wanted people to focus on the speakers and auction items, and the Salvage One Chicago stage already had a lot of white columns and such so I wanted to keep it simple. Event signage completed the look.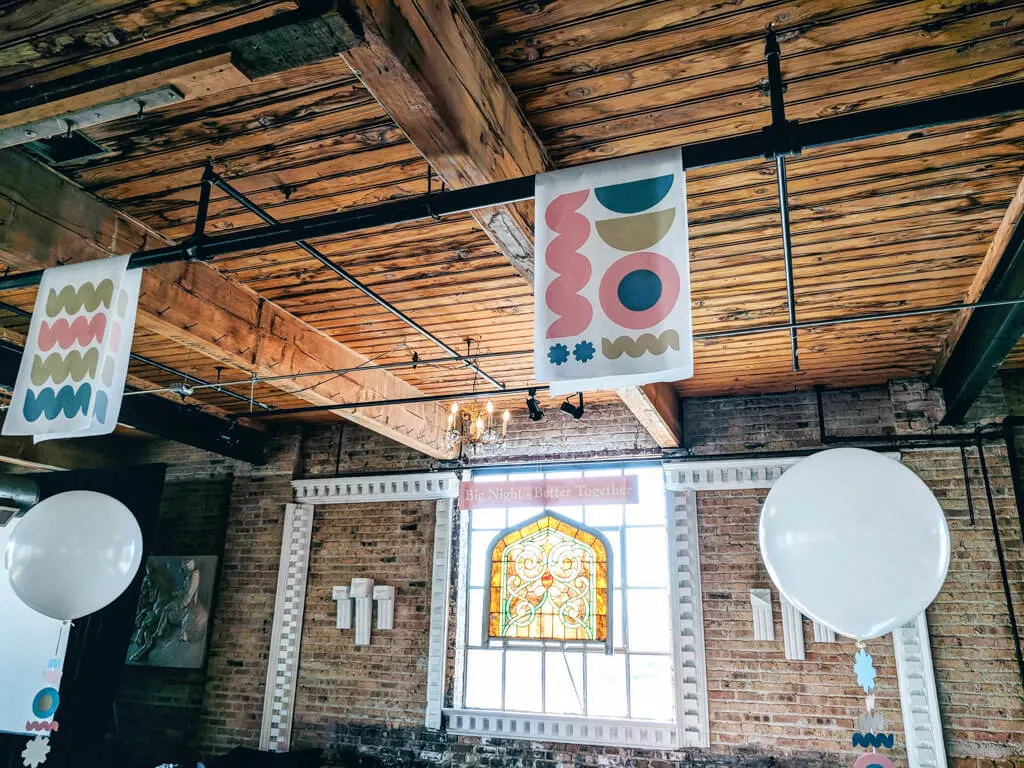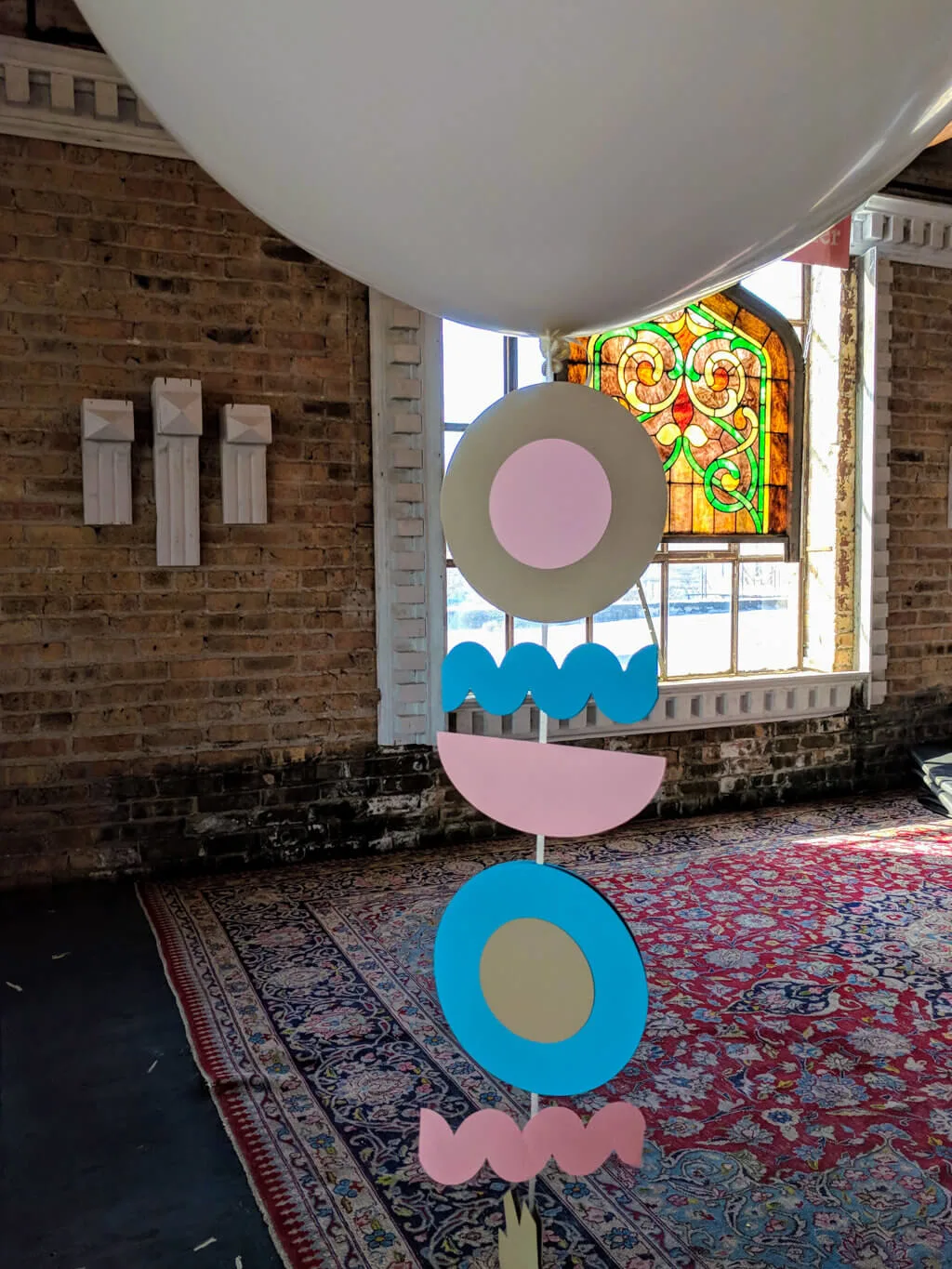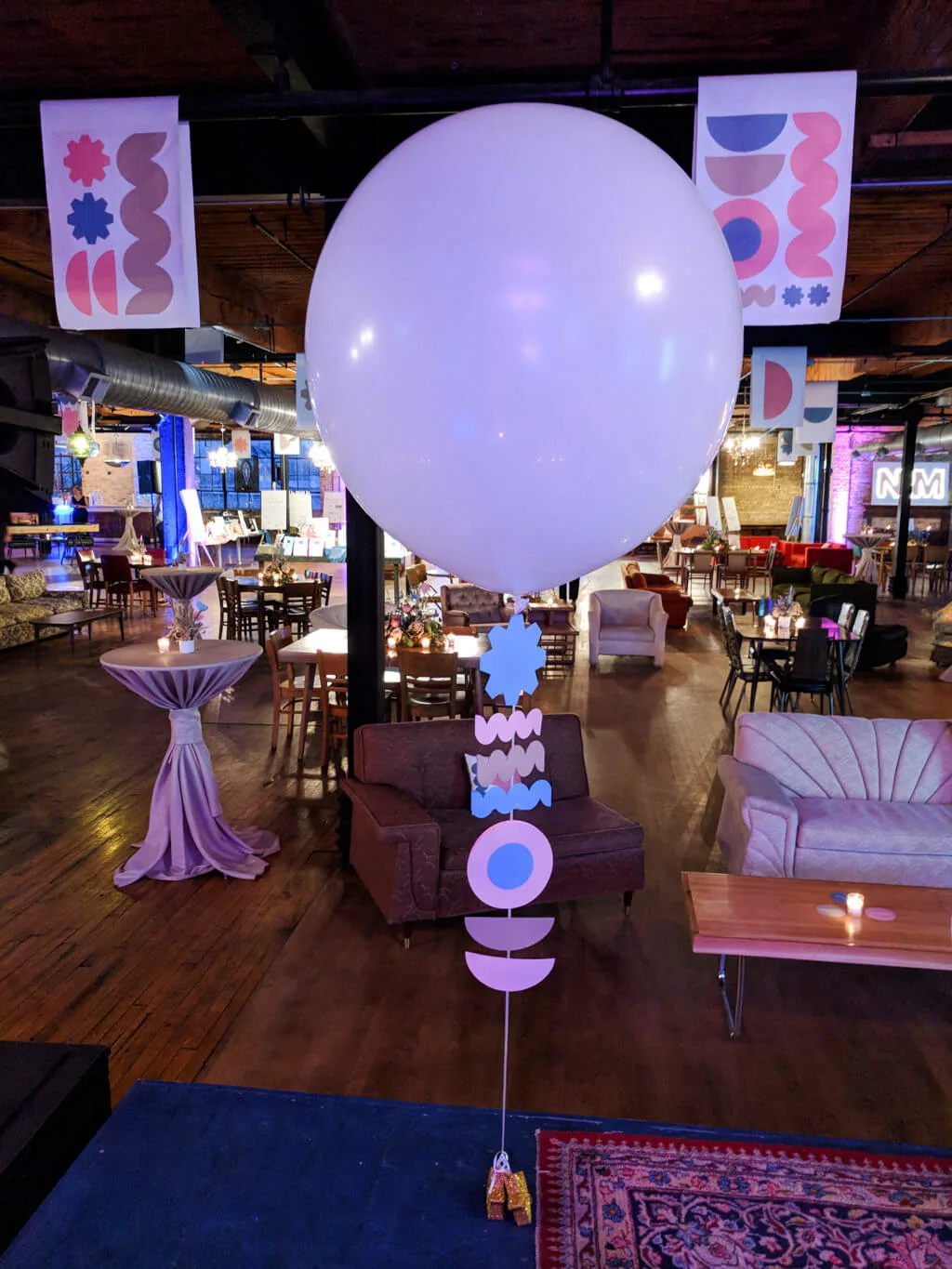 ++++++
Pillows for couches at Salvage One Chicago
Salvage One Chicago has lots of couches, and I thought it would be fun to add throw pillows to make them cozy and inviting. I printed patterned Spoonflower fabric for the pillows, again based on Cody's invitation. Cody and I both donated pillow forms from our craft stash and volunteers helped sew them up. I think they made the Salvage One Chicago couches look welcoming and comfortable.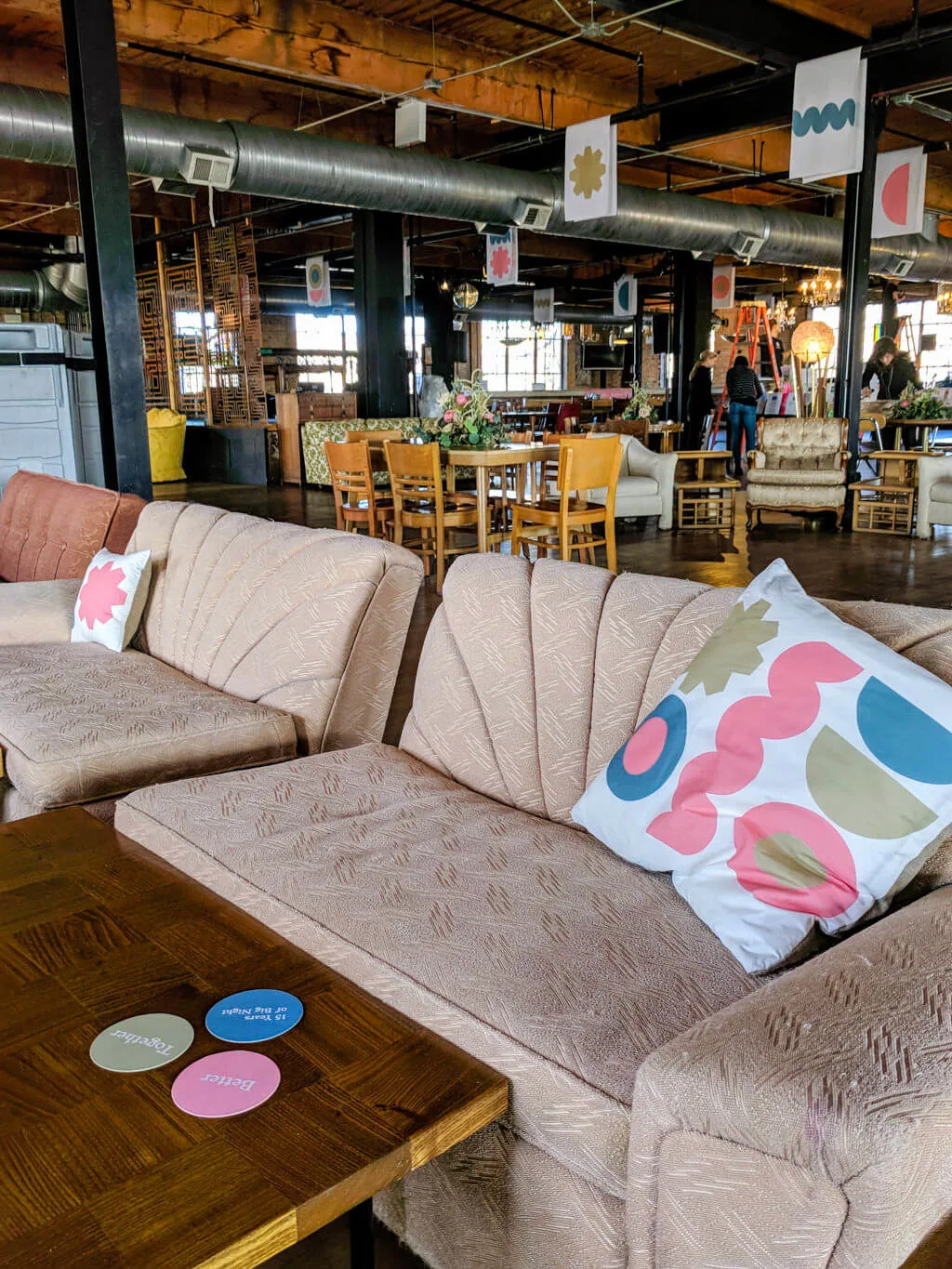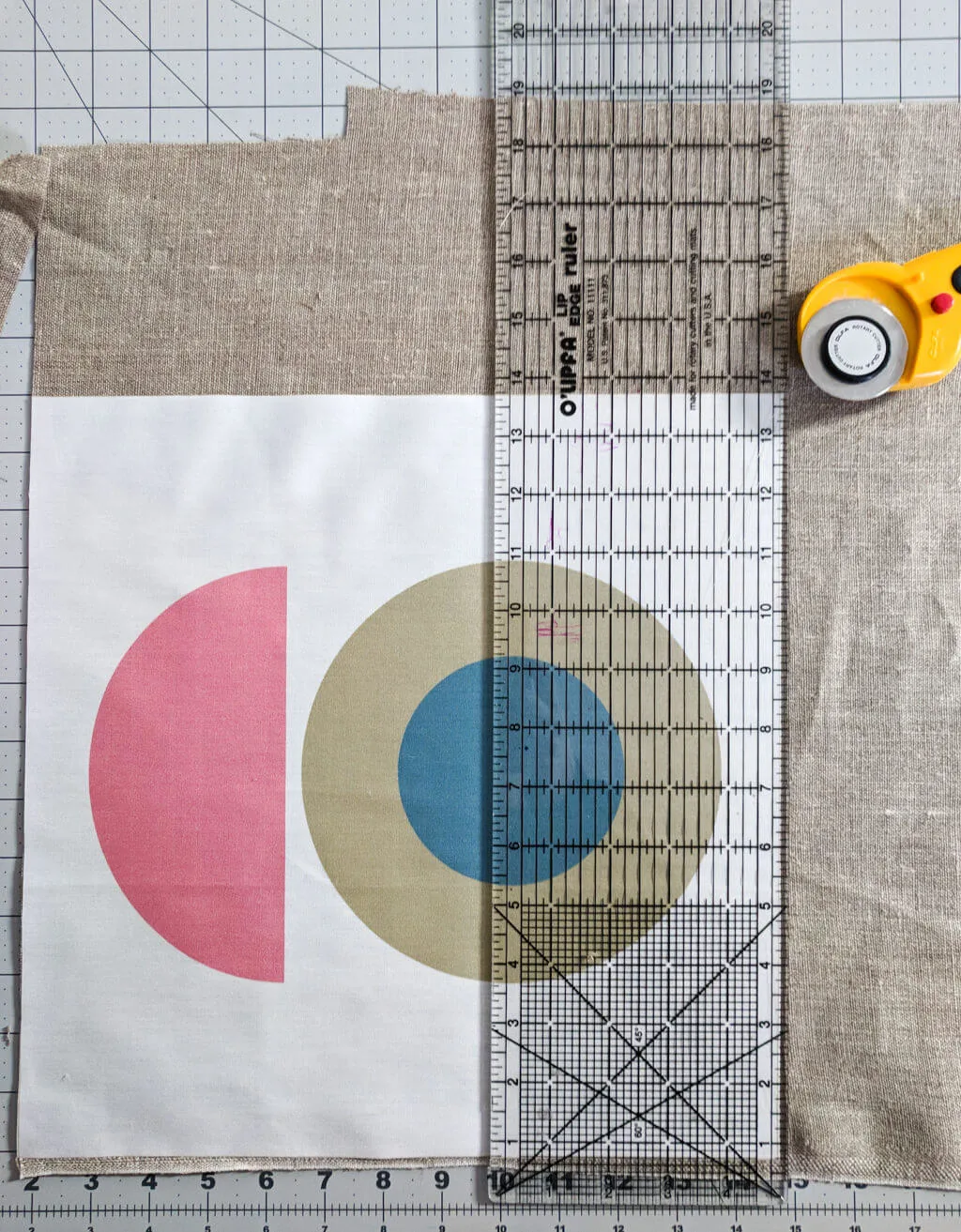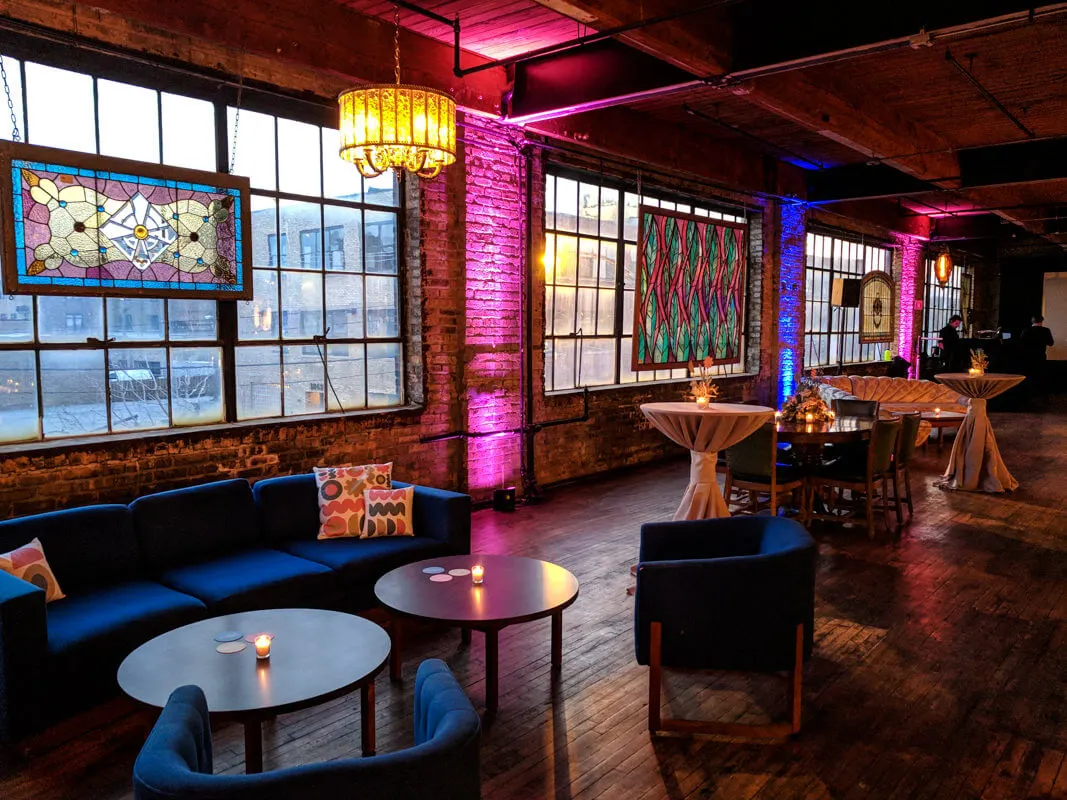 ++++++
Photo Booth Props
We added a couple simple photo booth props to the donated photo booth – they provided so many props so we added a couple more to the mix.
++++++
Floral for Gala at Salvage One Chicago
Lastly, the gorgeous floral by Fleur Chicago! We met with Kelly to explain our Better Together concept, and she knows the popular Salvage One Chicago venue so well. I designed paper "whimsies" to add some playful touches to the floral, and again parent volunteers helped me spray paint the sticks and attach the paper whimsies.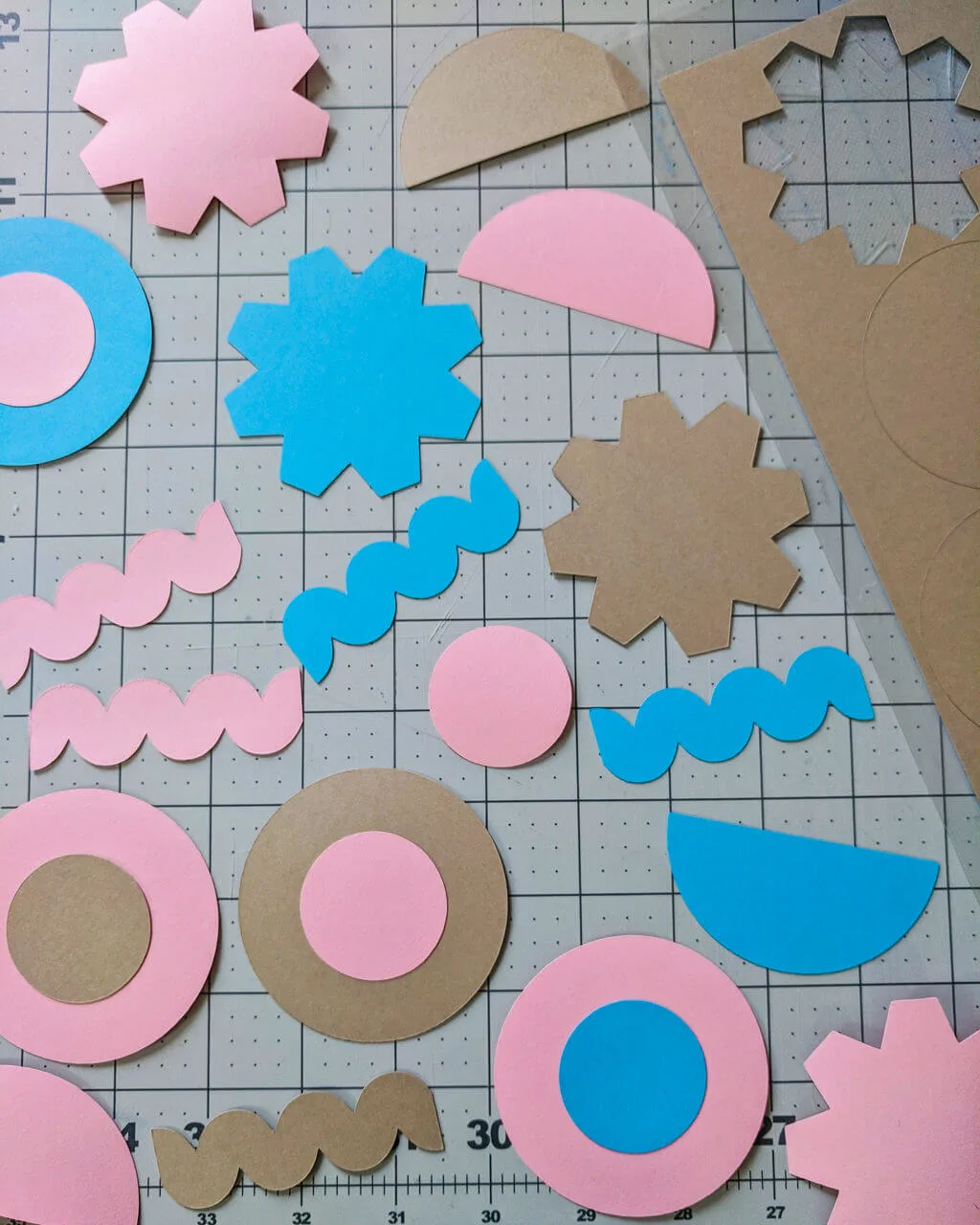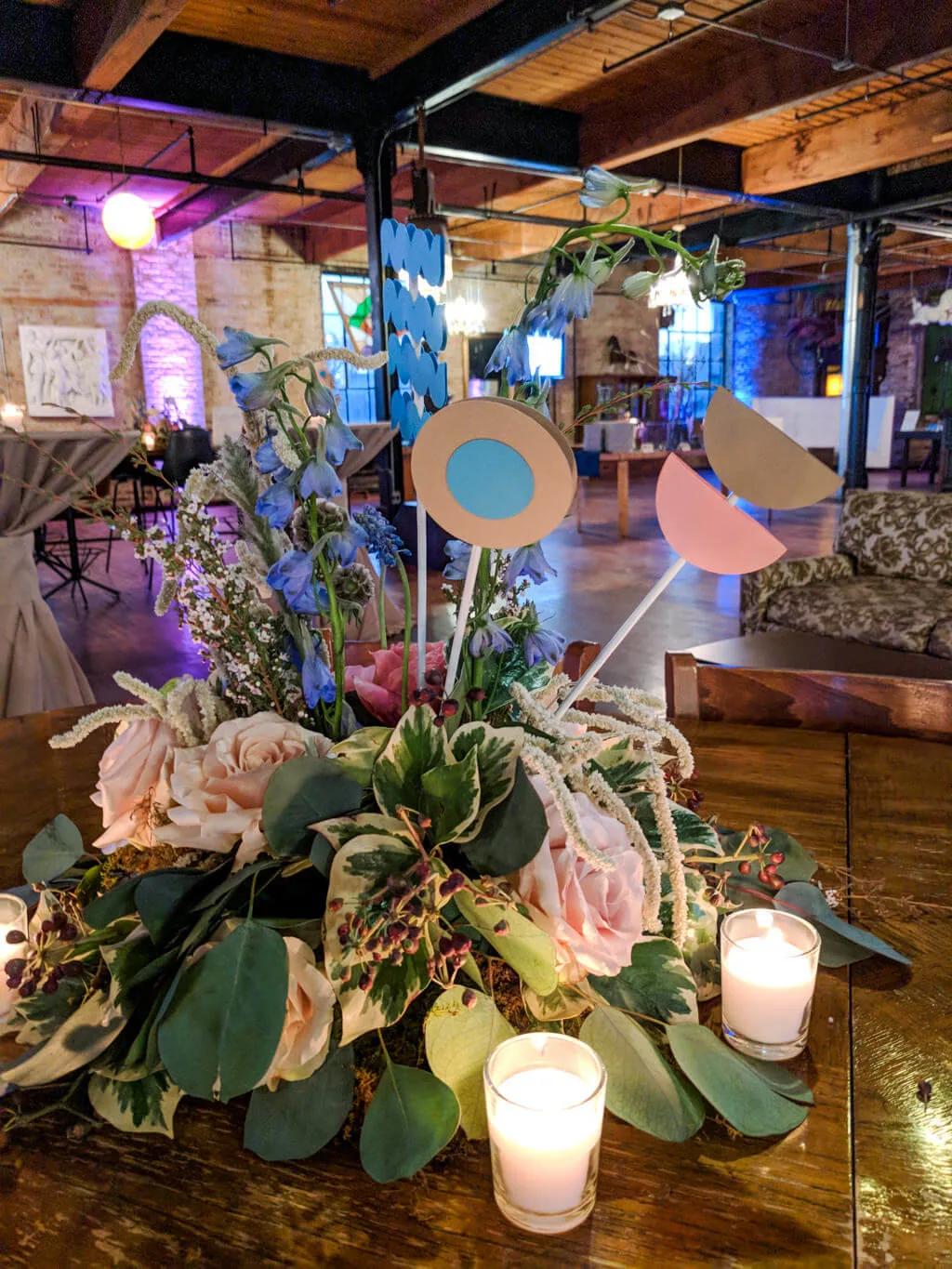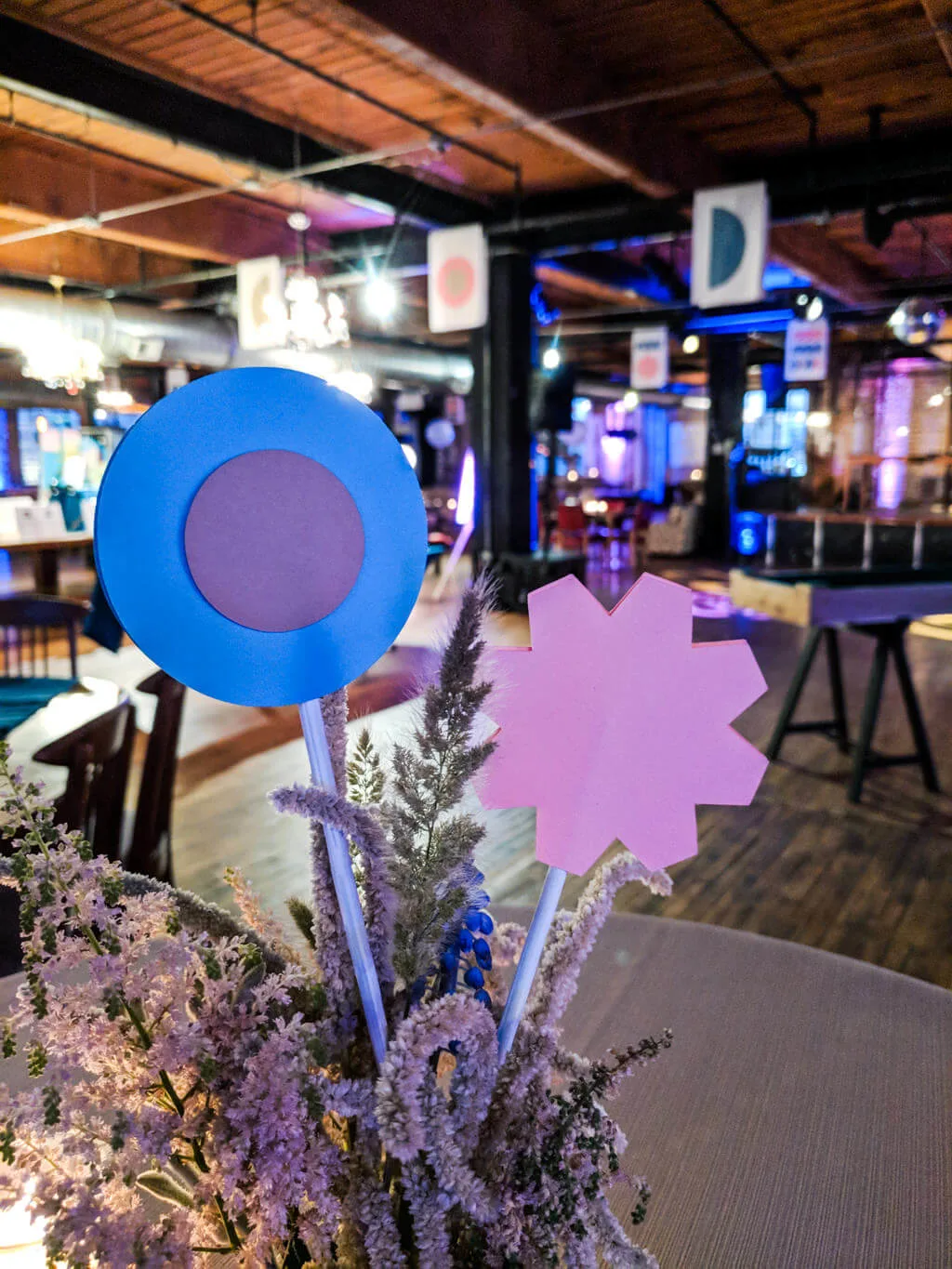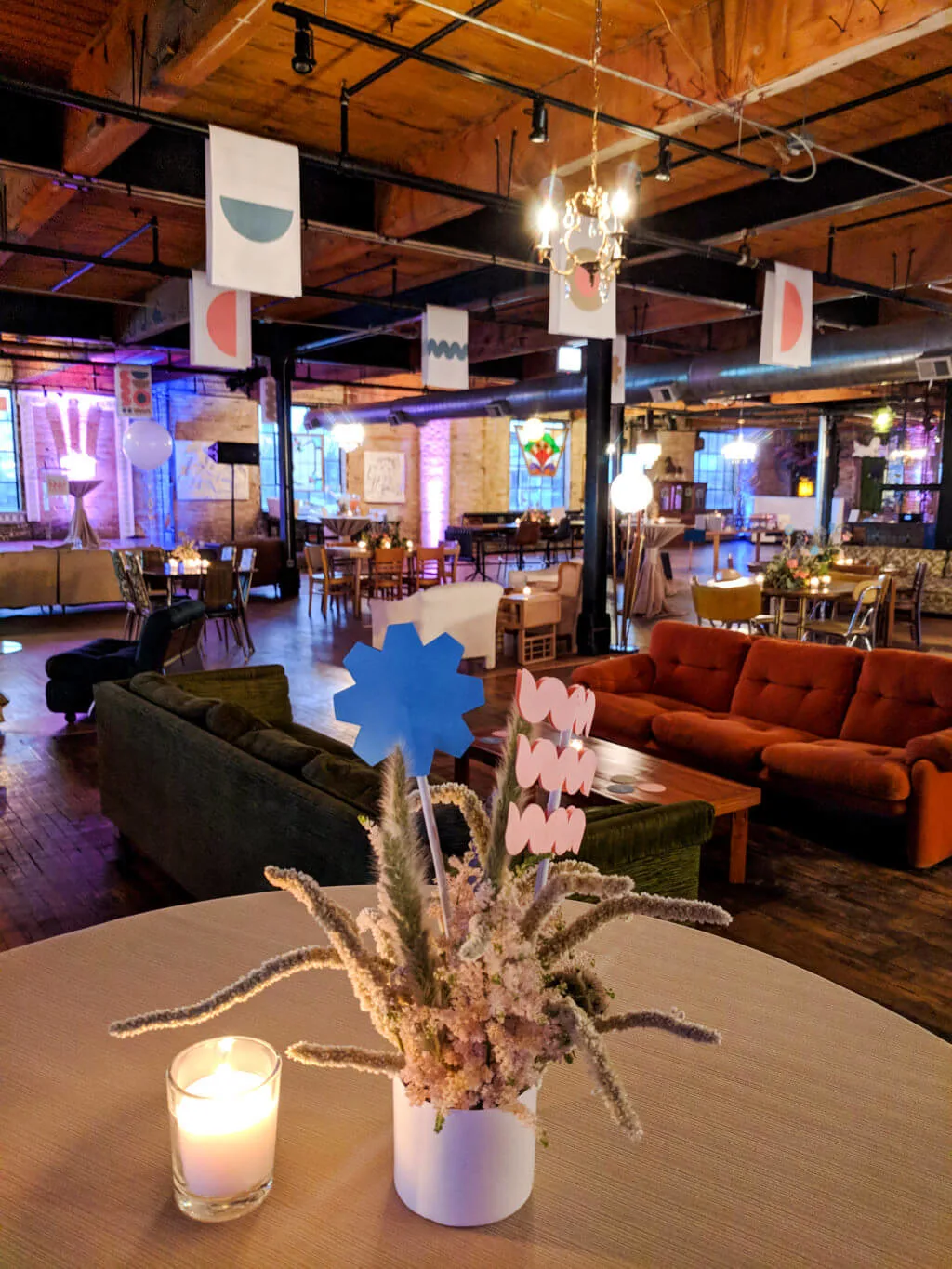 I loved the Better Together gala theme for our annual school fundraiser, and I'm so happy with how the event looked and felt. I truly believe that we are Better Together.
This post contain affiliate links which means that products I recommend may give me a nominal commission at no extra cost to you. Thanks – your clicks help me make more free DIYs!
++++++
Supplies for making 'Better Together' gala decorations for this school fundraiser theme:
Fabric banners and pillows: I created custom fabric from Spoonflower
Floral paper whimsies: Colored card stock paper, floral sticks, white spray paint
Wire board: Wood board, pink paint, nails & hammer, wire lights
Balloons: Oversized white balloons, paper, glue dots
++++++
Be sure to pin this project for later: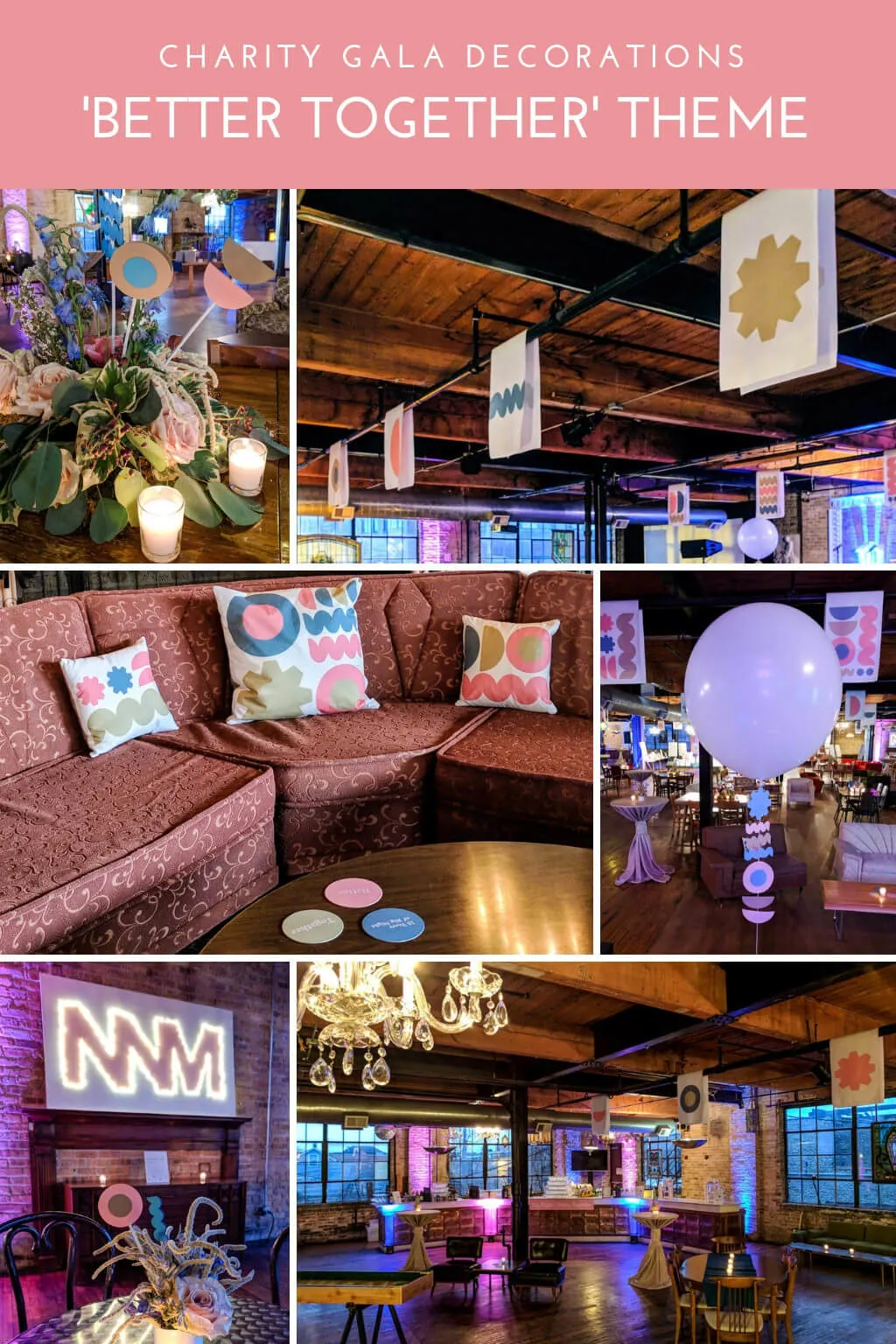 ++++++
And see more party DIYs like this geometric dinosaur birthday party and more DIY party decorations.
—
Like it? Share it!
The nicest way to say you like it is to pin it on Pinterest, post a comment, follow Merriment Design on Facebook, Pinterest, Instagram or sign up for monthly emails. Enjoy! 🙂
Copyright stuff: You're more than welcome to use this free project and tutorial for personal use. Contact me for commercial use and Etsy sales.