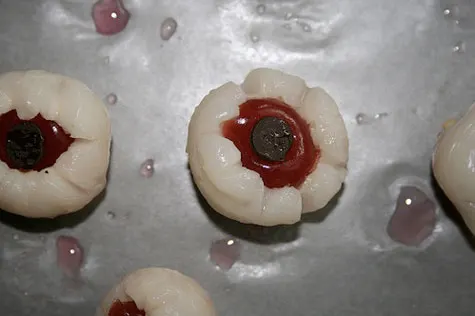 In the past five years or so, it seems like Halloween has gone bonkers in the DIY area. From costumes to cupcakes to candy, it's a holiday ripe for creepy crafting.
The always stylish Rachel Pluto hosted a Halloween party for her 10-month-old daughter Maya and friends. Rachel delighted parents by making Emeril's devil's eyeballs, freezing them, and dropping them into apple martinis as creepy ice cubes. Now that's what I call "Mommy's juice."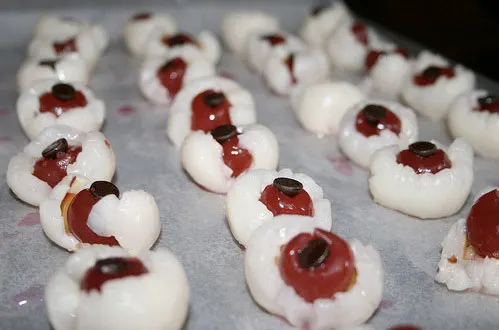 Eyeball Ingredients:
1 can of lychee nut fruits, pitted (Whole Foods carries them)
1 jar maraschino cherries
Dark chocolate chips
Take off cherry stems. Insert a chocolate chip, point side in, into the middle of each cherry to make "pupil" of the eye. Stuff cherry into pitted lychee nut fruit with chocolate chip side out.
Place eyeballs on a small aluminum pan or plate, making sure none are touching. Place in the freezer until frozen solid.
Apple Martini Ingredients:

You could go non-alcoholic but why? Shake all ingredients in a cocktail shaker with ice. Strain into a chilled martini glass. Drop frozen eyeballs into martinis.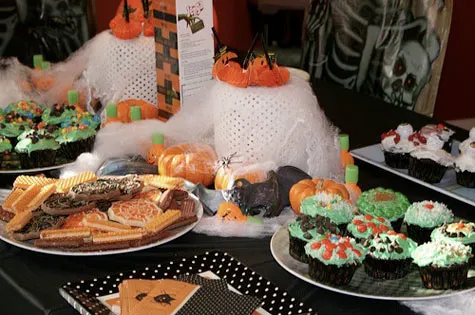 Rachel also served these super cute Halloween cupcakes and cookies.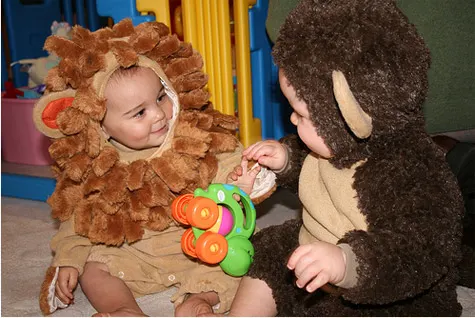 The Pluto family dressed up as the Wizard of Oz: Mom Rachel as Dorothy, Jose as the Tin Man, and Maya as the Cowardly Lion …plus a costume change into Glinda, the Good Witch of the North.
It's supposed to be 67 degrees (!!) in Chicago for Halloween. My neighbor Susan and I will be on our front porch passing out candy and drinking wine. Boo!