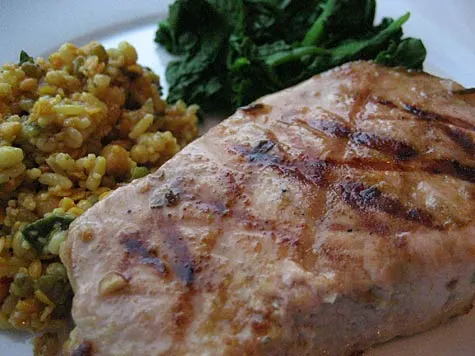 Memorial Day in Chicago means one thing: grilling! Here's an easy, very tasty and relatively healthy marinade recipe for chicken, pork, fish or veggie kabobs, courtesy of Merriment reader Jen Martensen who created and evolved this recipe that she uses "all the time" (thanks, Jen!).
And if you're not into mustard, try Shane's famous grilled chicken recipe from Upstate New York.
Marinade Ingredients:
Olive oil
Lemon juice
Dijon mustard
Garlic
Rosemary
Other Supplies:
Pork, Chicken, Fish or Veggie Kabobs
Plastic bag (1 gallon)
Silicone baster (how cool is this no-mess baster?)
Grill (cute gas travel grill set for picnics, camping and tailgates)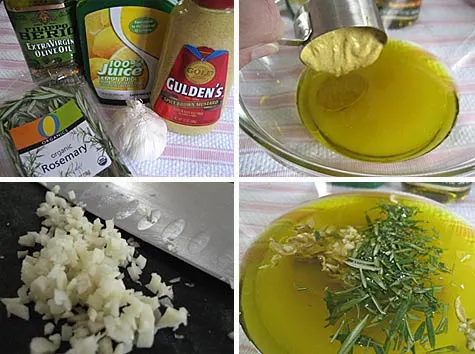 Mix roughly equal parts olive oil and lemon juice (I used 1/2 cup each). Add mustard in about a 2:1 ratio of lemon juice to mustard (so for me that was 1/4 cup). Mince a couple of cloves of garlic and add. Stir, then mix in rough chopped rosemary to taste (I used about 3 Tbsp).

Put chicken, pork or fish into a plastic bag. Pour marinade over the top (about 1/2 cup for each pound of meat), squeeze out the air, and put into the fridge for at least one hour and up to four. Reserve some marinade if you'd like to brush it onto the meat while grilling.
Take the meat out of the plastic bag and grill (for boneless pork chops cook it about 6 minutes per side over high, direct heat). And I'm sure you already know this but it bears repeating to throw out the marinade that the meat was sitting in …safety first, kids.

Jen says, "The best thing about it is you can adjust the ingredient proportions as you like. Want it really garlicky? Great. More lemon or oil and less mustard will make it lighter. More mustard gives the meat a thicker coating that'll char a bit and get crispier when cooked.
Lime juice can be substituted for lemon juice, garlic for minced ginger, rosemary for dill, and you can use different types of dijon mustard to end up with the right amount of bite to it – so it's easily customized with different flavors too.
It's so simple you can kind of "kitchen sink" it – toss rough amounts of each thing in and it comes out great, no precise measuring or finicky preparation."
Save