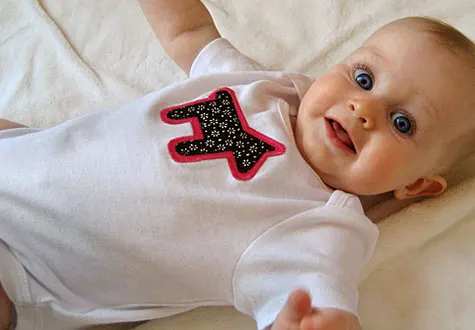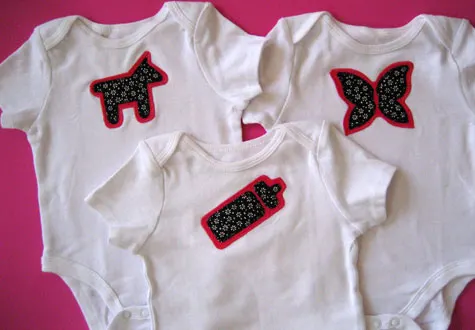 So my friend Jeff and I were talking at Mac's about Merriment and he asked if I could make a unique baby gift to help him welcome Isabella, a friend's newborn daughter. These handmade, sweet, graphic appliqué baby onesies should do the trick.
Supplies: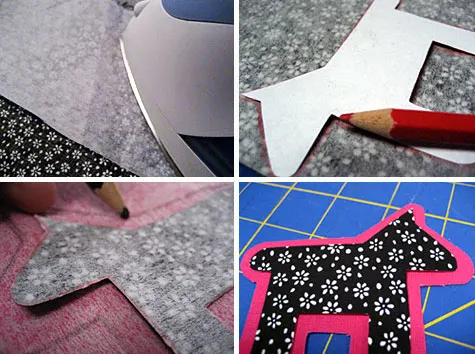 Cut the shapes
Print out my onesie shape template (PDF) and cut out desired shapes. Iron the interfacing onto the wrong sides of the black and pink fabric. Place the shape face down and trace onto wrong side of the black fabric. Cut out along lines. Set cut out black shapes face down onto the wrong side of the pink fabric. Free-form trace 1/4 inch around the cut pieces to create the pink background. Cut out along lines.
Sew pink background onto onesie
Pin the pink background onto the onesie front. Using a tight zigzag stitch, sew the shape onto the onesie, being careful not to pull the knit onesie to avoid puckering.

Sew black shape onto pink background
Pin the black shape onto the sewn pink background. Using a tight zigzag stitch, sew around the edges.

My free onesie applique template includes shapes for a dog, butterfly, bottle, bow and heart but you could easily create other shapes too. Big thanks goes to Tamara Bohorquez and Jon Sawyer for letting their happy-go-lucky baby daughter, Sienna, model the final result.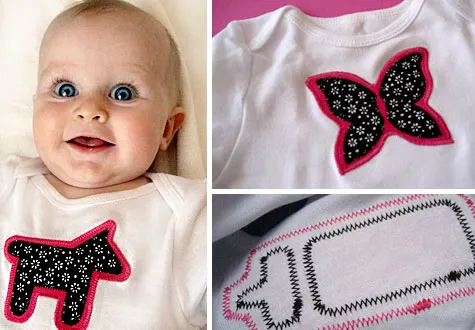 COPYRIGHT NOTE: You're more than welcome to use this project and pattern for your own personal use. Please post a comment below or email me if you use this project so I can smile when I see that it's being used. Craft and pass it on!