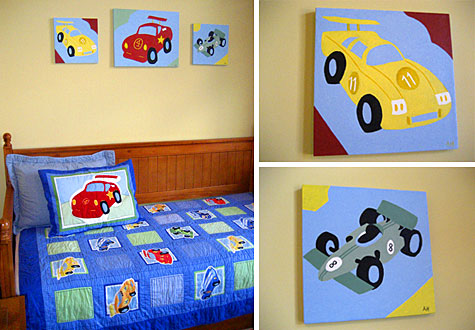 Watch out Speed Racer. Mom of two Amy Herlihy hand painted racing car wall art to match her son Kieran's racing themed comforter and pillow sham. Now Kieran has his dream bedroom. And it's a lot easier than it may look…
Supplies:
Here's how Amy created her son's coordinated haven: Mix the paints with the painting knife to achieve the background color you want for the picture. Liberally apply paint to the canvas with a large brush. Paint the edges too. With a lightly damp art sponge, gently dab the painted canvas and its edges to achieve texture. If you get bare spots, add more paint and dab again. Allow to dry overnight.
After the background is dry, use a pencil to freehand draw your image onto the canvas.
(OK …let's pause here for a minute. So Amy's a closet artist and can draw freehand. Well, here's a foolproof tip for the rest of us. Simply place the Artograph Tracer Projector
on top of your image or object, adjust sizing, and it will project instantly and clearly onto your canvas. Now just trace the image directly onto the canvas with a light pencil. Easy peasy.)
Using appropriate sized brushes, paint color blocks first (let dry), then outlines and details. Amy said she used a tiny brush for outlines and details but finds sometimes paint pens are good for this. Balance your composition by applying color blocks to the corners if needed. Amy loosely tracked the shape of the car when creating the color blocks.
You can use the Artograph Tracer Projector
to paint wall murals too…