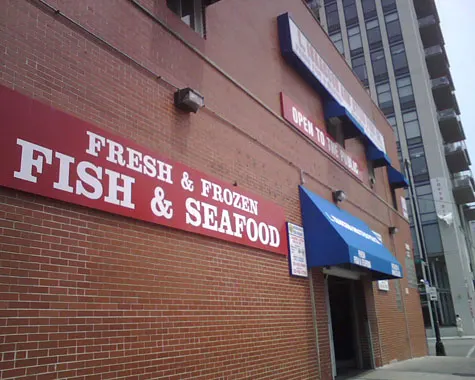 Who says there's no good fresh seafood in Chicago? Stepping inside L Isaacson & Stein Fish Market to buy ingredients for Shane's Fourth of July birthday BBQ was a revelation.
I've heard about this place for years. I love seafood. My first Chicago job many moons ago was at Fulton and Jefferson. So I'm a little embarrassed to reveal that this was the first time I'd actually set foot inside Isaacson's.

Tuna steaks, fresh (not frozen!) jumbo sea scallops, wild caught red snapper, squid, goldenneck clams! It was a little unnerving at first to self-serve fish out of the ice-filled bays. But for $4.95/lb red snapper and $3.75/lb clams I'm in. After you pay, Issacson's will clean the fish for you however you like.
With raised confidence I proceeded to buy mounds of prime rib steaks at Peoria Packing Butcher Shop down the street. Peoria's carries a wide spectrum of meat including parts of animals I didn't know people ate anymore. But boneless chicken breasts are $1.75 a pound. Seriously.

Now that I'm working again in the neighborhood I have a feeling I'll be stopping by these treasure troves as often as I can muster.