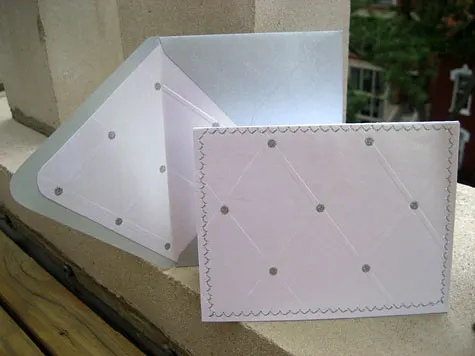 My downstairs neighbor Susan gave us a beautifully wrapped wedding gift in thick, shiny silver and pearl-like white wrapping paper. Channeling my mom, I decided to fold up the shiny white and silver paper and store it until I found some use for it.
Today I recycled the wrapping paper into a wedding card sewn with shiny metallic silver thread and coordinating lined shiny silver envelope.
Supplies:

Place your envelope liner template onto the wrapping paper. Use your Xacto knife to cut the paper. If you're using thin paper, cut slowly to avoid tearing.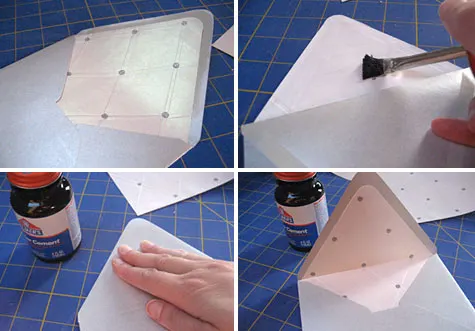 Slip the cut liner into the envelope and position just below the adhesive. Carefully flip it over, bend back the envelope flap, and brush rubber cement onto the back of the liner. Turn over and smooth.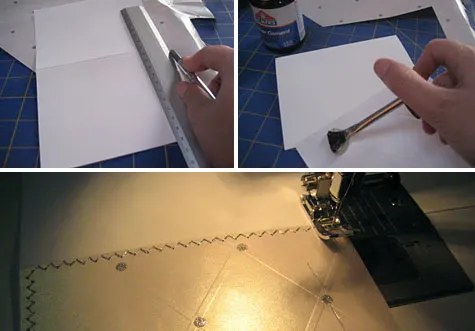 Using your blank card as a template, cut a rectangle the same size as the front of the card using your Xacto knife and ruler. Brush rubber cement on the back and affix to the front of the card. Let it dry for a bit. Using a double zigzag stitch, sew metallic silver thread around the card front.
I used a light blue Sharpie to address and write the card. Something blue…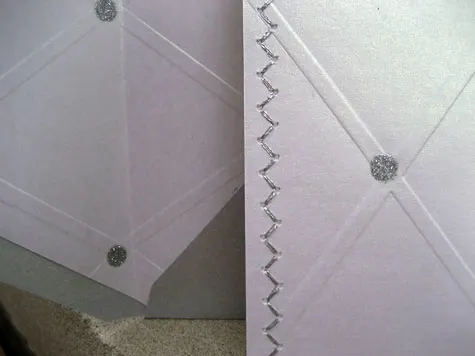 —
Like it? Share it!
The nicest way to say you like it is to pin it on pinterest, post a comment, follow Merriment Design on Facebook, twitter, pinterest, Google+, instagram or sign up for monthly emails. Enjoy! 🙂
Copyright stuff: You're more than welcome to use this free project and tutorial for personal use. Contact me for commercial use and etsy sales.