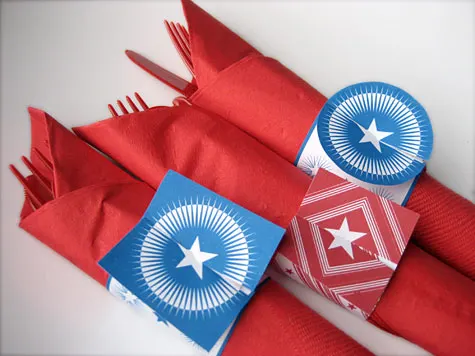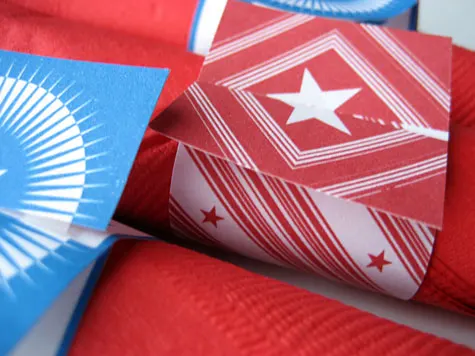 Shane's birthday is the Fourth of July so today I started to make some fun decorations for him.
Martha Stewart has a super cute Fourth of July paper napkin ring template on her website. I printed her template, cut out the rings and …well, I had a few issues with her template.
So I decided to re-create her template to fix the usability problems. And voila! Here's a new and improved paper napkin ring template for you featuring these improvements:
1. Smaller rings. Martha's napkin rings were too large for my paper napkins and plastic silverware; they just slipped right off. Bummer. My guess is that Martha rightfully assumed the classiest solution (cloth napkins) yet I'm going disposable for this BBQ.
2. More rings per sheet. I try to limit my Paper Source runs so my adjusted template prints 6 rather than 4 rings per sheet.
3. Faster to cut (and straighter edges!). I put the rings touching side-by-side so that you can quickly slice them using an Xacto knife
, ruler
and self-healing cutting mat
. (If you don't have these tools you should get them immediately – you'll find a million uses for them and save tons of overall crafting time.)
I also thickened the blue border so there's less chance of accidentally cutting it off. And I took off the dotted cut lines because I didn't like how you could see them on the front of Martha's final ring.
And for people who prefer to not deal with the curves I created an all-square paper ring template that's even faster to cut.
Supplies:

Print out either template 1 (with curves) or template 2 (all straight) of my new improved template. Place it on your self-healing mat. Line up the ruler on the edge and cut the rings by running your Xacto knife along the ruler's edge.

On each end, cut two slits half-way. Now I took the cut lines off of the template so make sure that you cut opposite sides (i.e., from the bottom on the right and from the top on the left) and only halfway. Tuck slits together to make a ring.

Roll your silverware in your napkin. Slip the ring on to hold.