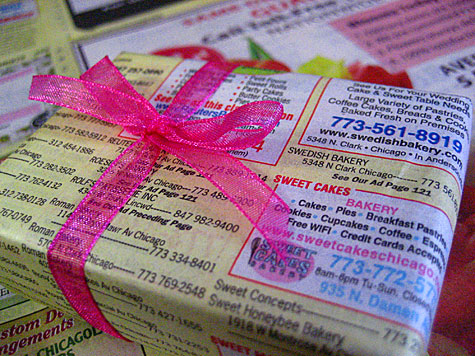 AT&T delivered piles of telephone books to my neighborhood a couple of weeks ago. Not needing ours but cringing at tossing the stack into the trash I decided to find some crafty uses for them. So I wrapped my sister Karin's birthday gifts with birthday-themed yellow pages.
Supplies:
Telephone book (preferably yellow pages)
Tape
Scissors
Ribbonor bow for garnish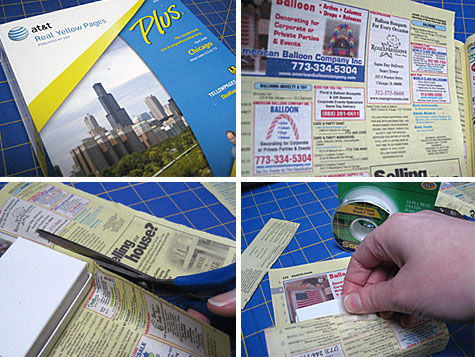 Flip through the phone book to find a suitable topic. For Karin's birthday I chose 'Bakery,' 'Balloons,' 'Gifts,' 'Flowers,' and 'Cake.' Run one side of your scissors down the spine or tear out to remove the page. For smaller boxes like the jewelry box above you can just cut to size and wrap. Add a ribbon, bow or other garnish; I used a fuschia, sheer, shiny metallic ribbon that picked up the pink in the Sweet Cakes logo.

For larger boxes, tape pages together from the backside to create one large sheet, then wrap. For my sister's larger box I used 12 pages.
I like this idea because it's simple, whimsical and green for the reduce-reuse-recycle minded. Here are some occasions and suggested phone book themes to try:
Birthday = Balloons, Bakery, Cake, Candy, Liquor
Bachelorette/Bachelor Party = Bars, Liquor, Entertainment, Escorts, Limousine
Baby = Child, Schools, Diaper Service, Nannies, Furniture – Children's, Clowns
New Home = Moving, Painting
Engagement or Wedding Shower = Bridal, Diamonds, Jewelry, Wedding, Banquet, Bakers, Caterers
Other fun topics for the right recipient: Travel, Aquariums, Body Piercings, Bowling, Costumes, Golf, Tattooing, Pawnbrokers. Let me know what you come up with!