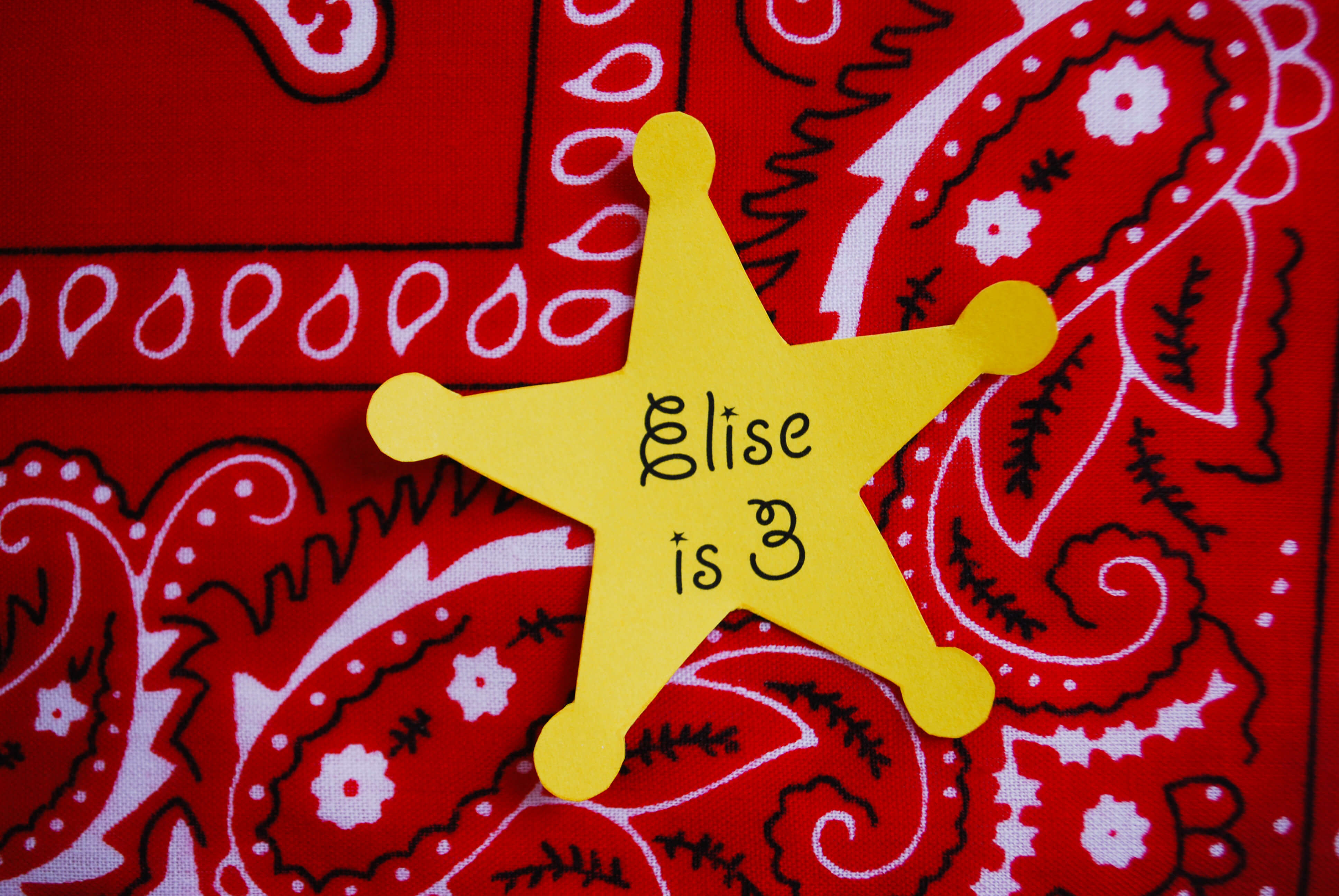 I made these personalized printable sheriff badges for my daughter Elise's Toy Story Birthday Party. And that means now they are yours to personalize for your own little sheriff.
I'm really excited about these free printable sheriff badges because I figured out way for you to easily personalize them yourself with your child's name and age. Yes sir, free and personalized sheriff badges that you can make yourself…! You can use them for Toy Story favor bag tags or goodie bags, or just tape them to party guest shirts.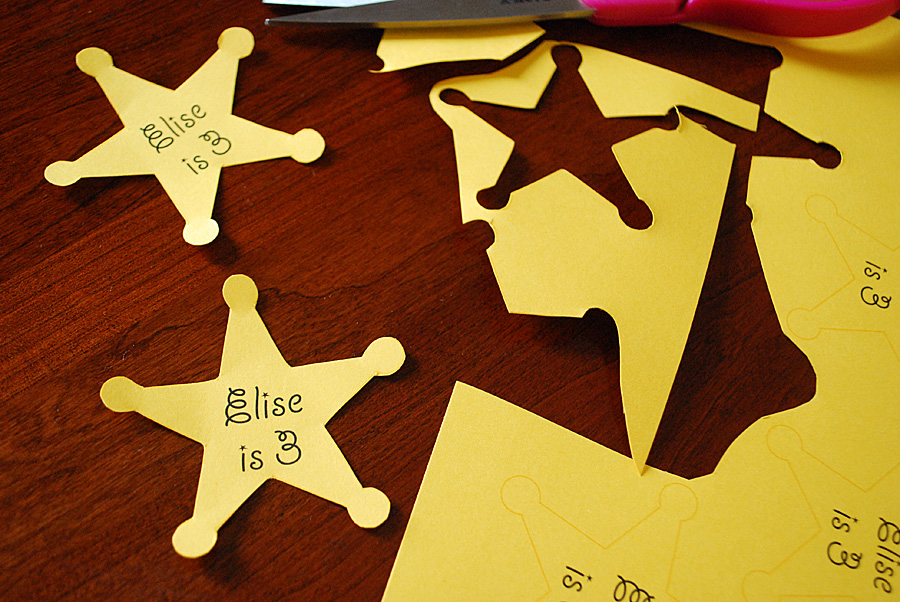 All you need is to type in your child's name and age into the form and print it out on yellow card stock, cut them out, and attach them to your child's shirt with tape or a pin. Too simple.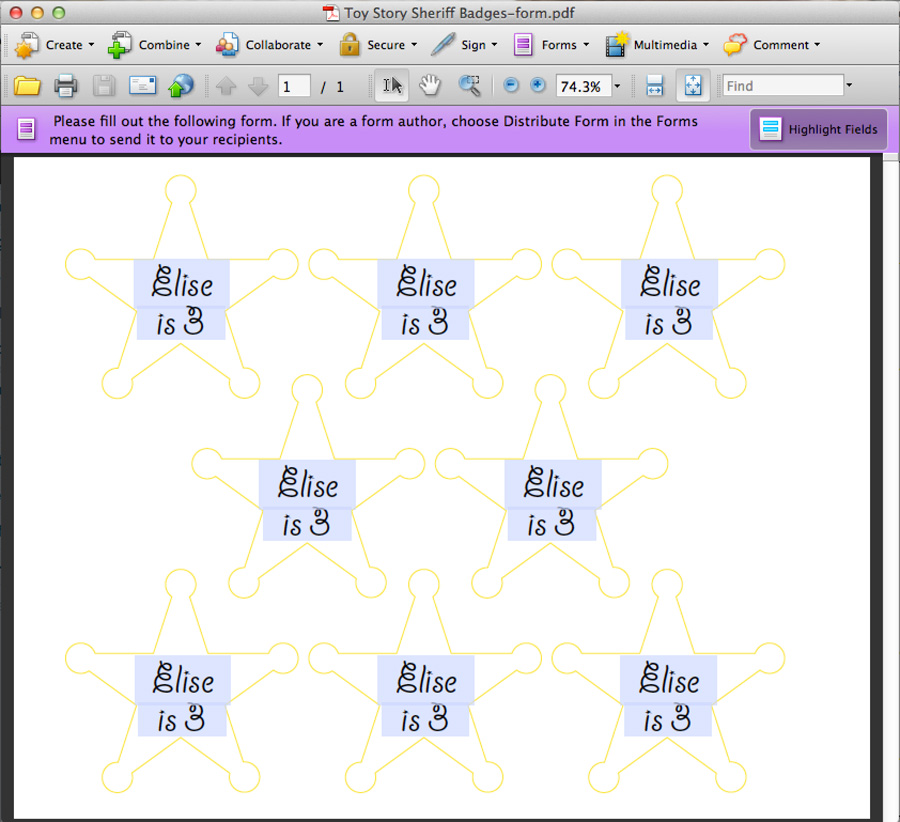 Elise had such a great time at her Toy Story birthday party! All hail the new little sheriff in town.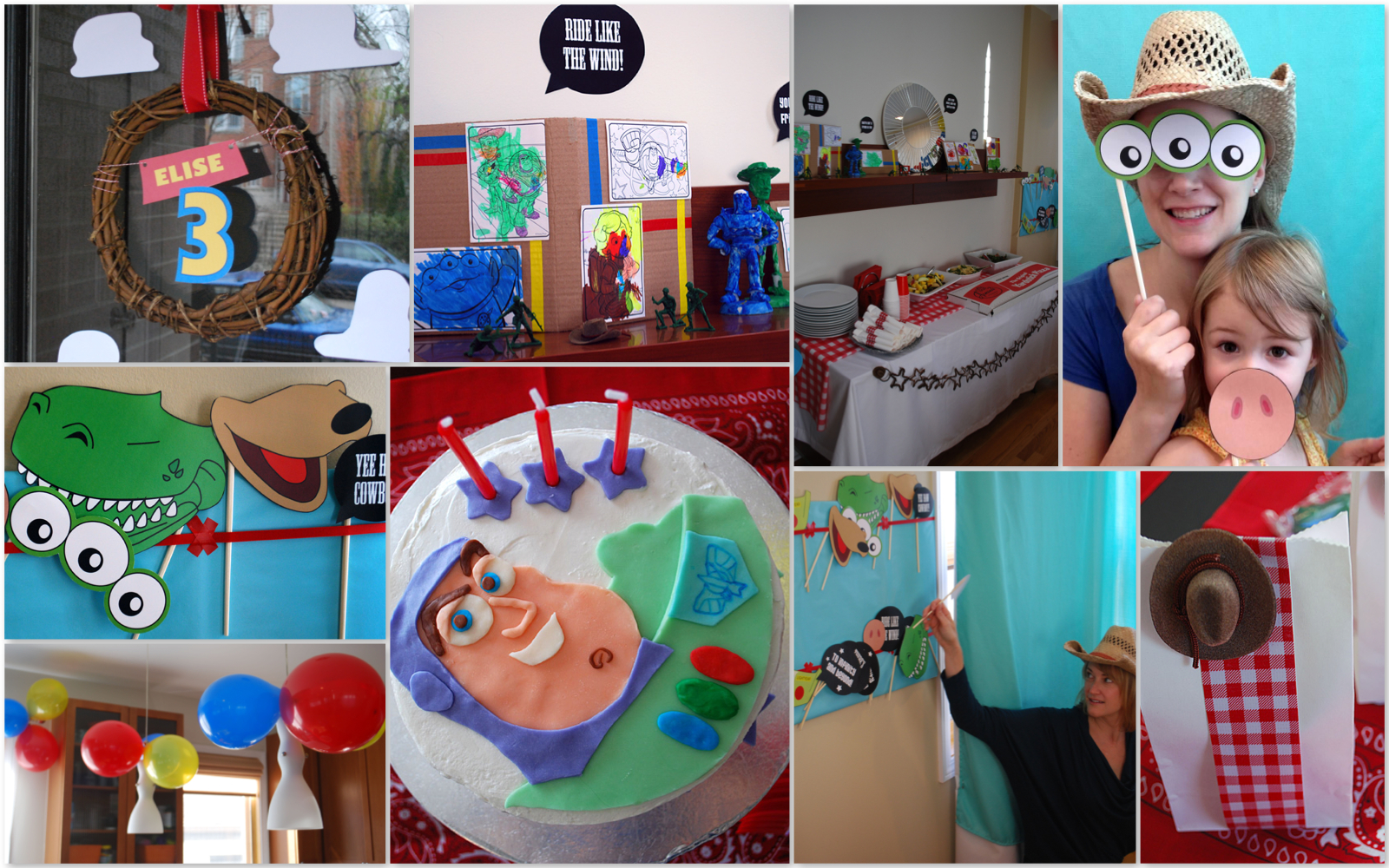 ++++++
Check out my other Toy Story birthday ideas for cakes, and party supplies:
++++++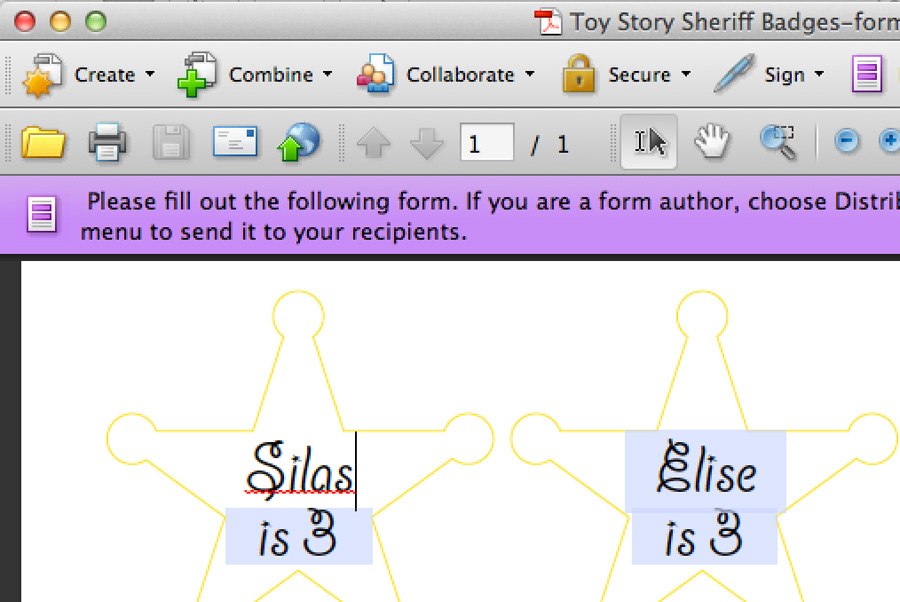 This post contain affiliate links which means that products I recommend may give me a nominal commission at no extra cost to you. Thanks – your clicks help me make more free DIYs!
++++++
Supplies for Making Free Personalized Printable Sheriff Badges for name badges or favor bag tags:
—
How to make Personalized Sheriff Badges from paper
Step 1: Download printable personalized sheriff badges.
Important! Adobe Reader must be installed on your computer to use this file. Do not try to edit this file in a web browser such as Firefox or Safari – editable PDFs do not like to be edited in web browsers. Instead, download my PDF to your computer and "File…Open" it in Adobe Reader which is free.
Open my personalized sheriff badges free printable (PDF). Use Page 1 for short names like Elise (the font is larger) and use Page 2 for longer names like Sebastian (it uses a smaller font). Just remember to print only the page that you need, like 3 copies of Page 1.
Here is Page 1 (ignore the blue fields, they won't print so no worries):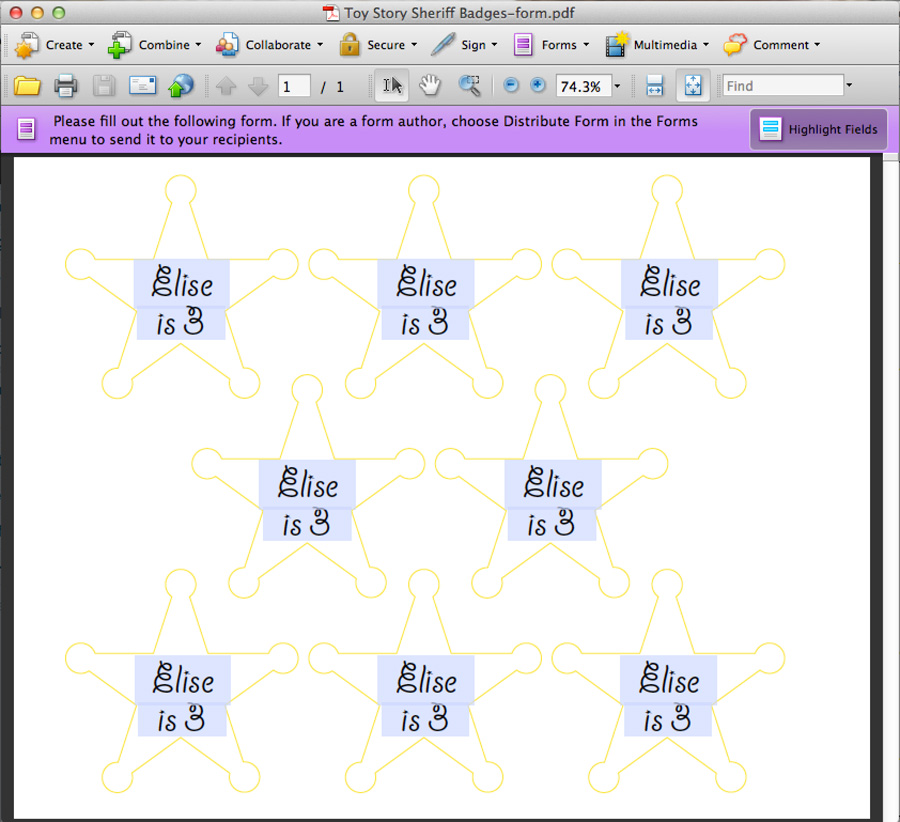 +++
Step 2: Personalize sheriff badges.
Now just click into the name field and start typing a new name, like the name I'm always suggesting to pregnant friends: Silas.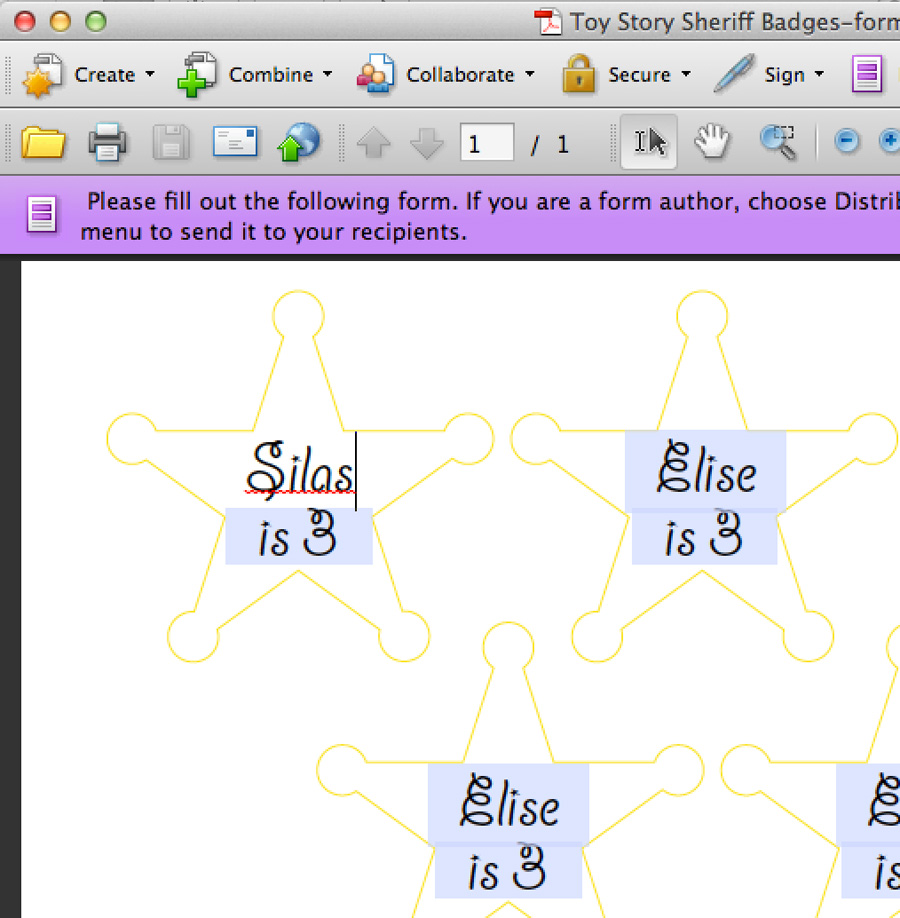 Now click out. Poof! All of the sheriff badge names will now change to Silas. Just repeat this to change the age too.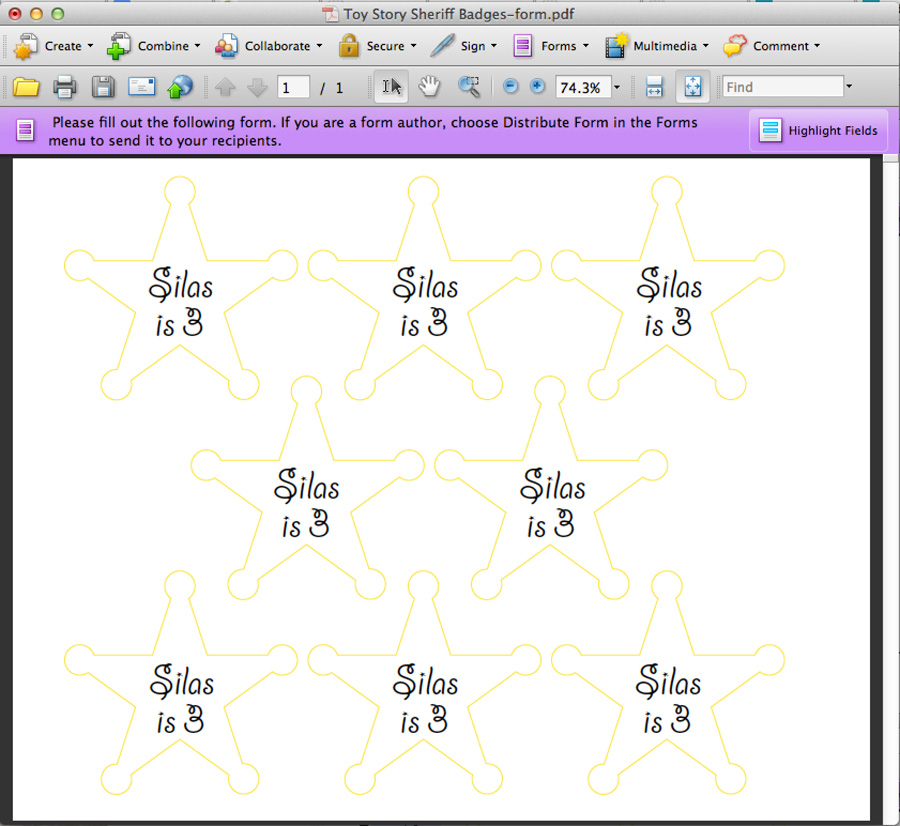 Use Page 2 for longer names like Sebastian.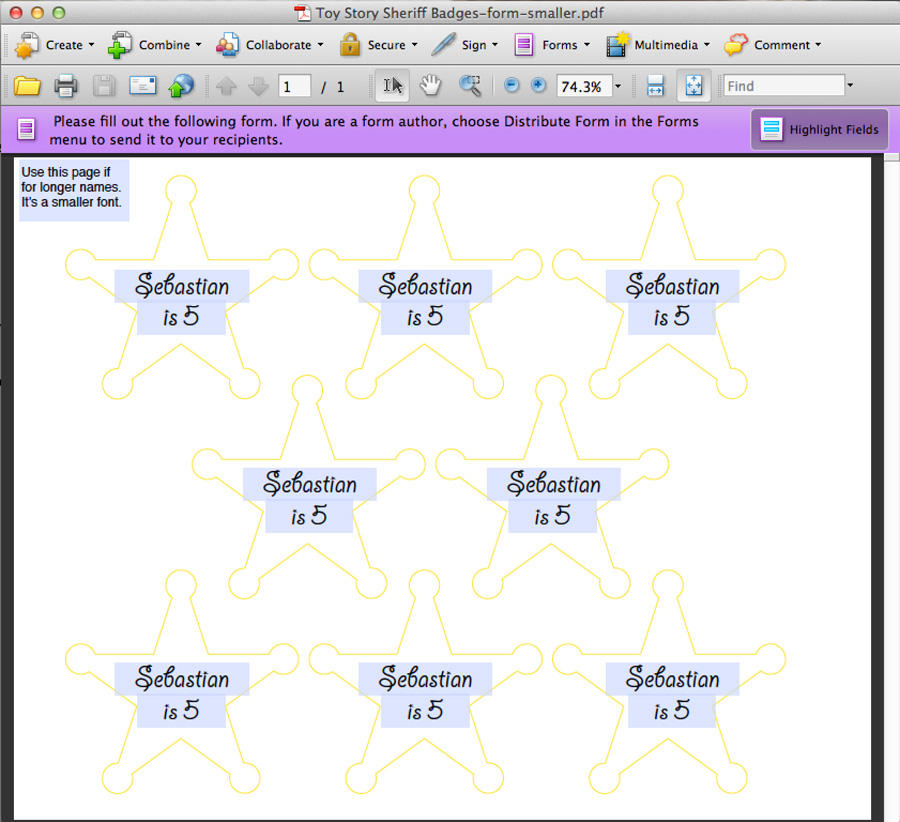 +++
Step 3: Print personalized paper sheriff badges.
Load your printer with yellow card stock, or any other color that you'd like to use for your sheriff badges.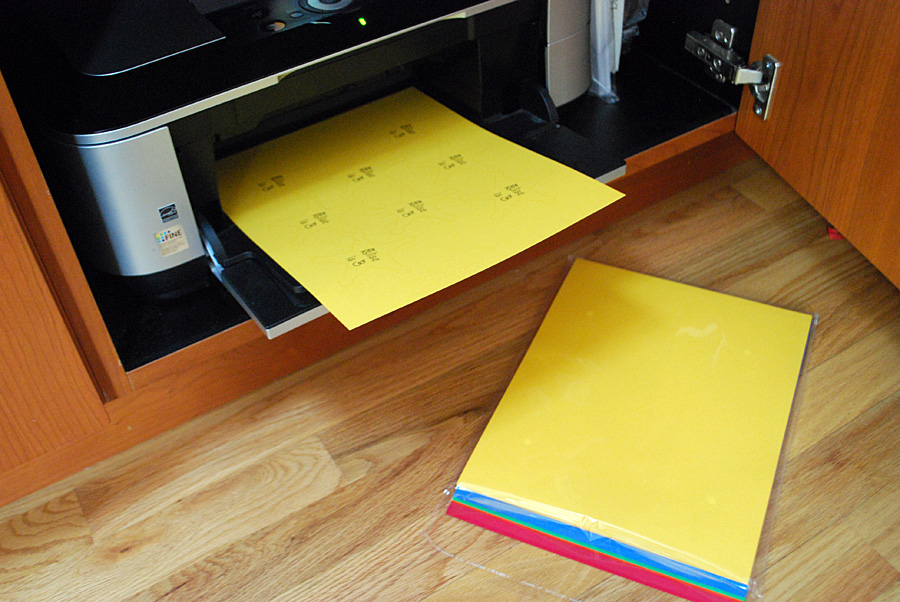 Now you may be wondering why I didn't just make these badges yellow in the first place so they could be printed on white paper? Well, because doing it this way (1) uses less ink and (2) looks way better.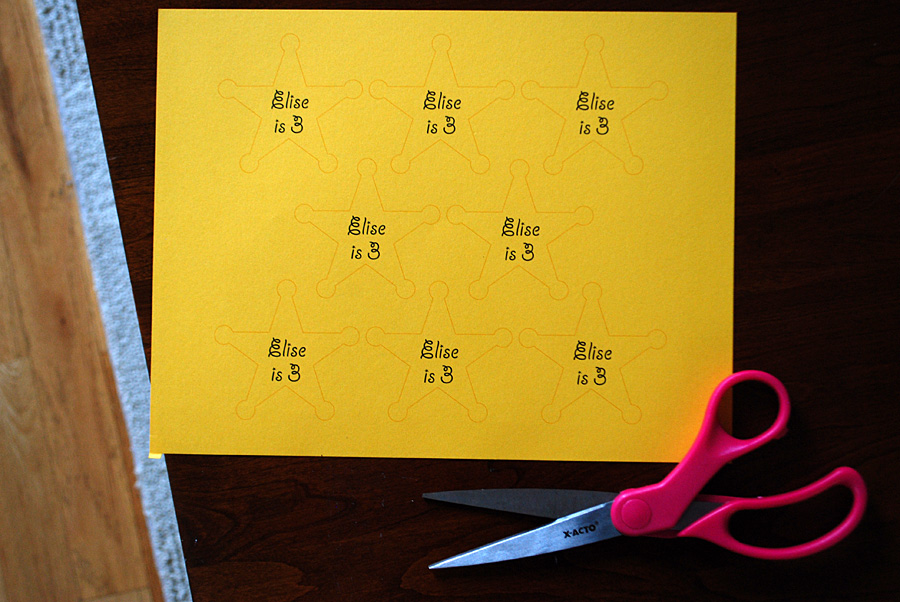 OK, now print JUST the page that you personalized. If you need to do more than one copy, set your printer to print like 3 copies of Page 1. Sorry if that's too basic but no need to waste paper.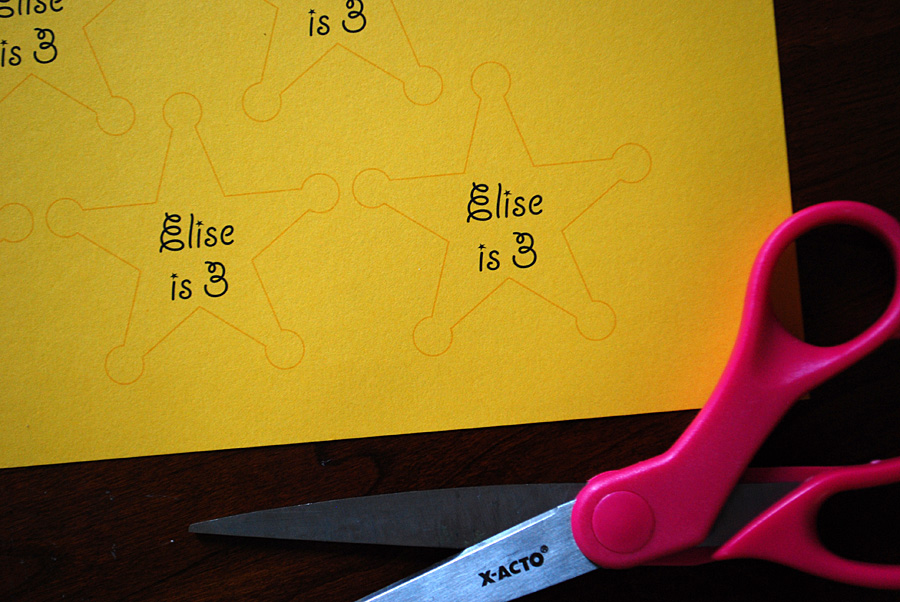 +++
Step 4: Cut out sheriff badges using good paper scissors
Cut it out using good paper scissors.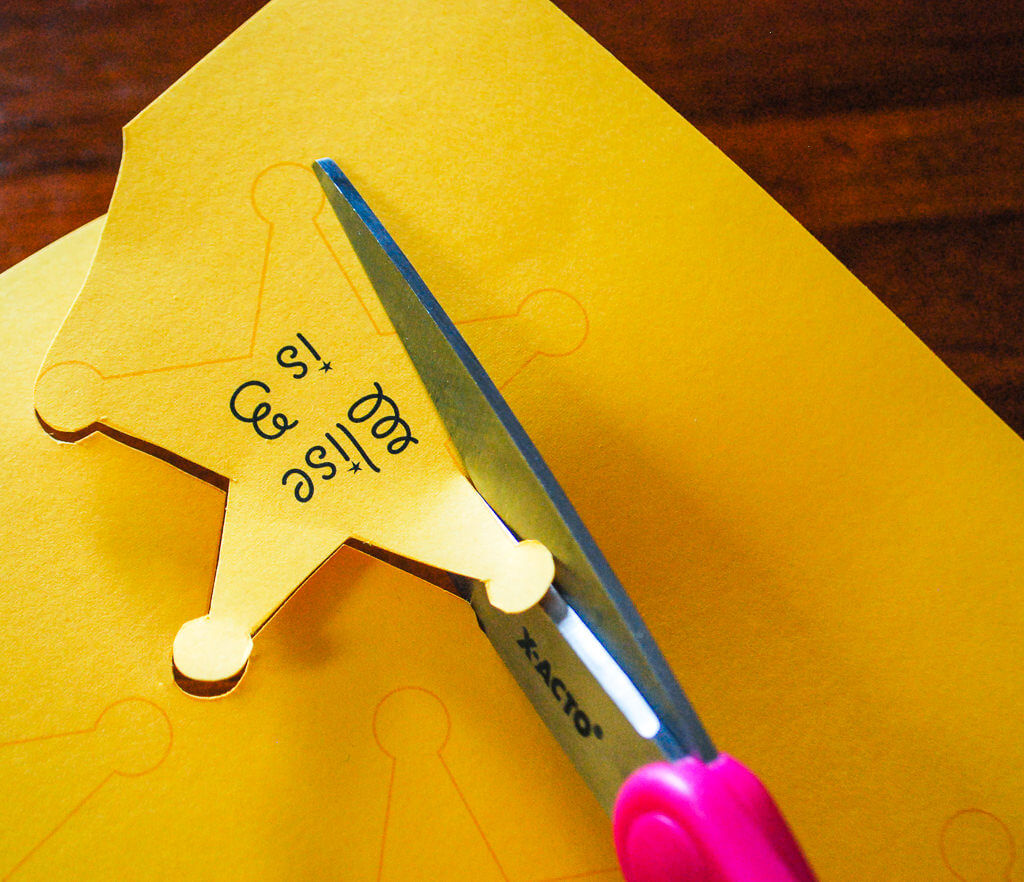 Keep cutting for each party guest. You may want to cut out some sheriff badges to decorate your party space too.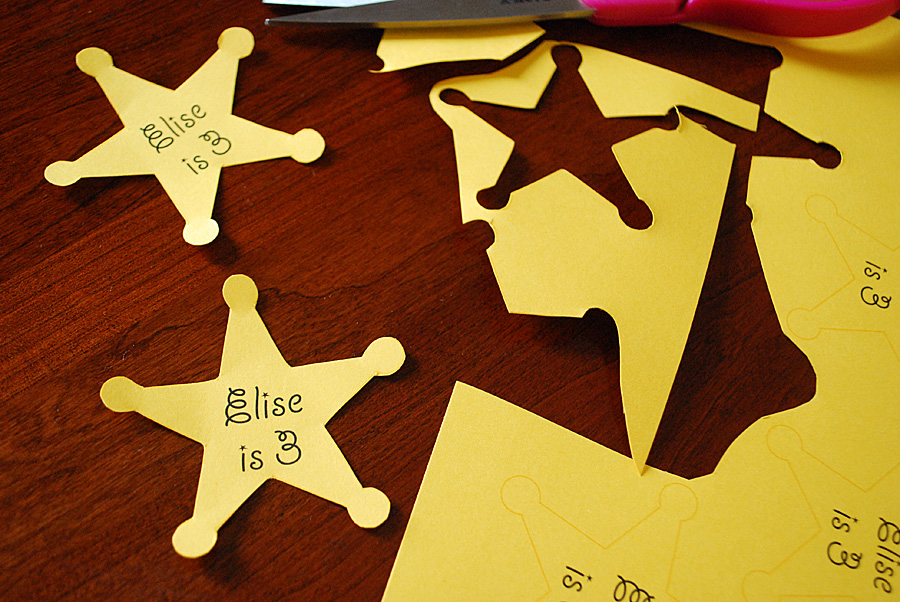 +++
Step 5: Affix paper sheriff badge name tags to guests.
Affix the paper personalized sheriff badges to the birthday kid and guests using tape or a pin. Or you can use these sheriff badges for favor bag tags too. Or hey! You could also use them as cupcake toppers. Yee haw!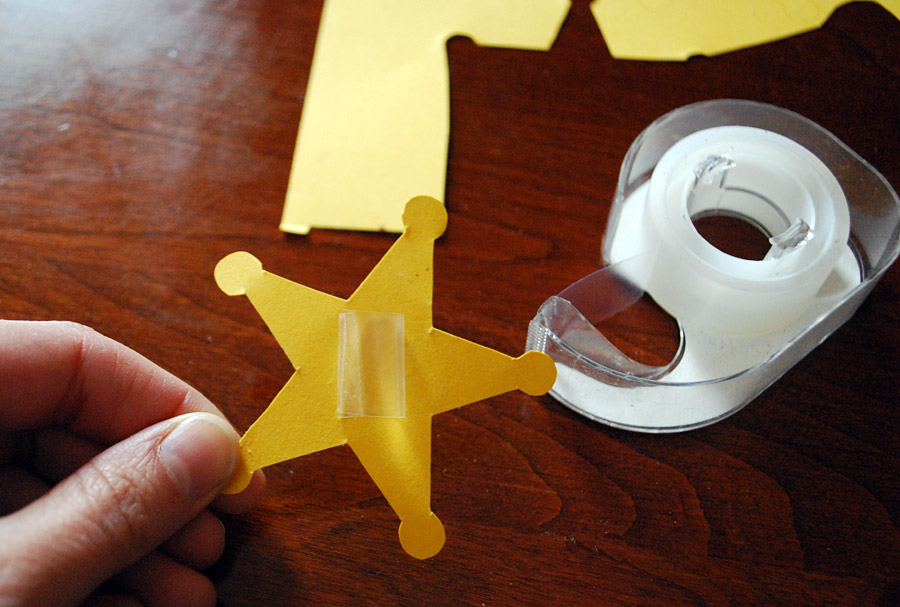 ++++++
Be sure to pin these printable sheriff badges for name tags or favor bags: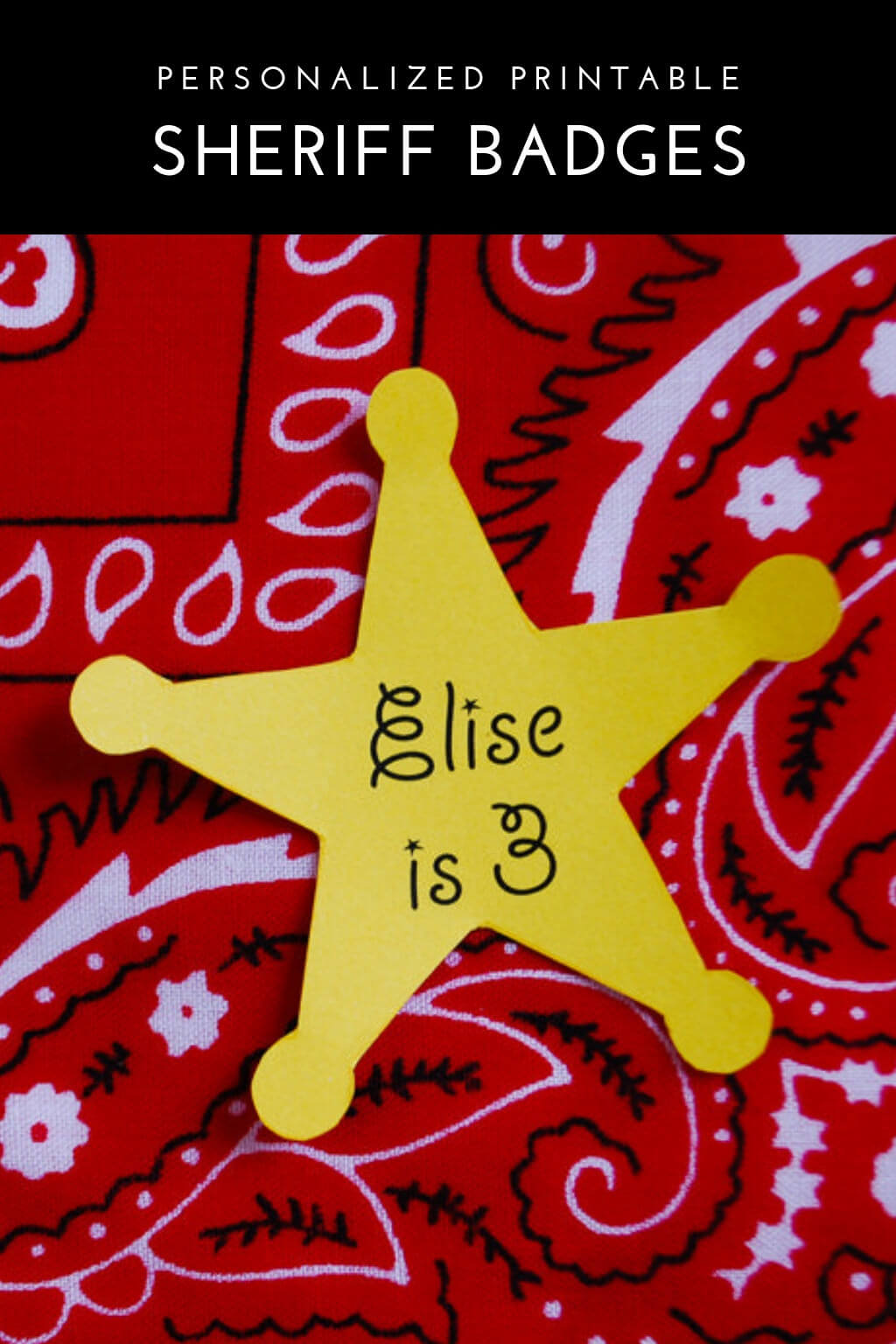 ++++++
—
Like it? Share it!
The nicest way to say you like it is to pin it on Pinterest, post a comment, follow Merriment Design on Facebook, Pinterest, Instagram or sign up for monthly emails. Enjoy! 🙂
Copyright stuff: You're more than welcome to use this free project and tutorial for personal use. Contact me for commercial use and Etsy sales.