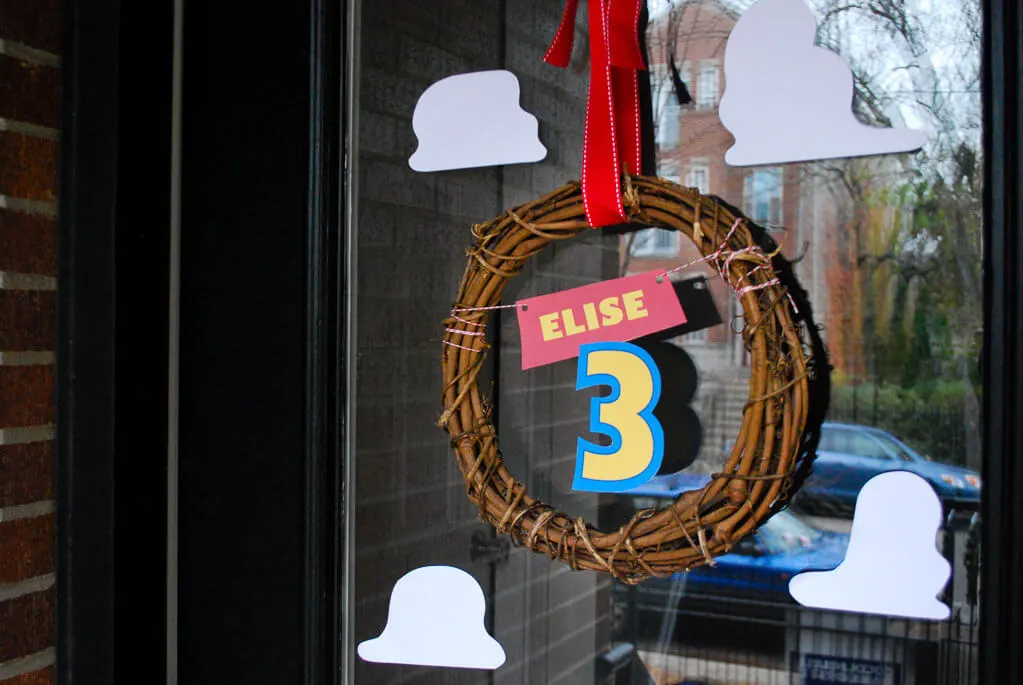 My DIY Toy Story front door welcome sign was the perfect yee-haw welcome for Elise's Toy Story birthday party.
My Buzz Lightyear obsessed daughter, Elise, wanted a Toy Story birthday party theme. Convenient for me, she was turning 3 years old which means I could knock off the Toy Story 3 logo a bit to make my own parody sign for her Toy Story birthday party: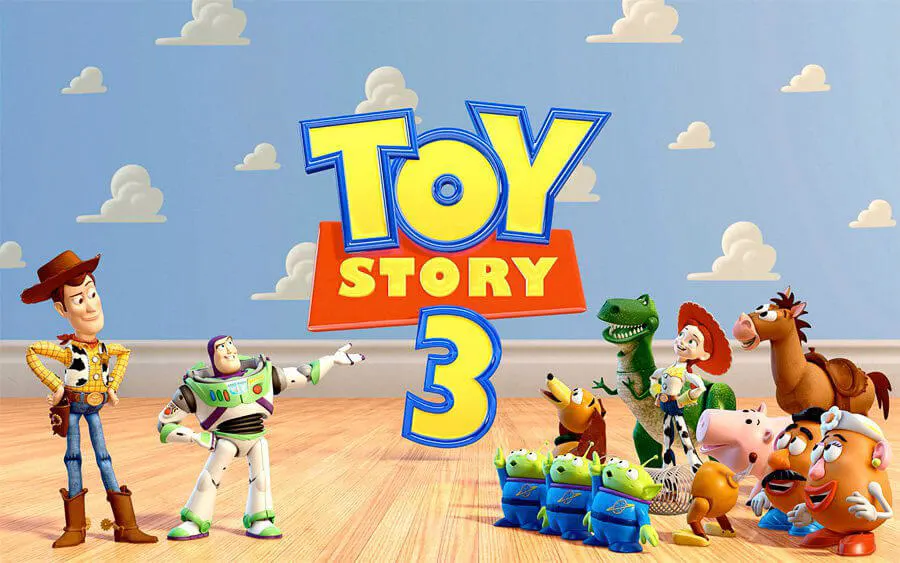 Personalized birthday party sign with a Toy Story font
I looked around and found some fonts that looked close to the Toy Story logo and made it into a free printable Toy Story birthday party sign. Lucky for you, I also made a free sign template that you can personalize with your own kid's name by typing it into the field.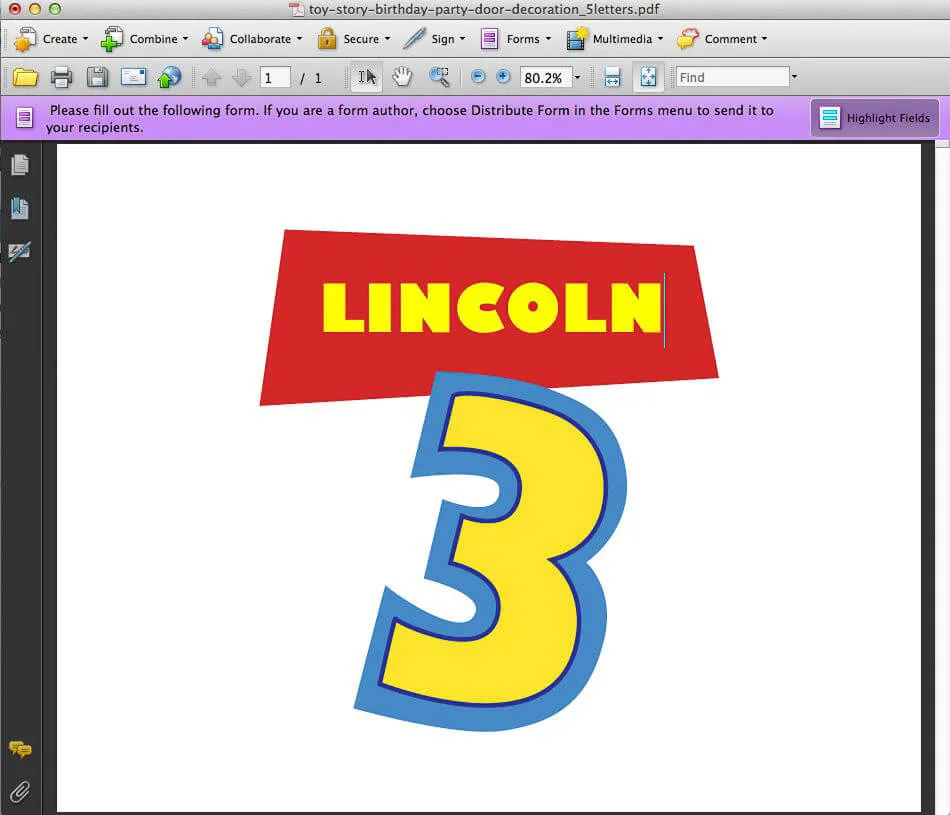 Just print it out and you can turn it into a door sign like mine, or an iron-on t-shirt, or anything else to help celebrate your own little space ranger's 3rd birthday. (UPDATE! By reader request ages 1, 2, 3, 4 and 5 are all now available, just see below).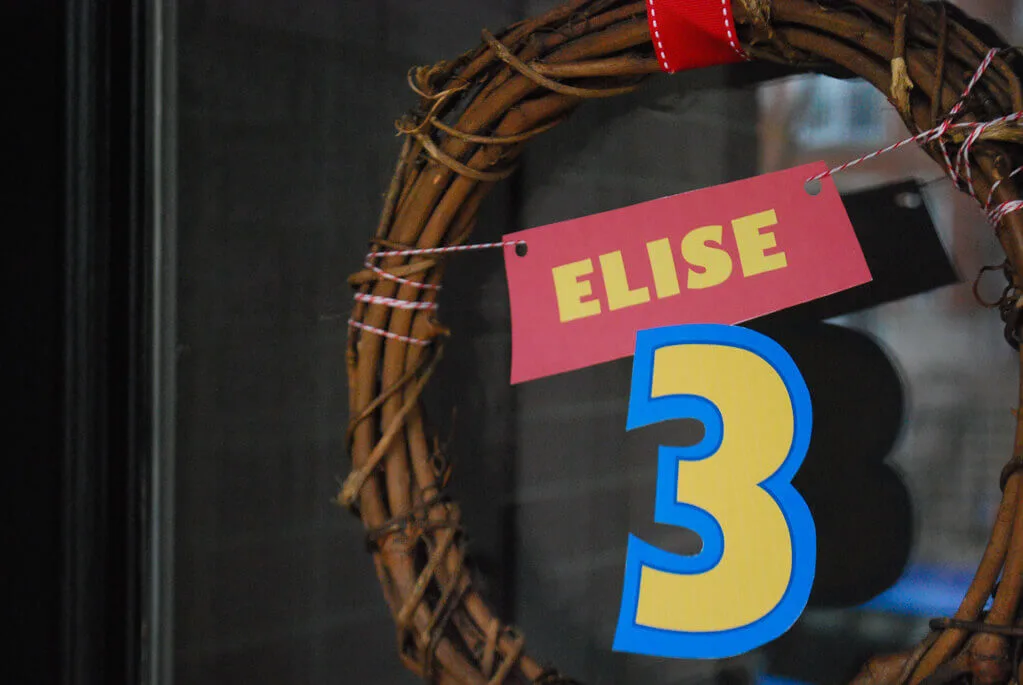 Check out my other Toy Story birthday ideas:
And there are a few more free Toy Story birthday ideas in my boot to come.
Supplies for making a Toy Story Front Door Welcome Sign – Free Printable Birthday Party Decoration:
—
How to make a Toy Story Front Door Welcome Sign – Free Printable Birthday Party Decoration

Step 1: Download and personalize my free printable Toy Story birthday sign
Download my free template and open in Adobe Reader, use my 5 letter number PDF for short names like Elise, and use my 7 letter template with the smaller font for longer names. Type your name into the field, and if you need a longer name let me know.
(UPDATED! By popular demand, this file now contains ages 2, 3, 4 and 5. Thanks for the comments and for pinning and sharing this Toy Story birthday party project. Enjoy!)
Step 2: Print your personalized sign with Toy Story font for your age
Print out the sign on white cardstock and cut it out. You only need to print and cut out the page that has your desired age.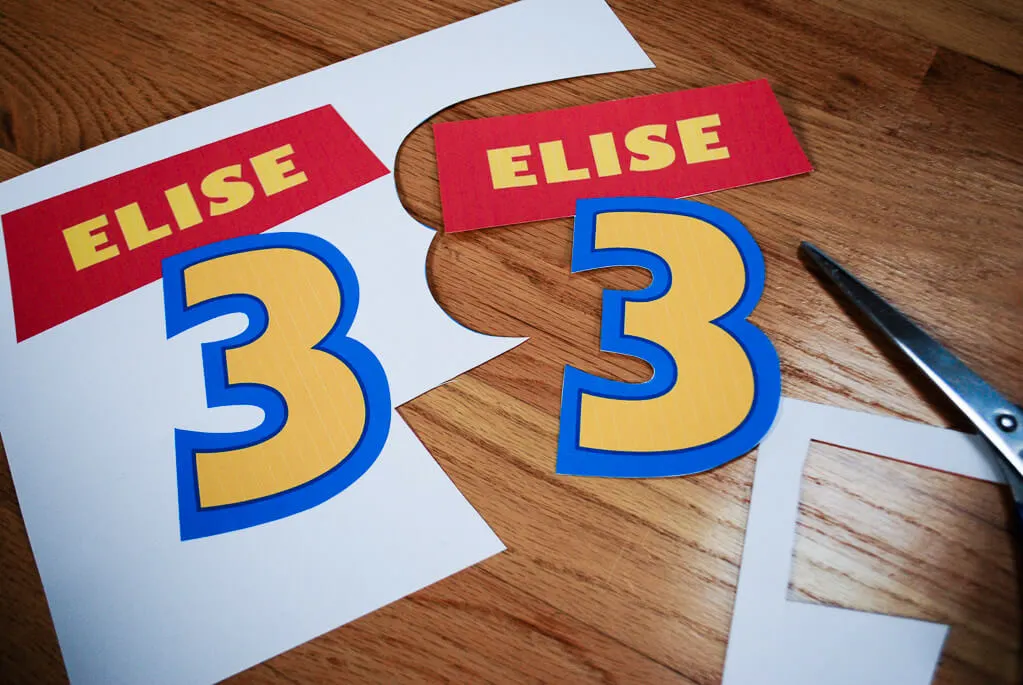 Step 3: Add the Toy Story sign to a wreath (optional)
Put a grapevine wreath on a flat surface. I reused a grapevine wreath that I had from a previous wreath project.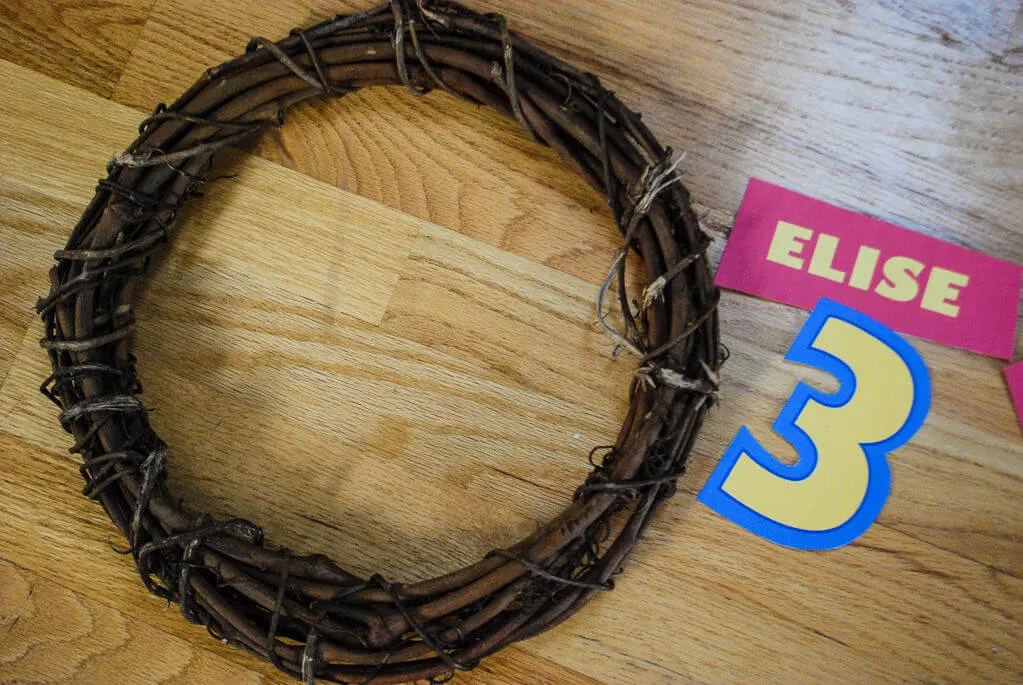 Punch holes on the two corners.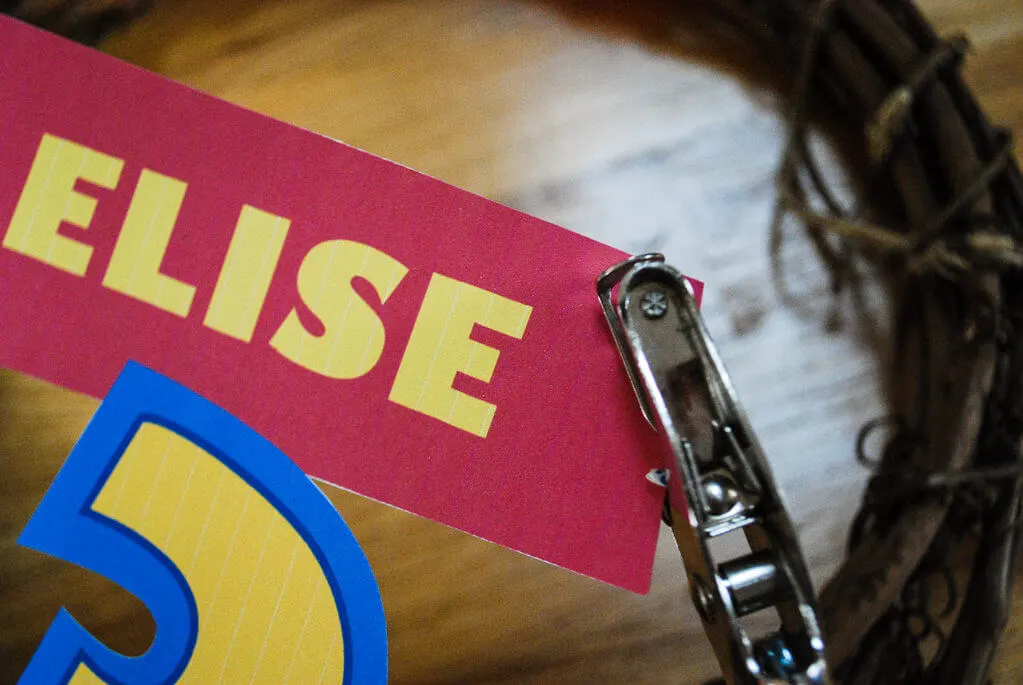 String the Baker's Twine through the holes.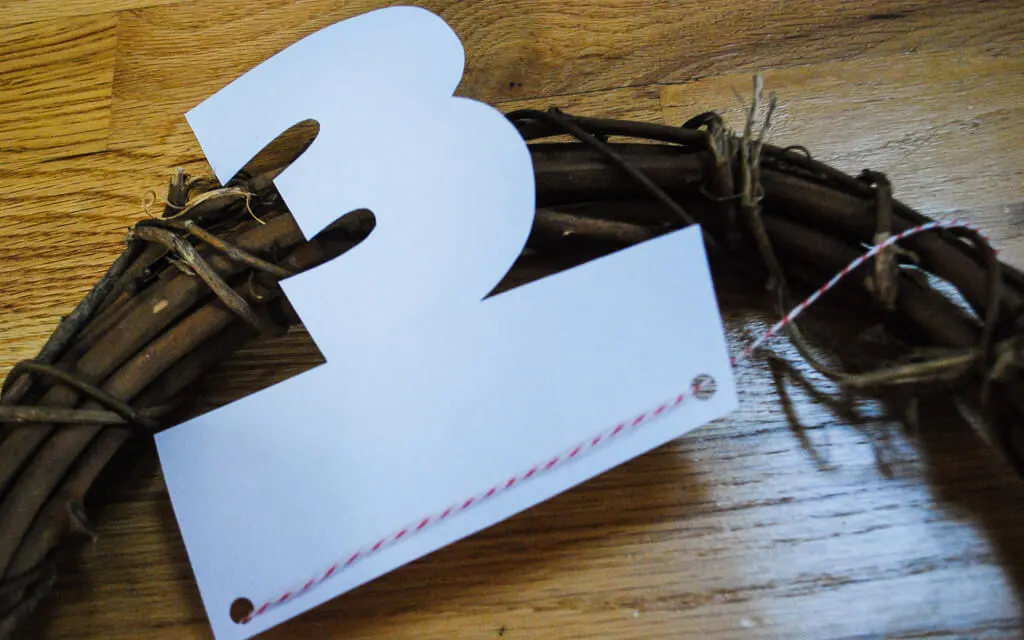 Wrap the Baker's Twine around the wreath. I like that it looks like the toys wrapped it around the wreath themselves.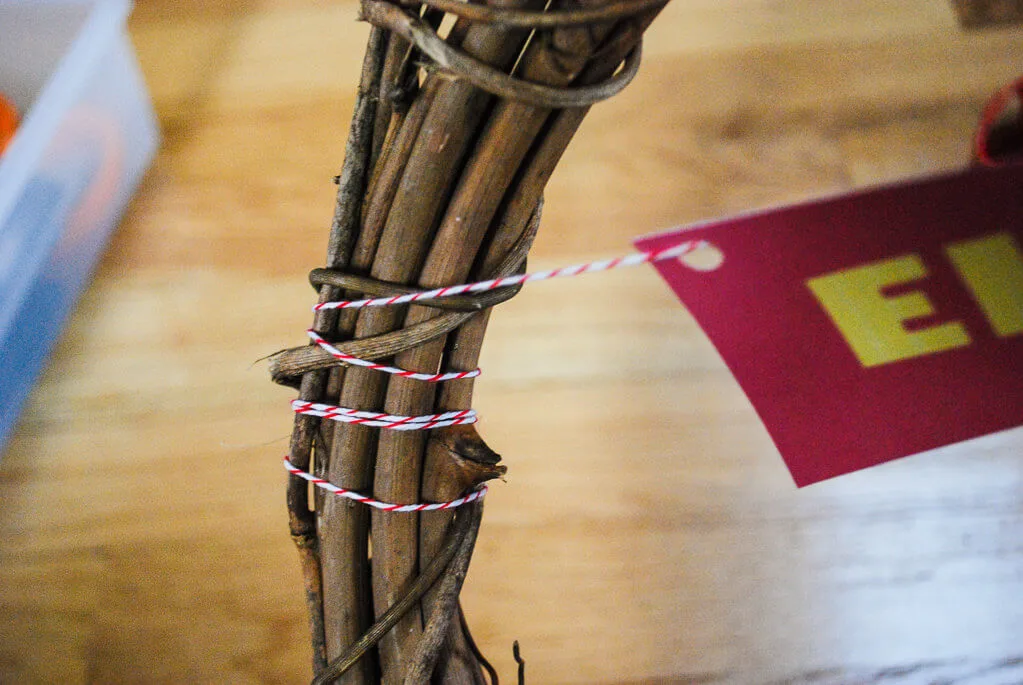 Step 4: Add a ribbon hanger to the sign
Tie a red grograin ribbon on top and hang for the party.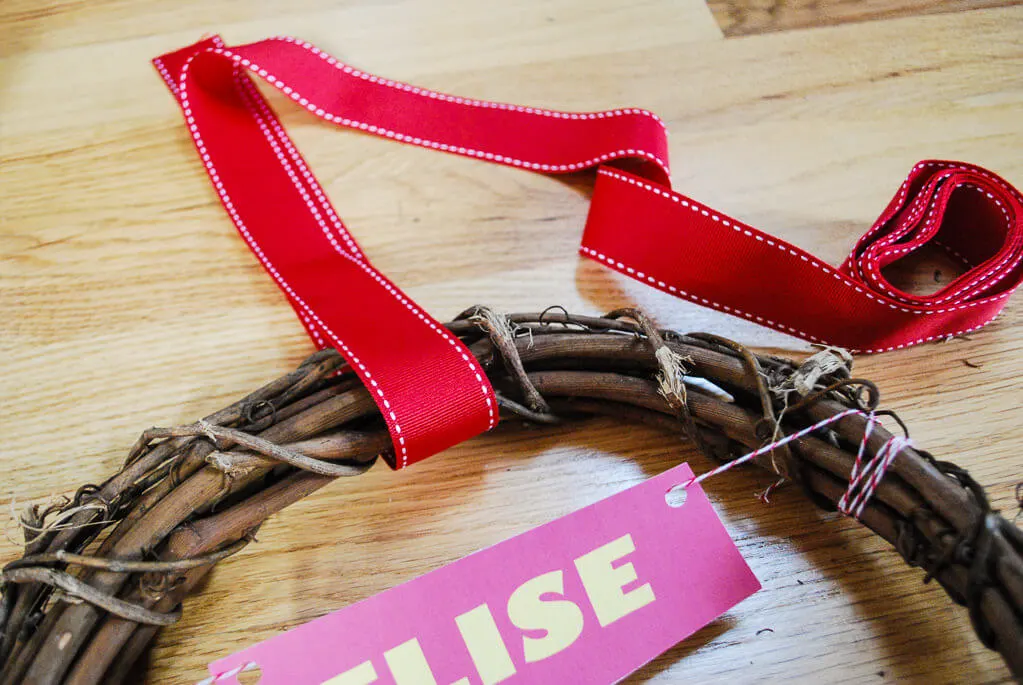 ++++++
Be sure to pin my personalized Toy Story birthday front door welcome sign: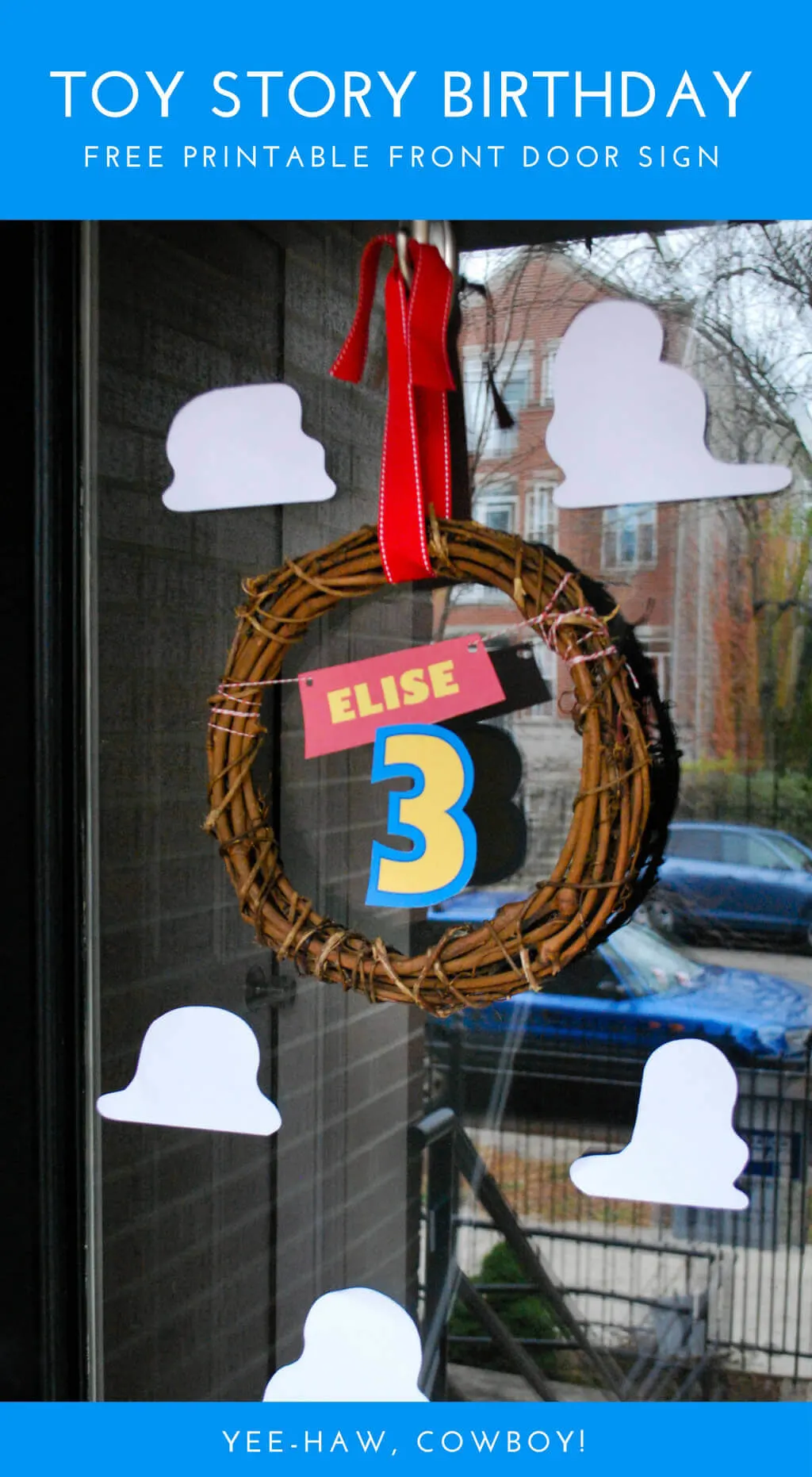 ++++++
And see more DIY Toy Story birthday party ideas – yee-haw!
++++++
Tell me in the comments: How old is your little pardner turning this year??
—
Like it? Share it!
The nicest way to say you like it is to pin it on pinterest, post a comment, follow Merriment Design on Facebook, twitter, pinterest, Google+ or sign up for monthly emails. Enjoy! 🙂
Copyright stuff: You're more than welcome to use this free project and tutorial for personal use. Contact me for commercial use and etsy sales.