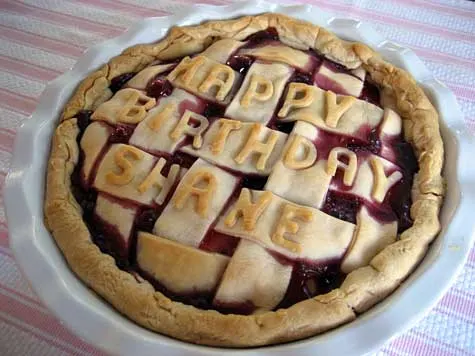 Growing up in upstate New York, Shane loved his grandmother Myrtle's rhubarb and berry pies in the summertime. So this year for his birthday I decided to make a pie instead of a cake.
I made personalized pot pies for St. Patrick's Day so I had the idea to break out my mini alphabet and number cookie cutter set
to put a birthday message right on the pie. I'd never made a fruit pie before and was a bit intimidated but it ended up being pretty easy, mostly because I fudged by buying fresh pie crusts and slightly modifying the ingredients in Elise's rhubarb berry pie recipe.
Ingredients:
1 1/2 cups fresh sliced rhubarb
1/2 to 3/4 cup sugar (1/2 cup will yield a pie slightly on the tart side; I went in the middle of these)
3 Tbsp corn starch
1 1/2 cup fresh sliced strawberries
1 1/2 cups fresh blackberries or mixed berries (it's summer so buy fresh berries; if you use frozen, defrost and then drain them until they're almost dry)
1 Tbsp lemon juice
1/2 teaspoon vanilla
2 packages of unfrozen pie crust (top and bottom for the pie, plus one for the letters; you can also make Elise's pie dough)
Special Equipment:

Unroll one pie dough and line the bottom of a 9-inch pie pan following package directions. Put back into the refrigerator to chill.

Cut off any stringy or tough outsides of your rhubarb and cut into slices. Slice your strawberries.

Stir sugar and corn starch together in a large bowl. Add the rhubarb, strawberries and blackberries, lemon juice and vanilla. Stir gently to coat berries with the sugar and corn starch without breaking up the fruit too much. Let sit for 15 minutes, stirring once. Preheat oven to 375°F.
Scoop fruit mixture into dough-lined pie dish. Unroll your second pie crust and cut 3/4″ stripes using a pizza cutter. Weave the strips of pie dough over the top of the fruit-filled pie dish as described in Elise's How to Make a Lattice Top for a Pie Crust. Trim any hangover strips. Fold the bottom crust edge back over themselves and the strips; crimp to seal.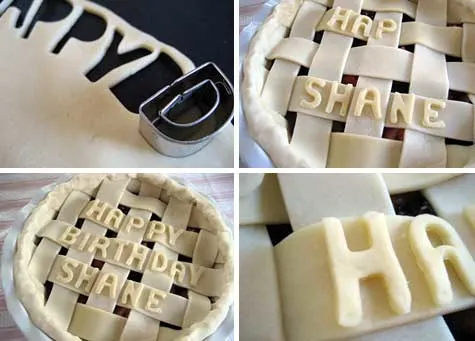 Roll out your third chilled pie crust. Cut letters out using your mini alphabet cookie cutters
. Fill a small glass of water. Dip your fingers in and use them to lightly wet the backs of the letters with a little bit of water. Stick the letters on to the lattice crust, ideally starting with the center letter of each word. Or you can use an egg white wash to stick on the letters; you'll want to brush the entire pie with egg whites and you'll get a browner crust.

To protect the crust edges from burning, cover the edges of the crust with aluminum foil or an aluminum pie protector. Bake in the middle rack for 25 minutes. Remove the foil. Return to oven and bake for an additional 20-30 minutes, until the top is golden and the juices are bubbling. Cool completely before serving …ideally with vanilla ice cream and a candle.
Makes 8 servings.