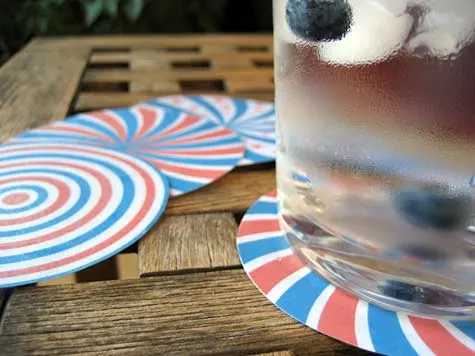 More decor for our upcoming Fourth of July – slash – Shane's birthday BBQ. I took Martha's Fourth of July parasols and turned them into a neat matching Fourth of July waterproof coasters.
Supplies:

Print out the coaster template. Place it on your self-healing cutting mat. Place the center of your circle cutter in the center of the coaster and cut a circle. You should purposefully cut off some of the outside so the color on the cut circle "bleeds" to the edge.

Lay your cut coaster onto the contact paper. Using a Ruler
and Xacto Basic Knife Set
(or just your scissors) cut a strip of the contact paper that's slightly wider than your circle. Cut that strip into squares slightly bigger than your circle.
Peel off the contact paper backing and put sticky-side up on your mat. Place your circle color-side down onto the contact paper and smooth. Peel off the back of another contact paper square and carefully place on the back (I pull it taught, stick down one side, and smooth it across). Your circle should now be encased in waterproof contact paper.

Now you can either cut the final coaster using the circle cutter (photo left) or your scissors (photo right). Be sure to cut your contact paper slightly larger than the printed paper circle so that the plastic edges are sealed to protecting the paper from getting wet. If you use your circle cutter at this point, you can cheat on the 'cutting paper circles' step above and just use scissors; you'll clean it up nice and pretty at this step anyway. Thanks again, Martha!